Recreational marijuana became legal in the state of Oregon in 2015, and I fully supported this law.  Cannabis is a plant that was created by nature, god, mother earth, or whatever your belief system may be. This past summer, we grew the four plants that we were legally allowed in containers in our backyard, next to our tomatoes and squash. We harvested it in the fall along with our other vegetable and herb crops.  We grew varieties that are high in a compound called CBD, which stands for cannabidiol.  CBD does not get you high like THC does (another main component of cannabis), and is highly medicinal and pain relieving.  I decided to make some CBD infused oil for topical use using the Harlequin variety that we grew, which is extremely rich in CBD.

Disclaimer: I only endorse you making infused CBD oil at home if recreational or medical marijuana is legal in your state, and you have any required cards and/or licenses to do so!
If you are unsure what the marijuana laws are in your state, here is a handy guide from NORML (National Organization for the Reform of Marijuana Laws).
Legality of CBD in the United States
There is a bit of controversy and misunderstandings surrounding the laws about CBD itself.  There are many claims that pure CBD extract is legal in "all 50 states," but that is actually not entirely true.  The wonderful folks over at Project CBD (such a great resource!) have spelled this out in clear detail when I questioned them about it:
"In the United States, CBD is classified as a Schedule 1 Drug, whether derived from industrial hemp or cannabis. CBD is not yet legal federally and it's not legal in all 50 states, as is often claimed. The FDA has not approved CBD as a dietary or health supplement. All cannabinoids, whether psychoactive or not, are scheduled. All researchers attempting to study it must get a license from the Federal Government in order to do research. If it was legal, then there wouldn't be so much difficulty getting more studies conducted on this compound. Selling CBD products in non-medical states seems to be a grey area in the law, but FDA recently busted people selling CBD in Massachusetts and Wisconsin. It isn't out of the question to have legal action brought towards those selling CBD if they aren't in a state recognized cannabis law."
They also have a great page titled Sourcing CBD: Marijuana, Industrial Hemp, & the Vagaries of Federal Law that is an excellent read for more information on this.
Cannabis CBD Infused Oil Recipe
Now that we got all the legal mumbo jumbo out of the way, let's get to making this CBD infused oil!  This recipe is intended for use as a topical pain relieving oil that can be used as is or turned into a salve.  I will be making a salve from this oil, you can see my recipe for that here.
The first step once you have your dried buds from a high CBD strain is to decarboxylate them.  This is actually an optional but recommended step, as it will make more of the CBD bioavailable to the body.  Luckily, it's an easy process as well.  Simply spread your buds out in a single layer on a sheet pan and bake at 230°F for 40 minutes.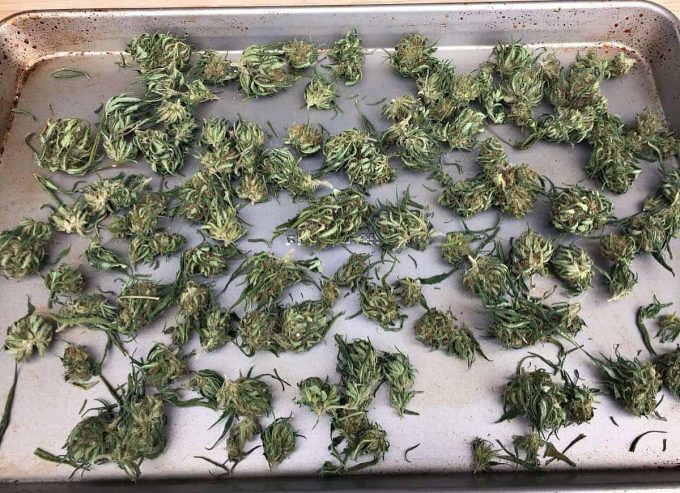 As you may have noticed, we did not trim all of the inner leaves off of these buds, because they were covered with crystals that we didn't want to go to waste!
Then put your decarbed cannabis buds into a jar and completely cover them with the carrier oil of your choice.  I used a blend of approximately 25% unrefined coconut oil, 25% sweet almond oil, and 50% extra virgin olive oil.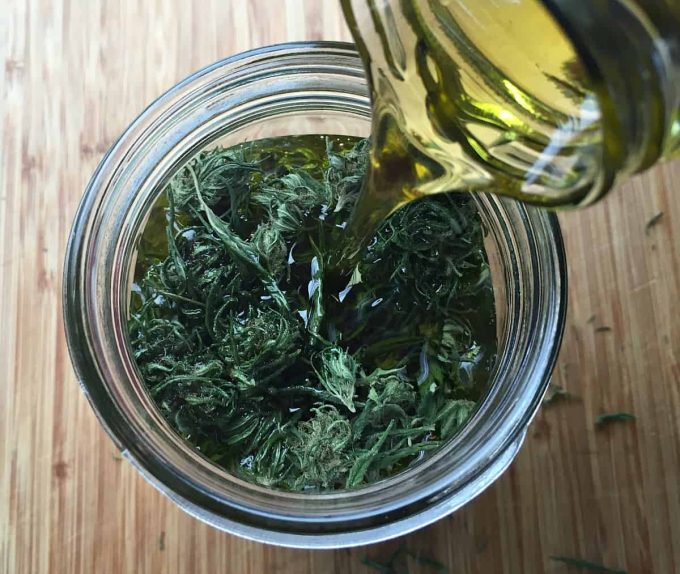 Cover the jar with a lid and let sit in a dark place for several weeks.  You may want to gently heat your oil a few times while it's infusing, especially if you did not decarb your buds first.  I like to do this in my Excalibur dehydrator, as it has excellent temperature control.  I don't like to heat my oils at too high of a temperature in order to preserve the quality of the oil and to keep it from going rancid.  This is not as much of an issue if you are making edibles rather than topicals, as they are generally consumed within a much shorter amount of time.
After a few weeks, strain the buds out of your oil.  If you want to make a super strong CBD infused oil, place a second round of decarbed buds into the oil and repeat the process.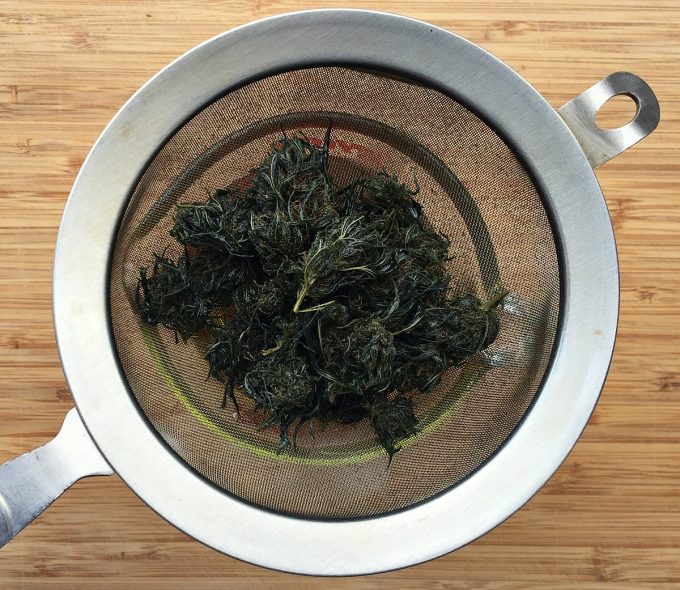 You will end up with a highly fragrant and beautiful CBD rich oil!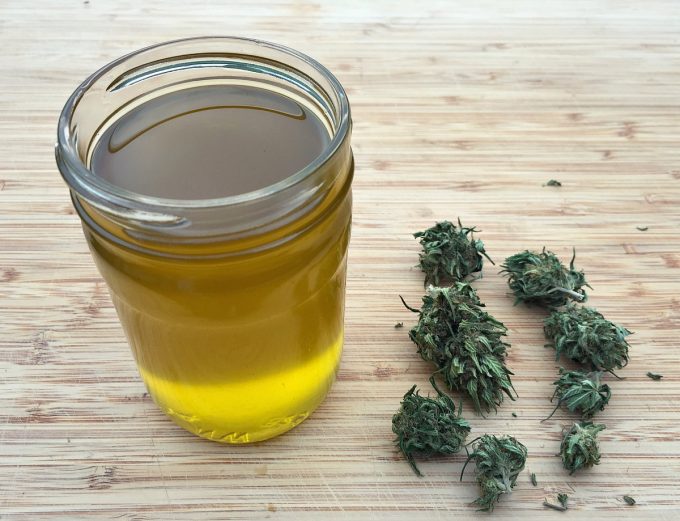 There are many amazing uses for this oil, but the most popular use is probably for its pain relieving properties.  Here is a great list from Project CBD on all of the other wonderful uses for CBD and its products, such as this oil.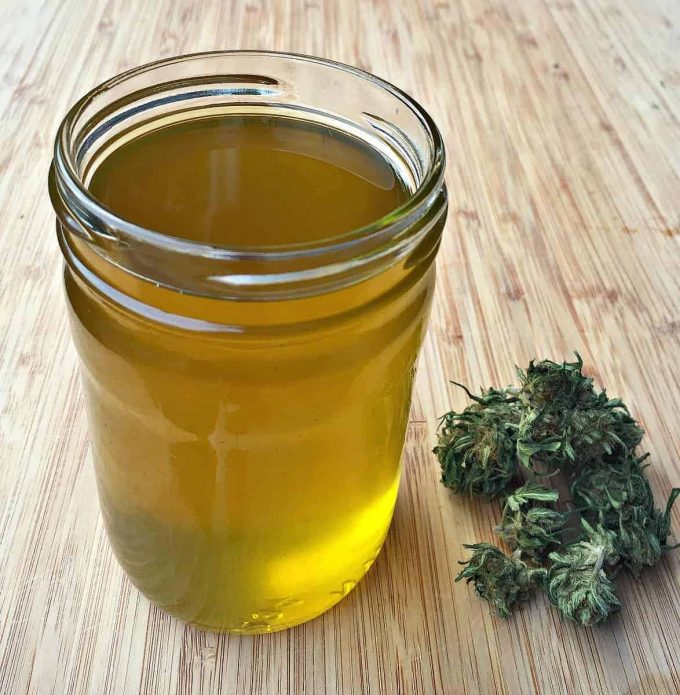 I decided to turn this oil into a topical healing cannabis CBD salve, check out my recipe!
Is medical or recreation cannabis legal in your state?  If so, will you be growing it or using it in any way?
Save
Save
Save
Save
Save
Save