Hello, this is Part 2 in a series about getting the most out of your chicken. Check out Part 1!
Now that you've roasted your Lemon Herb Chicken, it's time to talk about how to make chicken stock. If you are cooking whole chickens regularly, or even if you're just cooking bone-in chicken pieces, there is absolutely no reason why you shouldn't be making chicken stock. Although it takes a little time, it's super easy, and if you have a slow cooker you can even make it while your sleeping! How's that for hands off? You'll never have to buy cans or boxes of stock or broth again. Trust me, you won't miss them after you taste this stock!
One way to make the stock is to use a slow cooker, which is handy if you want to start making your stock the same night that you cook the chicken, or if you want to start it in the morning before work and have it done by the time you get home. You can also use a regular pot on the stove, however it needs to be watched a little more closely, so you'll want to be home for the day (rainy weekend days are good for this!).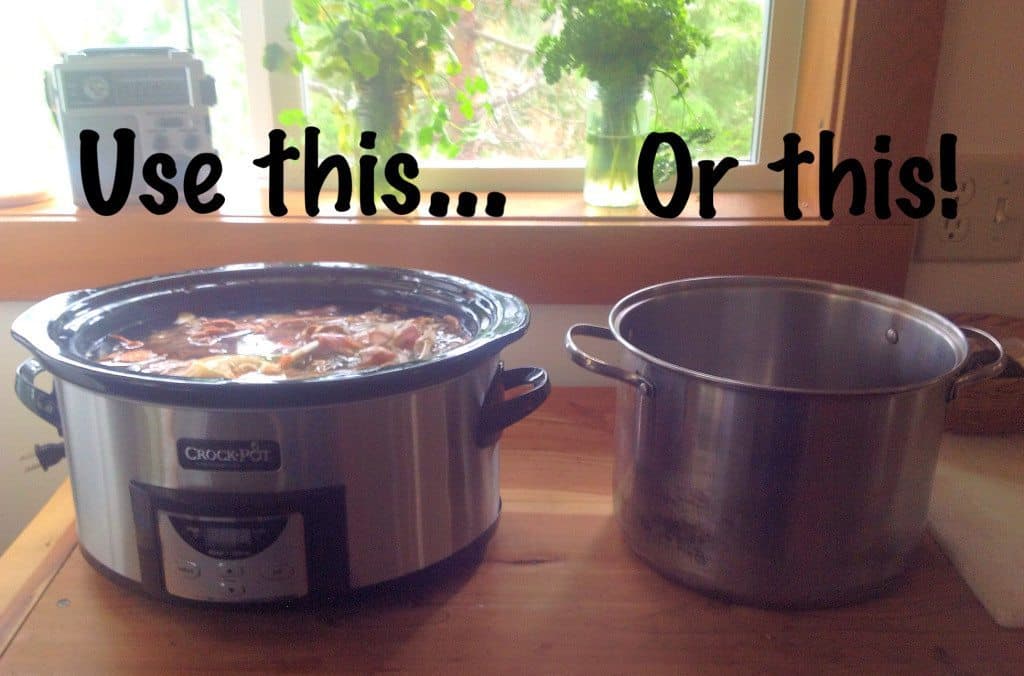 How to Make Chicken Stock
So, remember how I told you to save your veggie (carrot, onion, celery, garlic) scraps in a ziplock bag in the freezer? Now's the time to use them! If you don't have the scraps just use one onion cut in half, 3-4 each of carrots and celery sticks, and a few garlic cloves. Put them in your stock cooker of choice, along with all the chicken bones that you have (you can keep those in a ziplock in the freezer until you're ready to use them as well).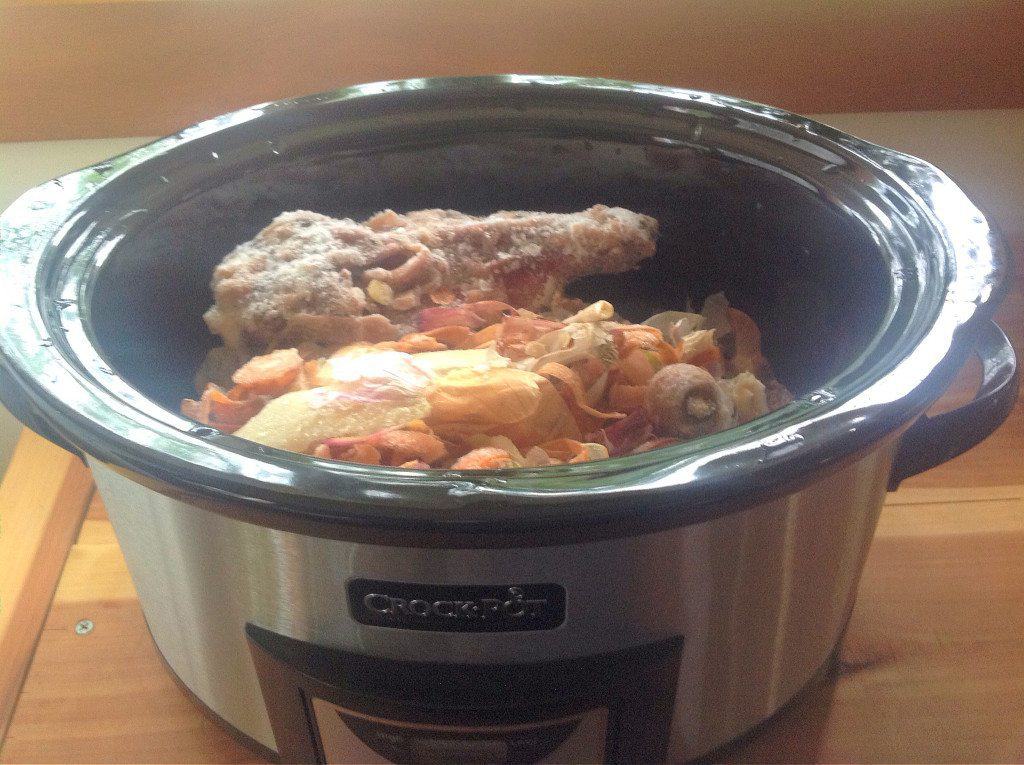 Fill the pot up with water about an inch from the top if you're using a slow cooker, a few inches from the top if you're using a regular pot. Add a bay leaf or two.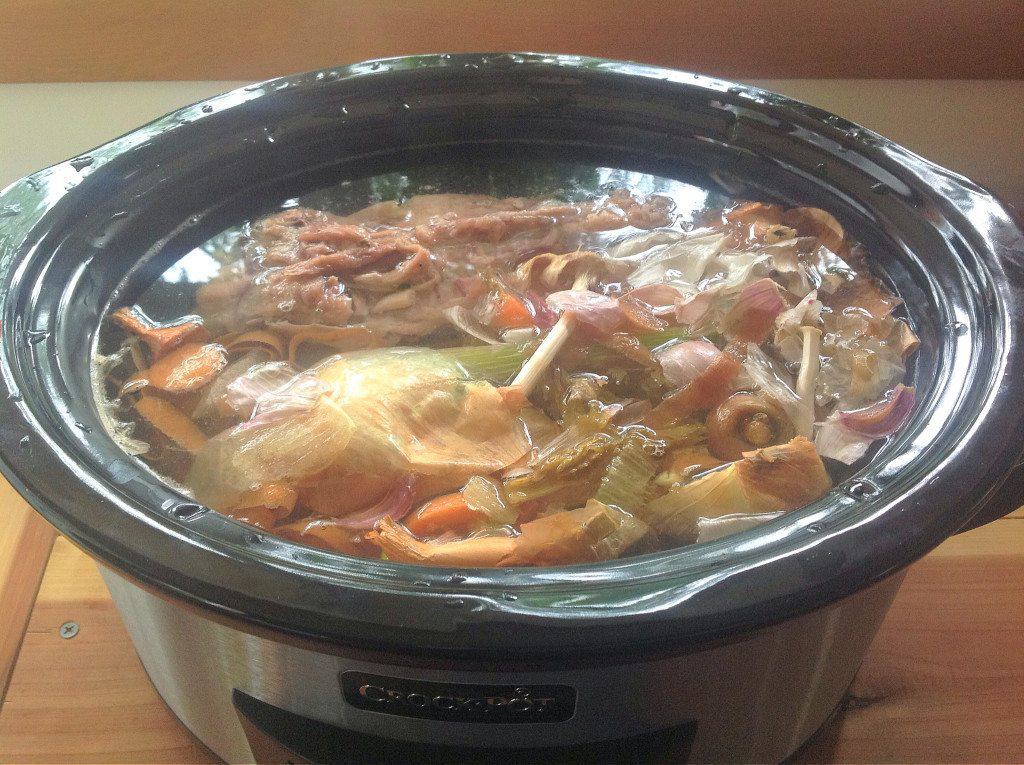 Plug the slow cooker in, cover, and set it on high for at least 8 hours, 12 is better if you can. If you are around once it starts boiling you can turn it to low, but don't worry about it if you're not. If you're using a pot on the stove bring it to a boil then turn to medium-low so it's just barely bubbling, then simmer uncovered all day.
Once it's done strain all the veggies and bones out and put the stock into containers to either refrigerate or freeze. I've use ziplocks in the past for freezing and they work pretty good, but now I use quart size mason jars. If you want to use jars for freezing leave 1-2 inches of head space (liquids expand when they freeze) and refrigerate first (you don't want to put it in the freezer when it's hot) to avoid any breakage. I usually keep some in the fridge and some in the freezer.
The jar on the right has already been frozen, you can see how the liquid expanded. Sometimes, if I have a particularly large batch of stock, I will freeze some of it into ice cube trays. Put the cubes in a bag in the freezer and then you can grab a few when you only need a small amount. Now you have stock for all occasions!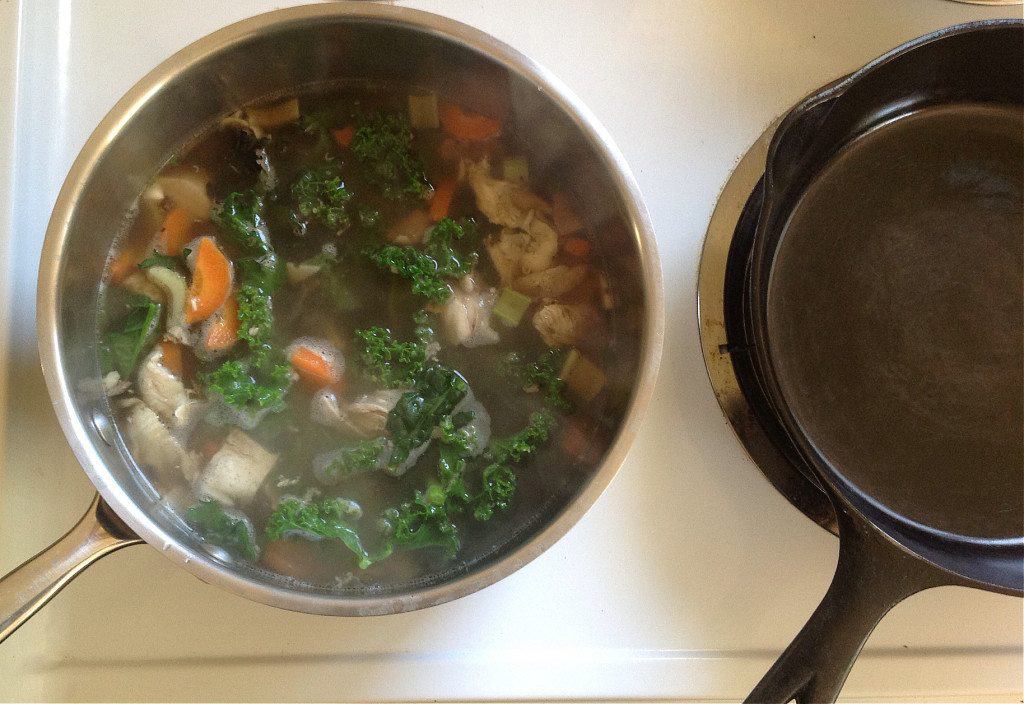 Like making chicken soup, my favorite leftover chicken meal. Simply use whatever veggies you like (I used carrots, celery, garlic and kale here), dice up some leftover chicken, add some pasta if you feel so inclined and maybe a little bit of salt & pepper, heat it up and serve! Couldn't be simpler or tastier on a cold winter day.