Rich sweet persimmons are one of my favorite fruits to enjoy. They are rich in flavor, and a real decadent treat! Often overlooked, you may not know how to use this not to be missed winter fruit. I gathered some of my favorite persimmon recipes so that you'll know exactly how to prepare and enjoy persimmons this season.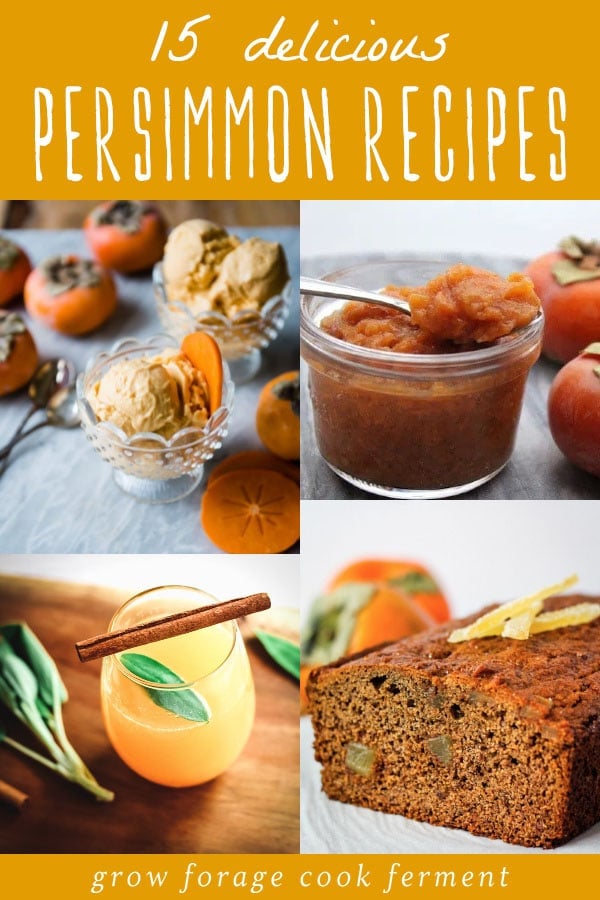 Types of Persimmons
There are three main species of persimmons, the Asian Hachiya and Fuyu, and the American (Diospyros Virginiana). Each type of persimmon looks slightly different, just as different species of apples look slightly different.
The Hachiya persimmon is elongated and heart shaped. The American persimmon has the same body shape as a Hachiya, elongated and heart shaped.
The Fuyu persimmon is rounder and flatter, resembling the shape of a squat tomato. All varieties range from pale orange to bright orange in color.
Before You Prepare Your Persimmon Recipes
It's extremely important that your persimmon is ripe before you cut it open to prepare one of these delicious persimmon recipes.
This is especially true if you are using Hachiya or American persimmons. They are highly astringent when not ripe, making them bitter and extremely unpleasant.
You'll know a persimmon is ripe when it's soft to the touch. When you give your persimmon a squeeze it should have the same feel as a water balloon. It should have some give and bounce back.
It takes quite some time for Hachiya persimmons to ripen, sometimes even several weeks depending on the ripeness of the persimmon in the grocery store. Be patient, and don't cut it open too early!
If you need to speed up the process place the persimmons in a paper bag with a ripe banana and leave on the counter top.
Fuyu persimmons, on the other hand, don't need to be soft and squishy before you eat them. They do not have the same astringent properties, so they will be sweet and can be used when they are firm or soft.
15 Delicious Persimmon Recipes You Must Try
Here are some of my favorite persimmon recipes! Make these delicious recipes in the fall and winter when persimmons are in season.
Spiced Persimmon Bread with Honey and Ginger
My simple quick bread is an easy introduction to cooking with persimmon. Like a zucchini or banana bread, this recipe for sweet persimmon bread makes for an excellent breakfast, or snack!
Persimmon Muffins
These persimmon muffins by Knead Bake Cook are also made with Hachiya persimmons. They are light and fluffy with a crunchy baked top and delicious bites of persimmon throughout.
Persimmon Jam
Need a little something sweet to spread on top of your muffins and bread? This persimmon jam for canning from Practical Self Reliance will have you enjoying the flavor or persimmon all year long!
Persimmon Cookies
This versatile cooke recipe from Attainable Sustainable is made with persimmon pulp bakes into a cake like texture. Stir in nuts, chocolate chips, raisons or other dried fruit. They're an addictive snack or dessert!
Healthy Homemade Maple Persimmon Granola
How about having a little persimmon in your morning granola! This maple granola recipe by Attainable Sustainable uses persimmon pulp to make it extra sweet!
Persimmon Cake
This moist and delicious cake by Homestead Honey uses foraged American Diospyros Virginiana persimmon.
Persimmon Upside Down Cake
This persimmon upside down cake by Cardamom and Tea uses the Fuyu persimmon to create a buttery top and a light and fluffy cake.
Easy Persimmon Pudding Cake
A pudding that's more like a cake this persimmon dessert by Mom's Kitchen Handbook uses Hachiya persimmon puree to create a cross between a cake and a pudding.
Persimmon Pie
This persimmon pie from Forest and Fauna is vegan and paleo. Using Fuyu persimmons it bakes into a beautiful dessert. A great change from pumpkin or sweet potato pie.
Vanilla Bean Pear Persimmon Pie
Vanilla, pears, and persimmon collide in this delicately sweet gluten-free pie by Snixy Kitchen.
Persimmon Tart
This simple tart by Honestly Yum is a reimagined take on the traditional apple tart using fuyu persimmons.
Persimmon Galette
This persimmon galette from Adventures in Cooking makes for an impressive dessert at a dinner party, but nobody would know it's a super simple dessert!
Roasted Persimmon Ice Cream
Persimmon ice cream! Yes, please! This Persimmon Ice Cream from Cafe Johnsonia starts with slow roasted persimmons. No sugar added, 100% fruit-sweetened.
Spiced Persimmon Bourbon Old Fashioned
This Spiced Persimmon Bourbon Old Fashioned from Half Baked Harvest is a warm and comforting cocktail for cold winter nights.
Persimmon Champagne Cocktail with Cinnamon and Sage
My Persimmon Champagne Cocktail is fruity and herbal at the same time. A refreshing wintertime or holiday drink!
Hope you enjoy these delicious persimmon recipes and don't shy away from picking one up when you see it in the grocery store!
Be Sure to Check-Out these Other Recipe Round-Up Posts!