When I started my fermented honey garlic a few weeks ago, it got me thinking about what else I could ferment in honey. I have seen recipes for berries in honey, and being that we're coming up on the holiday season, fermenting cranberries in honey seemed like the natural thing to do. I'm so glad I did, because these fermented honey cranberries are awesome! This is probably how I will make my cranberries every year from now on.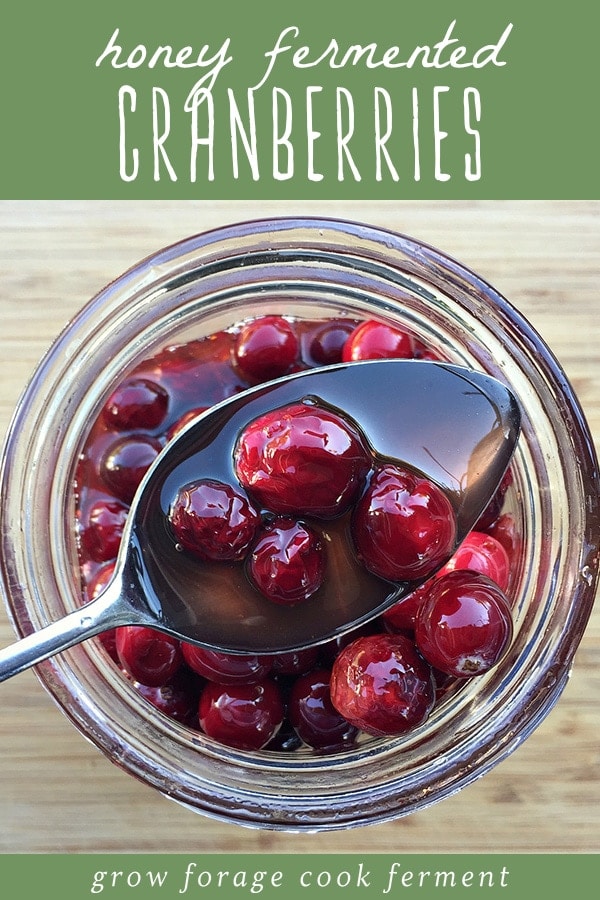 It's amazing to me that I've never done this kind of fermenting in honey before recently. I've done all kinds of fermenting, and have even fermented cranberries in a traditional brine. But for some reason I had never fermented in honey. Well, I can tell you now that has changed!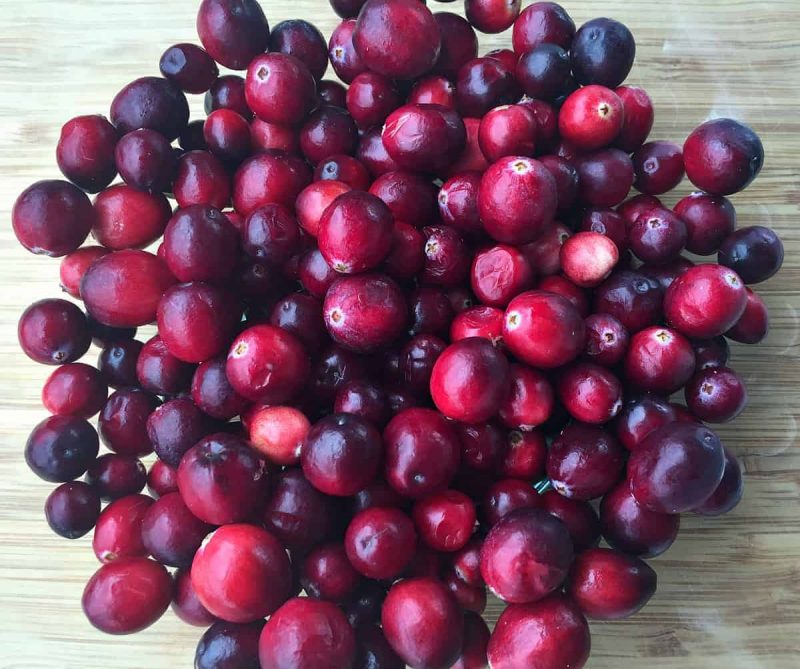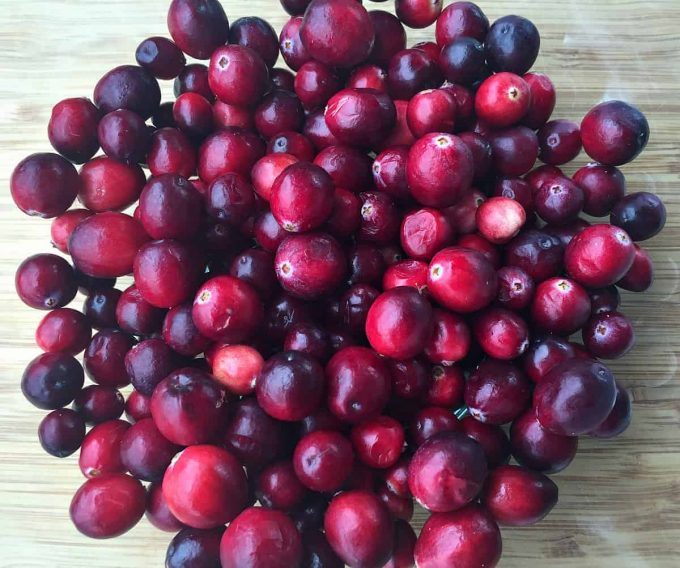 Fermented Honey Cranberries Recipe
Making these fermented honey cranberries is so easy that it hardly even needs a recipe! The amounts are variable based on how much you want to make. I used a quart sized jar, and that seemed like a good amount to start with.
The first step is to give the raw cranberries a little pop to break their skins and release some juices. Cranberries are tough to penetrate, so this will give the fermentation a bit of a head start. I did this by poking them with a fork all over, but you could also give them a couple of pulses in a food processor.
Then fill your jar with the cranberries, ginger slices, and cinnamon stick, leaving about an inch or so of head space. Add in the orange juice (and the zest if you'd like as well), then cover the cranberries with raw honey.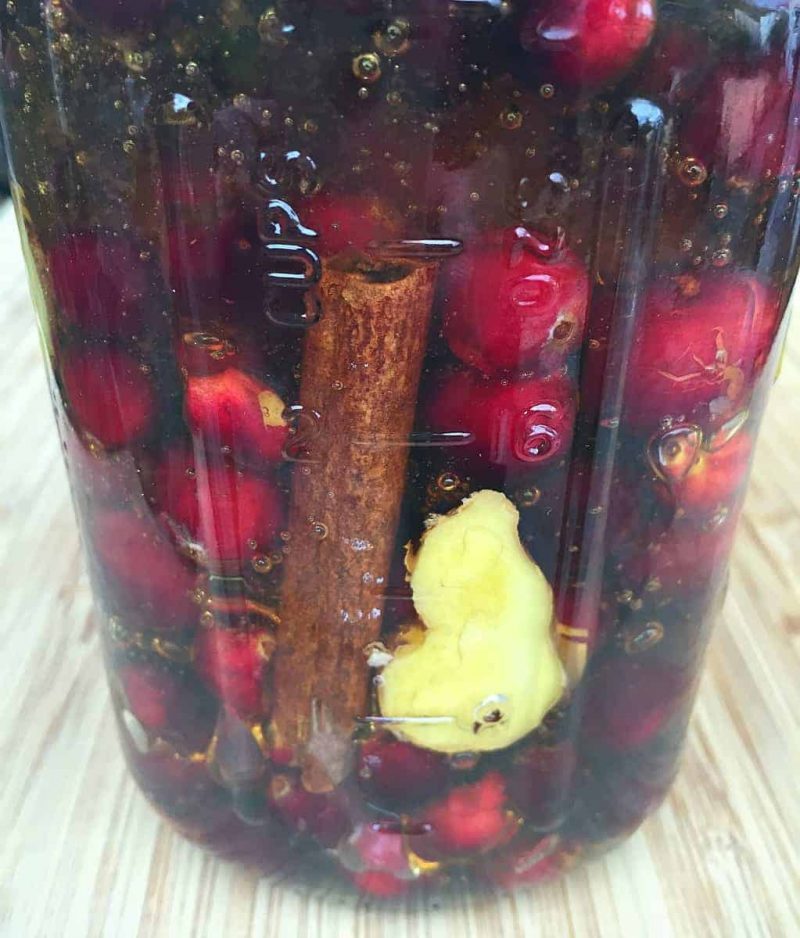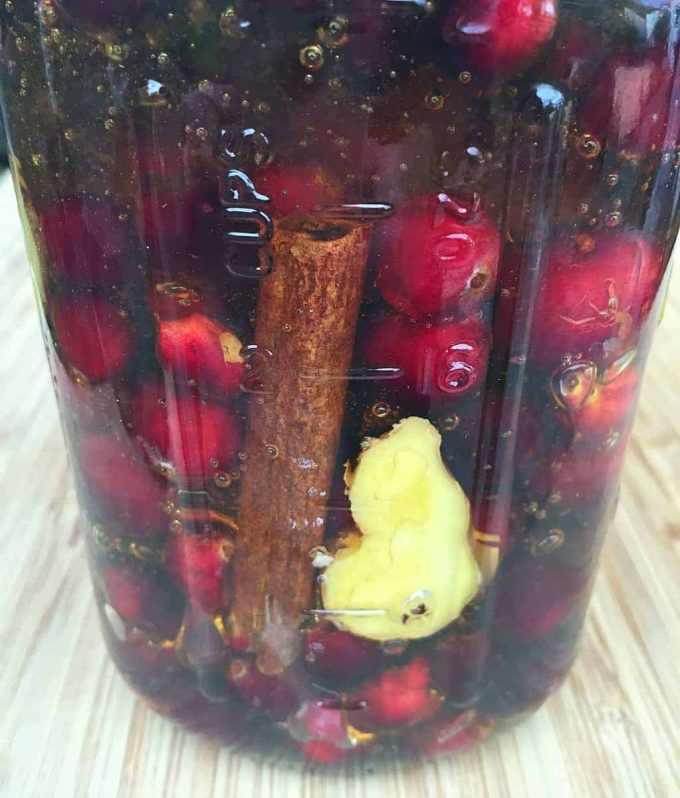 It may take a while for the honey to make its way all down to the bottom of the jar, so you may need to wait a bit for it to settle, then add some more.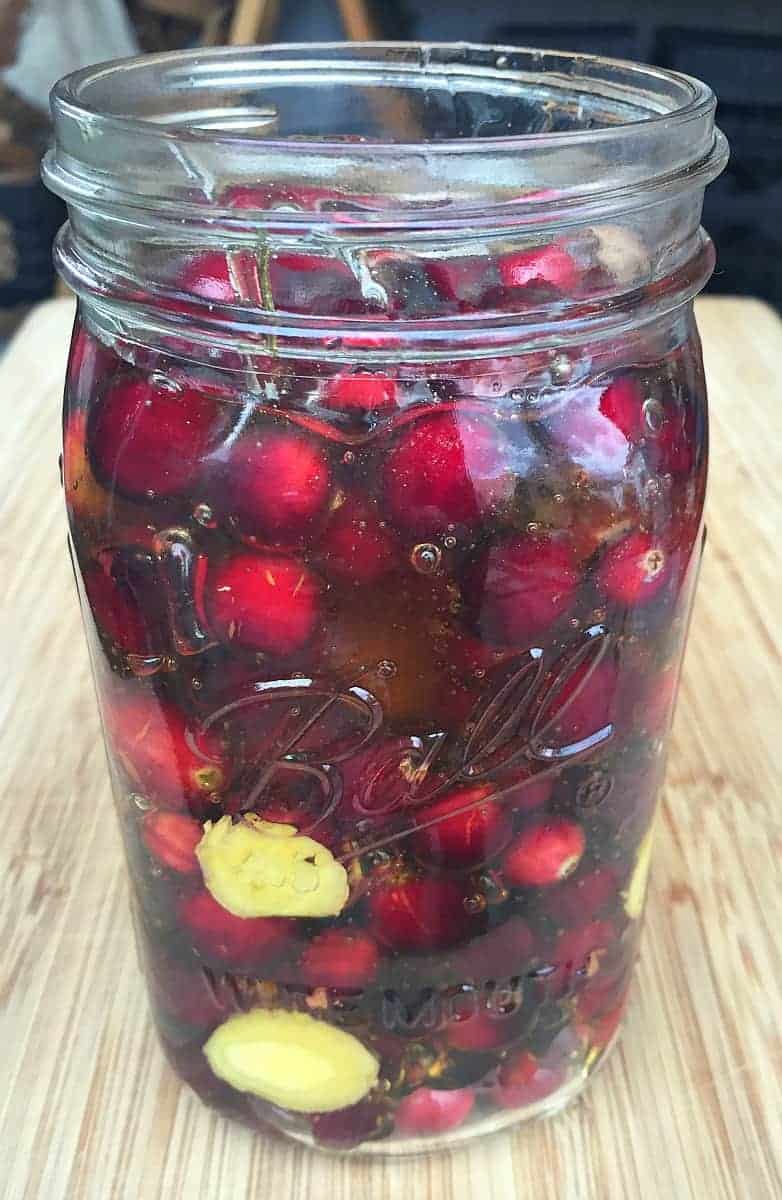 Cover the jar tightly and give it a few turns to coat all of the cranberries in honey.
Then loosen the lid and put the jar in a dark corner somewhere. It would be wise to put it on a plate in case there is any honey overflow as it ferments, which is likely. Every few days tighten the lid and give the jar a few turns, then re-loosen the lid. Soon you will start to see bubbles forming.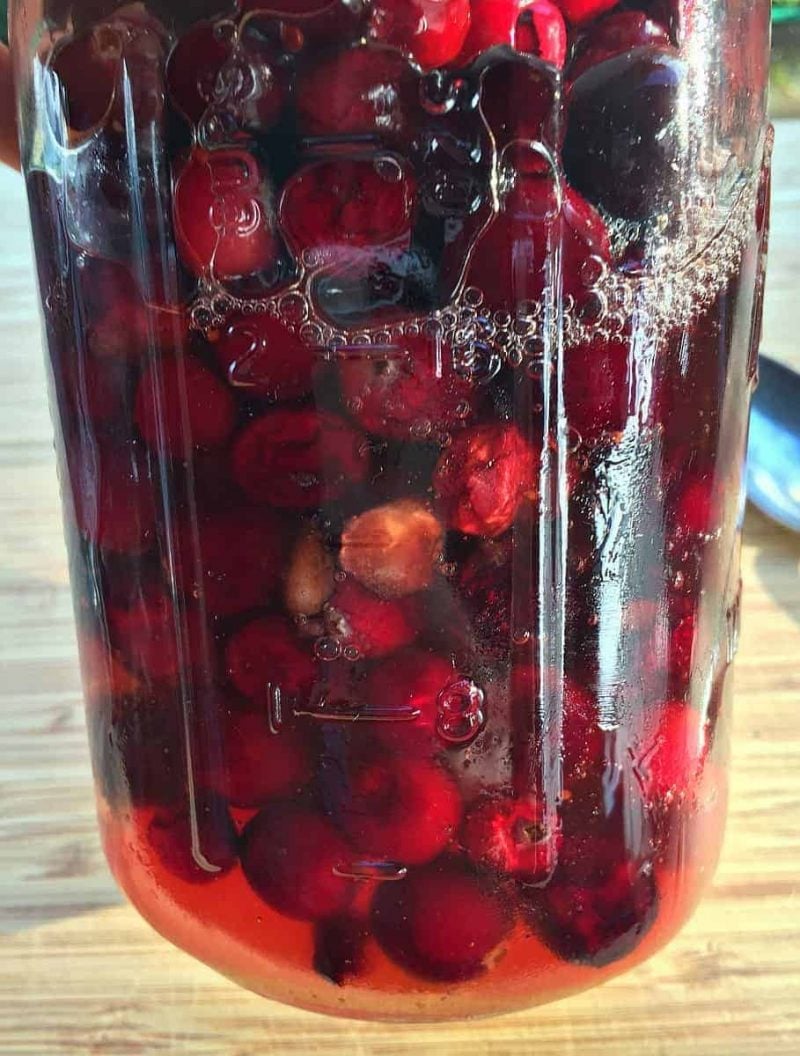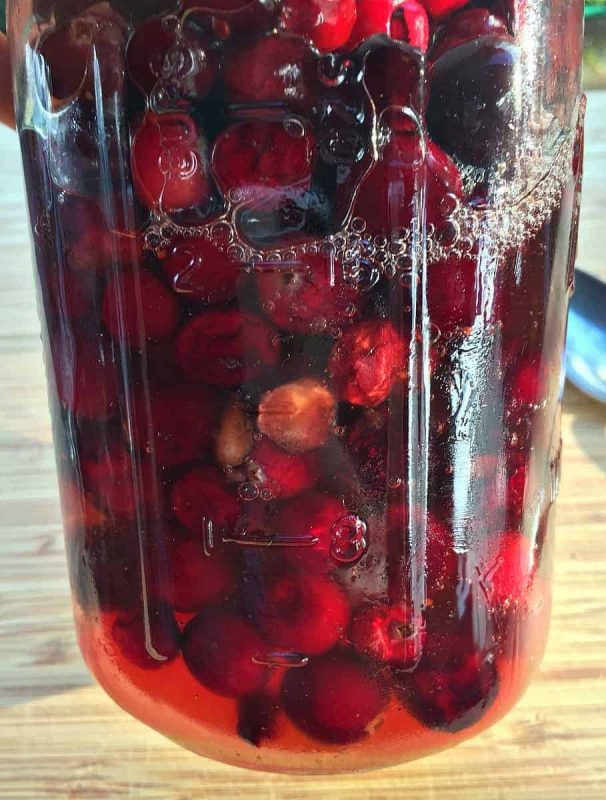 The honey will turn a lovely red color, and will become more runny as time goes on. The cranberries will start to lose some of their tartness, and will become a bit more wrinkled.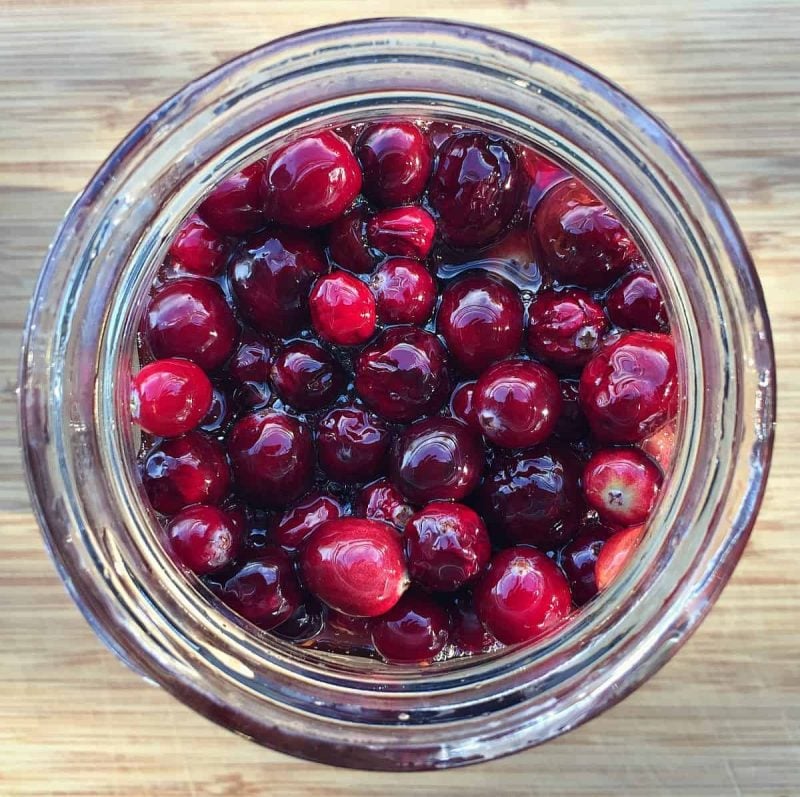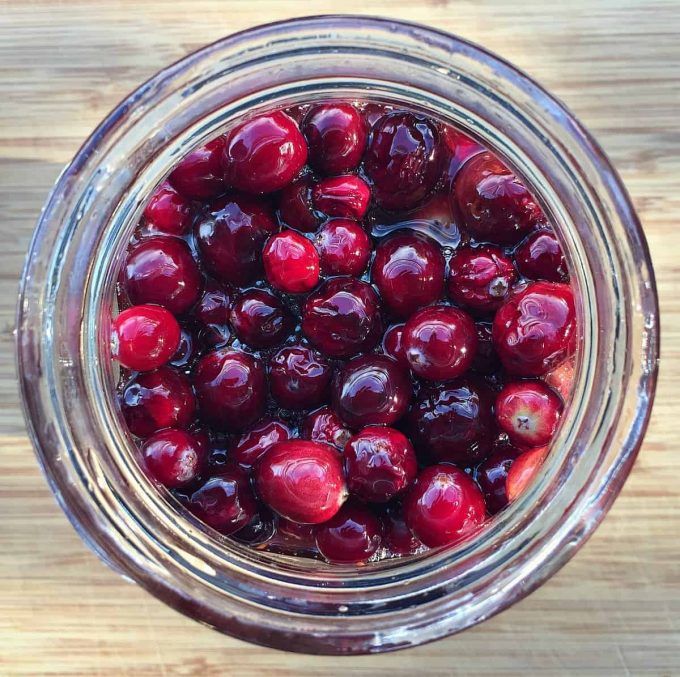 These can be left to ferment for quite a while, several months even, and will be tastier as time goes on. I think the flavor even after just a few weeks was amazing!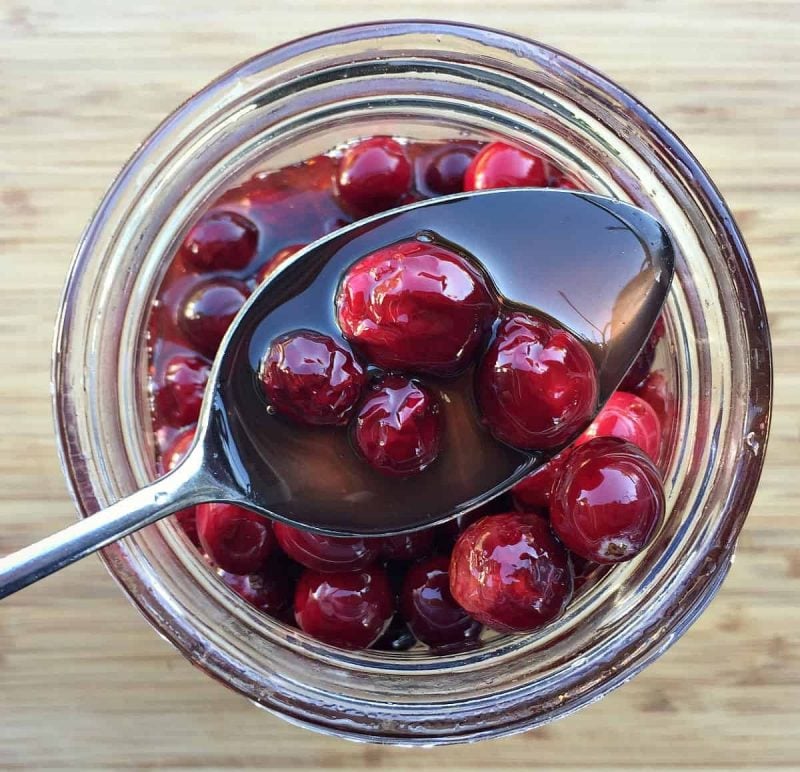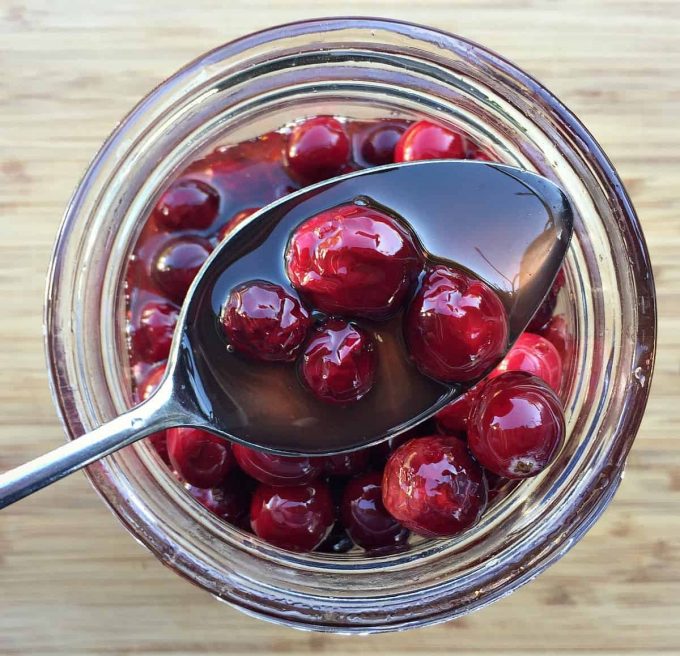 You can eat these fermented honey cranberries as is, or you can try putting them in a food processor to grind them up into more of a cranberry sauce. I think I'm going to try that on Thanksgiving this year. It's never a bad idea to get some fermented food in during a big meal!
Watch this video to learn more!
Have you ever fermented cranberries? What did you think of the result?
---
Infused Honey Recipes
Enjoy these other honey infusions!
---
Low on time and want an amazing, non fermented, cranberry sauce recipe? This Simple Spiced Cranberry Sauce with Orange and Ginger is my favorite!
Fermented Honey Cranberries
These honey fermented cranberries are a healthy, colorful, probiotic condiment or snack. They're certain to become a favorite fermented fall food recipe!
Ingredients
3

cups

fresh cranberries

skins slightly crushed

1"

knob

ginger

sliced

1

orange

juiced

2

cups

raw honey

or enough to completely cover the cranberries
Instructions
Break the skins of the cranberries to release some of their juices by either piercing the skins with the tines of a fork, or gently pulsing in a food processor.

Place the bruised cranberries into a quart-sized mason jar. Add the ginger slices, cinnamon stick and orange juice and stir. Then pour in enough raw honey to cover the cranberries.

Place the lid securely on the jar, then give it a few turns to coat all of the cranberries in the honey.

Loosen the lid, then place the jar into a dark place to ferment. Every few days, tighten the lid, give the jar a few turns, then re-loosen the lid. You'll start to see bubbles form within a few days. Ferment at least a few weeks, and up to several months.
Notes
Cooking time does not reflect fermentation time of a few weeks to several months. 
Nutrition
Serving:
2
ounces
|
Calories:
146
kcal
|
Carbohydrates:
38
g
|
Potassium:
80
mg
|
Sugar:
36
g
|
Calcium:
10
mg
|
Iron:
0.4
mg