Sometimes it's the simplest things that can make a difference. Take this infused herbal honey for instance. While it's really quite easy to make, it takes something as wonderful as honey and makes it even better! I couldn't believe how tasty this honey became, and it really got me thinking of ways to use it. I got the inspiration for this from The Fiercely DIY Guide to Seasonal Living from Kathie Lapcevic of Homespun Seasonal Living. This is an awesome little eBook that is full of great seasonal recipes and projects. Now let me show you how to make infused herbal honey!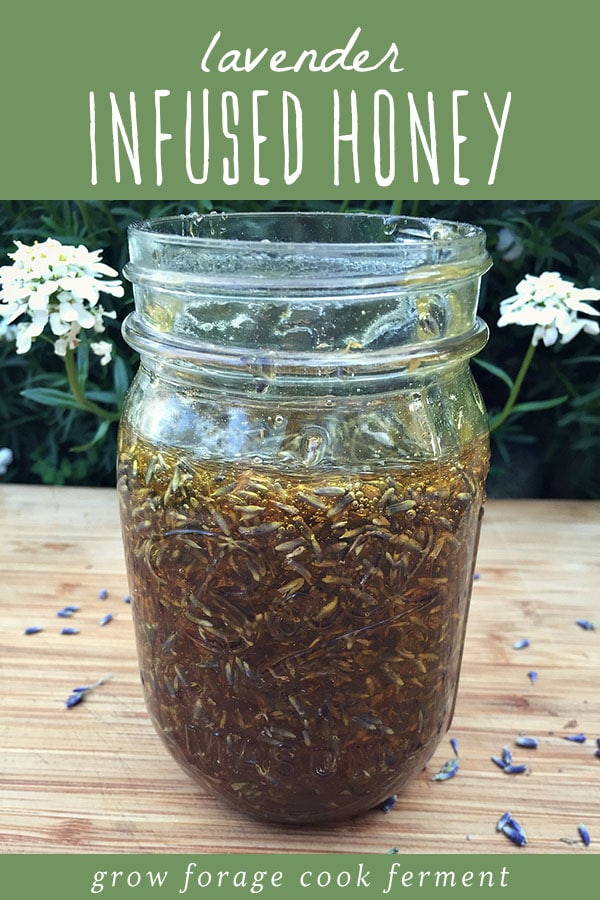 It really is as simple as letting an herb or flower of your choice steep in the honey for several weeks. Find a jar with a tight fitting lid and fill it about half full with fresh or dried herbs. You can use any number of herbs for this, Kathie suggests mint, lemon balm, lemon verbena, lavender, or rose petals. Even herbs that are usually thought of being more savory like rosemary, thyme, sage, oregano, or basil would work nicely in this, especially when they are in flower.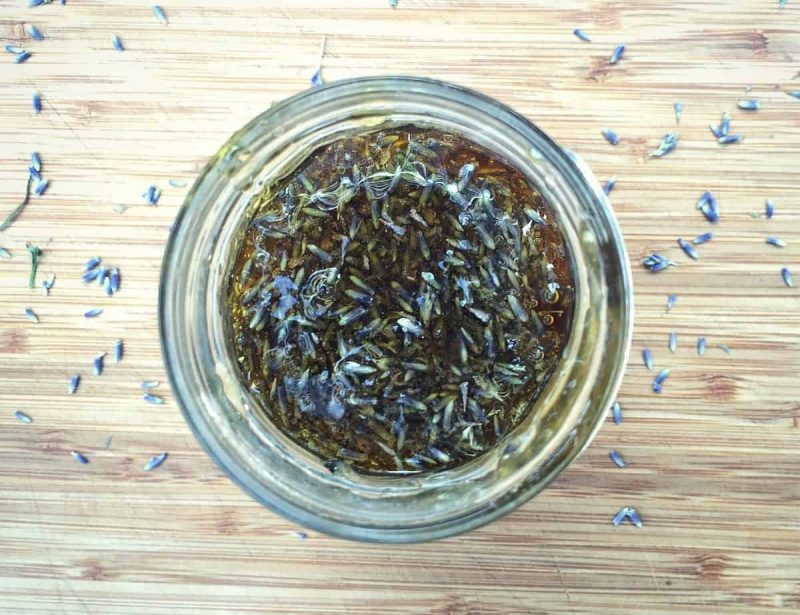 I had a whole bunch of dried lavender flowers leftover from last season, so I decided to use them. Crush the herbs or flowers a bit with a wooden spoon, then fill the jar with honey, leaving a bit of space at the top. You may need to stir it up a bit to completely combine the herbs with the honey.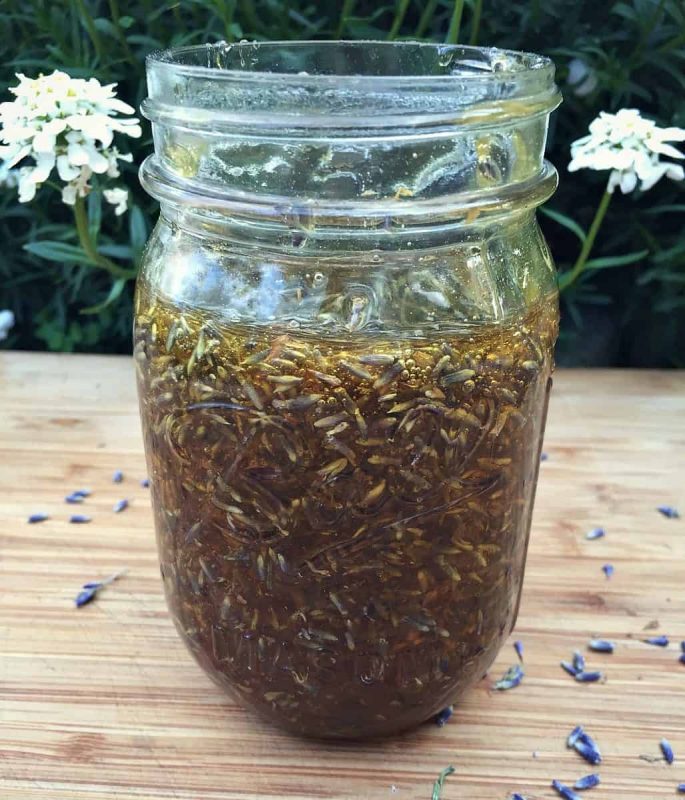 If your honey is super thick, you might want to gently warm it in a double boiler ahead of time. Seal the jar with a lid and put it in a sunny window. Every so often, turn the jar over. I suggest doing this on a small plate in case of leakage.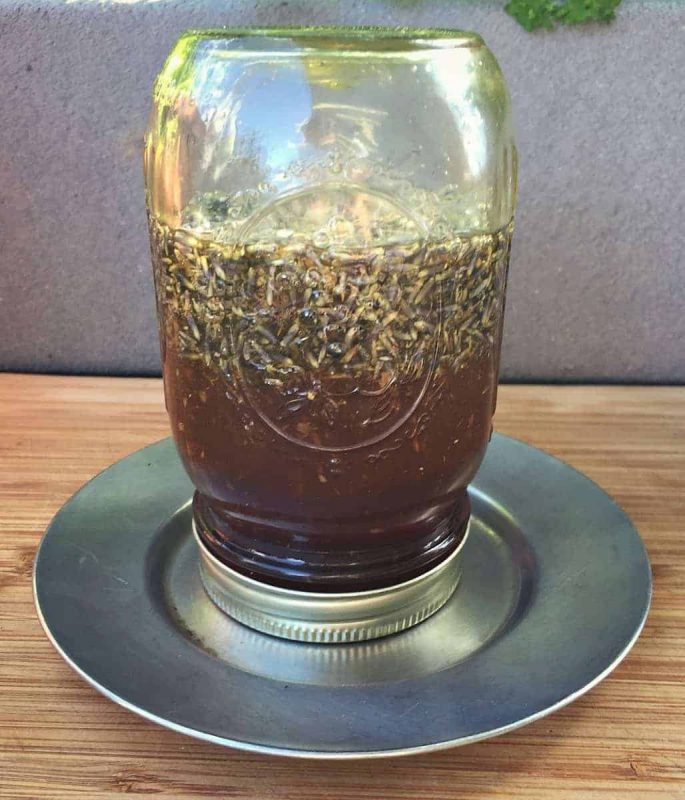 After 3-4 weeks, the honey will be infused. Strain out the herbs, gently warming the honey again if it is really thick.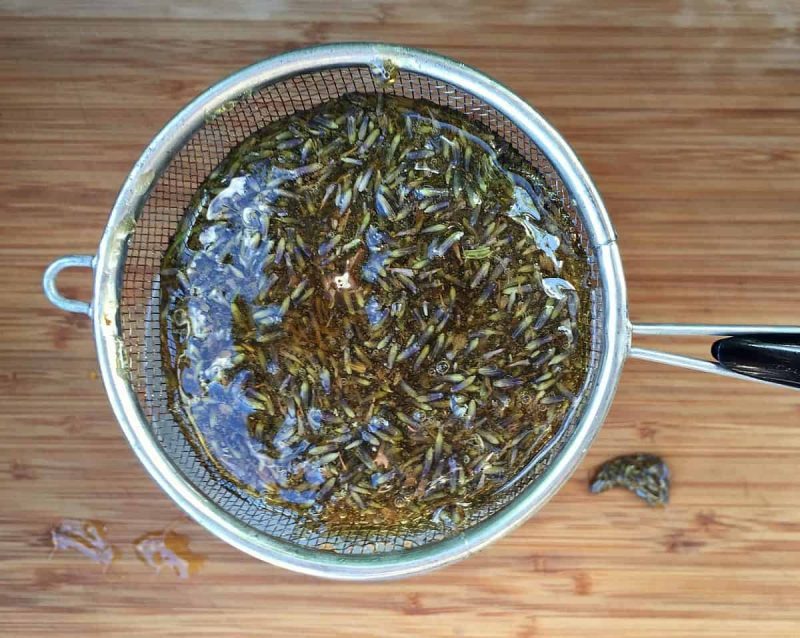 It took a little while for all the honey to run through the strainer, and it was a bit messy, but oh man was it worth it! A suggestion I was given after the fact is to use a canning funnel under the strainer – this will create far less mess!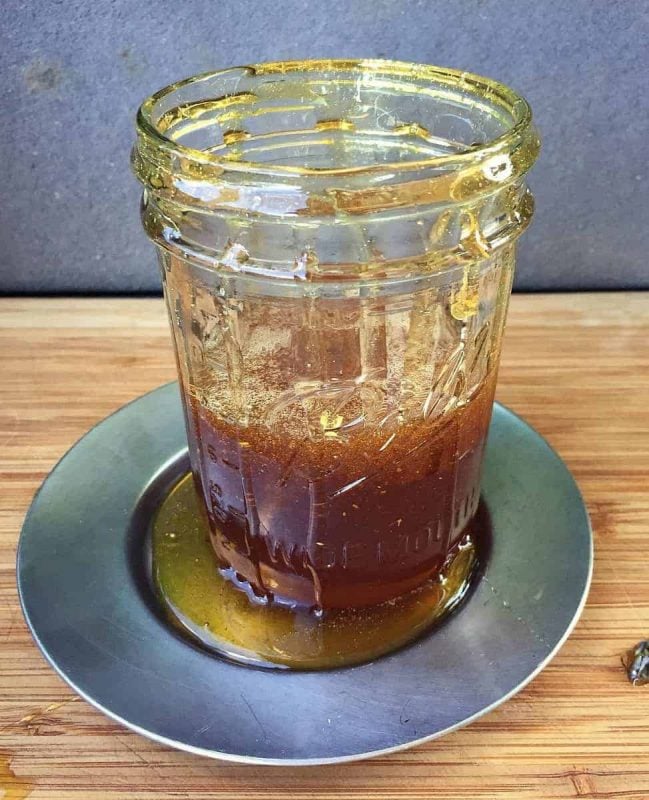 Lavender Infused Honey
Be fiercely DIY and make a simple and delicious infused herbal honey! You won't believe how easy and delicious this lovely herbal infused honey is.
Instructions
Place the lavender into a clean glass jar, then crush with a wooden spoon. Add the honey to the jar. Stir to completely combine the lavender into the honey.

Seal the jar with a lid, then place into a sunny window. Every few days, turn the jar over. Infused 3-4 weeks total.

Strain out the herbs using a canning funnel under a mesh strainer. Gently rewarm the honey in double-boiler if it's too thick. Store the strained infused lavender honey in a lidded jar.
Notes
Total cooking time does not include infusion time of 3-4 weeks.
Now I keep thinking of all the things I can use this infused herbal honey for!
Kathie has a few recipes in her book, The Fiercely DIY Guide to Seasonal Living, plus many more for all of the seasons. The book also has seasonal arts and crafts projects, nature inspiration, and advice for planning ahead for the coming seasons. It's a really great eBook, I recommend that you check it out!
Now back to this honey. I'm thinking an infused herbal honey mead is in order! In fact, I probably wouldn't even strain out the herbs or flowers if I was going to make mead until after the brewing process. I brewed the wildflower mead I made last year right with the flowers in it, and turned out wonderful.
Now go out and start being fiercely DIY!