Hello and welcome to early summer! What a beautiful time of year it is. Wildflowers are blooming everywhere and it seems like a good time to start putting them to good use, in fermented form of course! I've used wildflowers in my homemade salve, but I wanted to make sure I got a gallon batch of mead going before it was too late. Here I will show you how to make wildflower mead.
Want to learn more about making mead? I have a Simple Mead Making for Beginners eBook just for you! It has ingredient and equipment checklists and detailed instructions for brewing and bottling your mead, so be sure to check that out if you're new to the mead making process.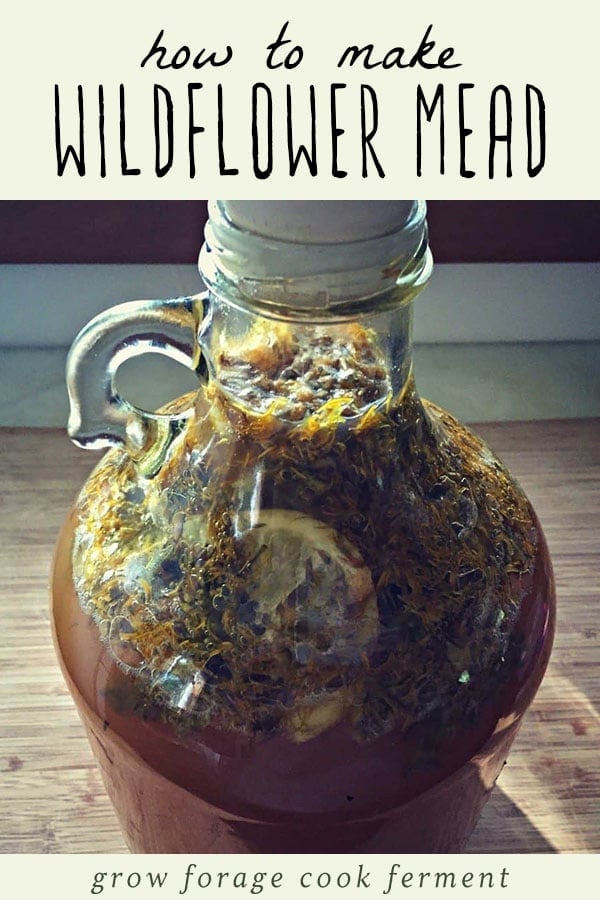 Making mead is actually fairly simple, easier than beer even (brewing beer is somewhat complicated, to be honest). The basics are the same for all wines and meads, you just change the flavorings to your liking. I've done a post on how to make a gallon of mead, and this follows that recipe very closely. Another great reference is this one gallon mead recipes page from Pixies Pocket.
The first thing that you will need to get started for this batch of mead is, of course, wildflowers! I used dandelion, yarrow and lavender, but any edible flowers will do. If you use dandelion (and I highly suggest that you do) you will need to separate the petals from the bitter green parts. This is not an easy task, which is why I decided to do a wildflower mead instead of just a dandelion mead. Because it is so time consuming, you can freeze the dandelion petals in small batches as you collect them, until you have enough.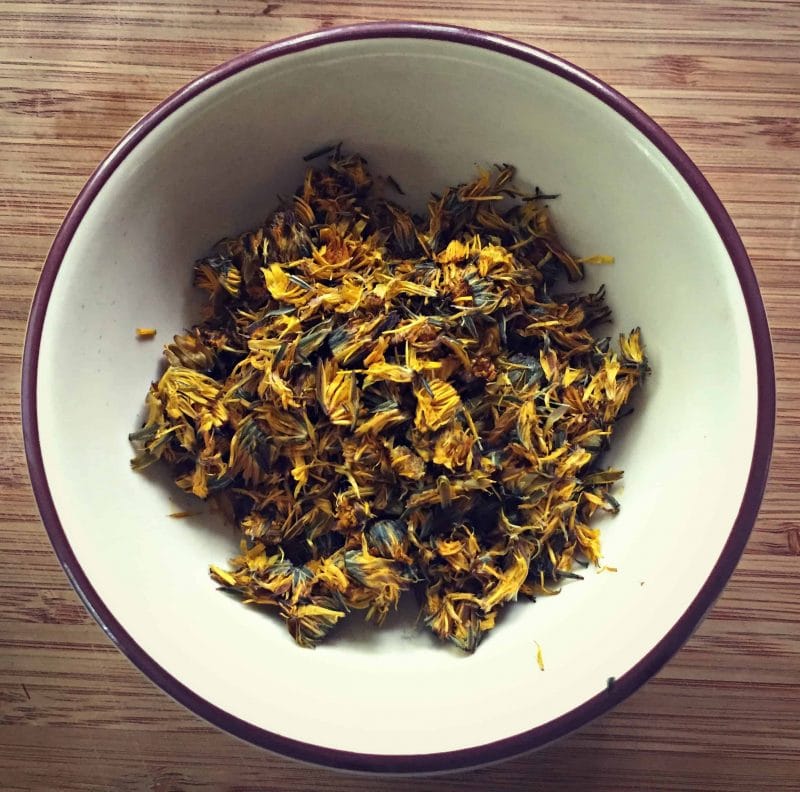 And that's exactly what I did! About 1/2 cup or a little more of dandelion petals is plenty.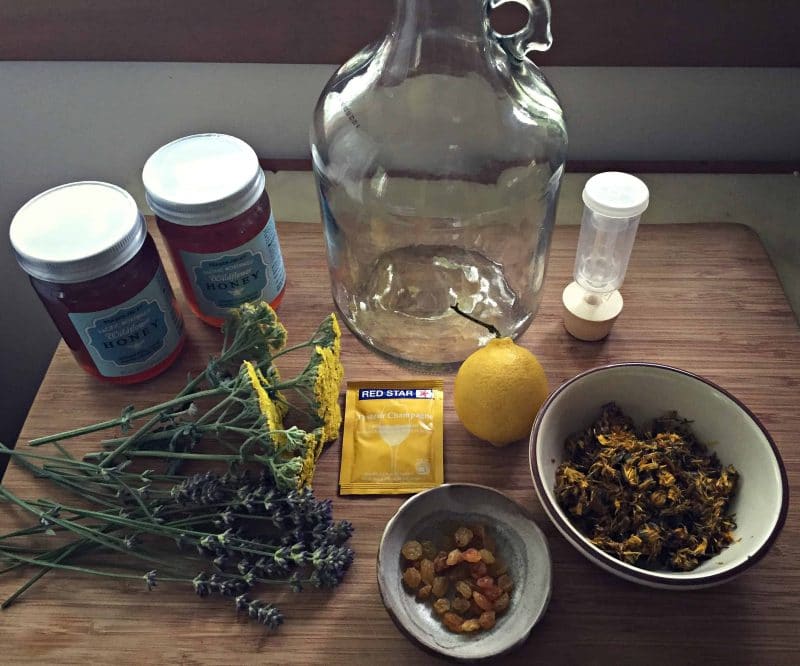 Here is everything that you will need:
2-3 pounds raw honey, preferably wildflower honey
Wildflowers of your choosing
A small handful of golden raisins
1/2 lemon
Sanitizer (I like One Step brand)
large pot, big spoon, and funnel are also very helpful
First you want to make sure that you sanitize everything that will come in contact with your mead making, including the jug and lid, large pot, big spoon and funnel. Keep your sanitizer handy in case you need it later on.
Then you need to collect your wildflowers, if you haven't already. This is the fun part!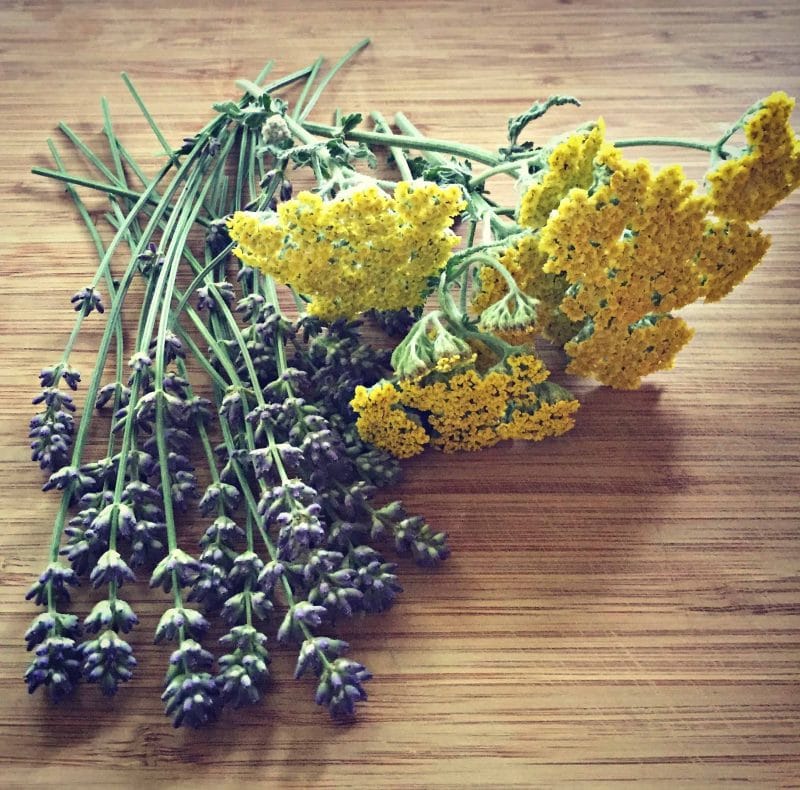 Besides the dandelion that I had been collecting, I decided to go with yarrow and lavender, mainly because they are growing right in my front yard. Roughly chop your flowers, cutting off as much as the green part as possible.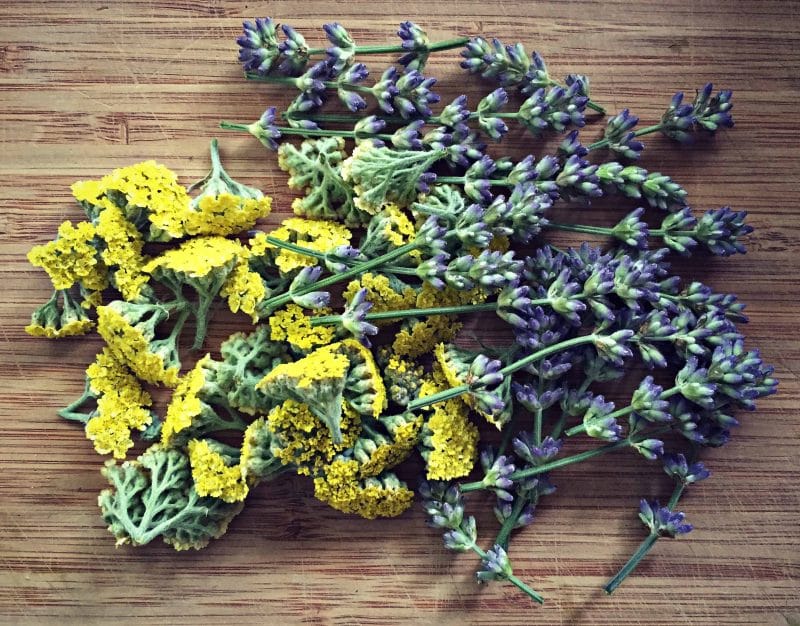 A little bit of green on these is ok because they aren't nearly as bitter as the dandelion greens are. Next, put about a half gallon of water into your big pot with your flowers and bring to a boil.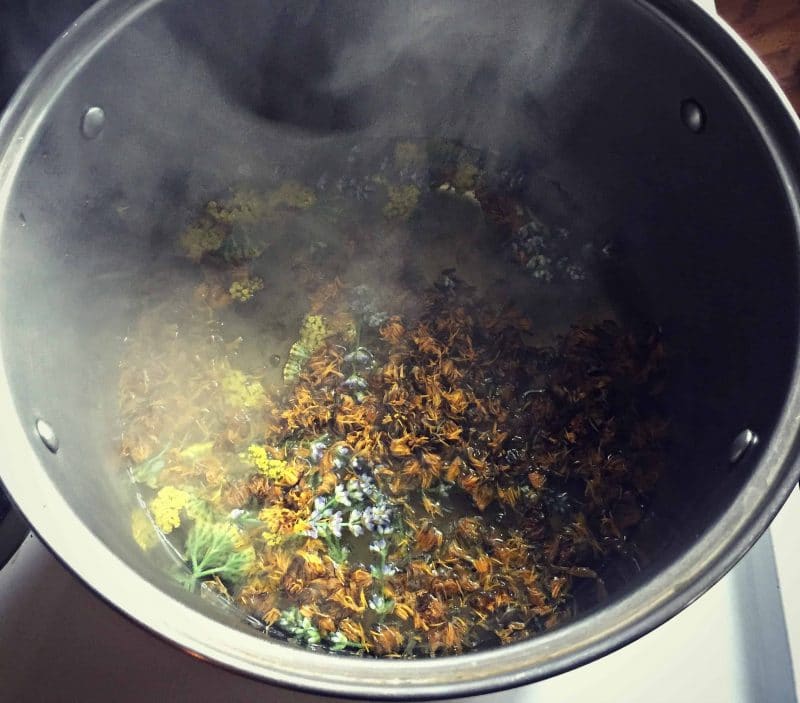 Once it comes to a boil turn off the heat and let the flowers steep for at least 20 minutes or so. While the water is still warm add the honey and stir it until it dissolves.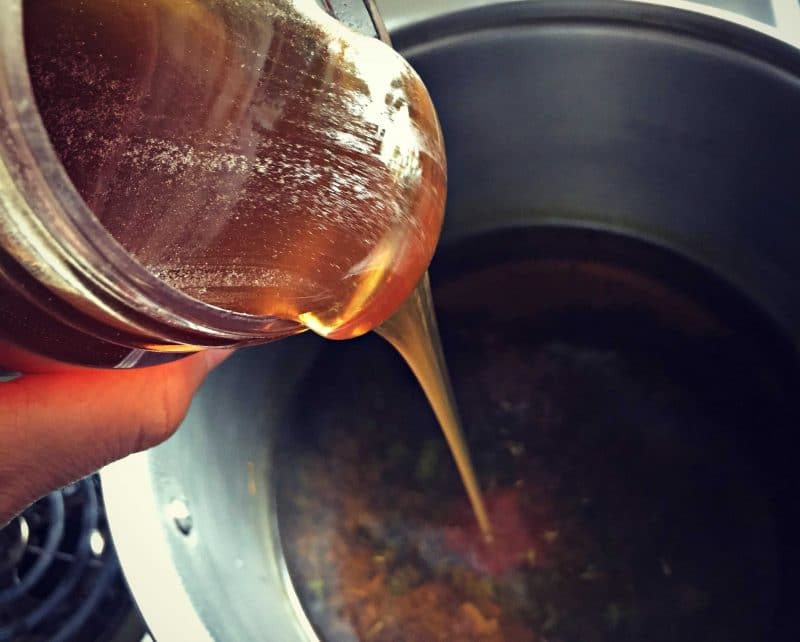 The lavender lost it's purple color after boiling, it turned green! The smell of this wildflower tea was absolutely amazing. Use the funnel to pour the "must" into your one gallon jar.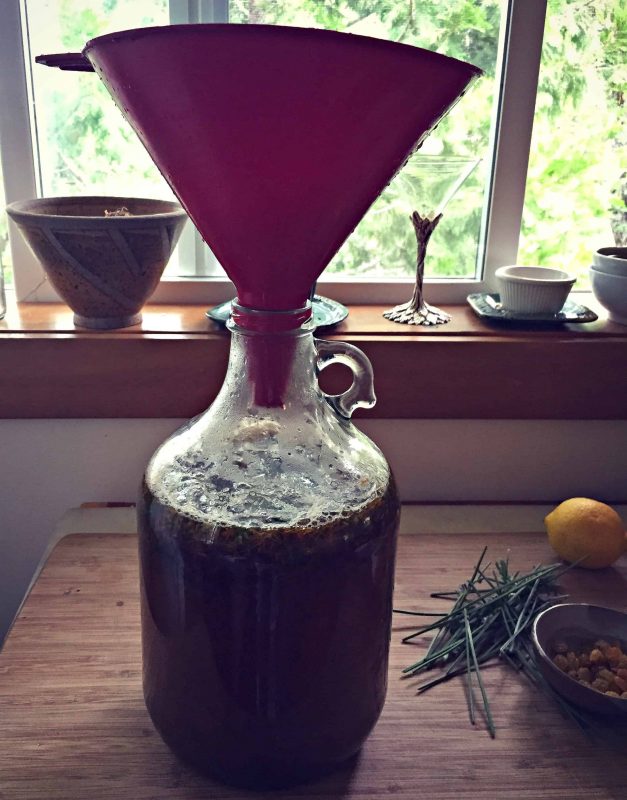 Add the golden raisins and 1/2 lemon, thinly sliced.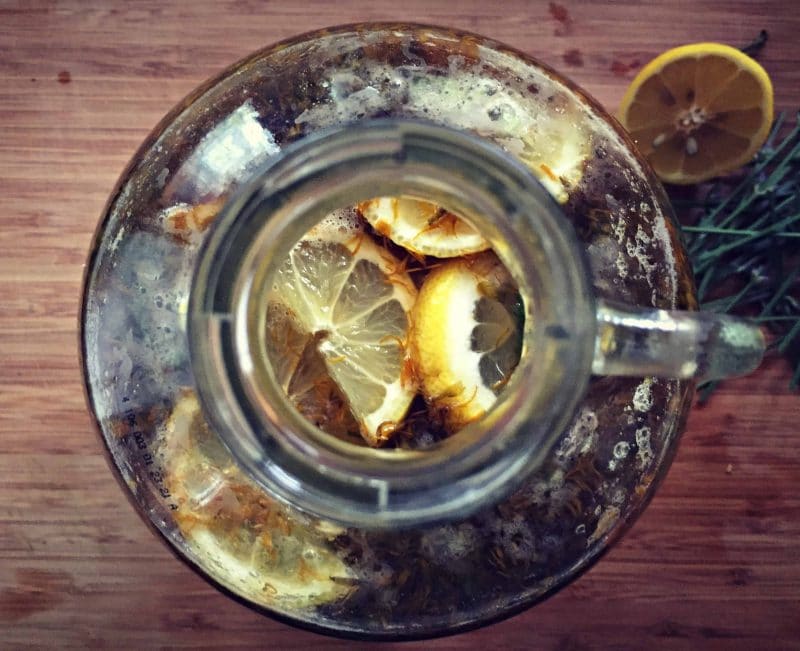 Top off with pure (non-chlorinated) cold water, leaving a few inches of head space. Next you will add the champagne yeast, but you need to make sure that the temperature of the "must" is 90°F or less (preferably 75°-80°F). Use a thermometer if need be, and when it's cool enough add 1/2 package of yeast (refrigerate the other half for later use).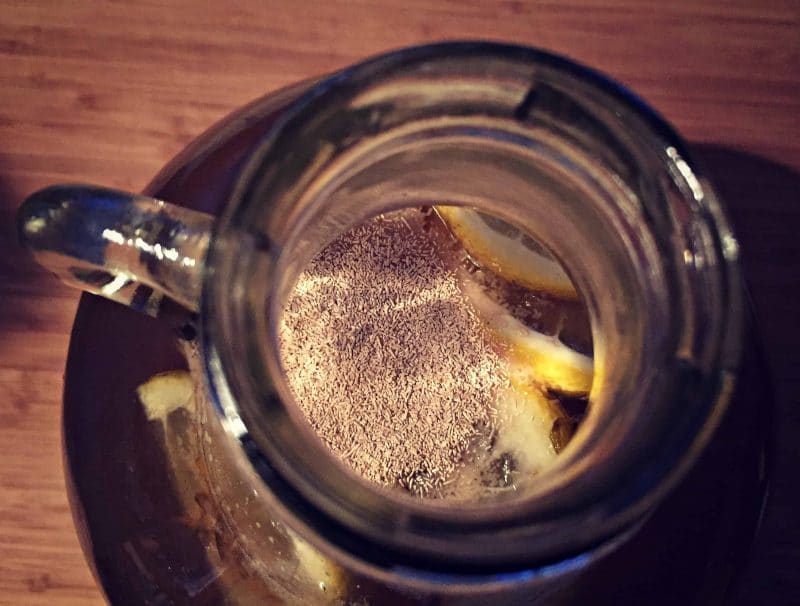 Cap the jug and shake it for a minute or two to distribute the yeast. After shaking, you should see the little yeasty beasties floating around. Cute, aren't they?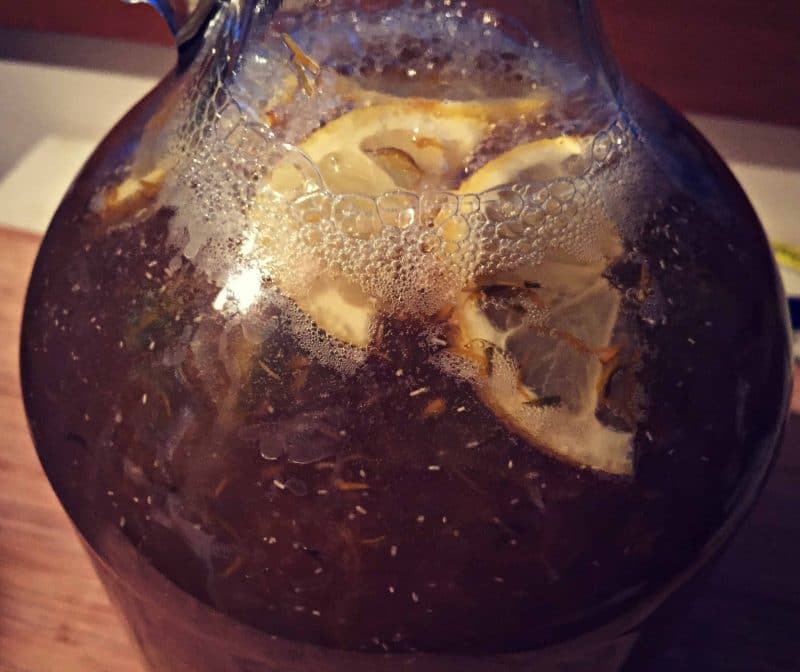 Then put your rubber stopper with airlock (filled halfway with water) on the top of your jug and wait for the lovely bubbles to start forming.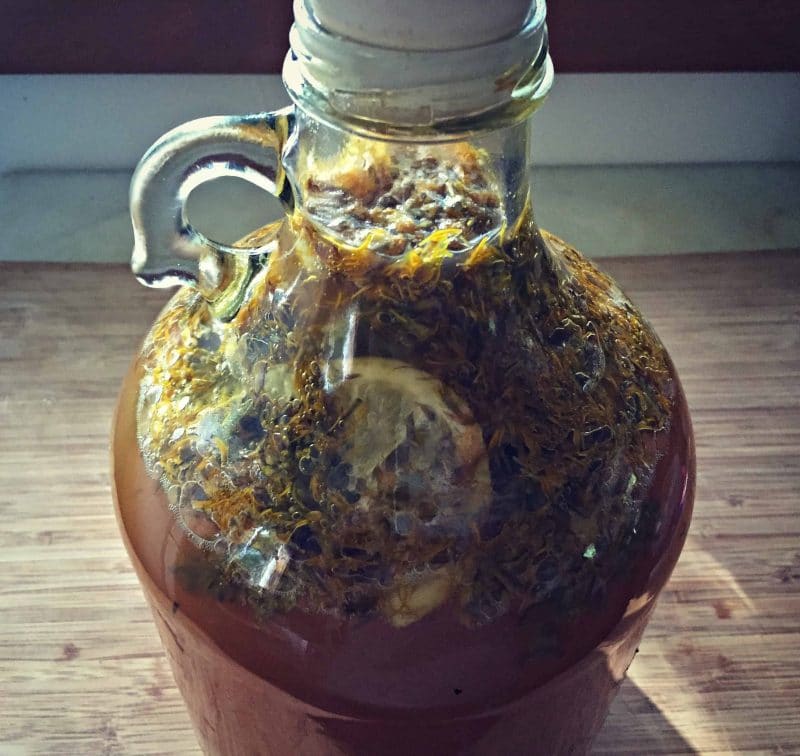 The next morning it should be bubbling pretty vigorously. All the flower petals may start to bubble up towards the top of the jug, just stir them around a few times throughout the first day or two with a sanitized butter knife or chopstick if need be to get the bubbles out.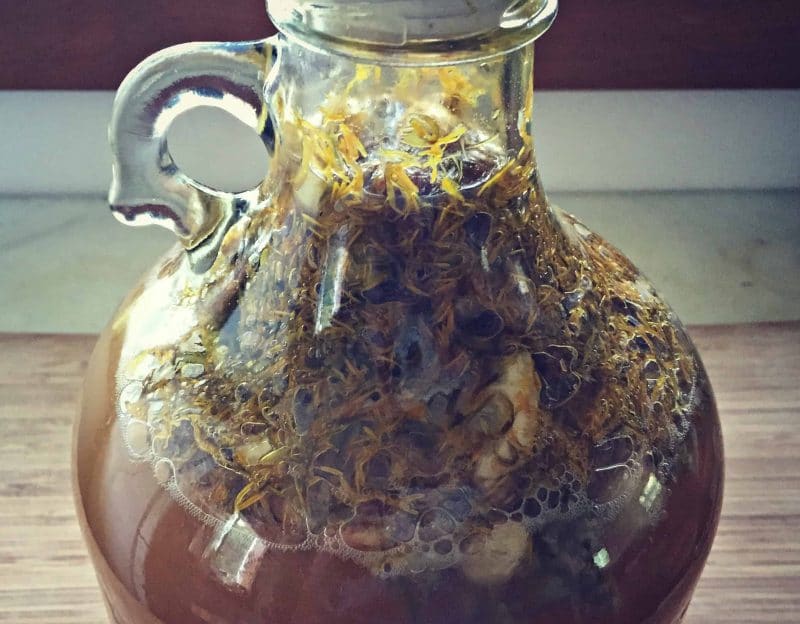 Let it ferment in a cool dark place for about 6 weeks, or until it completely stops bubbling. Once it's done you can bottle it and let it age for up to a year or even longer. I'm probably going to drink mine before that, though! I will let you know how it turns out, but I have high hopes for this one. The lavender gave it a wonderful scent and mixed with the other wildflowers it was intoxicating!
(Edit: This mead turned out absolutely wonderful, dry with only a hint of sweetness and a lovely floral flavor and aroma. I have to admit, I was a bit worried that the yarrow was going to make it bitter, but it wasn't at all. You can see more details on how it turned here: Updates and Recent Happenings: More Raspberries and Wildflower Mead)
Hope you like it, and happy mead making!
Save
Save
Save