I'm so excited for this post as this is something that I've been wanting to do for a long while! If I had known how easy this is I would have done it years ago. I'm going to show you how to make an herbal salve with herbs that you can forage or are most likely growing in your garden. The best part about it is that you can use any number of herbs, it doesn't have to be the exact ones that I show you here, as there are many that have powerful healing properties.

Choosing and Drying Herbs for Herbal Salve
Alrighty, lets get into the details of this salve making! The first step in the process is to make an herbal oil infusion, which sounds a lot more complicated than it actually is. There are a few different ways to do this, but the first thing you need are herbs.
For this salve I used plantain leaves, comfrey leaves, yarrow leaves and flowers, lavender flowers, and lemon balm leaves. There are many other medicinal plants and herbs that can be used, such as calendula, St. Johns wort, and arnica to name a few. I foraged the herbs for this salve, but you can also purchase high quality, organic dried herbs from Mountain Rose Herbs.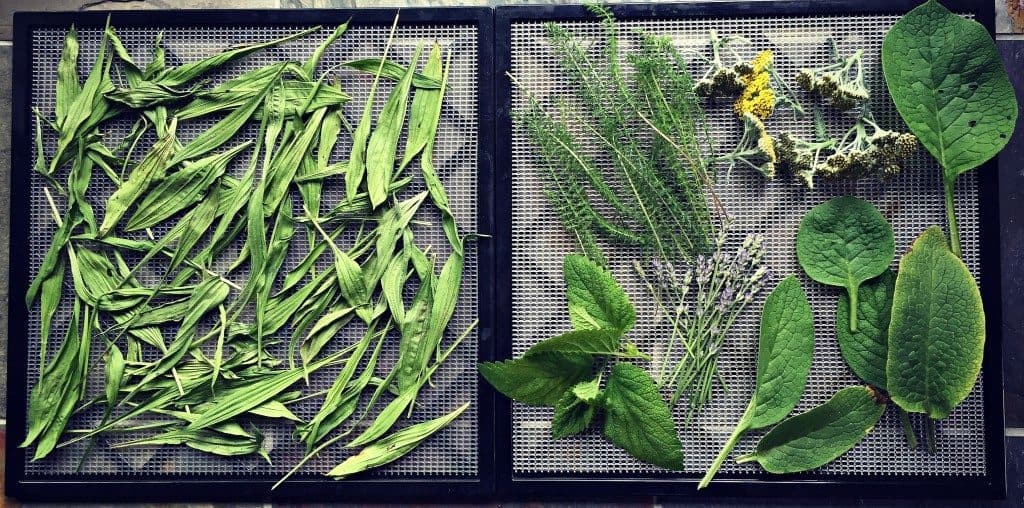 If you foraged your own herbs you will need to dry them first. Hang them upside down for several weeks, use a drying screen, or if you need them in a hurry and you happen to have a food dehydrator (Excalibur is best), you can use that as well. Since I was making yogurt in my dehydrator already, I decided to do double duty and dry my herbs at the same time.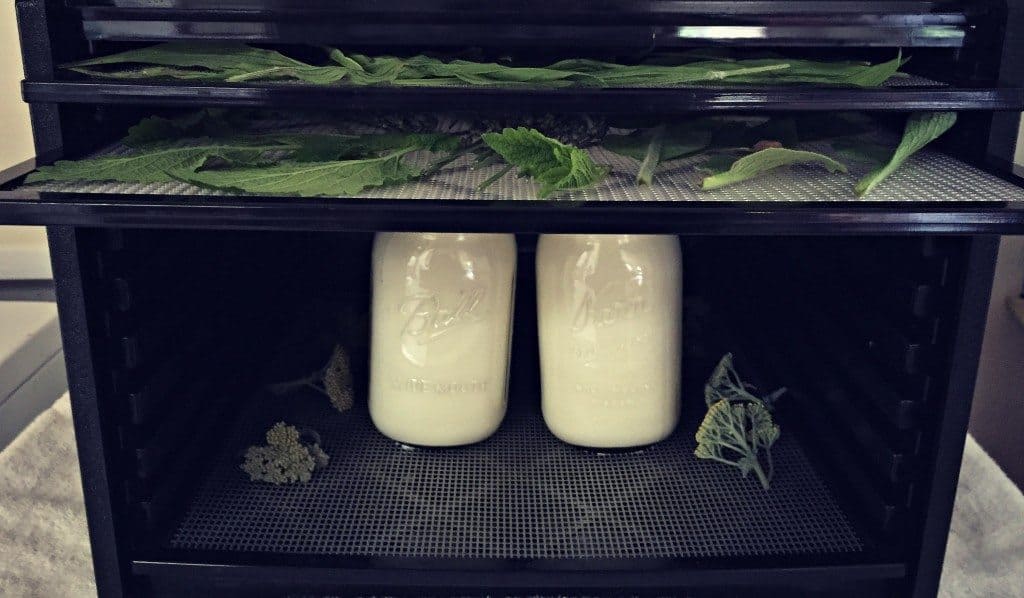 It's important to make sure that your  herbs are completely dry before you make your oil infusion or else mold can form and it will go rancid.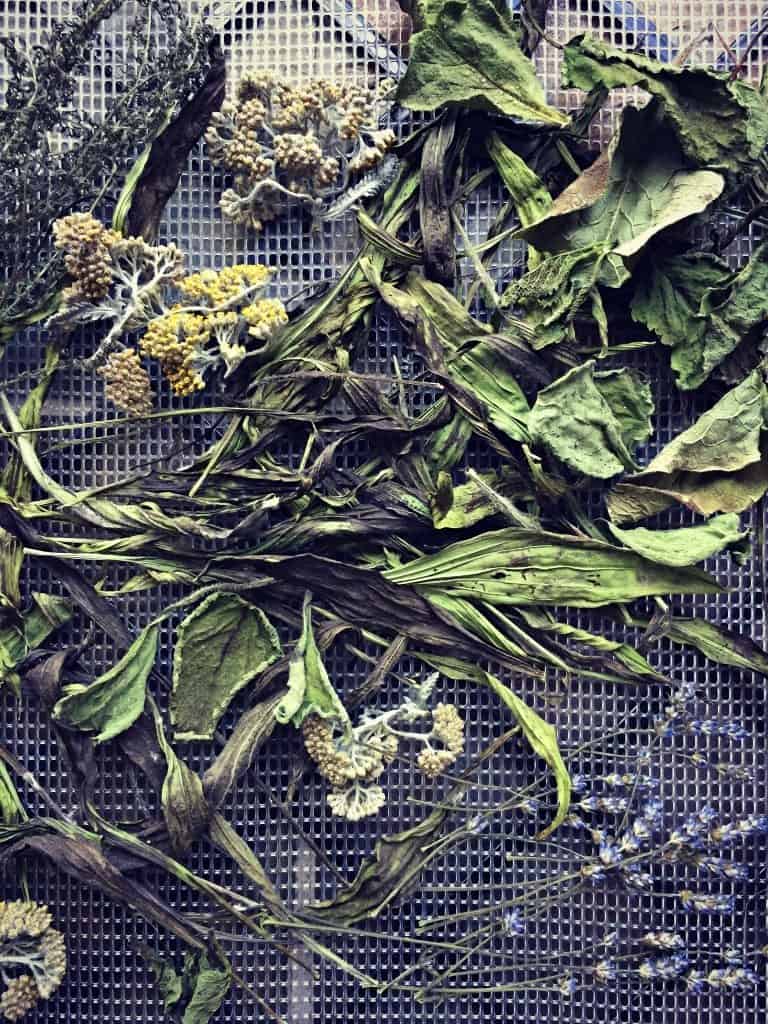 Making the Herb Infused Oil
Now it's time to make your infused herbal oil. There are a few of ways to do this, the first is to simply put your dried herbs in oil and let it sit for several weeks. I will often gently heat my oils as they're infusing in my dehydrator a few times to help the process along. You can use several different types of oil for your infusion, but olive oil is the most common. I also like to use coconut oil.
If you need your infused oil sooner, or if you want to use coconut oil which is usually solid at room temperature, you can gently heat the herbs in the oil over a double boiler or in a slow cooker on low heat. I was short on time and wanted to use some coconut oil, so I decided to go with this method. Plus, I recently acquired a slow cooker that came with a second mini slow cooker, and I discovered that this is the perfect use for it!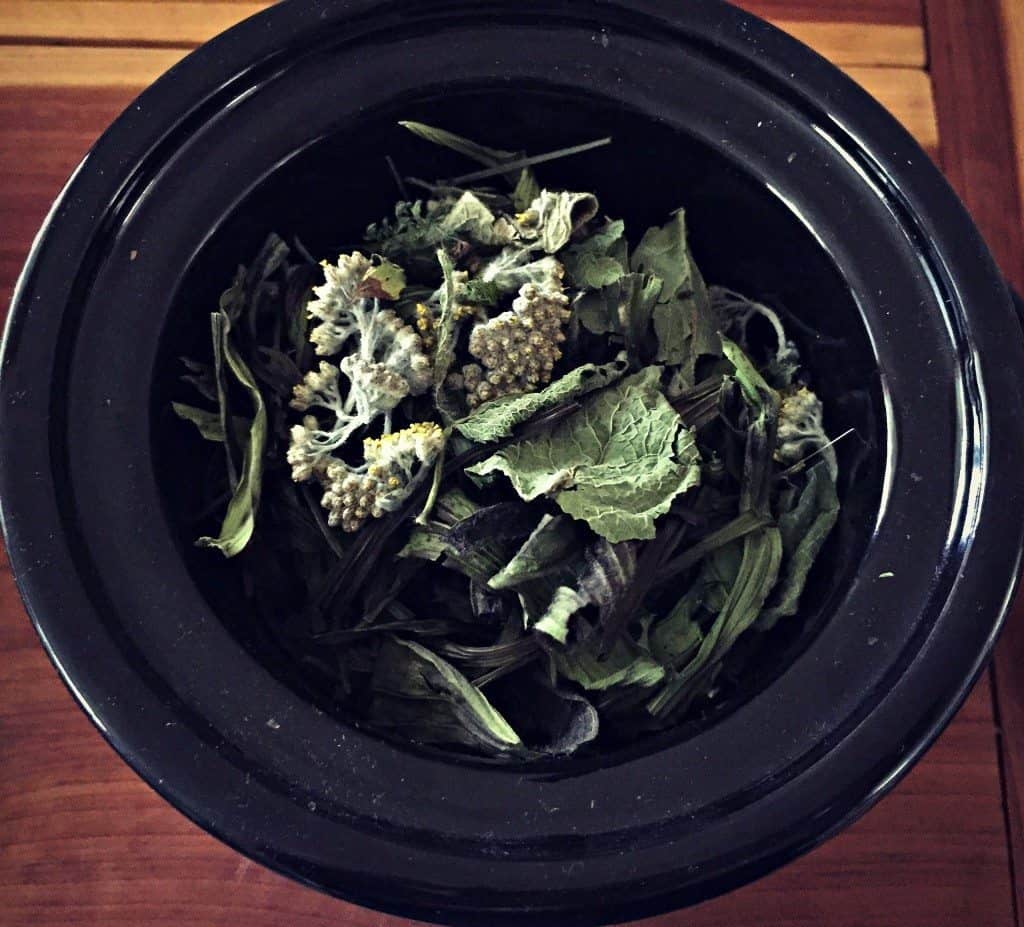 Crush up your dried herbs a bit and put them in your vessel, then cover with oil. I used a combination of olive and coconut oil, a total of approximately 1 ½ cups. The more oil you make, the more salve you can make. Heat for several hours, making sure that it doesn't get too hot and cook the herbs. I did this in the evening and turned off the heat before bed, letting the herbs continue to steep overnight.
Herbal Salve Recipe
The next morning I had a very fragrant herbal oil infusion! Strain it with a sieve and cheesecloth into a bowl that you will be able to use as a double boiler.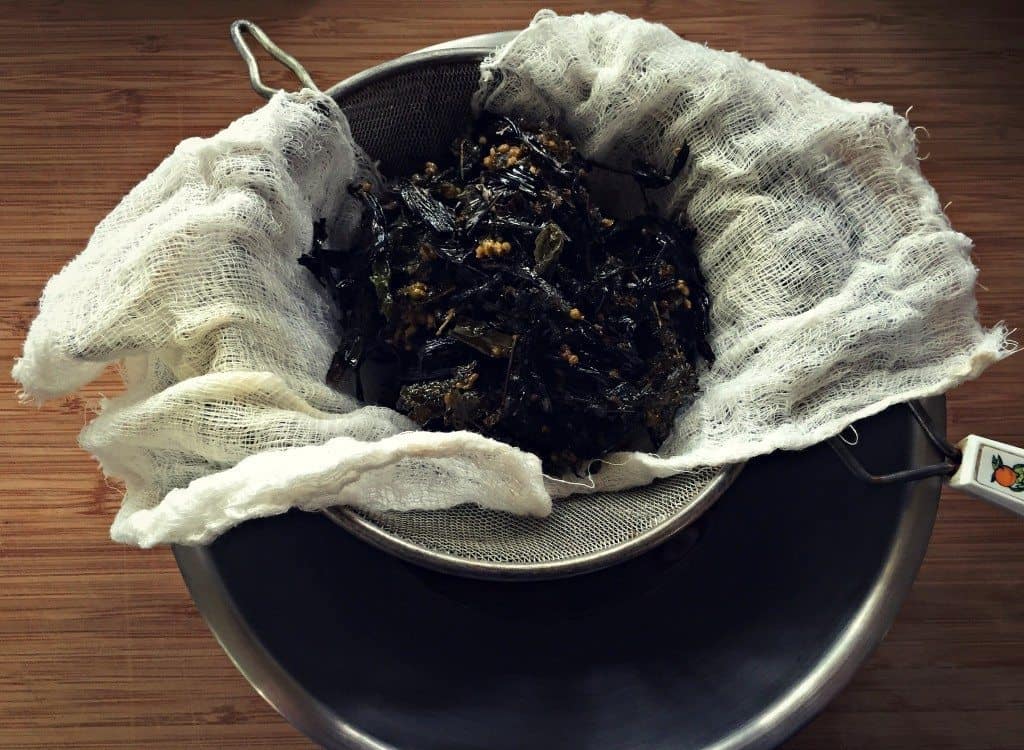 Use the cheesecloth and squeeze every last bit of oil into the bowl. Now that you have your herbal infusion, it's time to gather the rest of the necessary ingredients.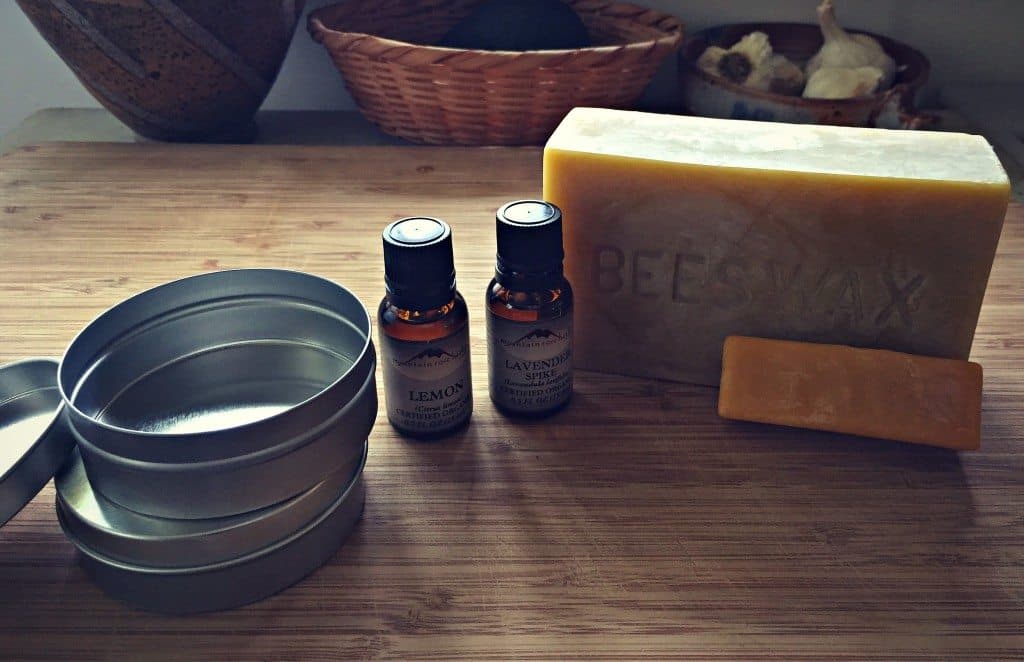 Beeswax (or carnauba wax for vegans), essential oils of your choice, and some sort of vessel to put your finished salve in (such as these tins) is all that you'll need besides the infused oil. I used about 1 ounce of beeswax (one small stick), and lavender and lemon essential oils, to accentuate the lavender flowers and lemon balm in the salve.
Now everything comes together quite quickly. Put your bowl of herb infused oil onto a pot of boiling water, double boiler style. Cut your wax into chunks and add it to the warm oil.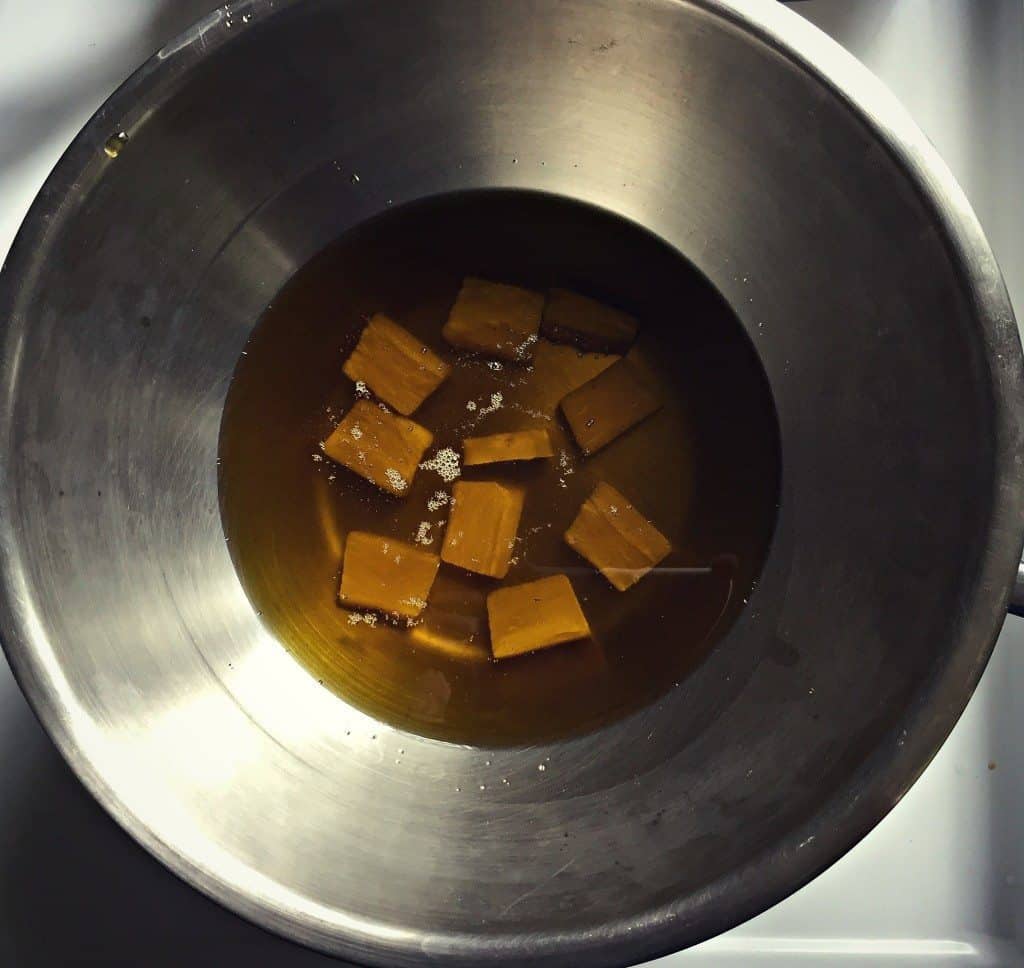 Add drops of the essential oils you chose, I did 12 drops of lavender and 6 drops of lemon. Once the oil heats up the wax should melt fairly quickly. When it's completely melted, take the bowl off the heat (it's probably hot!) and carefully pour it into your tins or vessel of choice.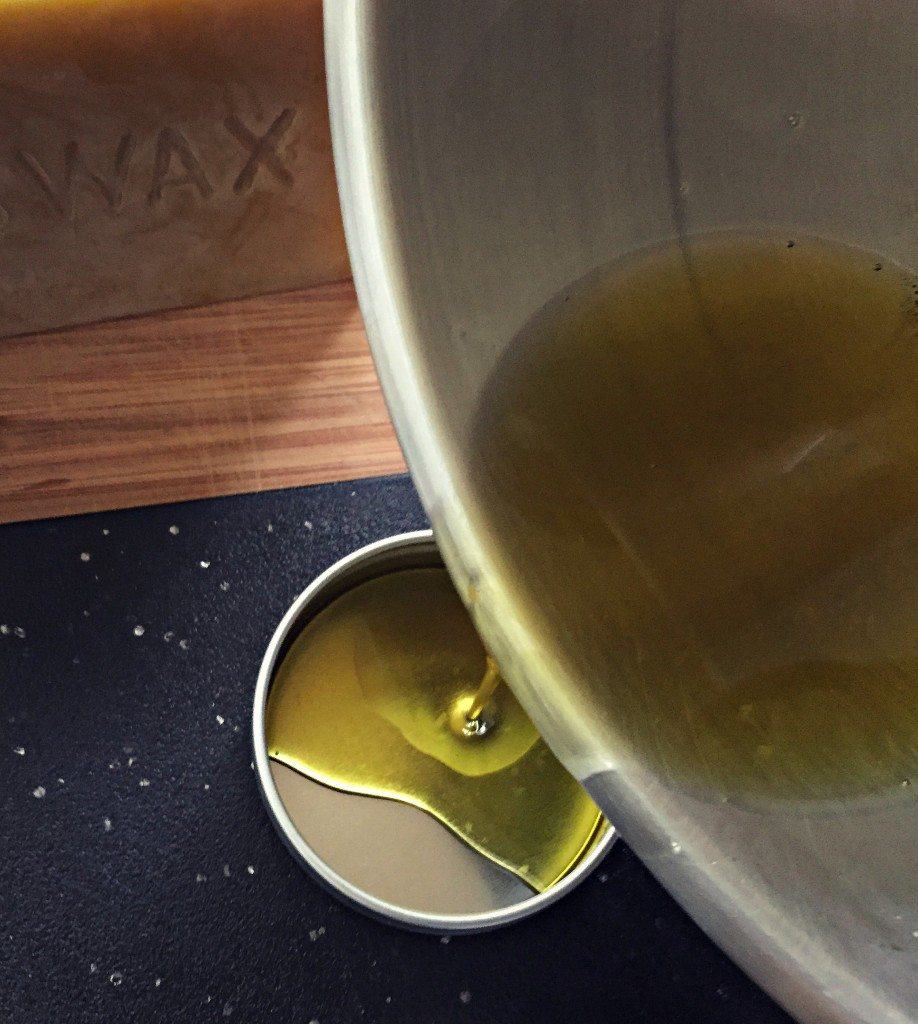 This batch that I made yielded two 4 ounce and two 2 ounce containers. I like to make various sizes so that I can stash them in different places such as my purse or the car. Once the tins are full let them sit undisturbed for a few hours to solidify.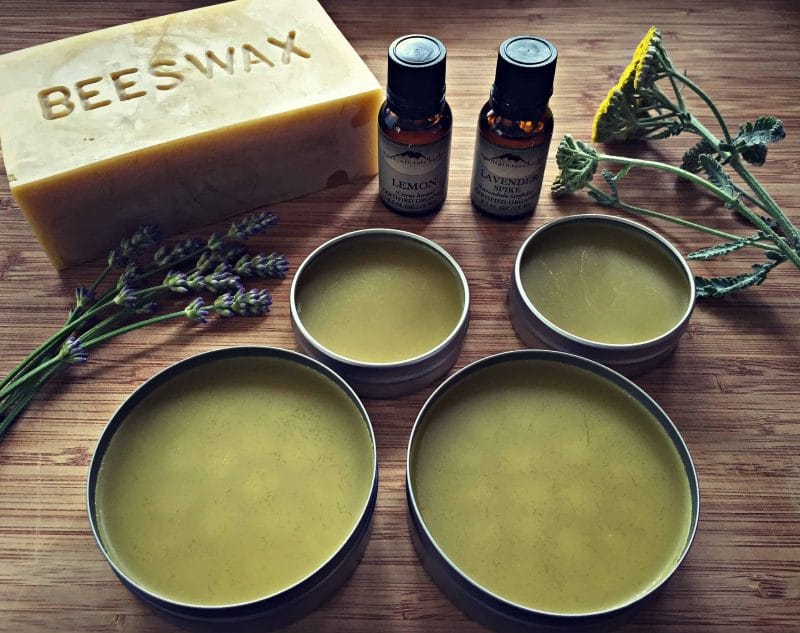 That's all there is to it! It's pretty amazing what we can make at home with just a few simple ingredients and a bit of time. This salve is good for minor cuts, scrapes, bruises, bites, stings, rashes and dry skin. I use it on my hands and feet all the time. Not only does it have astounding healing powers with all of the medicinal herbs that it contains, but it smells absolutely divine!
You can also make this into a lip balm if you'd like, simply add more a bit more beeswax to help it hold up better on your lips.
---
Lip Balm Recipes
---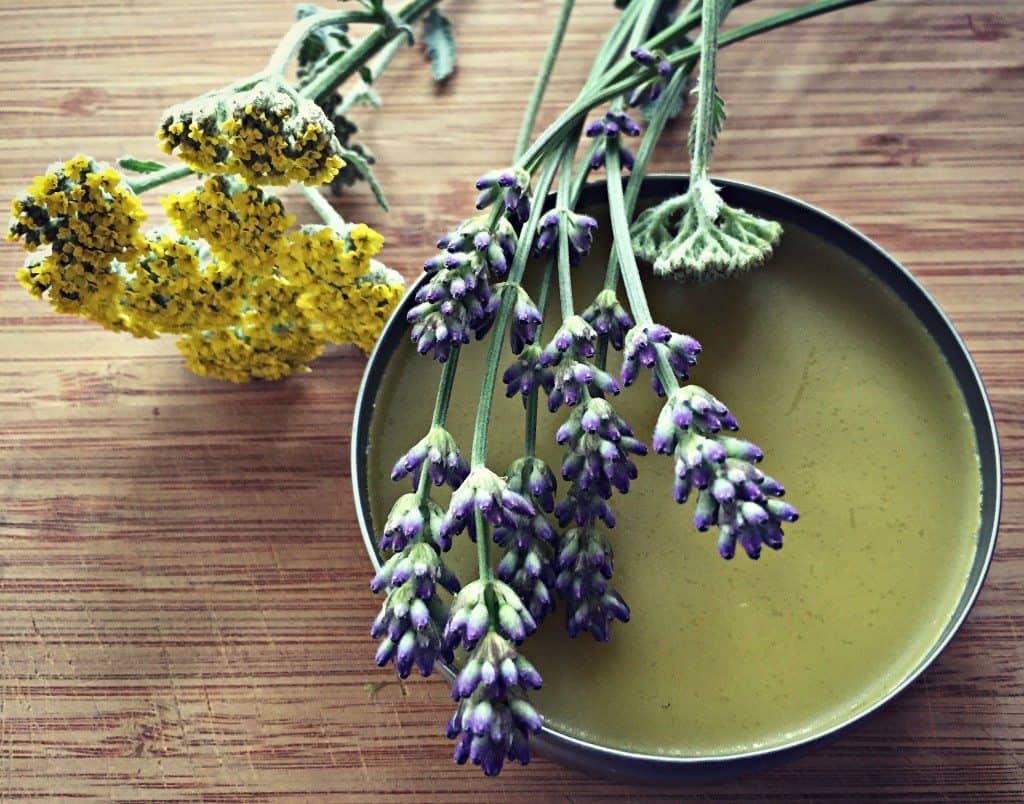 I make and sell an herbal salve very similar to this in my Etsy shop, if you'd rather buy it than make it yourself. It makes a wonderful gift!
---
Even More Herbal Salve Recipes
---
Happy herbal salve making!
Herbal Salve
How to make an Herbal Salve with healing herbs you can find in your yard!

Instructions
Herb Infused Oil
Put your dried herbs in a jar and cover with carrier oil.

Cover and place in a sunny window for a few weeks.

Strain the herbs and reserve the oil for making salves.
Herbal Salve
Heat the infused herbal oil in a double boiler. You can use a metal bowl or glass pyrex measuring cup over a pot of water if need be.

Add the beeswax and stir until it completely dissolves.

Stir in the essential oils.

Carefully pour the mixture into jars or tins and set aside until the salve solidifies.
Nutrition