If you've done any reading on the subject of permaculture, then you have for sure heard of comfrey. This plant has become the permaculturists darling for good reason, as it has a multitude of benefits including, but not limited to, natural fertilizer, dynamic accumulator, living mulch, companion plant, compost activator, and numerous medicinal uses. Unfortunately it has also been maligned in recent years, namely by the FDA, and wrongfully so in my opinion.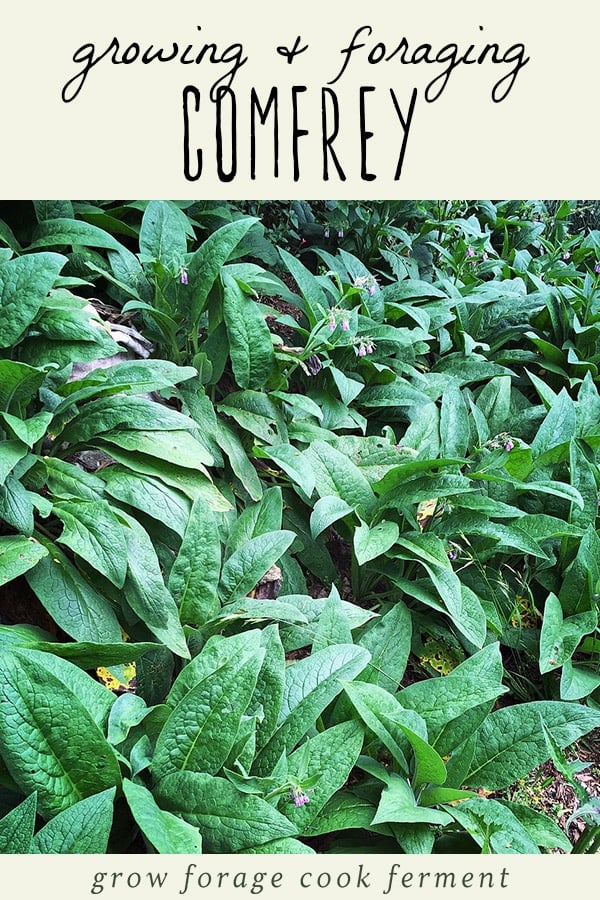 ---
Wildcrafting Weeds
If you want to learn more about the edible and medicinal weeds that surround us and how to use them, check out my eBook: Wildcrafting Weeds: 20 Easy to Forage Edible and Medicinal Plants (that might be growing in your backyard)!
Gather & Root Online Foraging Course
My online foraging course is a great way to learn about wild edible and medicinal plants! Sign up to join the waiting list for the gather + root online foraging course here so that you are the first to know when it opens for enrollment.
---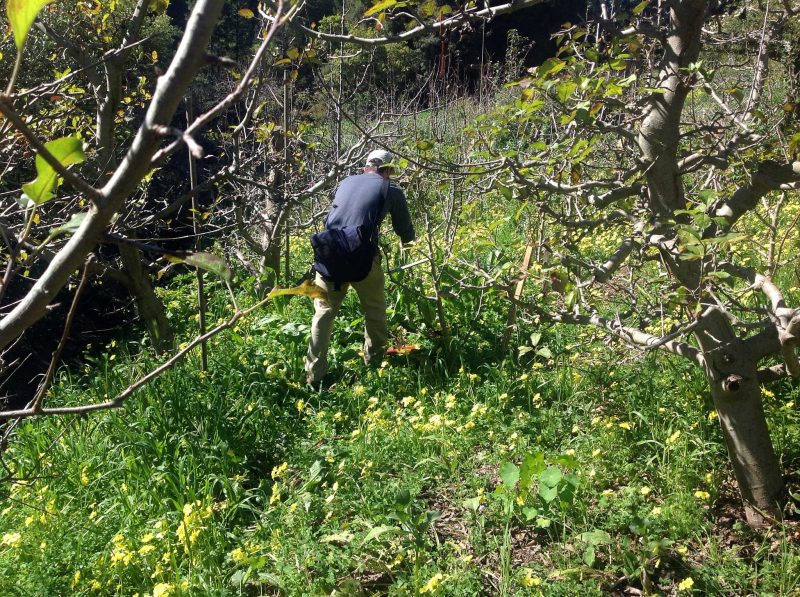 Foraging for Comfrey
Joel and I "foraged" for comfrey and its roots when we were at the UC Santa Cruz Alan Chadwick Garden. We asked one of the employees in the garden if we could take some and she told us to take it all! Of course we didn't take all of it, but the reason she said that is because it tends to spread very quickly and easily. It is not native to the United States and thus is not really a traditional plant for foragers here, but because it spreads so rapidly after it's planted, chances are you can probably find it out in the wild somewhere.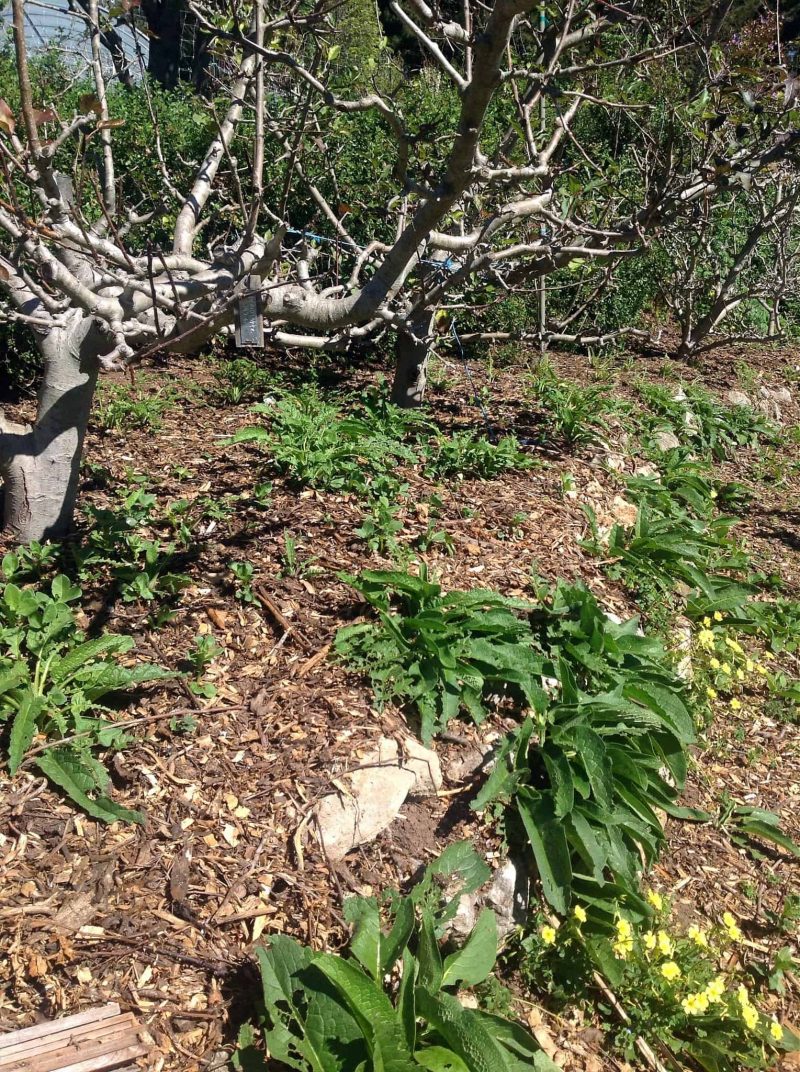 Uses of Comfrey
Here it is growing around fruit trees. It is often used as a component of a guild, which is a group of plants arranged to mutually benefit each other. Comfrey has a deep taproot and is a dynamic accumulator, which means that it brings up important nutrients from the soil that other plants benefit from, thus making it a great companion plant.
Here is that same patch of comfrey, one year later. Look at how much it has spread!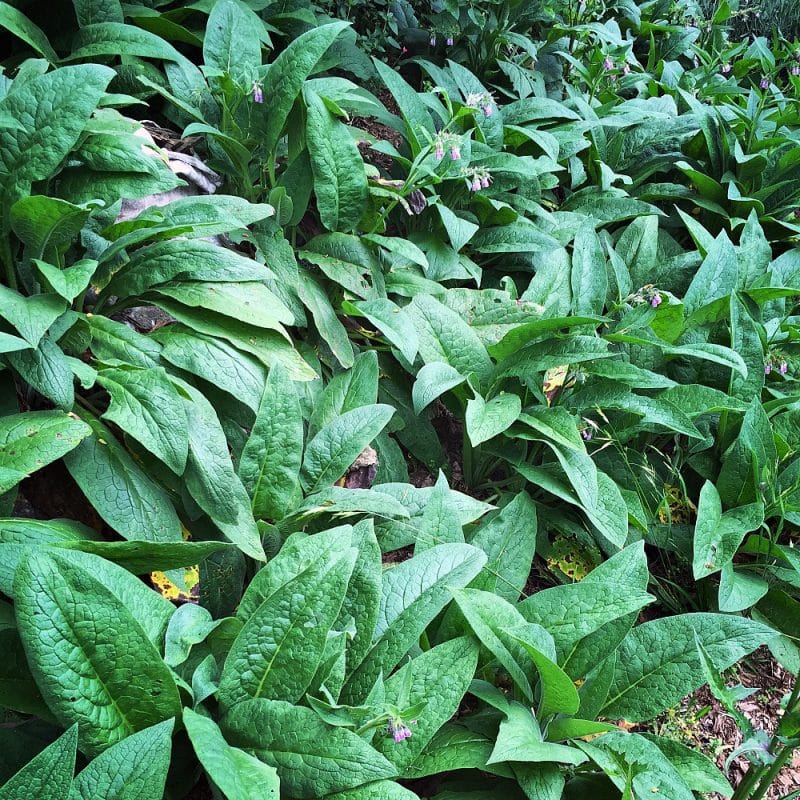 Comfrey is also great for mulching, especially in the chop and drop form, and for compost. It is especially good when grown with fava beans or other cover crop nitrogen fixers. Once these plants get to a certain size they can be chopped and left in place as mulch and compost. You can also make a wonderful compost tea out of comfrey leaves to use on your garden plants.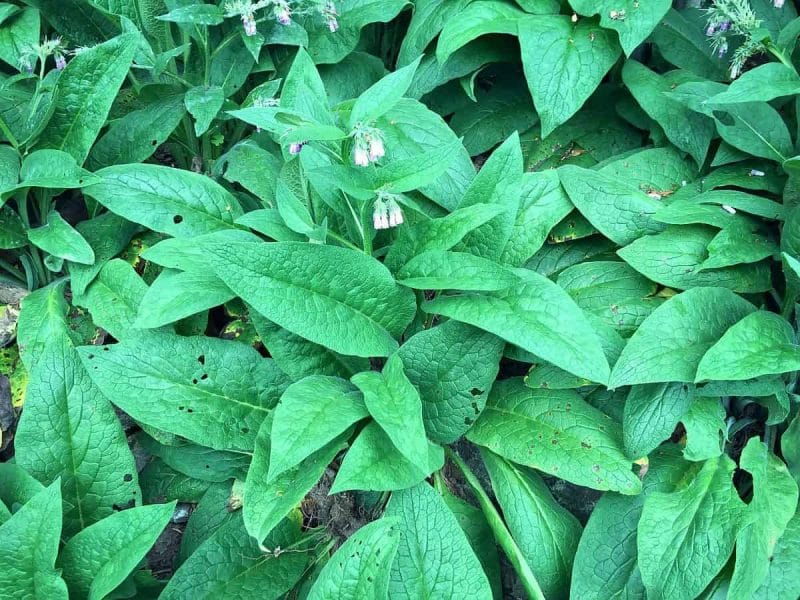 Comfrey has a nice flower that attracts bees and other beneficial insects. The flowers are generally white, pink, or purple, and they hang down from a central stem.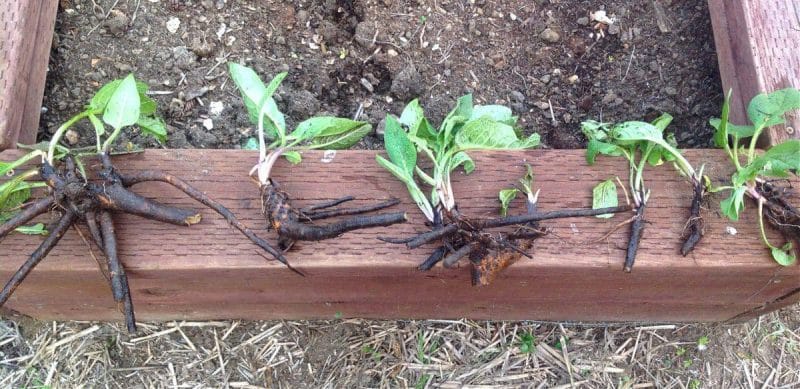 How to Grow Comfrey
Joel dug up a bunch of comfrey roots for propagation as they grow very easily from root cuttings. He cut off all of the green leafy matter and planted the bare roots in pots. We are not 100% certain of the variety as there are two types that are commonly grown, Russian or Common. The Russian variety, however, is sterile and cannot reseed itself, so can only be propagated by root division or cuttings. Our guess is that this is Common Comfrey (Symphytum officinale).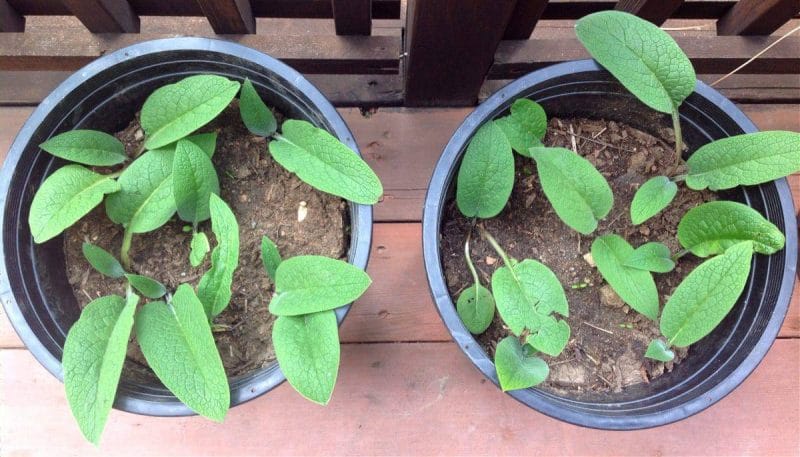 It didn't take more than a couple of weeks to get some nice leafy growth.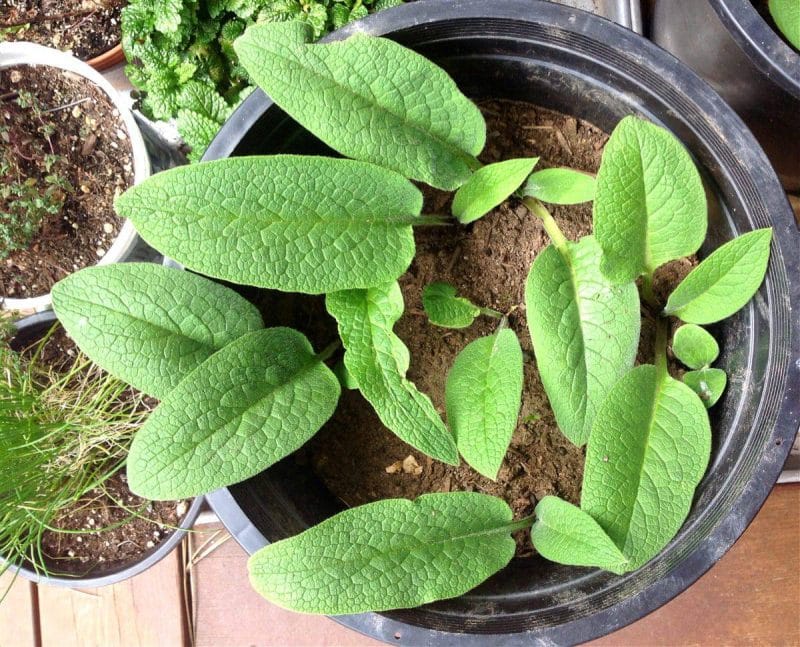 Then they started growing so fast it seemed like we could actually watch them get bigger!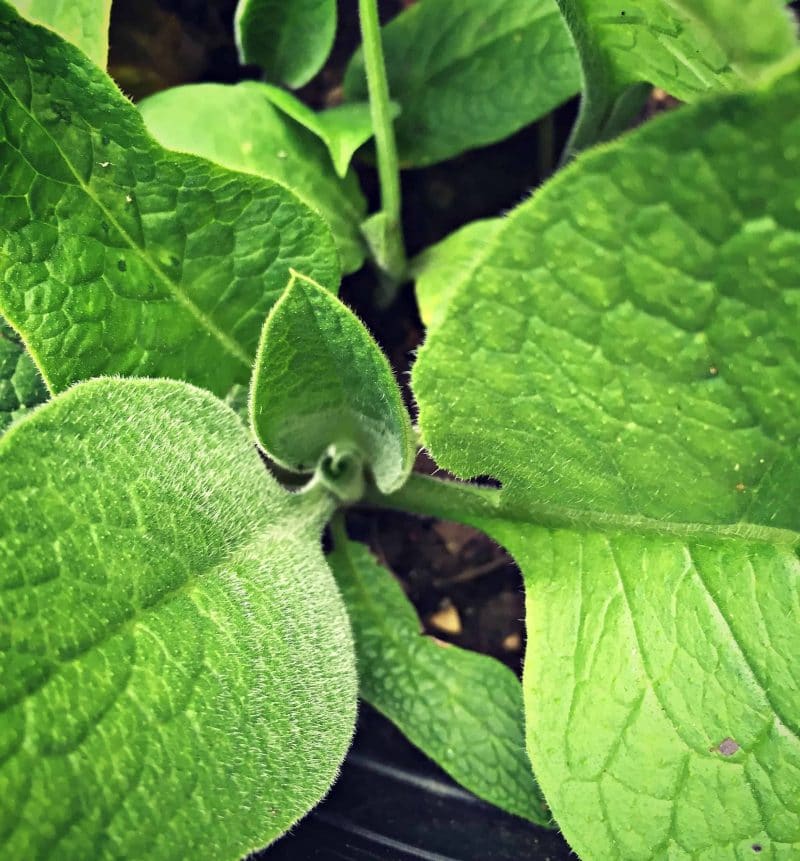 Comfrey also has a multitude of medicinal benefits. This is where the FDA claims have been a little bit overblown. It has been used for ages as a wonderful medicine and Common Comfrey (Symphytum officinale) is quite harmless. It is a powerful wound healer and is often used in a basic Comfrey Salve or  other herbal salves and creams alongside other herbs such as plantain, yarrow, calendula, and St. John's Wort. It is also well known to help heal broken bones, hence the nickname "knitbone" that it has acquired. As with any herbs, use with caution especially when taken internally, but as long as you're just using it for short periods of time you really should be just fine.
If you don't have any comfrey around, but still would like to use it, buy comfrey root or comfrey leaf from Mountain Rose Herbs (my favorite source of high quality, organic dried herbs).
Here are some great posts about Comfrey and its use:
And here are some more specifically about Comfrey's medicinal value:
The more you read about it the more you will want to be growing and foraging for comfrey! It has so many uses, it really is a wonder plant.
Save
Save