Yarrow is an amazing edible and medicinal plant that is very common. Here is everything you need to know about foraging yarrow, a powerful plant you might have growing in your own backyard!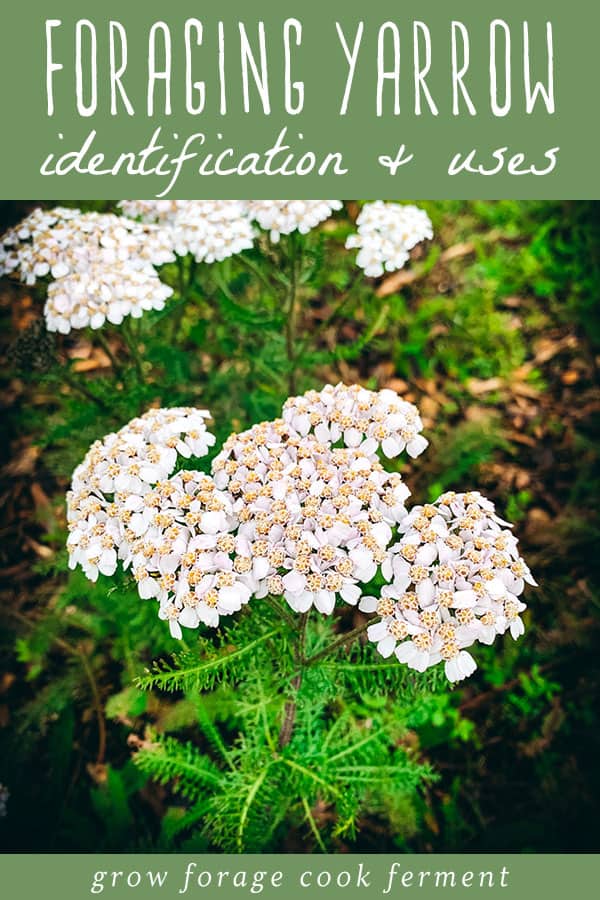 ---
Wildcrafting Weeds
If you want to learn more about the edible and medicinal weeds that surround us and how to use them, check out my eBook: Wildcrafting Weeds: 20 Easy to Forage Edible and Medicinal Plants (that might be growing in your backyard)!
Gather & Root Online Foraging Course
My online foraging course is a great way to learn about wild edible and medicinal plants! Learn more about the gather + root online foraging course here.
---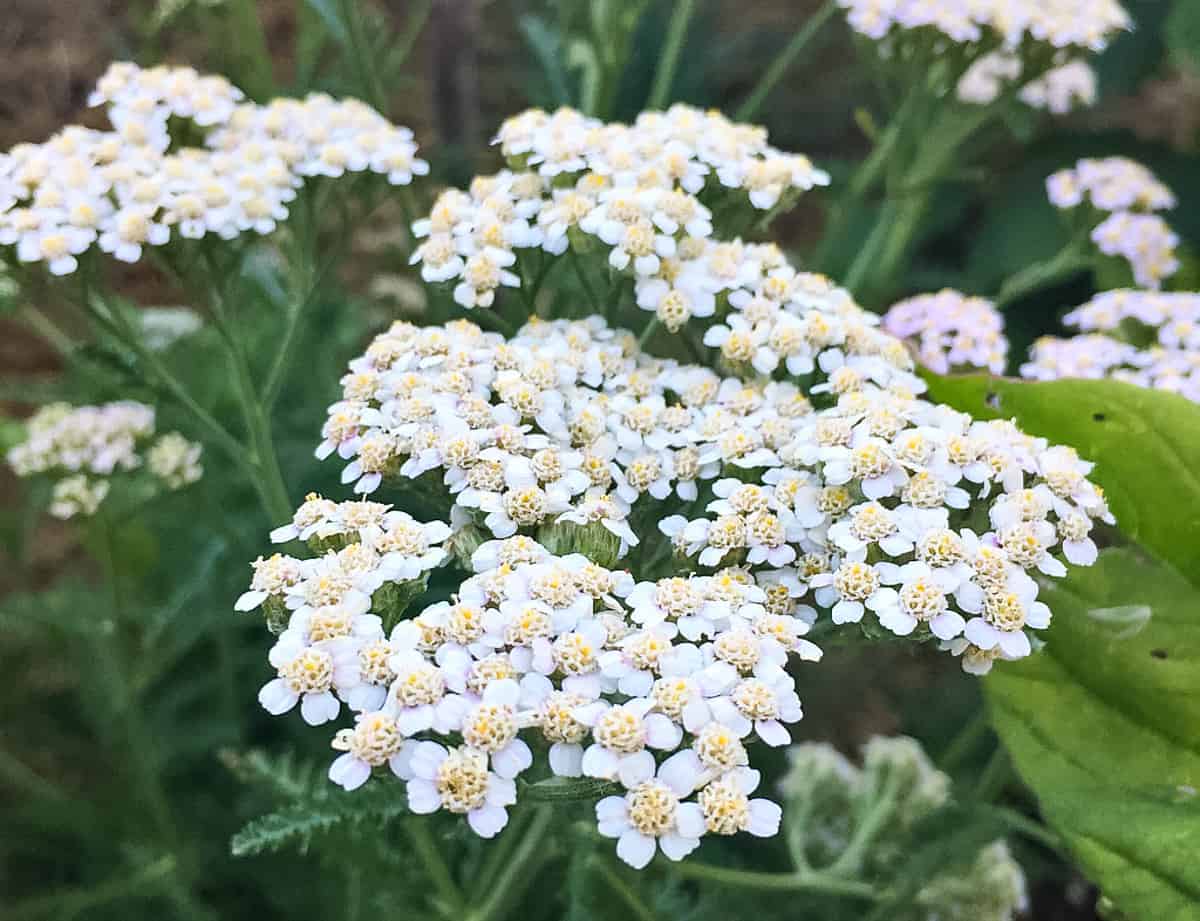 Foraging for Yarrow
Yarrow (Achillea millefolium) is a flowering perennial plant in the Asteraceae family, which is a very large family of flowering plants.
In temperate climates, yarrow grows year-round; its flowers bloom in the spring and summer and then die back. As a result, yarrow is often found without flowers during other times of the year.
The entire yarrow plant, the flowers, leaves, stems, and roots, is usable for culinary and medicinal purposes.
One thing to mention right away: Yarrow should not be used internally by pregnant women as it can potentially increase the risk of miscarriage. Using it externally on the skin is fine.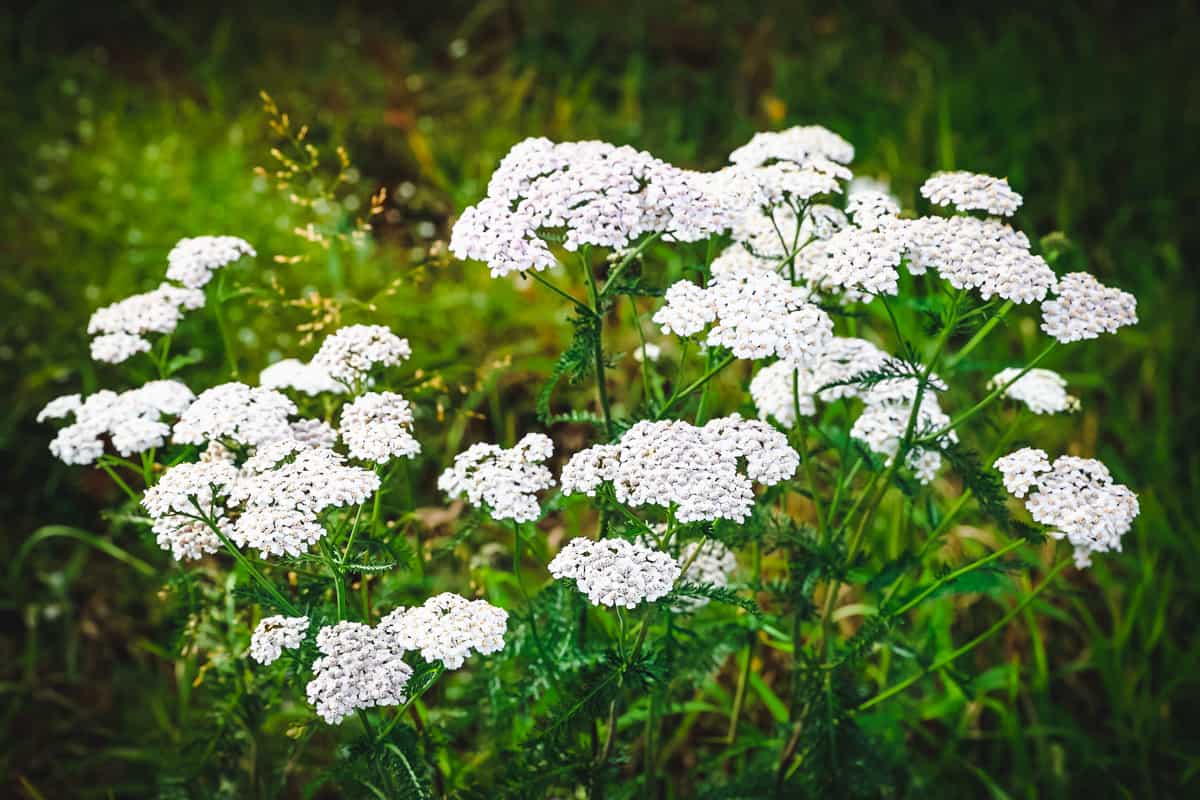 Where to Find Yarrow
Yarrow grows in temperate climates all over the world, including coastal and mountainous regions.
I've even found yarrow growing at 10,000 feet in the Sierra Nevada — although I did notice that the plants growing at this altitude lacked flowers.
Yarrow is commonly found growing in yards, meadows, fields, and disturbed areas.
Related: What to Forage in Spring: 20 Edible and Medicinal Plants and Fungi
Identifying Yarrow
Yarrow is a wooly perennial plant with feather-like leaves. These frilly leaves are unique to the yarrow plant and set it apart from potential look-alikes.
Mature yarrow has a flower stalk that stands around 2-3 feet tall and ends in a tight cluster of small, daisy-like flowers. Bees love yarrow flowers and it is a great plant to include in a bee garden.
Wild yarrow typically has white or rarely pink flowers, but cultivated yarrow can have yellow, orange, pink or red flowers.
Yarrow stems are grooved and have small wooly hairs.
Yarrow smells distinctly of fresh pine needles — crushing the flowers or leaves gently in your hands will intensify the scent.
Harvesting Yarrow
Yarrow is at its most potent when it's fresh, but it can also be dried for later use.
Hang yarrow flower stalks upside down or spread out leaves and flowers on a drying screen (you can also follow these instructions to make your own DIY drying screen) or in a basket.
Springtime is optimal for harvesting yarrow, but if you live in a warmer climate you can harvest yarrow leaves all year long.
Always remember to ask permission before you begin foraging, and make sure the plants haven't been sprayed with poisonous chemicals.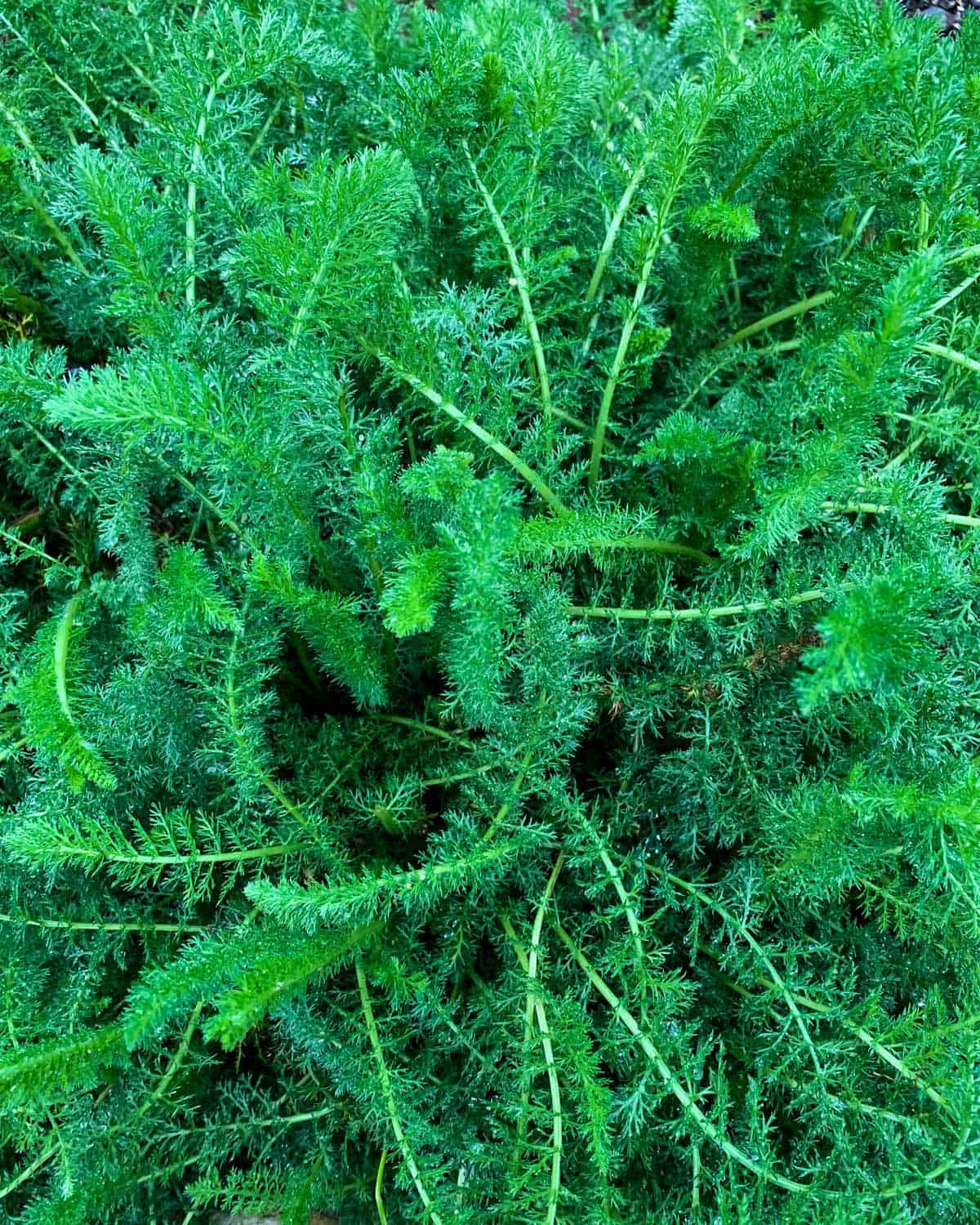 Yarrow Look-alikes
There are a few plants that are sometimes confused for yarrow.
In addition to the two more common look-alikes I've listed below, yarrow is less often confused for elderflower.
Queen Anne's Lace
Yarrow is most often misidentified as Queen Anne's lace (Daucus carota), a non-toxic plant that shares similar features with yarrow.
Unlike yarrow, Queen Anne's lace has a true umbel-shaped flower that will often have a small dark dot in the center, a hairy stem ("the Queen has hairy legs"), and a distinctive carrot scent.
Queen Anne's lace is actually wild carrot and has edible and medicinal uses.
Poison Hemlock (highly toxic!)
The other plant that is sometimes mistaken for yarrow is poison hemlock (Conium maculatum), which is absolutely very toxic!
To the trained eye, the physical differences between yarrow and poison hemlock are obvious, so make sure you check out my in-depth guide to poison hemlock.
It includes detailed instructions for identifying (and avoiding) this very poisonous plant.
Mature poison hemlock plants are 3-4 times larger than yarrow and the stem is covered with purple spots.
Younger poison hemlock plants are slightly more similar in appearance but again, are recognizable once you know what to look for.
Edible Uses of Yarrow
Yarrow has a strong bitter flavor and should be used judiciously, but it is edible!
When you're foraging for yarrow look for young leaves, they'll be slightly less bitter.
Cut young yarrow leaves into a fine chiffonade, adding a sweeter fresh herb into the mix to counter the bitterness.
In this recipe for Penne Aglio Olio with Yarrow, yarrow leaves are combined with equally assertive ingredients such as dried chilies, anchovy, and parmesan cheese.
If you're into homebrewing, you may have tried using yarrow flowers in place of hops. Like hops, yarrow flowers lend a distinctly bitter flavor to traditionally hoppy beers.
I especially like to add yarrow flowers to homebrew, such as this Honey Lemon Yarrow Summer Beer.
You can also check out my post on How to Make Wildflower Mead, which calls for yarrow flowers.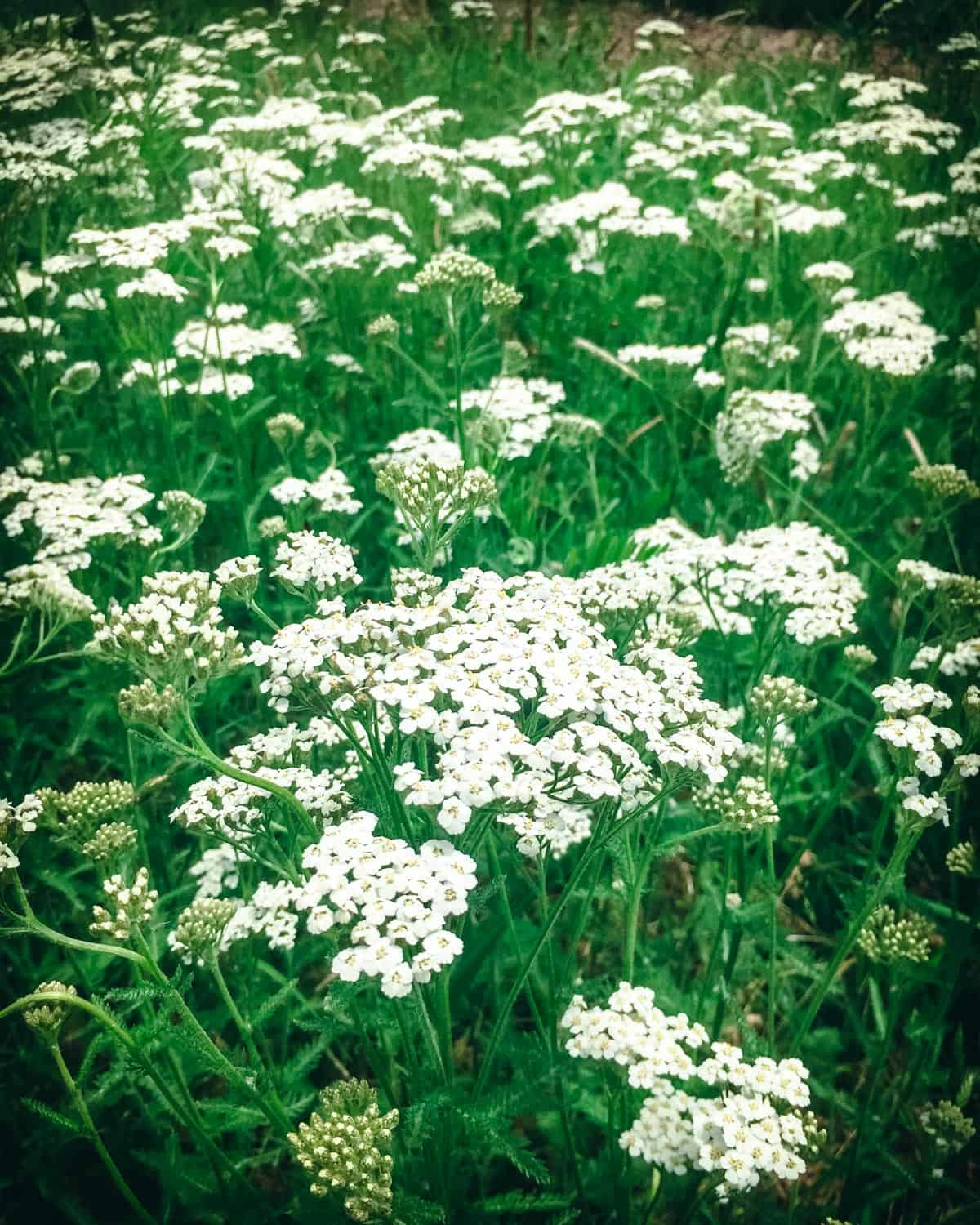 Medicinal Uses of Yarrow
When it comes to foraging for plants with medicinal uses, yarrow is one of the most important to be aware of.
Yarrow has antiseptic, astringent, antimicrobial, and anti-inflammatory properties, making it a useful herb to have on hand for a wide range of ailments.
Yarrow leaves can be used as poultice or ground up into a styptic powder to help stop bleeding. The styptic powder, which is made from dried and ground yarrow leaves, should be applied directly onto the bleeding wound.
Yarrow is so effective at coagulating blood, it has historically been used on the battlefield to stop bleeding during times of war.
Yarrow improves circulation and is great for the reproductive system as it balances women's monthly cycles and regulates menstruation. It is also good for the digestive system.
You can also use yarrow to make an herbal salve that will help to heal minor cuts and wounds. Try this yarrow salve recipe which is also great for dry skin.
Yarrow is also known for its ability to help regulate body temperature due to fever.
Sipping on a cup of yarrow tea will give you relief, as will taking a yarrow leaf bath. This is a great way to lower a temperature in an infant or toddler.
Yarrow tea is a fairly powerful diuretic, which means it can be ingested medicinally to combat urinary tract infections.
Because yarrow tea is so bitter, a concentrated homemade tincture might be a more appealing way to consume yarrow.
Yarrow is one of the herbs included the UTI Tea, Fever Tea, and Four Herb Wound Salve recipes in my book Healing Herbal Infusions.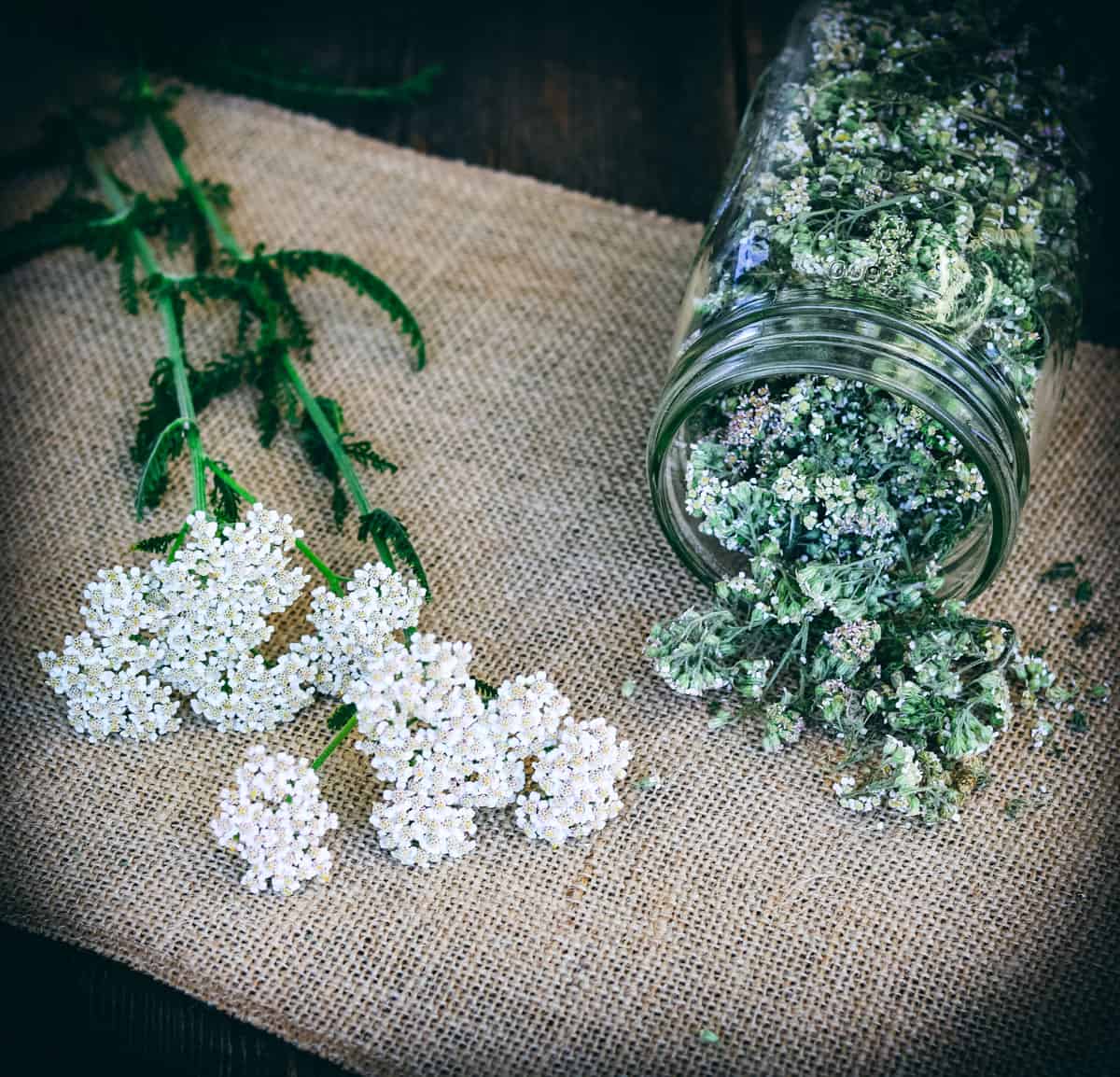 Using Yarrow for Skin Care
Yarrow is also a great choice for skin care as it is astringent and soothing for the skin.
When I'm fortunate enough to be flush with both yarrow and wild rose, I make this Wild Rose and Yarrow Soap to give away as a stress-relieving gift throughout the year.
This Yarrow and Witch Hazel Soap sounds wonderful as well.
For very dry skin and cracked heels try this hydrating Plantain and Yarrow Dry Heel Balm.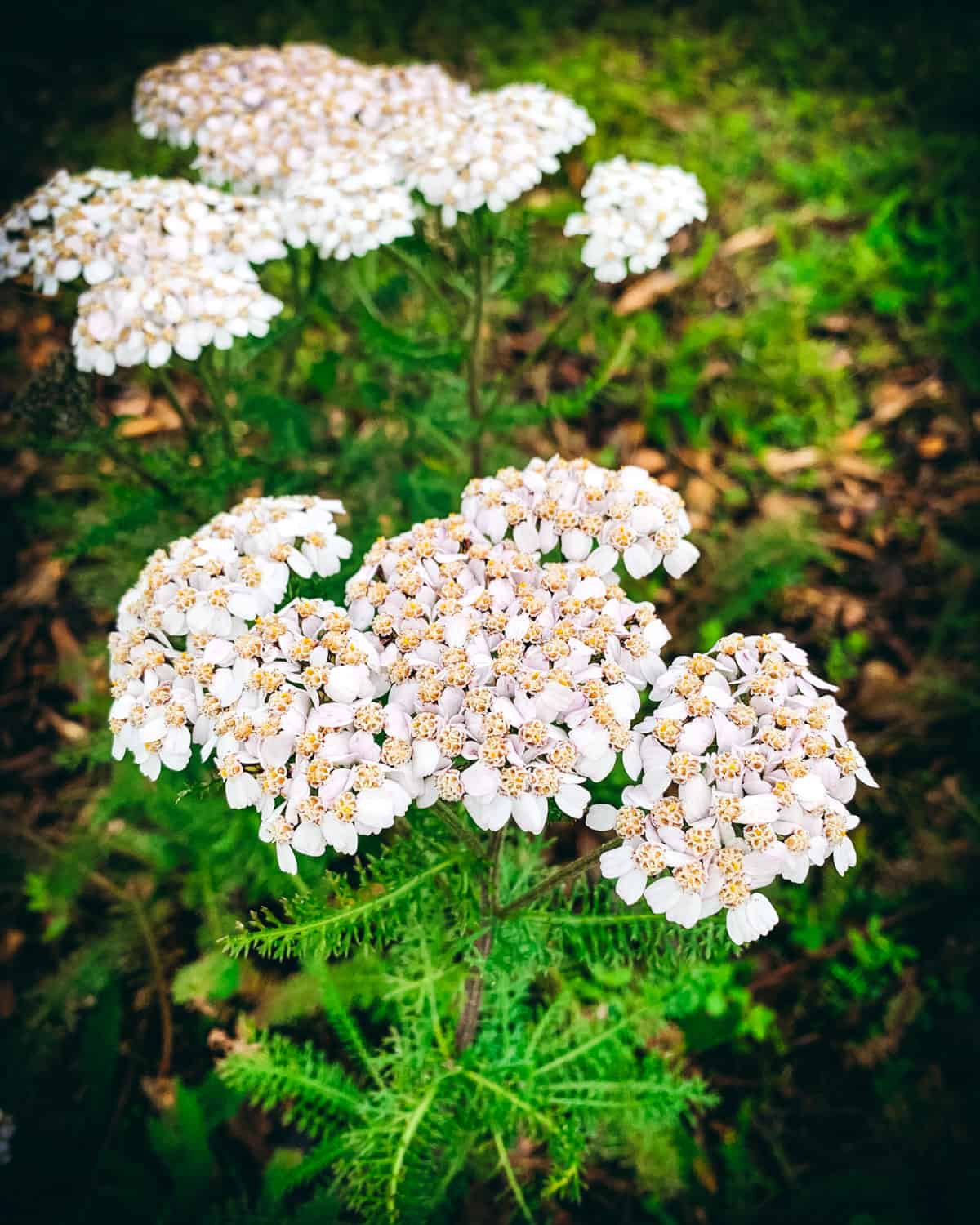 It almost seems like there is nothing that yarrow can't do!
You should definitely try foraging for yarrow in the spring and summer. I'm almost certain that you will find some!
If for some reason you can't find any, or if it's the wrong time of year for foraging, you can always purchase dried yarrow from Mountain Rose Herbs.
Happy yarrow foraging!
More Medicinal Plants to Forage
Save