Well, the season is now upon us… what season, do you ask? Elderberry season! This extremely important wild edible and medicinal plant starts getting ripe berries any time from July to August, depending on your specific location and elevation. Here, ours are pretty much perfect right about now. Before the berries, however, come the flowers, which are an amazing treat in and of themselves. Let's go foraging for elderberries (and their flowers)!
If you want to learn more about the edible and medicinal weeds that surround us and how to use them, check out my eBook: Wildcrafting Weeds: 20 Easy to Forage Edible and Medicinal Plants (that might be growing in your backyard)!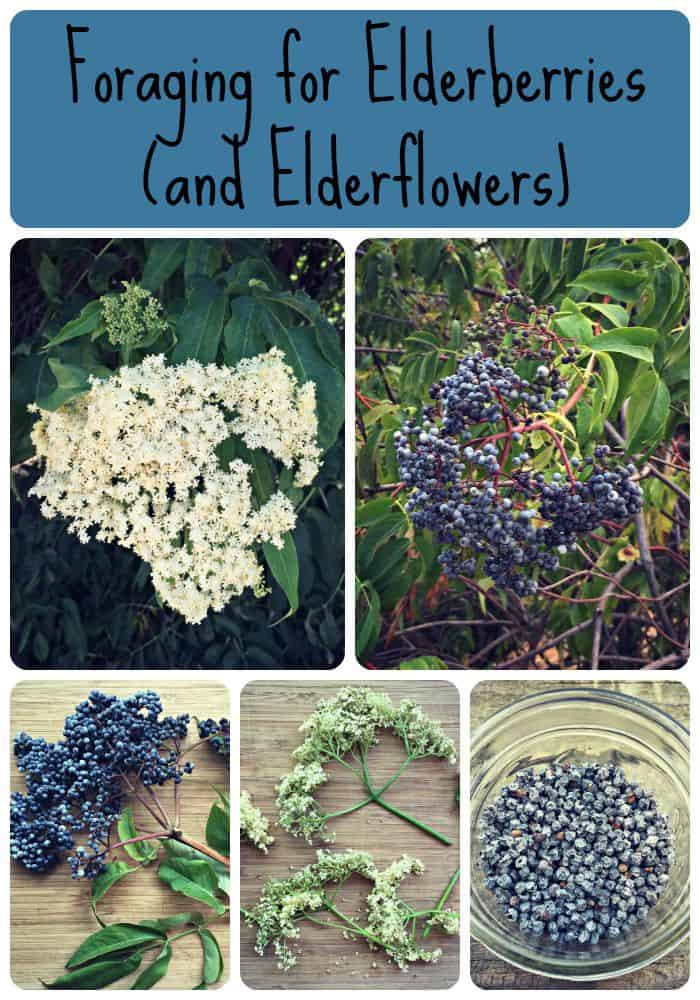 There are three main types of elderberries. Found on the west coast, Blue Elderberry (Sambucus nigra ssp. cerulea) is native to North America, and is the variety I will be talking about today. It is a subspecies of the more widespread Black Elderberry (Sambucus nigra), which is is native to Europe and has become very common in the Eastern half of the United States.
The easiest way to tell the difference between Blue and Black Elderberry is that the Blue develops a whitish powdery coating on the berries once they are ripe, along with having a more blue hue. Red Elderberry (Sambucus racemosa) is the third variety and is considered toxic (with the exception of cooked ripe berries), so is not used nearly as frequently as the other two.
Elderflowers
Elderflowers start blooming as early as springtime up until early July, depending on where you are located. The large, white, umbel (flat) shaped flowers really make the large, shrub like tree stand out, as they will often be covered with them!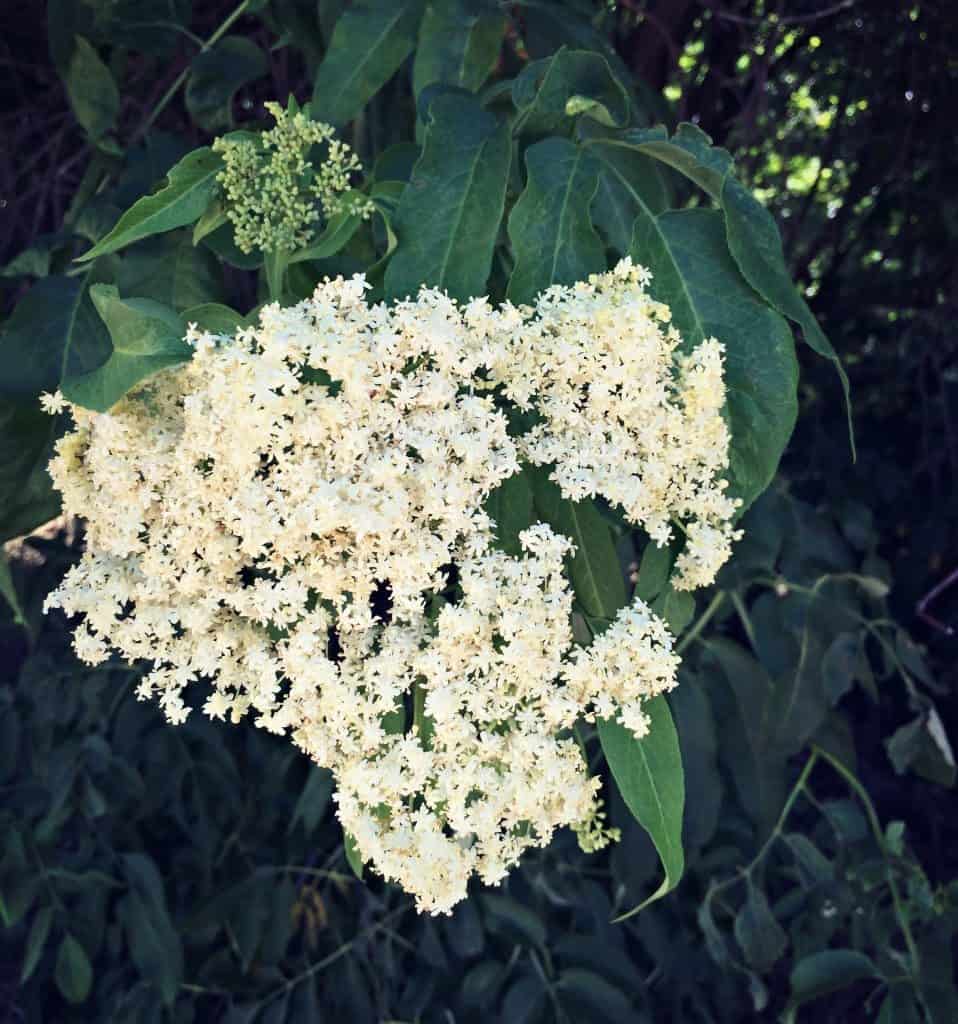 The flowers can be used to make teas, cordials, vinegars, and even deep fried fritters! My favorite way to use them is in an elderflower sparkling mead. I often dry them for later use. Just remember, whenever you pick the flowers there will be less berries, so don't go too crazy! I can usually only bring myself to pick a few at a time.
Elderberries
When the berries start to form, the noticeable white flowers will be gone and little green berries will start to form in their place. I usually try to take note of where the trees are when I see them flowering, that way I know where to go back to once the berries are ready.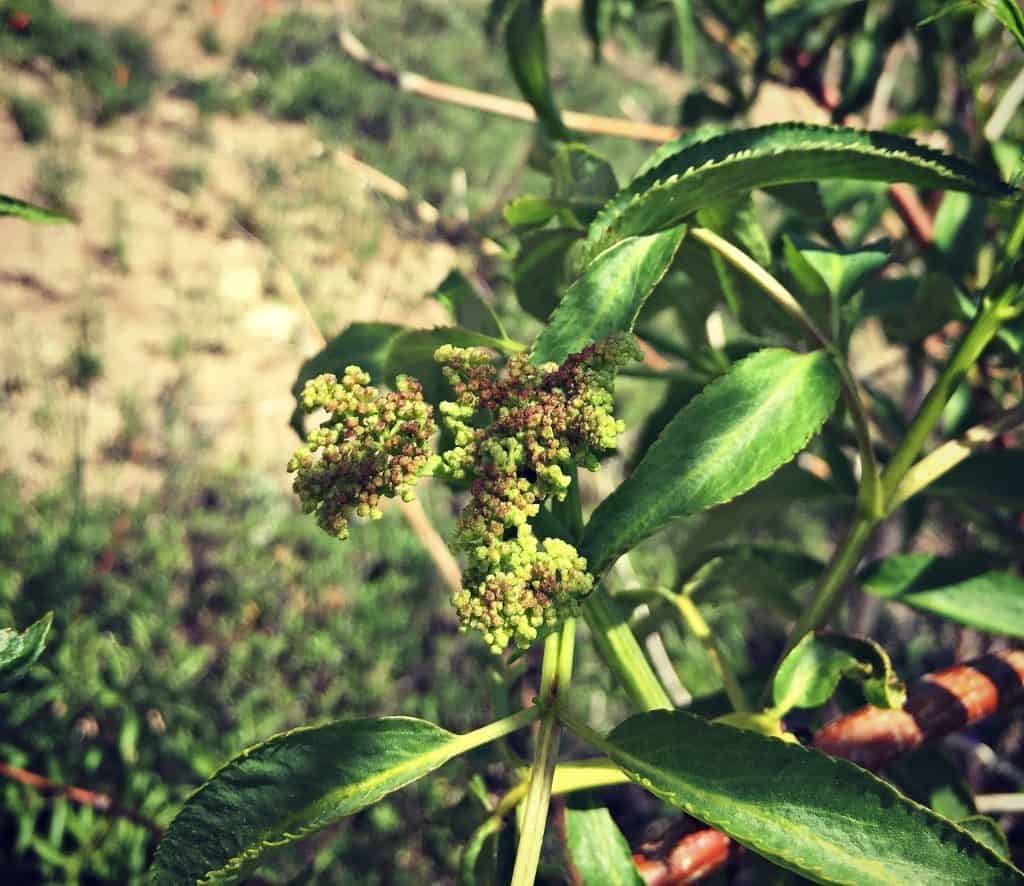 Once the berries are ripe they will be covered in a white powder (if they are Blue Elderberries, that is). This is just a bloom of yeast, and makes them a great candidate for making your own wild yeast starter. It is important to wait until the berries are fully ripe to use them, as they are mildly toxic if they are not.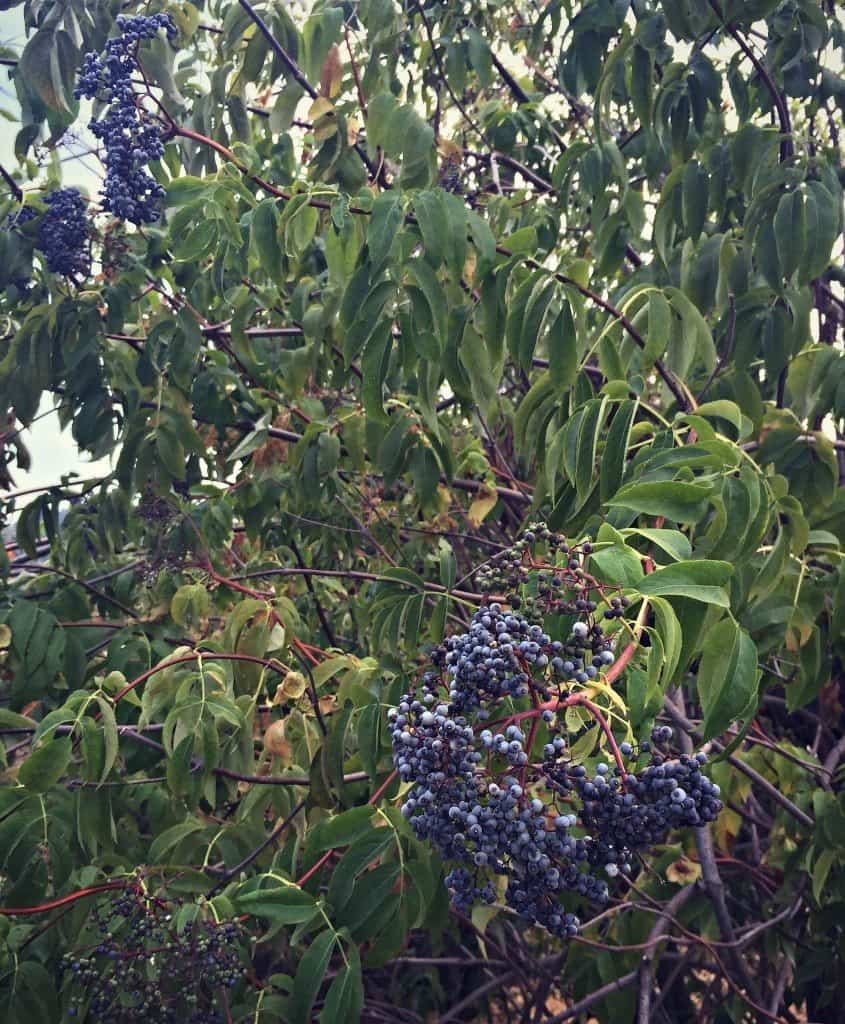 The trees (shrubs, really) that you took note of when they were in flower will now be literally covered in berry goodness!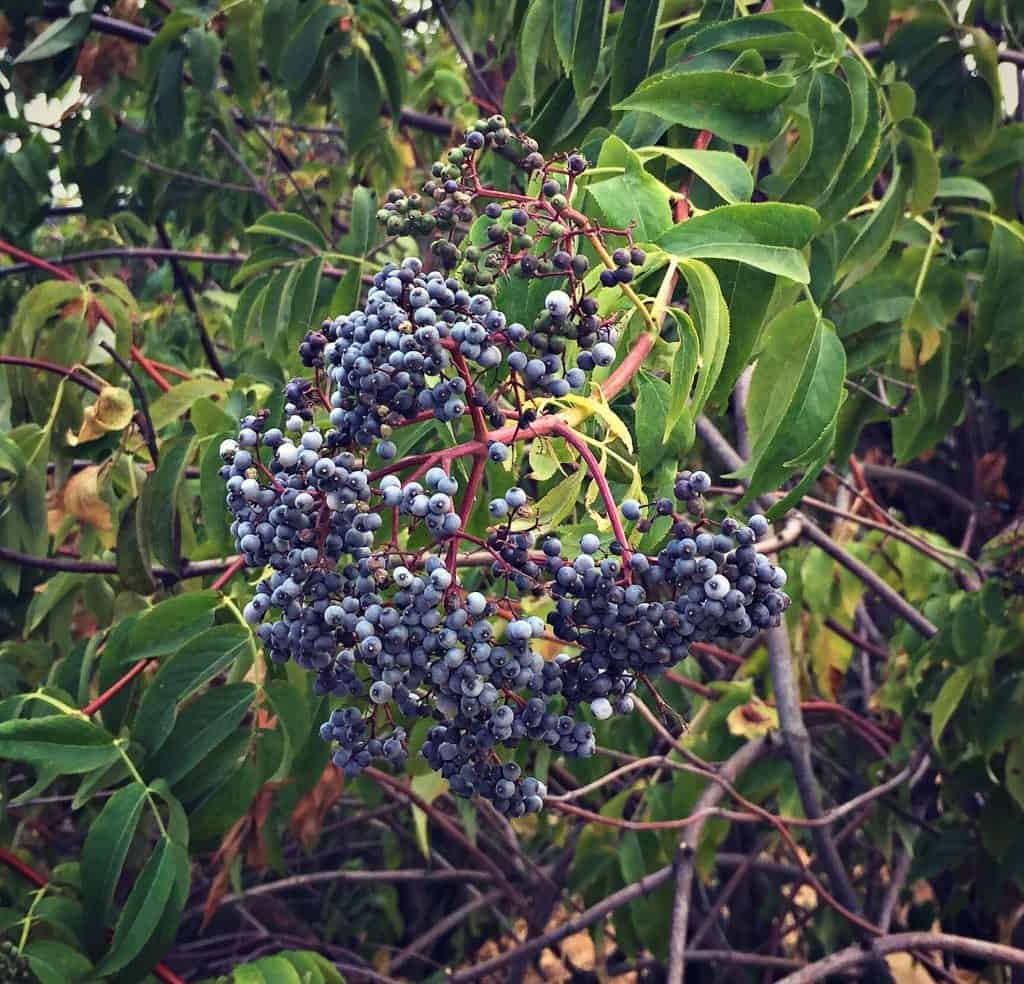 Once you identify one you will start seeing them everywhere! It's so amazing how once something is in your brain it starts to pick those things out automatically without you even trying. I can almost find elderberries with my eyes closed now (ha!). Really, though, I do notice them everywhere, even on the side of the freeway.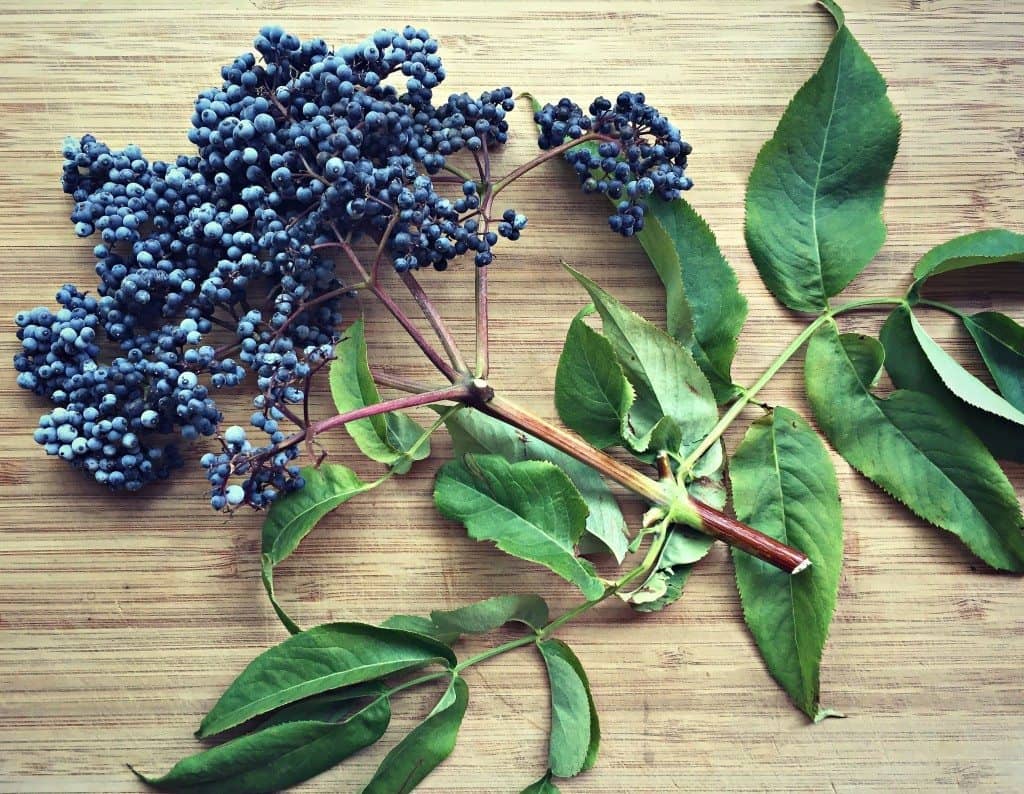 Elderberries have many uses, both edible and medicinal. They can be used like most berries for jams, jellies, pies, syrups, wines, and meads. In fact, I plan on making elderberry mead this year!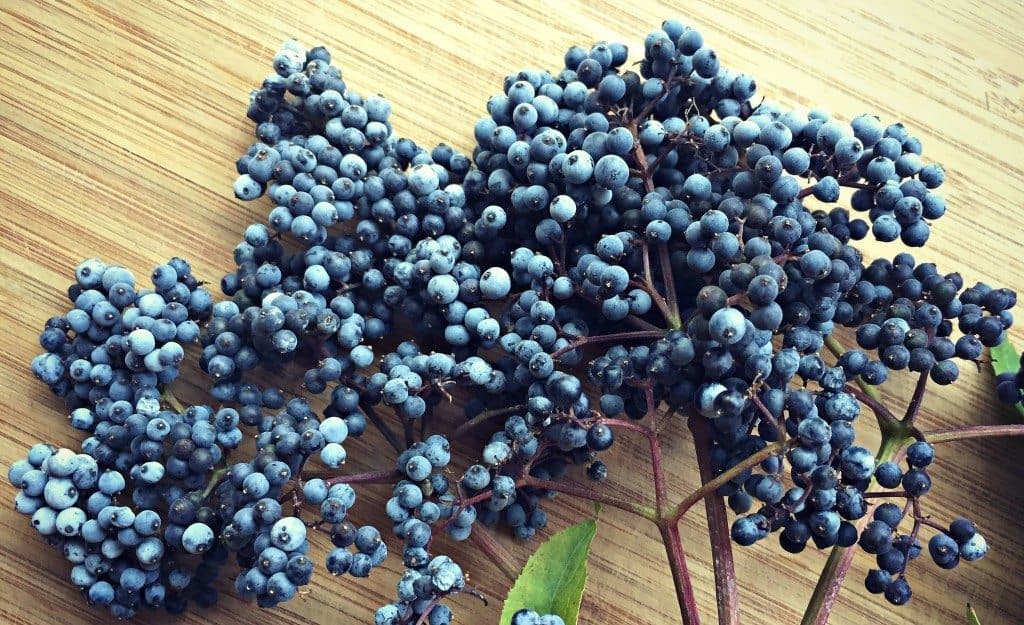 Elderberries are also a medicinal powerhouse, specifically for colds, flus, bronchitis and other upper respiratory infections. They are often made into teas, tinctures and medicinal syrups for this purpose. The berries can also be dried for later use. We dried some from last year that we still have around.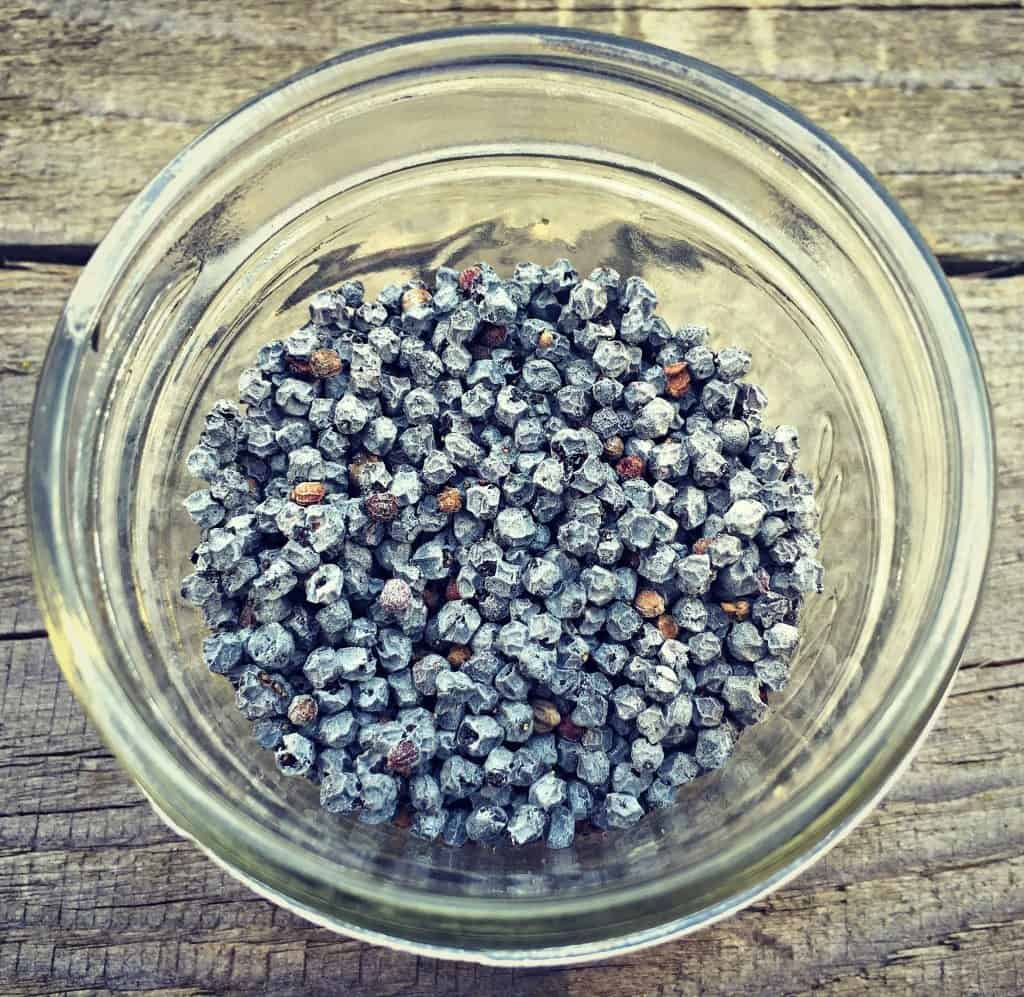 In the middle of winter when I feel like I might be getting a cold it's nice to have these dried berries around to make a hot tea with. This year I plan on making some elderberry syrup from a recipe that I learned in my Introductory Herbal Course that I'm taking from the Herbal Academy of New England.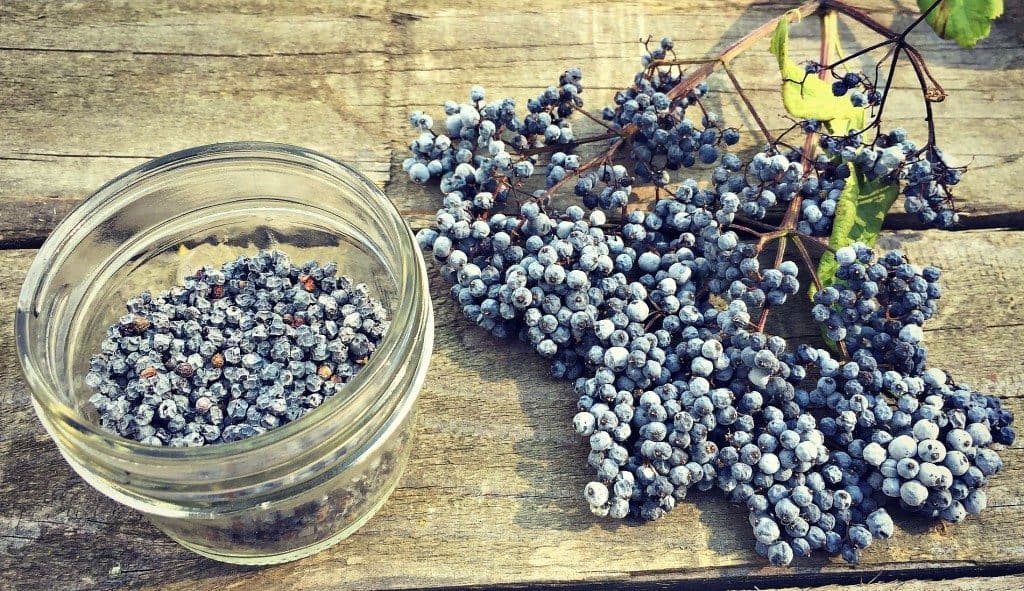 Elderberry is such a great plant to have around for so many different reasons. It's easy to identify and usually grows prolifically. Joel is experimenting with growing it from root cuttings so that we can plant some on our property that we intend to buy. For it's medicinal uses alone it's a plant I wouldn't want to be without, but then you factor in its edible berries and its wine making abilities and now I want tons of them! Luckily they are easy to find and grow.
If you can't find any elderberries, or if it's the wrong season, you can always buy dried elderberries or elderflowers from Mountain Rose Herbs (my favorite place to buy high quality, organic dried herbs).
Here's more on Elderberries and Elderflowers for further reading:
I don't know about you guys, but I want to make those Elderflower Fritters asap. Time to start foraging for elderberries and elderflowers!
Save
Save