Learn how to grow elderberries for food and medicine, right in your own backyard! Elderberries can be grown from cuttings, starts, or seeds. Growing elderberries is easy!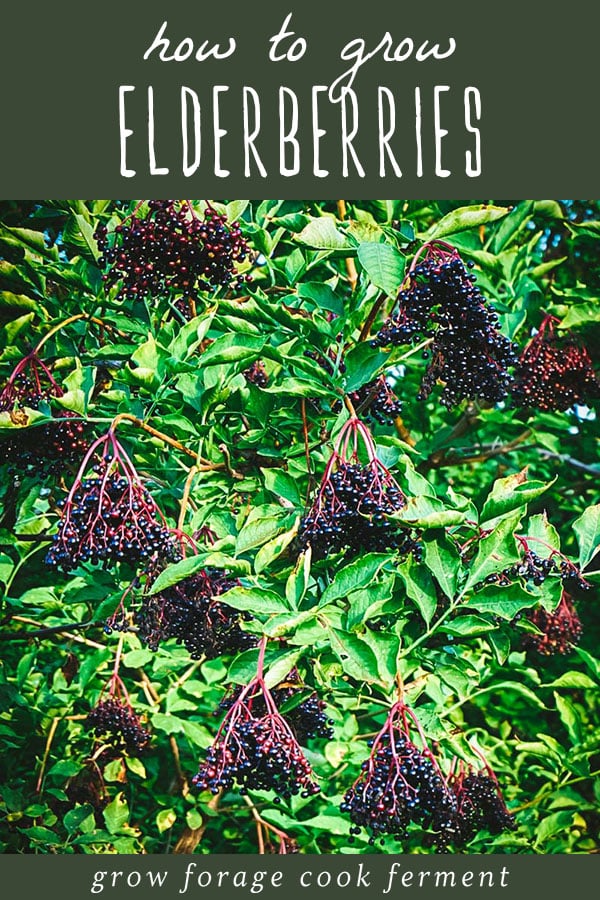 Why Grow Your Own Elderberry Shrubs?
Elderberries have become extremely popular in recent years due to their powerful immune boosting properties. Because of this popularity herbal shops and online retailers will often be sold out by the time fall gets underway!
This is frustrating for those of us who want to make our own elderberry syrup or elderberry tincture for cold and flu season. The good news is that growing elderberries in your backyard is really easy!
Since acquiring dried elderberries can sometimes be very difficult, especially during cold and flu season, I prefer to either forage or grow my own whenever possible.
Foraging for wild elderberries is one way to obtain them, but not everyone has the time, desire, or ability to do that. Now that I have a toddler around I know that getting out to forage can sometimes be impossible, so we decided to grow our own elderberries!
Elderberry Benefits for the Garden, Home, & Apothecary
Elderberries have long been known as very beneficial plants to have growing in your garden. They are an excellent permaculture forest garden plant. The flowers, berries, leaves, stems, and branches all have uses in the home, kitchen, apothecary, or garden.
The flowers can be distilled into elderflower water, an astringent used in making eye and skin lotions. Infuse them in oil to make a salve, lotion, or cream. They can also be eaten raw or fried.
See my post on elderflower recipes for more ideas!
Use the berries for making wine, jam, preserves, dye, and cold and flu medicine. They are high in antioxidants, vitamin C, and have immune boosting properties. Here are more awesome elderberry recipes.
Elder leaves are toxic if ingested in large amounts, but can be used externally in salves or as a poultice to reduce swelling and inflammation.
The leaves can also be rubbed on the skin as an insect repellant, or made into a liquid by decoction and sprayed on plants as an insecticide and anti fungal agent.
The stems of elder branches can be hollowed out to make flutes and blow pipes, and the mature wood is excellent for woodworking.
The entire plant can be added to a compost pile, as it speeds decomposition and improves fermentation.
When developing a property, elder bushes can be used as a pioneer species, companion plant, hedge, or a windbreak. The dense foliage is also good forage and nesting habitat for many kinds of birds.
Elderberry Varieties
There are two main varieties of elderberry that are best for growing:
Black elderberry (Sambucus nigra), which is native to Europe, but has naturalized in much of Asia and North America. Another very similar species of black elderberry is the American Elderberry (Sambucus canadensis), which is native to eastern North America.
Blue Elderberry (Sambucus nigra ssp. cerulea), which is native to western North America.
When searching nurseries and online plant stores for elderberry varieties, you will also find many ornamental types such as Black Lace and Variegated. They are all different subspecies of Sambucus nigra.
As far as I've seen, most of these species still have edible berries, but I'm not sure if they have the same medicinal benefits (my guess is that they probably do, being that they are subspecies to the medicinal type Sambucus nigra).
There is also red elderberry (Sambucus racemosa), that is native to the Pacific Northwest. Their berries are toxic when raw and they must be cooked prior to eating.
Just take note that all elderberry varieties contain some amount of toxicity raw, and when eaten can range from unpleasant tasting to stomach upsetting for some people. Others will have no problems and love the taste. Any toxins will be eliminated when cooked.
How to Grow Elderberries
Elderberry bushes are extremely easy to grow and care for, thriving in full sun or partial shade.
Depending on variety and conditions, they can grow from 10' to 20' tall, but can be pruned and kept much smaller. They do best in gardening zones 3-8.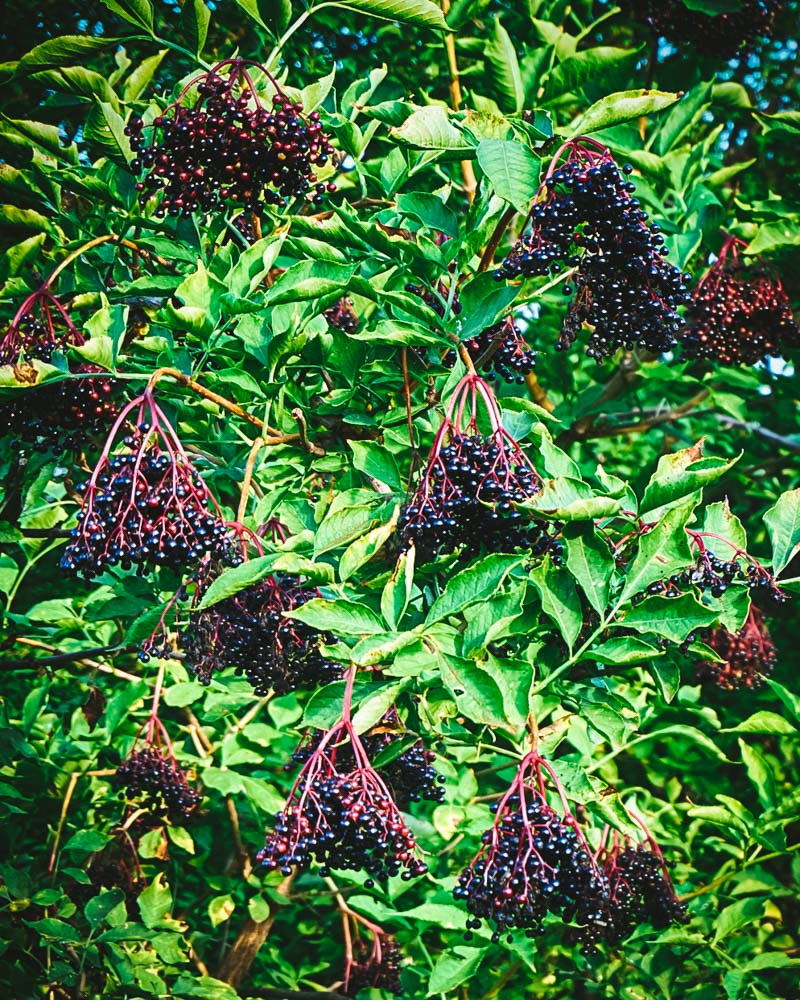 Elderberries prefer rich, moist soil that is well drained, but can tolerate many different growing conditions. They are disliked by deer and pests, and do not suffer from any diseases.
Elders are very prolific and can begin producing fruit the first year they are planted. Every year they will sprout new canes. After several years, older canes will produce less fruit and can be pruned back in the winter if desired.
Elders are partially self fertile, but will produce more berries with another variety planted nearby.
How to Propagate Elderberries from Cuttings
Elderberry bushes are very easy to propagate from cuttings, and you can often just cut some pieces off a growing tree and push them in the ground and they will grow.
Suckers from a mature plant can also be dug up and replanted elsewhere.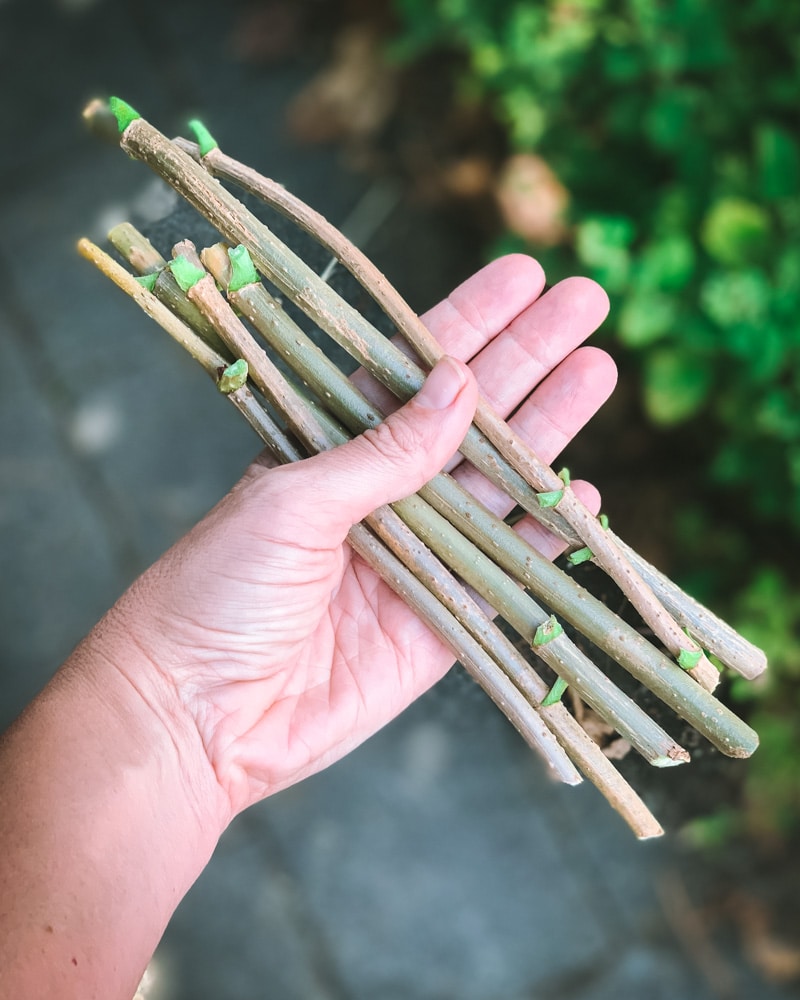 A more sure fire way to propagate is in late fall through early spring, when the plant is dormant. Select a branch from an elder bush you wish to grow and cut it into six inch pieces.
Remove the leaves, keeping the nodes intact, and stick them a pot of sand mixed with peat moss or potting soil.
Soaking the cuttings in a natural willow bark rooting hormone first can help the process, but isn't totally necessary as elderberry will readily root on its own.
Keep the pot moist and in sunlight. Roots should grow in a couple months, and then they can be planted out. If you live in a cold climate wait until spring to plant the cuttings.
If you don't have access to elderberry shrubs to take cuttings from, you can order them from Norm's Farm or here on Amazon.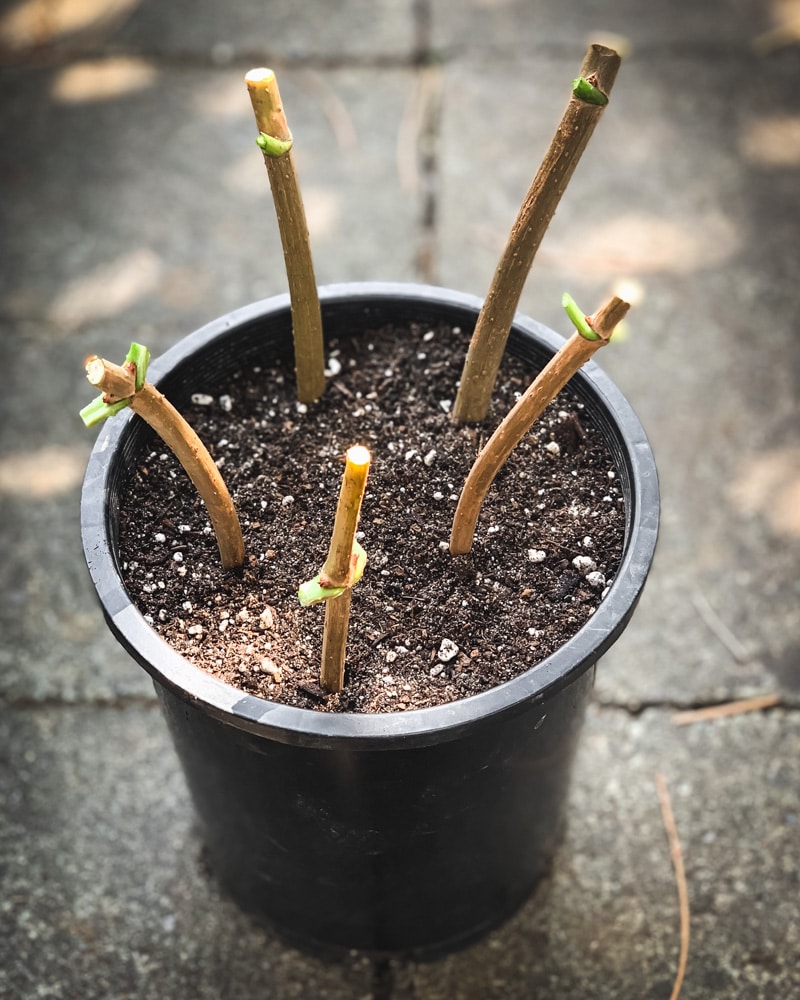 Where to Get Elderberry Starts and Seeds
If you don't want to grow elderberries from cuttings, you can also purchase them as starts. These tend to come in gallon or half gallon size pots. They can also be grown from seed.
Raintree Nursery has a good selection of different elderberry variety starts.
Strictly Medicinal Seeds has a nice selection of both live plants and seeds.
You can also try your local nursery, many are starting to carry elderberry now!
Elderberries are so easy to grow and require very little maintenance, there's no reason to not grow your own herbal medicine!