Summertime means elderflowers, and that couldn't make me more happy! They have a delicate floral flavor that is delightful and perfect in drinks and desserts. Just like the elderberries they turn into, elderflowers have amazing medicinal benefits. They are also great to use in skin and body care recipes. I gathered up some of my favorite elderflower recipes for you to make this summer!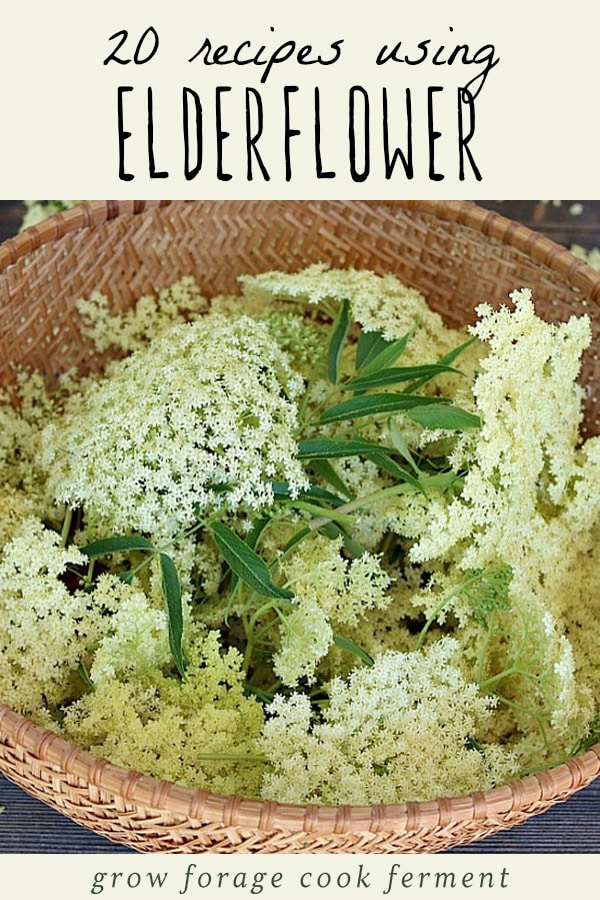 Elderflower Recipes
Elderflowers are easy to forage for and are a common sight in many locations (just make sure that you aren't accidentally grabbing poison hemlock, but I don't think they look that similar).
These recipes for food, medicine, and body care are the perfect way to use your wildcrafted elderflowers!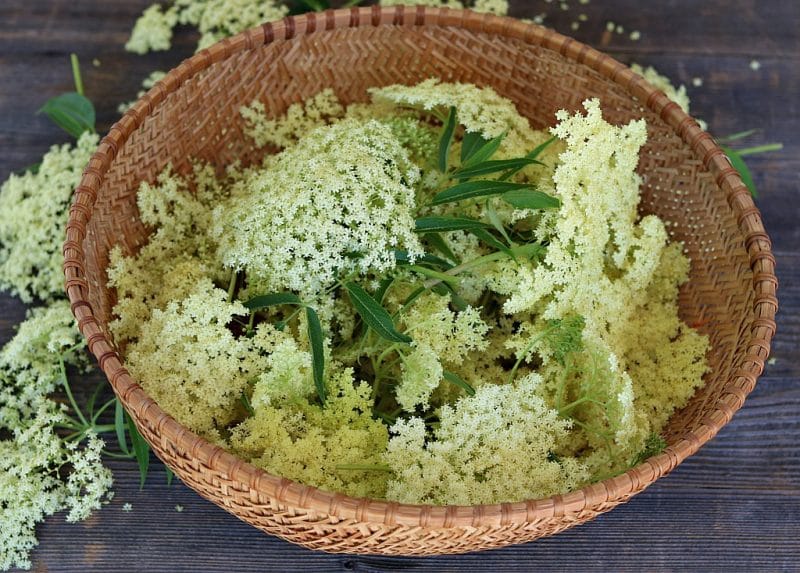 Elderflower Drinks
Some of the tastiest and most popular way to use elderflowers is in drinks. Use them when making mead, cordial, liqueur, soda, lemonade, and tea!
My favorite elderflower drink to make is elderflower sparkling mead!
Mead is wine made with honey instead of sugar, and this sparkling mead is similar to champagne.
Elderflower cordial (also known as syrup) is an old-fashioned sweet drink made from elderflowers, water, sugar, and lemons. Stir a bit into sparkling water or mix into cocktails for a nice drink!
If you prefer a boozy version check out this elderflower and lemon cordial.
You can also try this elderflower and strawberry cordial/syrup which sounds yummy!
Fermented elderflower soda is another delicious way to use them, or you can try my herbal water kefir soda recipe with elderflowers.
This elderflower kombucha is one I definitely want to make!
This elderflower lemonade looks amazing!
Here is my recipe for elderflower liqueur which turned out so good!
Elderflower tea is a great way to enjoy its medicinal benefits. Elderflowers have similar immune boosting benefits as elderberries. They are also effective at reducing a fever and can help with allergy symptoms.
You can also try this iced wildflower infusion tea recipe that includes elderflowers!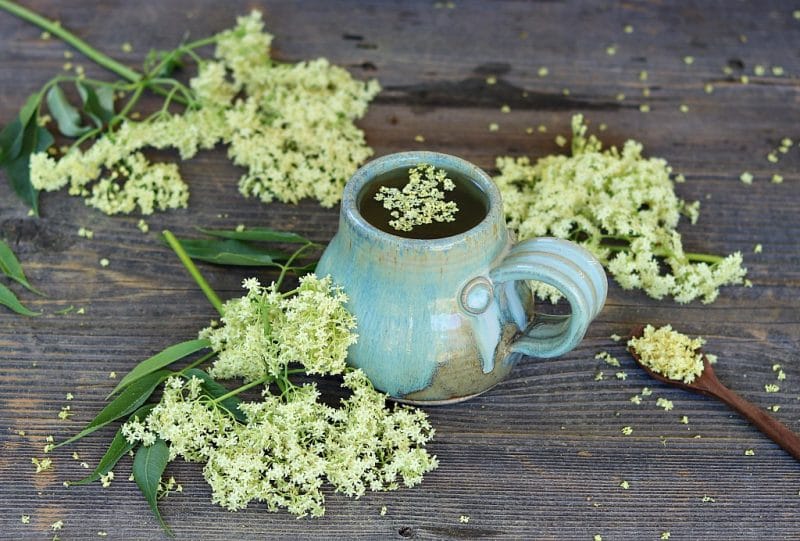 Elderflower Jelly, Jam, and Curd
Elderflowers are great to use in wildflower jellies, either on their own or combined with other flowers. Try this elderflower and vanilla jelly, or this elderflower and wild honeysuckle jelly.
You can also make jam with elderflowers! Here is a recipe for gooseberry and elderflower jam, and this one for straight up elderflower jam.
Instead of making plain old lemon curd, add some elderflowers to it! Here's a recipe for elderflower and lemon curd.
Elderflower Desserts
There are so many delicious desserts to be made with elderflowers! Ever since the most recent royal wedding had a stunning elderflower cake, it's been a popular recipe.
If you don't want to get that fancy, you can make this simpler version of elderflower cake.
Serve this elderflower ice cream along with your cake and you won't be disappointed!
These elderflower popsicles sound absolutely perfect for a hot summer day.
Then there are elderflower marshmallows, because we always need more marshmallows in our lives!
One of my favorite treats are elderflower fritters. Sprinkle with a bit of powdered sugar and you're good to go!
These elderflower honey muffins are a delicious and not too sweet treat!
Elderflower Body and Skin Care
Elderflowers aren't only great to eat, but they are also great for the skin. They help to tone and soften, and are particularly good in products for aging complexions.
Use them in this elderflower eye cream to help decrease wrinkles and puffy eyes.
This elderflower and rose hip salve will help to heal wounds and to treat dry skin.
Now that I've gotten into soap making, I really want to try this elderflower and lavender soap recipe!
Where to Get Dried Elderflowers
If you aren't able to forage for elderflowers in your area, or it's the wrong time of year, many of these elderflower recipes can be made using dried flowers instead.
My favorite place to get organic, high quality dried herbs and flowers is Mountain Rose Herbs.
I hope these elderflower recipes inspire you to make something fun!