Homebrewing is one of my favorite things to do, but I especially love it when I can incorporate foraged ingredients. I came across some nice big spruce tips recently, and when I saw them I immediately knew what I was going to make with them: spruce beer! Homemade spruce beer has been something that I've been wanting to make for some time, but it just hadn't happened yet until now. This spruce beer recipe isn't complicated and the end result is delicious!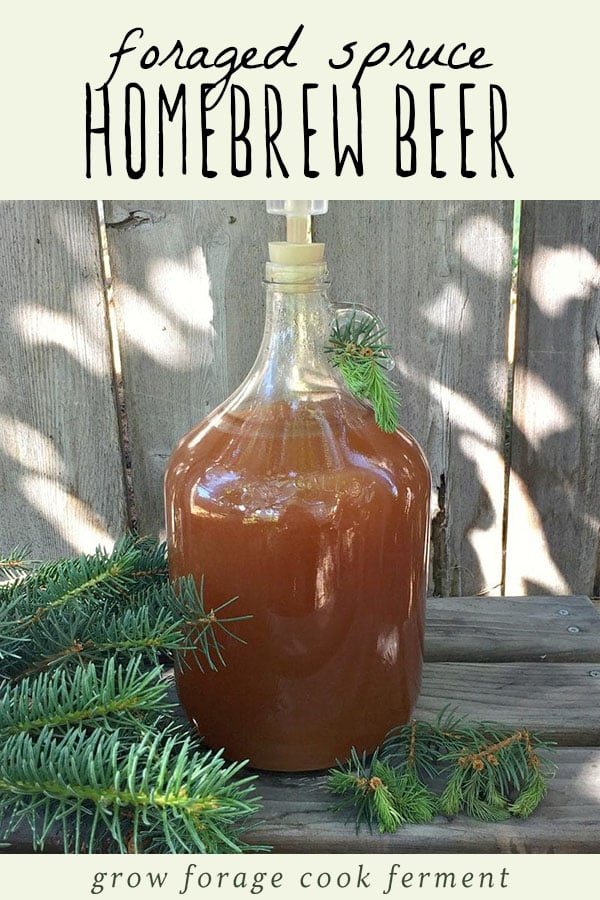 Harvesting Spruce Tips
Spruce tips are the bright green new growth on the end of spruce tree branches in the springtime.
Using spruce tips in this recipe is preferred, but they are generally only available for a short time during the spring. Exactly when to find them varies from location to location depending on your climate.
Warmer regions will get spruce tips in late winter or early spring, and cooler regions in late spring or possibly even during the summertime.
If you enjoy foraging for spruce tips and other conifer needles, here are 30+ Conifer Needle Recipes for Drinks, Desserts, Syrups, Balms & More!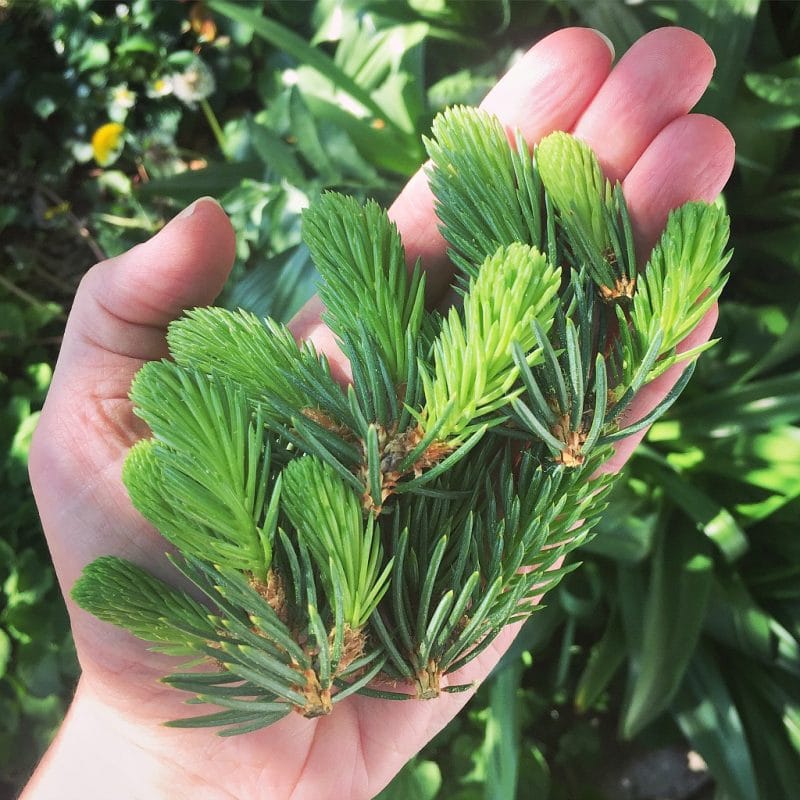 Try not to pick more than a small handful of spruce tips off of each mature tree, and avoid taking any tips from smaller trees.
If it's the wrong time of year for spruce tips, you can use spruce cuttings from the older growth. The flavor will be different, a little more piney perhaps, but still good.
You can also use the tips or older growth of any edible conifer, such as pine, fir, or hemlock (the tree, not the poisonous plant). Be sure to avoid the yew tree as it is toxic.
Spruce Beer Recipe
This is not a traditional beer recipe that uses hops and malt, but more of an old-fashioned foraged brew. Feel free to add in some hops and malt if you are looking for more of a beer-like flavor. I really wanted the flavor of the spruce to shine in this recipe which is why I made it this way.
This recipe calls for champagne yeast, but you can also use a wild yeast starter in the same manner that I did in this mugwort lemon beer recipe instead.
Before you start brewing, you will need some equipment. Sanitizer is important, and a one gallon jug with airlock is needed for fermenting. Check out my page on mead brewing and bottling equipment for more.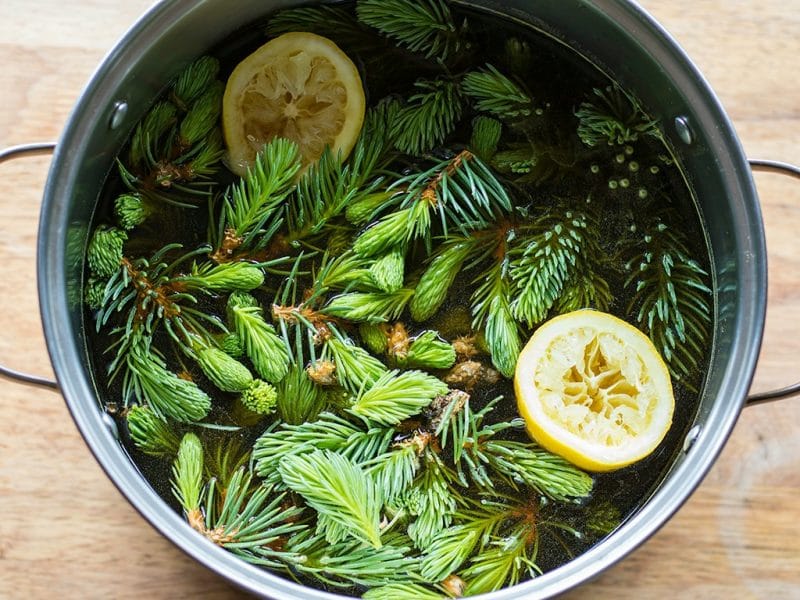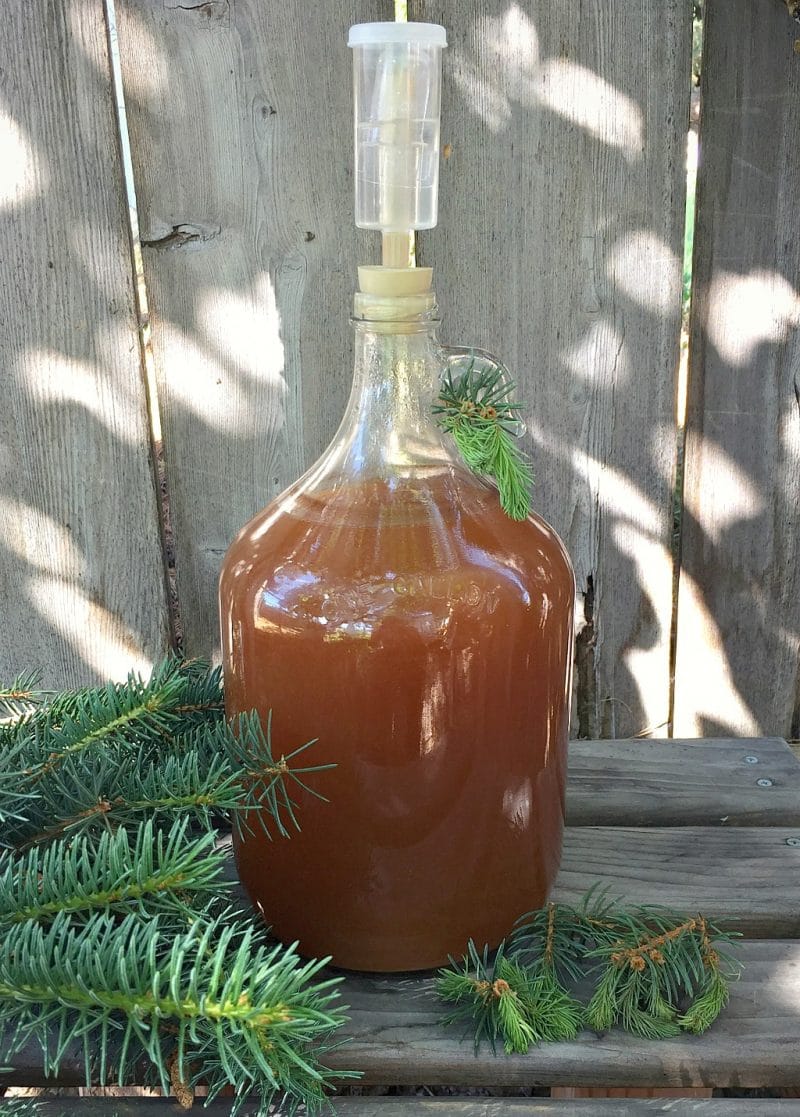 I really love how this spruce beer turned out! It has a pleasant and barely sweet pine-like flavor without being overwhelming. The champagne yeast makes it quite dry, which is how I prefer it.
It's refreshing when served cold and has a wonderful bubbly carbonation to it.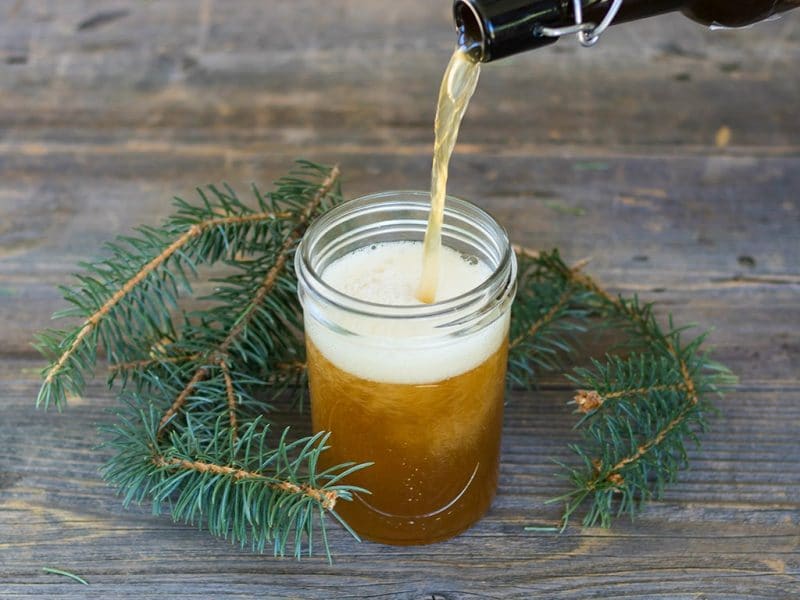 Even though spruce tips aren't in season in the fall, this would be an excellent recipe to make for the holidays with any type of conifer needle.
I hope you try this spruce beer recipe. If you do, let me know what you think!
---
More Homebrewing Recipes
Ready for your next brewing adventure? Try one of these tasty recipes!
---
Spruce Beer
This homemade spruce beer is made with foraged spruce tips and fermented in a one gallon jug.

Instructions
Before you begin, sanitize all of your brewing equipment.


Mix the water, brown sugar, and spruce tips in a large pot. Cut and squeeze the lemon into the pot. Bring to a boil and let it boil for 30 minutes.

Place the pot into a pan of ice water until the wort has cooled to room temperature, about 70°F (21°C).

Strain the wort into a one gallon jug, leaving 2-3 inches of head space at the top, then add the yeast. Cap the jug with a lid and give it a few shakes to combine and aerate.


Put a bit of water in the airlock to the line, then position it on the jug. Let the spruce beer ferment for at least 2-3 weeks, until the bubbles in the jug have slowed significantly but not completely.

Notes
Store beer in a cold, dark place to extend the shelf life to 1+ years. 
Nutrition
Serving:
12
ounces
|
Calories:
140
kcal
|
Carbohydrates:
36
g
|
Sodium:
21
mg
|
Potassium:
61
mg
|
Sugar:
35
g
|
Calcium:
30
mg
|
Iron:
0.2
mg