Fall is the season for apples, and apples and ginger go together spectacularly. Ever since I first made a ginger bug, I knew that I wanted to make ginger beer with it, as that's its traditional use. But then I got the great idea to make fermented apple ginger beer, and I knew that was it. I had to make it! This is probably one of the tastiest naturally fermented drinks that I've made, and I will for sure be making it again and again.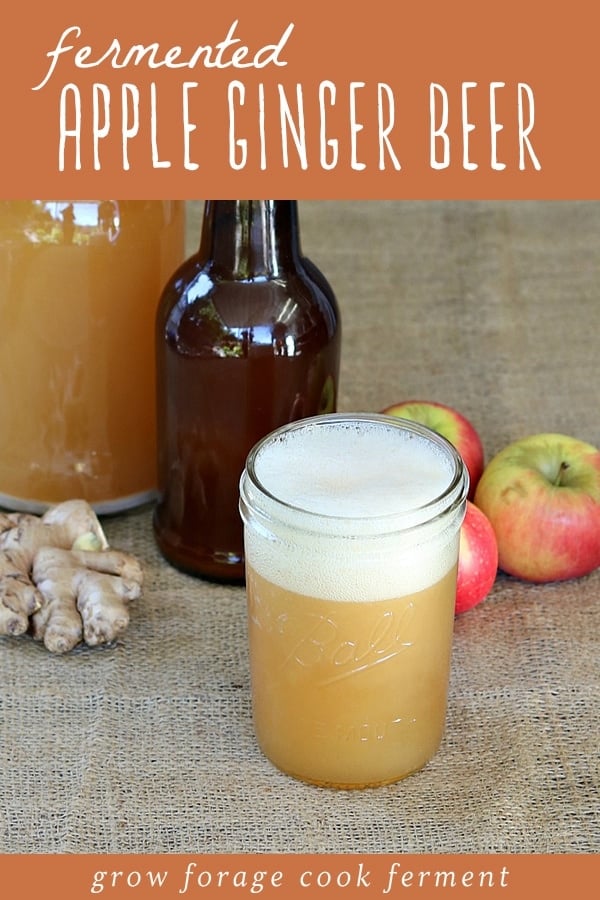 Ginger Bug
The first step in making this apple ginger beer is to make a ginger bug, which is a fermented starter made up of grated ginger, sugar, and water. It will take a few days to get it going, but once it's bubbling nicely then you can proceed with the recipe.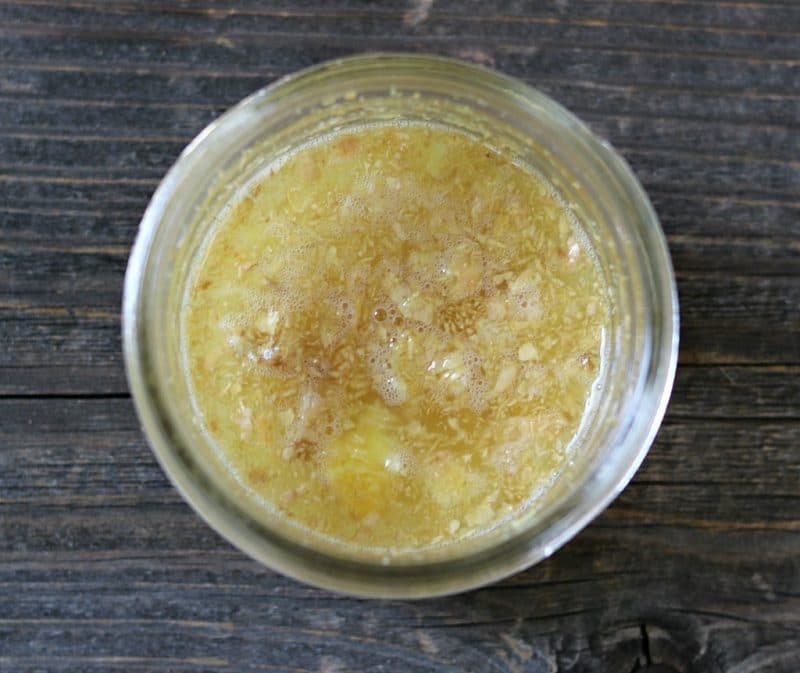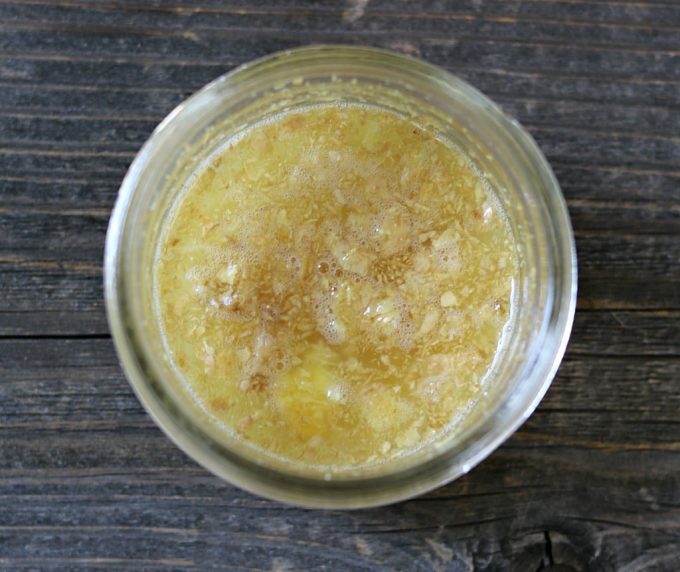 Fermented Apple Ginger Beer Recipe
This is actually a very simple recipe to make and doesn't require much as long as you have the ginger bug made up already. You will need to get a gallon of apple cider (juice, not hard cider) that doesn't have any preservatives in it, as they will hinder fermentation. You can always make your own apple cider with a DIY press if apples are in season!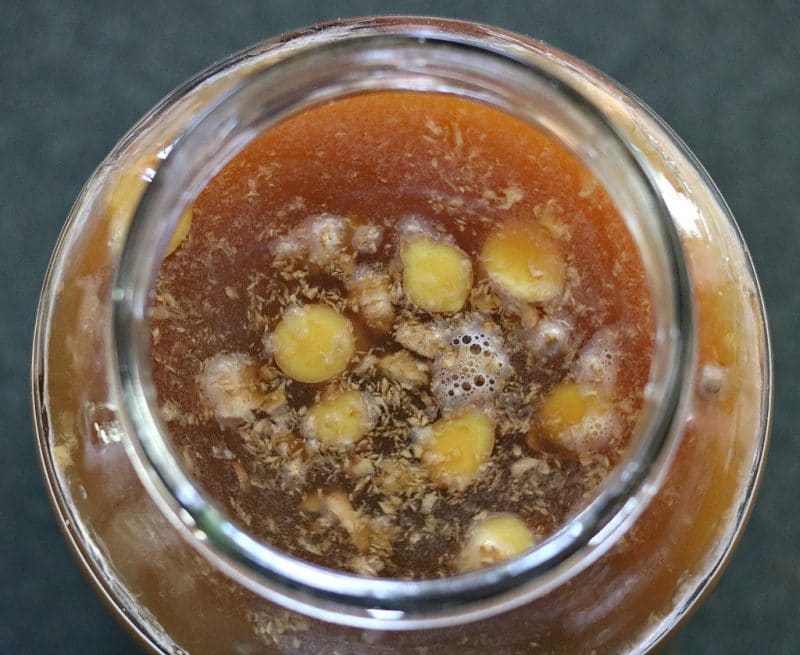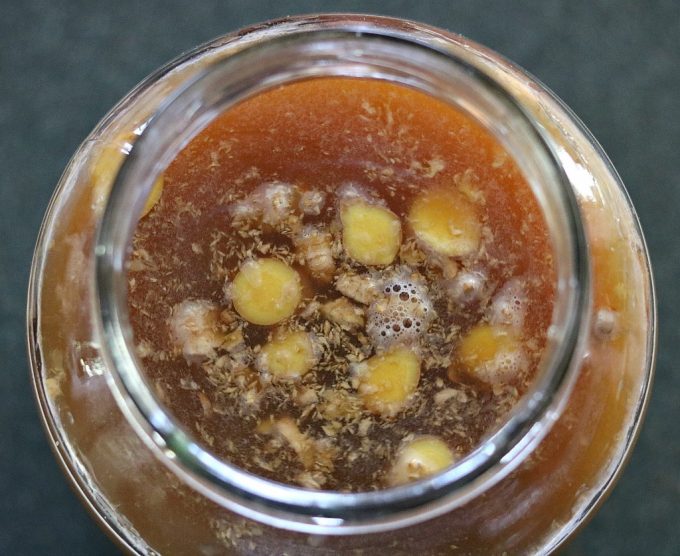 Be extra careful not to bottle too soon so that you don't get exploding bottles. If fermentation hasn't died down after a week I would wait a little bit longer before you transfer to bottles.
My favorite place to buy bottles and jars is Fillmore Container. They have an awesome selection of all kinds of great jars like this wide mouth gallon jar and flip top bottles.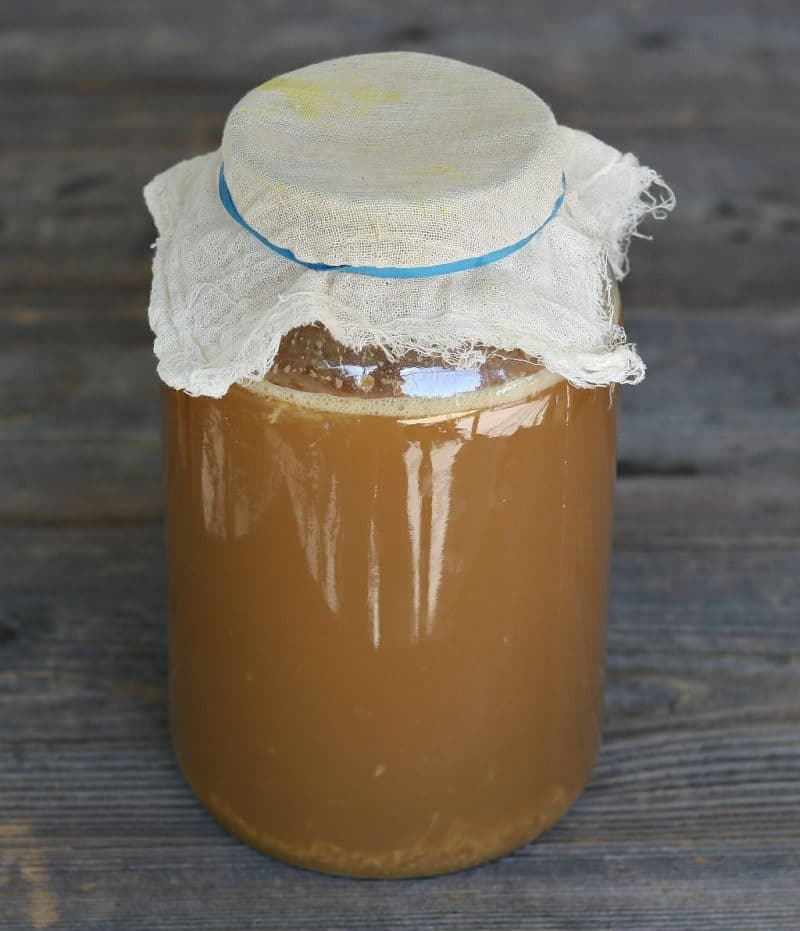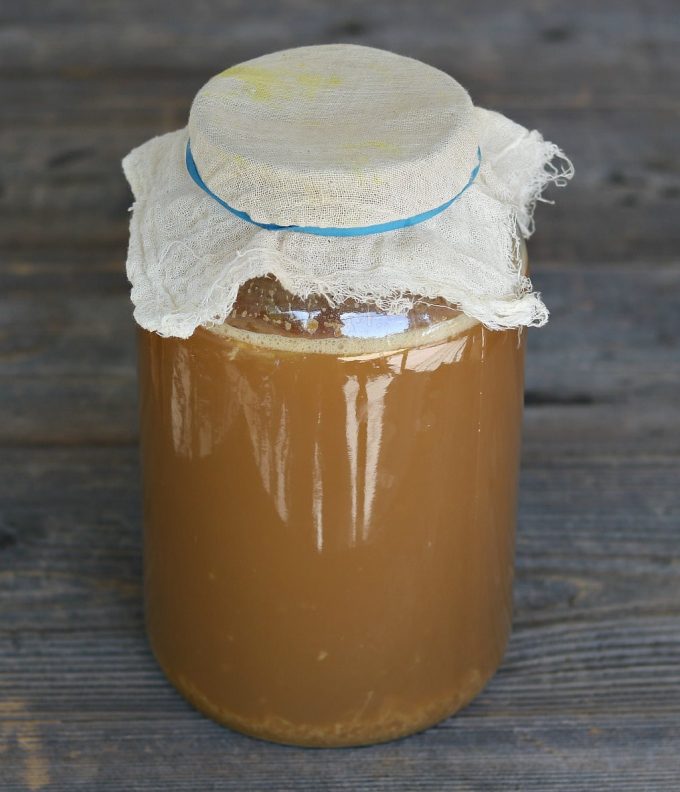 This apple ginger beer is a new favorite. It was super fizzy and delicious! You can see a video of of the fizzy bubbles in action here!
This drink does have some amount of alcohol, probably equivalent to a beer. If you want it a little stronger or sweeter, add a little bit more sugar.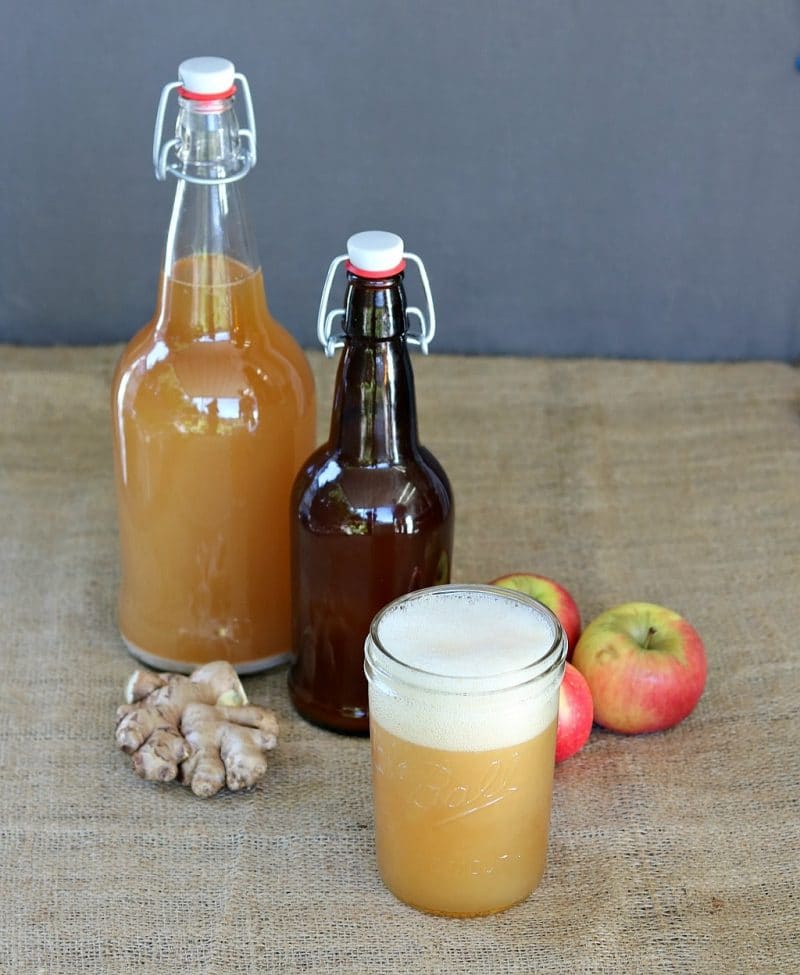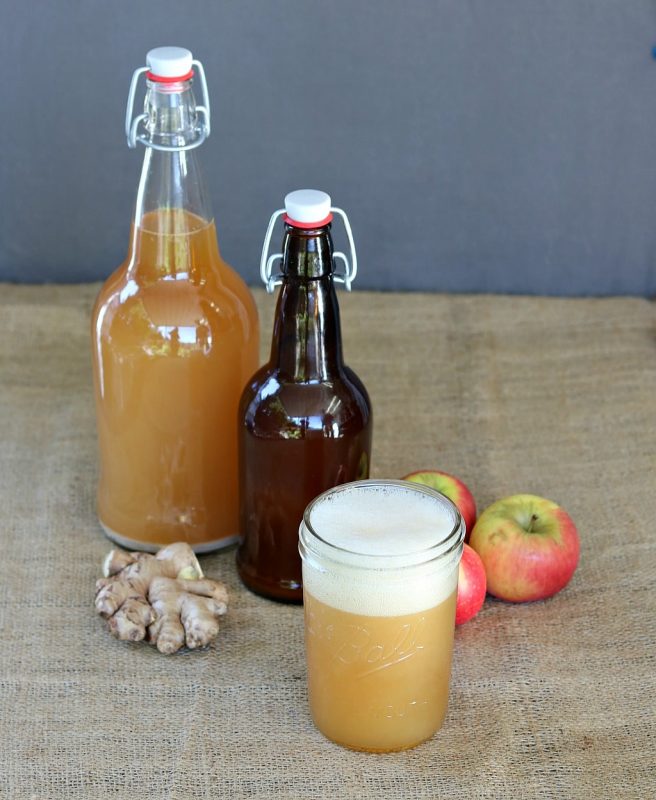 What I love about fermenting is that many times it is so much easier than expected, and that is definitely true for this apple ginger beer. Plus it's tasty and refreshing!
---
Homemade Fermented Beverages
Here are a few more naturally fermented drink recipes:
---
Have you ever made anything with a ginger bug?
Fermented Apple Ginger Beer
When apples are in season make this naturally fermented apple ginger beer. It's made with a ginger bug and is super fizzy and tasty!
Ingredients
1

gallon

apple cider

juice, not hard cider without preservatives

1

inch

piece of fresh ginger

cut into slices

1

cup

sugar

1/2

cup

ginger bug
Instructions
Pour most of the apple cider into a wide mouth gallon jar, leaving several inches of head space (you will have a few cups of unused cider left over).

Add the ginger slices, sugar, and ginger bug to the cider and stir well to dissolve the sugar.

Cover the jar with a cheesecloth and rubberband, and put in a cool and dark place to ferment, stirring vigorously daily with a wooden spoon.

After a day or two you should start to see some active fermentation. Let it ferment for 5-7 days, then strain with a fine mesh strainer and transfer to flip top bottles using a small funnel.

Let the bottles sit at room temperature for a day or two to build up carbonation, then refrigerate.
Nutrition
Serving:
12
ounces
|
Calories:
241
kcal
|
Carbohydrates:
61
g
|
Potassium:
465
mg
|
Sugar:
58
g
|
Calcium:
20
mg
|
Iron:
1.4
mg