We recently had a whole lot of fresh pressed apple cider on our hands after building a simple DIY apple press and pressing a bunch of apples from our tree. While the juice is incredibly tasty as is, we couldn't drink it fast enough, and some of it even started to ferment in the fridge! I have always wanted to try making hard cider with wild yeast, and with gallons of juice to experiment with, this seemed like the perfect opportunity. Although wild yeasts can produce inconsistent results and sometimes off flavors, I was really happy with the way this cider turned out!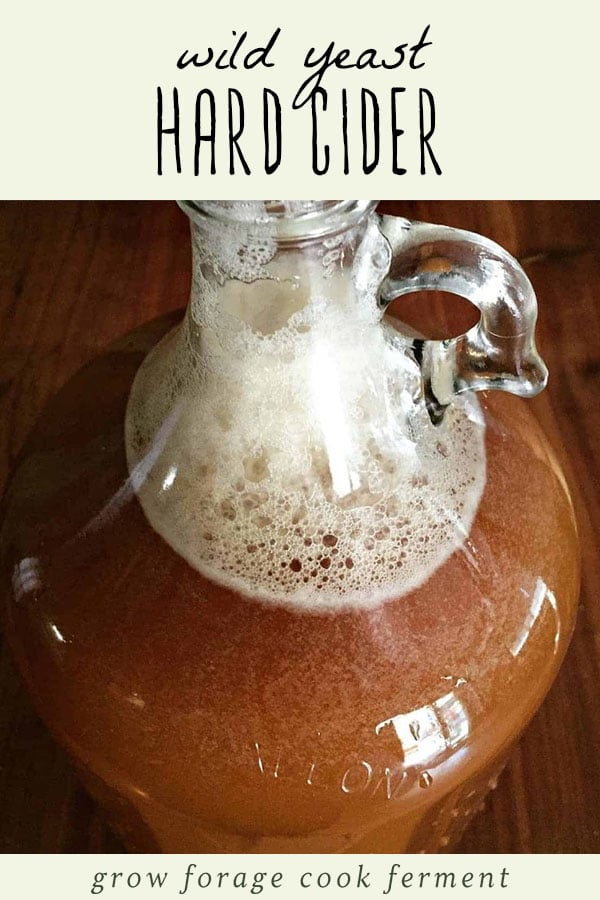 I consulted my well used copy of Wild Fermentation by Sandor Katz, and he makes it sound so simple, so I decided to give it a try. Wild yeasts are present on most fruits and vegetables, which is why we can ferment them to begin with. I could tell that these apples from our tree had a lot of natural yeast on them by the white bloom on their skin.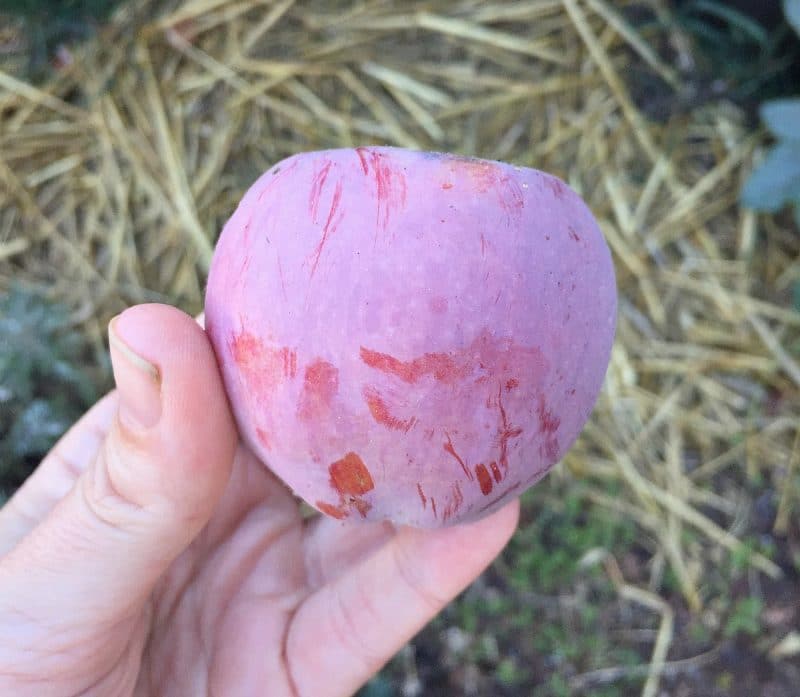 The best part about this hard cider with wild yeast is that the only ingredient you need is fresh pressed apple cider. This recipe will not work the same way with pasteurized store bought cider. If that's all you have access to, you can follow my instructions for how to make hard cider with yeast, or you can try making a wild yeast starter to add to it.
Hard Cider with Wild Yeast
It is helpful to have a wide mouth gallon jar, and a gallon jug with an airlock. First you will fill the wide mouth jar with fresh pressed cider, leaving two or three inches of headspace. Cover the jar with cheesecloth or a kitchen towel and secure with a rubberband.

MY LATEST VIDEOS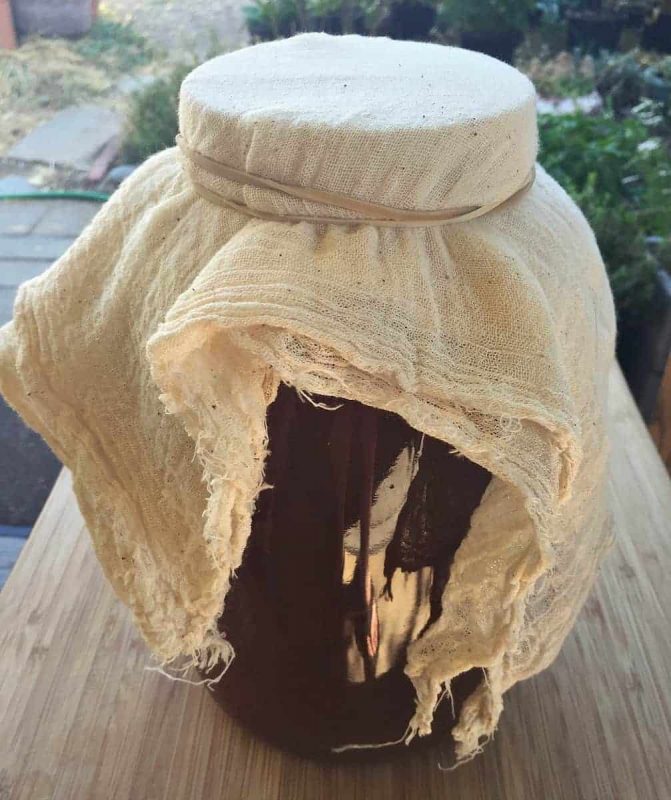 Put the jar in a dark and quiet corner, and give it a vigorous stir with a clean spoon every day. You may want to set the jar on a pan or something to catch any overflow. Mine did not overflow, but came pretty close! After a couple of days, this is what it looked like.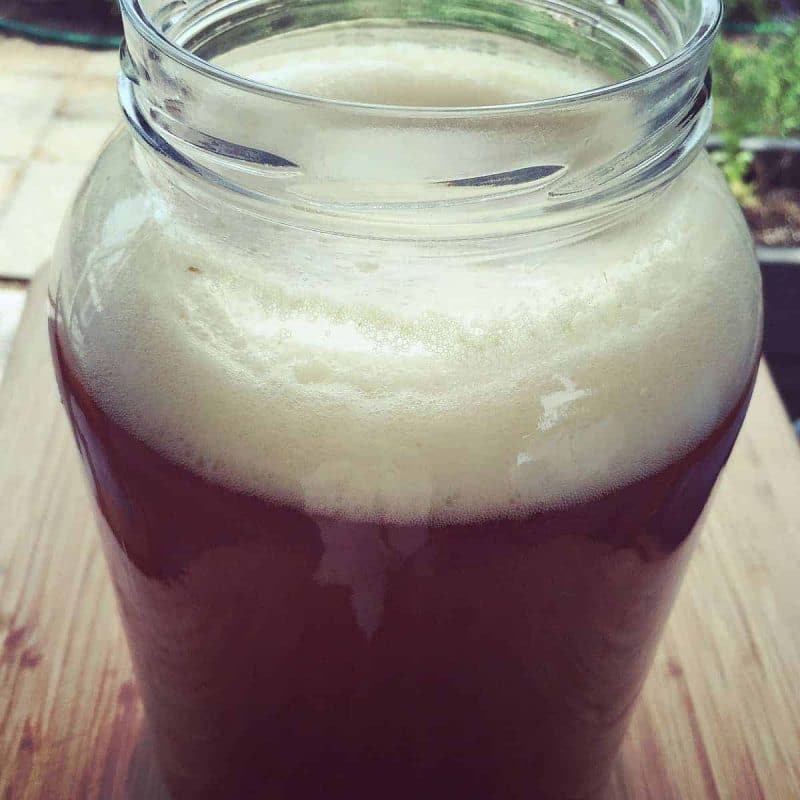 Very bubbly and frothy! Once it gets to this point that means the fermentation is going good and it's time to transfer it into a jug with an airlock. This will keep any unwanted yeasts out.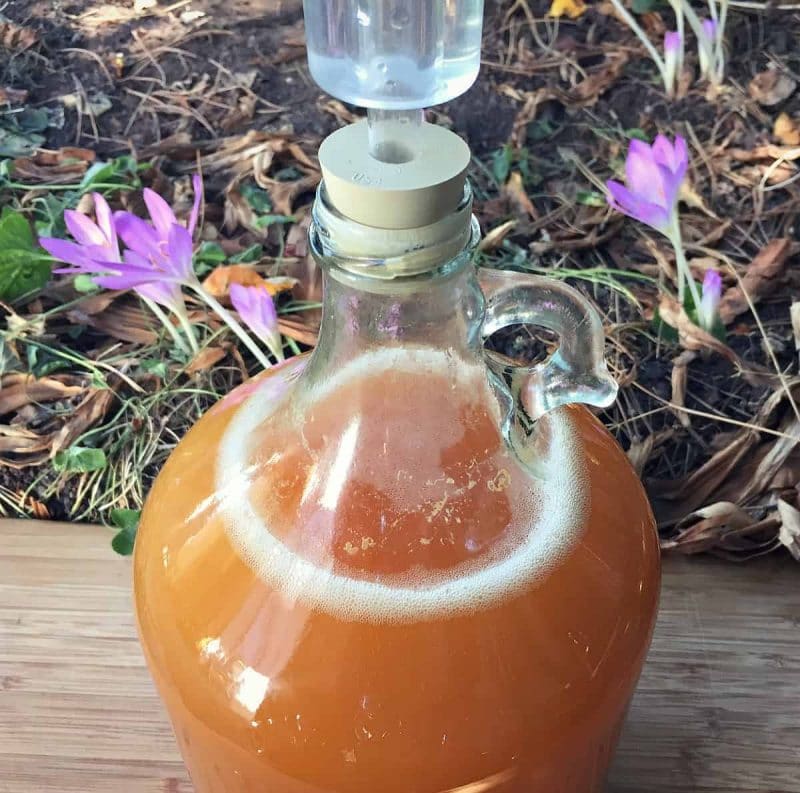 Then put it back in the dark corner and let it ferment away! Soon you will see lots of bubbles in the jug, if you didn't already, and the airlock should be bubbling away as well.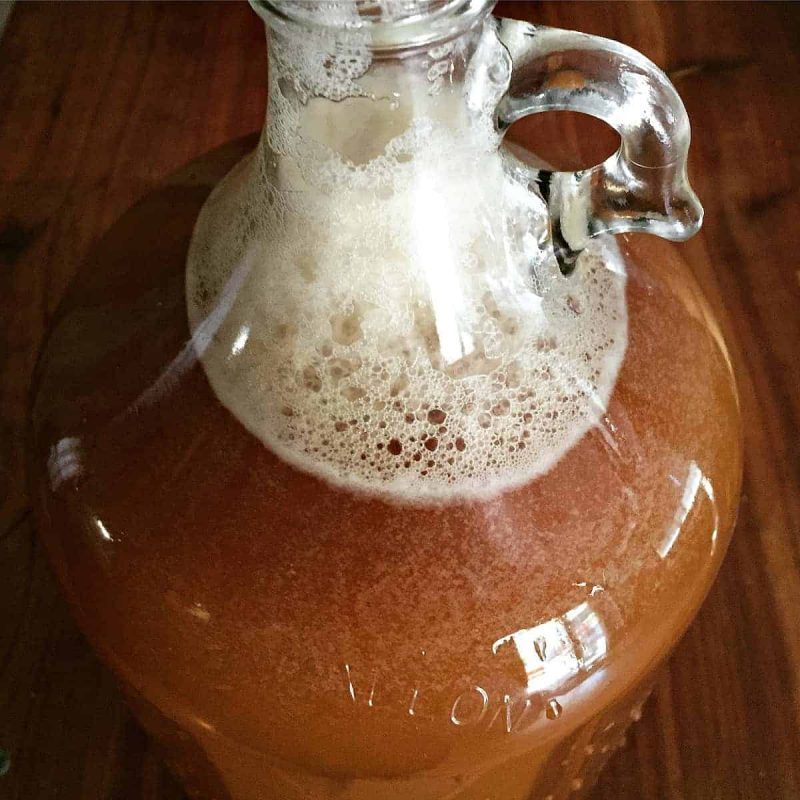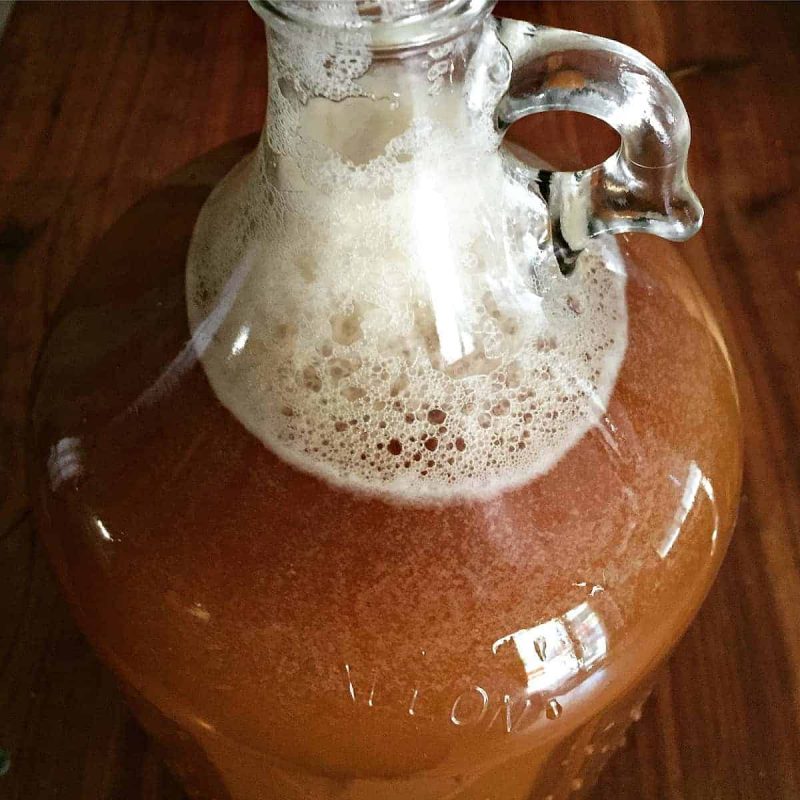 Once the bubbles subside, which took about a week or so, then it is time to bottle the cider. I usually use flip top grolsh style bottles. You can follow my instructions for bottling here.
This glass of hard apple cider was poured right before bottling. We always like to taste some right away when it's finished! It will get more clear after it is bottled and sits for a couple of weeks.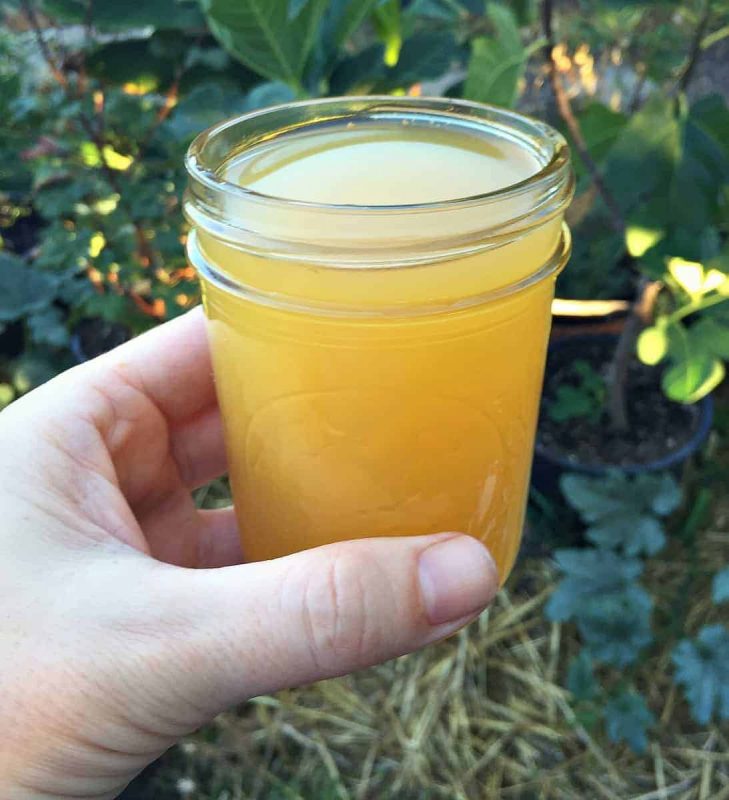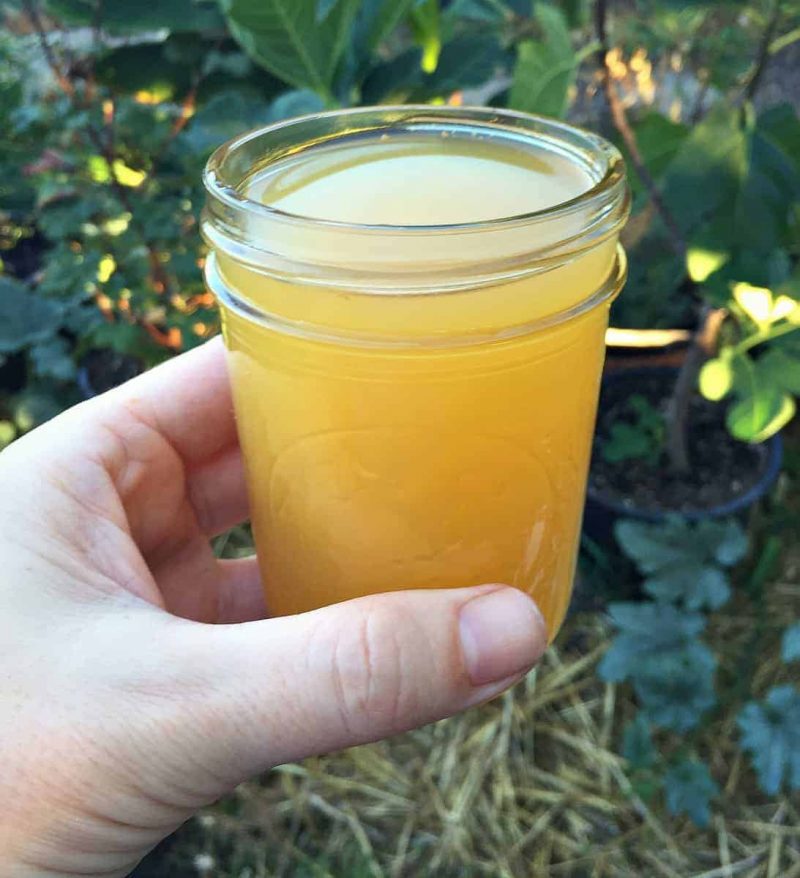 We have made three one gallon batches of this hard cider with wild yeast, with a bit of experimenting along the way. The first batch we made just as I explained here, using only fresh pressed cider. For the second one we added a half cup of sugar, and the third we added a half cup of honey (which is technically then called a cizer, or cider mead). We liked all three, and the differences were subtle, but the one made with honey was our favorite.
Have you ever made homemade hard cider? What method did you use?
Once Save
Save
Save
Save
Save
Save
Save
Save