Oyster mushrooms are easy to identify and fun to forage for, plus they are delicious and easy to use in the kitchen. Learn how to identify edible oyster mushrooms, where to forage for them, and my favorite ways to cook with this very special wild mushroom!
---
Wildcrafting Weeds
If you want to learn more about the edible and medicinal weeds that surround us and how to use them, check out my eBook: Wildcrafting Weeds: 20 Easy to Forage Edible and Medicinal Plants (that might be growing in your backyard)!
Gather & Root Online Foraging Course
My online foraging course is a great way to learn about wild edible and medicinal plants! Sign up to learn more about the gather + root online foraging course here.
---
Oyster Mushroom Hunting
Hunting for mushrooms is always one of my favorite pastimes. To start with, the areas that most mushrooms prefer to hang out in are usually gorgeous.
They are often near water, in lush green rainforests, which we have plenty of here in Oregon.
Many times when I actually find wild mushrooms I'm not even actively looking for them. This has most often been the case when I've come across oyster mushrooms in particular.
I'll be crossing a creek on a log and look down to see there are mushrooms on the log, or I'll come across a stump that has a few clusters of oysters.
Foraging for oyster mushrooms is generally pretty easy, as they are not hard to identify, and exciting to find!
Oyster Mushroom Identification
Oyster mushrooms are one of the easiest mushrooms to identify (they are included in my 5 easy to identify edible mushrooms guide).
One important thing to note about oyster mushrooms is that they always grow on wood, either on dead logs or living trees, usually hardwoods but occasionally conifers.
They also always have white or light colored gills that run down their stem.
They most often grow in shelf like clusters.
Different varieties can be various colors of white, beige, yellow, and brown.
There really aren't any poisonous look alikes if you follow the above descriptions, most importantly that they always grow on logs or trees.
Adam from Learn Your Land has a great post and video about identifying oyster mushrooms.
Regardless, I always recommend that you bring a mushroom guidebook whenever you go foraging, one of my favorites is All That the Rain Promises and More by David Arora.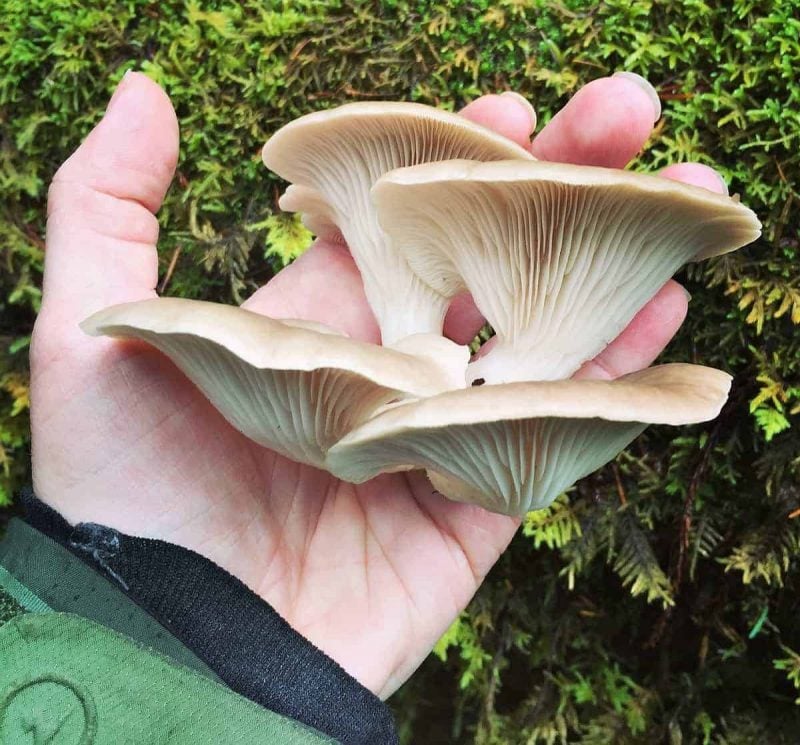 These mushrooms prefer cooler weather, so will often start emerging after fall or spring rains.
This is just a general rule though, as they can also be found in winter, and I have even found them in summer.
Related: What to Forage in Winter: 30+ Edible and Medicinal Plants and Fungi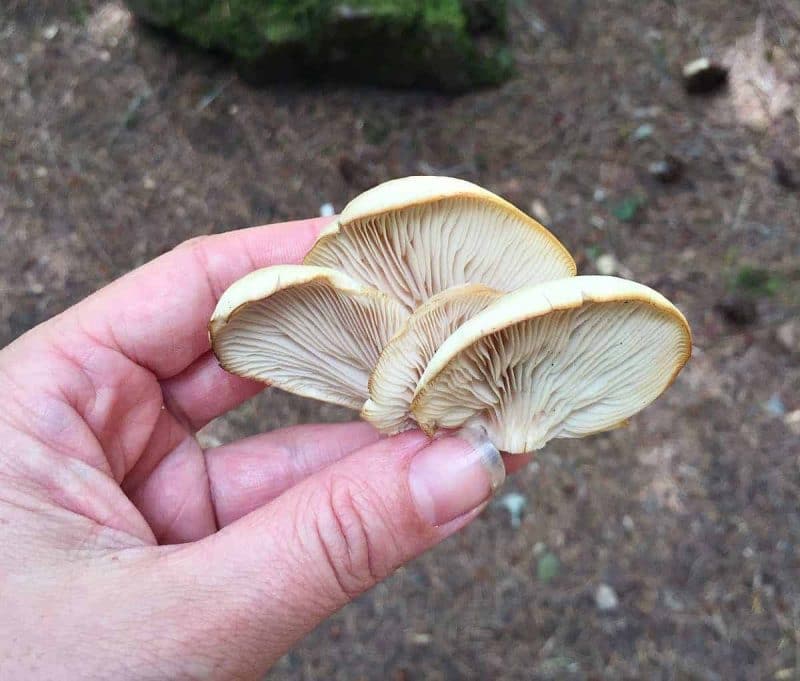 We found these ones in June near the Umpqua river in Oregon.
We were unprepared when we found these and didn't have much to carry them back with, so we used a hat.
We weren't expecting to find any edible mushrooms, but we got lucky!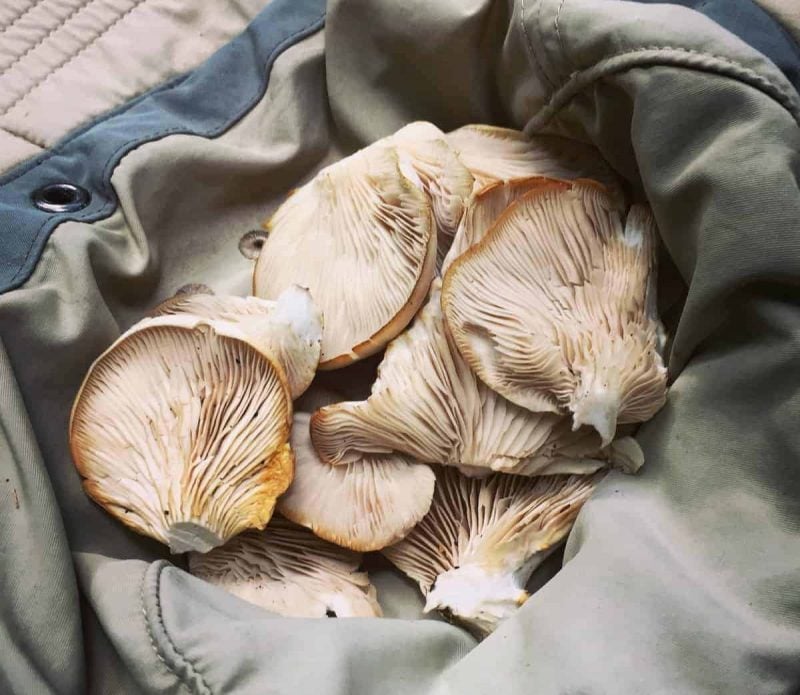 Cooking Oyster Mushrooms
Oyster mushrooms are delicious and ranked as some of the tastiest edible wild mushrooms, along with morels, chantrelles, and lobster mushrooms.
They are amazing simply sauteed in butter with a little fresh thyme.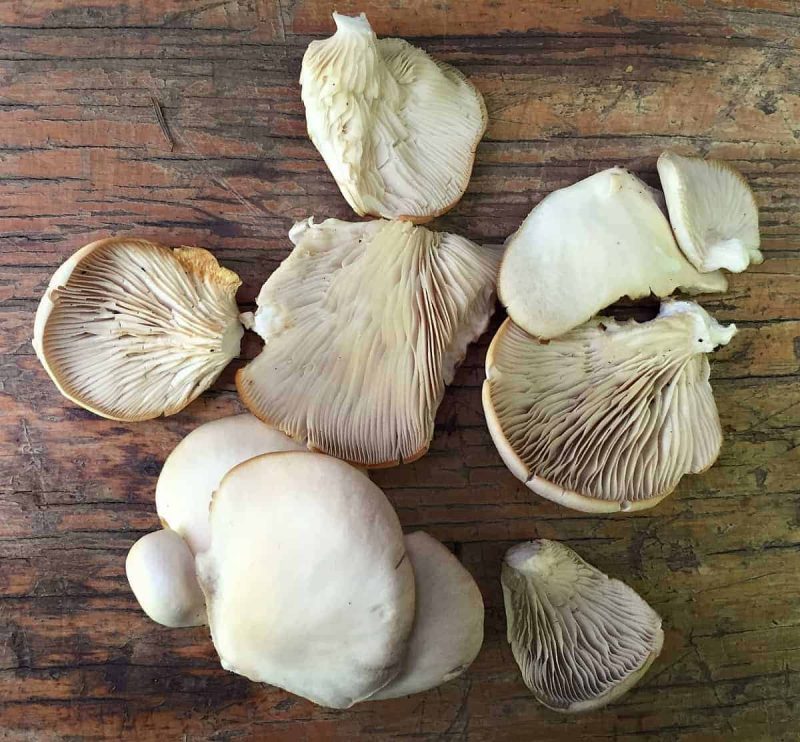 Growing Oyster Mushrooms
Oyster mushrooms are one variety (along with shiitakes) that can actually be cultivated at home by growing them on logs using plug spawn.
You can also get nifty little mushroom growing kits that make growing them super easy!
We have grown mushrooms on logs before when we lived in Arkansas with wonderful results! Here are some of the oysters and shiitakes that we grew.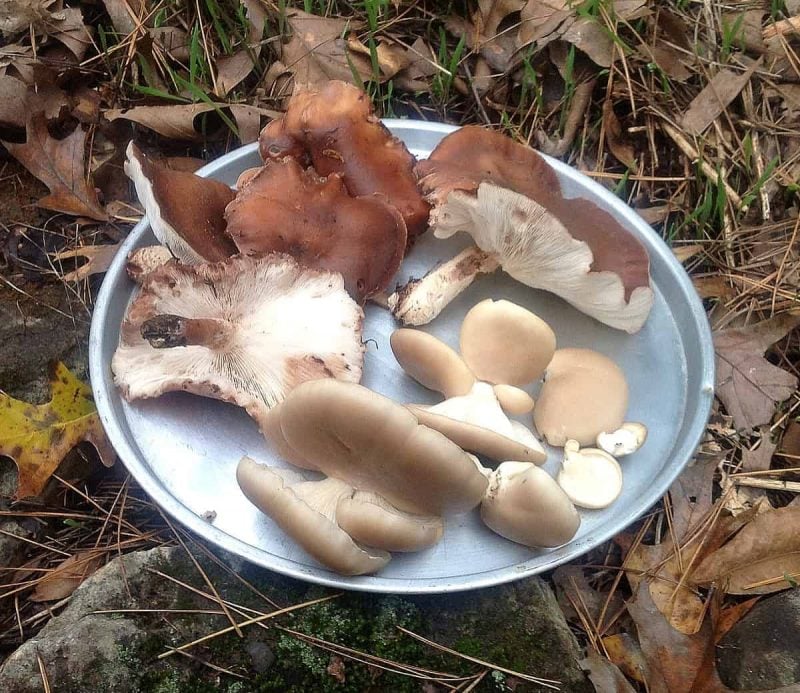 I hope to get some mushroom logs going again this spring, and when I do I'll definitely keep you updated on the process!
Have you ever gone foraging for wild mushrooms? What have you found?
Further Resources on Oyster Mushrooms
Here are some more great resources on growing, cooking with, identifying, and foraging for oyster mushrooms:
---
More Mushroom Foraging Guides
---