Joel and I have spent the past couple of days on the southern Oregon coast, and it was wonderful! I had my hopes set on finding some chanterelle mushrooms, as they can be quite prolific in the coast range. As we were driving south down the coast, we saw a small side road that led into the woods named "Chanterelle Lane." Hmm, it seemed too easy, but we turned onto it anyways. Joel did a little searching around and came back with a report of no chanterelles, but that he found a really cool mushroom that I should come and check out anyways. I'm always down to look at beautiful mushrooms, edible or not! Turns out it was a lobster mushroom, so we turned our chantetelle hunt into foraging for lobster mushrooms instead.

---
Wildcrafting Weeds
If you want to learn more about the edible and medicinal weeds that surround us and how to use them, check out my eBook: Wildcrafting Weeds: 20 Easy to Forage Edible and Medicinal Plants (that might be growing in your backyard)!
Gather & Root Online Foraging Course
My online foraging course is a great way to learn about wild edible and medicinal plants! Sign up to join the waiting list for the gather + root online foraging course here so that you are the first to know when it opens for enrollment.
---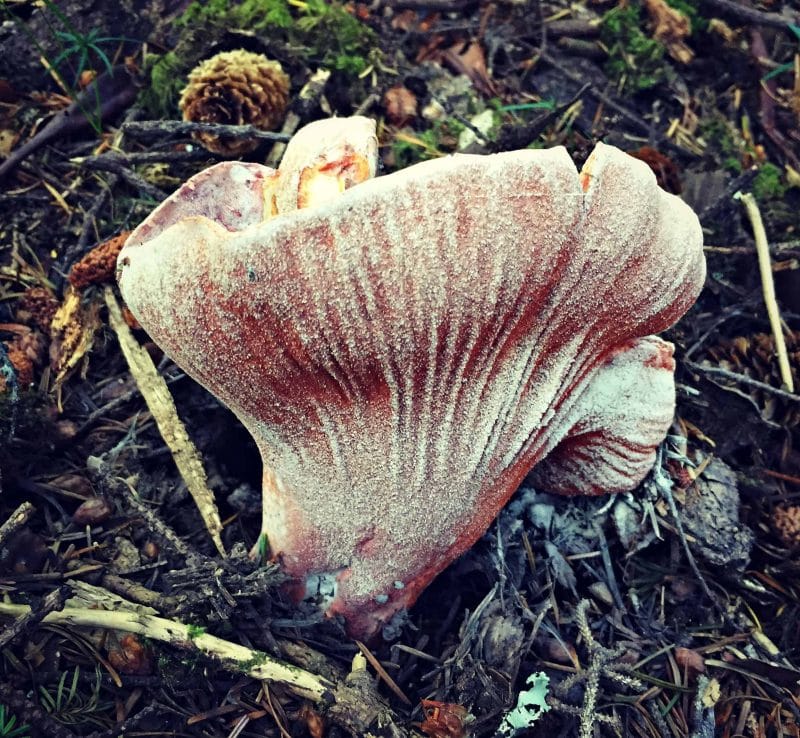 Foraging for Lobster Mushrooms
Lobster mushrooms are really cool looking, and unmistakable once you know what they look like. They are most often found in the fall after the rains come, but in some areas can be found in the summertime as well.
This one was particularly gorgeous, and I tried to rack my brain for what it could be, as I had never found a lobster mushroom before. When we looked at the other side of it we saw that we weren't the only ones enjoying it's beauty.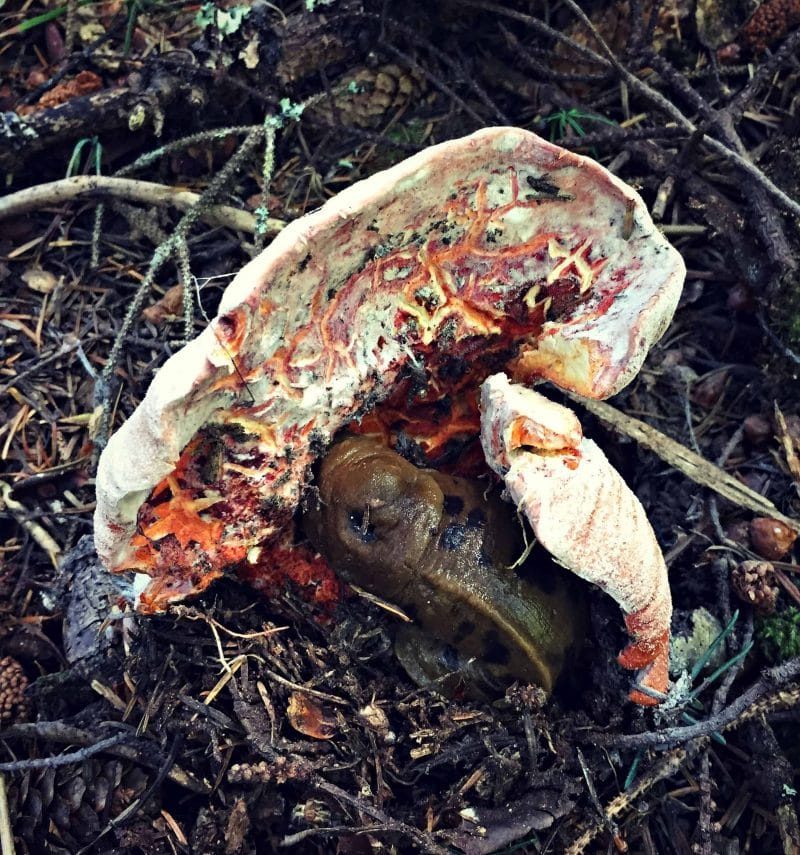 This slug was slowly eating away at it, which gave me some hope of its edibility. Then I connected the dots in my head and realized what this was… a lobster mushroom!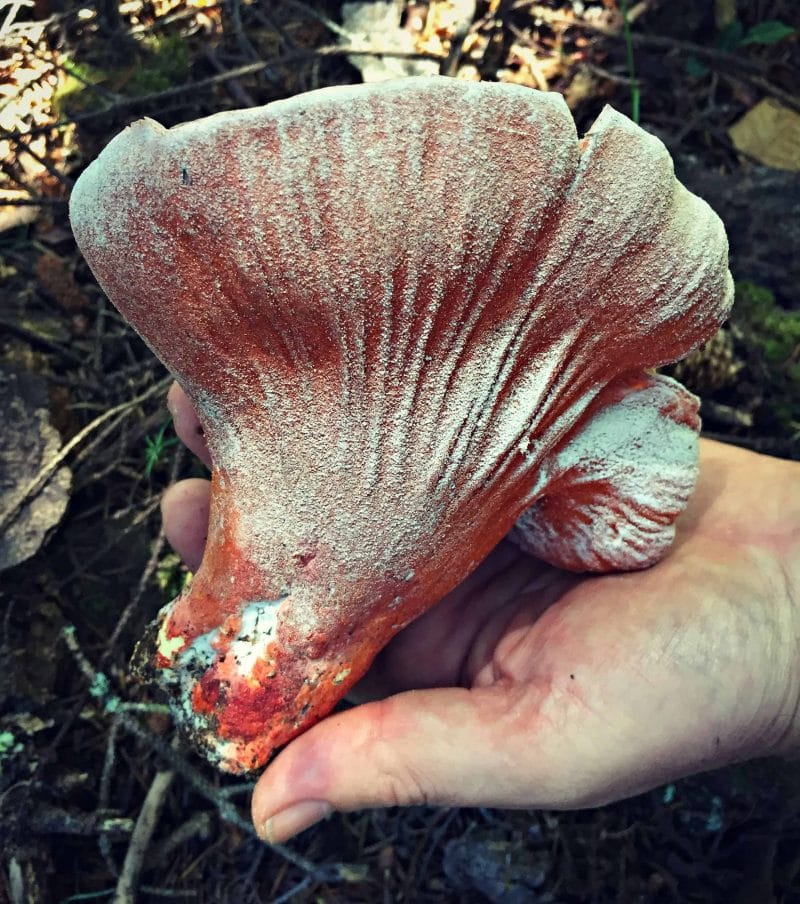 I almost knew for sure that's what it was, as it's a common edible mushroom in this area, but I double checked my super awesome mushroom guidebook, All That the Rain Promises and More by David Arora, just to be sure. It turns out that lobster mushrooms aren't really even mushrooms at all, but parasitic fungi that feed on other mushrooms and eventually envelop them. Pretty cool, huh? Nature is awesome!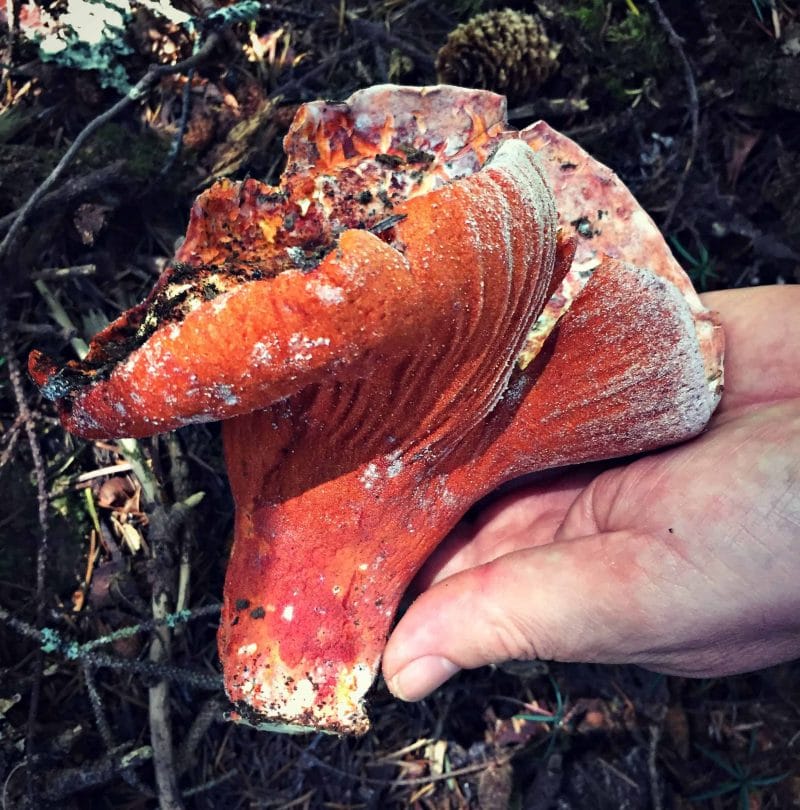 Anyways, that's exactly what this was, and thankfully there are no poisonous look-alikes to be worried about. And don't worry, we left the mushroom stump for the slug (although I have little sympathy for them after what they did to my garden earlier this summer).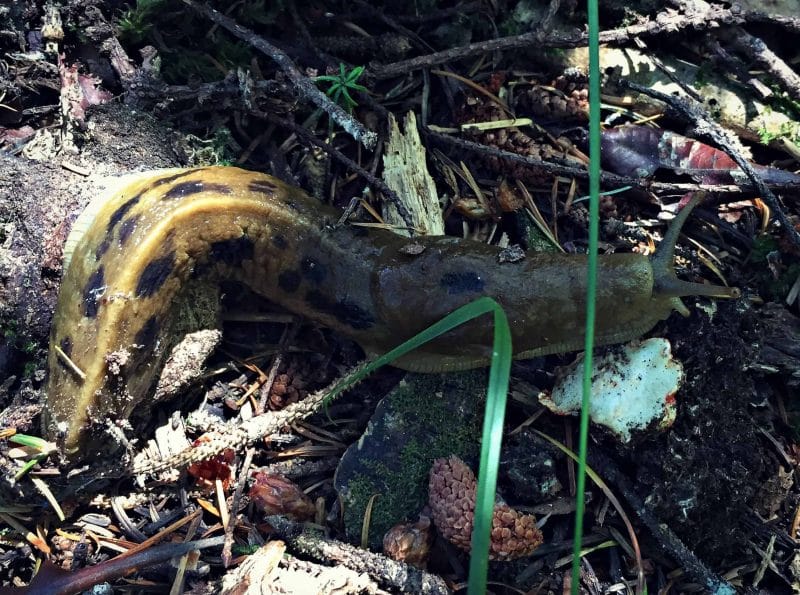 We brought it home and cleaned it off as best we could.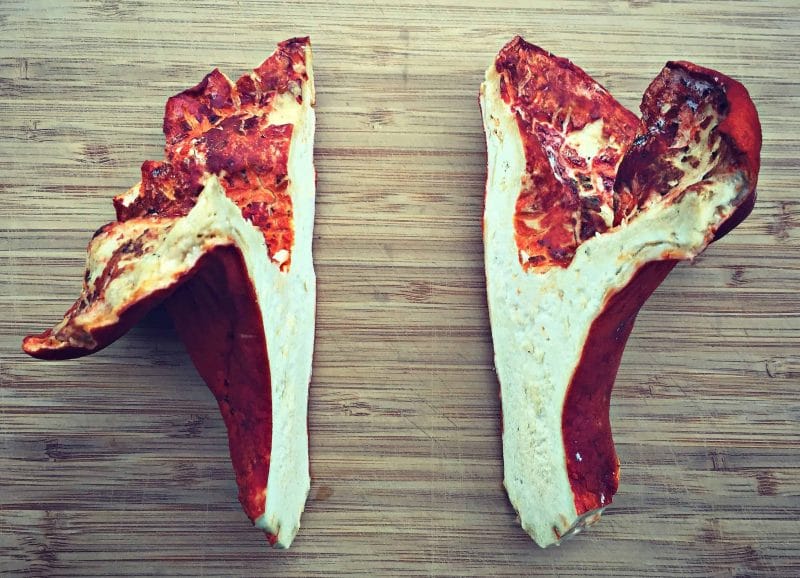 Once you cut it open you can really see why it's called a lobster mushroom, as it really does resemble a lobster with its hard red exterior and white interior.
Lobster Mushroom Mac and Cheese
We spent a good portion of our drive home deciding how we were going to cook this baby up. Since real lobster mac and cheese is a special delicacy that we both enjoy on rare occasions, we decided to go with that!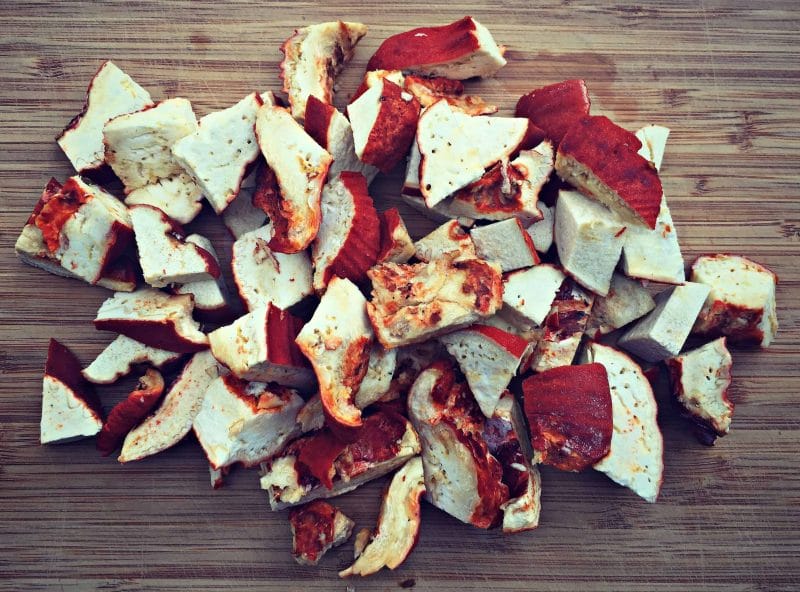 Made from scratch with bacon, plus kale from the garden!
But really, all you have to do is cook the mushrooms in butter with a tiny bit of seasoning and they're delicious on their own!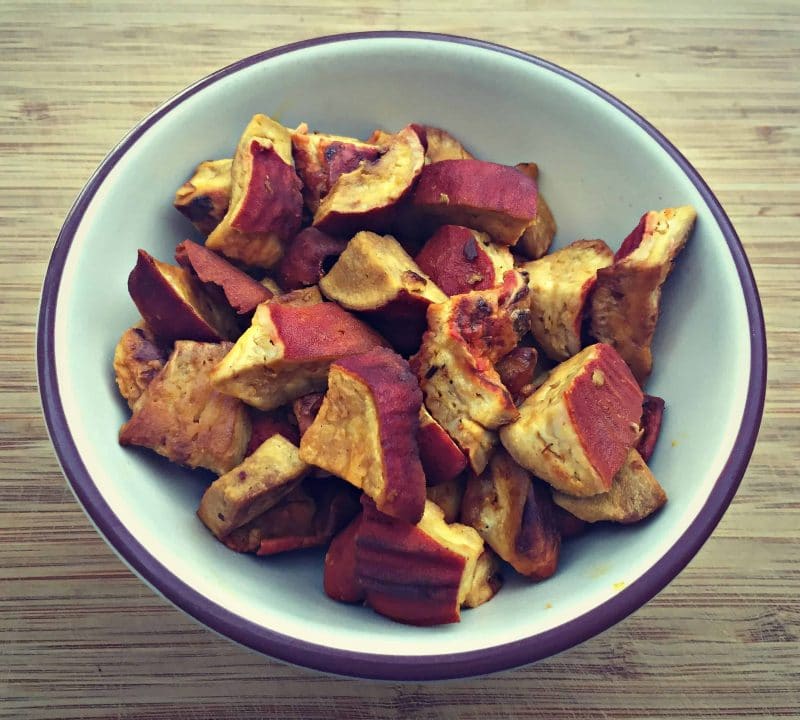 I can't complain about this mac and cheese, though. So delicious with an earthy mushroom flavor. Plus, bacon. And kale.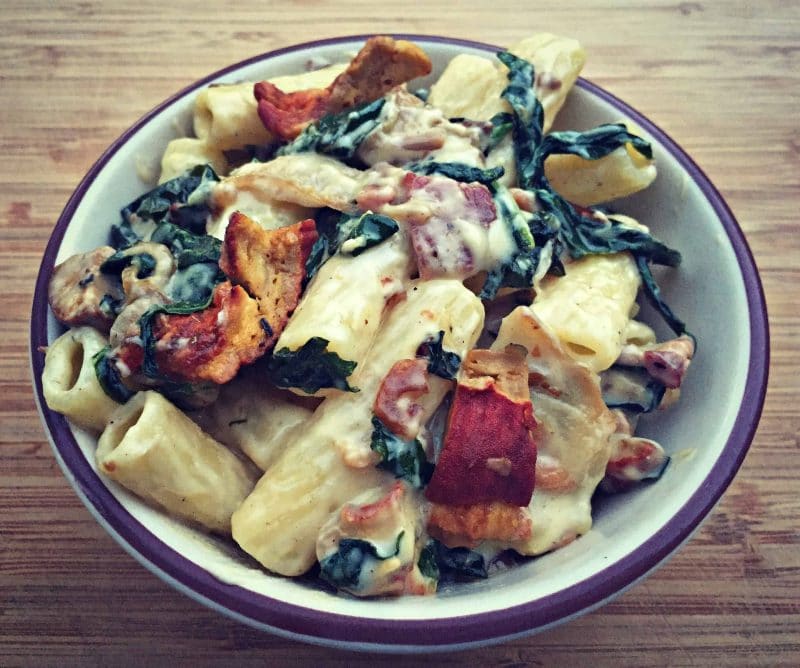 Searching for mushrooms rarely turns out as planned, but is often rewarding in other ways. I was happy just to find any edible mushroom at all, even though it wasn't what I was originally looking for. It was still just as tasty! Sometimes you don't find any mushrooms at all, but because you were looking you will still see all sorts of cool things that you wouldn't notice otherwise. You may find other edible plants, or you may just see cool bugs or flowers or even moss that has an interesting pattern. It really is all about the adventure of being out in the woods and paying attention. The mushrooms that you may or may not find are only an added benefit. So keep your eyes peeled and start foraging for lobster mushrooms!
Mushroom Foraging Guides
Familiarize yourself with these mushrooms so if you stumble across them in the woods you can easily make an id!
Have you ever found lobster mushrooms?
Save
Save
Save