Springtime means morel mushroom season is here! While morels can sometimes be hard to spot, it is worth the effort and is always a fun adventure for adults and kids alike. They are easy to identify with things to keep in mind. Read on to learn all about how to find, forage, and identify morel mushrooms!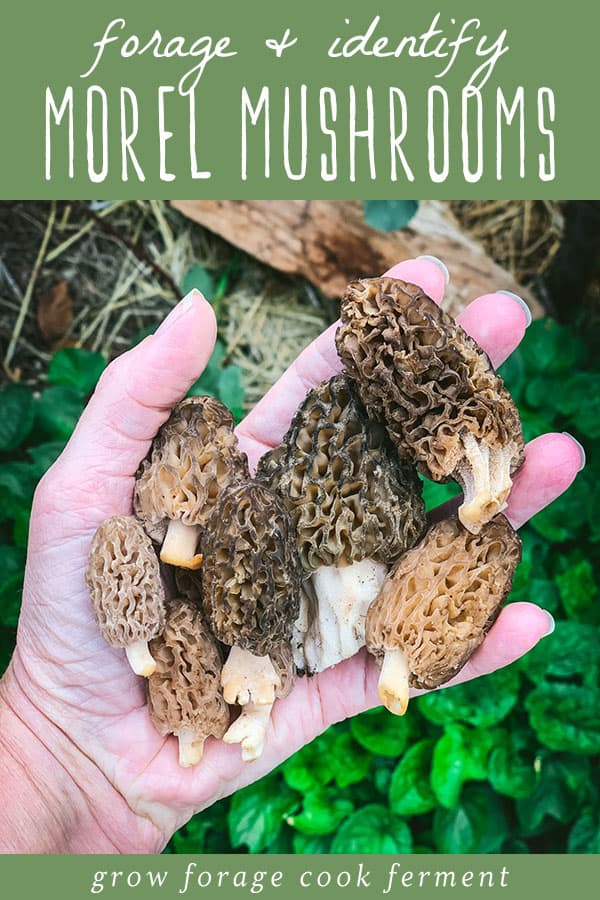 ---
Wildcrafting Weeds
If you want to learn more about the edible and medicinal weeds that surround us and how to use them, check out my eBook: Wildcrafting Weeds: 20 Easy to Forage Edible and Medicinal Plants (that might be growing in your backyard)!
Gather & Root Online Foraging Course
My online foraging course is a great way to learn about wild edible and medicinal plants! Learn more about the gather + root online foraging course here.
---
Foraging for Morel Mushrooms
This elusive morel mushroom (Morchella spp.) is prized for its tastiness, and can only be wildcrafted as no one has figured out how to grow them (yet).
Morels come up in spring to early summer, depending on where you live, and are fairly widespread.
Foraging for morel mushrooms can be difficult, as they usually blend in very well with their surroundings. But, once you get an eye for them, they seem to pop up everywhere!
Morel mushrooms typically start coming up in the springtime, once daytime temps are in the 60's and nighttime temps are in the 40's (or higher), and after a few good rains.
This can mean early March in warmer areas (like California), or as late as June in higher elevations or northernmost areas.
Related: What to Forage in Spring: 20 Edible and Medicinal Plants and Fungi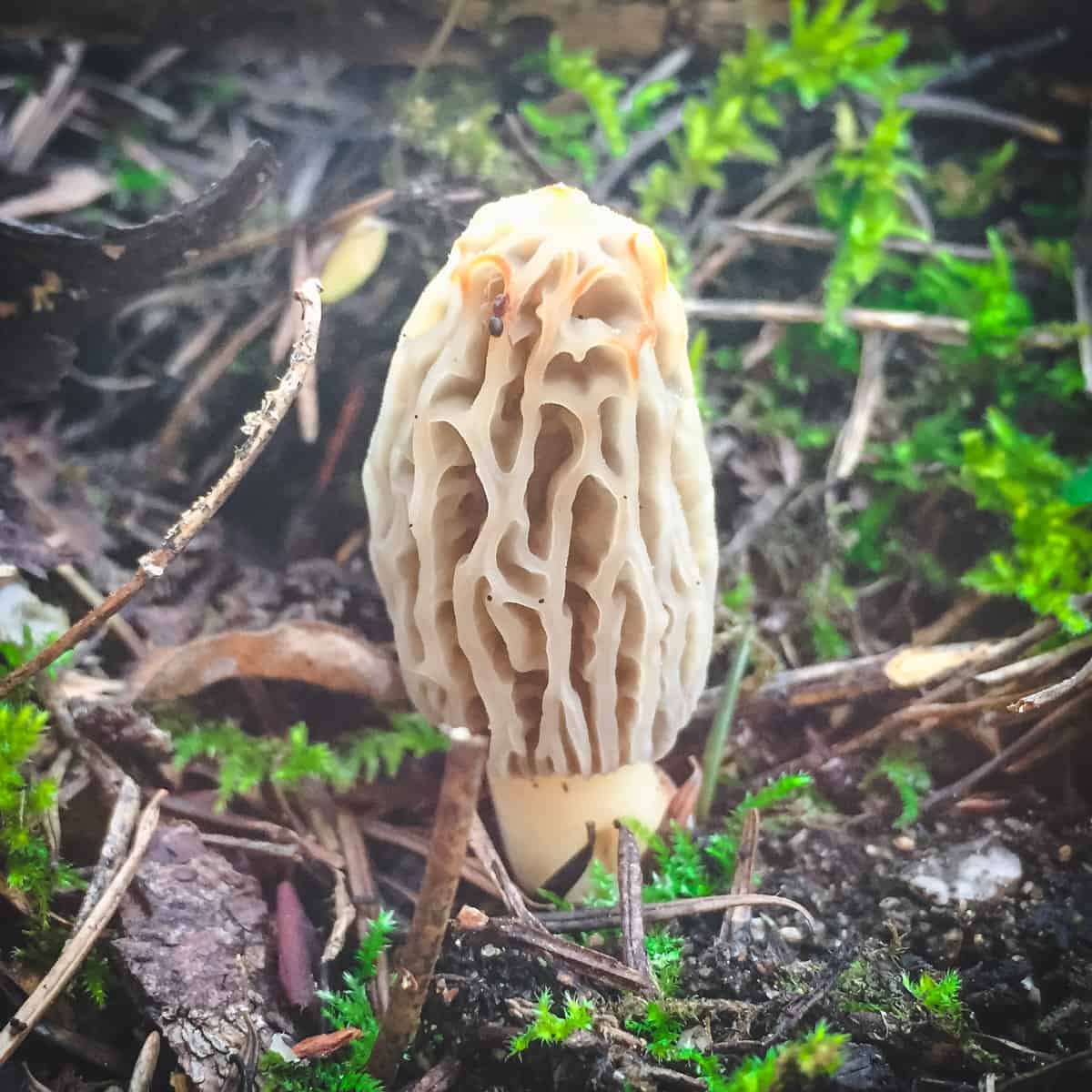 Where to Find Morel Mushrooms
Morel mushrooms are common and grow nearly worldwide!
Morels can be very hard to see on the forest floor, as they blend in very well. I've heard that your brain needs to imprint morels, and until that happens it can be hard to spot them.
Basically, once you've found them, it should gradually get easier to keep on finding them!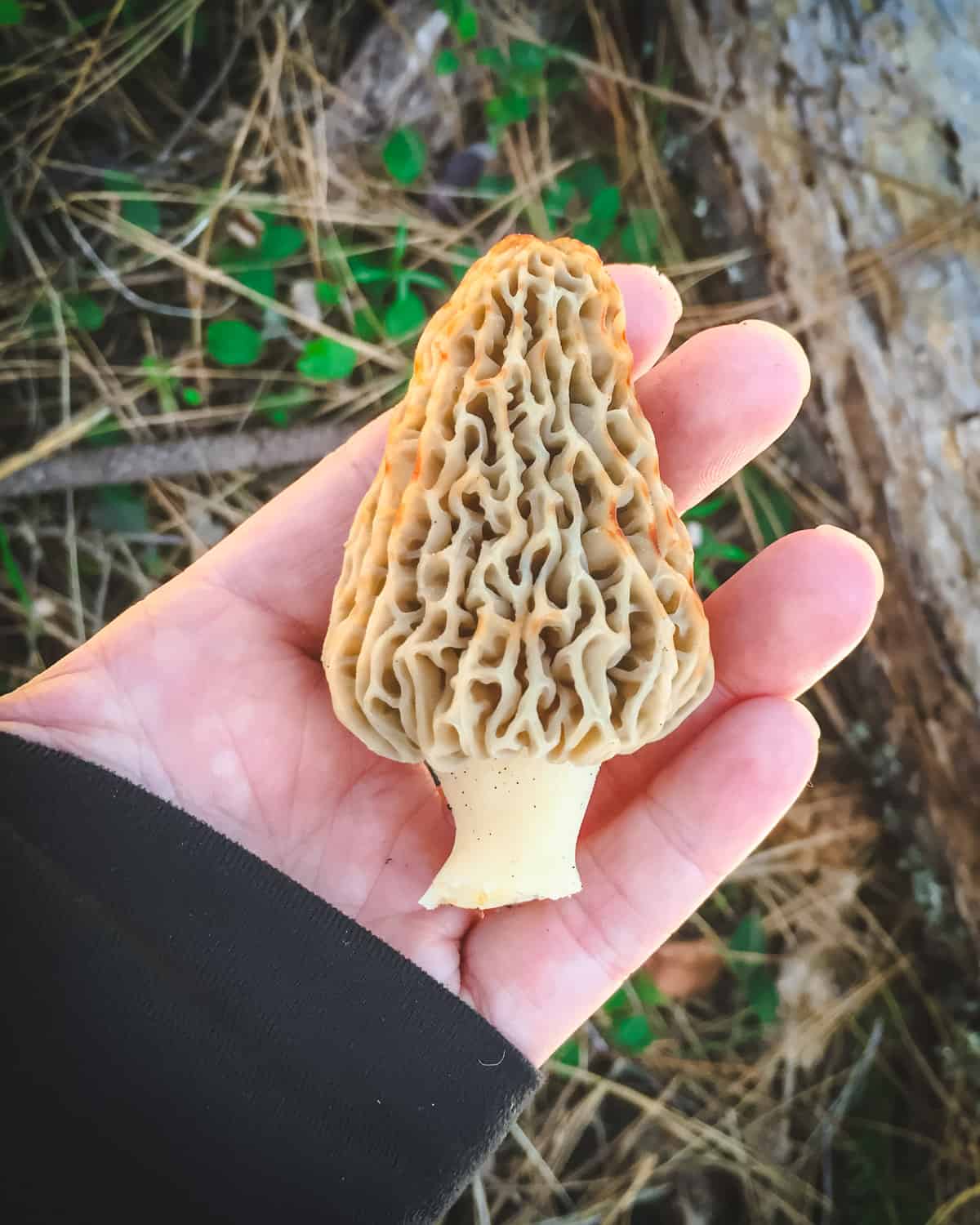 They tend to grow singly or in small groups along waterways, in recently burned areas, along path edges, or in woodlands. If you find one keep looking as there are probably more nearby!
Morels prefer sunny patches and south-facing slopes. They will typically be in the sunniest patches, where the ground is warmest.
If you are in the woods keep an eye out for those sunny spots and you just may see one!
Morel mushrooms will often reappear in the same place year after year but can also disappear for years until conditions are ideal before popping up again.
They generally grow around the drip line of trees, and while they seem to prefer certain varieties of trees (ash, aspen, sycamore, oak, elm), there are no hard and fast rules on this.
Morels also like disturbed forests and recently burned areas. They will often come up in the spring after prescribed burns or wildfires from the previous year.
Morel Mushroom Identification
Morels are one of the easiest mushrooms to identify. They have a pitted and deeply ridged cap that resembles a honeycomb. The overall body of the mushroom is pointed.
When cut in half morels will show a hollow, oblong interior that sits on top of a hollow stem. This is important as a distinguishing feature. The cap is attached to the stem and does not "hang free."
Morels have no gills, veil, or ring.
One other distinguishing characteristic is that they are almost always longer than they are wide. Many of the false morels are wider and more squat.
They can be pale brown or black in color or sometimes yellow or blonde depending on the species. The flesh is white to cream.
Make sure that you double-check any mushroom you might find with a mushroom guidebook for your region.
One of my favorite guidebooks is All That The Rain Promises and More by David Arora (it's good for most regions even though the title says western).
If you really want to get more in-depth on studying mushrooms, his book Mushrooms Demystified is also great.
Related: 12 Best Books on Foraging and Wildcrafting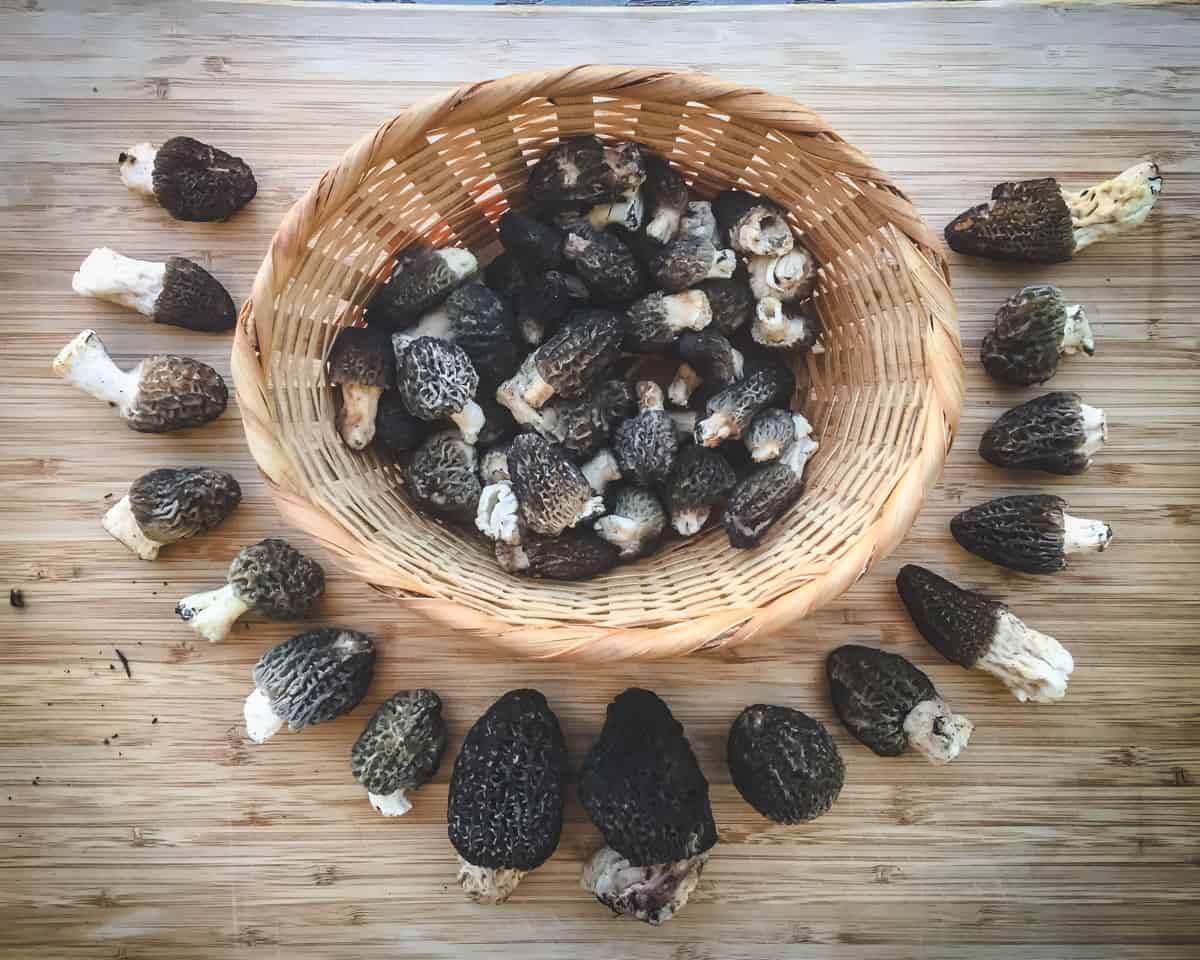 Morel Mushroom Look-alikes
There are several "false morel" species to be aware of.
Gyromitra esculenta or "brain mushroom" is quite toxic and potentially deadly. It has a reddish-brown cap that is folded and is not hollow like morels.
Verpa bohemica or "early false morel" is in the same family as morels but can cause gastric distress and is potentially toxic. It has a similar pitted cap as true morels, but the cap hangs free of the stem. The stem is longer and filled with cotton-like substance.
This is why it's very important to cut open any potential morel you've found to see if it is hollow and that the cap is connected to the stem!
You can find more info on false morels here.
How to Harvest Morel Mushrooms
Morels are generally ready to harvest after spring rains when the tree buds start to appear.
For the pluck versus cut debate, it really doesn't matter. It has been determined that both are sustainable ways of harvesting mushrooms, as all of the mycelium is underground. The mushrooms will return with either method of harvesting.
Mesh bags are best for collecting morel mushrooms as they provide airflow and can help disperse the spores so that more mushrooms grow in the future.
Also handy (plus fun to have), is a mushroom collecting knife, but it's not necessary as any small knife will work just fine.
As with all foraging, do not take more than you need, and don't take every mushroom in a given stand. I like this resource on responsible mushroom picking.
How to Cook Morel Mushrooms
Morel mushrooms, like most wild mushrooms, are highly nutritious! They are packed with vitamins, minerals, antioxidants, protein, and fiber.
It is important to note that morels MUST be cooked before consuming!
Morels contain a toxin that is destroyed by cooking. It's also advised to not drink alcohol within a few hours before or after consuming morels as it can cause gastric distress in some people.
Morels are excellent simply sautéed in butter, added to pasta or meat dishes, or even deep fried! A light spring lasagna with morels is another delicious option.
They will keep fresh in the refrigerator for about a week, or they can be dried in a dehydrator for longer storage.
Morels can also be frozen after they are cooked for later use.
---
More Mushroom Foraging Guides
---
Happy Morel Mushroom Hunting!