Under conifers in the forest duff you might be lucky enough to find yellowfoot chanterelles, also called funnel or winter chanterelles. Yellowfoot chanterelle mushrooms are a very special find and a delicious one! Learn how to identify and forage for these wild fungi and enjoy my recipe for preparing them.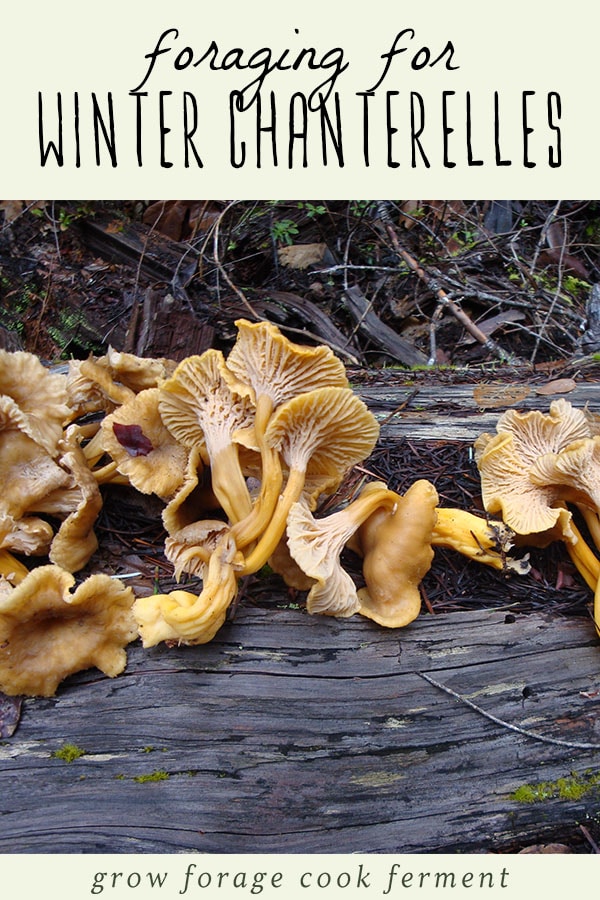 ---
Wildcrafting Weeds
If you want to learn more about the edible and medicinal weeds that surround us and how to use them, check out my eBook: Wildcrafting Weeds: 20 Easy to Forage Edible and Medicinal Plants (that might be growing in your backyard)!
Gather & Root Online Foraging Course
My online foraging course is a great way to learn about wild edible and medicinal plants! Sign up to learn more about the gather + root online foraging course here.
---
Foraging for Winter Chanterelles (Yellowfoot)
A few weeks ago we got a ton of rain. Yes, I know, it rains a lot in Oregon, but this was insane. Creeks flooded, ponds formed (yay ponds!) and trees fell. We needed it, but not all at once!
Anyway, as it generally goes in southern Oregon, we have had amazingly beautiful and sunny days since. A few days into the sunny weather, I said to Joel, "I bet we can find some mushrooms if we go out looking…"
Famous last words.
We went out on a hike along the Applegate river and looked as we went along, not really seeing much except for some epic moss, but having a great time anyways.
Our hike got stopped short as the bridge that crossed the river was gone, so we turned back. On our way back we spotted this: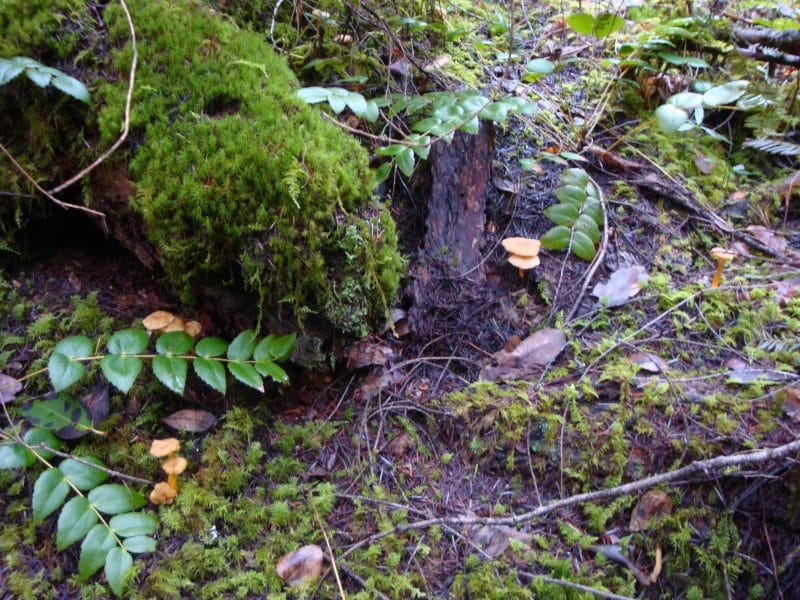 Hmm, orange in color…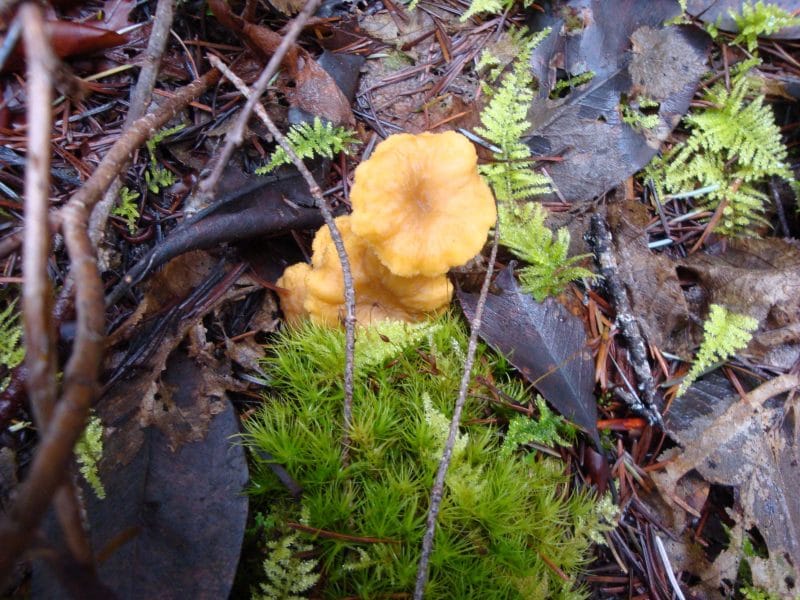 I wonder why we didn't see these on our way in?
Goes to show you that even when you're looking you still may not see…
We thought they might be chanterelles so we picked a few.
There were literally tons of these mushrooms… the more we picked the more we saw!
Related: What to Forage in Winter: 30+ Edible and Medicinal Plants and Fungi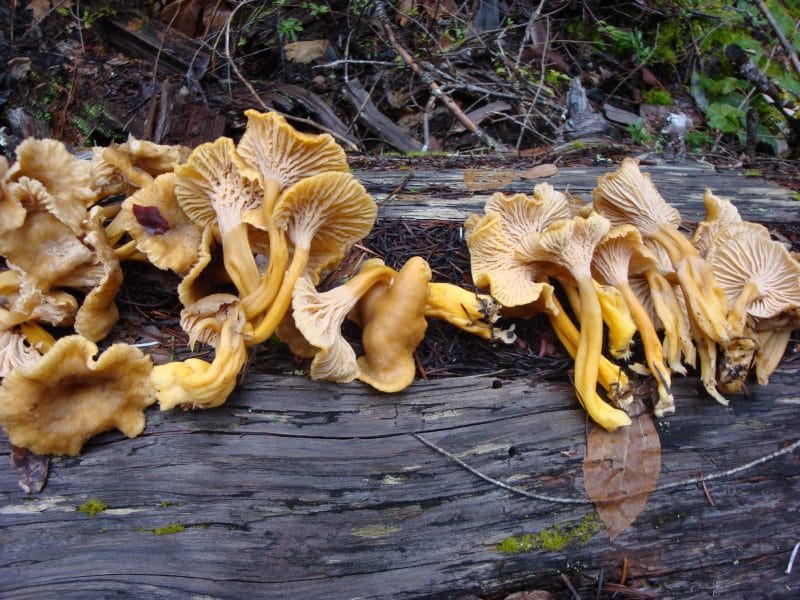 Chanterelles with Hollow Stems
Since we weren't sure if they were chanterelles, we only picked a few. They had the false gills of chanterelles, but they also had hollow stems
No chanterelle that I was aware of has a hollow stem.
We brought them home anyways, of course. Needed to do further research!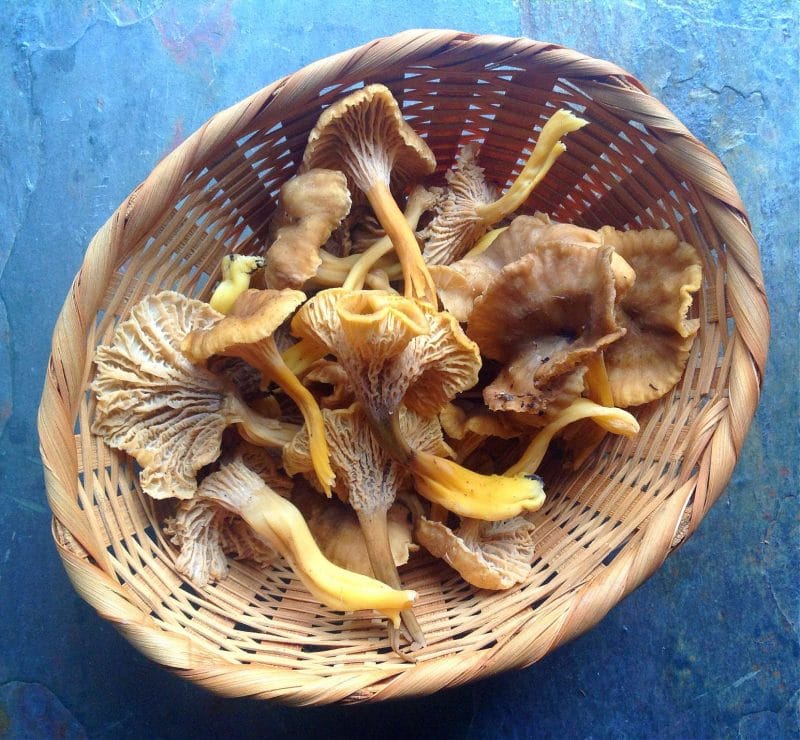 I took a bunch of pictures and studied my books. You don't want to mess around with eating questionable mushrooms!
The gills were exactly like chanterelles, "false gills" they're called, a major defining characteristic. Not sharp like the gills of most mushrooms, but more rounded and like veins.
But what about the hollow stems? I still wouldn't let Joel cook them up.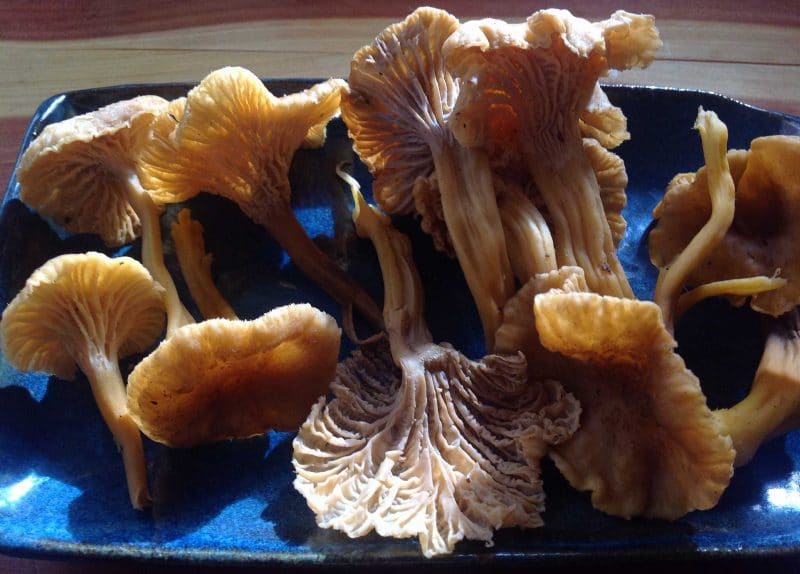 They sure are beautiful. After a few hours studying on the internet and with help from other mushroom people, I discovered winter chanterelles (Craterellus tubaeformis).
They have the false gills, a hollow stem and a funnel shape. This is what we had!!!
Also called Yellowfoot, a name I prefer.
Related: 5 Easy to Identify Edible Mushrooms
How to Cook Winter Chanterelles
They are not only edible, but extremely tasty. So, into the pan they went!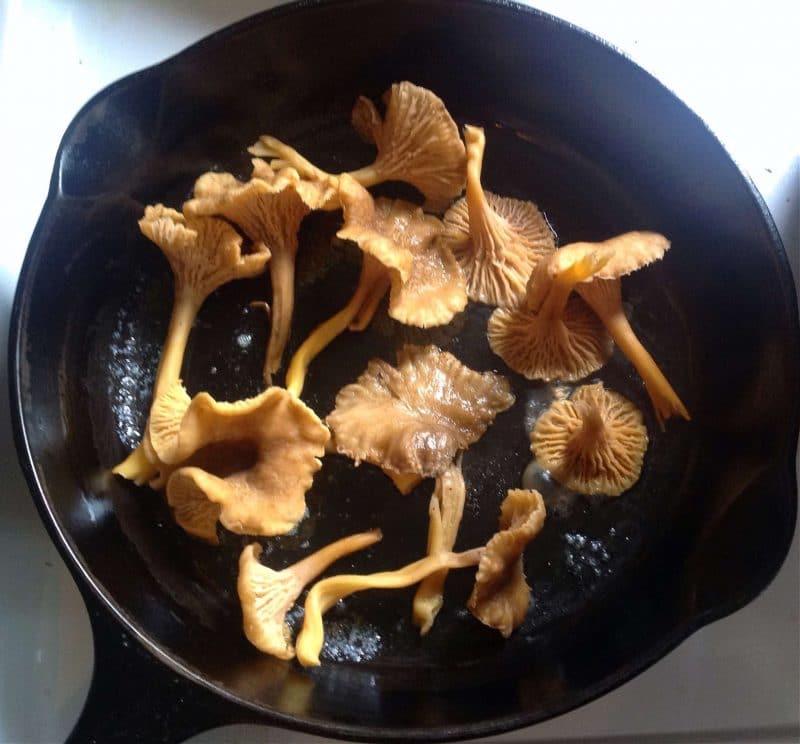 They had a lot of liquid in them as they were a bit waterlogged from all the rain.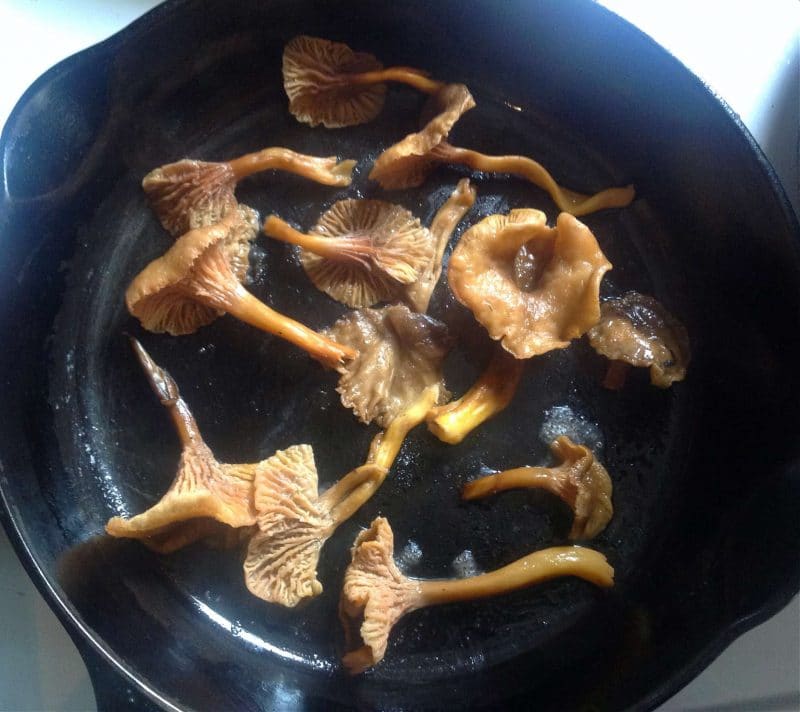 A little bit of butter and a pinch of thyme is all they needed, and these were absolutely delicious!
So earthy and flavorful, exactly how a mushroom should be.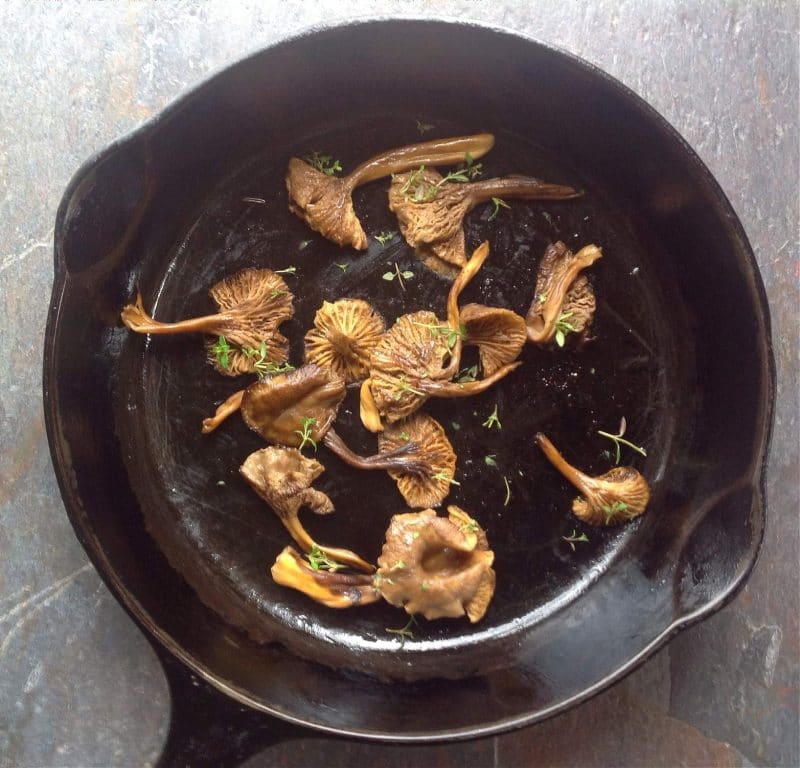 This chanterelle toast would be another great way to eat them!
Gorgeous! I sure hope to find some more of these in the near future.
Luckily they're plentiful in my neck of the woods!
Finding and eating your own mushrooms is one of the most rewarding things that one can do, but please be very careful and consult a guidebook.
One I highly recommend is All That the Rain Promises and More by David Arora, as it's extremely thorough, easy to read, has great pictures and is small enough to put into a backpack.
Better yet, take a friend who knows about mushrooms! And definitely don't pass up yellowfoot chanterelle mushrooms!
---
More Mushroom Foraging Guides
---