Did you know that all you need to make yogurt is yogurt? And milk, of course. That's why fermenting is so cool! You're basically transporting a bit of the beneficial bacteria to a new medium so that it will continue to multiply and turn into something even more awesome. It's actually almost like pre-digestion in a way. Dairy can be hard for a lot of people to digest, but yogurt can help with that, and is one way for people to get good, healthy bacteria into their gut. But, buying organic yogurt can get pretty expensive. If you already have a dehydrator, as many of us homesteaders and food preservers do, you can easily make your own yogurt. Here I will show you how to make yogurt in a dehydrator.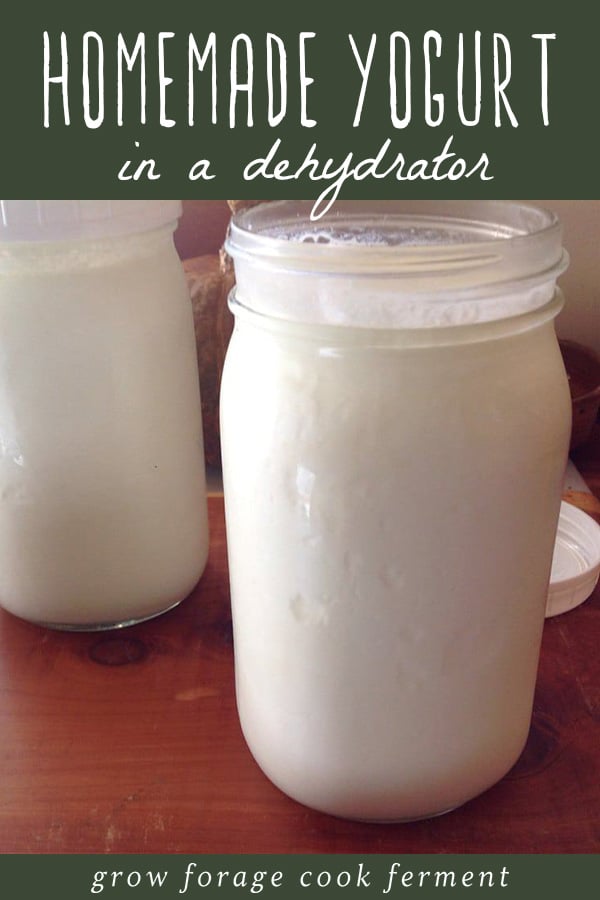 All you need to make yogurt is a couple of spoonfuls of yogurt and some milk. I prefer to buy organic for both of these items, although if you can get local and/or raw milk that would be even better. Someday I hope I'll have my own cow so that I don't have to buy pasteurized and homogenized milk, but for right now that's what I do.
When you're making yogurt it needs to be kept at 105°-110° for 8-12 hours. I do this in my Excalibur Dehydrator, a kitchen appliance that I feel every homestead kitchen should have. I really don't think that it's worth it to buy a special "yogurt maker" because it only serves one purpose, whereas the dehydrator will be a workhorse for many different applications.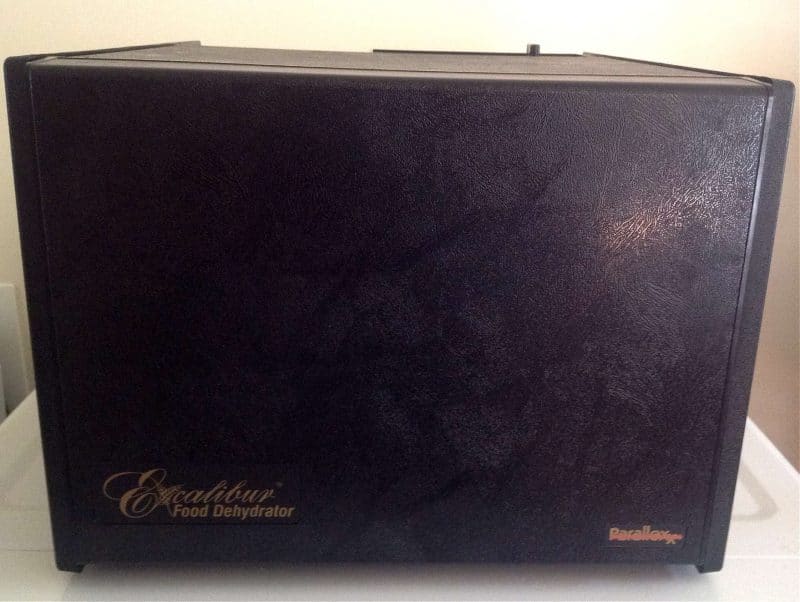 You can, of course, can make yogurt without any machine at all. If you live in a warm climate you can just wrap your jars in a blanket and it should be plenty warm enough. You could also heat your oven to "warm" and put them in there, just make sure you have an oven thermometer to make sure that it doesn't get too hot. Another method is to put your jars into a water bath in which you add warm water every so often to keep up the temperature.
To make 2 quarts of yogurt, heat 1/2 gallon of organic milk in a pot over medium heat until it gets to 180°F, or right when it starts to bubble up a little (not boil).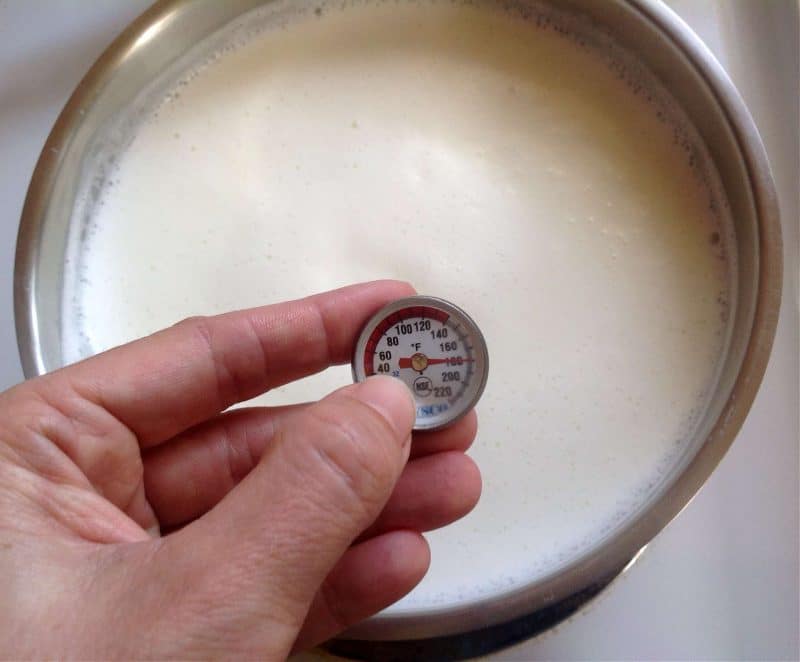 I'm not even sure if this step is even necessary when you're using milk that is already pasteurized, but it's what Sandor Katz says to do in his book Wild Fermetation, so that's what I do. Then take it off the heat to cool. In the meantime, preheat 2 quart size jars with their lids in the dehydrator at 110°.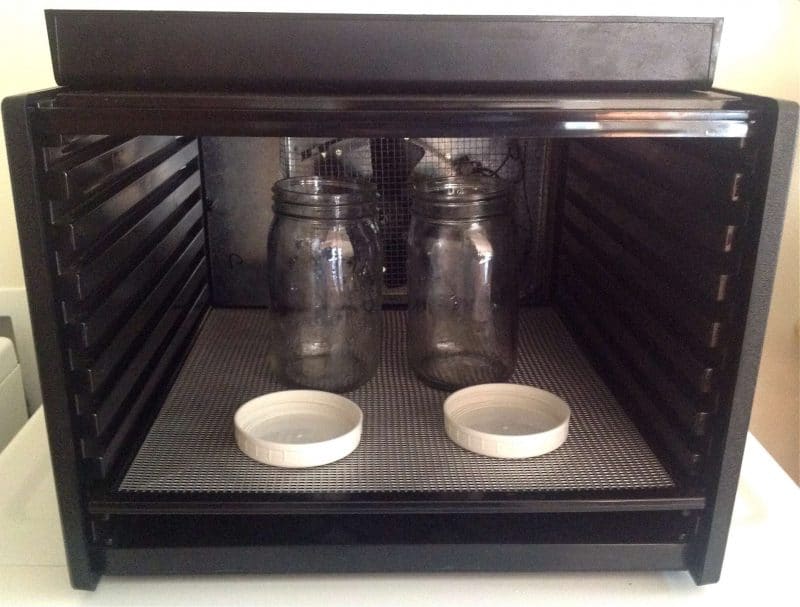 Now you're just waiting for the milk to get down to 110°F. Stirring it with a clean wooden spoon helps to cool it a little faster.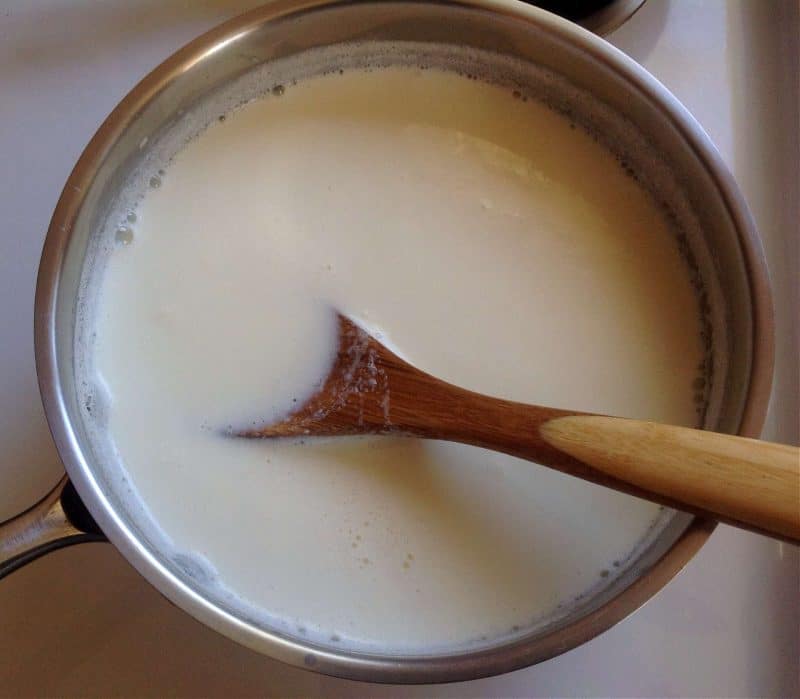 Continue to check it's temperature, as you don't want it to go below 105°F.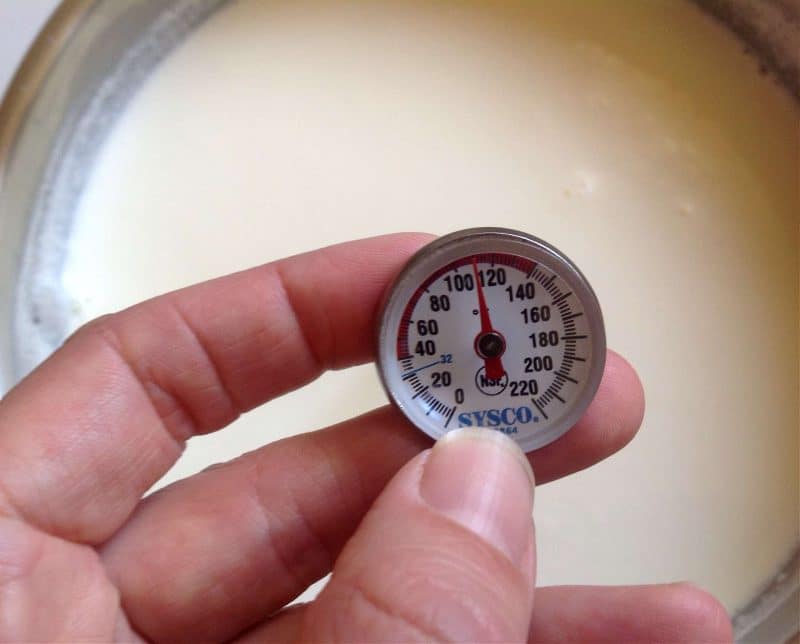 Once it gets down to 110°, add 1 Tbsp of organic plain, whole milk yogurt per quart of milk.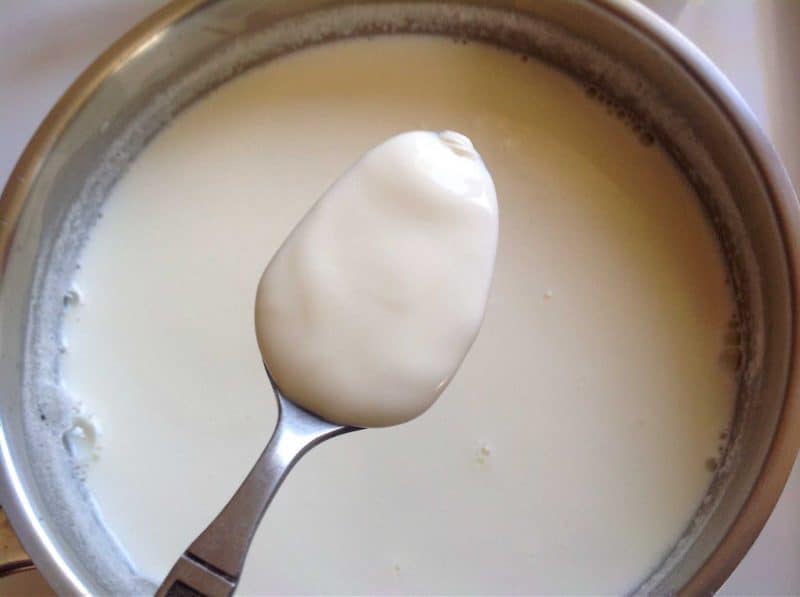 Whisk it in well to distribute all of the beneficial bacteria throughout the milk.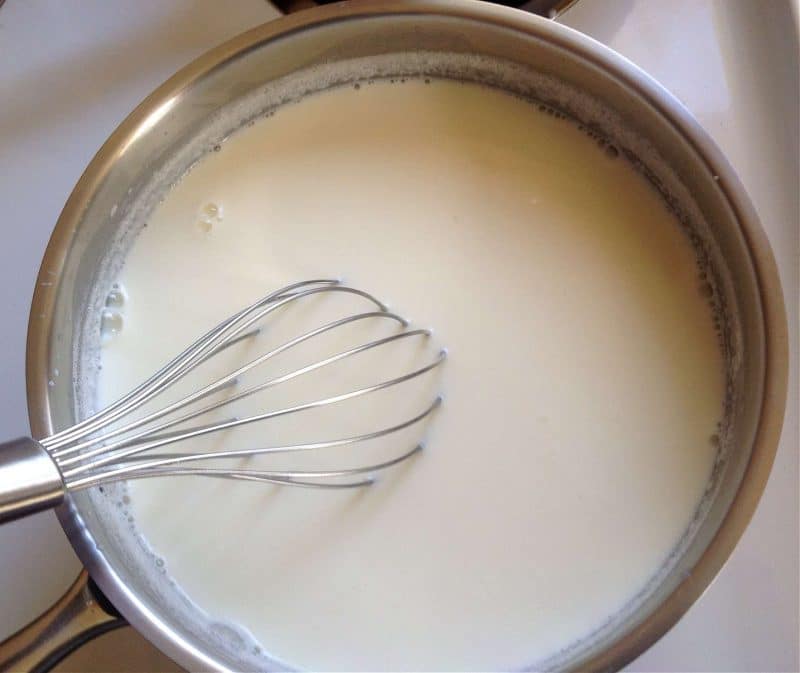 Take your preheated jars out and fill them up with the yogurt infused milk. A canning funnel helps.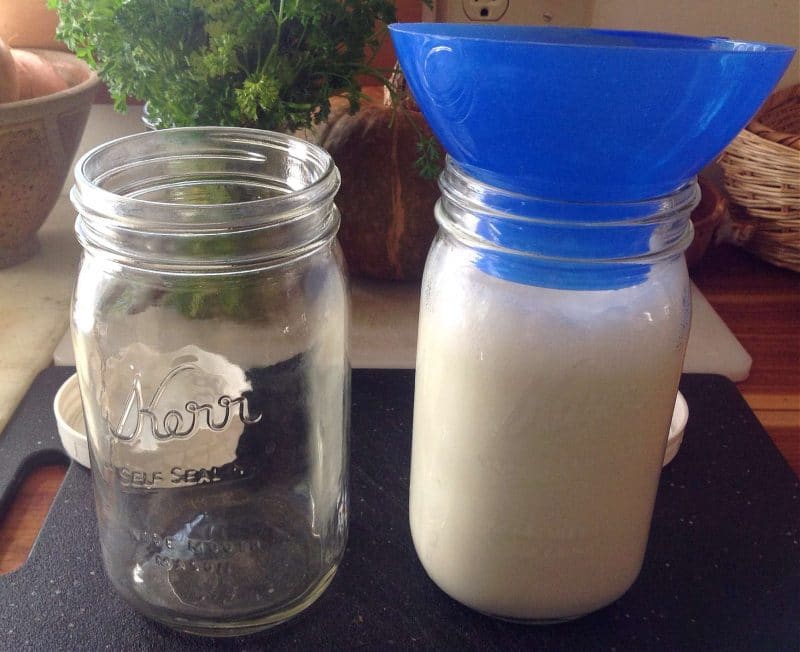 Fill up both quart jars and put the lids on.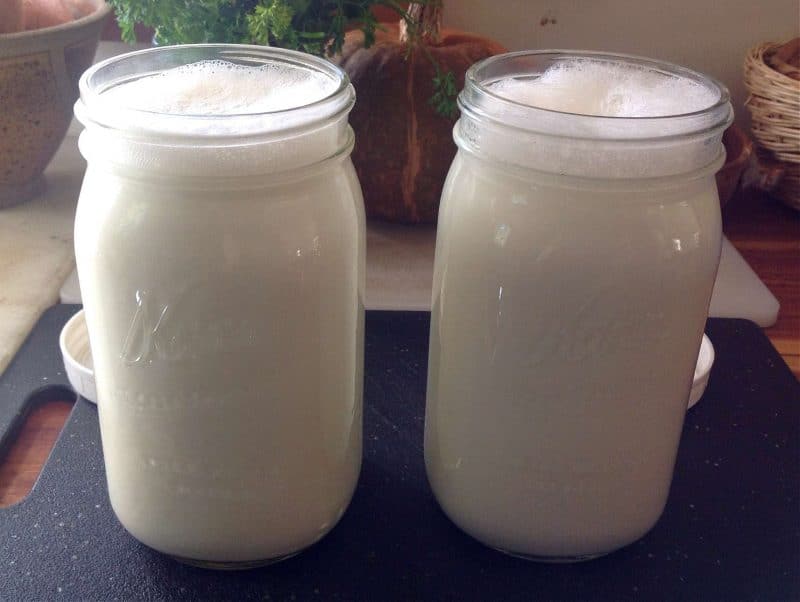 Put them in the preheated dehydrator. You could probably fit 6 or even 8 quarts at a time if you wanted. I often have infused herbal oils going at the same time. Yogurt lasts for quite a while, so if you have a big family that might be a good time saver.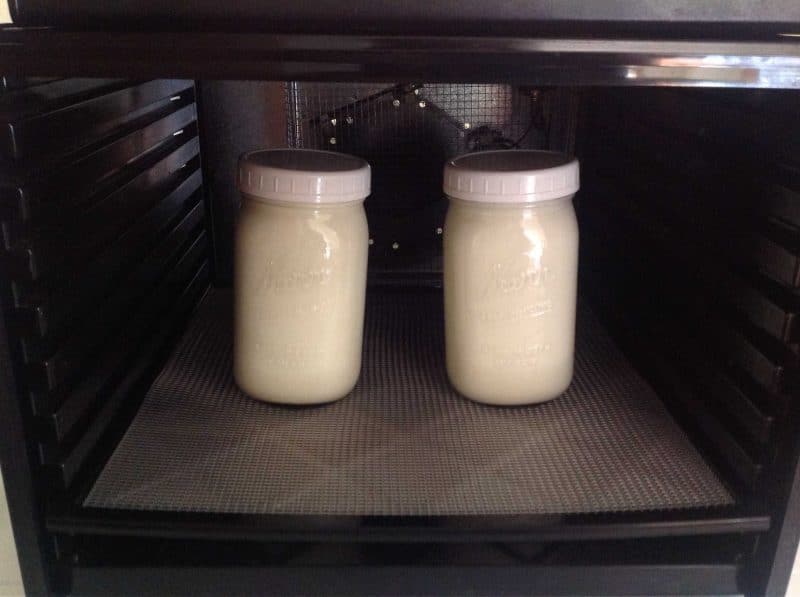 Keep at 105°-110°F for 8-12 hours. I find that right around 10 hours is perfect. Don't agitate it while it's in the process, just check it after 8 or so hours to see if it's "yoged". In my experience, it always is and I'm always excited and totally thrilled about it, like an amazing feat has been accomplished. "Guess what?" I'll yell at Joel at 10pm on a random night. "The yogurt has yoged, can you believe it?!"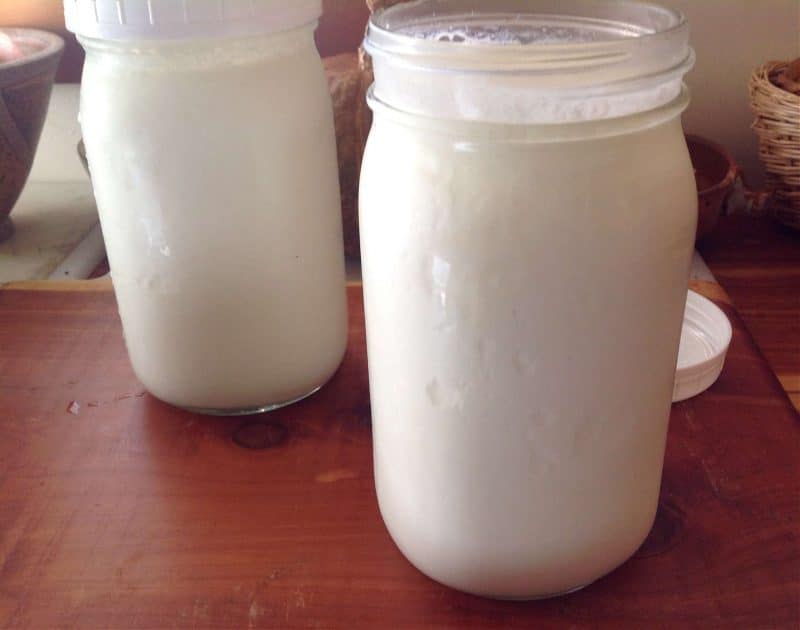 He's always amazed (at least he acts like he is!), even though it's worked every single time we've done it. It just seems like a crazy awesome thing for the little bacteria to turn milk into yogurt in 10 hours! My mind is always blown when I take the lid off and actually see yogurt instead of milk, and always go to bed happy knowing that we'll have a fresh yogurt bowl for breakfast the next morning.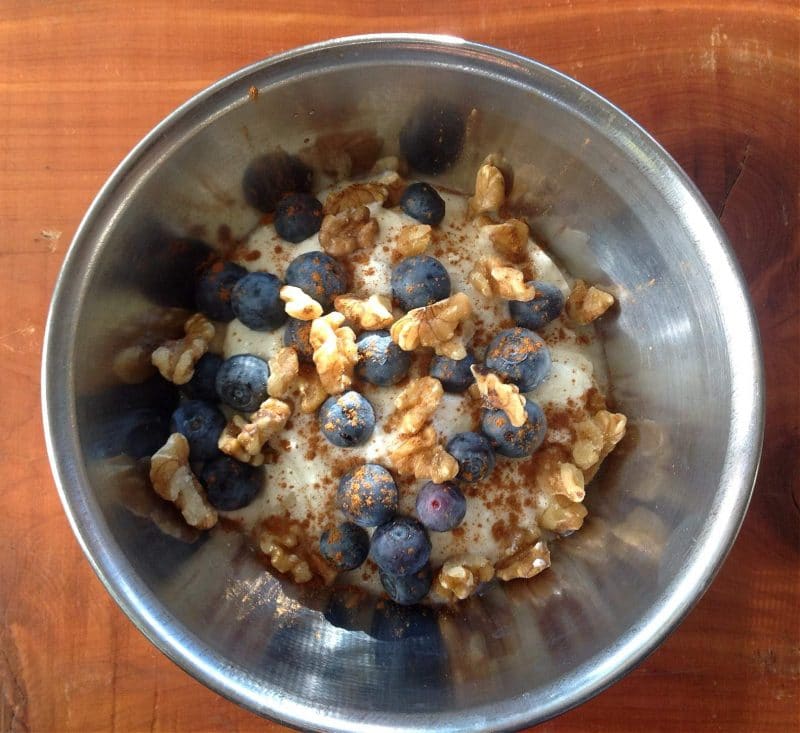 With blueberries, walnuts and cinnamon, of course! That's all you need! Maybe a drizzle of honey if you're so inclined. Let me tell you, this yogurt will be the best you've ever had, rich and creamy. Just make sure to save a couple of tablespoons for your next batch!
Have you ever made homemade yogurt? What method do you use?
Save
Save