I knew that I would write this post one of these days, but I figured that it would be later this spring or summer. However, I went to my Mom's place in the Monterey Bay last week and this is what I saw in her garden. She had planted arugula last fall and her and her husband had enjoyed it all winter long, but now it's all gone to flower.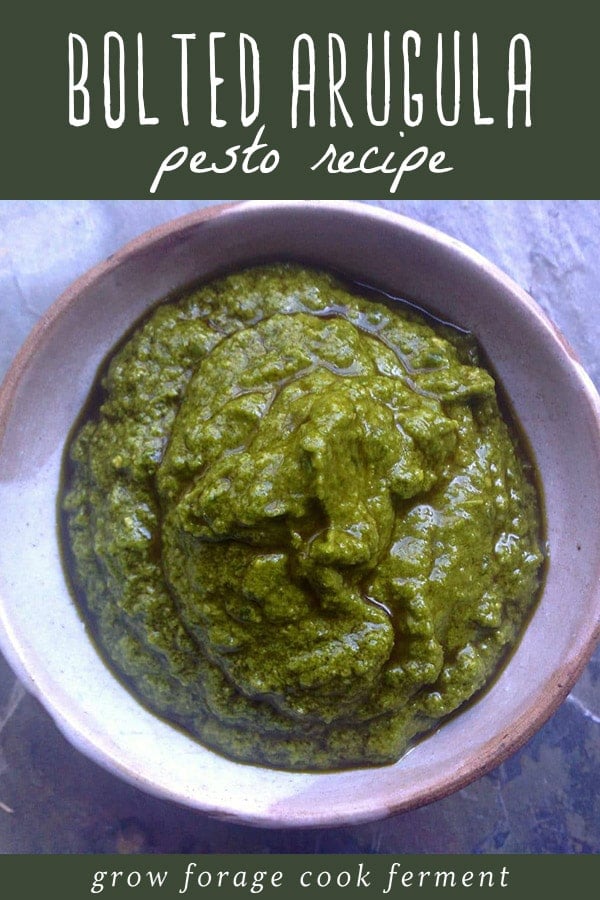 Whenever I have arugula in the garden that is about to bolt, or is already bolting, I pick most of it and turn it into bolted arugula pesto.
Bolting means that it's going to flower and at that point the leaves are usually too bitter or strong tasting to eat raw in salads. You can only pick off the flowers for so long to stave off the bolting process, when that plant wants to flower by golly it will, no matter what you have to say or do about it!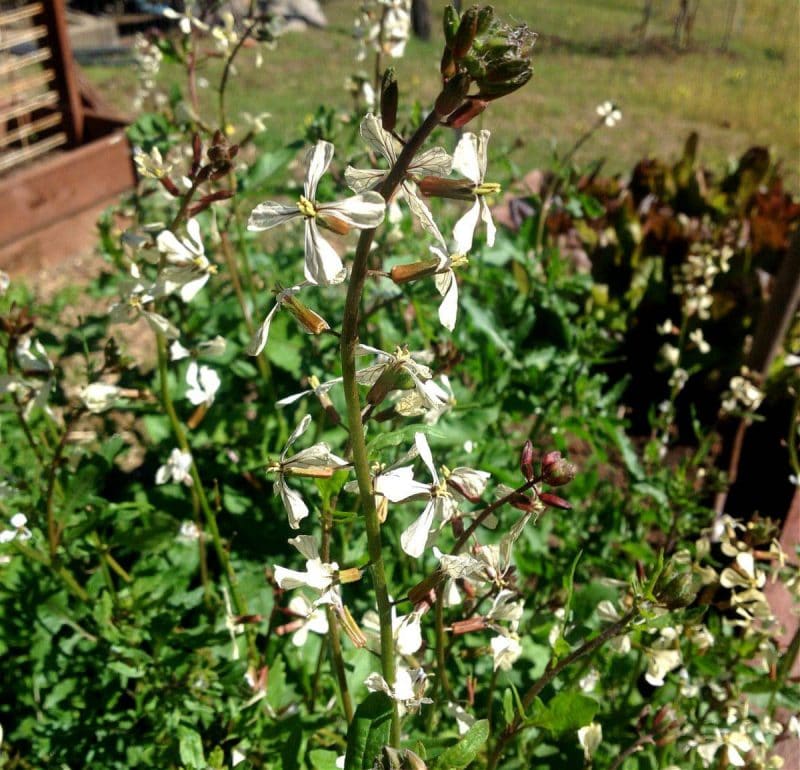 I should mention that it is worthwhile to leave at least a few of your arugula plants in the ground to go completely to seed. They readily reseed themselves (less work for you!) or if it's near the end of your growing season you can very easily save the seeds for next year.
How to Make Bolted Arugula Pesto
For this pesto however, start by cutting a big bunch of arugula leaves, avoiding the biggest stems. I like to harvest greens directly into a colander so that I can take them right to the sink to rinse immediately.
Gather the rest of the ingredients for your pesto. Of course, you don't have to use bolted arugula for this recipe, regular arugula will work just fine as will other greens such as kale, or you can go classic and use basil.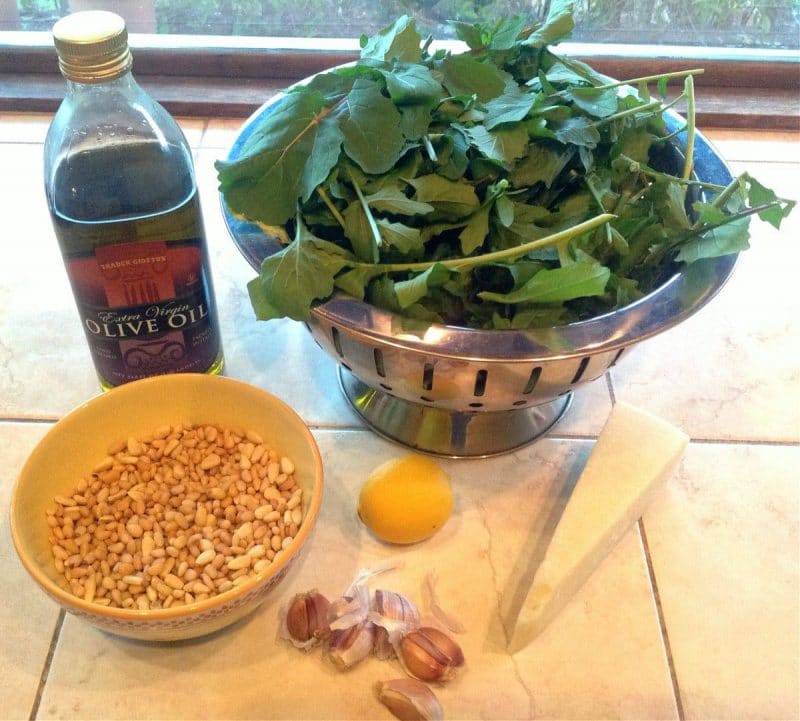 You'll need some extra virgin olive oil, pine nuts (or other nuts, like cashews), garlic, parmesan or pecorino romano cheese, lemon juice (not traditional, but I like the zing it gives plus it keeps the color bright), salt, and pepper.
I don't like to list ingredient amounts because that's how I roll, but there are some suggested portion sizes in the recipe below. Really though, pesto is pretty hard to mess up and I don't have the time to measure things out! Just trust your instincts and I promise, with ingredients like these it's bound to taste good! First, though, grate your cheese.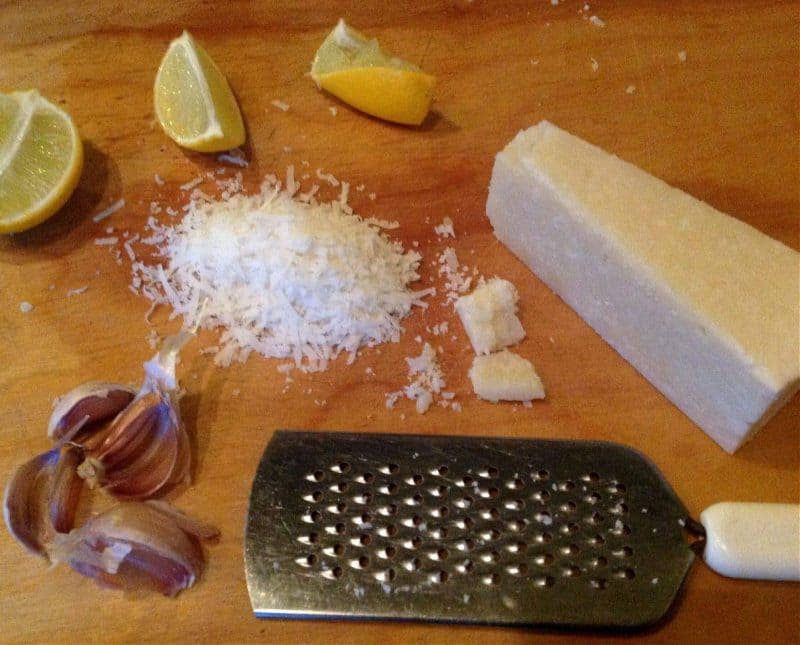 Then throw everything else into a food processor or blender except the olive oil, starting with the nuts and garlic first. Layer the arugula and cheese on top and season with a little salt and pepper and a squeeze of lemon juice.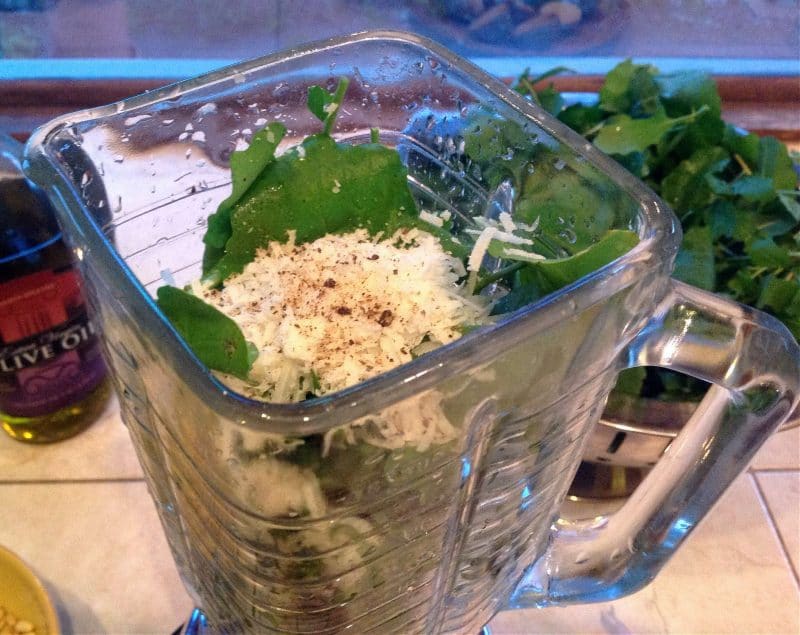 I usually use a food processor for making pesto, and that's what I would recommend if you have one, but my Mom only has a blender so that's what I used. It works, but not quite as well as a food processor and takes a little more finesse (and just a little coaxing along!), although I'm guessing that a Vitamix blender would work amazingly. This old school Osterizer blender that I used is a relic and is beautiful in it's own right. Just look at it!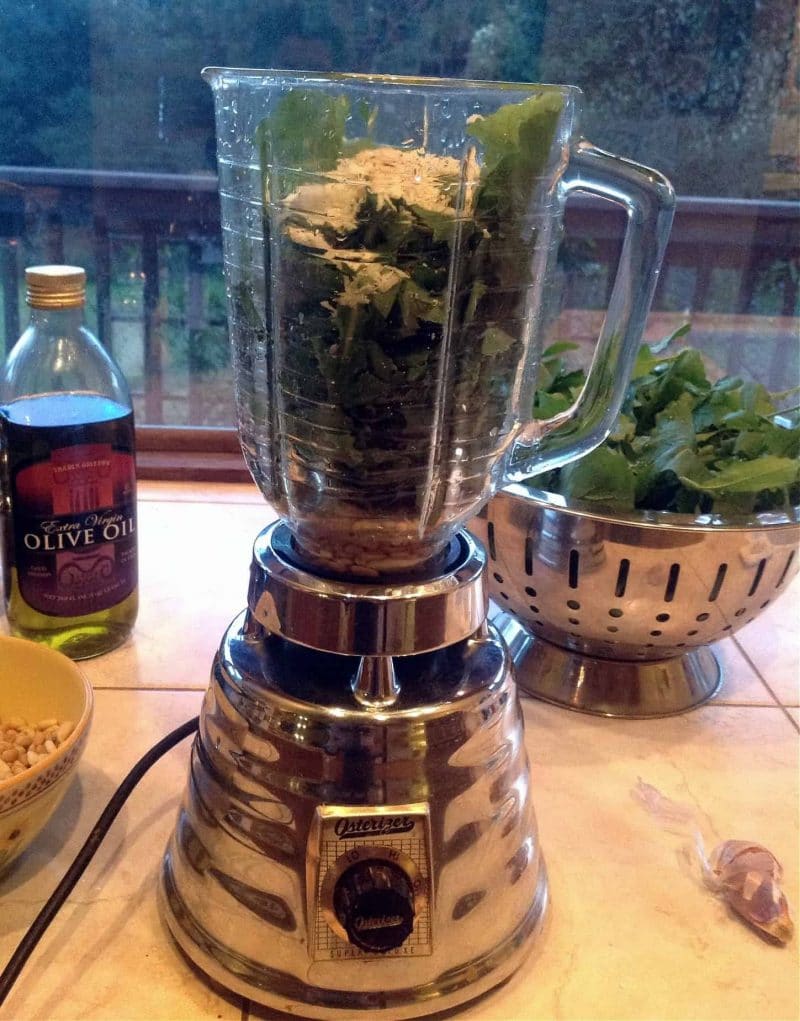 They don't make kitchen equipment like that anymore these days, that's for sure! Anyways, add just a tablespoon or two of olive oil just to get the juices flowing, cover and let 'er rip.
If you're using a food processor slowly drizzle in olive oil as it's running until a nice paste forms and then you're pretty much done! With a blender you'll need to stop it and start it numerous times until it's all ground up well, adding in olive oil a little bit at a time as you go. Either way, eventually you will get beautiful bright green pesto.
It doesn't stay that bright for long, even with the lemon juice added, as oxidation takes effect.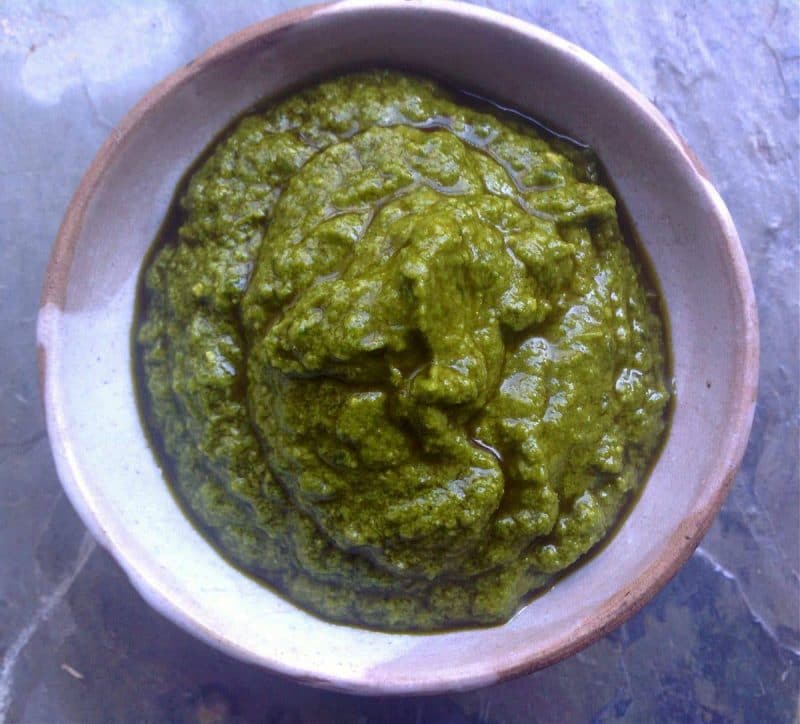 Serving & Preserving Arugula Pesto
Whenever I make pesto, I usually make a huge batch and freeze it in smaller portions, sometimes I even put it into ice cube trays. It's extremely handy to just be able to pull out a bit when you want to make a pasta dish, serve with leftover roast chicken, or spread on a pizza.
Speaking of pizza, that's exactly what I made with this pesto, No Knead Sourdough Pizza to be exact! But for now, enjoy your bolted arugula pesto… and if you're still in the middle of winter save this recipe for whenever your arugula bolts later this year!
Don't have any arugula, but you'd still like to make homemade pesto? Try our Chickweed Pesto or Dandelion Pesto. Both are delicious, just like Arugula Pesto!
Bolted Arugula Pesto
Ever wonder what to do when you have a garden bed full of flowering arugula? Turn it into bolted arugula pesto!
Instructions
Place all ingredients except olive oil into a food processor. Turn on the food processor and slowly add the olive oil until blended and smooth.

Cover and refrigerate. Eat within 3-4 days.
Notes
Arugula Pesto can be preserved by freezing in ice cube trays. 
Nutrition
Serving:
1
Tablespoon
|
Calories:
169
kcal
|
Protein:
6
g
|
Fat:
21
g
|
Cholesterol:
10
mg
|
Sodium:
280
mg
|
Potassium:
85
mg
|
Calcium:
110
mg
|
Iron:
0.7
mg