If you have no other reason to make your own sourdough starter, I'm telling you now, this is it! This no knead sourdough pizza has changed my life, and I know it will change yours as well. I promise!
I'm not going to say that making this sourdough pizza is as easy as ordering out from your local pizzeria, but I really think that you'll be surprised by how easy it is. All you have to do is think about it in the morning, as the dough needs an 8-12 hour rise. Enough talk now, let's get started!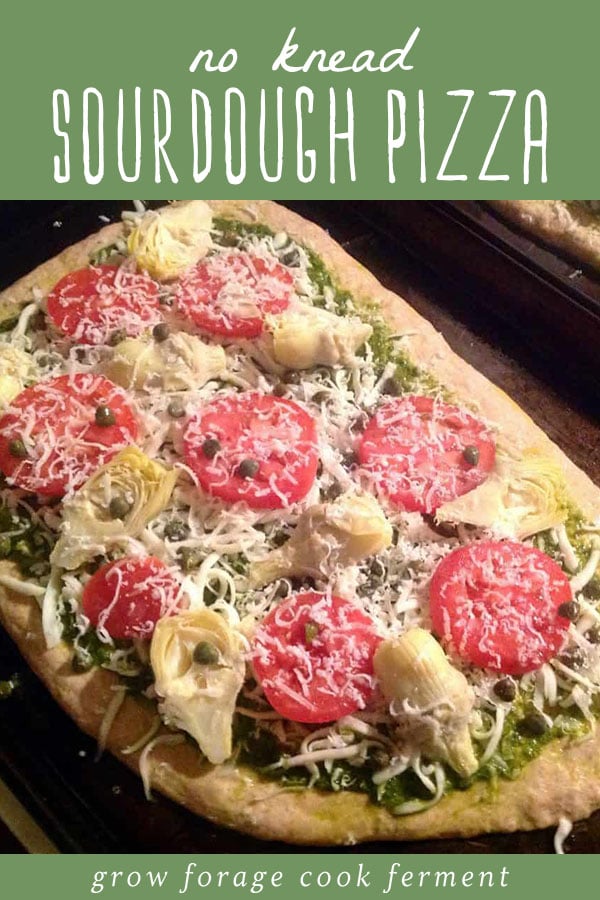 How to Make No Knead Sourdough Pizza
Get your sourdough pizza started in the morning. Whisk together some flour, salt, and bread yeast. I like to use half unbleached white flour and half whole wheat flour.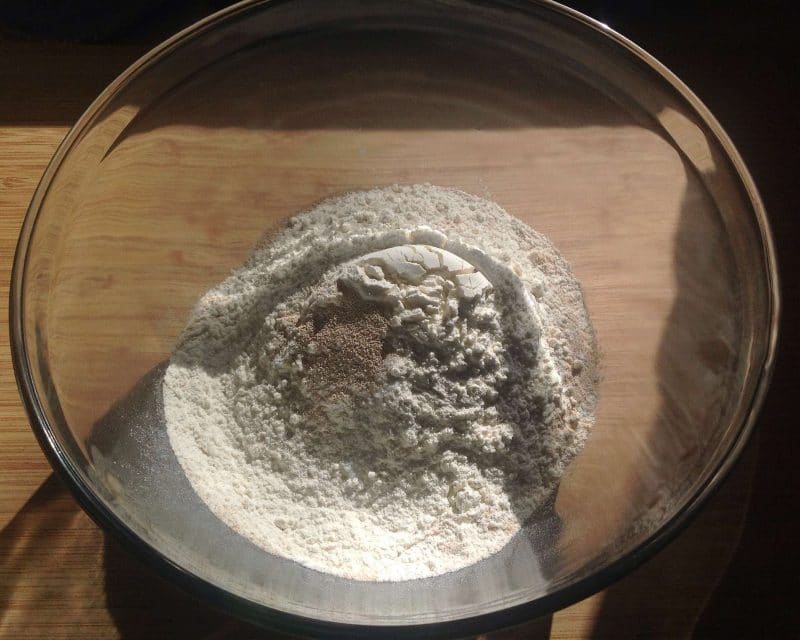 Then add in your sourdough starter, and some warm water with a little honey dissolved into it.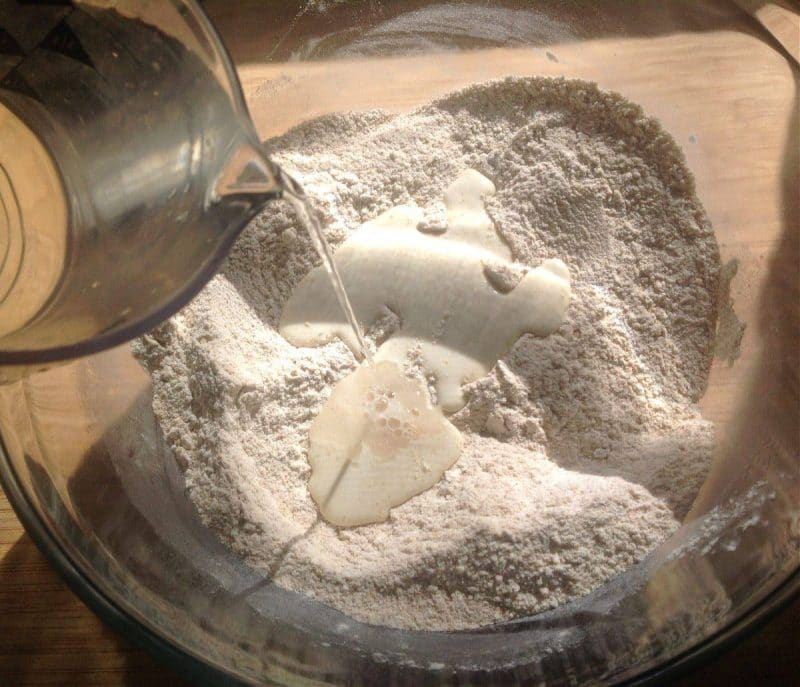 Stir everything together until it forms a shaggy and mildly wet dough. You may need to add a tablespoon or two of more water.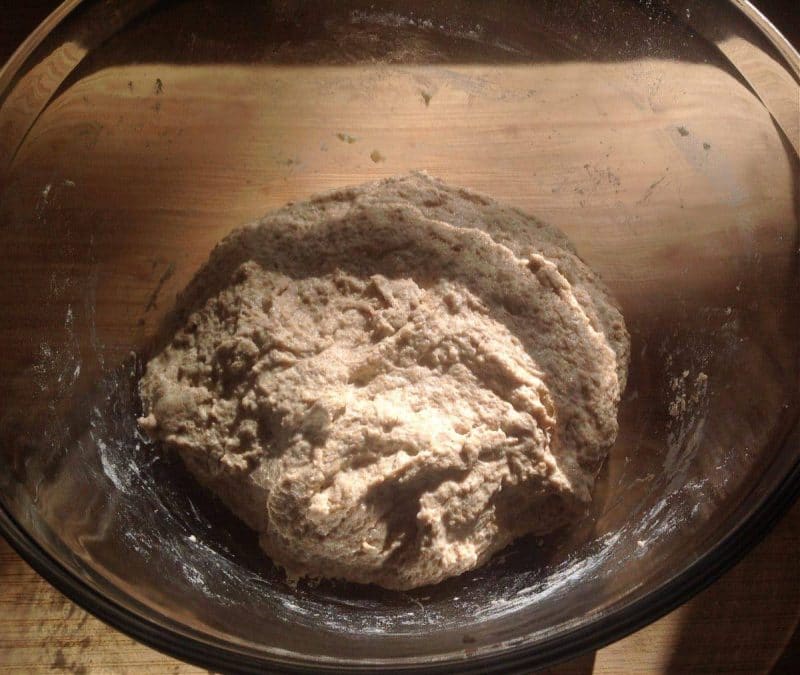 Cover with plastic wrap and let sit in a warm place in your kitchen until you're ready to make dinner! Go on a hike, go play with your kids, go to work (if you must), go do whatever your day entails, knowing in the back of your mind that your pizza dough is at home doing it's thing and will be ready for you when the time comes.
8-12 hours later, this is what you will see: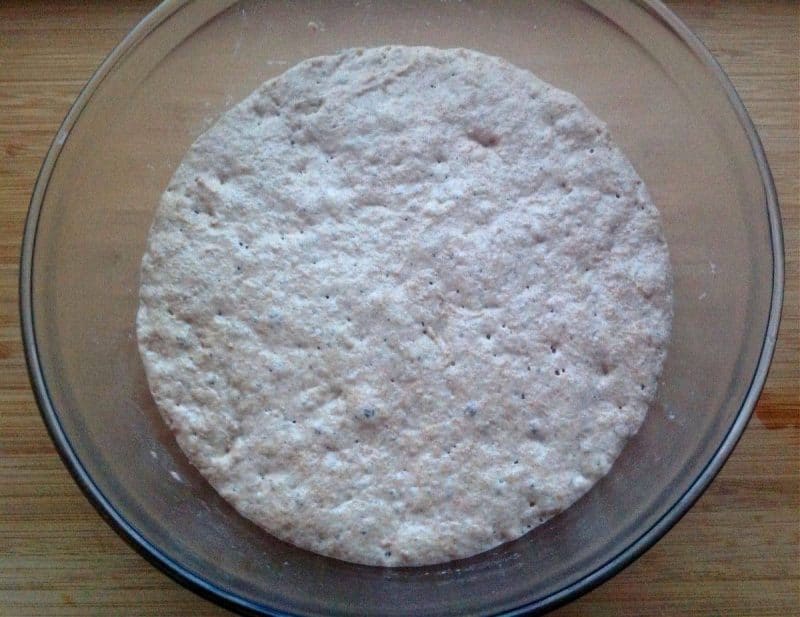 Bubbly and amazing no knead sourdough pizza dough! I never take for granted what yeast and sourdough do for us as a human race. Turn the dough out onto a floured board and gently knead several times until it all comes together nicely.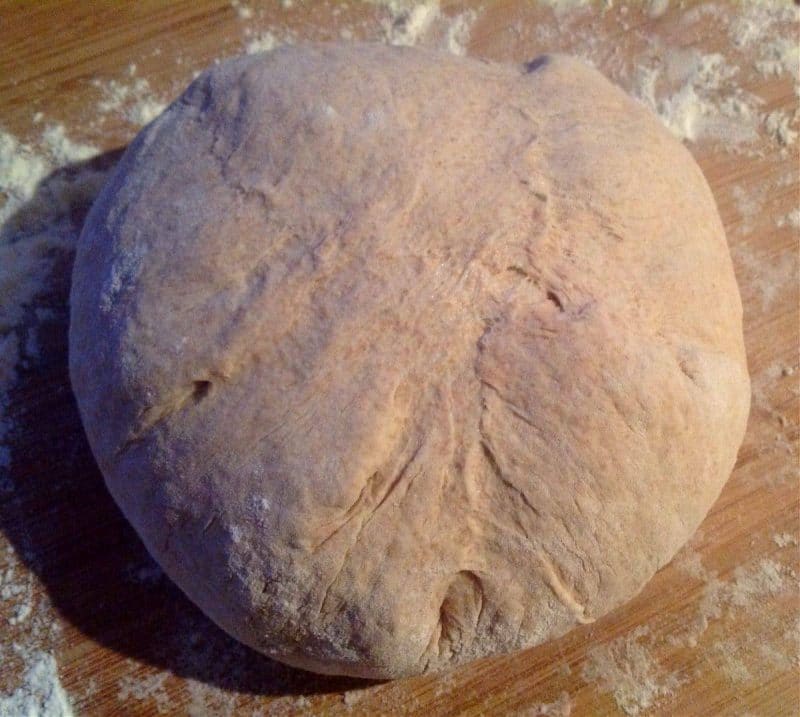 This recipe makes enough dough for two pizzas, so now's the time to cut that baby in half. A dough scraper works well for this task.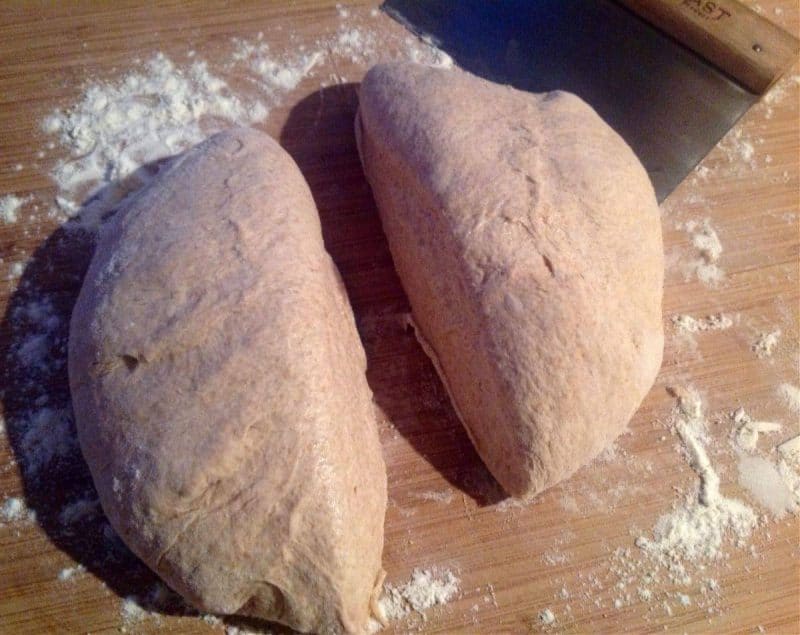 Rub two sheet pans liberally with olive oil and put a dough half on each pan. Here's the best part, you don't even have to roll out the dough! It's so pliable by this point that all you have to do is push and stretch it with your fingertips into a perfect pizza position.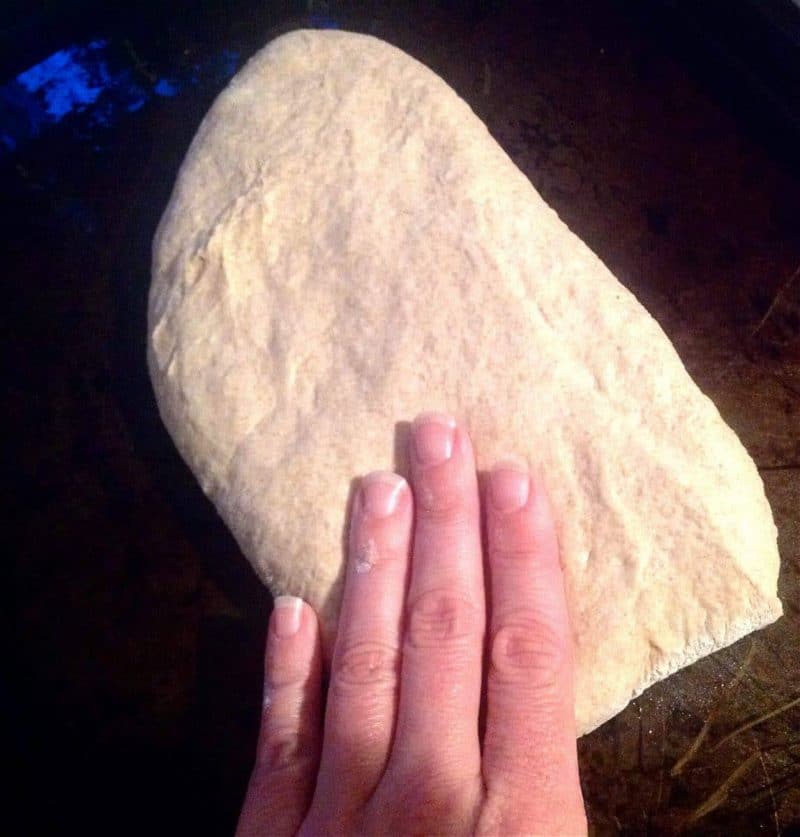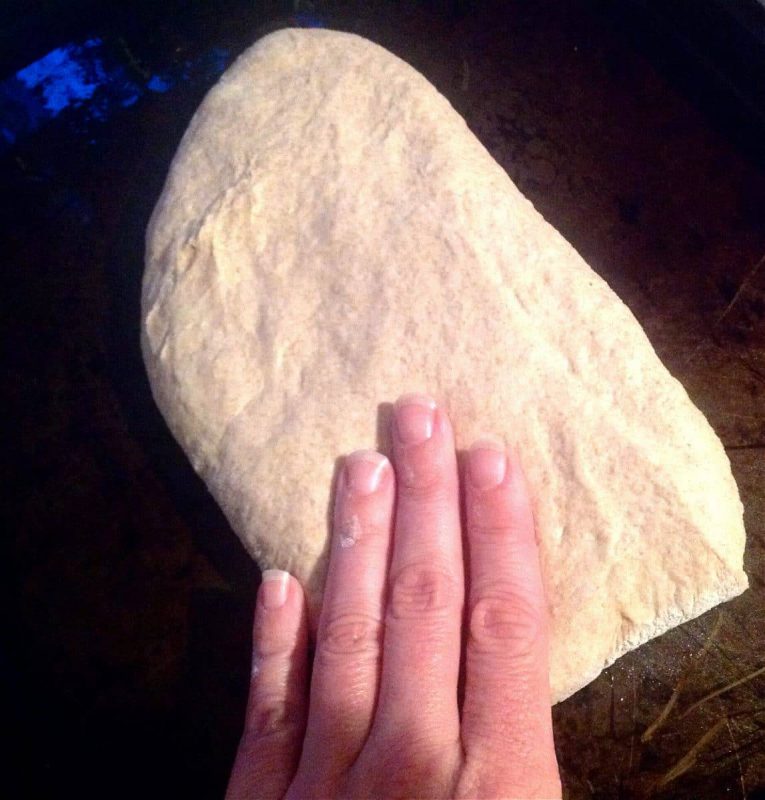 If it wants to spring back, just let it rest for a few minutes before pushing it out again. I usually work on one dough for a minute or two, then the other one, going back and forth a few times until they look like this: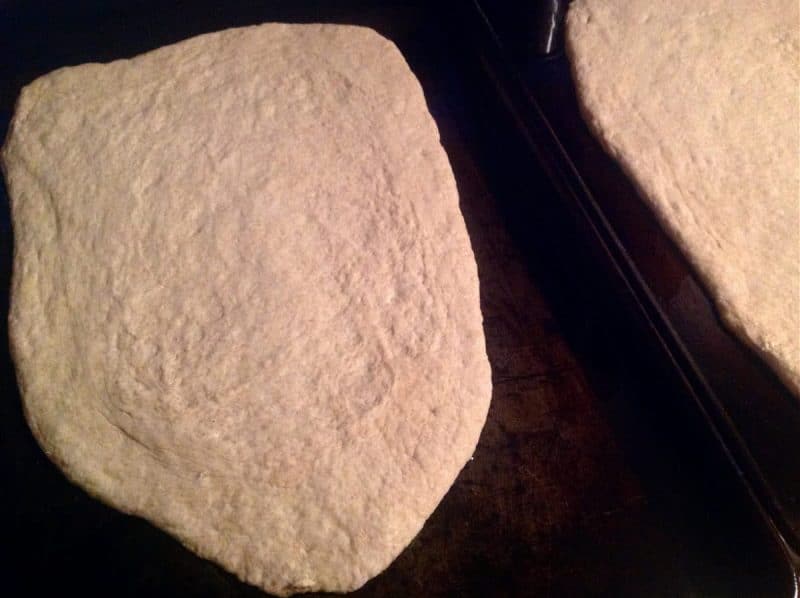 Rustically beautiful! Now's the time to preheat your oven to 450°F. Hot, yes!!! Pizza likes it hot! Drizzle the edge of the crust with a little olive oil.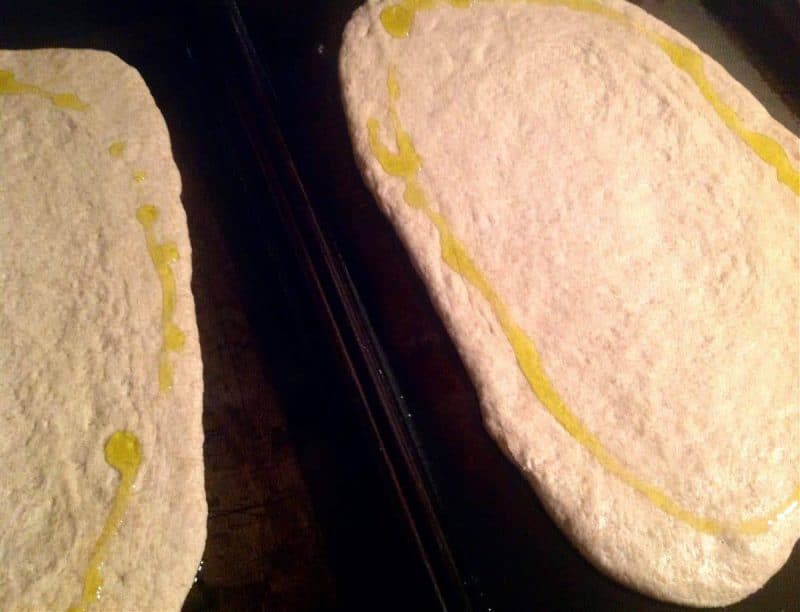 Rub the oil around all over the edge of the dough. Add your sauce of choice, I'm partial to pesto, particularly my homemade bolted arugula pesto.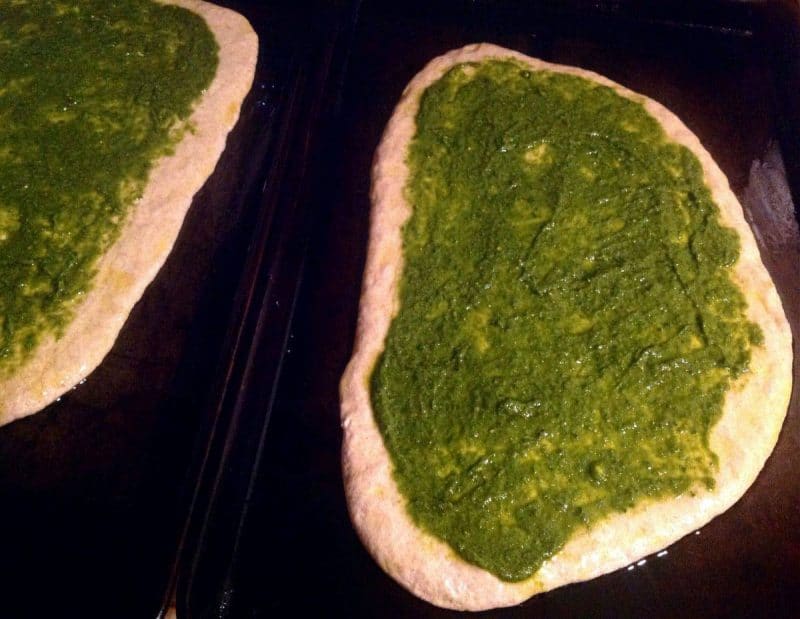 While your pizza dough is hanging out (it's actually doing a second mini rise at this point) and your oven is preheating, it's a good time to get all of your toppings organized. Joel and I almost always make vegetarian pizzas because, even though we do love good quality locally raised meats, we think meat on pizza is weird. We would much rather eat a salami appetizer with a nice glass of wine than have random salami bits on our pizza. But that's just us! Do what you like best, please. Next on the pizza agenda is cheese, of course: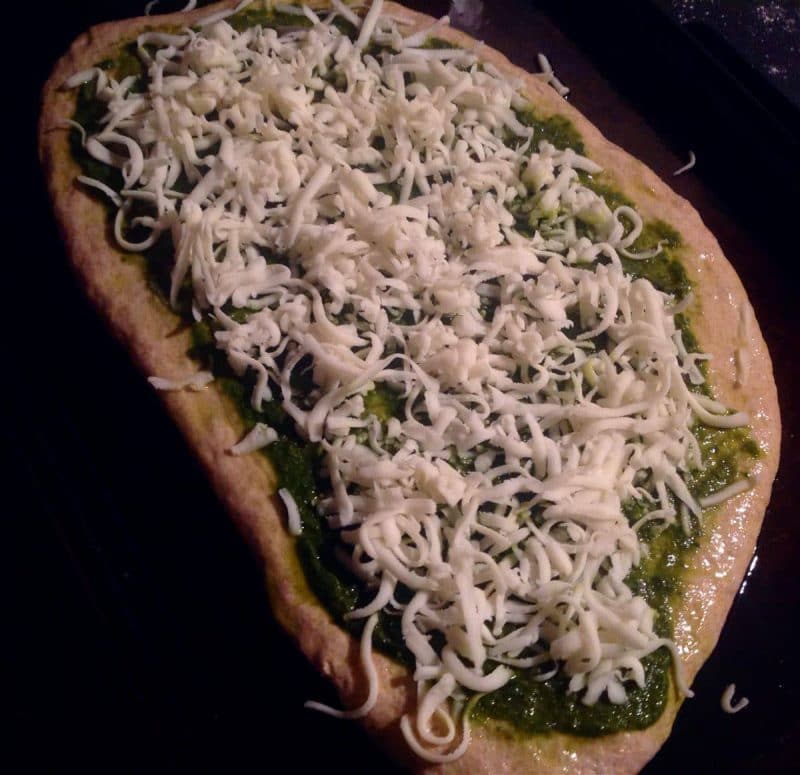 Then add your toppings of choice. The only rule for this is do not overload! 3-4 toppings per pizza, maximum. Listen to me on this one and please put all the rest of the veggies on your salad. Your pizza will thank you for it. We did one with roma tomatoes, artichoke hearts and capers and the other with mushrooms, onions and olives.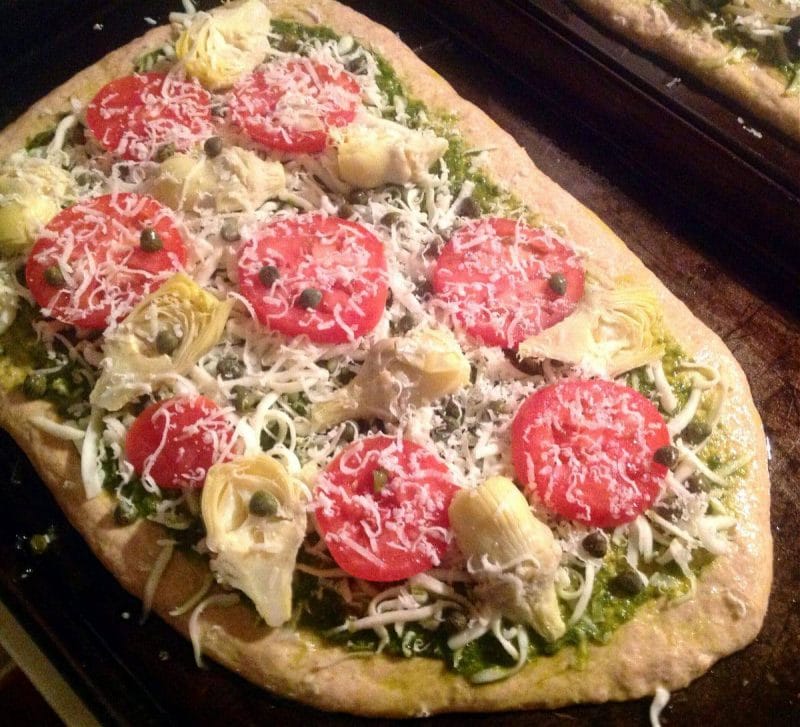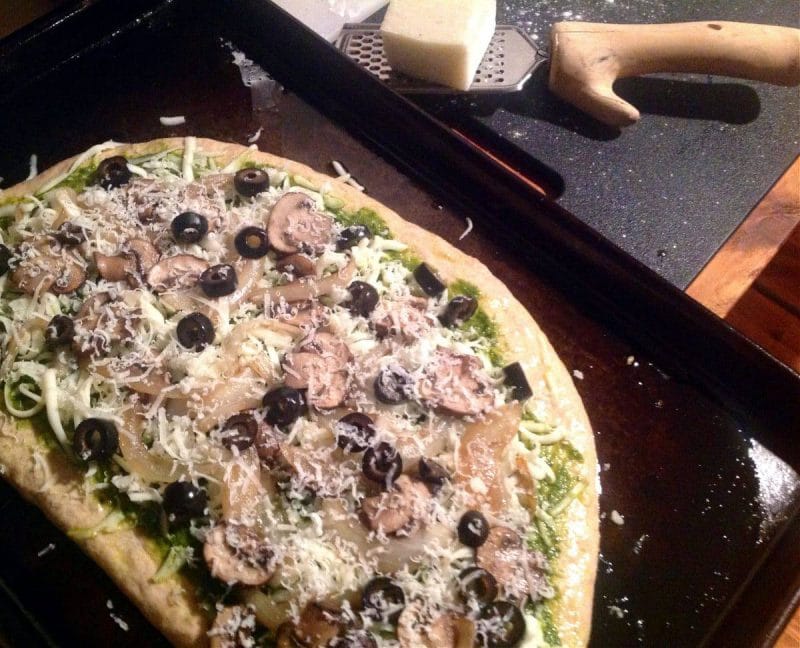 Isn't the carved wooden handle that Joel made for our cheese grater cool? The original handle broke and instead of immediately going out to buy a new one he whipped that out in a day or two and it's so much cooler than anything you could buy!
Anyways, I like to grate some Parmesan or Romano cheese on top of everything. Then, pop those suckers into the oven and check them after about 10 minutes. At this point I usually switch the pans so the one that was on the top rack goes to the bottom and vice versa for even heating.
Depending on how hot your oven runs, you may need to pull them out at around 15 minutes, but sometimes it takes up to 20 minutes. Check the bottom of the crust, it should be fully cooked and a nice light golden brown.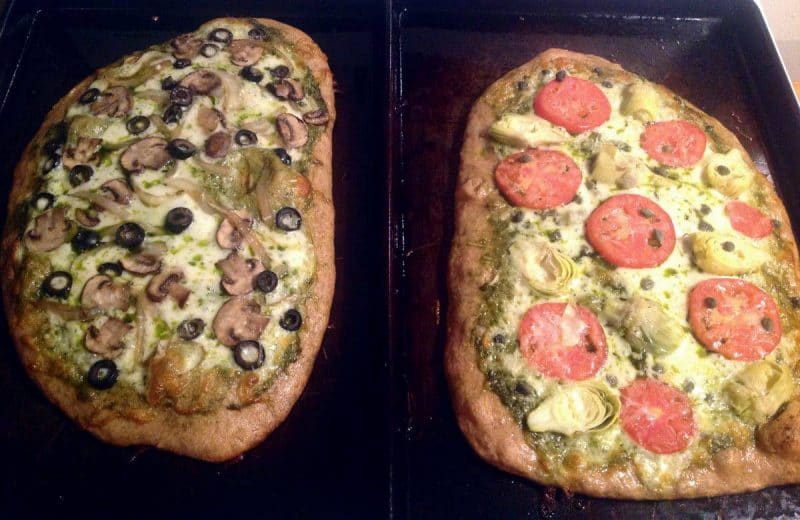 Bombtastic. That's the only word I can think of to describe these pizzas!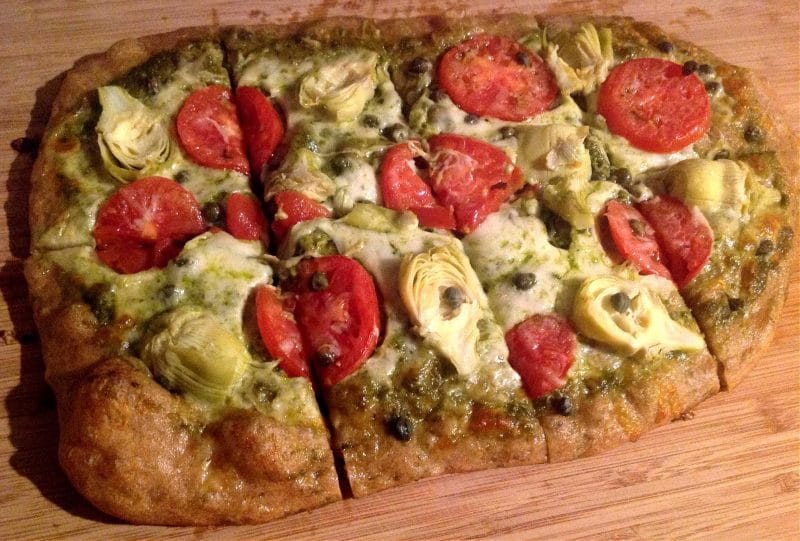 Cut into slices and you're good to go! Rectangle slices is usually how I roll because it's easy, but if you want to get all fancy you can try your luck at wedges. I have faith in you!
It's nice to know that you can make a homemade pizza in no time that is actually a little bit healthy! The sourdough gives it extra flavor, but also makes it much easier to digest. If you use the pesto it's a good way to sneak in veggies! Above all, this no knead sourdough pizza is delicious, and that's all that really matters, right?
Here are a few more of my favorite, delicious sourdough recipes:
No Knead Sourdough Pizza
Think a little bit ahead and you'll have this homemade no knead sourdough pizza for dinner in no time!
Instructions
Whisk together the flour, salt, and bread yeast.

Dissolve honey in the warm water, then add the honey water and sourdough starter to the dry ingredients. Stir all the ingredients until a shaggy and mildly wet dough forms. Add additional water if needed, a tablespoon at a time, until you reach the correct consistency (see post photos).

Cover with plastic wrap, then place in a warm location until you're ready to bake.

When you're ready to bake, turn the dough out onto a floured surface and knead a few times until it comes together. Cut the dough in half.

Rub two baking sheets with half the olive oil. Stretch a dough half until it's about 1/2" thick, then lay onto one of the baking sheets. Repeat with the other piece of dough.

Brush the dough with the remaining olive oil, and then add your sauce, toppings, and cheese.

Put the baking sheets into the oven and bake for 10 minutes. Rotate the pans, then cook an additional 5-10 minutes depending on how hot your oven runs. The bottom of the crust should be fully cooked and light golden brown. Remove from the oven, slice, and enjoy!
Notes
Note:  Calorie count does not include toppings. 
Nutrition
Serving:
1
slice
|
Calories:
463
kcal