No, I'm not kidding. This is serious, and by serious I mean seriously delicious! These sourdough blueberry pancakes are so good, and probably about as healthy as a pancake can get without sacrificing flavor. The best part is that most of the work is done the night before! And by "work" I mean stirring a few things together in a bowl, because we all know how hard that can be early in the morning before you've had sufficient coffee, roasted dandelion coffee,  (or tea, in my case). You do have to add a couple of things in the morning, but by that time you've already committed to making these pancakes, so it's really no big whoop.
Alright, let's get this sourdough blueberry pancakes party started!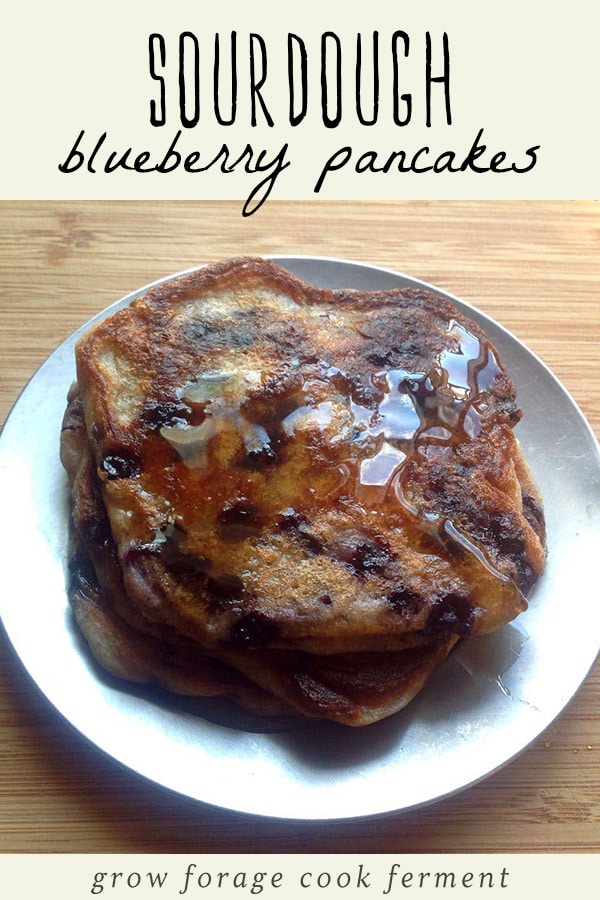 How to Make Sourdough Blueberry Pancakes
The night before you want to enjoy these blueberry pancakes, mix together flour, sourdough starter, yogurt, and some pure maple syrup.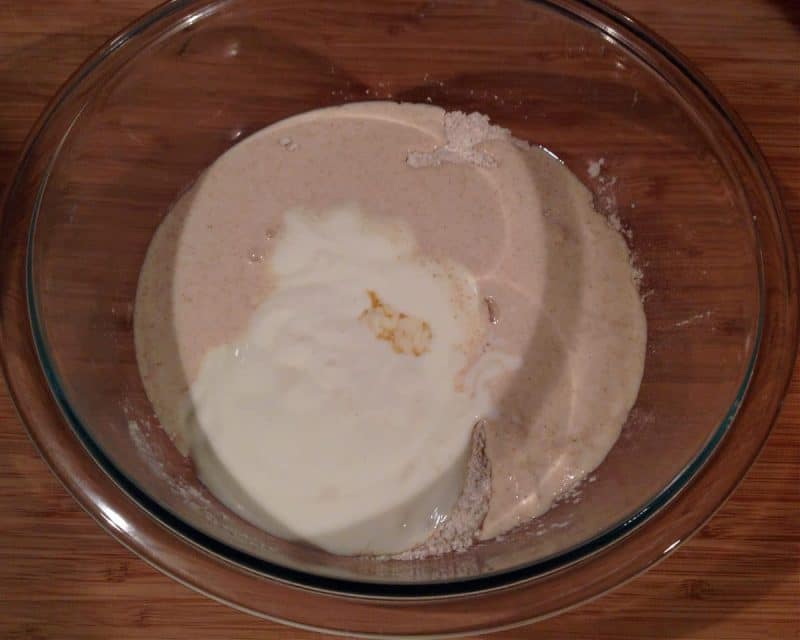 I use half unbleached white and half whole wheat, but some buckwheat flour also works nicely. If you don't have yogurt, you can also use milk, buttermilk, kefir or a non dairy milk substitute.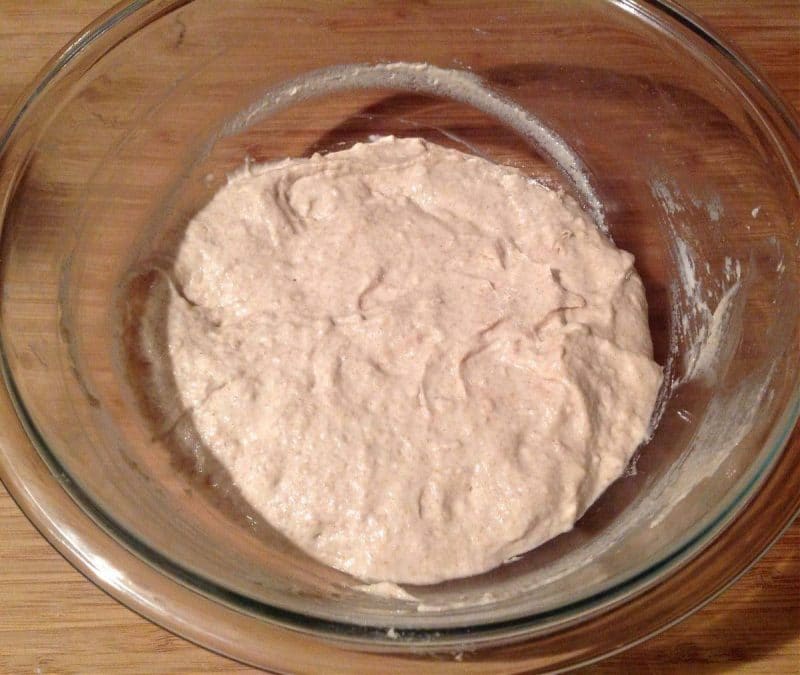 Cover with plastic wrap and let sit over night. The next morning it should be nice and bubbly from the sourdough.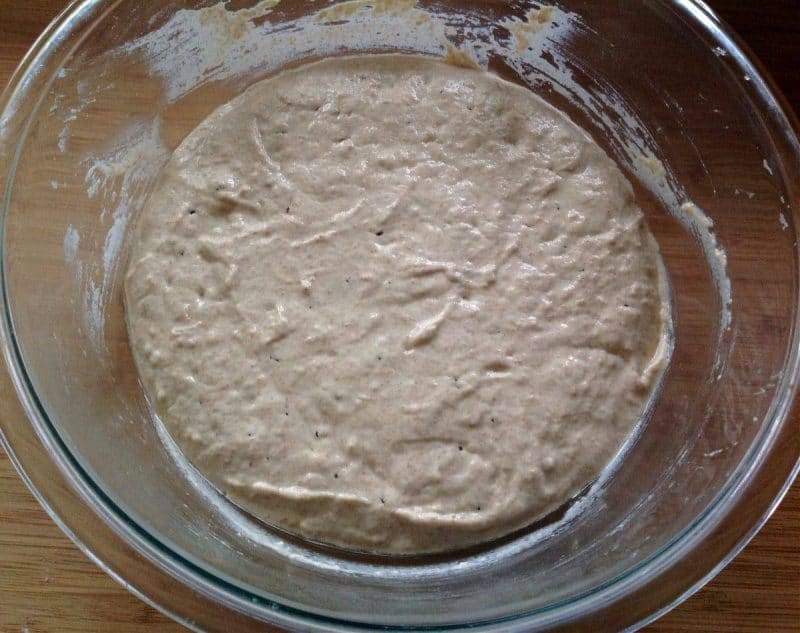 Have a sip of coffee. Or tea.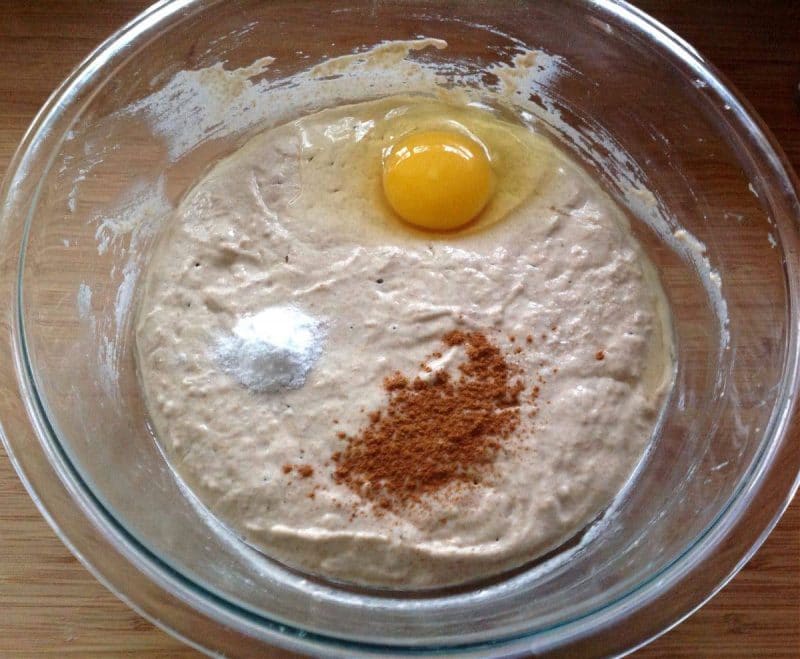 Then you'll add an egg, some baking soda, a pinch of salt and a little cinnamon. PS – I've also done this with both a "flax egg" and a "chia egg" with good results.
Stir that all together.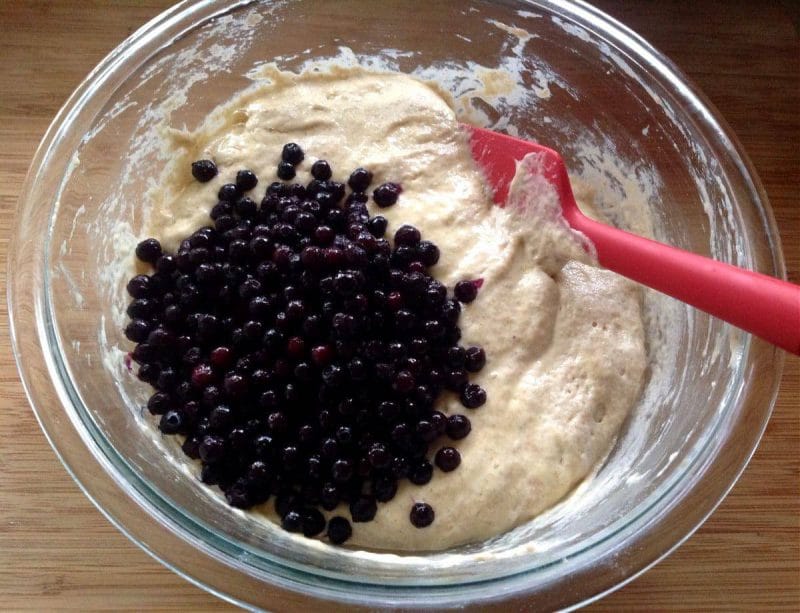 Then stir in 1 cup blueberries. I used frozen, but fresh is great if you have them. You can also substitute any berries that you might have, or even bananas!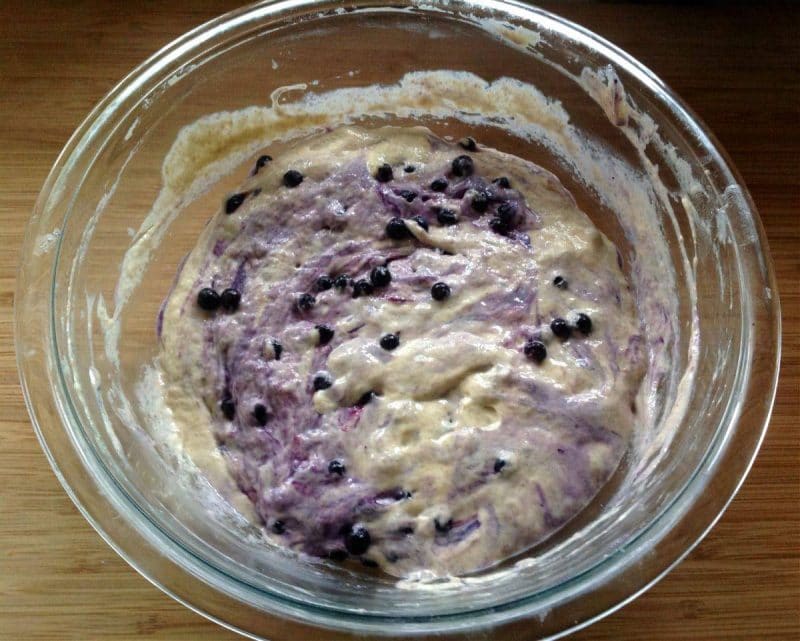 Purple! Take another sip of coffee or tea. Now heat up 2 large, heavy bottomed skillets (I like to use cast iron), or a flat top griddle pan if you have one, on medium heat. Get them nice and hot, then put in a good amount of coconut oil, about 1 tablespoon per pan if you're using regular skillets.
Coconut oil is the secret to seriously amazing pancakes! You can always use butter or ghee instead, though. Or bacon fat!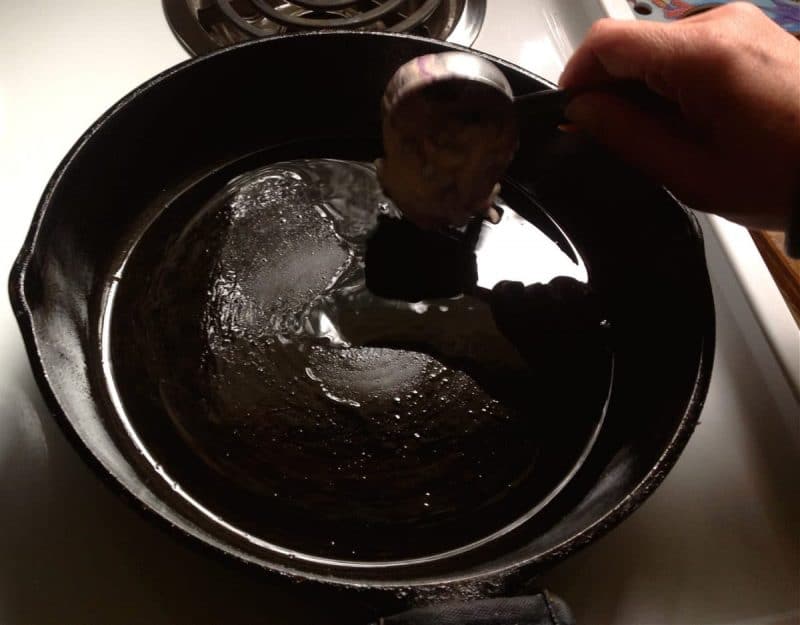 Pancake action shots!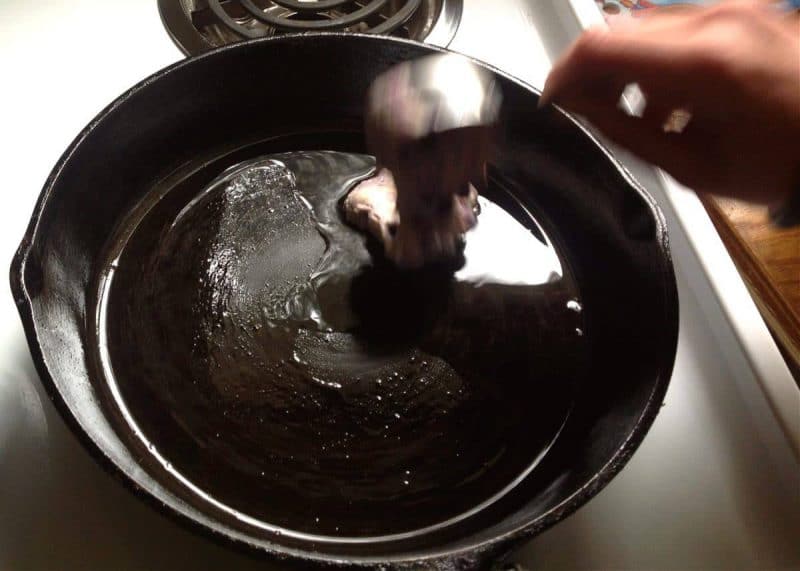 Use a 1/4 cup to put some of the pancake batter into the hot skillet. It should sizzle! I usually fit about 3 pancakes to a pan.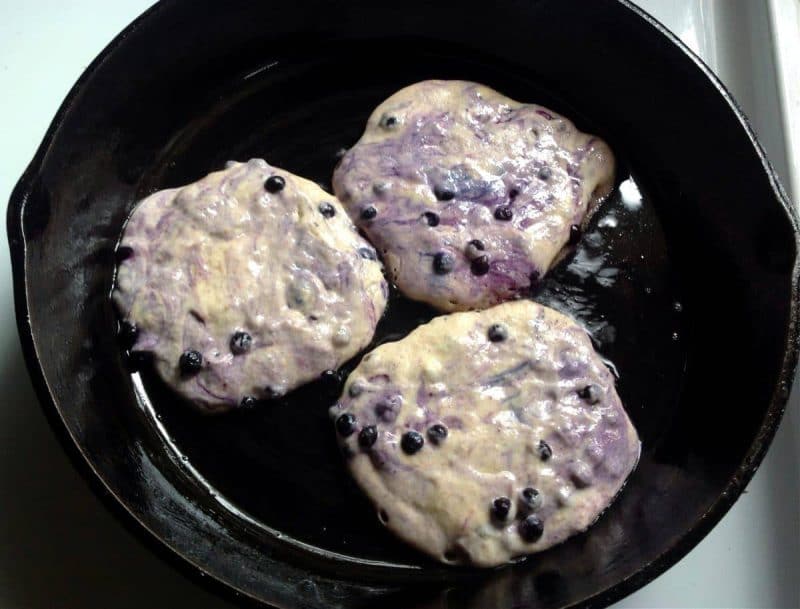 Now you wait. Drink more coffee. The number one pancake making fail is flipping them too soon. Luckily there is a trick!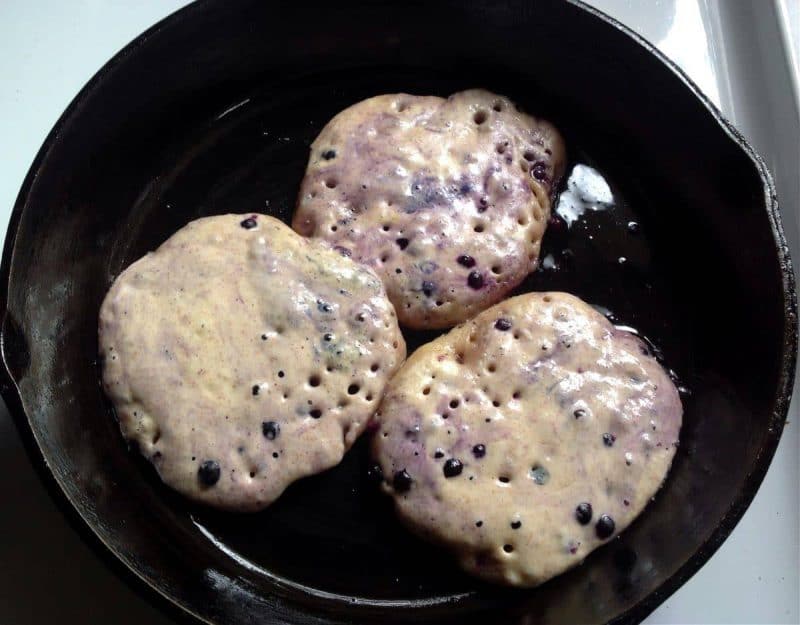 See those bubbles? When you start to see a lot of them, not just one or two, then it's time to flip!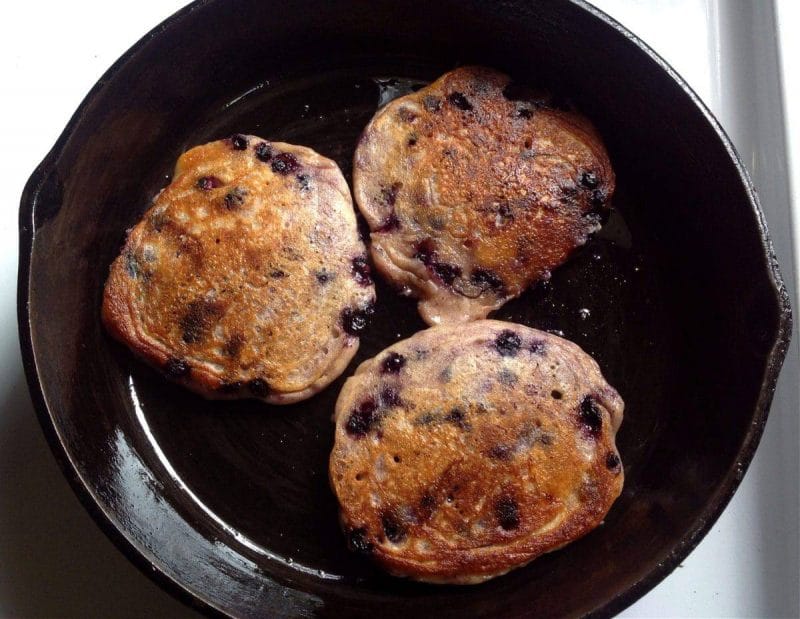 Perfect! Look at those crispy brown edges. Thanks, coconut oil! Cook on the second side for several minutes until they are golden brown as well. That's it! Now it's time to dig in!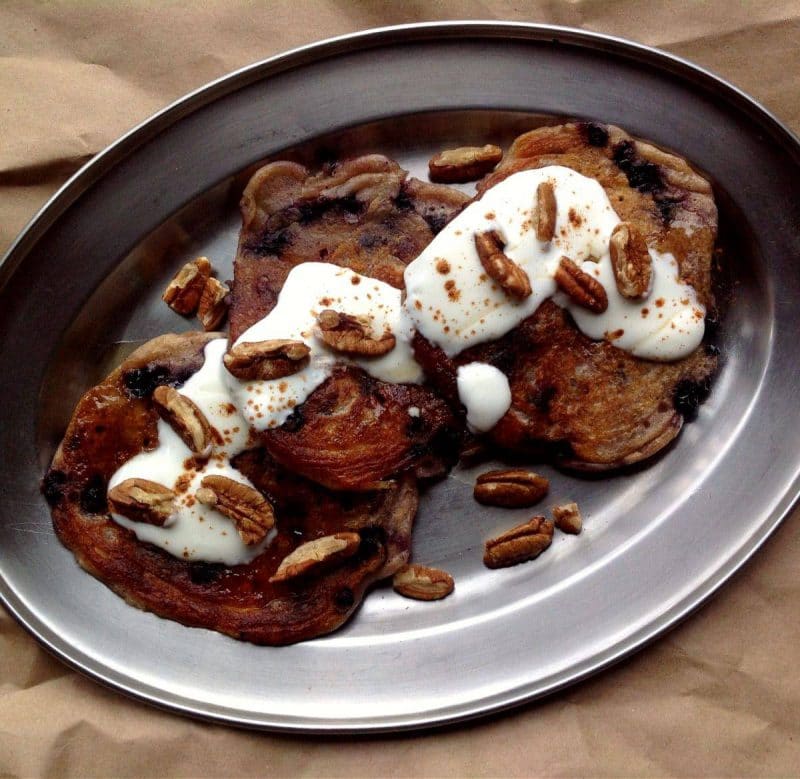 We like to have our pancakes with homemade yogurt, cinnamon, maple syrup and pecans. But you have yours however you like them!
I used to hate making pancakes because it seemed like so much work in the morning, and I am not a morning person. These sourdough blueberry pancakes are so delicious and easy to make, though, it's changed my pancake worldview! Hopefully it will change yours as well.
Here are a few of my other favorite, delicious sourdough recipes: