I know you've been on the edge of your seat waiting for the recipe for the Sourdough Naan Bread that accompanied my Coconut Lentil Cauliflower Curry last week!  Wait no further, here it is!
I do have to admit that, while this naan bread is extremely tasty and versatile, it's not quite traditional.  This bothers me only because when I cook I like to make things the way they are supposed to be made.  In the traditional way, that is.  However, to make naan bread the real way you must have a tandoor oven, and alas, I do not posses one of these wood fired, cylindrical clay devices.  Bummer for me, yes.  Maybe Joel will make me one someday if I'm lucky.  But, naan bread can still be made in a home oven with pretty darn good results.  And I, of course, like to make it with some sourdough starter and half whole wheat flour, because that's how I roll.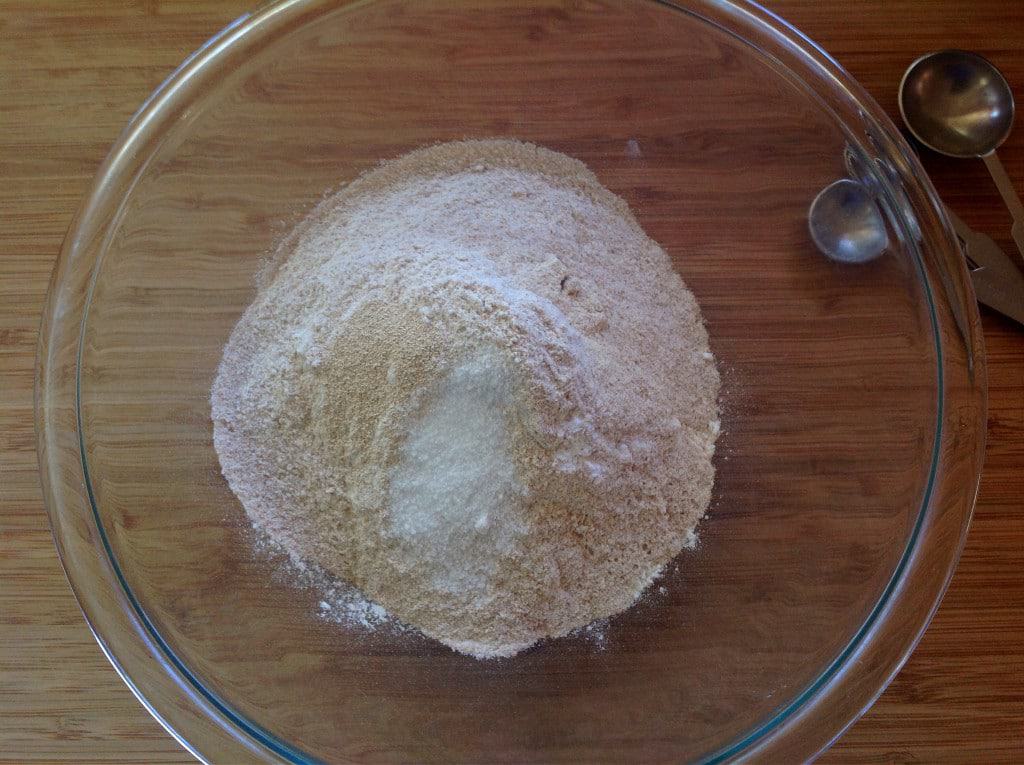 This dough needs to rise for at least 4 hours, so you'll want to start it in the early afternoon.  First mix together:
2 cups flour (I used 1 cup unbleached white and 1 cup whole wheat)
1 tsp salt
1 tsp bread yeast
pinch baking soda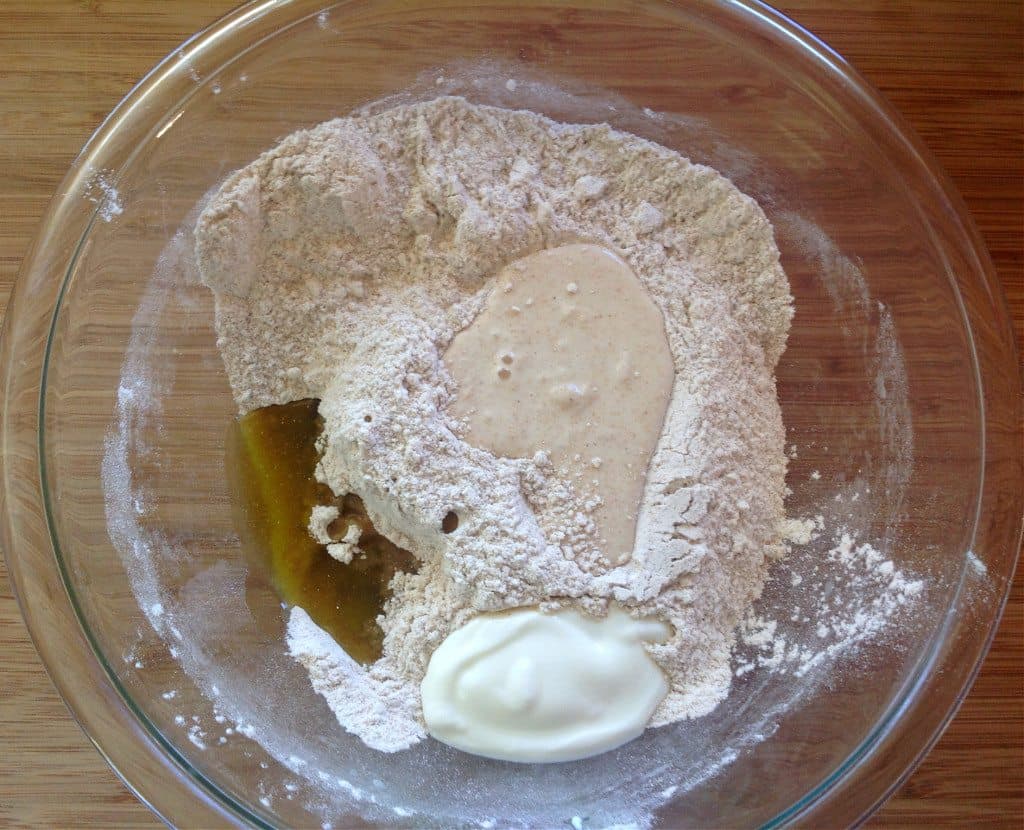 Then add:
Stir it all together to make a very shaggy dough, then pour in:
3/4 cup lukewarm water
1 tsp honey (dissolved in the water)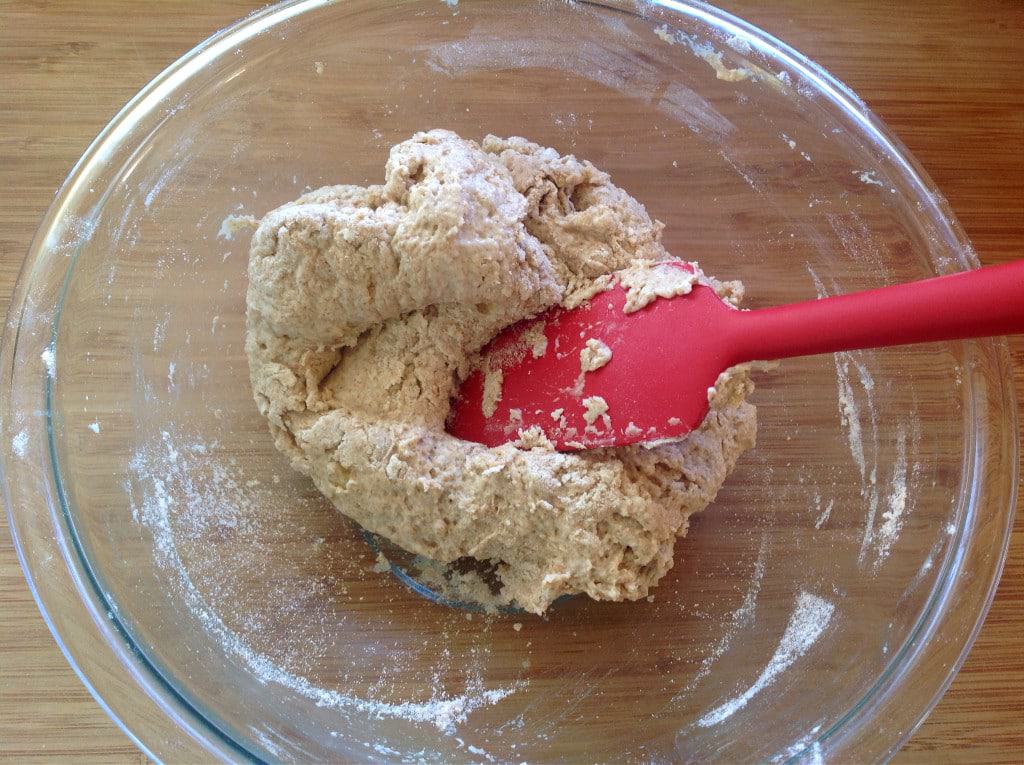 Stir it all together and lightly knead for a couple of minutes in the bowl with a spatula, as the dough should be somewhat wet.  If it's still a little dry, slowly add more water 1 Tbsp at a time until it's fairly wet and looks like this: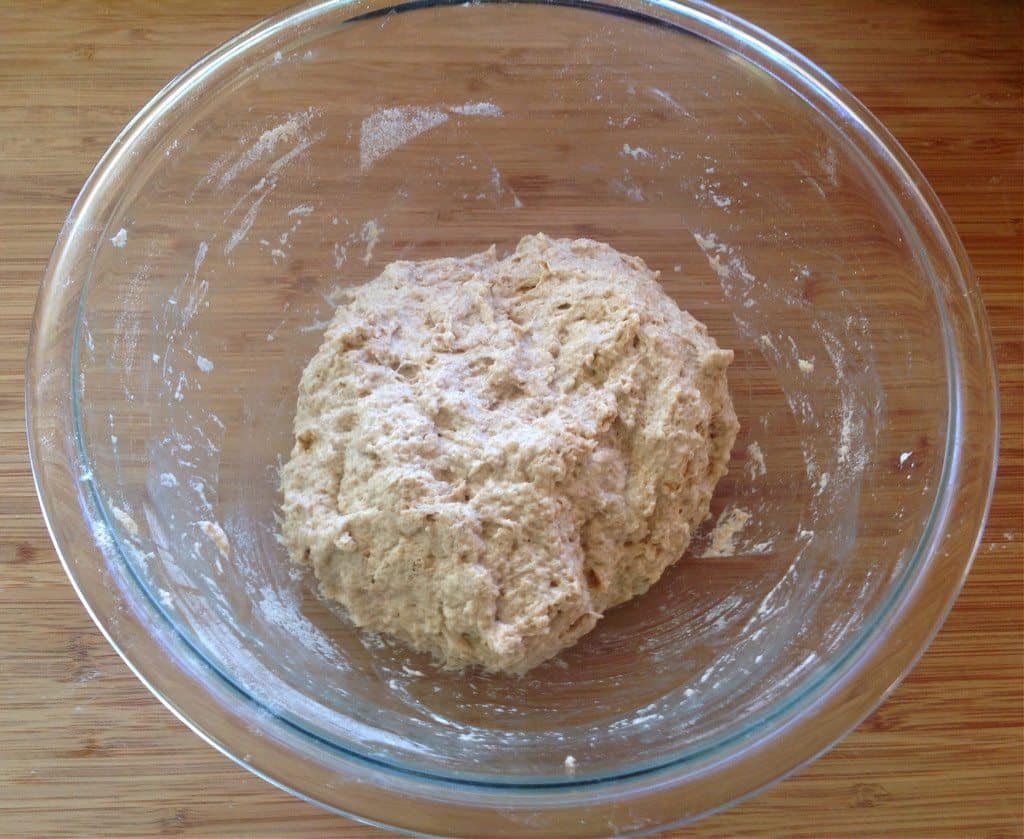 Cover it with plastic wrap and let sit for at least 4 hours. . . .
When you start to feel hungry for sourdough naan bread (who doesn't?), preheat your oven to 475°F and generously rub a sheet pan with olive oil.  Flour your work surface well and turn your dough out of the bowl.  Flour your hands and give it several good kneads.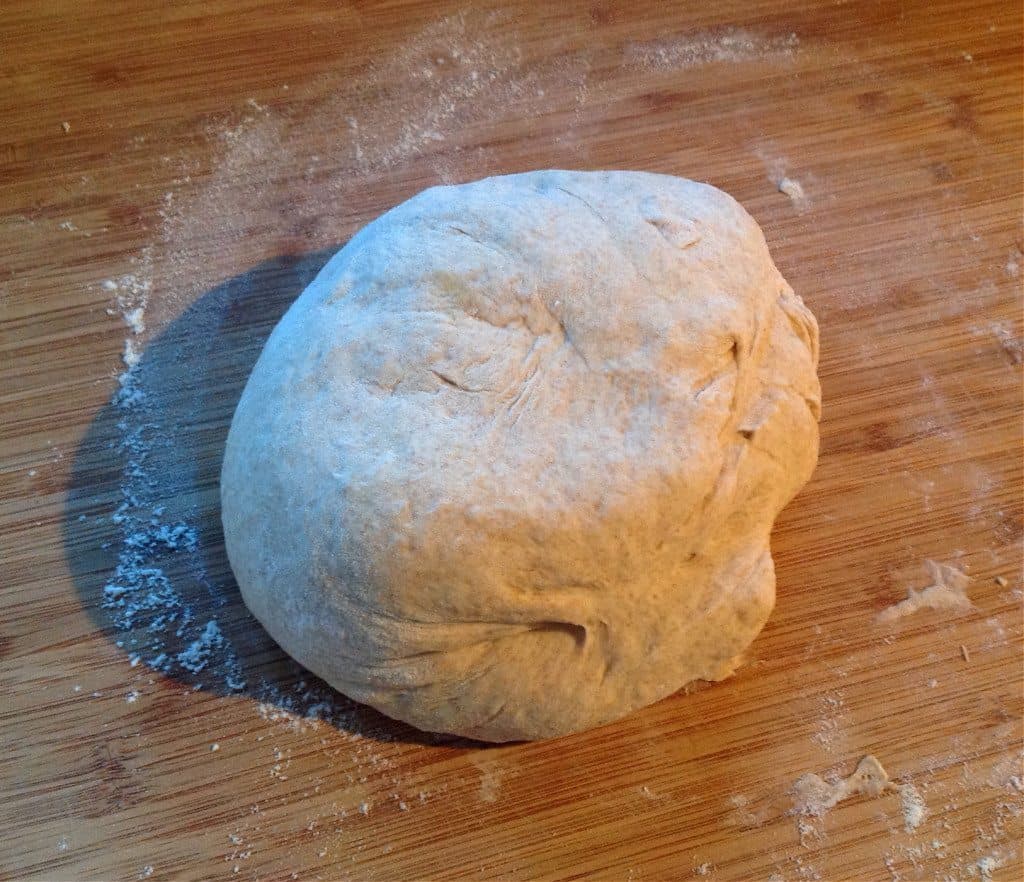 Now it should be nice and smooth.  Use your hands to separate the dough into six separate pieces that are roughly the same size.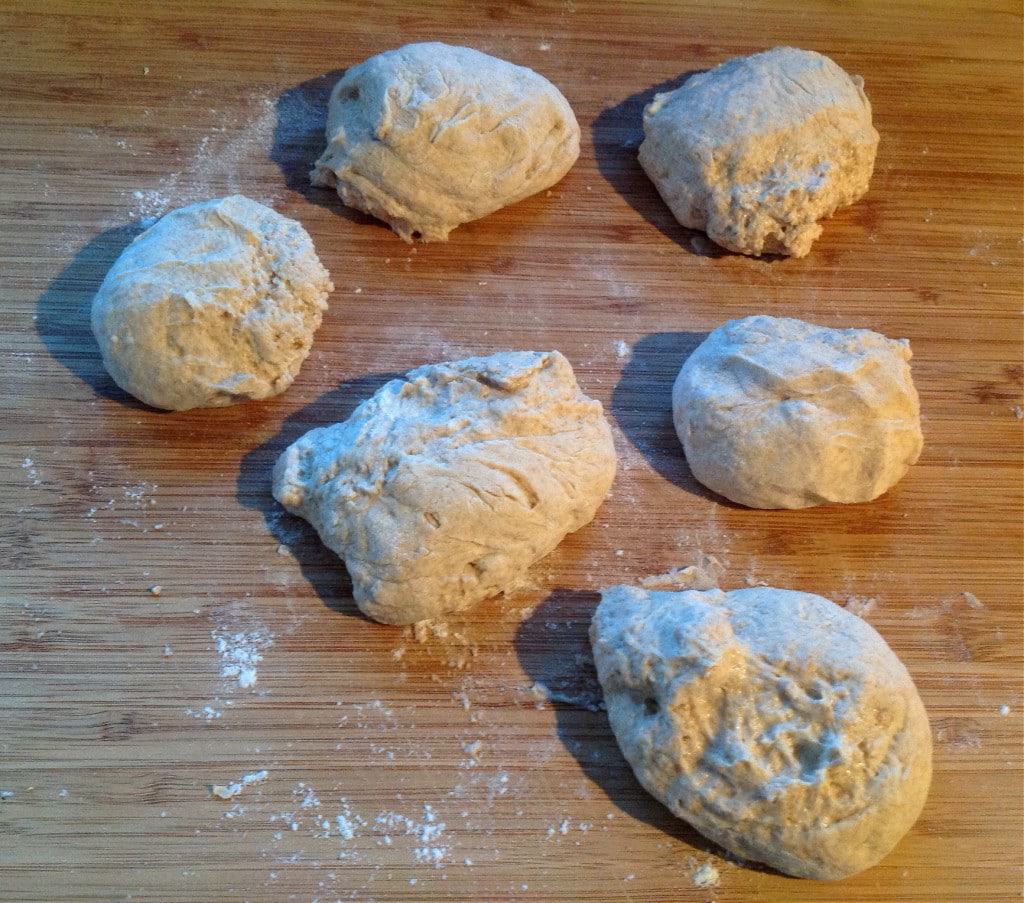 You may need to flour your hands a bit again for this next part.  Take each piece and stretch it out slowly by holding on to the dough at the edge and rotating it in your hands, sort of like a mini pizza.  I would have taken a picture of this, but I am not superwoman.  I like to try to make different shapes and fit them together on the pan like a puzzle.  Rustic blobs are what I call them.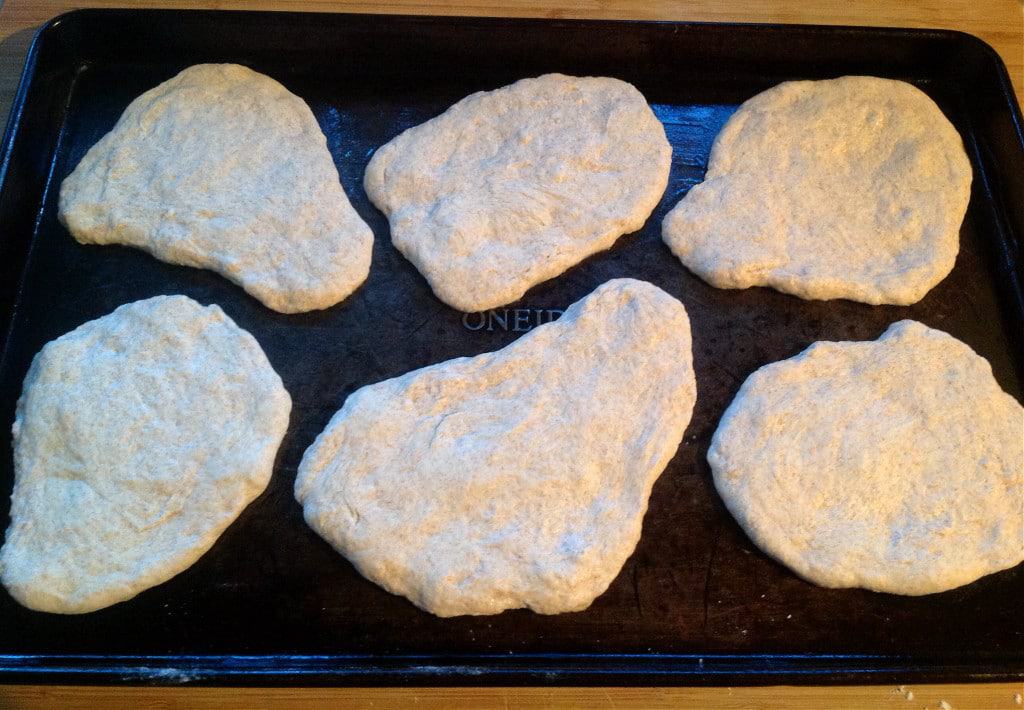 While they are just chillin' there on the pan for a few minutes, chop up some garlic if you're so inclined (if you're not, you should be) and mix it with some melted ghee (clarified butter) or olive oil.  Spread that goodness on top of the rustic dough blobs.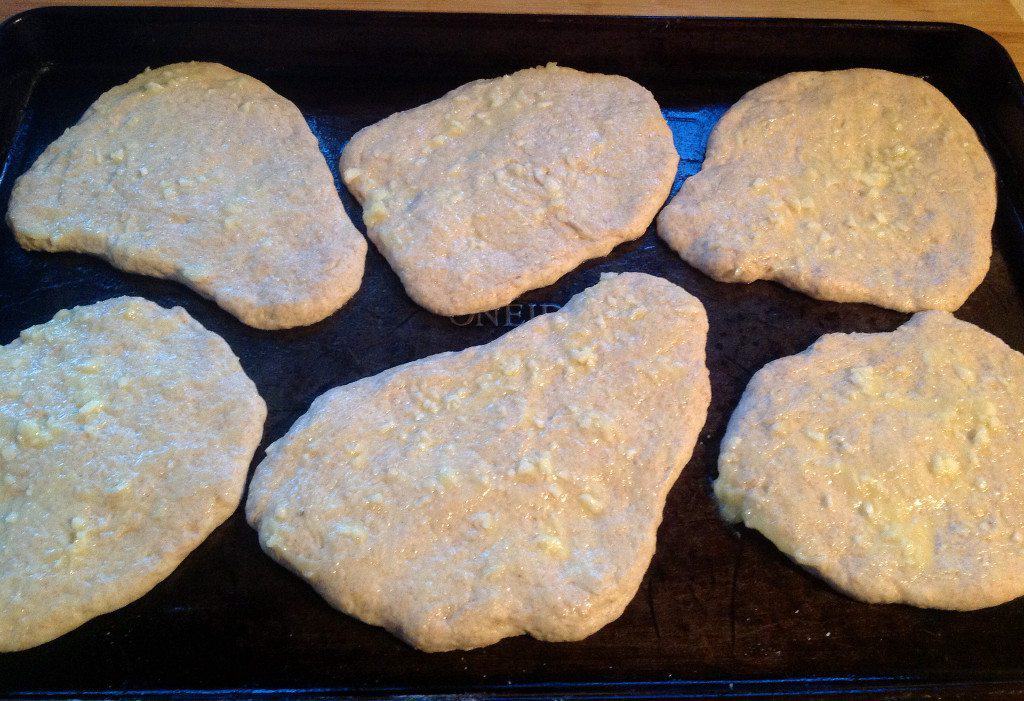 Chuck the pan into the hot oven and watch closely as it doesn't take very long!  After about 7-8 minutes (or even sooner depending on your oven) the bottoms should be nice and golden brown, so go ahead and give them a flip.
Put them back in the oven, but only for 2-3 minutes this time as you don't want the garlic to burn!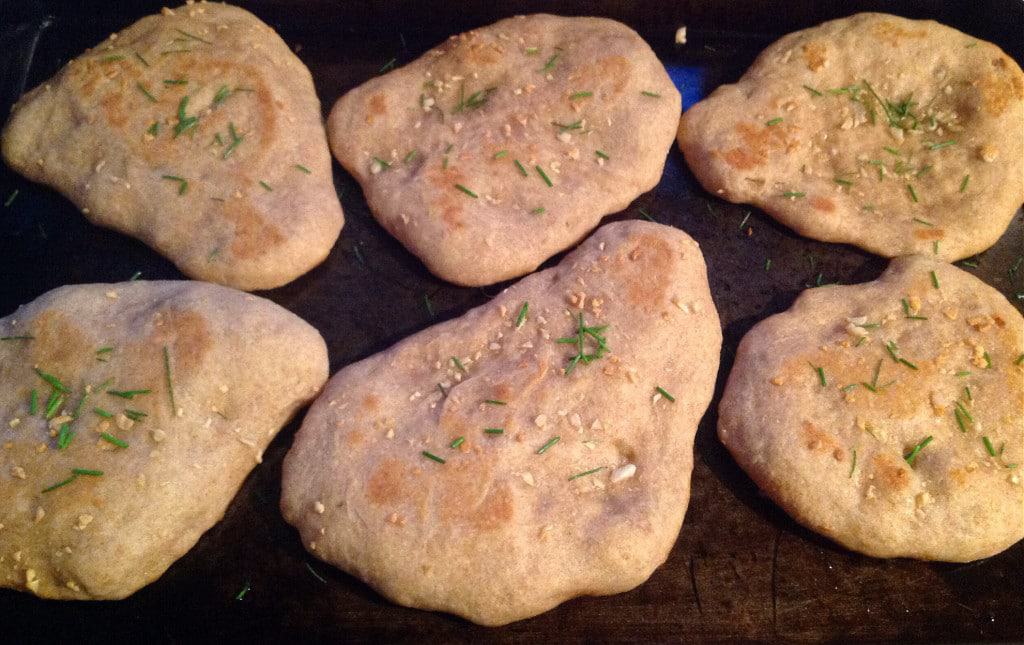 Take them out, flip them back over and add some chopped chives or other fresh herbs.  There you have it, homemade in the oven, garlic Sourdough Naan Bread!
Serve alongside your favorite Indian dish and you're good to go!  This bread is so delicious and pretty darn easy to make, there's no reason not to.  You don't have to only eat it with Indian food, either, it's versatile!  Naan bread personal mini pizzas?  Boom.  Naan bread soft tacos?  Booyah.  Naan bread with a side of naan bread?  Wait, that's a little much.  But I wouldn't hold it against you if that's what you want, because I know how good it is.  This naan bread is your oyster, now you just have to make it!