Learning how to make a sourdough starter is the first step to baking any delicious sourdough bread that the heart desires. This is a simple process that takes minimal effort, and the main ingredient is time as with all fermented foods. Using some sourdough starter in bread recipes is a healthy alternative, as it improves digestibility, is more nutritious, and provides good gut bacteria!
Sourdough Starter for Your Health
Think of a sourdough starter as an important beginning for your health. While there are some people who genuinely need to avoid gluten completely (here is a gluten free sourdough starter recipe), for the rest of us it makes sense to ferment the wheat (or other grains) before eating to aid digestion.
It's true that grain in its natural form isn't the best food for humans. Grain is coated with phytic acid and many other anti-nutrients. But, humans have learned over the millennia how to make that grain more digestible by fermentation.
Fermentation is almost like a magical second stomach, predigesting and adding all kinds of beneficial bacteria for us before we even put it in our mouths!
Once a sourdough starter is bubbling and ready, it can be used for every single wheat flour recipe you want to make. Bread is the most common way to use it, and I have wonderful recipes for no knead sourdough bread and no knead sourdough rye bread.
I love to use some sourdough starter in many of my recipes, from sourdough blueberry pancakes to sourdough tortillas to sourdough naan bread.
Once you get this sourdough starter going and bubbling away, you'll be able to make all sorts of healthy and yummy bread recipes!
How to Make Sourdough Starter
All this recipe requires is flour, water, and time. A warm room helps, and a little love of course!
A quart size wide mouth jar is also needed. Weck jars work nicely and come with a glass lid that works well, but a regular mason jar works as well!
If you have a friend that has an active sourdough starter, you can take some discard to help get yours going a little quicker. Just add a tablespoon or so to the mixture on day one.
For the first day I find that it's best to start with rye flour. It has more nutrients and tends to get the starter going quicker. You can try starting with regular bread flour if you'd like, but I always seem to have better results with rye flour.
Day 1: Mix, Rest
First, mix together 1/2 cup rye flour with 1/4 cup room temperature water in a glass jar, until it is well incorporated and there is no dry flour remaining.
If needed, a little bit more water can be added to be sure all of the flour is wet.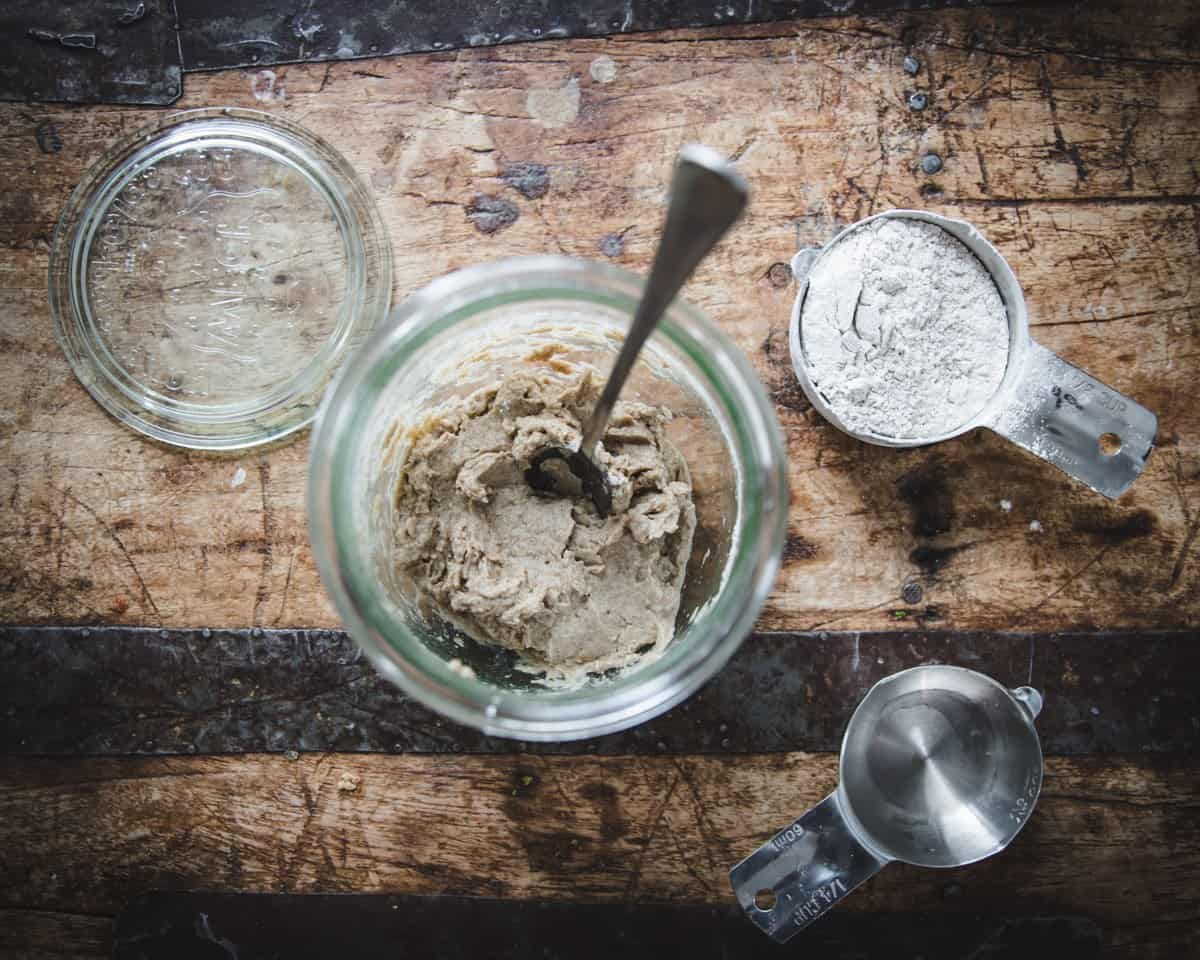 Cover the jar loosely with the lid or a towel and let it sit in a warm non-drafty room temperature place. On top of the refrigerator tends to work well!
Let it sit for 24 hours.
Day 2: Add, Mix, Rest
After 24 hours, take a look at the starter. You may or may not see bubbles, if not that's ok! I usually don't see any yet at this point.
Feed the starter a 1/2 cup of bread flour, and another 1/4 cup of filtered room temperature water. Stir it until combined, adding more water if necessary so there is no dry flour left.
Cover the jar, and tuck it away in the perfect warm-ish and non-drafty spot you found to rest for another 24 hours.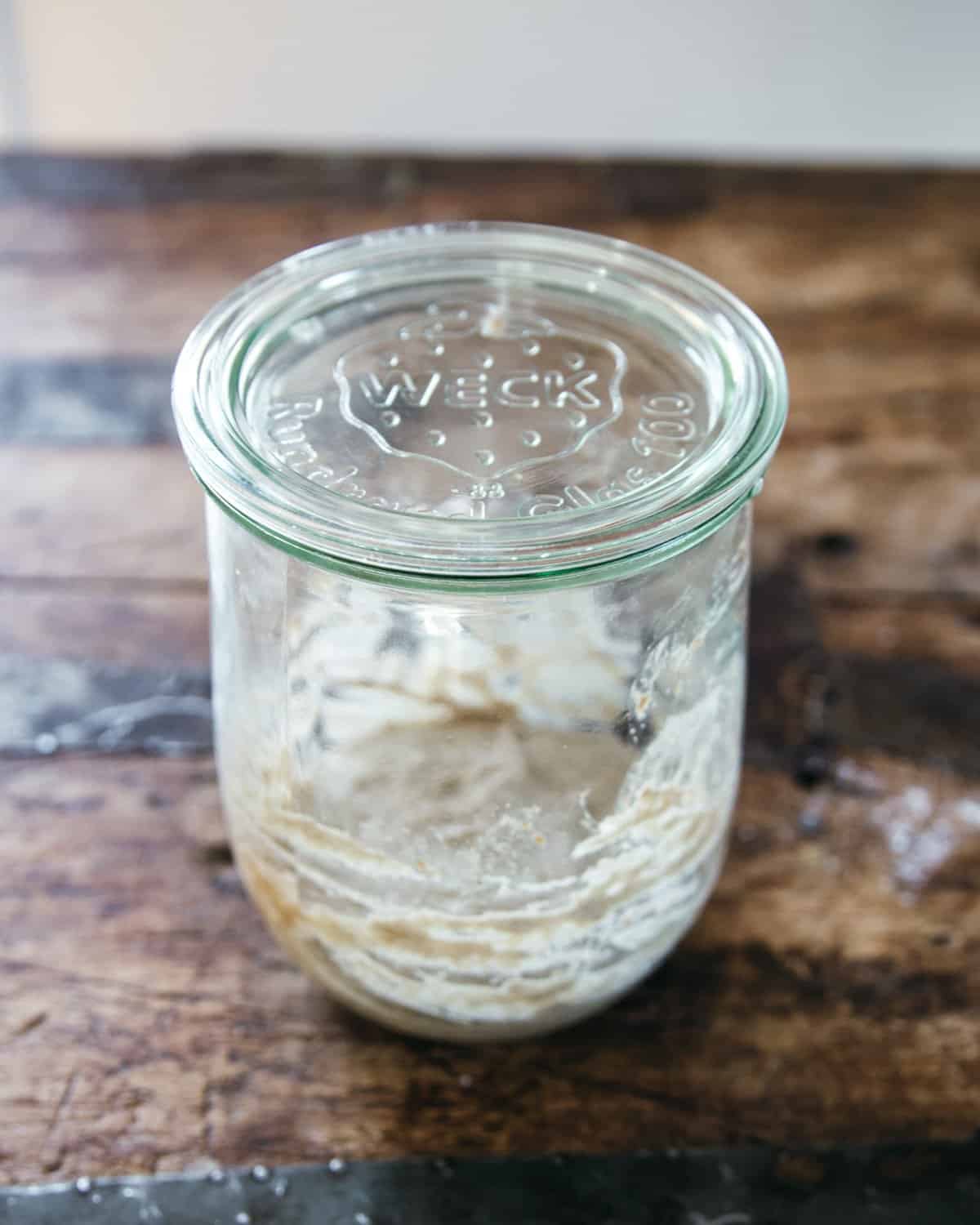 Day 3: Discard, Add, Mix, Rest
Usually, by day 3 small bubbles will be forming in the jar if they haven't already. Again, don't worry if they haven't.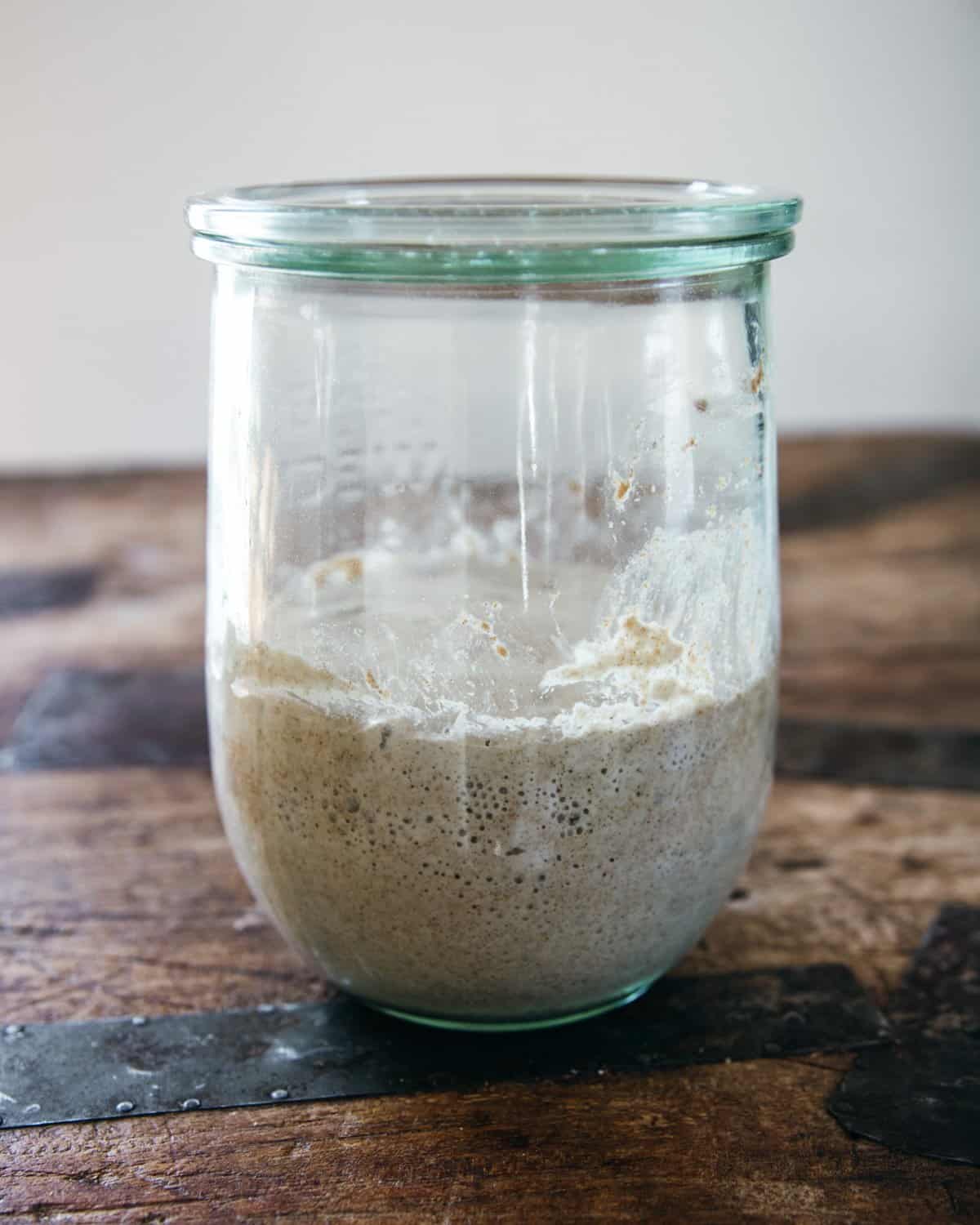 Discard about half of the starter (the discard can be composted). Feed the remaining starter with another 1/2 cup of bread flour, and 1/4 cup room temperature filtered water, stirring to combine into the existing starter.
Cover, and put it back to rest for another 24 hours.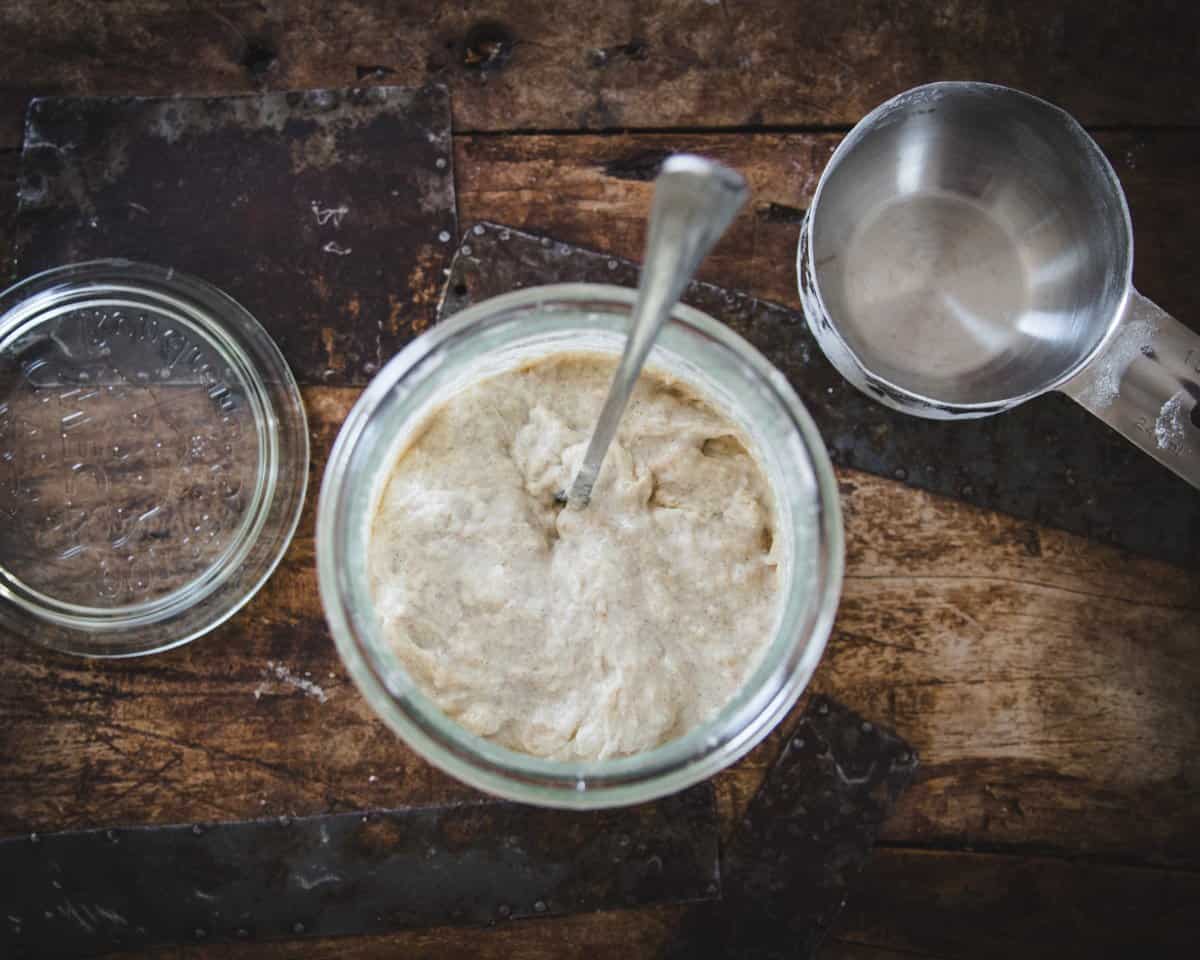 Day 4 and Beyond: Discard, Add, Mix, Rest
Feed the starter with 1/2 cup bread flour and 1/4 cup room temperature water every 24 hours, first discarding around half the amount of existing starter every other feeding.
Note that if your house is very warm, you may need to feed it twice a day as it will produce quicker. On a similar note, if your house is very cold, it may take a while to get bubbling since it will produce slowly.
Once your starter is bubbling after every feeding, it is ready to use in recipes!
How to Feed and Maintain a Sourdough Starter
To Feed:
To keep your sourdough starter bubbling away, you still need to "feed" it on a regular basis.
To feed the sourdough starter, continue to add 1/2 cup of flour and around 1/4 cup of room-temperature water every day. Stir it up vigorously (a whisk works well) to distribute all of the wild yeast that is forming.
Discard about half of the sourdough starter every other day, prior to feeding. The discard can be used in sourdough discard recipes or composted. I try to plan my sourdough baking schedule around my discard schedule (or vice versa) so that less goes to waste.
It's good to keep in mind that sourdough starter, like all fermented foods, has kind of a funky or vinegary smell. It may even smell slightly alcoholic. This is normal and means it's working!
Sometimes a sourdough starter may take a few weeks to really come into its own. Hone your patience if it feels like a slow beginning. Bake-able bubbling goodness is the goal!
As long as it's bubbling, everything is ok. Just follow your nose and continue to smell it. As soon as it gets that wonderful pungent sour smell, it's ready for baking all of the sourdough goodies!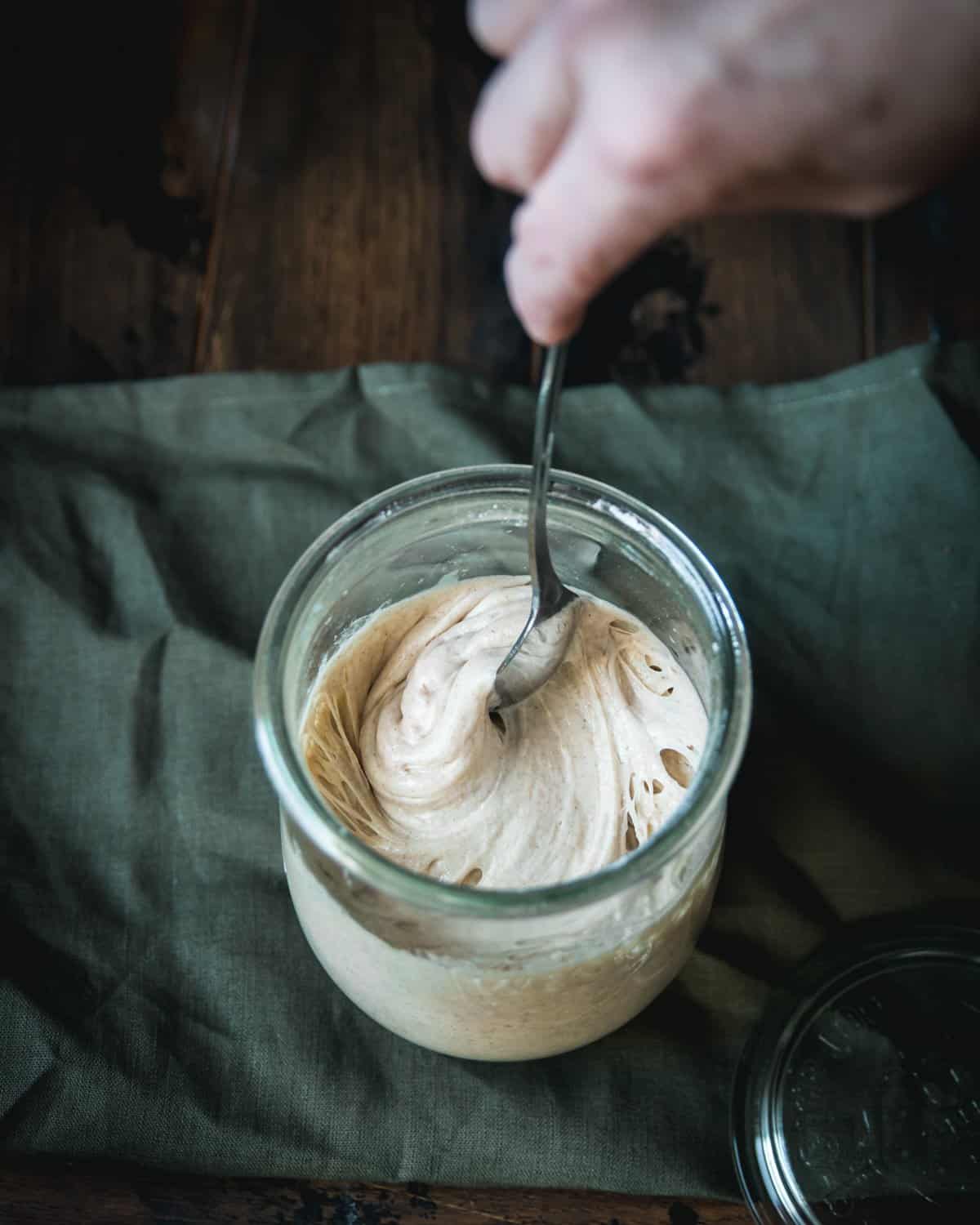 To Maintain:
If you are a die-hard sourdough baker who is using your starter multiple times throughout the week, the best route is for you to keep your starter at room temperature on the counter somewhere out of the way and continue to feed it on a regular daily schedule.
If you are using it less regularly, but would still like to keep it around (some have been passed down generations!), it is safe to store it in the refrigerator. This way you can feed it just once a week.
The refrigerated starter should rest on the countertop to warm up to room temperature for a couple of hours before each feeding. Then discard and feed as usual before putting it back in the fridge, unless you will be using it for baking.
For forgetful folks, such as myself, a weekly phone alarm reminder is great for this! Out of sight out of mind is a true phenomenon, and your starter won't yell "Feed me Seymore!" from the refrigerator. It is important to remember to feed it if you want to keep it alive, healthy, and usable.
If you opt for refrigerator storage, when you take it out for use there may be some clear liquid on top. This is called "hooch" and isn't harmful, you can either pour it out or stir it in, whatever floats your boat.
To use your refrigerated sourdough starter, remove it from the refrigerator and feed it once. Then let it sit overnight (or about 12 hours) until it warms up to room temperature and begins bubbling again. Then it is ready for your sourdough recipe!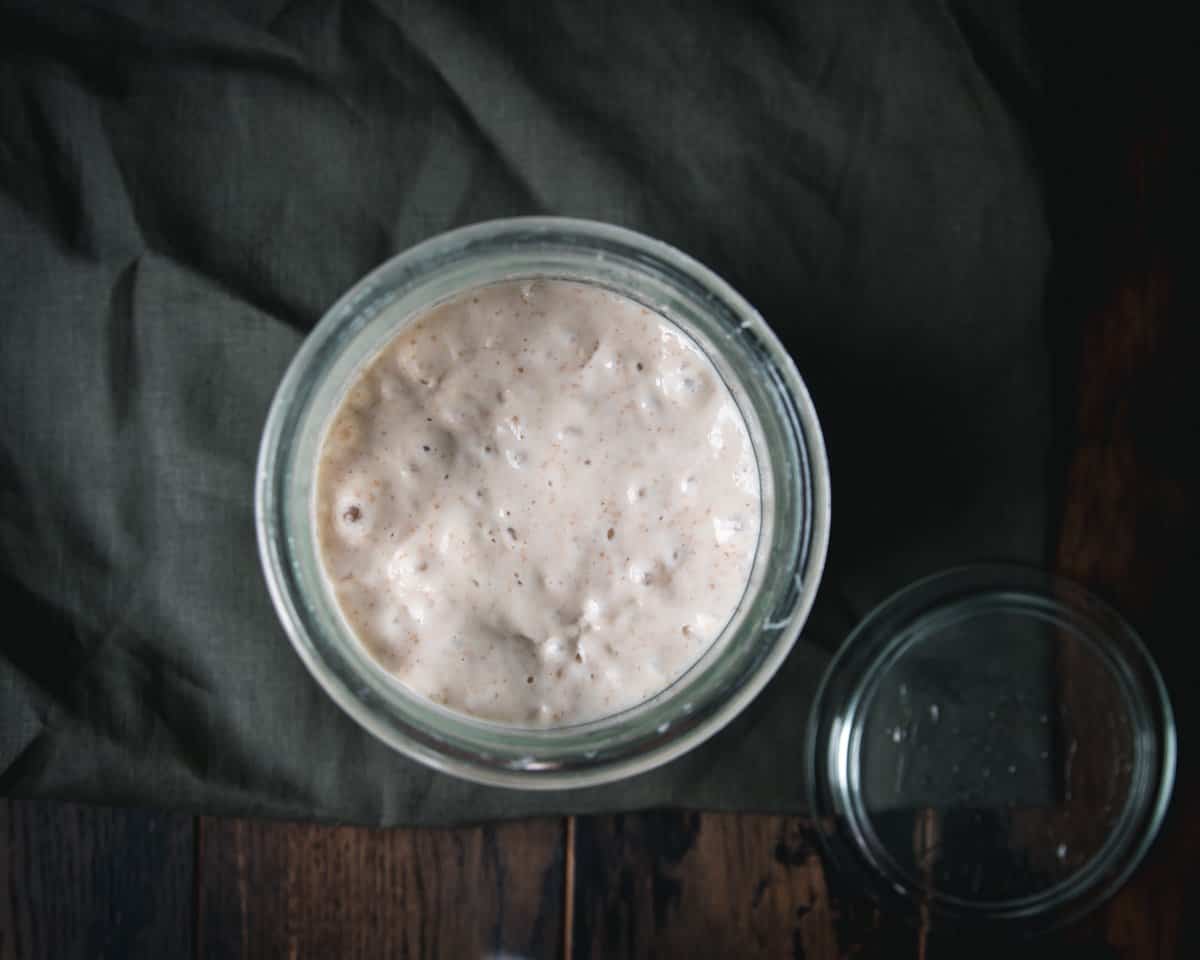 Sourdough Starter Troubleshooting
Sourdough Starter isn't Bubbling:
If you're having trouble getting your starter to bubble, start by doing a few feedings with rye flour instead of bread flour. That will often get it going.
You can try adding fruits that have natural yeast on them to the starter, like grapes, blueberries, or juniper berries (which work wonderfully in a wild yeast starter for homebrewing!). You only need to add 2-3 grapes or berries to do the trick.
Smashing the grapes helps by giving the yeast a little sugar to eat, which in turn makes it produce the lovely bubbles you are looking for! After a couple of days with the smashed grapes, remove them with a fork.
Another last resort trick is to add a tiny pinch of regular bread yeast (like a few grains) to the starter. Some people think this is "cheating," but as long as you let it sit out on your counter and continue to feed it with flour and water it will still ferment and become sourdough. The yeast just gives it a bit of a head start.
I always like to try to get it started with wild yeast for a few days first, but sometimes it needs an extra boost.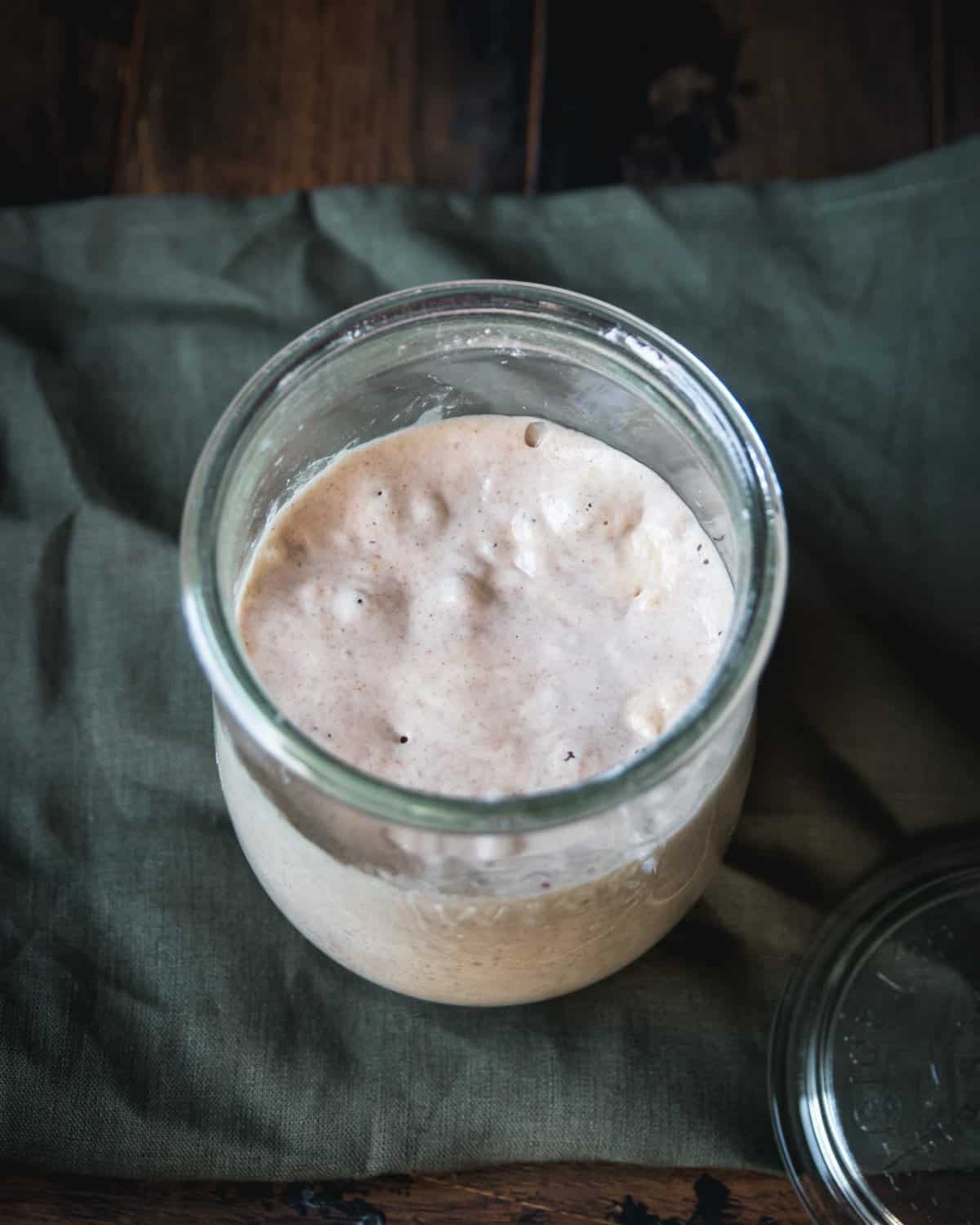 The Sourdough Starter isn't Progressing:
In colder regions and in winter months, it's possible that your home is too cold at times for you to get a good bubbly starter going. I've found that if you feed it less flour (since it's working slower), and use warmer than room-temperature water, it can do the trick to get it bubbling!
It's also helpful to try to find the warmest place in your house, such as near a heater vent or wood stove (just make sure it's not too hot).
Sourdough Starter Has Collapsed:
If your sourdough starter looks collapsed, small, deflated, or sad, usually the reason is missed feedings. Try getting back on a regular feeding schedule, or reviving it with the instructions you can find in the FAQ section below.
Keep in mind there is a natural process of growing and deflating a little in between feedings. If it's minimal it may be nothing to worry about if you have been feeding it regularly.
Mold Growing on Sourdough Starter:
Although uncommon, if you live in a very humid environment, you may occasionally get mold on your sourdough starter. You can identify mold if it's fuzzy, and tinged with peach or pink. If this is the case, you will need to start over and not use the moldy one.
However, mold is rare. If it's not truly moldy, try to revive the sourdough starter (found in the FAQ section).
F.A.Q.'s
Is sourdough starter a fermented food?
Yes! Sourdough starter is a fermented food and is known for all of the same wonderful gut soothing bacteria that other lacto-fermented foods have. It also helps to break down the wheat in sourdough bread recipes, making it easier to digest with helpful probiotics.
How long does it take a sourdough starter to ferment?
A starter should be fermented, bubbling, growing larger, and ready to use within 5-10 days. It can sometimes take up to a couple of weeks if you are in a very cold climate during winter.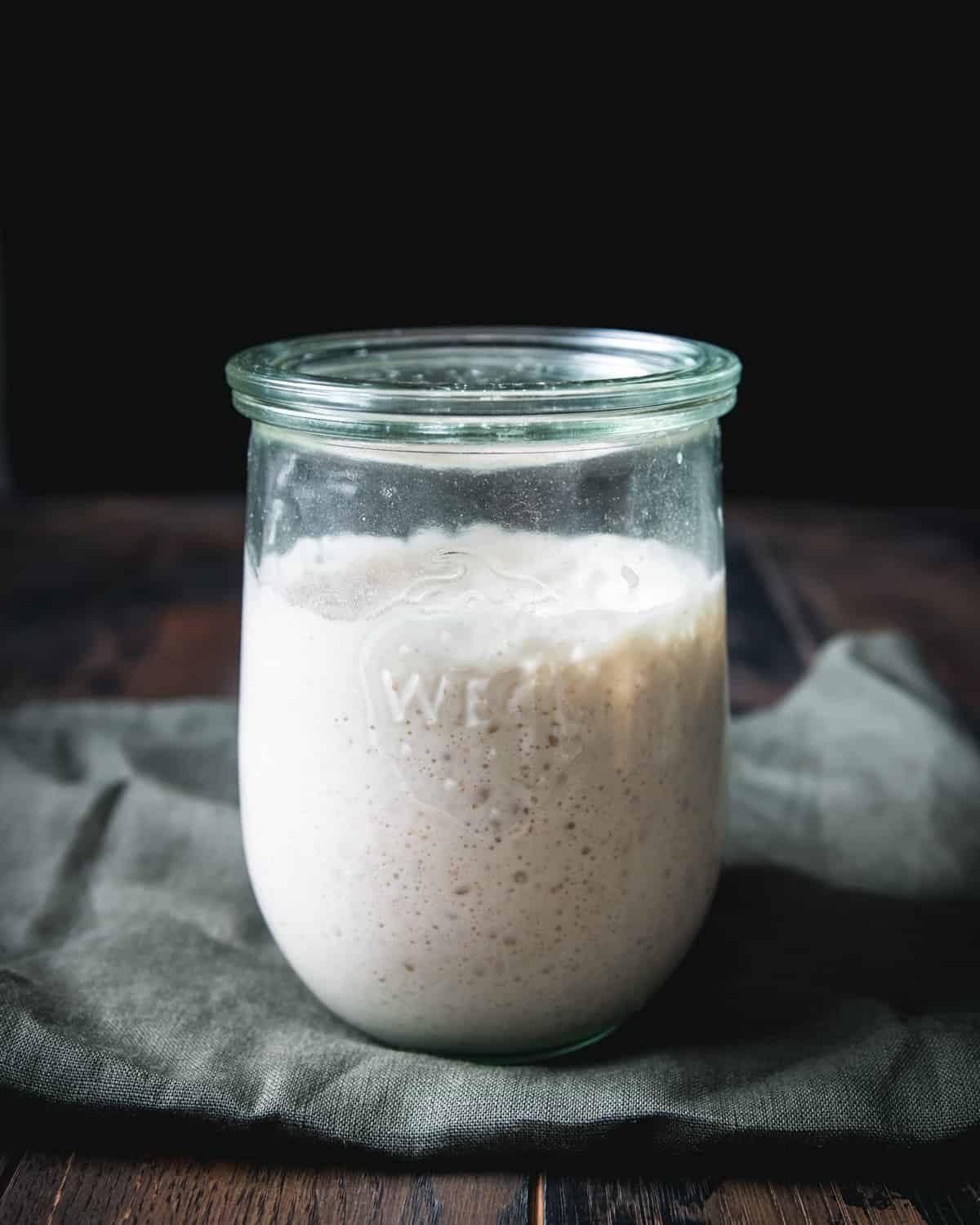 What is the best flour to use?
I find that starting with rye flour tends to work best as it has a high level of nutrients to help get the starter going. The most reliable brand of rye flour I've used for a sourdough starter is Bob's Red Mill Organic Dark Rye Flour.
After day one I find that switching to bread flour works great. If your starter is not bubbling much or getting going as quickly as you'd like, you can always give it another feeding or two with rye flour. That tends to move it along faster.
Can I use tap water?
For city water, it's best to filter it before using it in your sourdough starter. Regular tap water can be problematic as it usually contains some amount of chlorine, which can inhibit fermentation.
That said, I've had luck with using water straight from the tap, so it definitely depends on the quality of your tap water.
How long do I have to wait after I feed the sourdough starter before using it in a recipe?
The sourdough starter should be nice and bubbly when using it in a recipe. The amount of time this takes depends on several factors such as warmth and how active your starter is, but it's usually 4-8 hours. For many recipes this doesn't matter too much though and discard is fine to use.
How long will it take for my sourdough starter to become active?
You should begin seeing some bubbling starting within the first couple of days. However, it won't be ready to use in recipes for about 5 days or more.
How do I know when my sourdough starter is ready?
You will know your sourdough starter is ready once it is good and actively bubbling after every feeding. It will also smell like sourdough.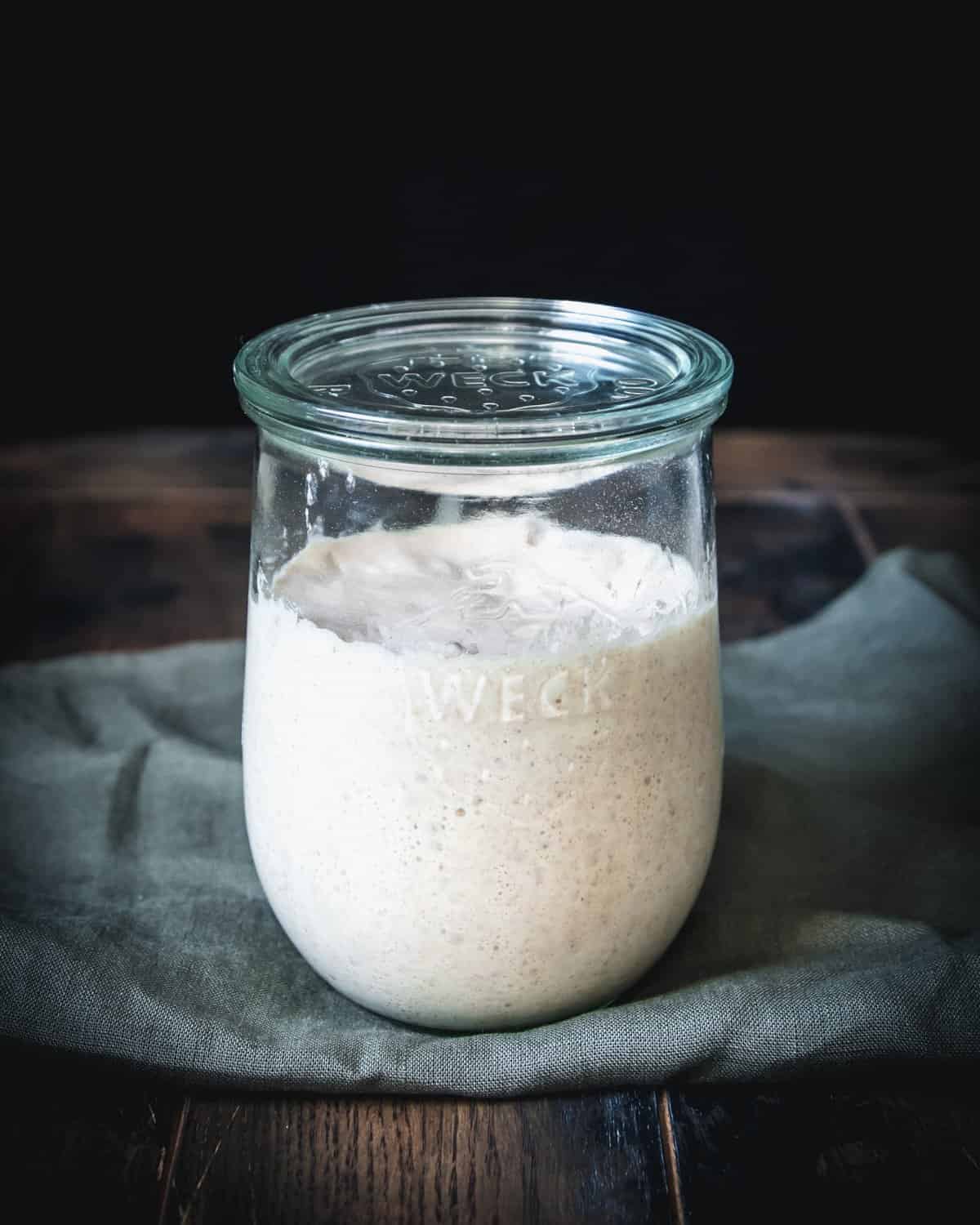 Should I stir my sourdough starter in between feedings?
It's not necessary to add an extra stir schedule on top of the feedings, but you can. Some find that the extra oxygen can help the process along.
Do I leave the lid of the container on or off?
When resting, the sourdough starter jar should be covered loosely with a towel or a jar lid. Make sure some air can still escape so it doesn't build pressure.
Why does my sourdough starter have a fermented smell?
If the sourdough starter smells fermented, that is a good thing! The goal here is to ferment the flour into a sour, yeasty, bubbling, and living thing that will take your bread to the next level.
Should I feed and mix the sourdough starter before discarding some, or after?
Discard first, and then feed the starter mixing in with the reserved starter in your jar.
What is hooch and what do I do with it?
Hooch is a byproduct of fermenting yeast in a liquid form on top of your sourdough starter at times. It's neither harmful nor helpful in particular, it's fine to either stir it in or discard it.
How do I revive my neglected sourdough starter?
I find the best way to do this is to discard most of the starter, only leaving about a tablespoon of starter in the jar. Then feed as normal. It can be helpful to feed with rye flour to give it nutrients and jump start it again.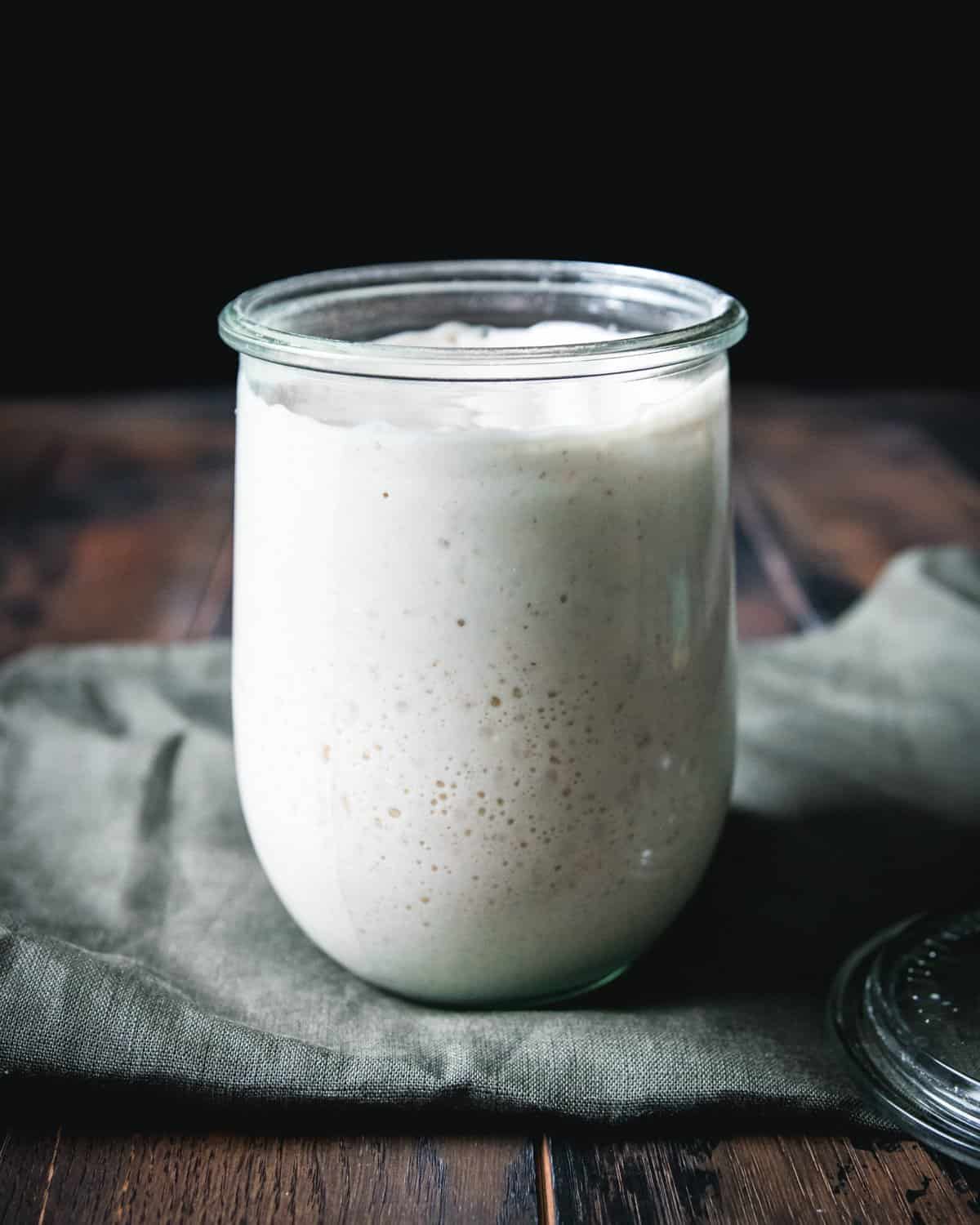 Can a sourdough starter be stored in the refrigerator?
Yes, once the sourdough starter is rolling and ready for use, it's possible to slow its roll by storing it in the refrigerator. This is a good option for most people who don't plan to use it multiple times per week.
Once refrigerated, modify the feeding schedule to once per week. Take it out to warm it up to room temperature for a couple of hours. Discard some if needed, then feed it and then return it to the fridge. Make sure to warm it to room temperature before using it in a recipe.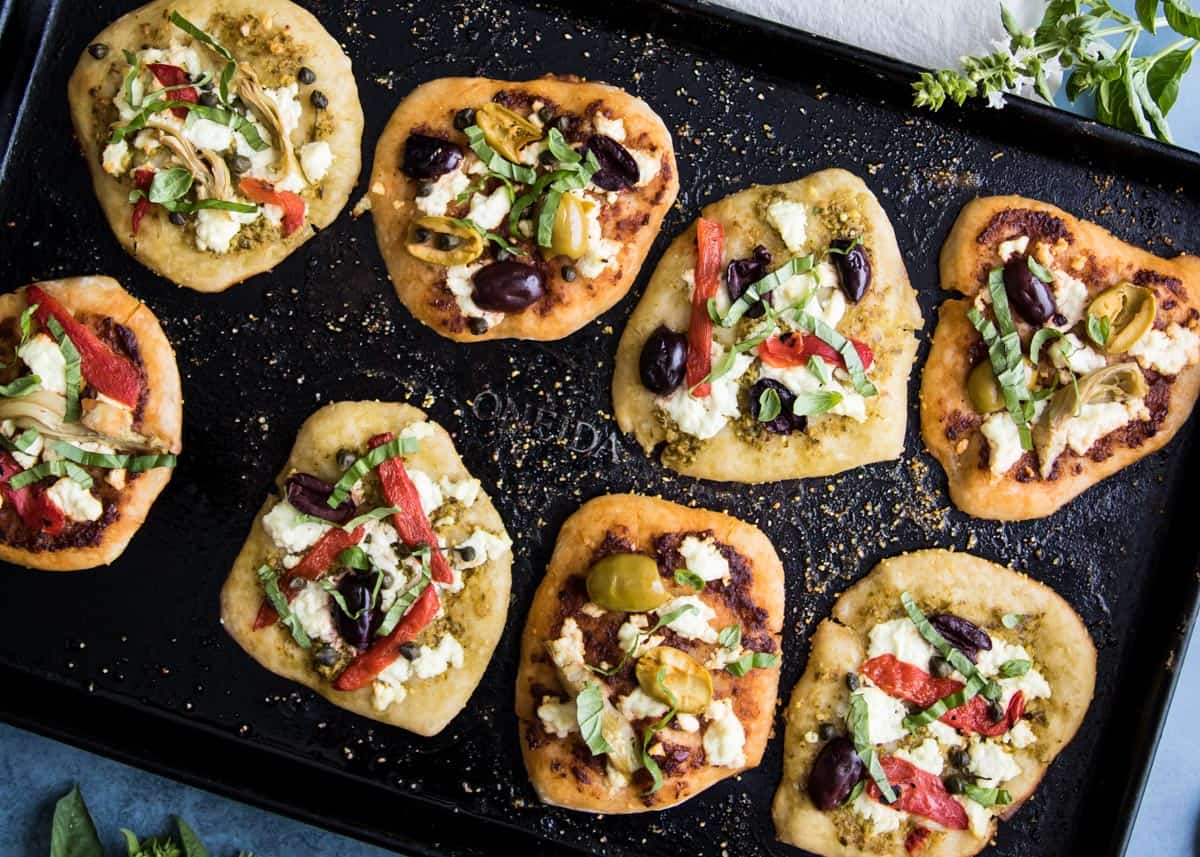 How do I use my sourdough starter?
There are many ways to use sourdough starter, but making sourdough bread is a great start!
Take a look at whatever sourdough recipe you want to make and determine when you should feed your starter so that it is nice and bubbly when it's time to bake.
Then take out the amount of starter needed for the recipe, feed the starter again, and proceed!
Here are a few of my favorite, delicious sourdough recipes:
How to Make Sourdough Starter
If you want to make your own amazing sourdough bread, start here by learning how to make sourdough starter.

Servings
1
batch of starter
Instructions
Day 1
Stir together the rye flour and water in a glass jar until they are fully incorporated and no dry flour remains. A little more water can be added if needed.

Cover the jar with a lid or a towel and leave it in a warm room temperature place away from cold drafts.
Day 2
After the first 24 hours you may not see any bubbles forming and that is ok.

Feed the starter 1/2 cup bread flour and 1/4 cup water and stir to combine well. A little more water can be added if needed so that there is no dry flour in the starter.

Cover the jar and let it sit for another 24 hours.
Day 3
At this time small bubbles can usually be seen forming in the jar.

Discard approximately half of the starter and feed the remaining starter with 1/2 cup bread flour and 1/4 cup water and stir to combine.

Cover the jar and let it sit for another 24 hours.
Day 4 and Beyond
Feed the starter with 1/2 cup bread flour and 1/4 cup water every 24 hours, discarding approximately half every other feeding.

If it is very warm in your house you may need to feed the starter twice per day.

Once the starter is bubbling up after every feeding, it is ready to use in recipes.
Notes
The sourdough starter can be kept in the refrigerator when not in use. Simply put the jar covered with a lid in the fridge right after feeding it. It will keep for about a week at which time it will need to be fed again. Bring the starter to room temperature and feed it before using it in recipes.
Please see the full blog post for troubleshooting tips and FAQ's.
Nutrition
Serving:
1
batch of starter
|
Calories:
404
kcal