Permaculture books are an asset to any permaculturist or any gardener aspiring to learn about permaculture design. If you've ever wondered what exactly permaculture is, and how to start or progress your permaculture garden, these books have the answers. From beginner to the most seasoned permaculture gardener, you'll find everything you need to know about permaculture principles and how to implement them into your life and yard!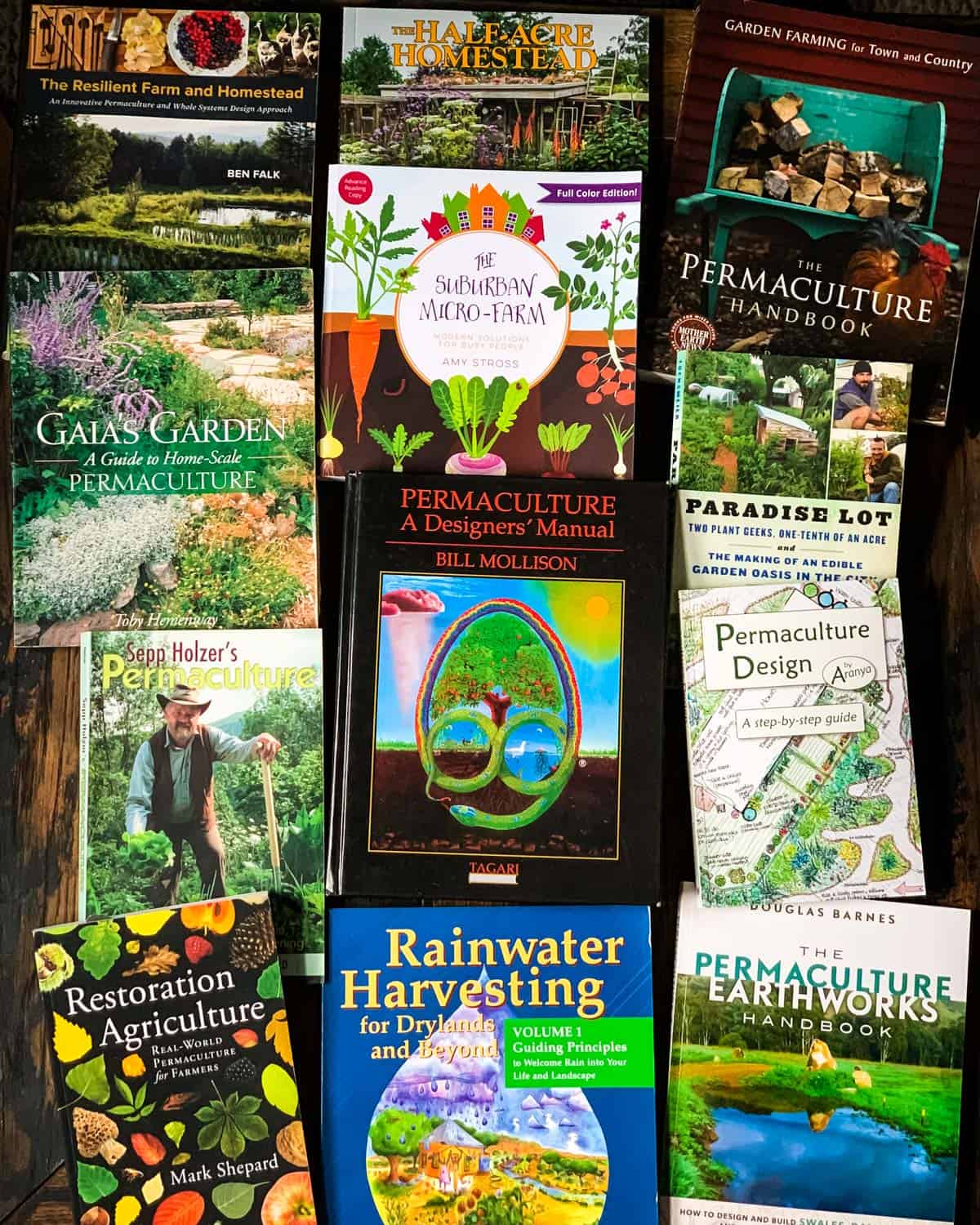 What is Permaculture Gardening?
The basic idea of permaculture is a holistic design system that creates sustainable food production systems. Really, it's a movement that promotes the harmonious interrelationship of humans, plants, animals, and the Earth.
Permaculture builds stable communities with sustainable and environmentally sound land use. It might sound complicated to novices, but it's actually quite simple! Once established, a permaculture design system can mostly take care of itself.
A great example of permaculture is an edible forest garden, also known as a food forest. This is intentionally grouping plants together in your yard in a way that mimics a natural woodland environment.
Once set up, a food forest is hands-off except for harvesting delicious vegetables and fruits. It's less work and all the benefits! Who wouldn't want that?
The bonus of permaculture design is that it can meet you exactly where you're at. If you live on a small plot, or even in a suburban neighborhood, there are backyard permaculture projects that will work towards the exact same goals and principles as those who have large plots of land to work with.
Related: Gift Guide for Backyard Gardeners & Permaculturists
The Backyard Forest Garden eBook
As a precursor to the 12 best permaculture books, I'd like to share my forest garden eBook with you!
The Backyard Forest Garden: How to Create a Small-Scale Food Forest includes step-by-step instructions on how to design and build a forest garden right in your own backyard.
This eBook includes the benefits, design, and how to build a forest garden. Including information about where to obtain plants, plant relationships, rainwater collection tips, and more!
You'll also find an extensive list of perennial permaculture food forest plants to consider including trees, shrubs, ground covers, and vines.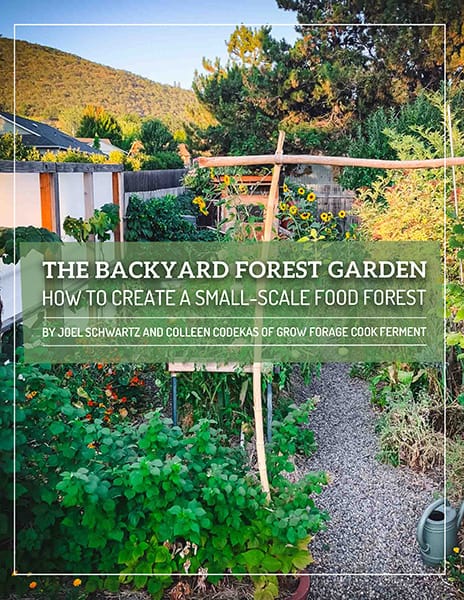 12 Best Books on Permaculture
This list of books is the best of the best! These are my favorites on the topic of permaculture design, from large scale to small scale. There's something here for everyone!
Permaculture: A Designer's Manual
Known as the "permaculture bible," and written by the founder of the term itself, Permaculture: A Designer's Manual is by Bill Mollison.
This book is packed with tons of information and includes dozens of intricate pen and ink drawings and designs. An essential read for experienced permaculture designers, and a staple for anyone who is interested in the implementation of sustainable systems of growth.
The only potential drawback of this book is that it is quite expensive. If you can make it work in your budget, what you get out of owning this book will be money well spent.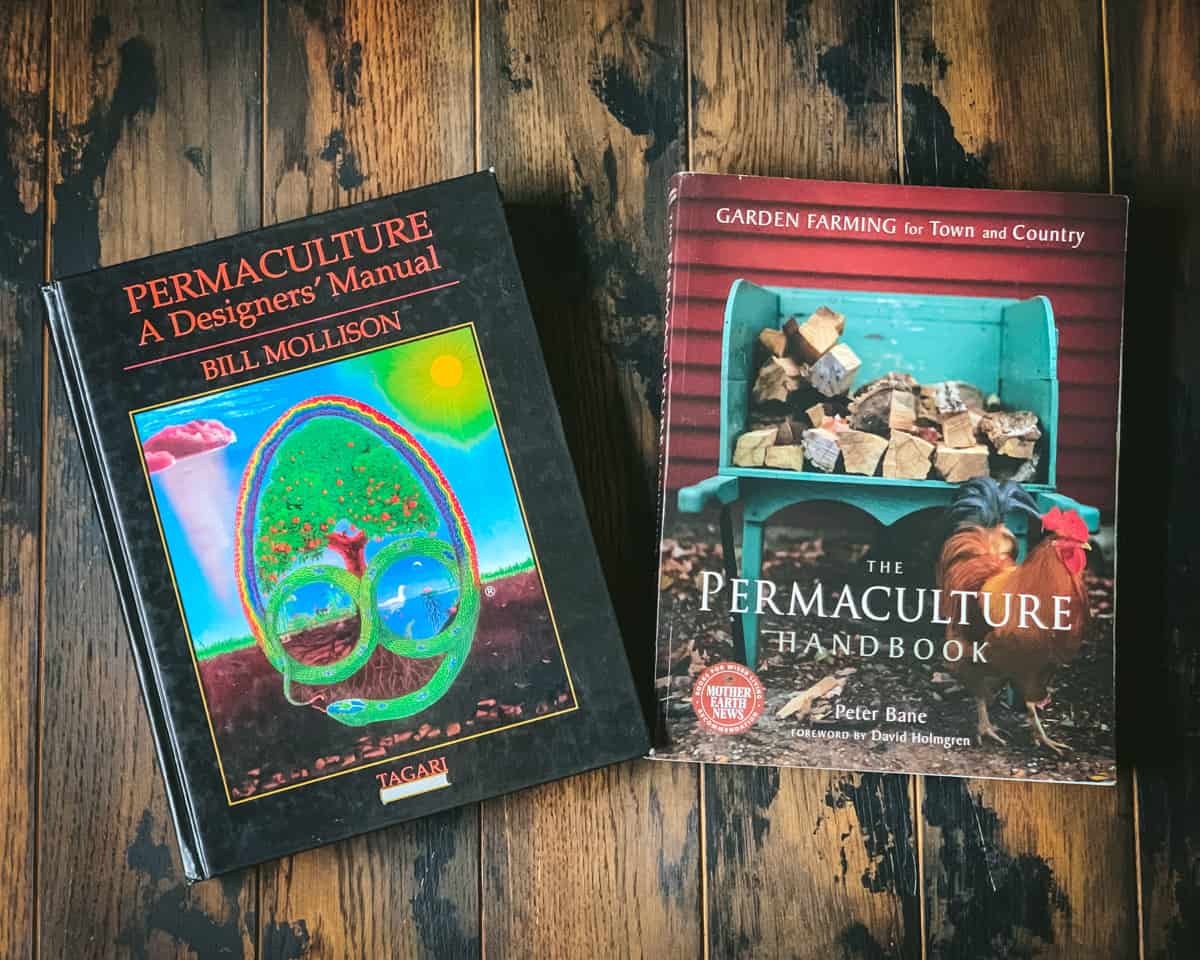 The Permaculture Handbook
The Permaculture Handbook: Garden Farming for Town and Country by Peter Bane
This is a very informative guide that gives practical techniques for either farm or city dwellers.
This beautifully illustrated book gives an easy-to-read, step-by-step guide on developing systems of sustainable living in the form of renewable energy, plants, or structures.
With an emphasis on self-sufficient living, less dependence on fossil fuel use, and strategies for living with less money, this is a practical book that everyone can benefit from.
Teaching you to create fresh local produce of your own, help the earth, and save money while you're at it, this affordable book is a must-read!
Gaia's Garden
Gaia's Garden: A Guide to Home-Scale Permaculture by Toby Hemenway
This is an essential book for beginners in need of an introduction and a deeper dive into permaculture systems. Easy to read and understandable, this guide has tons of tips and tricks that are simple to implement.
This book also includes a good amount of hand on projects and instructions.
This is a budget-friendly book that is here to show that large-scale operations are not the only way to garden sustainably. It's a fun and easy way to learn how to create a backyard ecosystem!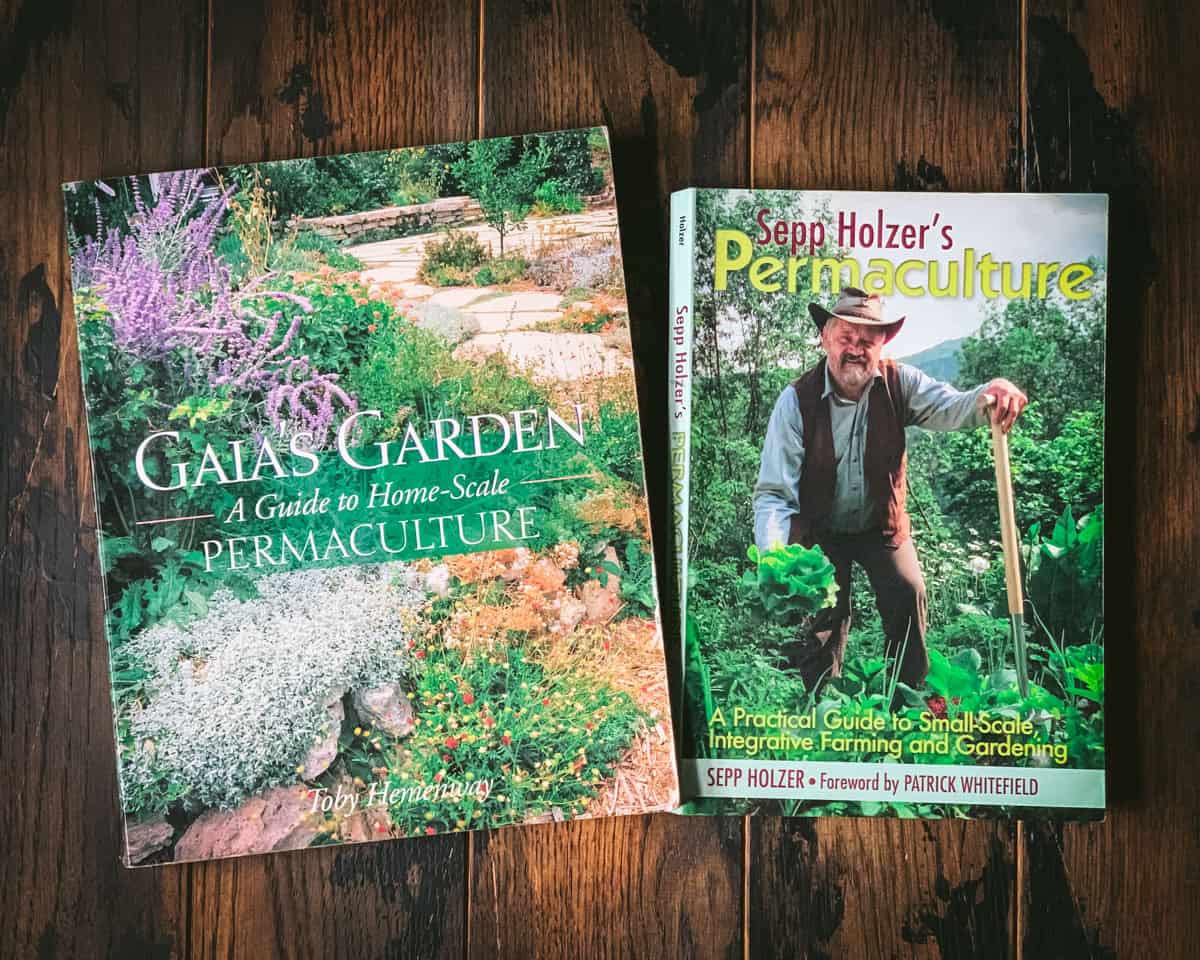 Sepp Holzer's Permaculture
Sepp Holzer's Permaculture: A Practical Guide to Small-Scale, Integrative Farming, and Gardening by Sepp Holzer
This is a wonderful guide for permaculture design in high altitude, as he describes his cold climate site in Austria. Using water features and other tricks to improve his plants' growth, there is unique information in this book. It's useful for beginners and experts alike.
One of my favorite parts of this book is that Holzer shares his method of cultivating edible mushrooms!
His wisdom and practices for his productive system are apparent throughout the book and can be applied no matter where you live.
The Resilient Farm and Homestead
The Resilient Farm and Homestead: An Innovative Permaculture and Whole Systems Design Approach by Ben Falk
An easy read in a very well-laid-out format. This book is full of no-nonsense tips to make your operation run smoother and more efficiently.
More than just garden focused, find practical information that you can use around the home every day. Great for both beginners and experts.
Includes tried and true strategies and some experimental ones, viable home-scale models of working farm ecosystems, and even a little bit about ducks!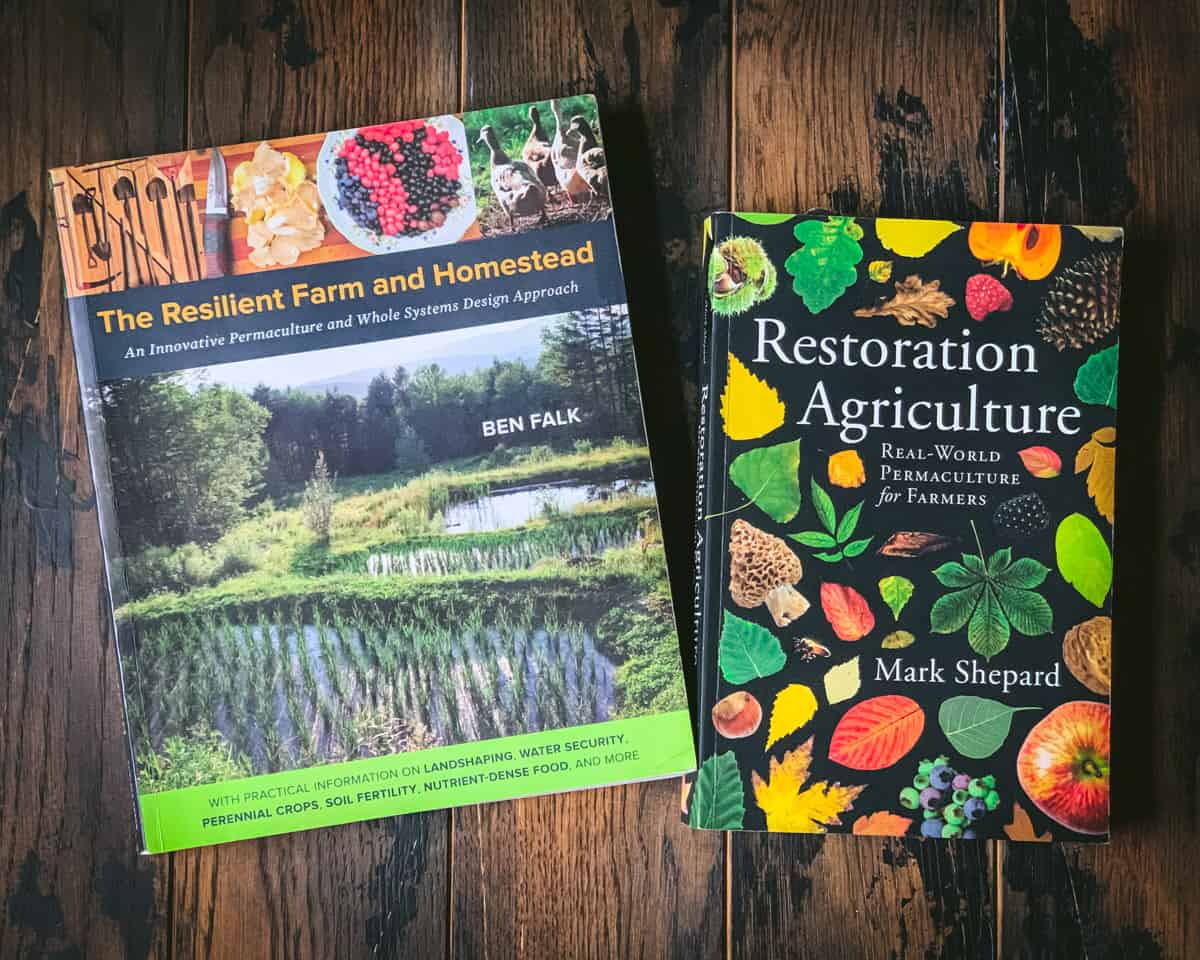 Restoration Agriculture
Restoration Agriculture: Real-World Permaculture for Farmers by Mark Shepard
This is a wonderful book about large-scale permaculture farm designs for generations to come.
While not necessarily for the suburban backyard grower, this presents a wonderful vision of what the future of tree crops could look like. Outlining how we can benefit from natural ecosystems and still provide for human needs.
Shepard is an innovative thinker, and we should all listen up!
Paradise Lot
Paradise Lot: Two Plant Geeks, One-Tenth of an Acre and The Making of an Edible Garden Oasis in the City by Eric Toensmeier and Jonathan Bates
A beautifully written description of the transformation of a tiny suburban lot into a showcase of plant diversity. This is a wonderful story for beginners and experts to enjoy.
This book is a fantastic and inspirational read! A true story about two single guys who turn a barren lot into a permaculture paradise.
Complete with an edible water garden, urban poultry, silkworms, and of course an edible food forest!
Permaculture Design
Permaculture Design: A Step-by-Step Guide by Aranya
A guide that details everything you need to know about how to design a permaculture site. Learn to draw it up, and also present it to others.
This book is mainly for people who are interested in becoming professional permaculture designers. It is clearly written with diagrams and flow charts, this book will hone your permaculture excitement into reality!
If you're considering taking a permaculture course, or have already taken one, this book is a perfect compliment.
The Half-Acre Homestead
The Half Acre Homestead: 46 Years of Building and Gardening by Lloyd Kahn & Leslie Creeds
This is a wonderful story of a couple's life building a homestead by hand.
It includes many beautiful full-color photos of their home and garden. This inspiring book touches on many areas of homesteading including building, cooking, quilting, fishing, foraging, and more. Lots of loving wisdom in this book!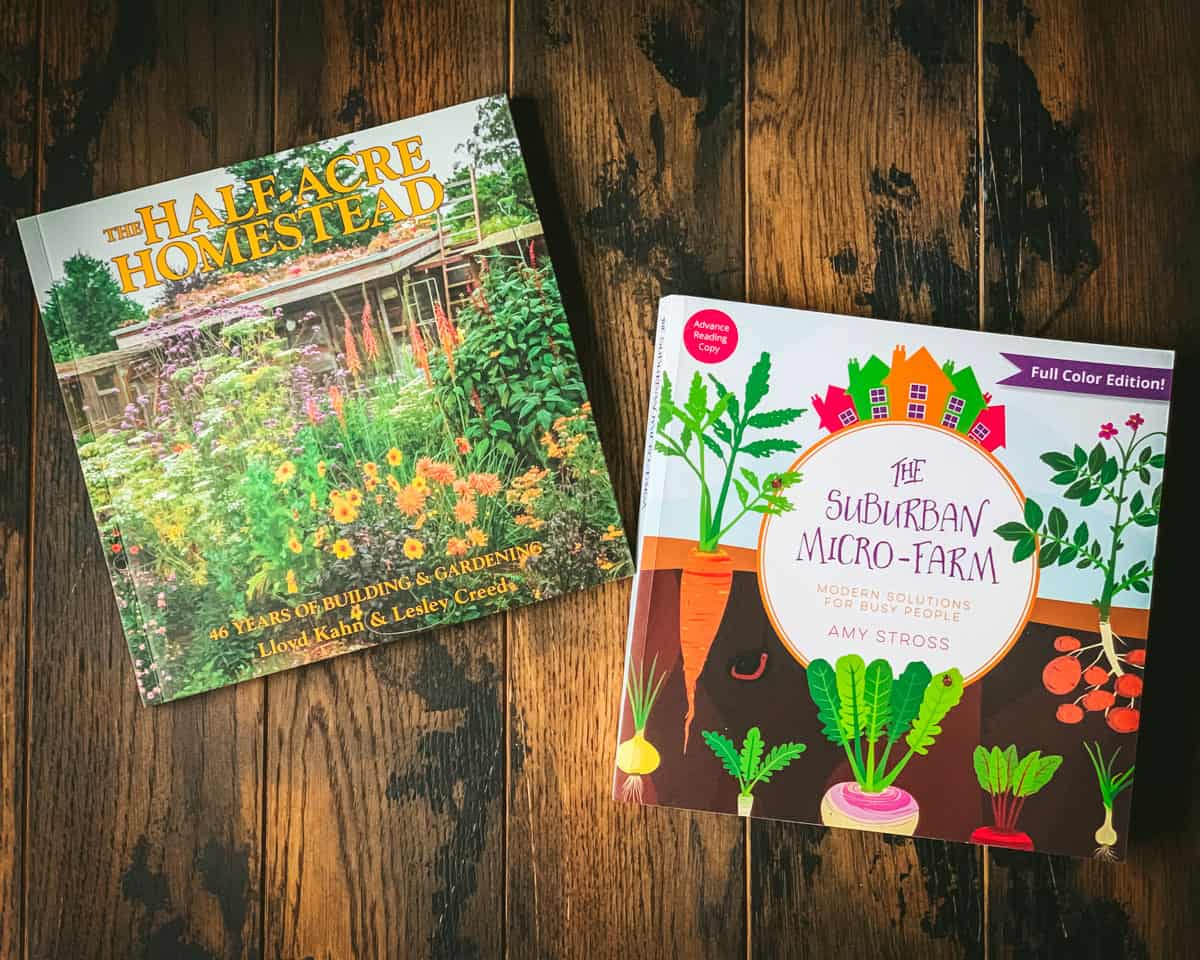 The Suburban Micro-Farm
The Suburban Micro-Farm: Modern Solutions for Busy People by Amy Stross
Beautifully written for the aspiring suburban gardener, this is a comprehensive intro to gardening and permaculture.
This book covers most topics to developing a small-scale farm in your backyard. It includes chapters on fruits, berries, veggies, and more. Perfect for the everyday suburbanite who wants to practice sustainability!
Amy Stross is the brains behind Tenth Acre Farm, I strongly advise that everyone gleans from her down-to-earth wisdom!
Rainwater Harvesting
Rainwater Harvesting for Drylands and Beyond by Brad Lancaster
This is absolutely essential text for all permaculturists. Learn and implement all aspects of rainwater catchment, from designing water-holding ideas to storing water in the landscape.
This book has everything you need to know for using water to its fullest is covered in this book.
Easy to read with many drawings and pictures. Find strategies to save money, empower yourself, and help your community. All with rainwater!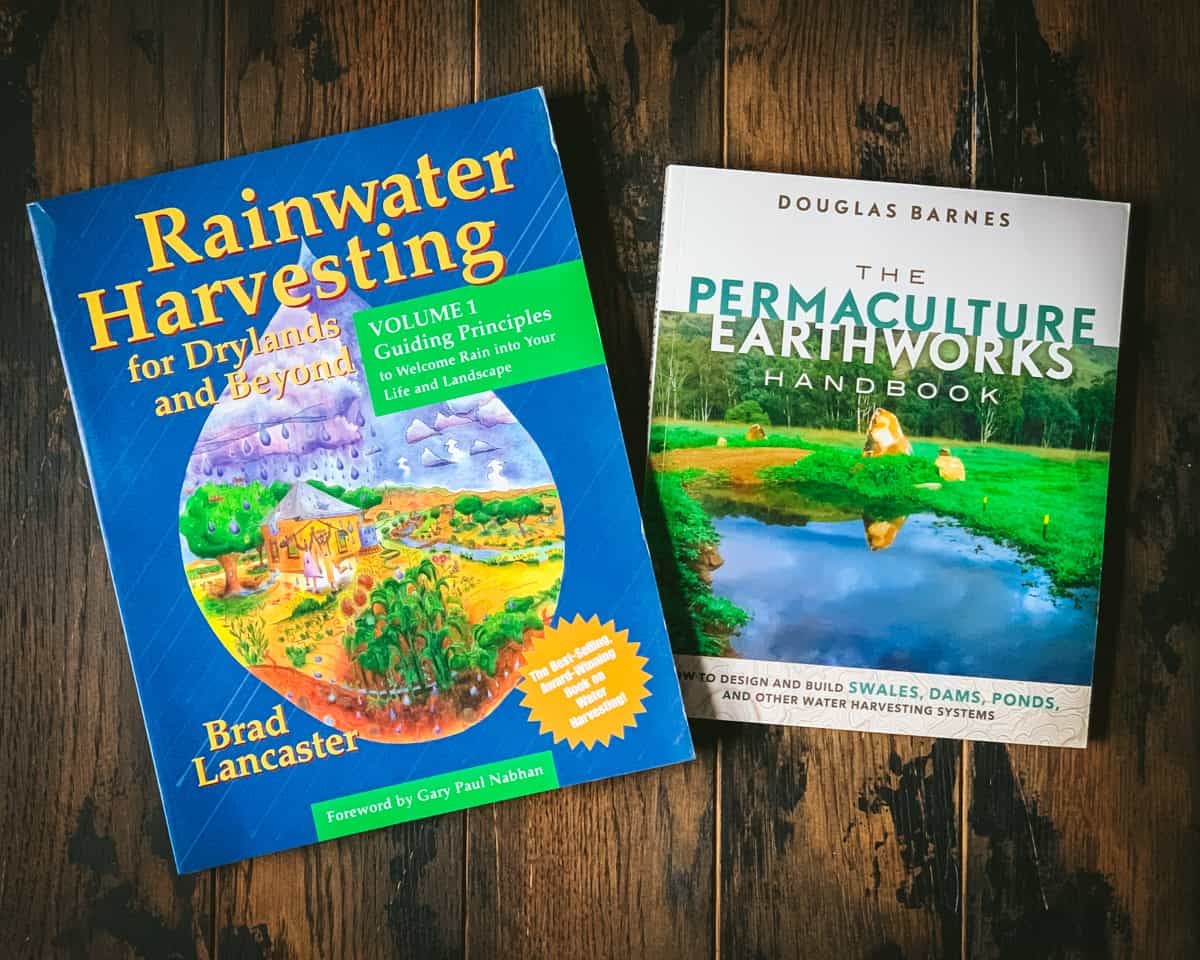 The Permaculture Earthworks Handbook
The Permaculture Earthworks Handbook: How to Design and Build Swales, Dams, Ponds, and Other Water Harvesting Systems by Douglas Barnes
This book is a detailed look at how to manage water on your land. It focuses mainly on large-scale designs for big projects.
Find good information on general hydrology covering swales, spate irrigation, assessing site needs, maximizing efficiency, and more!
Choose the Best Books for You
Regardless of what type of land plot you live on, your elevation, economic status, or what you might feel up against – permaculture is for you!
These practices, ideals, theories, and strategies are wonderful for anyone to put into play in their daily lives. Once your permaculture design is started, nature does the work for you. Enjoy your reading, and enjoy your veggies!
Other permaculture topics that might interest you:
Be sure to check out my other book guides here: