Spring is coming! I know that this is when a lot of you out there get torrential downpours. April showers bring May flowers, right? When I was growing up in the Portland area I coined the term April showers bring May showers! It's true, although thankfully here in Southern Oregon it's not quite as dismal as that. While we do get rain pretty reliably here for 9 months out of the year, we definitely have a summer drought where we don't get any rain whatsoever for 3 months straight. So setting up a rain collection barrel makes a whole lot of sense for us. To be honest, it makes a whole lot of sense for any self reliant homestead, especially if you want to live off-grid.  All of that rain that comes off the roof of your house or barn is usable, especially for watering plants and hand washing clothes. Of course, you can also buy a water filter (Berkey filters are awesome) to make it drinkable as well. So, here we go… I'm going to show you how to make a rain barrel!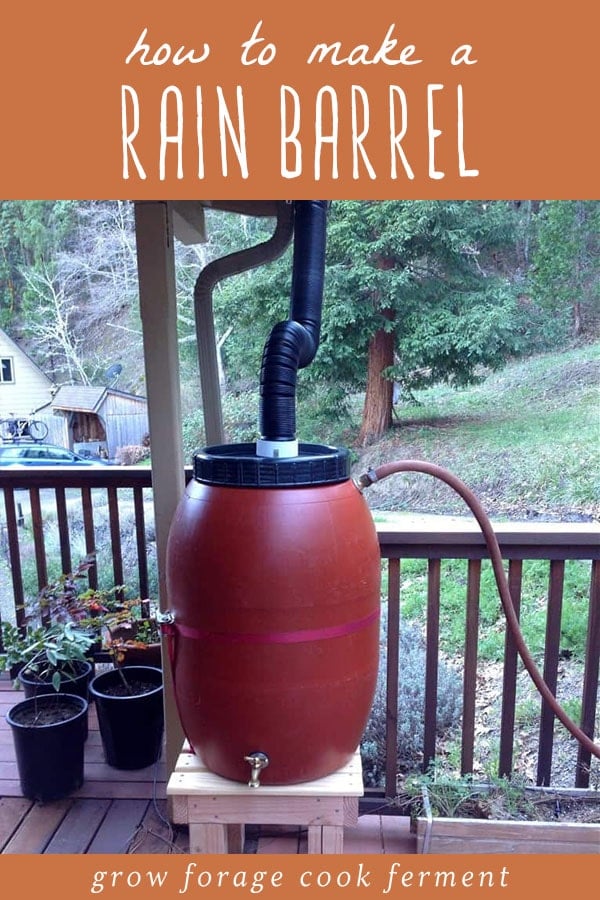 DIY Rain Barrel Supplies
Here is most of what you will need. Of course we forgot a couple of things for the picture, but don't fret! I will make sure you have what you need. This is a pretty simple process, actually.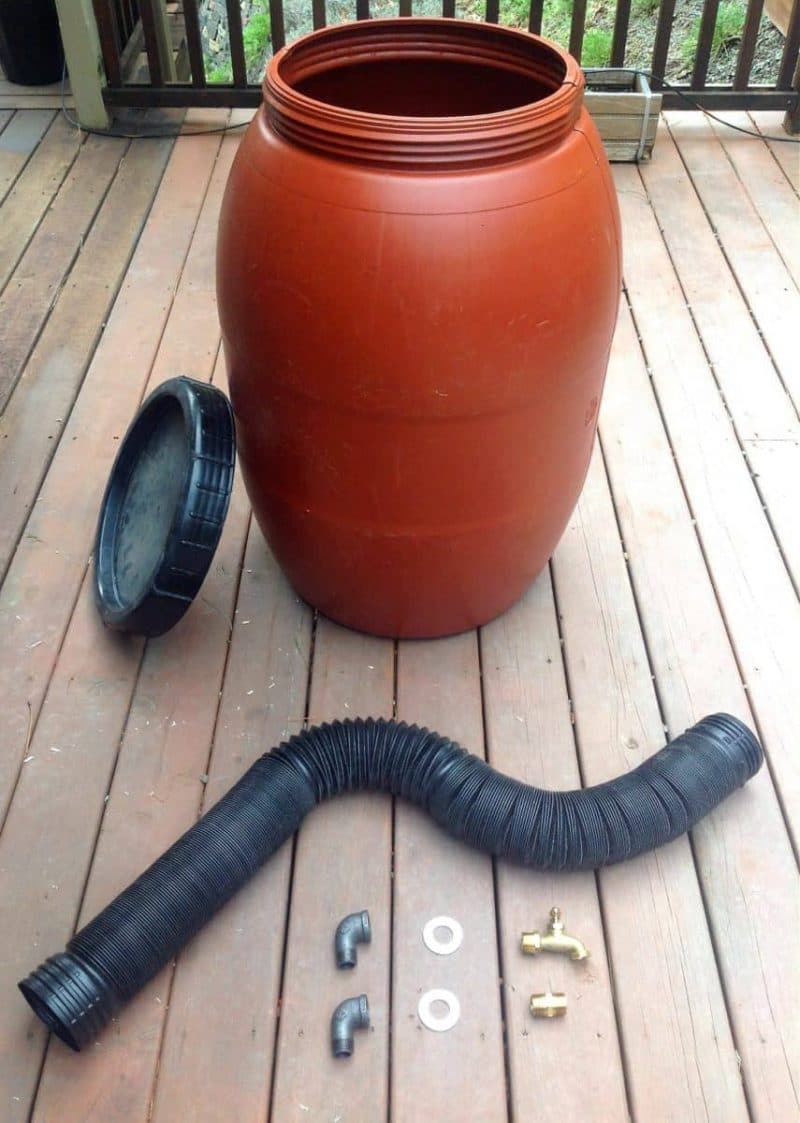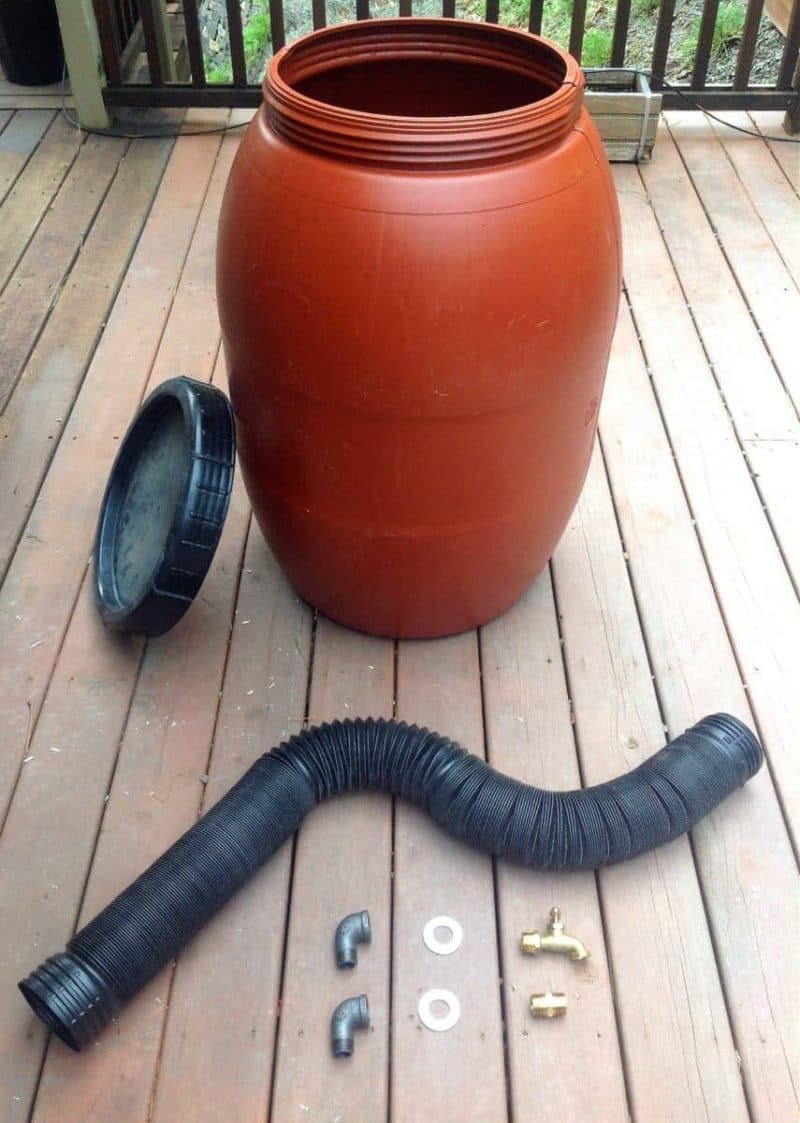 Besides what is shown here you will need 4 rubber O rings and a PVC reducer (you'll see what this looks like in the pictures below). A small piece of screen is also helpful. Also, you don't need to use the exact pieces in the picture above, just try to find something similar.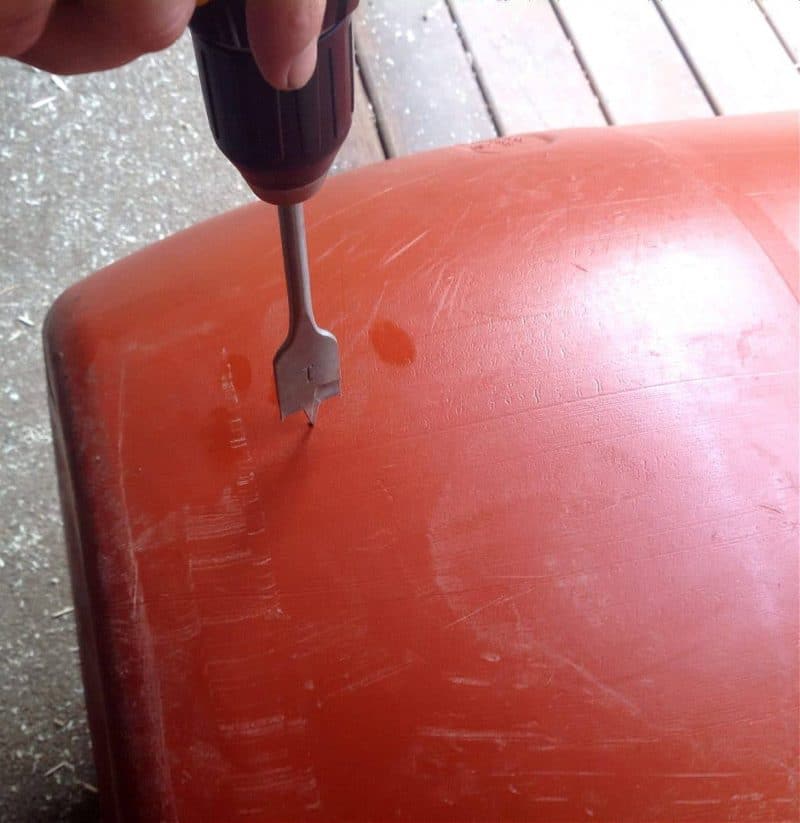 How to Make a Rain Barrel
Start by drilling a ⅞  or 1 inch hole with a spade bit near the bottom of the barrel. The hole you make should be the same size as your fitting.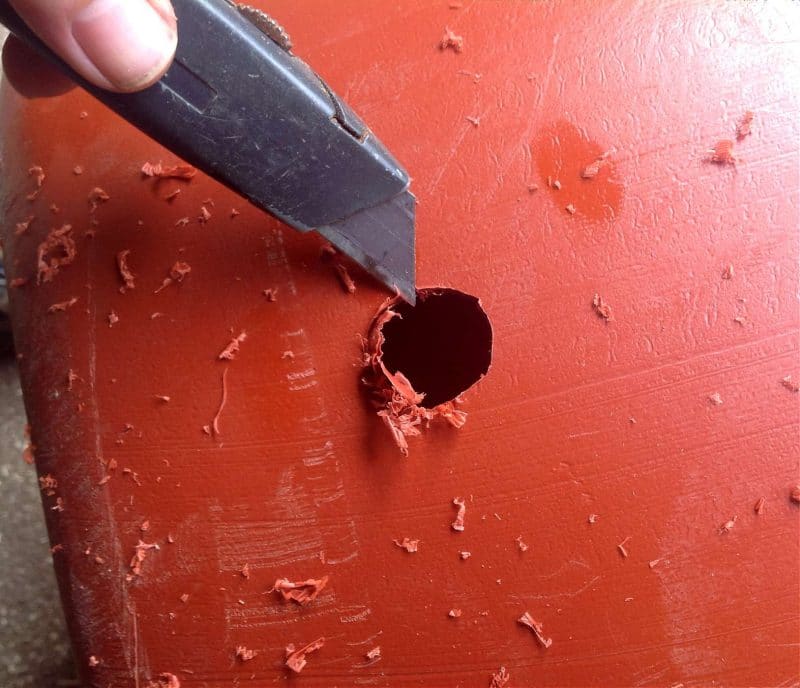 You may have to carve away some of the shavings.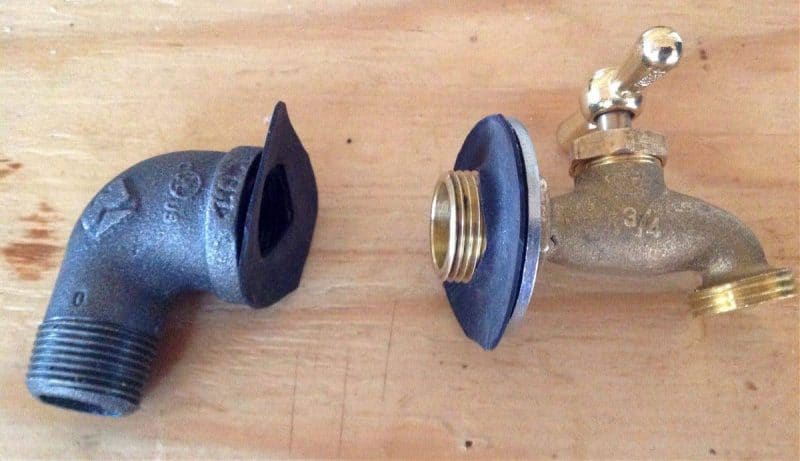 This is where you'll need rubber O rings. We made them ourselves out of a piece of pond liner. Get creative! These are what go into that hole you just drilled. Someone will have to climb into the barrel to put these pieces in their place in the hole, which isn't always fun.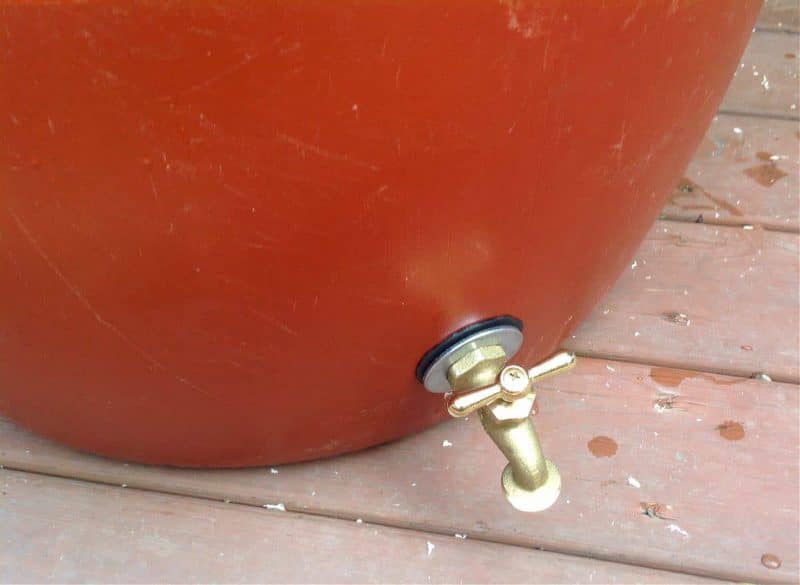 You may want to add some sort of sealant, but we didn't and ours doesn't leak. Try it without first, you can always add the sealant later if need be.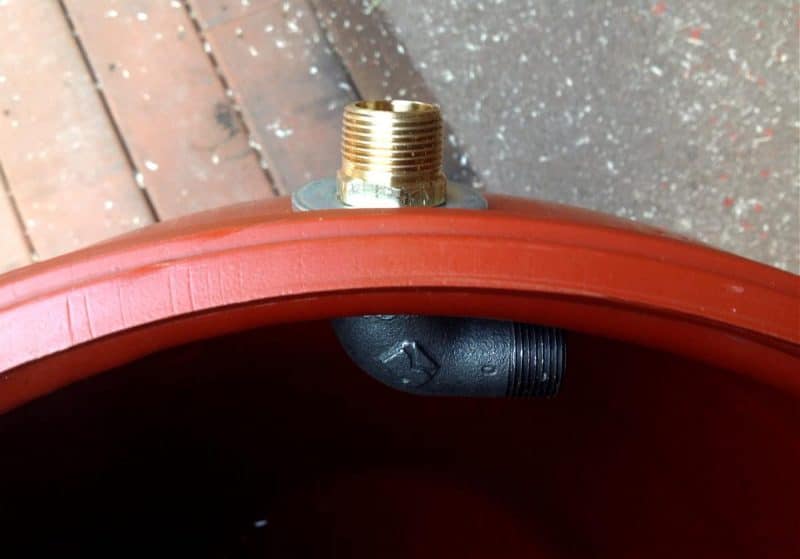 You're going to do the same thing at the top of the barrel. Drill a ⅞ or 1 inch hole, use the rubber O rings, and instead of the spigot put in a piece that a hose can fit onto. Luckily you don't have to crawl into the barrel to put this one in!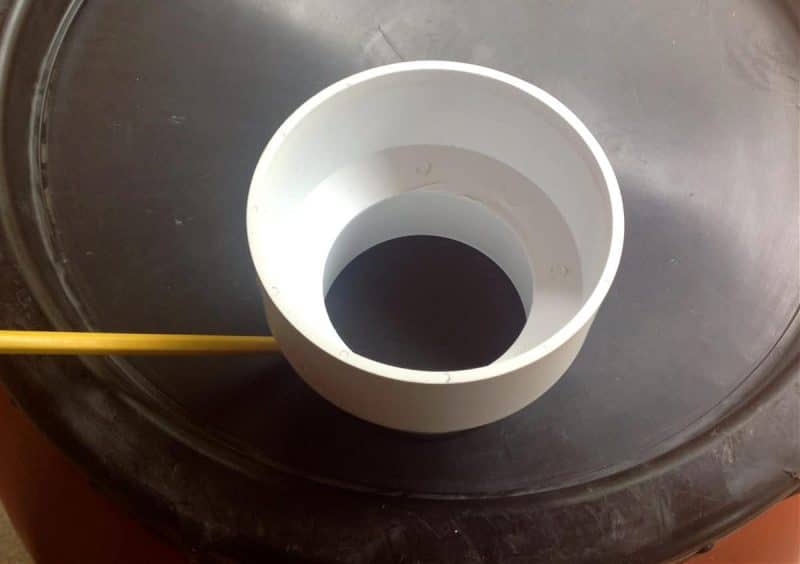 Here's the PVC reducer that I mentioned before. Put this on the lid for your barrel and mark it with a pencil or pen.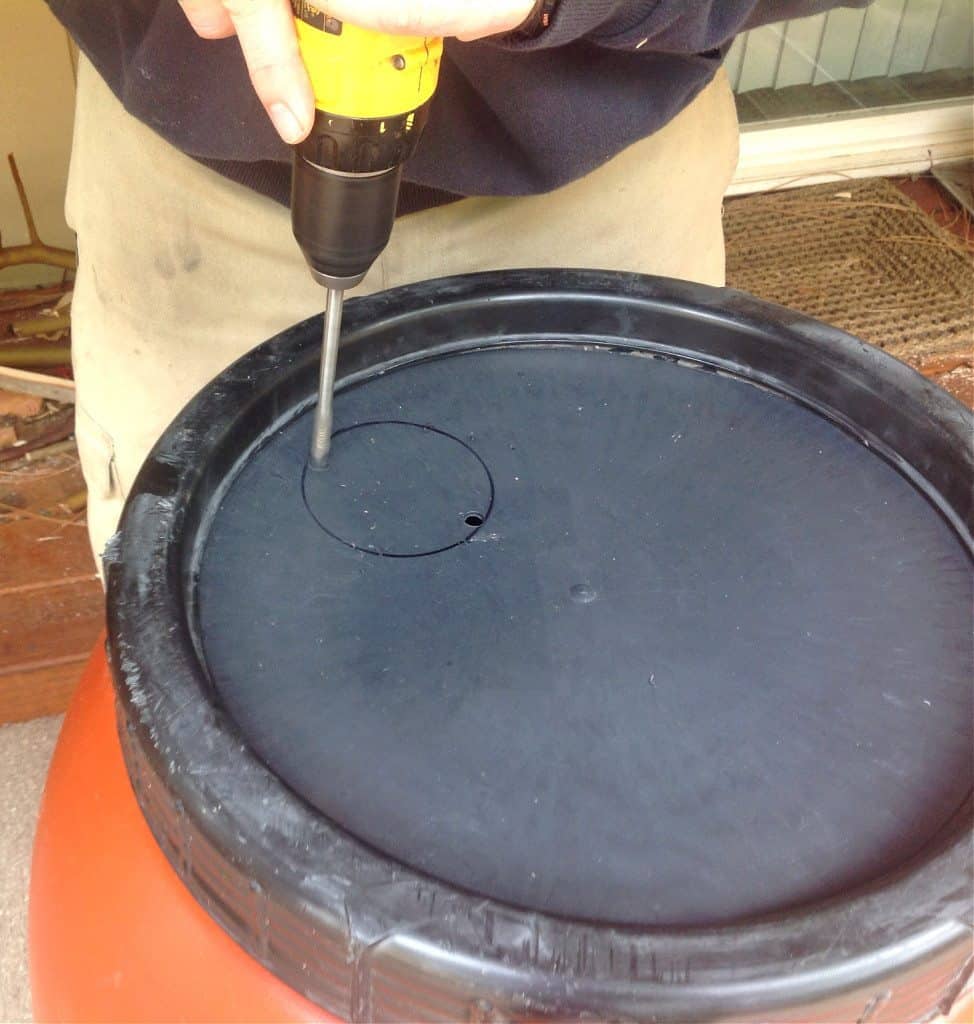 Drill two holes on either side of your mark.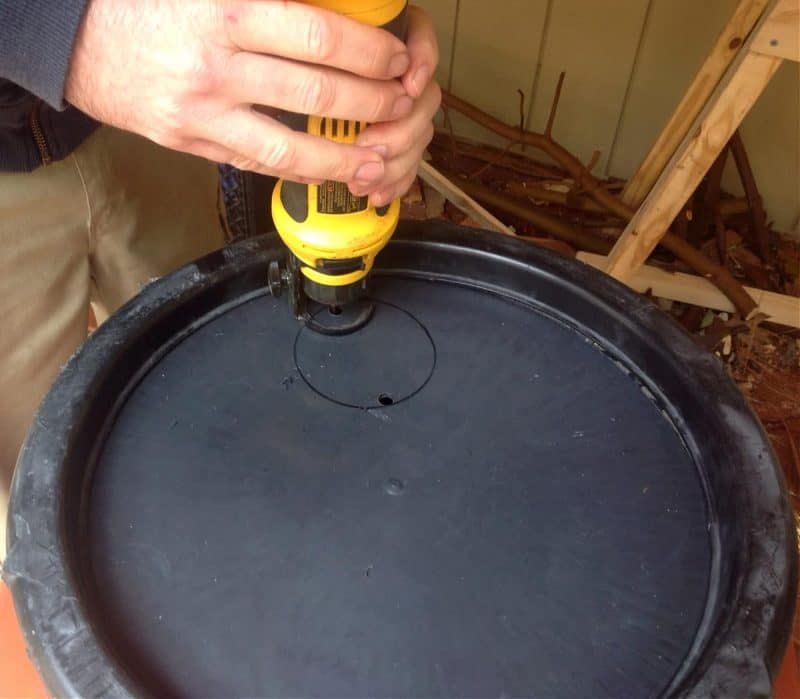 Use a jigsaw or other similar tool to cut out the round hole.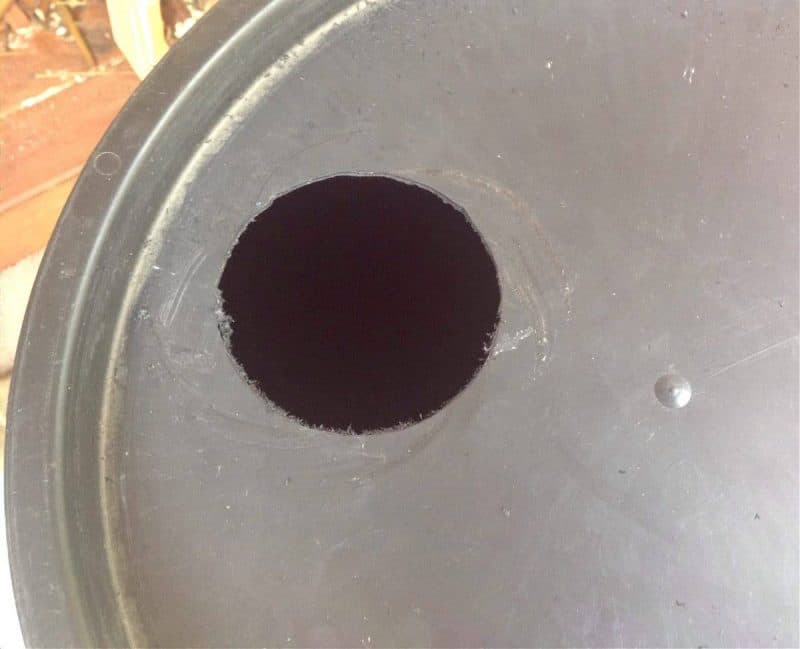 Now you'll put that PVC reducer into the hole, and it's very wise to add a bit of screen to the bottom of it first. It's not shown in the picture here, but we did add it. It helps to keep mosquitoes and other bugs out, as well as debris.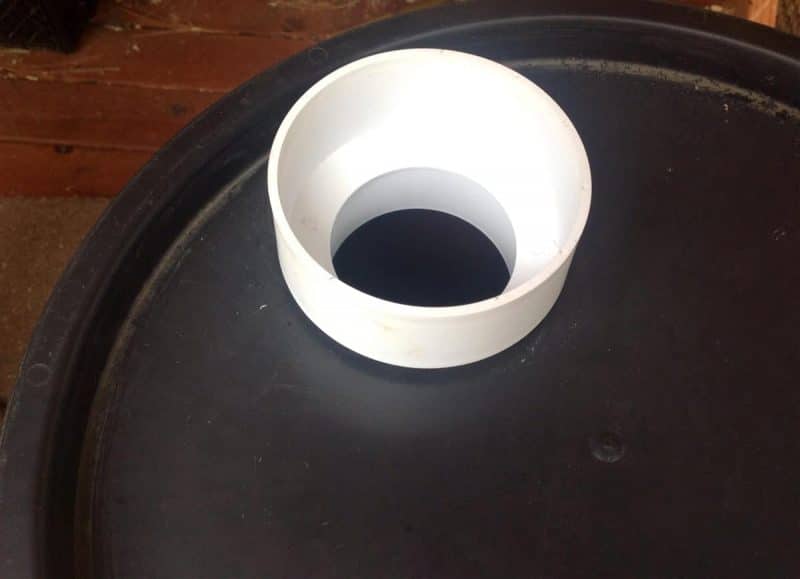 Be aware that you will have to clean the screen occasionally.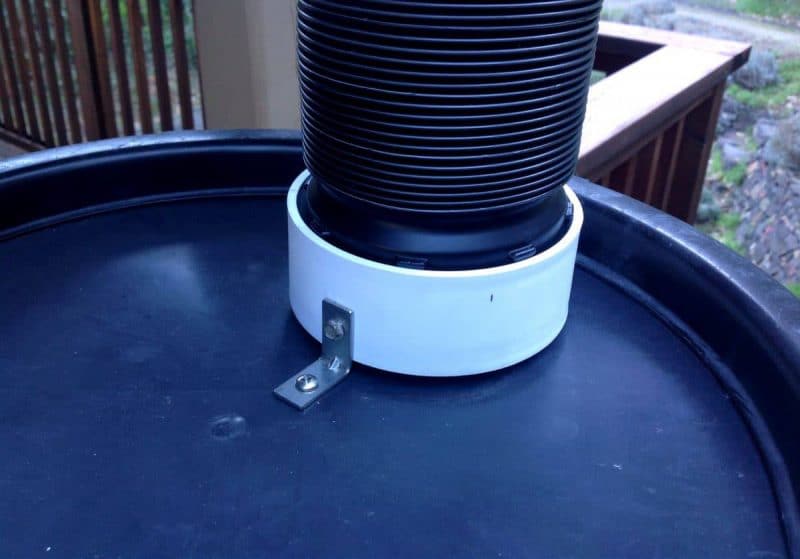 Attach the PVC reducer to the top of the barrel. Now you'll use the big black tubing to connect the rain barrel to your gutter.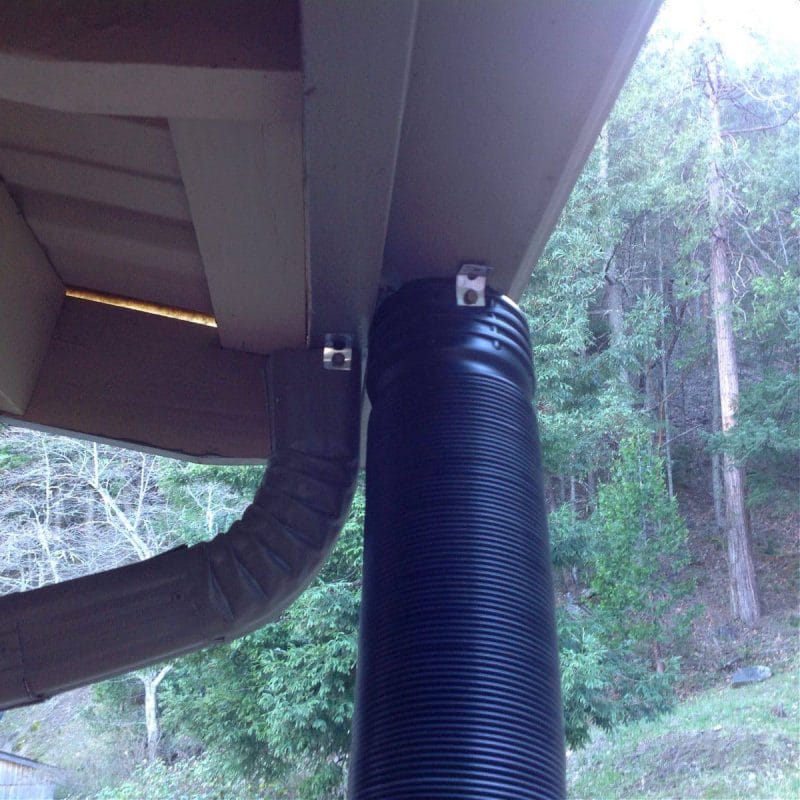 We were able to simply move our downspout over a few inches and attach the black tube to where it was. Super easy!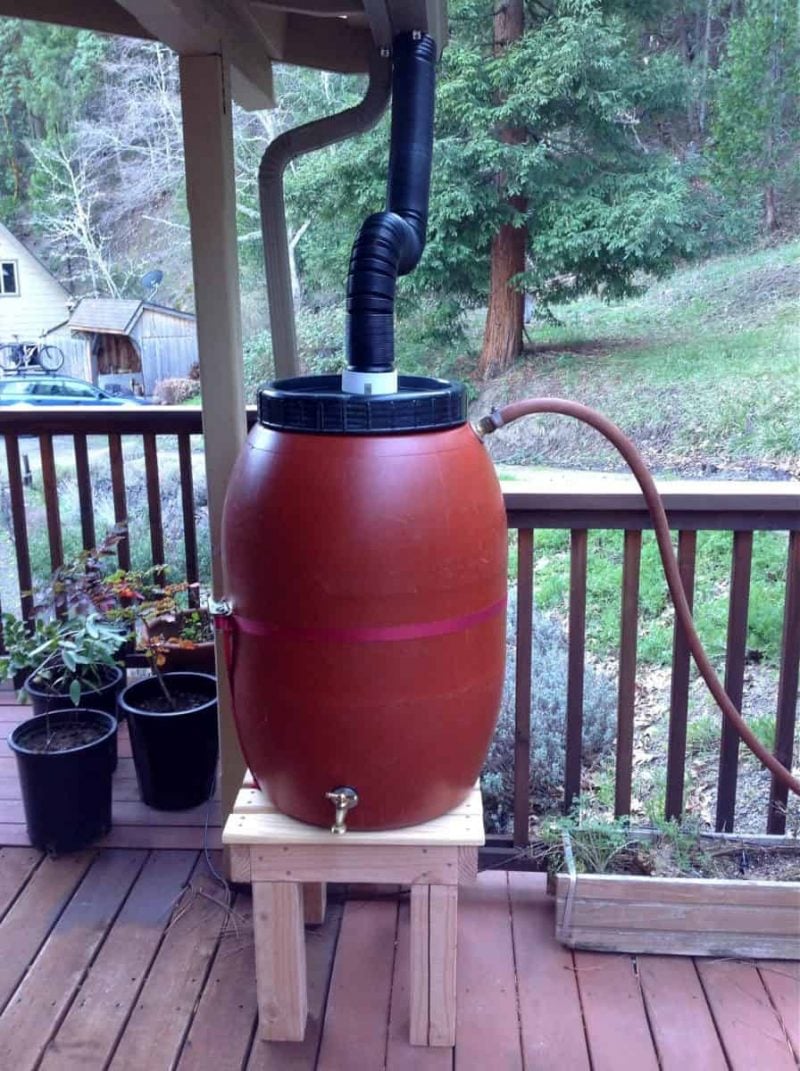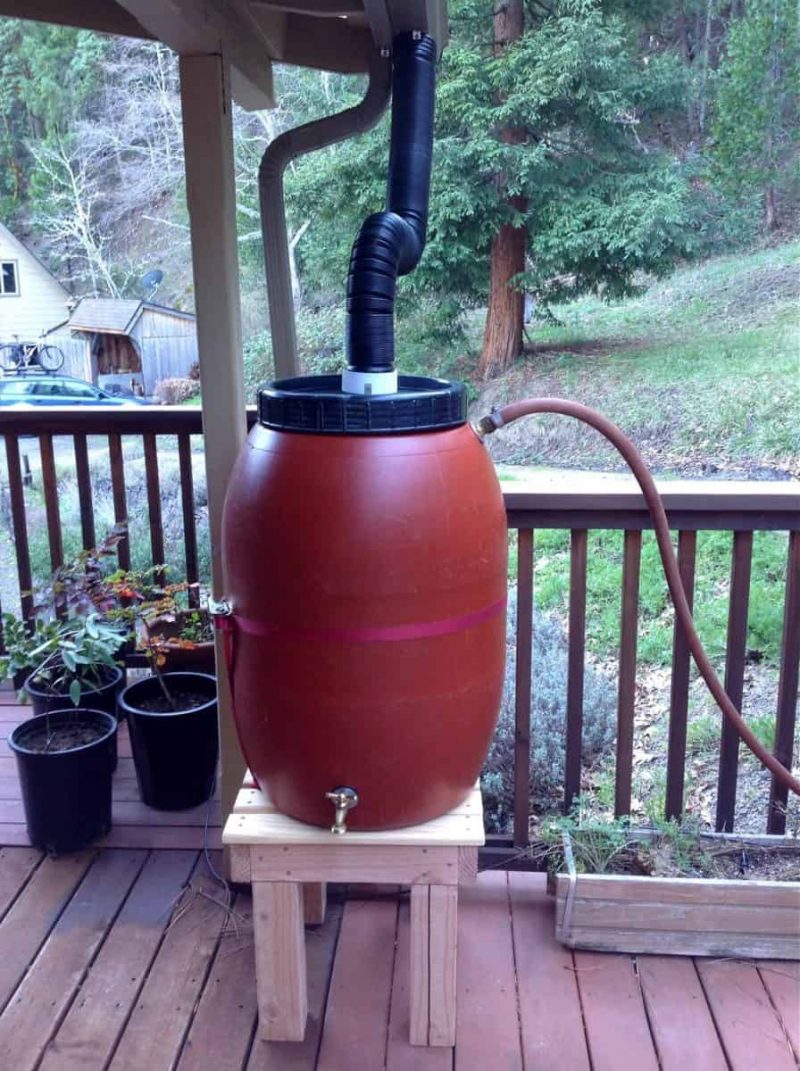 Attach a hose for overflow into your garden and secure the barrel so that it doesn't blow over when it's empty.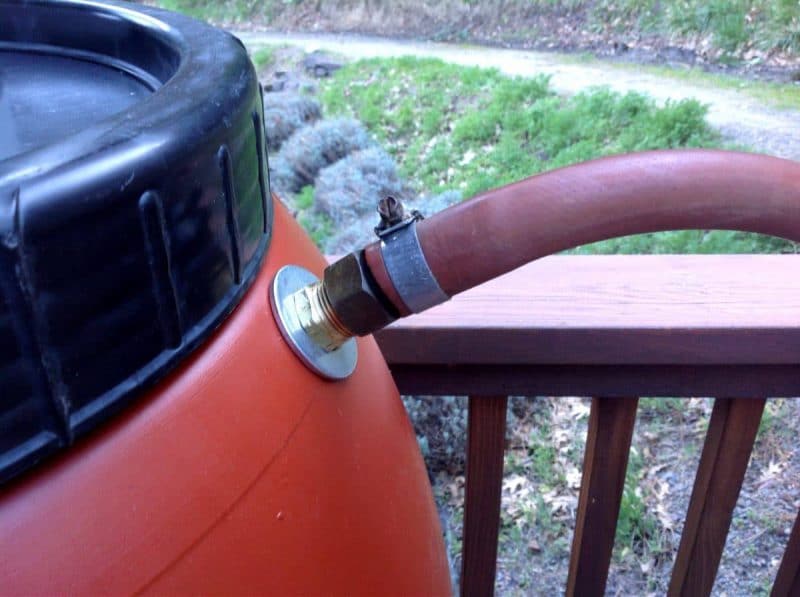 It's helpful to have it raised up enough to fit a bucket under the spigot.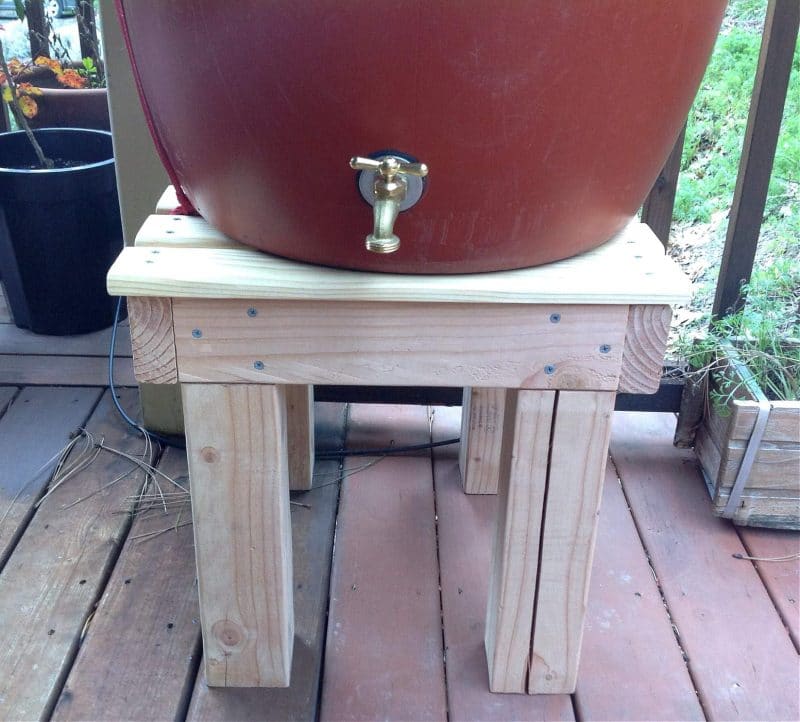 And there you have it, how to make a rain barrel! This really took no time at all, just a couple of hours on a lazy day. I think building the stand took longer than making the rain barrel itself! That's not too much to ask for water security. It's so nice to know that we have tons of water outside at any given moment. Right now we have 3 of these rain barrels set up. You can even chain them together if you want instead of having them all attached to a downspout.
As we all know, water is the key to life. Do you have a rainwater collection barrel?
Ready for your next permaculture homestead project? Start with our Permaculture Gift Guide or one of these great Backyard Permaculture Projects!