When it's fall and you have an apple tree, you may be wondering how to preserve apples for the rest of the year. Here are 12 methods for preserving apples!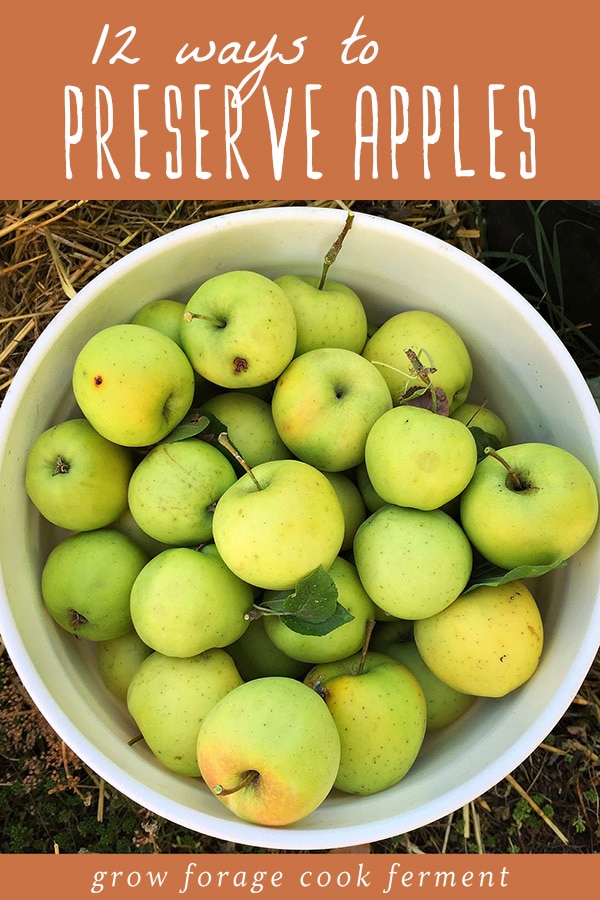 12 Ways to Preserve Apples
If you have an apple tree in your yard, then you probably have a whole lot of apples that you don't know what to do with every fall. If you have several apple trees, then you are swimming in apples!
We had an amazing apple season this year, and our tree was absolutely loaded. It was hard to keep up with at times, and many ended up going in the compost pile.
Some were eaten fresh of course, and the rest we were able to preserve by using several of the methods that I talk about here.
These 12 ways to preserve apples will keep you busy during apple season, and you'll be reaping the rewards all year long!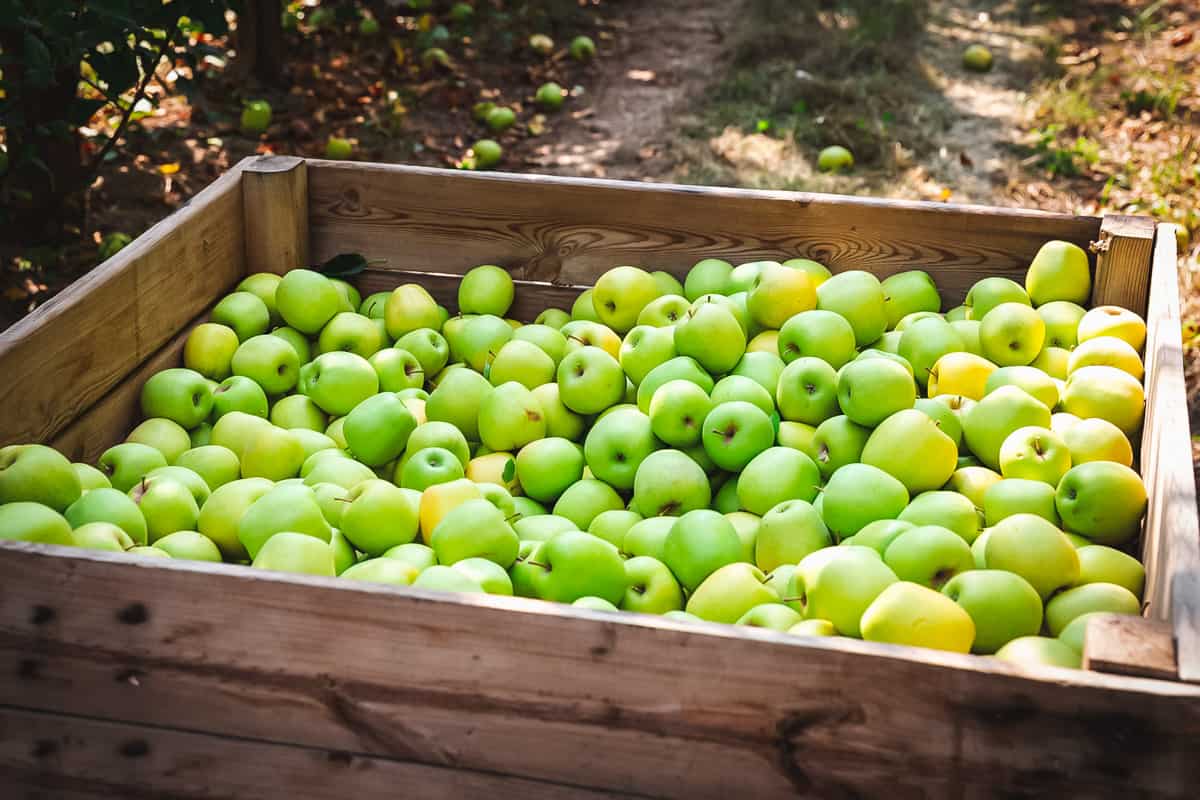 Canning Apples
One of the first things that might come to mind is canning apples.
You can either can apple slices as they are, or make up an apple pie filling to can. This will make apple pie making super easy when the time comes.
If you have small and tart crab apples, you can even try canning them whole.
Applesauce
Turning your apples into applesauce is one of the more common ways of preserving apples. You can make homemade applesauce for canning or fresh eating.
This easy-to-make chunky applesauce recipe sounds delicious, or you can try this caramel applesauce recipe that uses coconut sugar for that caramel taste.
There is also this crockpot applesauce recipe if you just want to set it and forget it.
Apple Jelly or Jam
My favorite apple jelly is my no sugar apple jelly! It can also be made with low sugar or honey if you prefer.
I also love hard cider jelly, it is perfect for an appetizer platter with cheese.
This spiced apple jelly with no added pectin sounds right up my alley, as does this apple pie chai jelly.
If you have access to crabapples, you can make this homemade crabapple jelly.
Then there is this apple jam recipe, which I think I might have to try!
For something just a little different, this apple curd recipe looks like a perfect comforting treat.
Apple Butter
Apple butter is one of my favorite ways to preserve apples. My Mom made apple and pear butter when I was a kid, and boy was it delicious!
The recipe that I like to make is my homemade spiced apple butter, but this maple apple butter also sounds wonderful.
Apple Pectin
Apples are very high in natural pectin. This makes it possible to process them into a concentrated homemade natural pectin that you can use in your canning. How cool is that?
Apple Salsa or Chutney
I've never made apple salsa, but I like the idea of it! This apple salsa verde is made with tomatillos, or you can make a regular tomato-based apple salsa.
Apples are a natural ingredient for chutneys, and this apple and caramelized onion chutney sounds delicious!

Fermented Apples
There are many ways of fermenting apples, and they all sound like something I would like to try!
These probiotic rich fermented apples are a good place to start, as well as these sweet and sour cinnamon apples.
These Russian brined apples sound like an interesting traditional recipe. You can even make fermented applesauce!
Freezing Apples
I love freezing apples because it is so simple. It's so nice to be able to use apples from my tree for apple pies during the holiday season!
To freeze apples, it's best to put them in a lemon juice or salt water bath first, which will keep them from browning.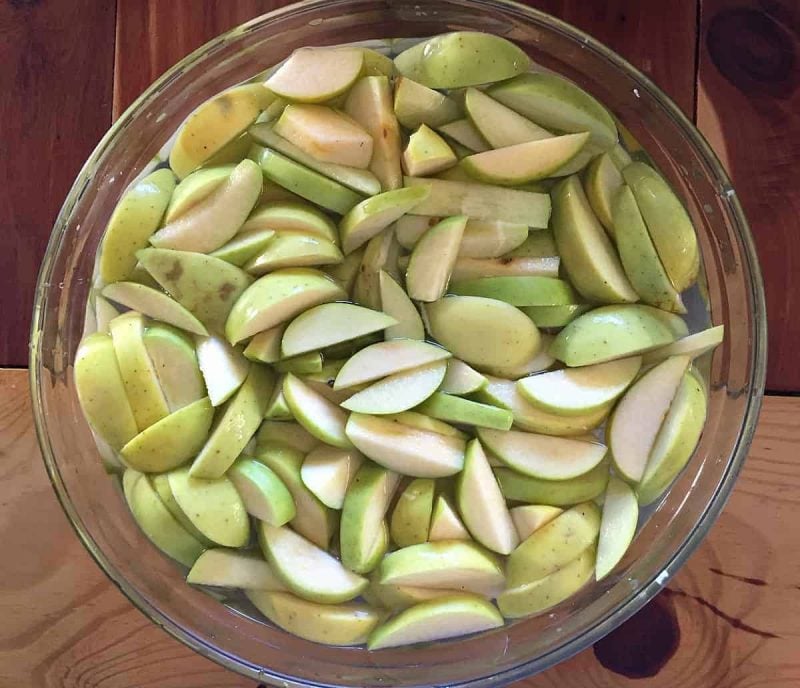 I like to leave the skins on, but peel them if you wish. Then strain the slices, put them into a freezer bag, and pop them into the freezer. Super easy!
You can even freeze apple pie filling, and if you freeze it into the shape of your pie pan then you can have an apple pie ready to bake in no time!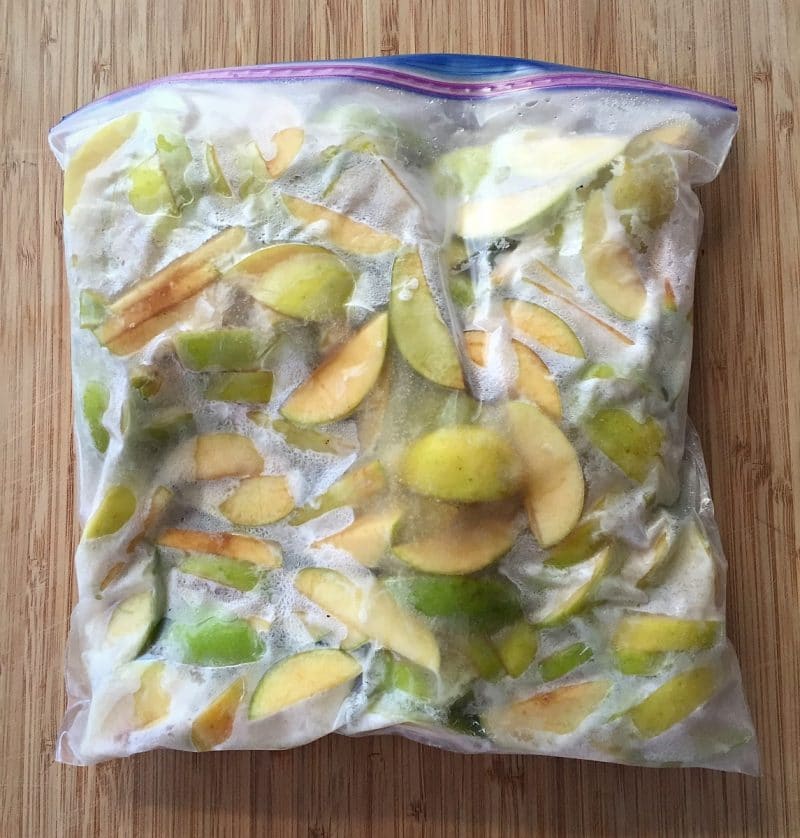 Dehydrating Apples
Using a dehydrator (Excalibur brand is my favorite) is a great way to preserve produce for long-term food storage. Besides that, dehydrated apple chips are super tasty!
These dehydrated cinnamon apple rings sound amazing, and so do these simply dehydrated apples, perfect for snacking!
You can make apple fruit leather in your dehydrator for a healthy snack, or try making dehydrated apple sugar!
Just a bit different from dehydrating, these crispy and delicious air fryer apple chips are another great option.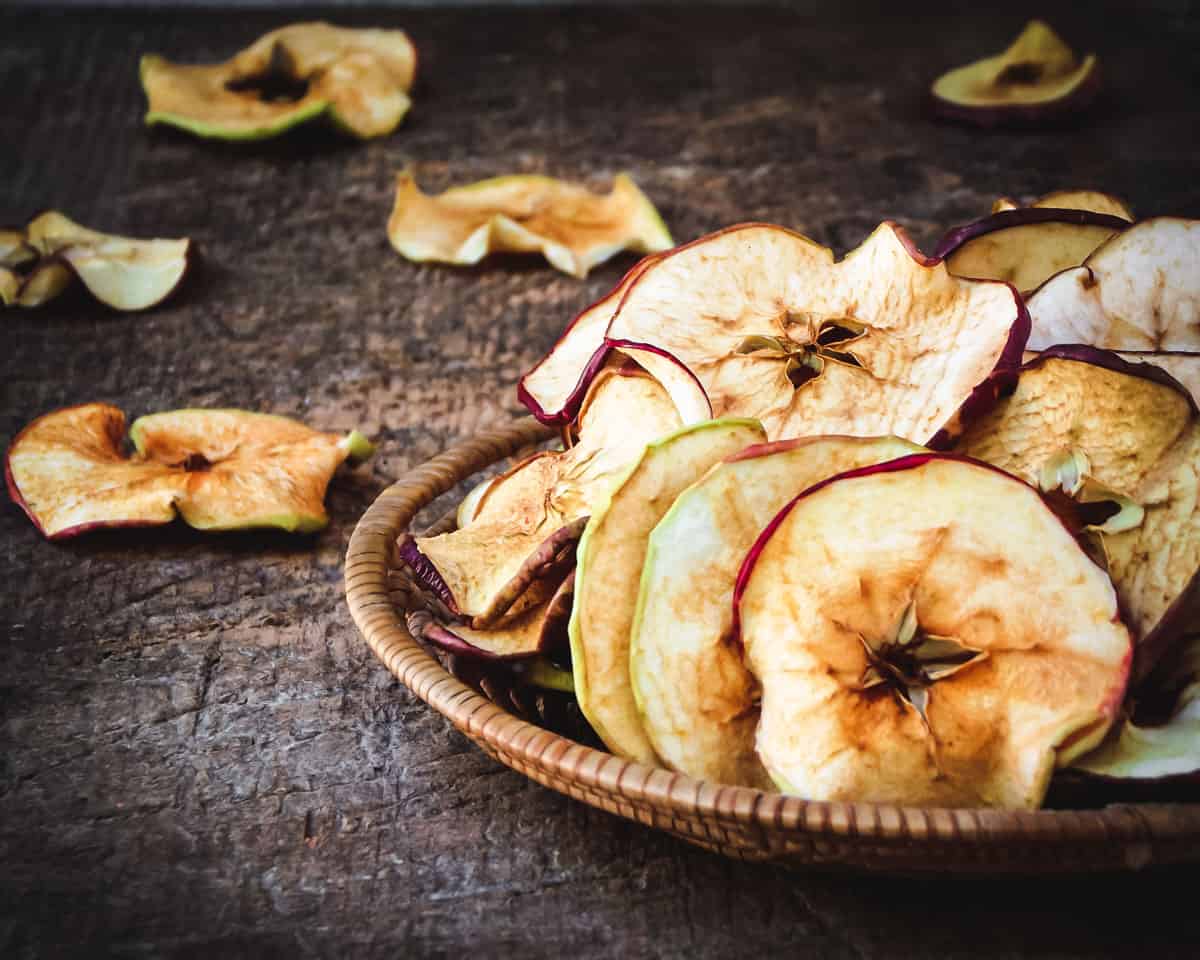 Apple Juice or Cider
Making your own apple juice or cider is a bit more work than most of these other recipes, but it's so worth it! It's a great way to use up a whole lot of apples, too.
We made about five gallons of juice using apples from our tree this year with our DIY apple press. It is absolutely the best apple cider I've ever had!
You can also can apple cider for later use!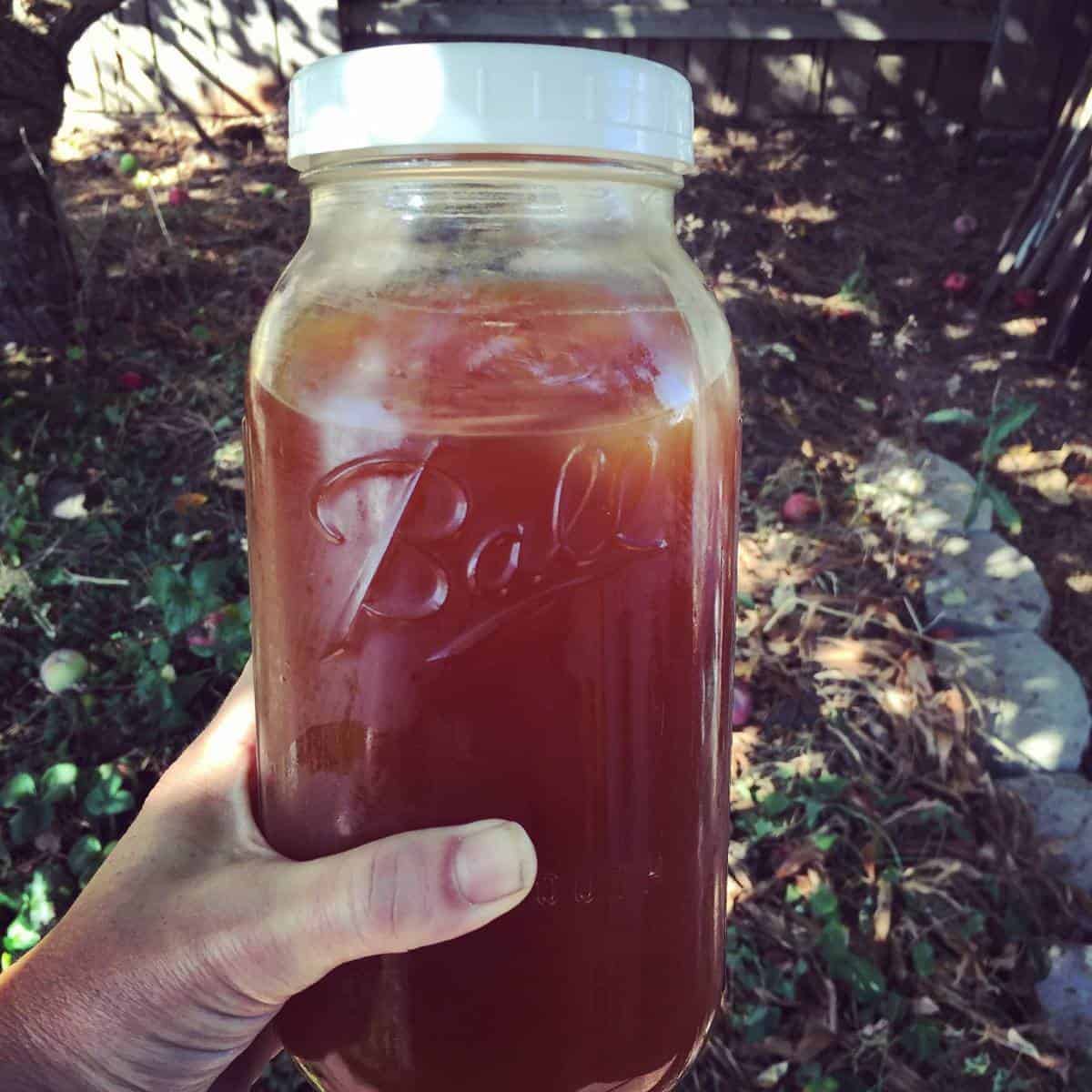 Hard Apple Cider
Of course, if you have five gallons of apple cider sitting around, you might as well turn it into hard cider!
If you've pressed your own juice, you can try my wild hard cider method, which uses no added yeast.
Or, I also have a regular recipe for how to make hard cider that uses brewing yeast.
For a lower alcohol content, you can also give fermented apple ginger beer a try, it's delicious!
Either way, it will be delicious for the holiday season!
Hard apple cider is a wonderful way to preserve apples as apple cider jelly or you can make mulled hard cider as a special treat!
Apple Cider Vinegar
Another great way to use up apples is to turn them into apple cider vinegar. This is taking hard cider fermentation one step further, and it creates a product that is very healthy for you.
It can be used just like any other vinegar around the house. There are several methods for doing this, but probably the easiest is to make vinegar from apple scraps.
You can also leave hard cider open to the air to make true apple cider vinegar.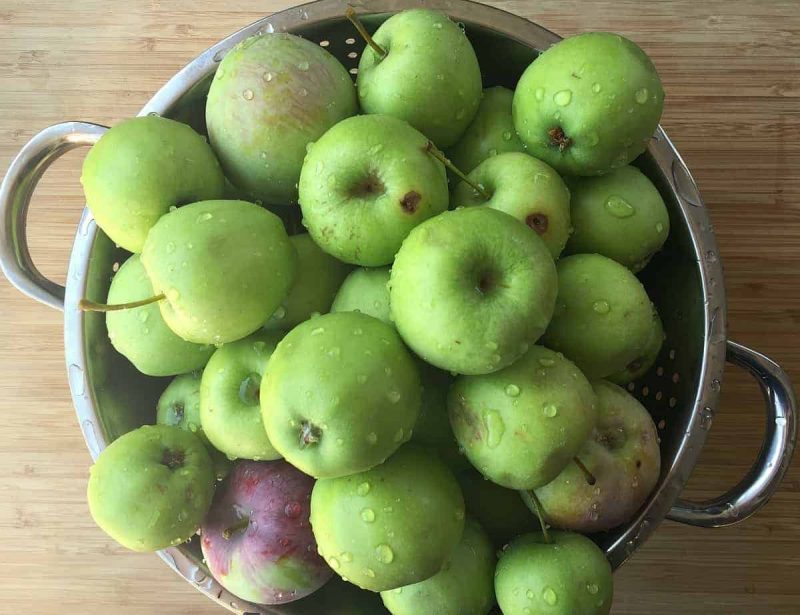 Tell Me Your Ways to Preserve Apples!
These are some great ways to preserve apples, but I'm sure that I'm missing something! If you have a tried and true ways of preserving apples, please let me know. I'd love to hear about it!
Save
Save