Grandma's apple cinnamon cake is a favorite and beloved recipe from my Grandma Grace, also known as G.G. An apple season delight made with fresh apples and warming cinnamon, this easy apple cake is as delicious as it is nostalgic, straight from my Grandma's kitchen!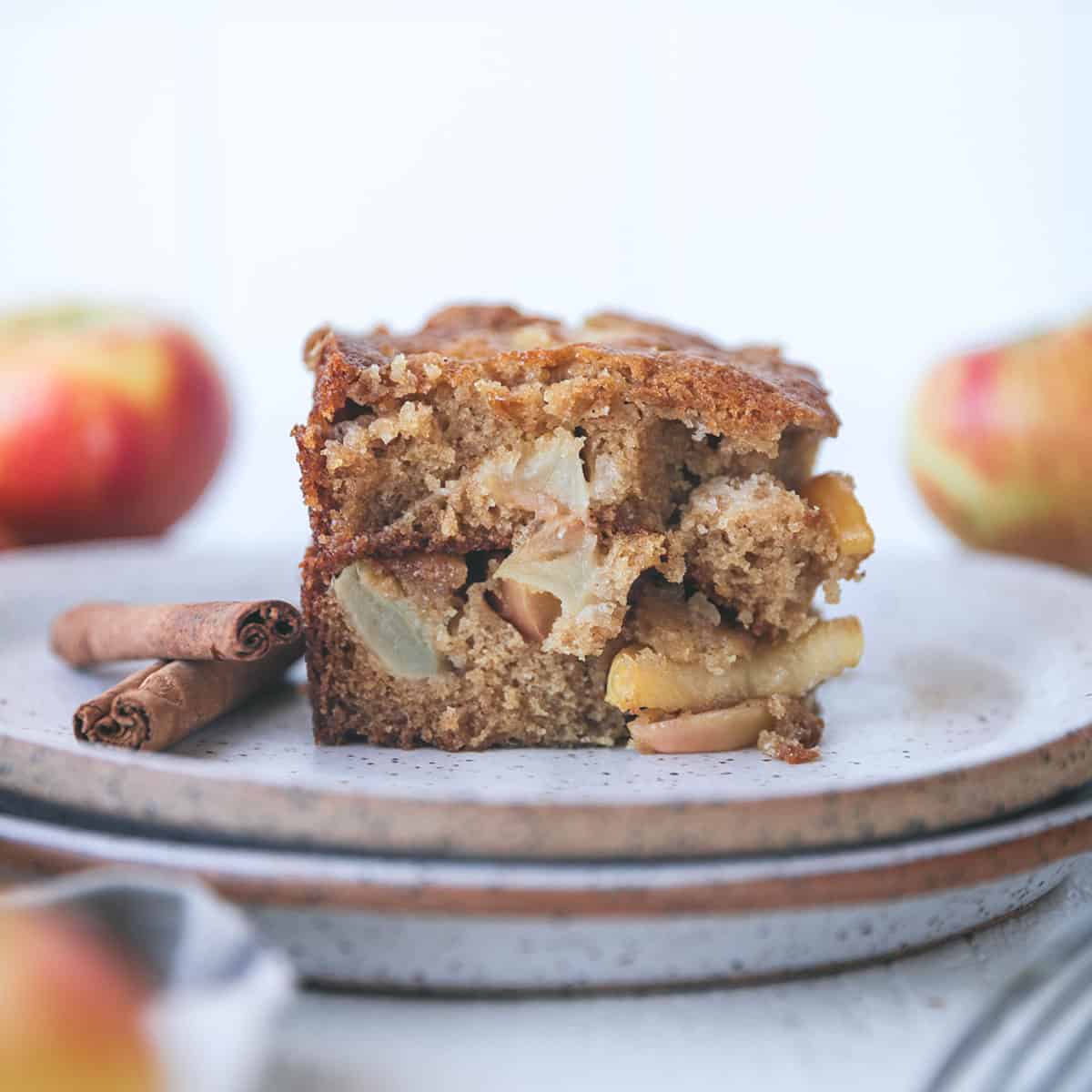 Apple Picking Season
Whether you have your own apple trees to pick from, go to a farm to pick, or grab a box at a farmer's market, there's no denying that we are knee-deep in apples this time of year!
In my opinion, fresh apples galore is a good thing. While there are about a million ways to use and preserve apples, I never let apple season pass by without making my Grandma's apple cinnamon cake.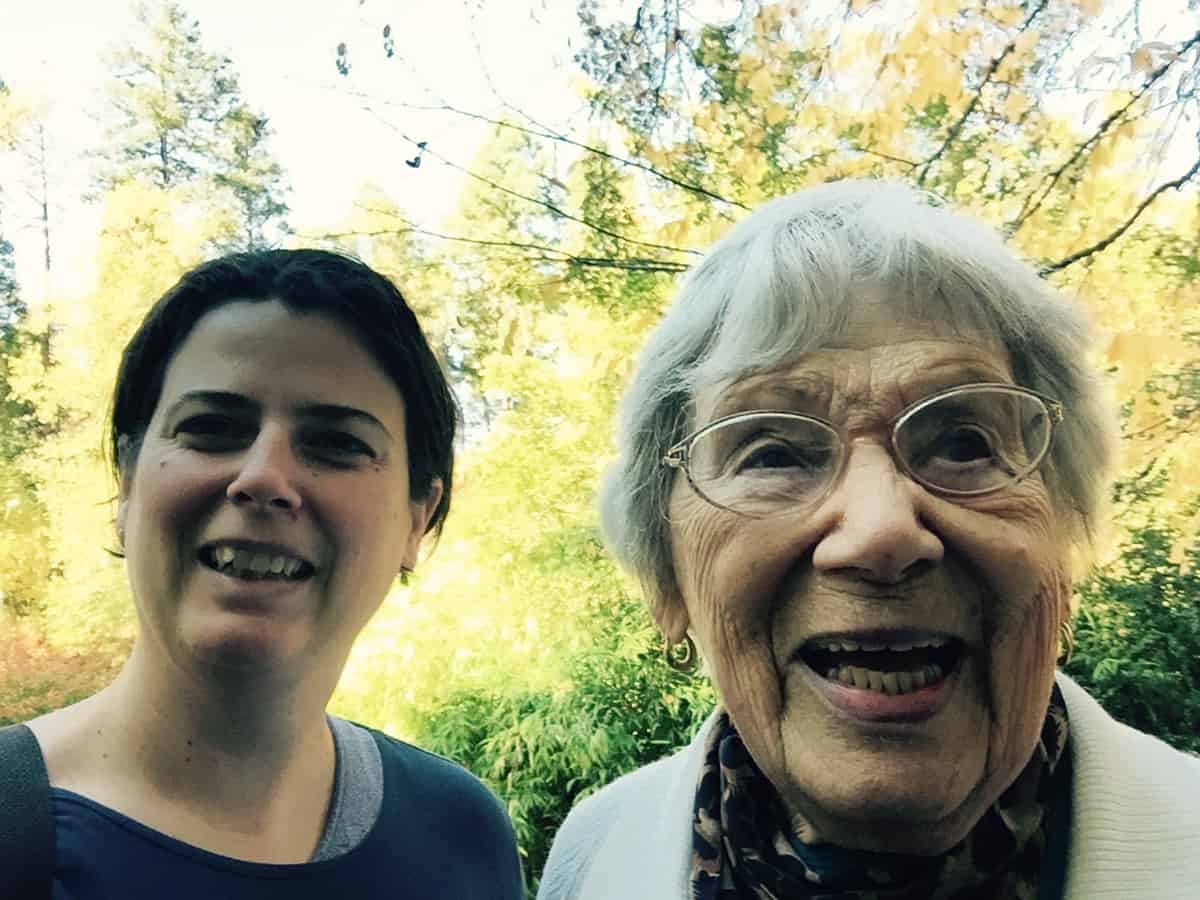 The Lore of G.G.
My Grandma Grace is basically a legend in my family, and I can't share her apple cake without sharing a little bit of who she was so you all understand why you must try this amazing cake and enjoy your day!
Known to all of us (and there are MANY of us) as G.G., my Grandma lived my whole life on the California coast. She and my Grandpa used to drive up in their 1960s orange VW camper bus every year to visit us.
My Grandma was a social butterfly who couldn't resist a party, all the way up until her last days which she spent dancing and in amazing health. She even dressed up for Halloween no matter how old she got!
A lover of vegetables, exercise, and sunshine, she learned tai chi in her 80s, danced, laughed, and would walk "the hill" with me leading up to her house when I was an adult.
G.G. claimed she was staying alive waiting until the next family milestone, for every baby born or marriage or graduation. We all mattered to her, all of our life's ups and downs were on her radar daily.
She lived until she was 100 years old, completely on her own until nearly the end — with help from family of course. That was my Grandma for you! Lived for the good things in life, the next game night, dance, or baby born. Walking the hill.
She used to serve this apple cinnamon cake when it was her turn to make dessert at her weekly card game meetup with her friends. So if you need a warm Grandma feel to your day, or a fresh delicious cake to serve at your next party or game night, channel your inner G.G. and make this easy apple cake!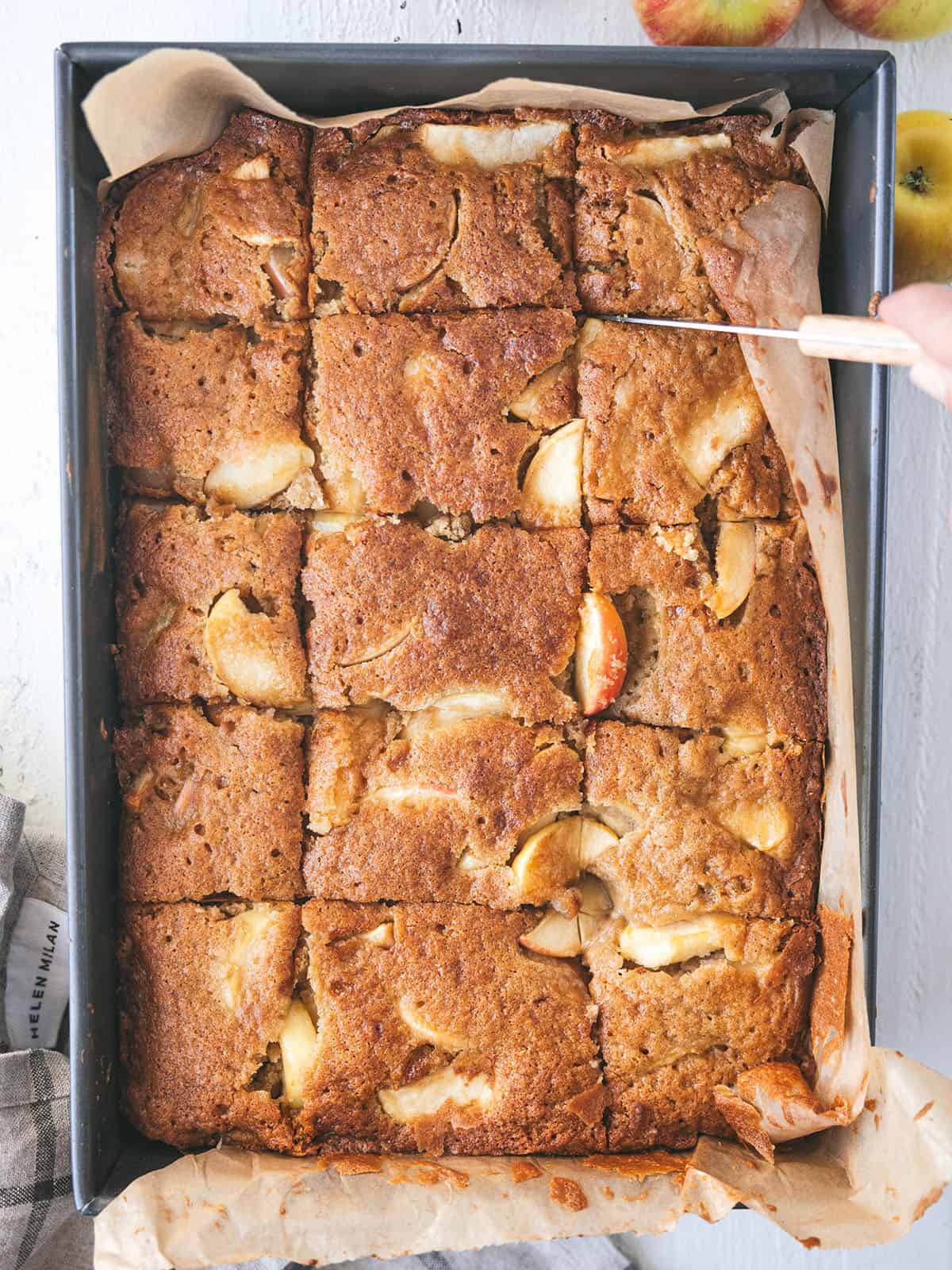 G.G.'s Apple Cinnamon Cake Recipe
This cake uses fresh apples and is similar to a coffee cake, deliciously spiced with cinnamon. Make it for friends, family, or the next social event during apple picking season.
I like to start this recipe with a walk and a little bit of fall sunshine. Those aren't required ingredients for apple cinnamon cake, but are highly recommended!
Admittedly, I did reduce the sugar a little in this apple cinnamon cake recipe because I prefer everything a little less sweet. For a sweeter apple cake recipe, use two cups of granulated sugar like the original recipe calls for.
Related: Blood Orange Upside-Down Cake, Pumpkin Cornbread with Maple Butter, Old Fashioned Fruit Cake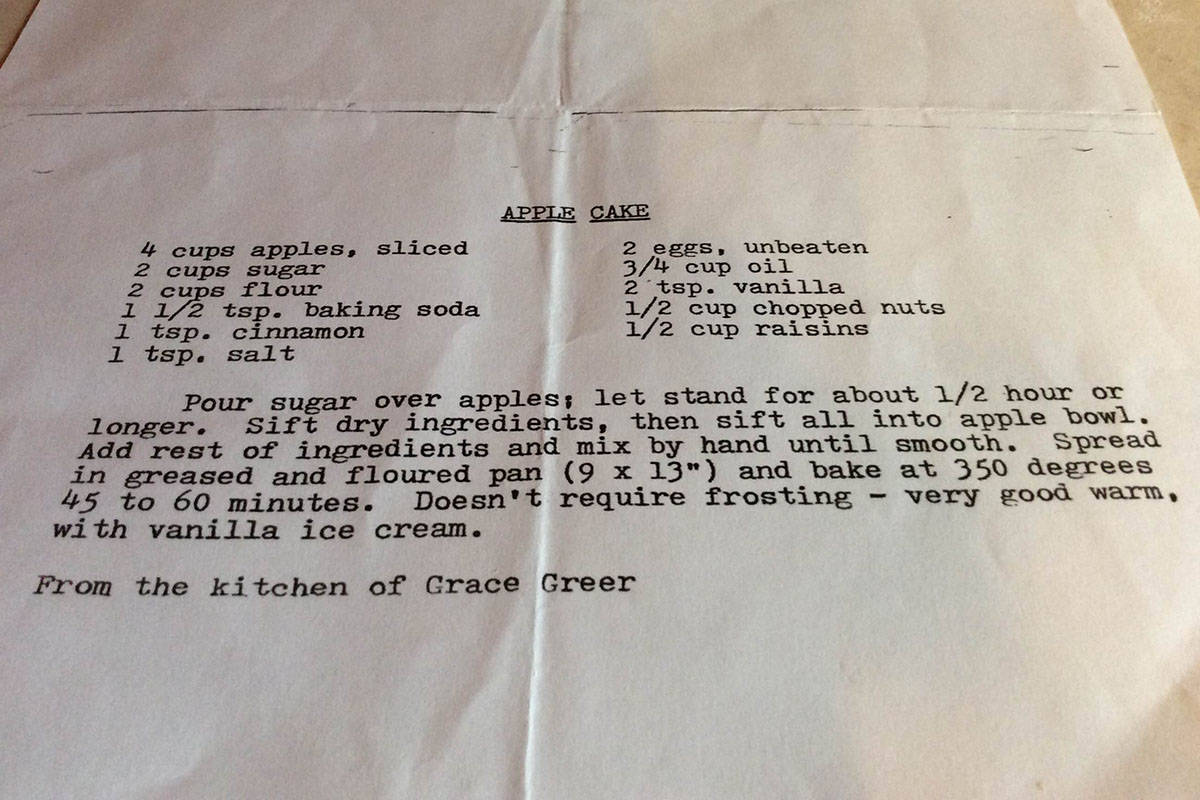 Note: Grandma probably didn't use organic ingredients, she was Depression-era and could spot a quarter in the dirt 10 feet away, so budget flour and sugar were always what she used. Feel free to use whatever you have on hand!
Ingredients
Apples: I use tart apples for this recipe – pink lady, braeburn, or honeycrisp all work well. If you want to vary it, use what you have!
Sugar: I prefer organic sugar, but any granulated sugar works!
Brown sugar: Again, I use organic brown sugar, but use what suits you.
Flour: Simple all-purpose flour works perfectly for this easy cake.
Cinnamon: Apples and cinnamon are a perfect fall pairing!
Eggs
Unsalted butter: This is a slight variation from the original recipe which calls for oil. I prefer butter, but if you prefer to use oil that works just fine as well.
Optional ingredients: Add chopped nuts like walnuts or pecans and raisins if desired. Mix it up to what you like!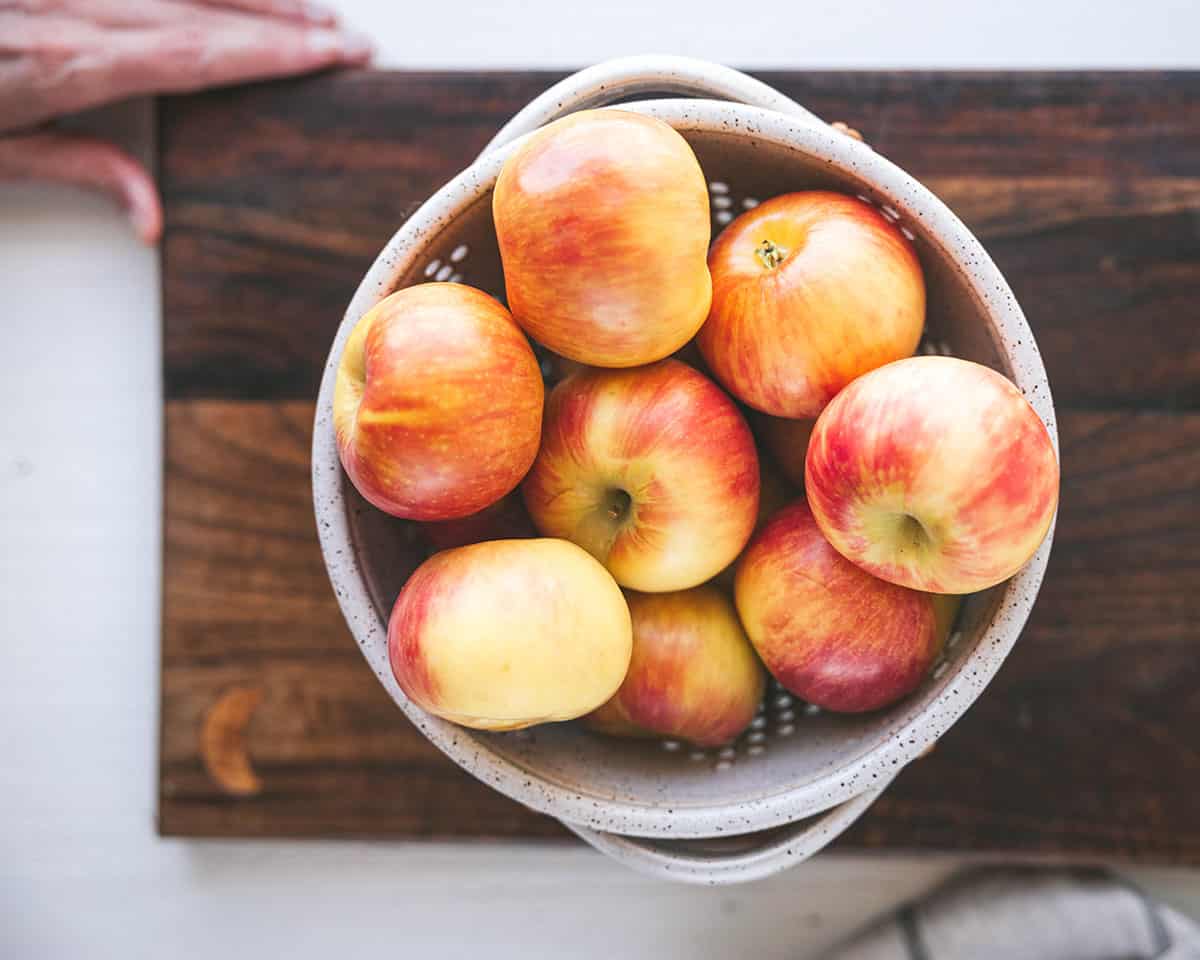 How to Make Apple Cinnamon Cake
This recipe uses cored and sliced apples, so the first step is to cut fresh apples into slices. The apples soften as the cake bakes and cut easily, so there's no need to cut them any smaller.
I don't peel the apples, the skin is nutritious and delicious, and I don't like creating more work where it isn't necessary! If apple peels don't agree with your flow for whatever reason, you can peel them.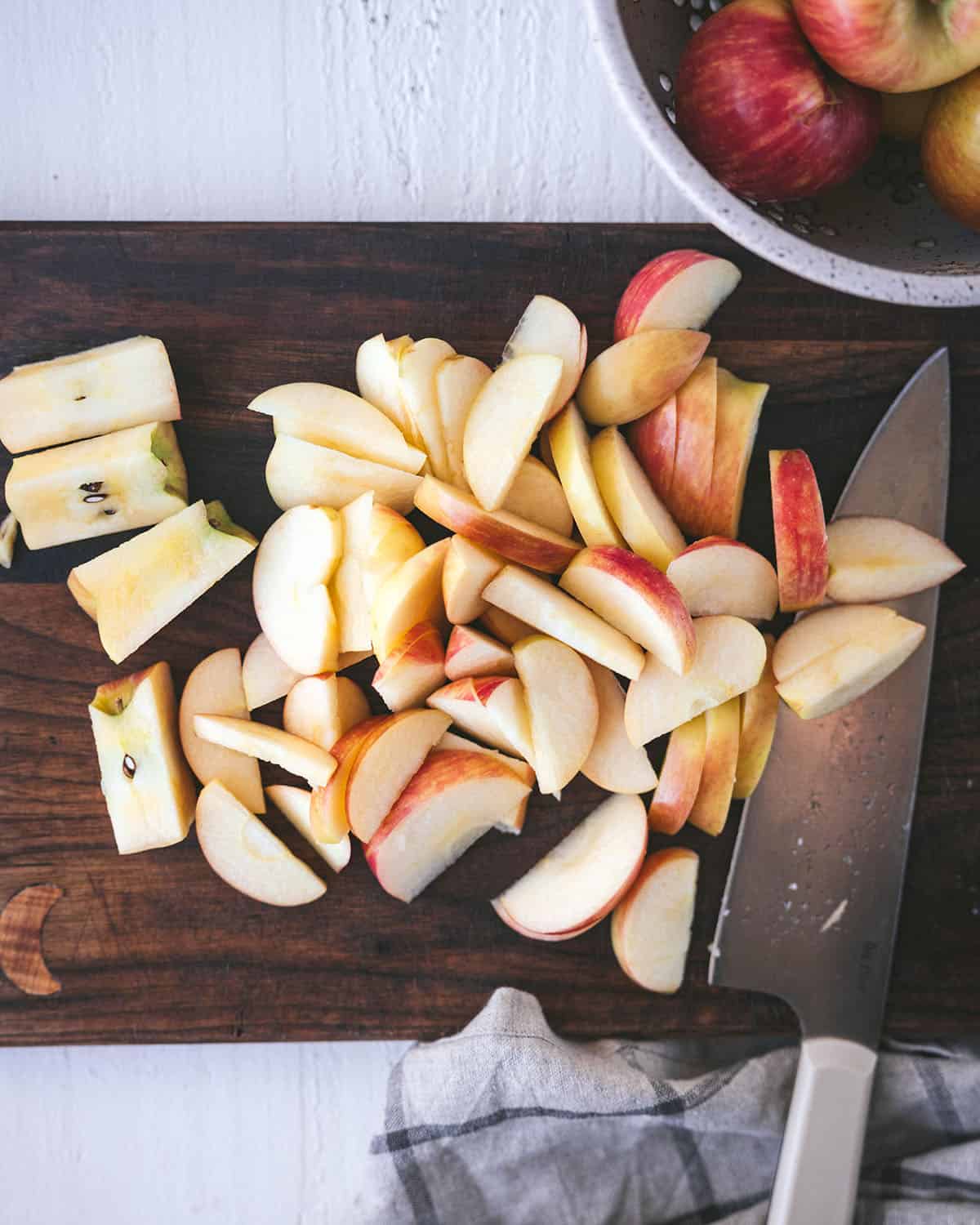 Next, pour the sugar and brown sugar over the sliced apples in a large bowl. Let stand for about ½ hour or longer, whatever works in your day.
Note: Grandma had 6 kids, so I guarantee you she didn't always get back to it in a half hour! Let it rest until you are ready.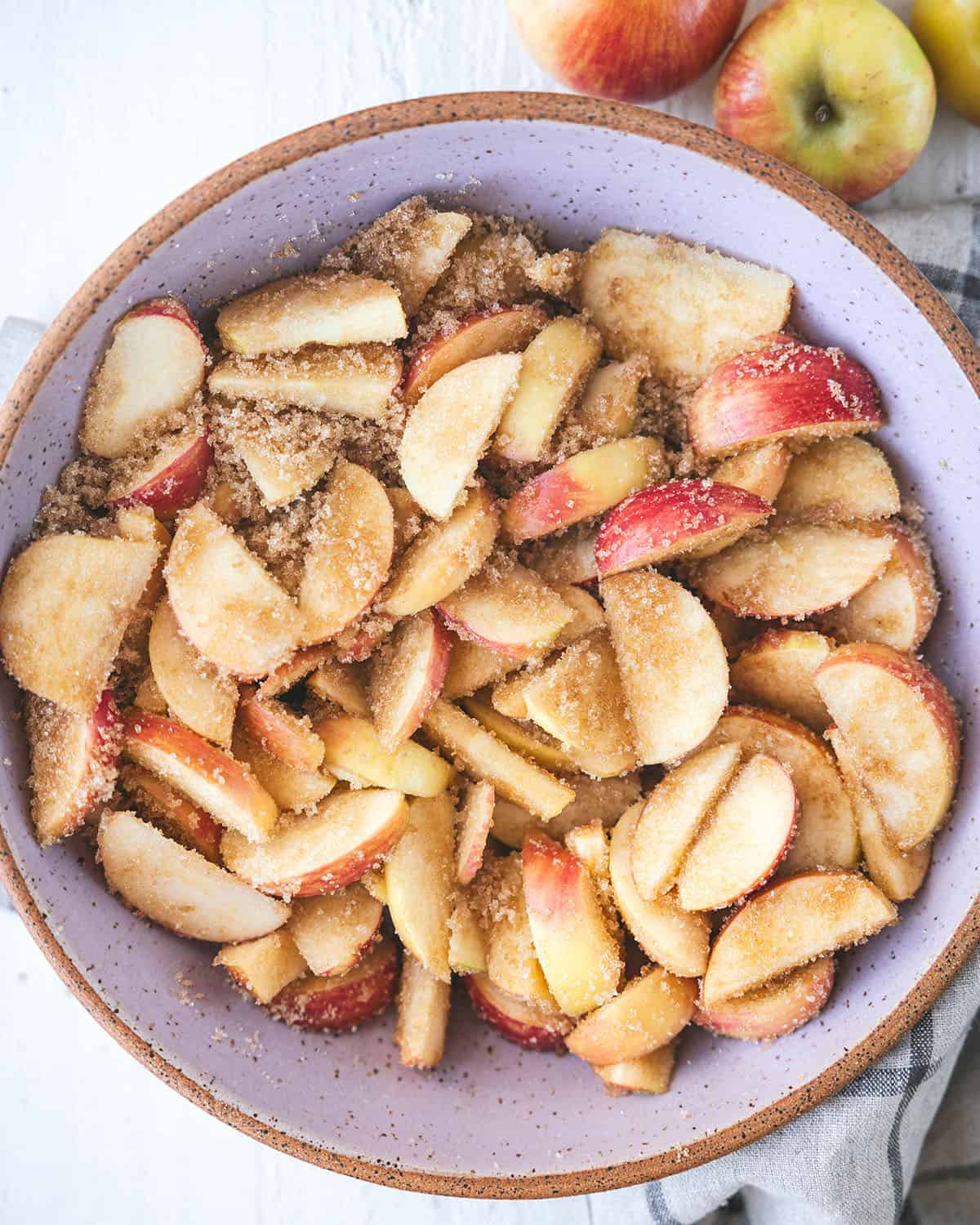 When ready, preheat the oven to 350°F (175°C) and grease or use parchment paper to line a 9 x 13" pan.
Now stir together the dry ingredients (flour, baking soda, cinnamon, and salt) in a separate bowl.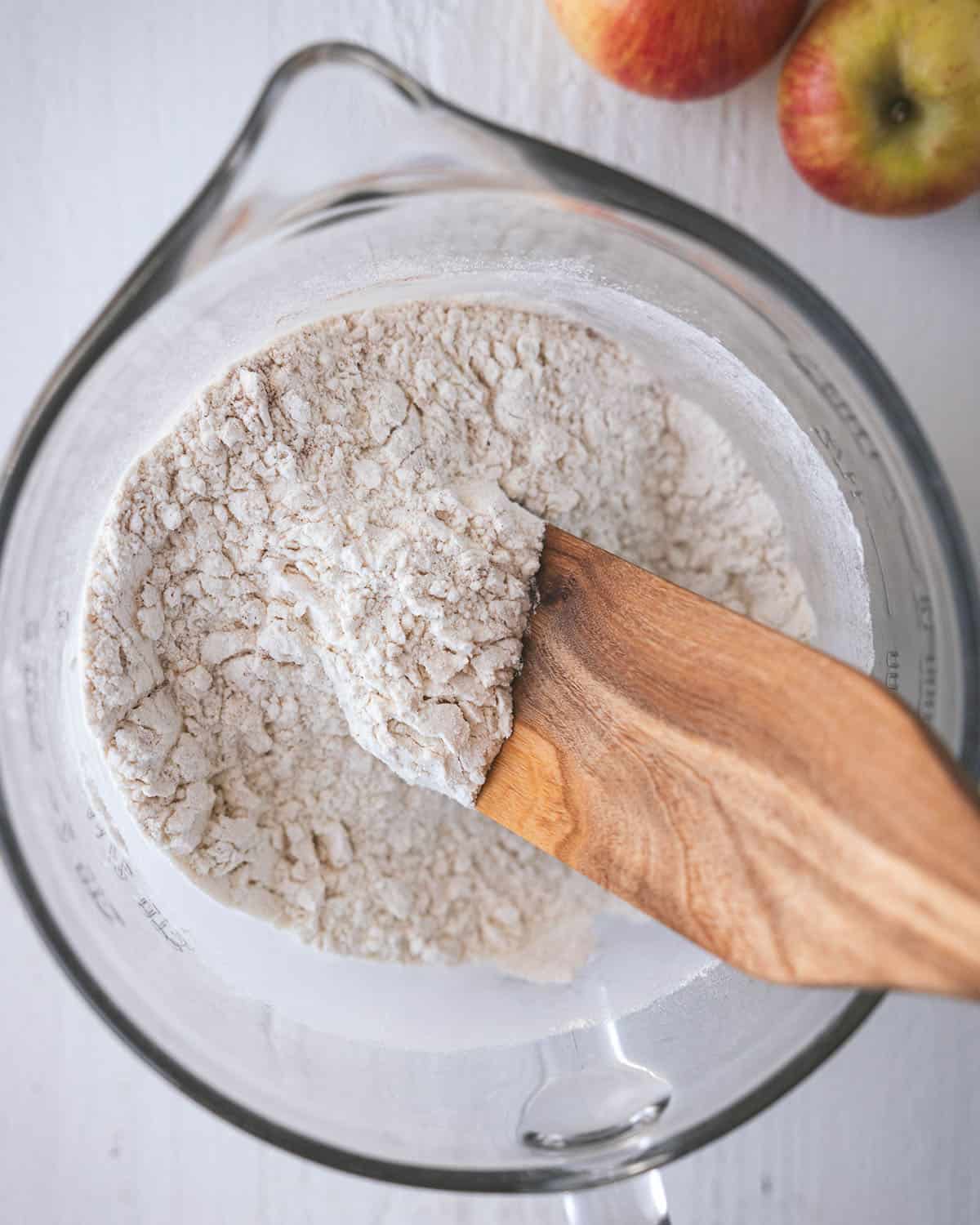 Then add the mixed dry ingredients to the apples and stir together.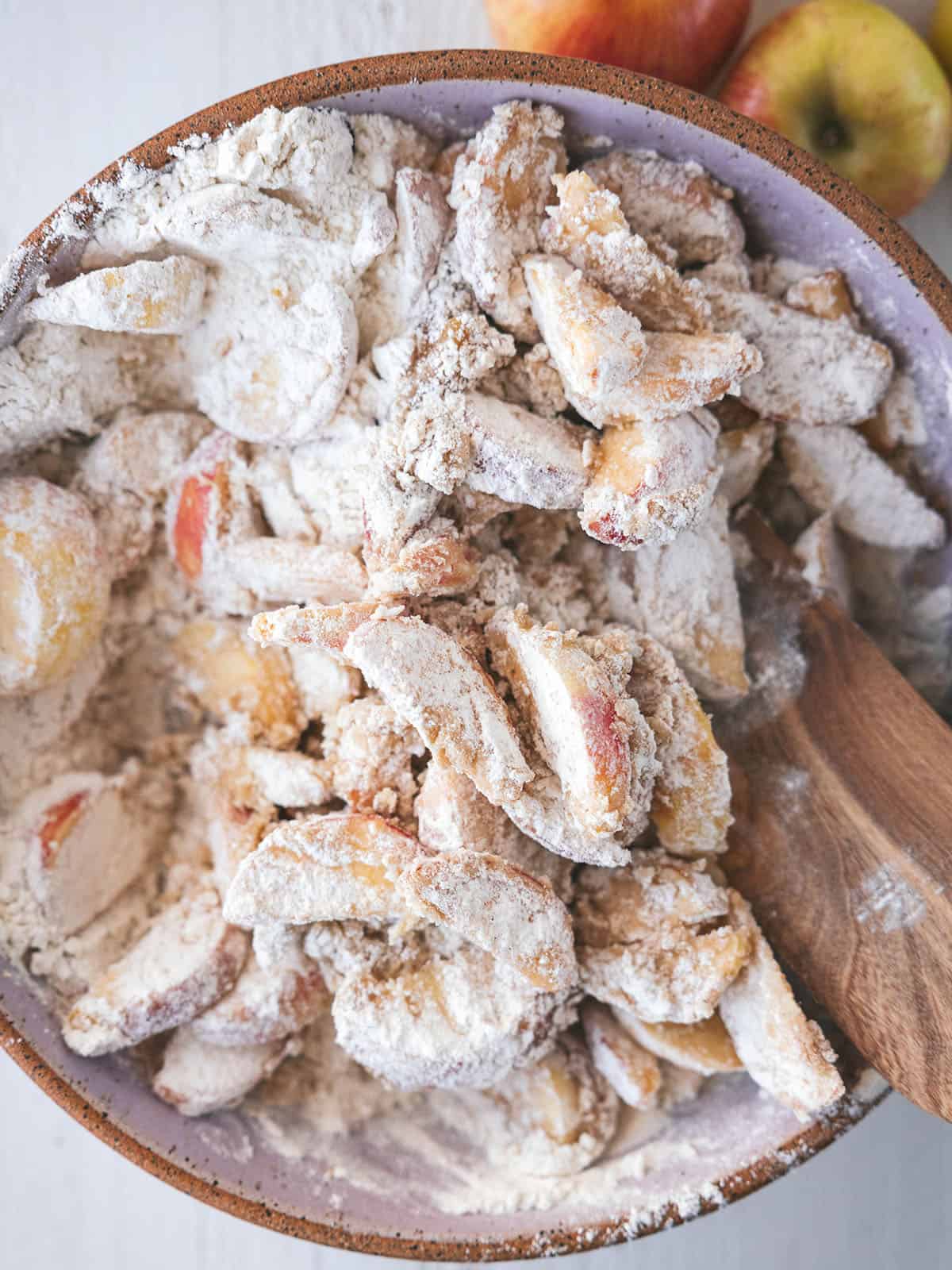 Now add the eggs, melted butter, and vanilla to the apple mixture. Mix it all by hand until it's smooth.
Note: If using any optional nuts and or raisins, gently fold them in now.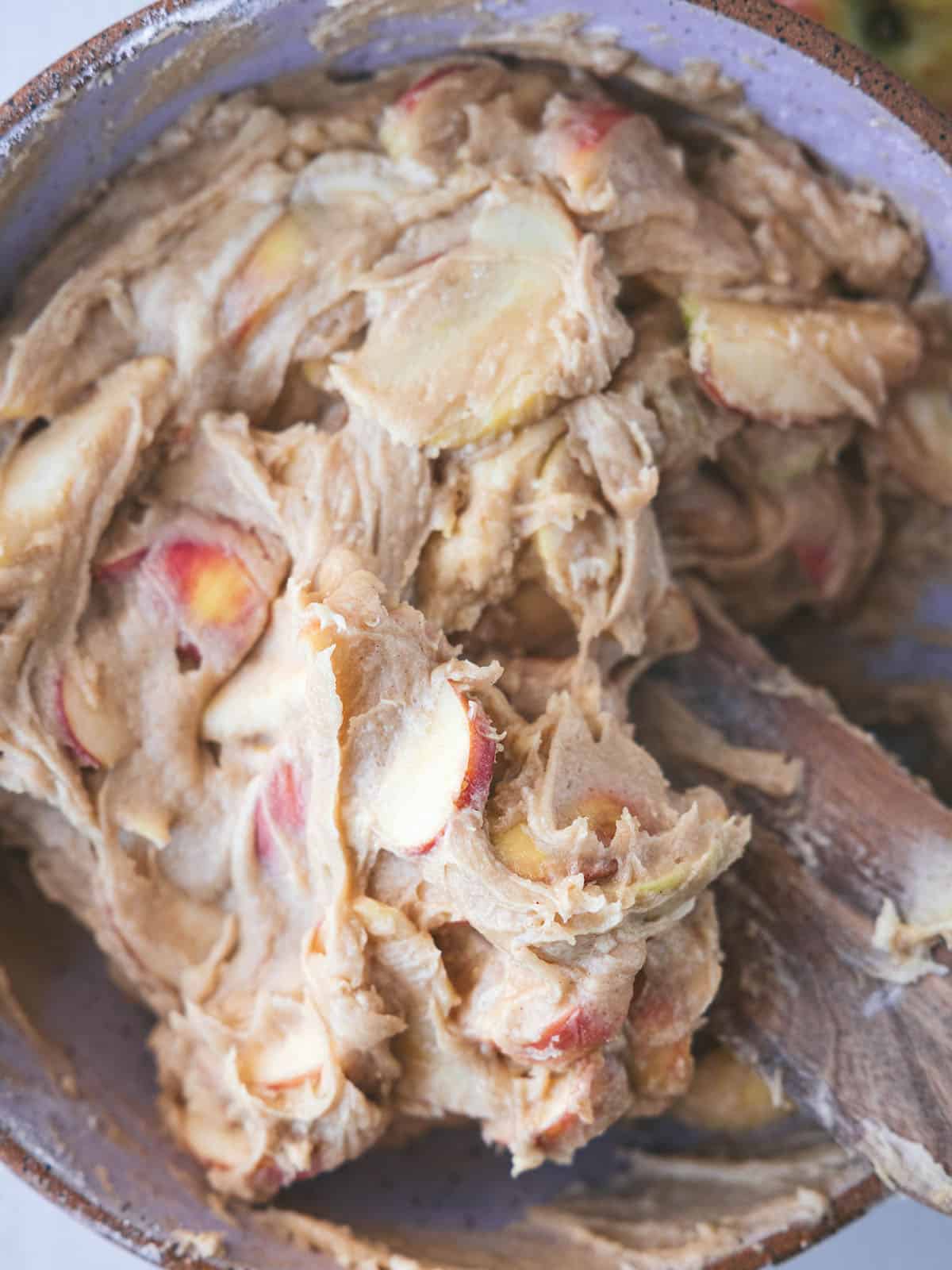 Then spread the batter into the greased or parchment-lined pan.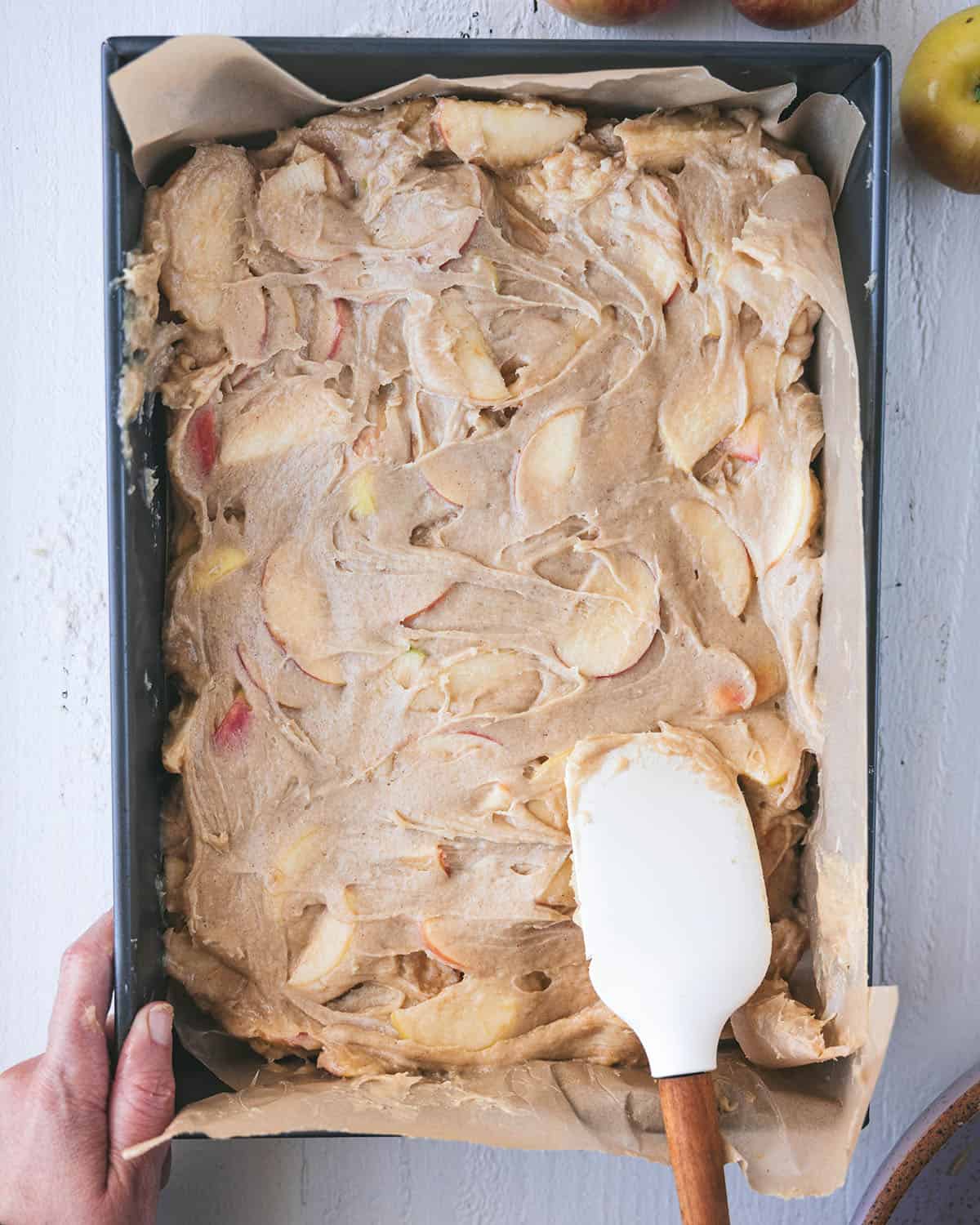 Bake the apple cinnamon cake for 45-60 minutes, or until a toothpick inserted in the center comes out clean.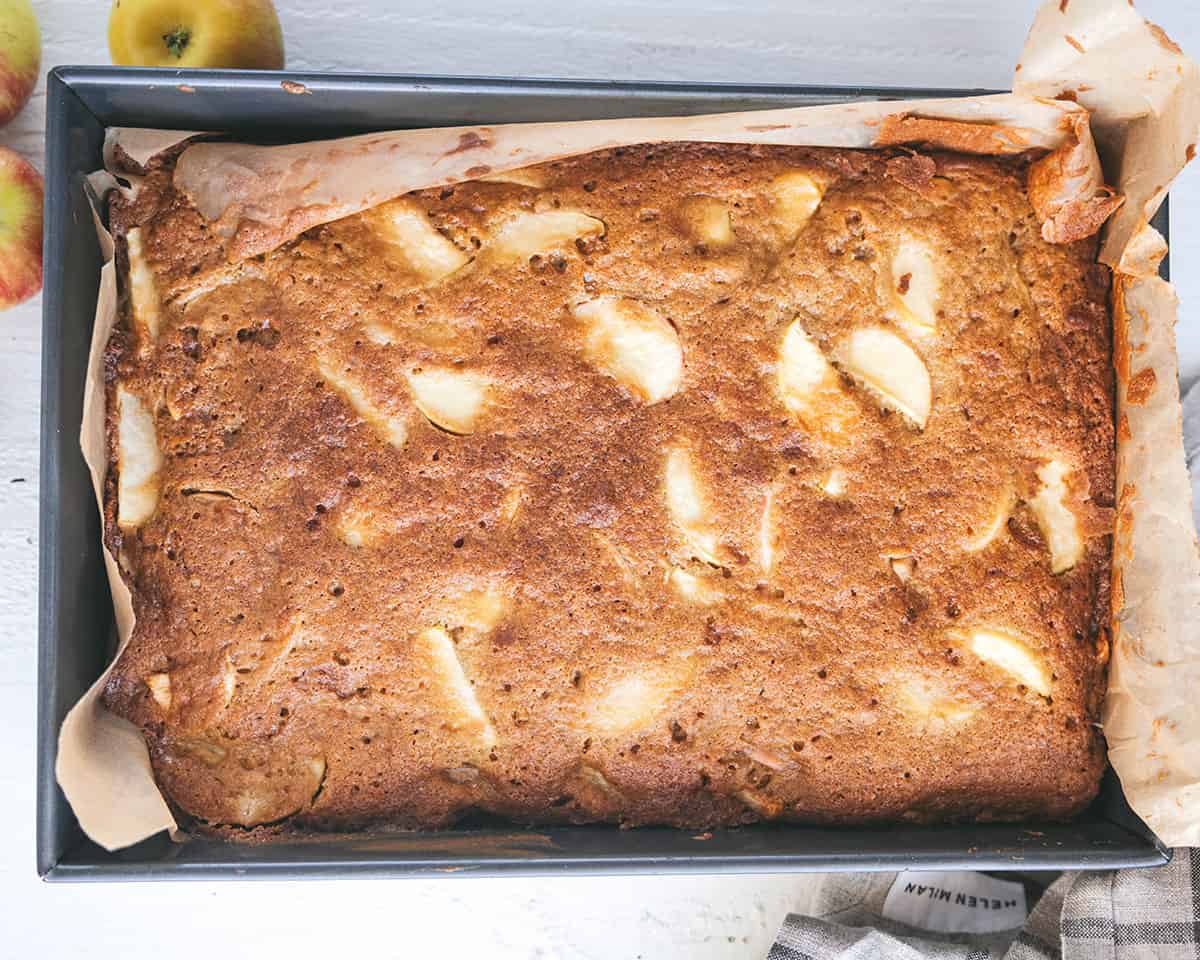 Enjoy Apple Cinnamon Cake Life
Now, it's time to schedule a card game night and enjoy this easy apple cake with your friends and loved ones! Simply slice it into squares and serve.
This is similar to coffee cake, so could truly be served for brunch just as much as a dessert. You can dress it up with ice cream, but I don't find it necessary. It's so tasty on its own as a good old-fashioned apple cake.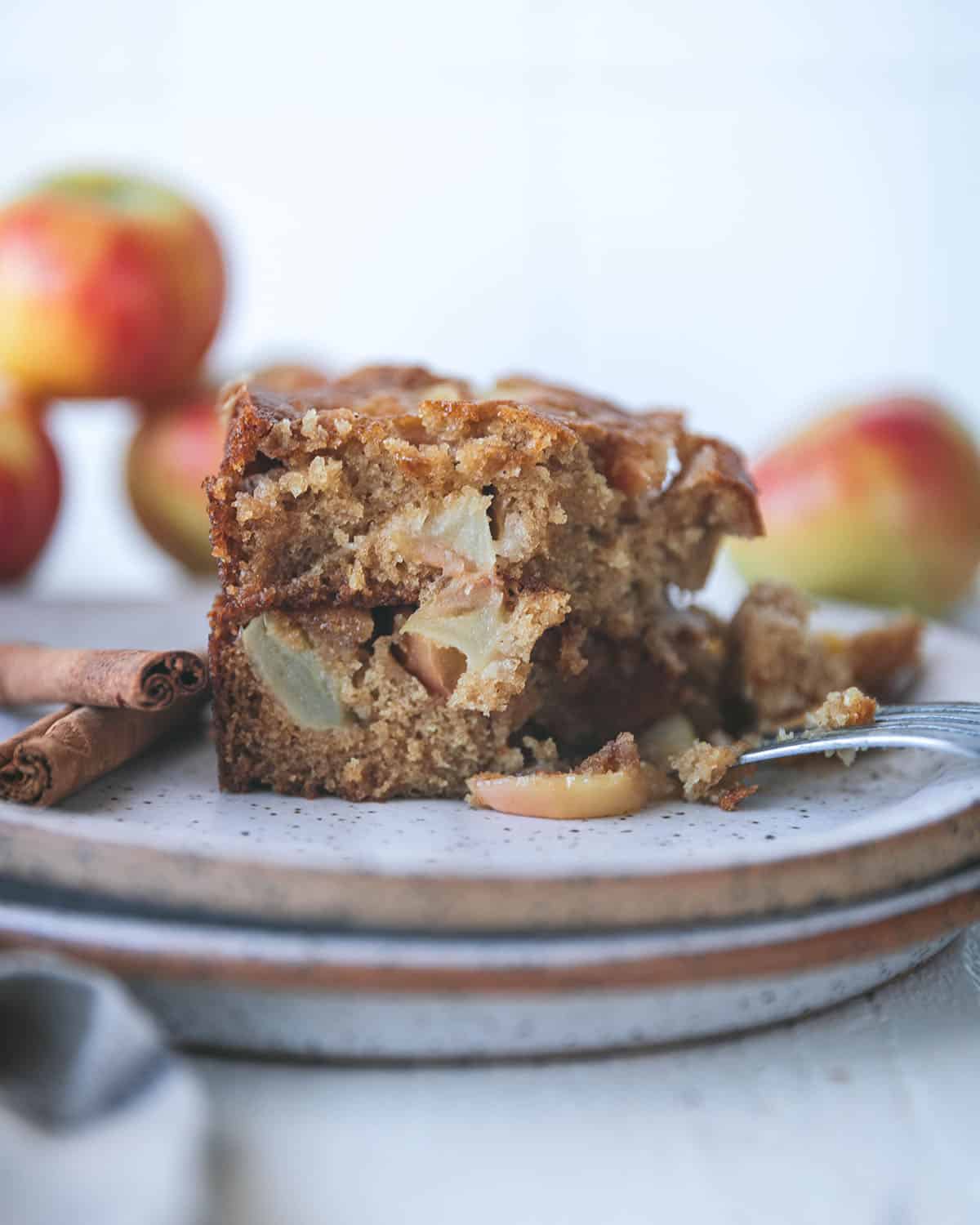 If there is any left after your apple season card party, store the apple cake in an air-tight container for up to 3 days. Trust me though, it won't last that long! Sometimes the most simple things are the best.
Breathe in and enjoy the warm flavors of this deliciously spiced cake made with fresh apples, the best parts of my family history, and the love and lore of G.G. Laugh, dance, get your walk in, and go to every party this season!
More Apple Season Recipes
Apple Cinnamon Cake
G.G.'s apple cinnamon cake is a family favorite made with fresh apples and cinnamon. Easy and delicious nostalgia from my Grandma's kitchen!
Instructions
Pour sugar and brown sugar over the sliced apples in a large bowl and let stand for about ½ hour or longer.

Preheat oven to 350°F (175°C) and grease a 9 x 13" pan

Stir together the dry ingredients in a separate bowl, then add to the apples and stir together.

Add the eggs, melted butter, and vanilla to the apple mixture and mix by hand until smooth.

If using optional nuts and/or raisins, gently fold them in now.

Spread the batter into the greased pan and bake for 45-60 minutes, or until a toothpick inserted in the center comes out clean.
Notes
This recipe has been adapted a little from grandma's original. The original recipe had two full cups granulated sugar (no brown sugar) and used oil instead of melted butter.
Nutrition
Serving:
1
piece
|
Calories:
250
kcal