We've got so many apples on our tree right now, it's ridiculous! While making apple cider with our homemade press is rewarding (and in turn gives us yummy hard cider), I wanted to do something different this time around. So, I started flipping through my Ball Canning Book, and came across apple butter. Of course! While Strawberry Rhubarb Butter  and Strawberry Honey Butter are amazing, my Mom used to make apple and pear butter when we were kids, and that stuff was like gold. I made the basic recipe from the book, and it was good, but I thought it needed a little more oomph. So I made a second batch, this time with some added ginger and spices, and it turned out perfect! Here is my recipe for homemade spiced apple butter.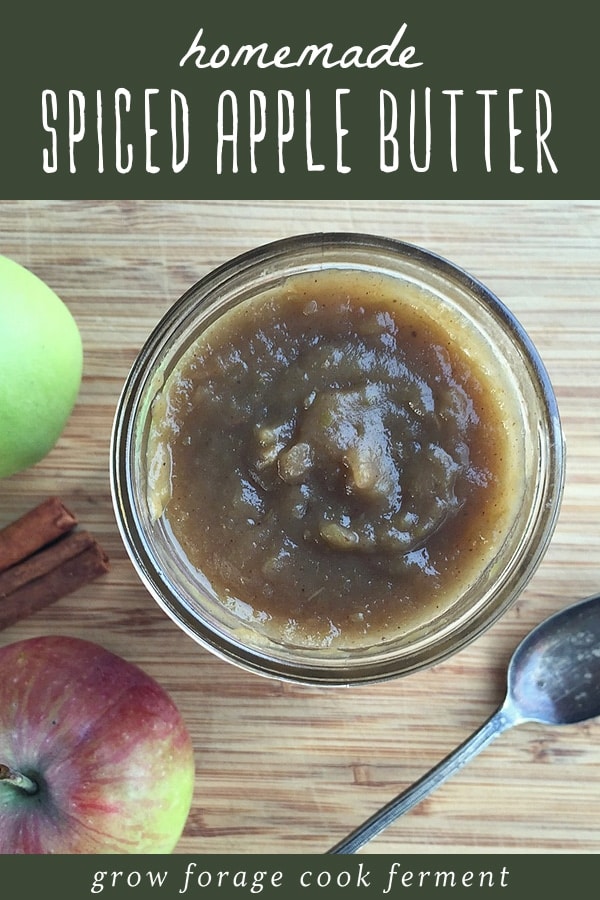 I used two different kinds of apples, as our tree is grafted with what we believe to be golden delicious and gala varieties. I think most types would make a good butter, although I probably wouldn't use all tart apples. A mix of apples is always a good choice.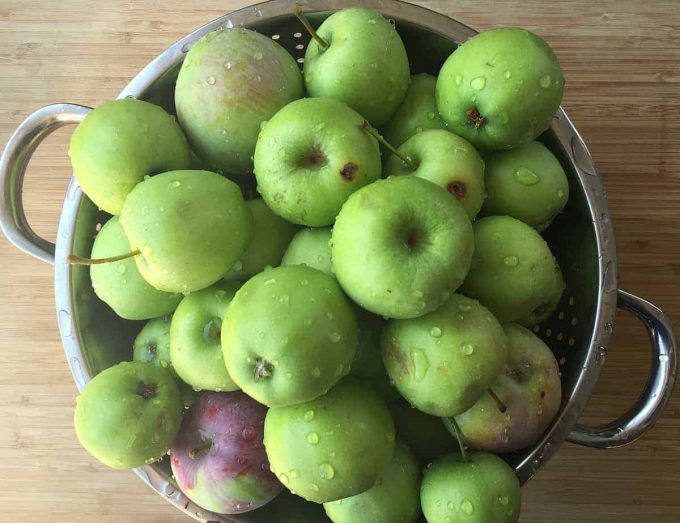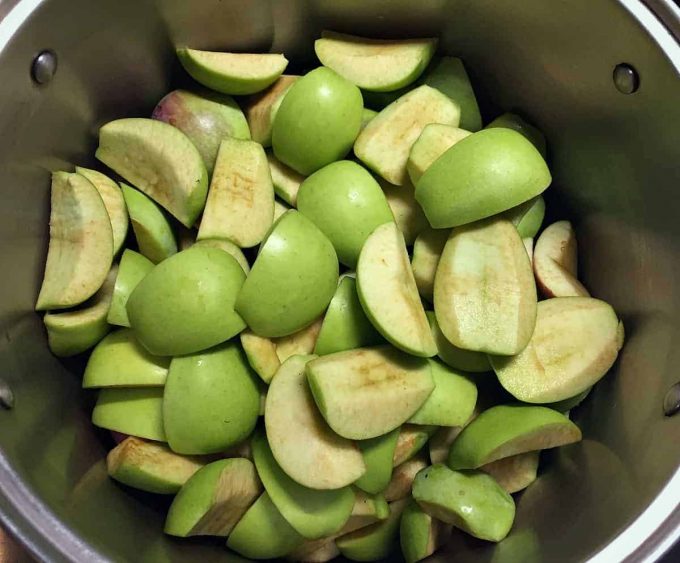 Tips for Making Homemade Apple Butter
I left the skins on the apples, because, well… I didn't feel like peeling them. The apples get cooked way down, and once everything is blended you don't even know that they are there. But, go ahead and peel them if you like.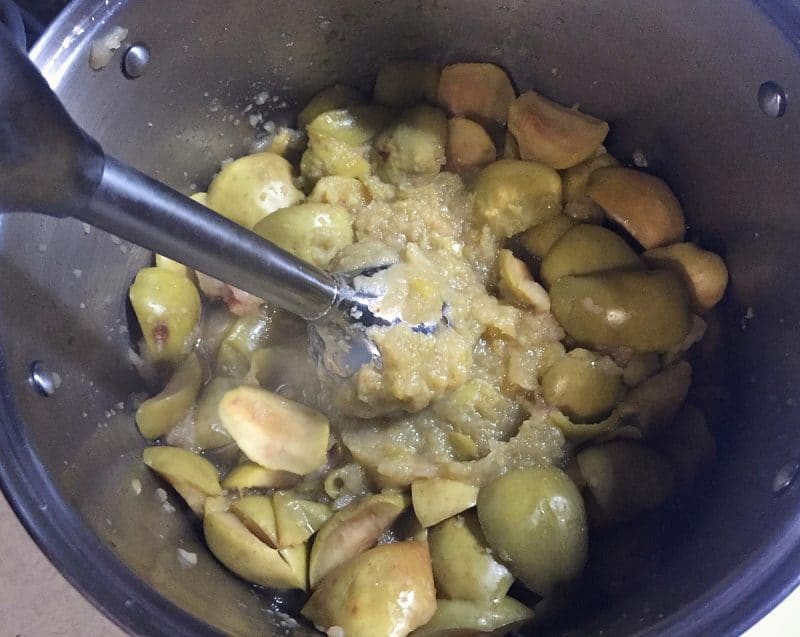 This recipe is actually surprisingly easy to make, but the real secret is to use an immersion blender. I don't use mine very often, but when I do I'm so glad that I have it!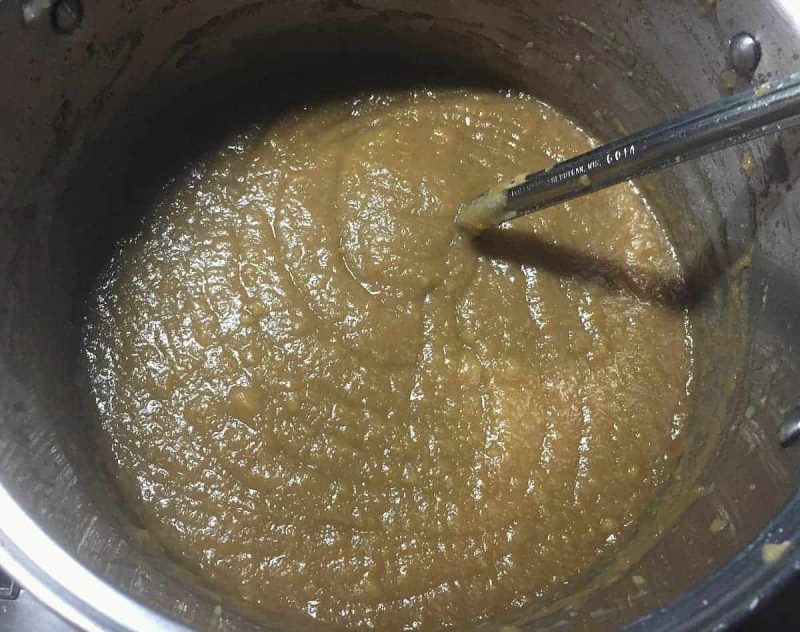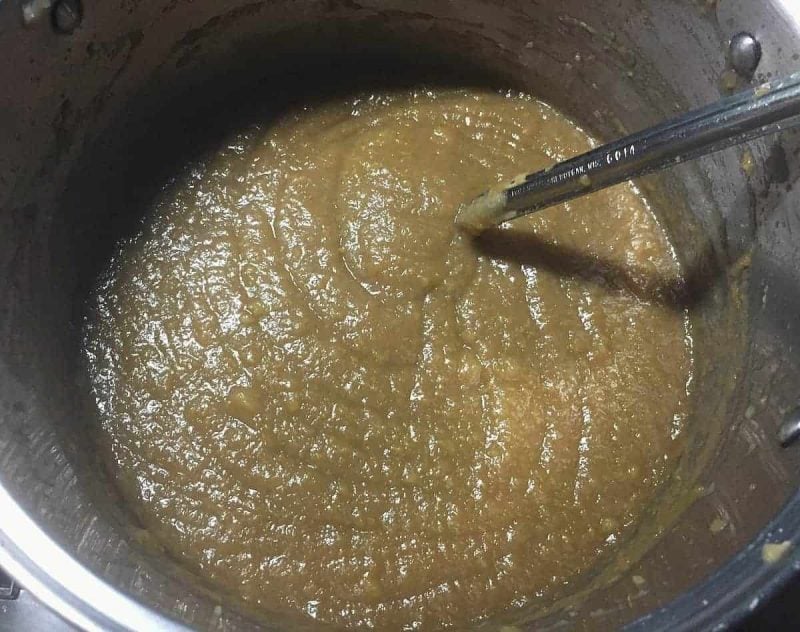 Another thing I should probably mention is that this follows the lower sugar variation in the book. The original recipe calls for 3 cups of sugar, and that was too much in my opinion. I think that it turns out sweet enough, but not overly so, and the flavor of the apples really comes through. Feel free to add the whole 3 cups of sugar if you'd like.
I am so happy with how this spiced apple butter turned out! To me, it's the perfect fall treat. I had to open a jar the very next morning and give it a taste.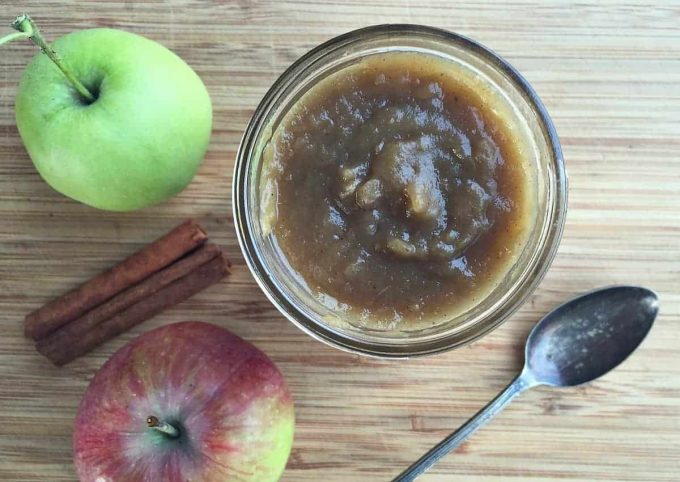 It is so incredibly good! I love it on sourdough toast with lots of butter. We still have quite a bit of apples on our tree, so I will definitely be making more of this. It will be the perfect holiday gift!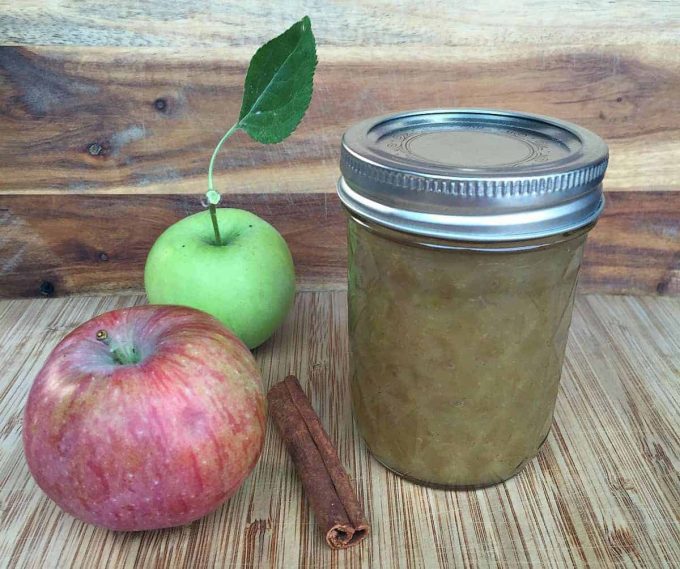 Trust me, you have to try this recipe, you won't be disappointed. I promise!
What is your favorite way to preserve apples?
Spiced Apple Butter Recipe
Spiced Apple Butter Recipe
Homemade spiced apple butter is one of my favorite ways to preserve apples! I love it on sourdough toast with lots of butter, and the individual jars are a wonderful holiday gift.
Instructions
In a large stainless steel saucepan, combine apples, apple cider, and fresh ginger. Bring to a boil over medium-high heat. Reduce heat and boil gently, stirring occasionally, until apples are soft, about 30 minutes.

Use an immersion blender, regular blender, or food processor and puree until smooth. You may have to work in batches (not if you use an immersion blender!) Do not liquefy.

Return the apple puree to the saucepan if necessary, and stir in the honey or sugar, spices, and salt. Bring back to a boil over medium heat, stirring often. Reduce heat to low, and cook until mixture thickens, about 30 more minutes.

Fill hot jars with hot apple butter, leaving 1/4 inch headspace, and process in a water bath canner for 10 minutes. Turn off the heat, remove the canner lid, and wait 5 minutes before removing the jars. Please refer to the Ball Water Bath Canning page for more details on this, especially if you are new to canning.
Nutrition
Serving:
1
Tablespoon
|
Calories:
28
kcal
|
Carbohydrates:
7
g
|
Sodium:
10
mg
|
Potassium:
31
mg
|
Iron:
0.2
mg