You must have known this was coming after my homemade sourdough starter post last week, and I hope you're happy about it because this bread is amazing! Not only is it wonderfully tasty and sour, but it is really easy to make. I'm sure you've heard of the no knead bread craze, but it has changed my world in bread making! Not only is it easier, but it makes some of the best bread I've ever had. Can't argue with that! Look at how amazing this no knead sourdough bread is.

No Knead Sourdough Bread Recipe
This method was largely popularized by Jim Lahey in his book, My Bread: The Revolutionary No Work, No Knead Method (a really great book in my opinion). This sourdough version was inspired by this recipe from Mother Earth News magazine. I used part whole wheat flour because that's how I roll, but feel free to make it how you like. So, let's get to it and make some no knead sourdough bread!
You will need a 4-6 quart Dutch oven that you will bake your bread in. Lodge brand makes nice cast iron or enameled cast iron ones that work well and are reasonably priced. It really is a kitchen tool that you should have if you don't already. Another really helpful tool is a dough scraper (or two!), but regular metal spatulas will work in a pinch.
Making this bread requires a bit of forethought as you'll need to start it the night before. No big deal, you just have to remember to do it! So, the night before you'll stir together the some flour, salt and yeast, and then add your sourdough starter…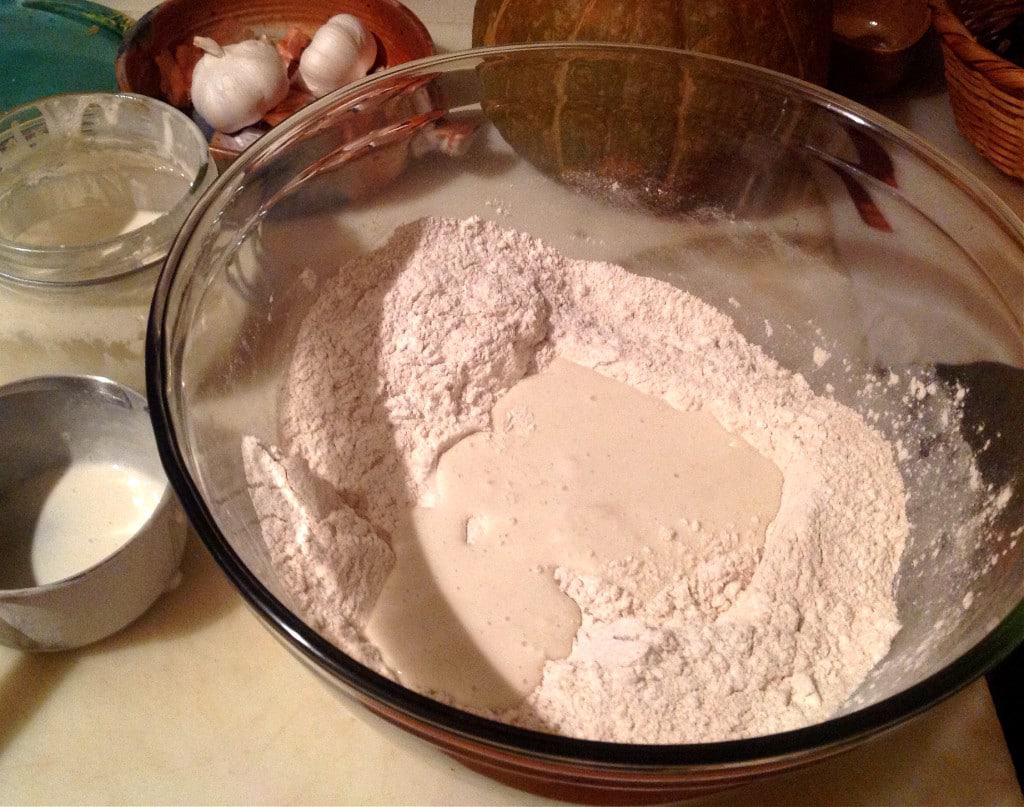 And the water and stir it all together. I almost always need to add a tablespoon or two more water to properly hydrate the flour, probably because of the whole wheat flour. This will make a fairly moist and shaggy dough, a little bit too wet to knead (thankfully we won't have to deal with that!).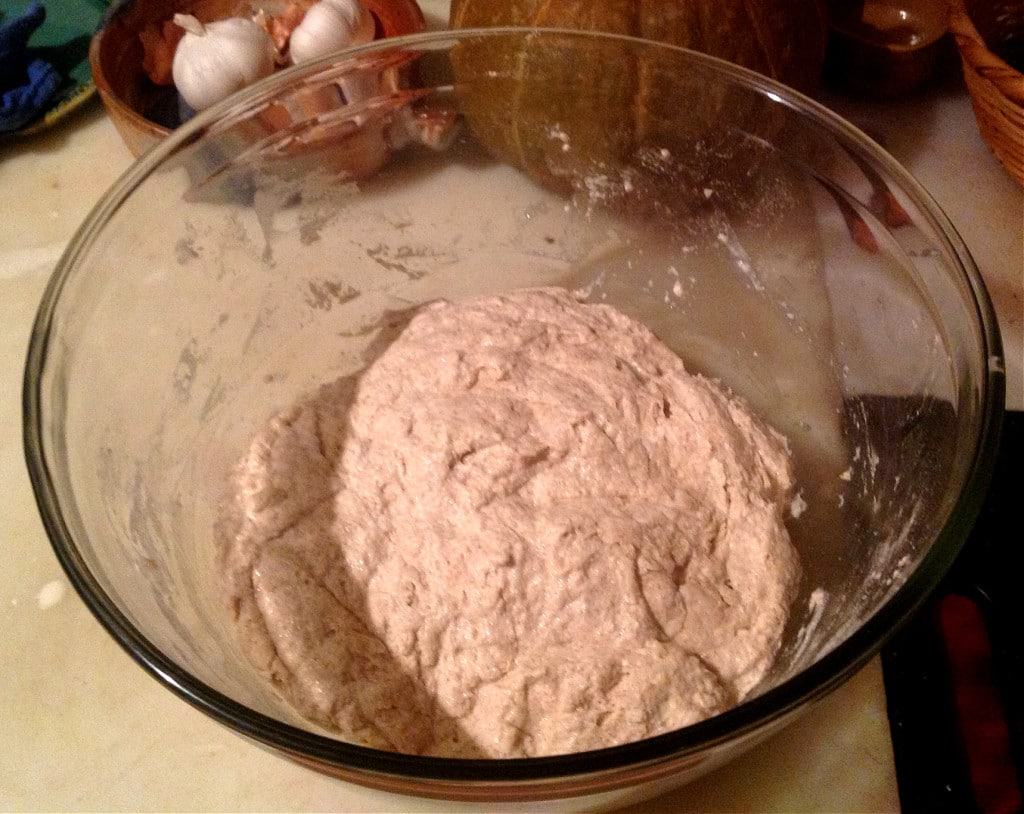 Now you cover it up with plastic wrap and leave it on your counter overnight. After about 12-14 hours it will look like this: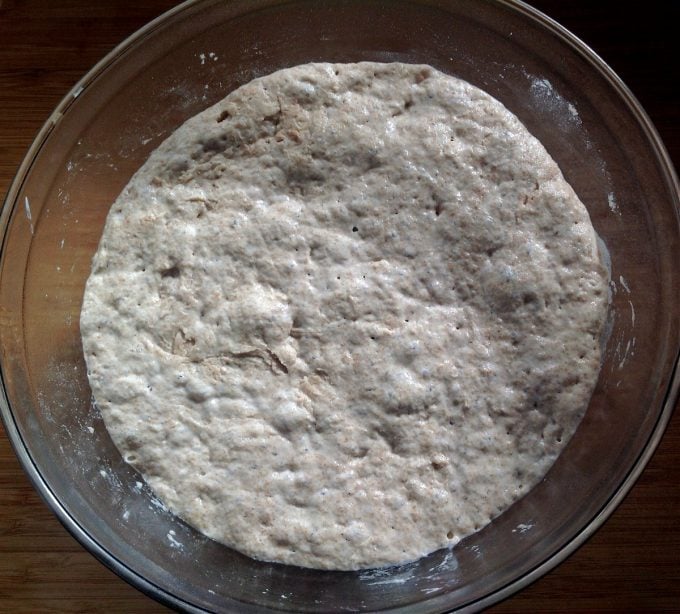 You will notice that it has risen a lot! Check out these bubbles: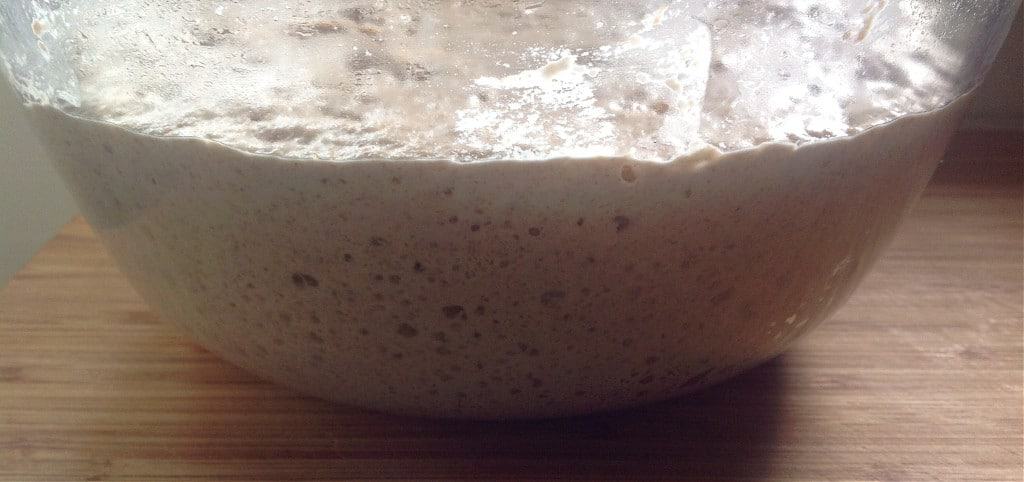 Use a rubber scraper to turn the dough out on a well floured board. Put a little flour on your scrapers or spatulas and use them to fold the dough over on itself a few times until it looks like this:
Sprinkle the top of the dough with flour, cover with a clean cloth and let sit to rise for another 1-2 hours.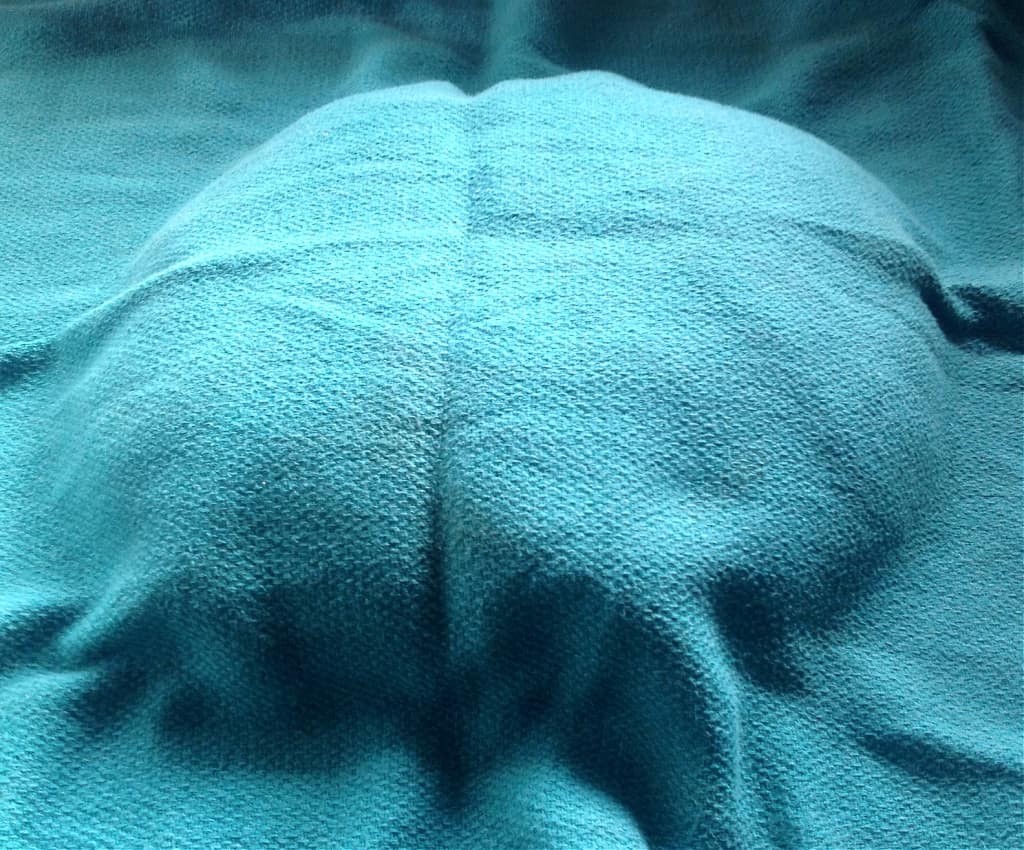 About 30 minutes before the dough is done rising, preheat your Dutch oven in your oven at 450°F.
Here is the dough after it has risen and is ready to be baked: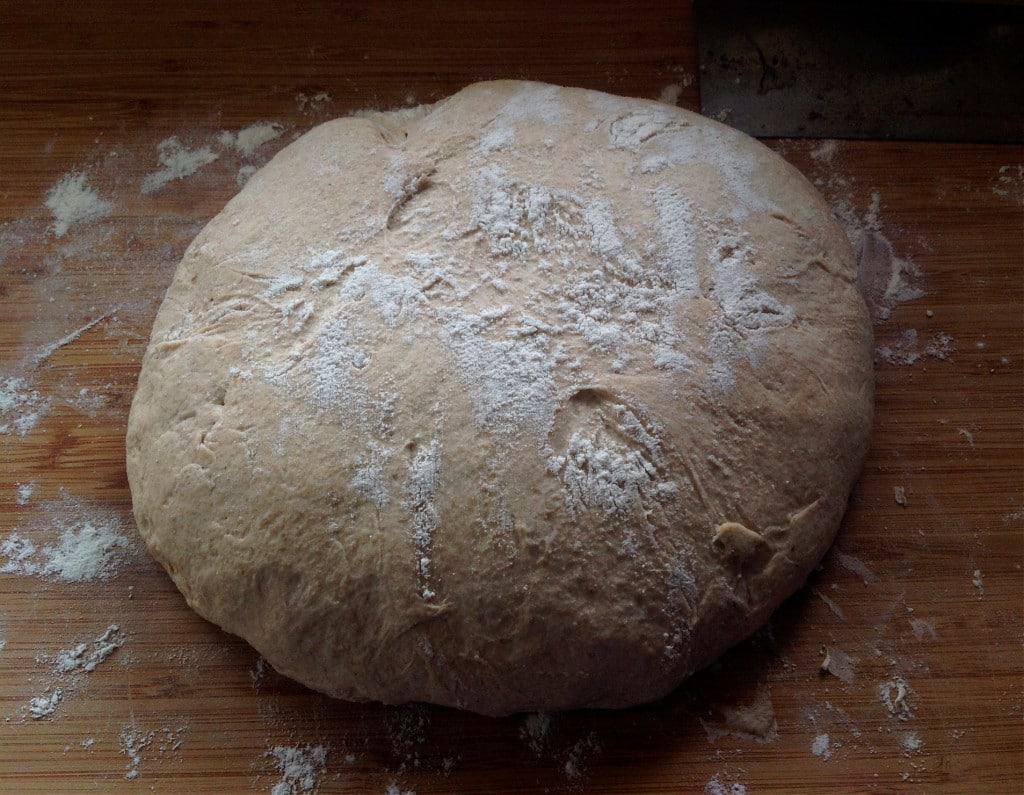 Take your bread scrapers and fold each side of the bread in on itself. It doesn't have to be pretty!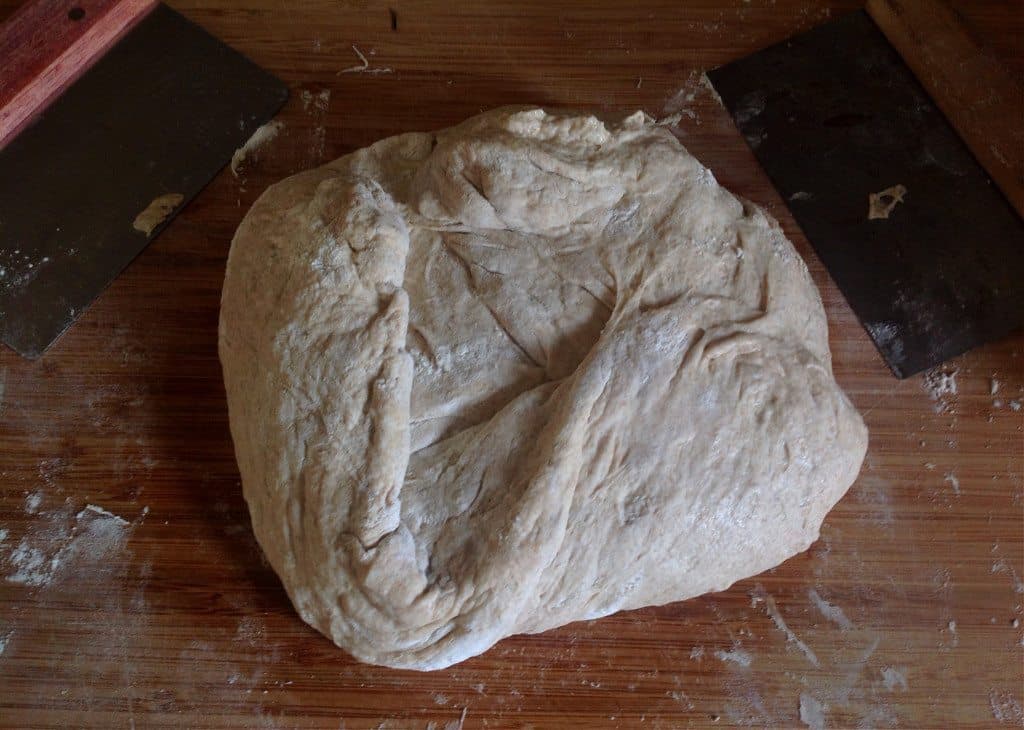 Pull the Dutch oven out (it will be smokin' hot!), take off the lid, and sprinkle in a little bit of cornmeal. I have to admit, this next part is probably the hardest and always makes me a little nervous, but it turns out fine every time. Use your dough scrapers or metal spatulas and scoop up your dough on either side and then plop it into the hot Dutch oven. Don't stress.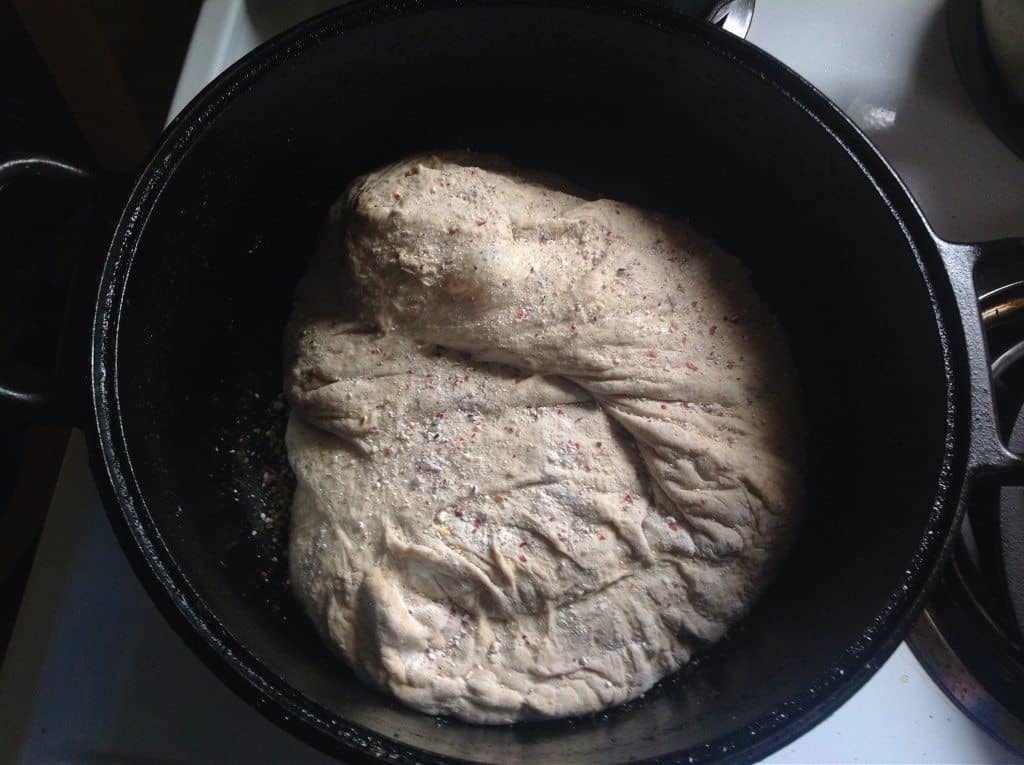 Sometimes it lands funky, don't worry about it, just give the Dutch oven a little shake back and forth to center it if need be (remember to use hot pads!). Sprinkle a little more cornmeal on the top of your dough, cover it with the lid, and put it back in the 450°F oven for 35 minutes. Then take the lid off and bake for another 15 minutes. This is what you'll get: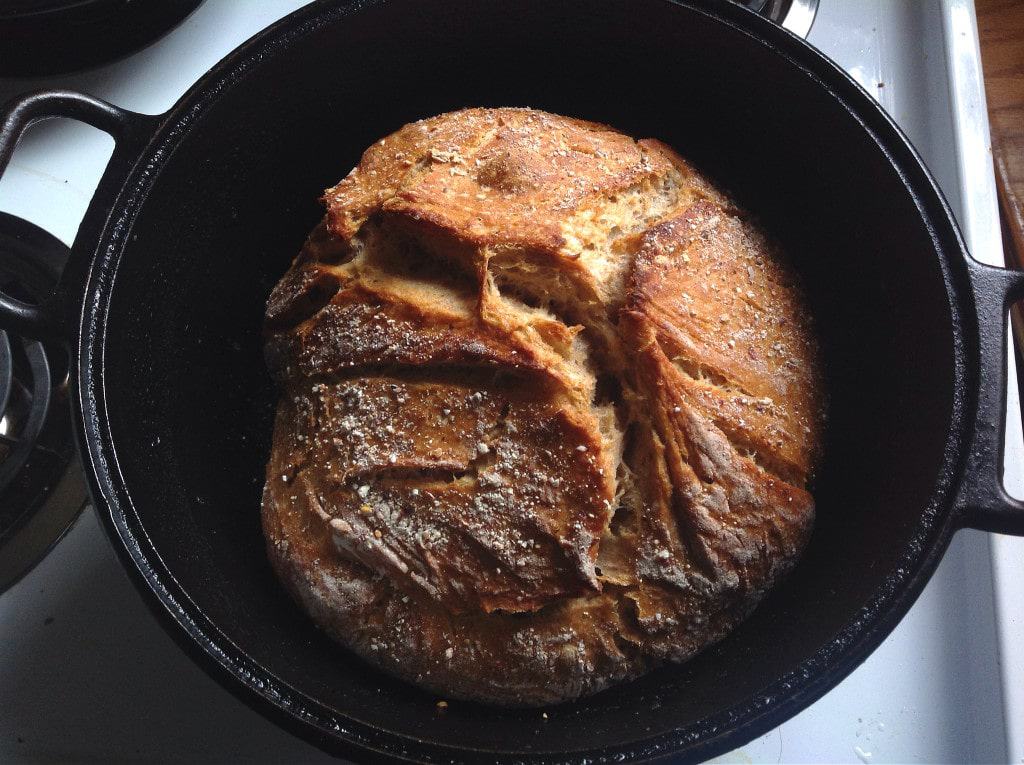 Unbelievable! I was shocked when I first made no knead bread by how wonderful it turned out, just like bread from an artisan bakery! Take the bread out of the Dutch oven and allow to cool completely before you cut into it. This is actually the hardest part of all! The bread will smell amazing and will tempt you. But you need to wait!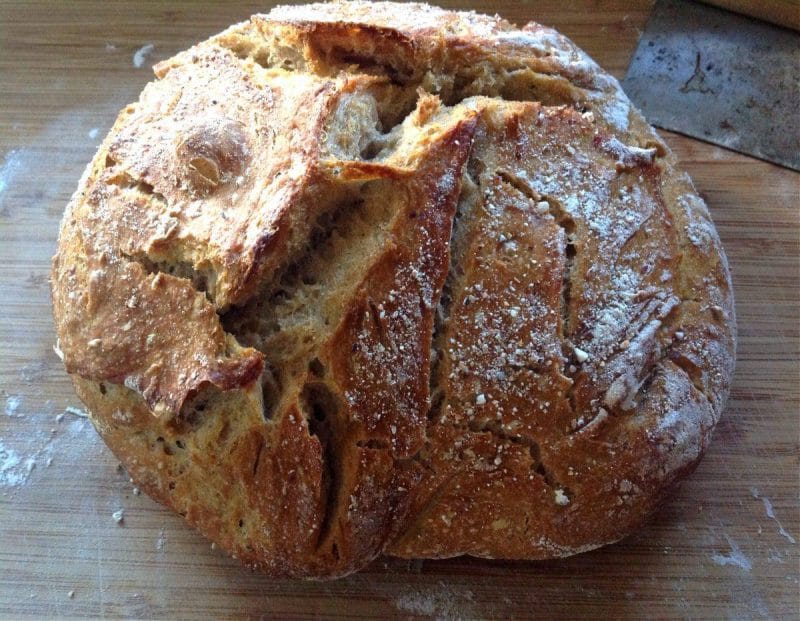 When it's time it will be wonderful! You really don't need to put anything on it because it will taste so good… A little butter never hurts anything, though. The sourdough flavor really shines through and it makes wonderful garlic bread. Or perhaps a spoonful of Strawberry Rhubarb Butter or Hard Apple Cider Jelly. Really, it makes wonderful everything!
Once you have your hands on some sourdough starter you have no reason not to make this bread. While it does take a little bit of planning ahead and a lot of mostly hands off time, it is actually unbelievably easy and the taste can't be beat. With all the processed junk in conventional bread and the price tag for artisan loaves I'm certain this bread will have you hooked on homemade forever!
Here are a few of my other favorite sourdough recipes:
No Knead Sourdough Bread Recipe
You won't believe how easy it is to make your own homemade sourdough bread with this no knead recipe!
Instructions
Stir together the bread flour, wheat flour, salt, and yeast.

Add the sourdough starter and water and stir together until a moist and fairy shaggy dough forms. It should be just a little too wet to knead (see post photos).

Cover with plastic wrap and set aside to rest at room temperature for 12+ hours. It should rise quite a bit and become very bubbly.

Flour a work surface, then use a rubber scraper to turn the dough out. Place a little flour onto a dough scraper or rubber spatula and use them to fold the dough over itself a few times.

Sprinkle the dough with flour, cover with a clean cotton towel, and set aside to rise for another 1-2 hours.

Place a dutch oven, including the lid, into your oven, then heat the oven to 450°F.

Using a bread scraper, fold each side of the bread in on itself.

Remove the dutch oven from the oven (use potholders, it will be very hot!), remove the lid, and sprinkle some cornmeal into the bottom. Use your dough scrapers to scoop up the dough on either side and transfer to the dutch oven. Sprinkle the top with cornmeal, cover, and transfer back to the oven.

Bake for 35 minutes. Then remove the lid and bake for an additional 15 minutes uncovered.

Remove the bread from the dutch oven and allow to cool completely before slicing.
Notes
Use a sourdough starter that was fed about 12 hours before preparing the bread dough. 
Nutrition
Serving:
1
slice
|
Calories:
123
kcal
|
Carbohydrates:
26
g
|
Protein:
4
g
|
Sodium:
196
mg
|
Potassium:
69
mg
|
Calcium:
10
mg
|
Iron:
1.6
mg