This is the perfect recipe for winter, although it doesn't quite feel like winter where I'm at! I know that those of you in other parts of the country are getting pounded with snow and ice, however, so this is for you. Just like with Roast Chicken and Slow Cooker Pork Shoulder, this Simple Pot Roast recipe will warm up your house and warm up your belly! It really is surprisingly easy, mostly just requiring a bit of time, which you probably have if you're snowed in! Let's just hope you already have the necessary ingredients on hand. Chances are you probably do.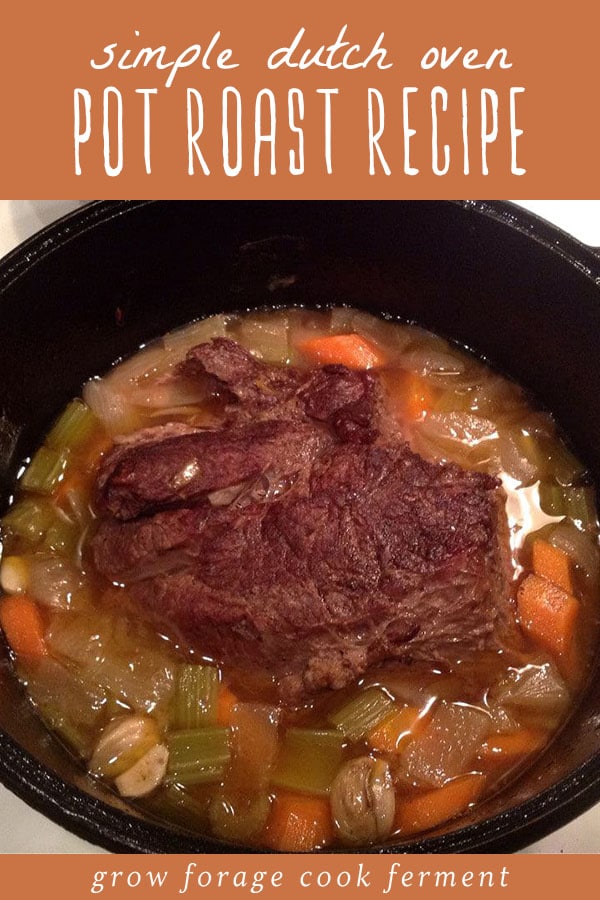 You'll need just a few simple ingredients:  a whole grass fed chuck roast (local is best!), anywhere in the 3-5 pound range should do it; an onion, some celery, a few carrots, and a handful of garlic cloves; and then some chicken stock, olive oil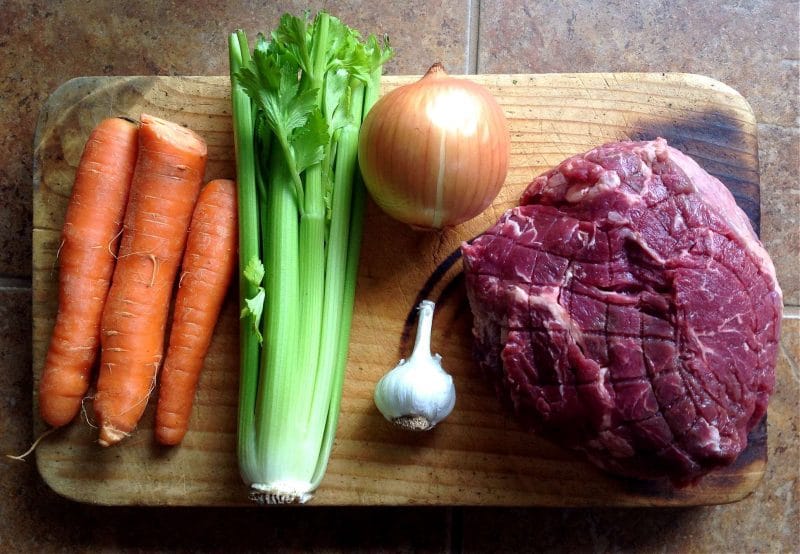 That's it! The veggies are something you should already have on hand, chicken stock is a staple, and it never hurts to keep a chuck roast in the freezer for times like these! A 3 pound chuck roast will yield about 4 large servings.
How To Make a Simple Pot Roast
You'll want to use a dutch oven for this, preferably cast iron. First, salt and pepper the chuck roast all over. Then, heat a little bit of olive oil in the dutch oven and add the roast. Also, put the chicken stock into a separate saucepan and heat it over medium heat, and preheat your oven to 325°F.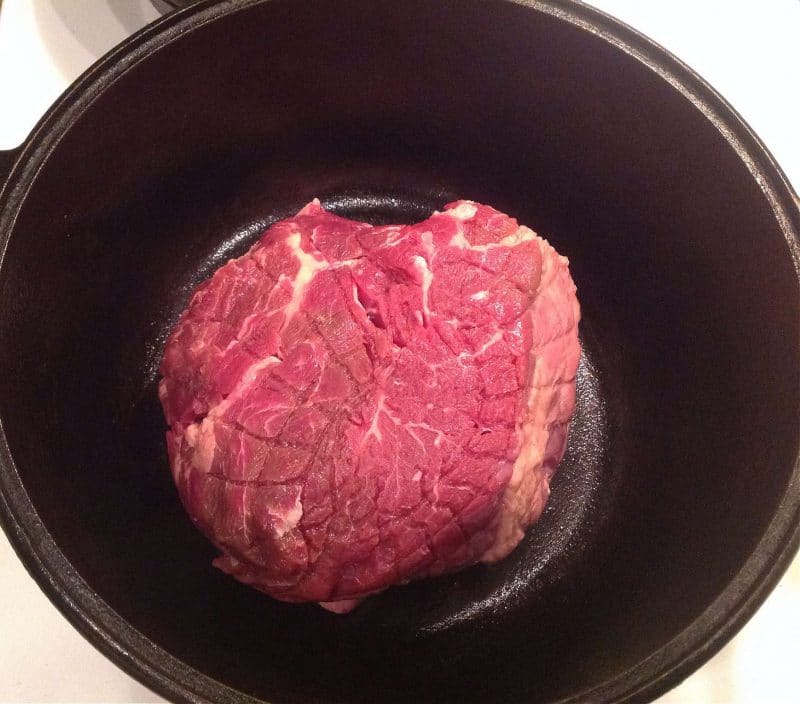 Sear it on one side for about 3 minutes, then flip.
Sear the other side for about 3 more minutes. While your waiting for the meat to sear, roughly chop the carrot, celery and onion. Peel a small handful of garlic cloves.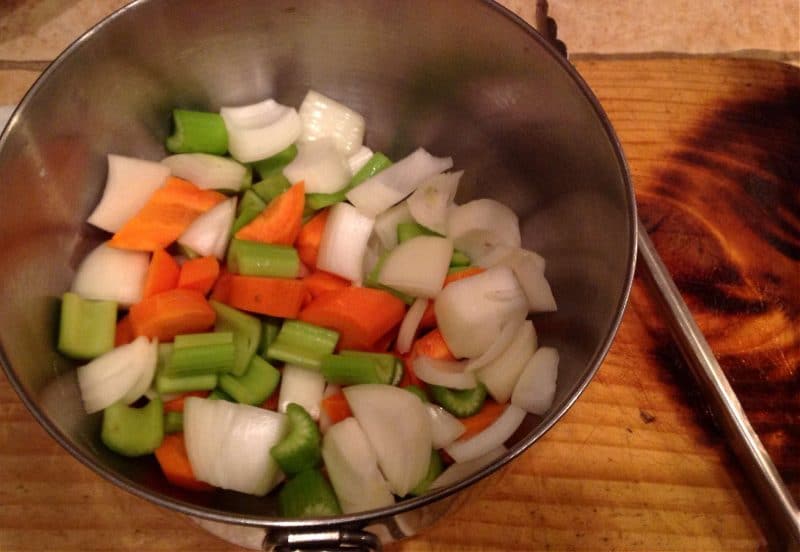 Turn the chuck roast onto one end as you want to get all parts seared. A big spoon will help you hold it up.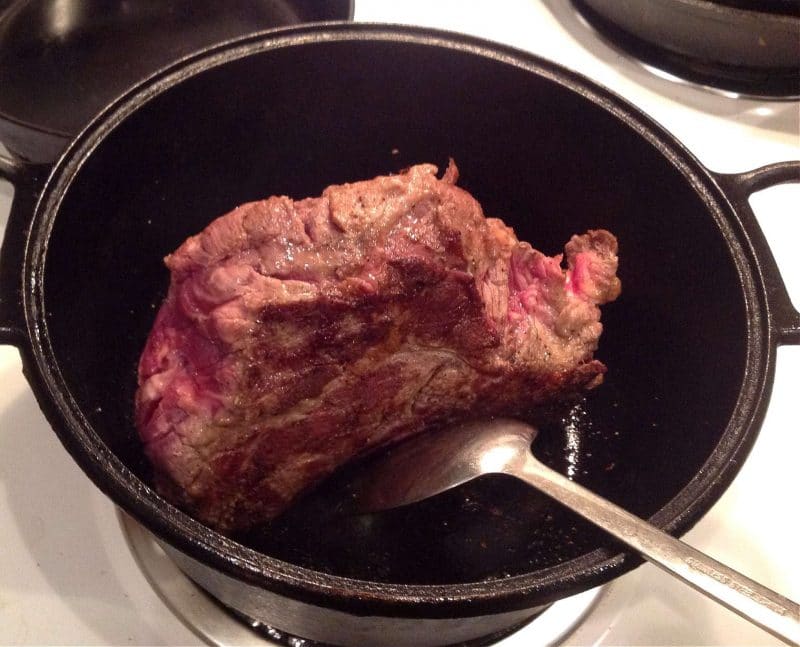 When it's seared on all sides, take it out of the dutch oven and set it aside on a plate. Put the veggies into the hot pan.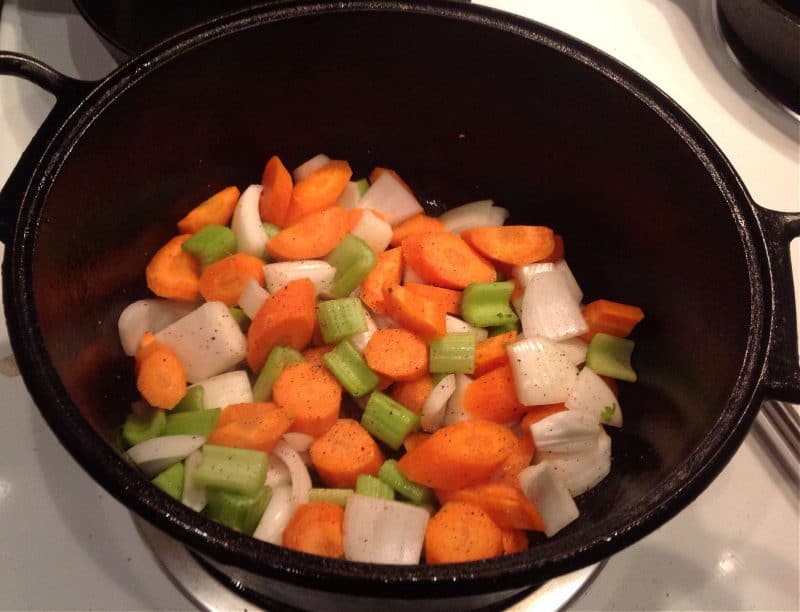 Cook them for a little bit until they just start to soften. Then push them to the outside of the pan and put the chuck roast back in the center.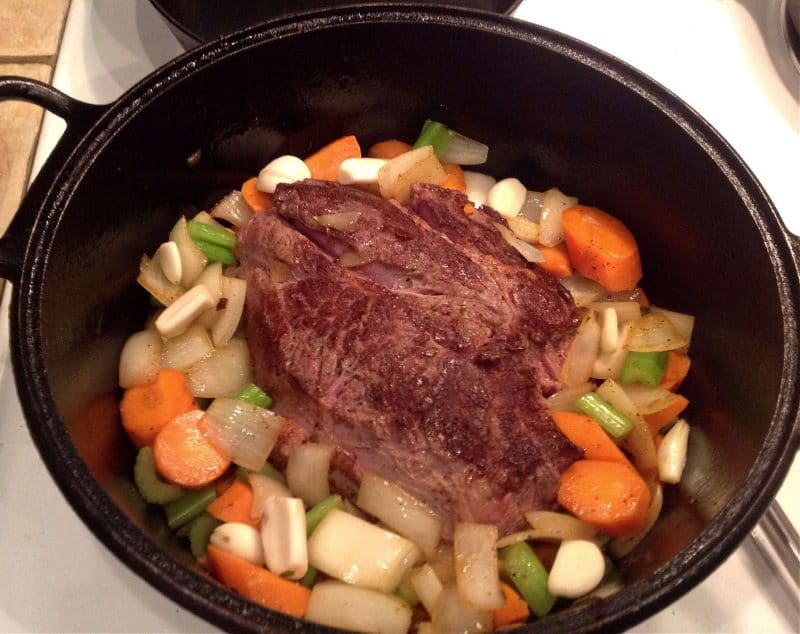 Pour the warm chicken stock over everything. It won't quite cover the roast, but that's ok.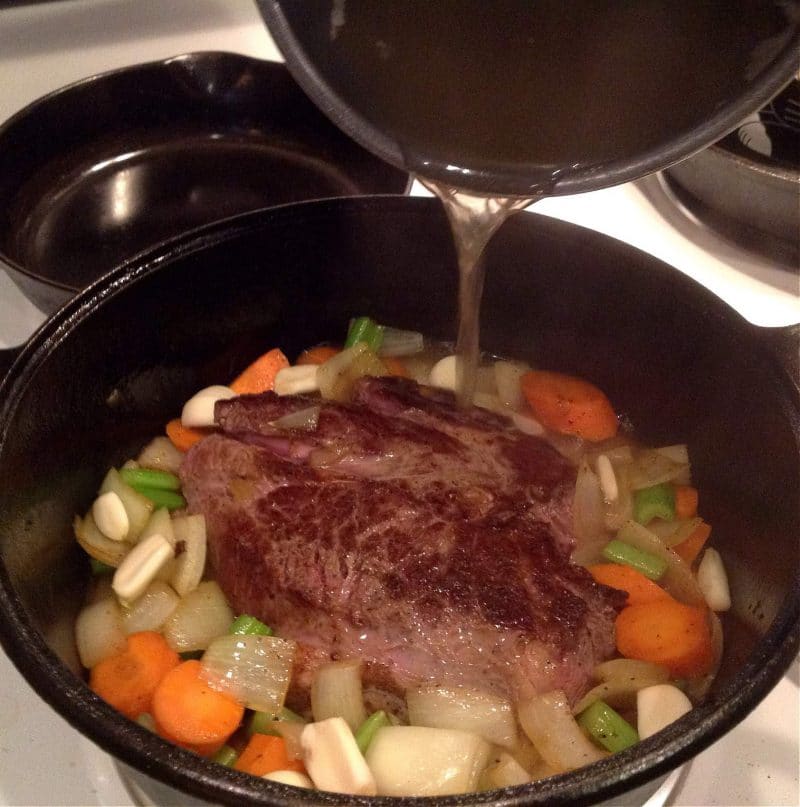 Bring it to a simmer, then COVER IT. Sorry, I don't mean to yell, but I forgot to take a picture of it while it was covered so I don't want you to forget.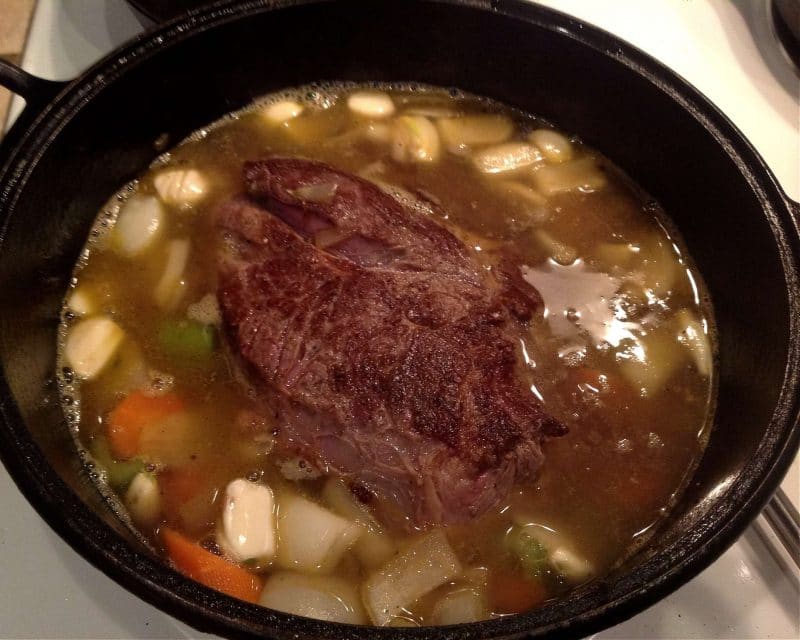 Anyways, cover it and put it into the preheated oven for 2-3 hours for a 3 pound roast, more if it's larger. The longer it cooks, the more tender and delicious it will get… and the better your house will smell! I recommend making roasted or mashed potatoes (or sweet potatoes) in the meantime to go along with this roast. This is what it looks like when it comes out of the oven: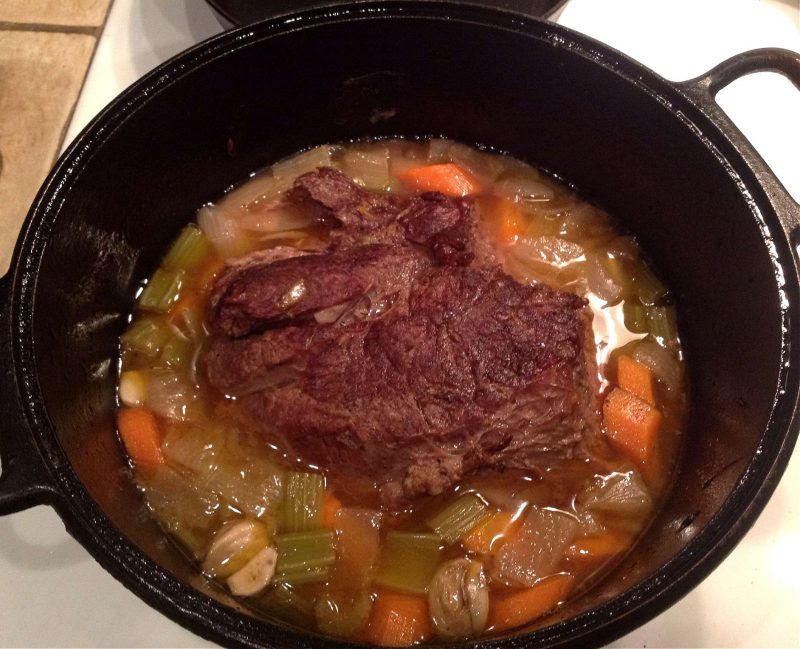 This is so amazingly delicious, you can't even believe it! Such hearty, yet delicious and nutritious fare. Serve with a few roasted potatoes or a side of winter squash and a salad and you have an amazing meal.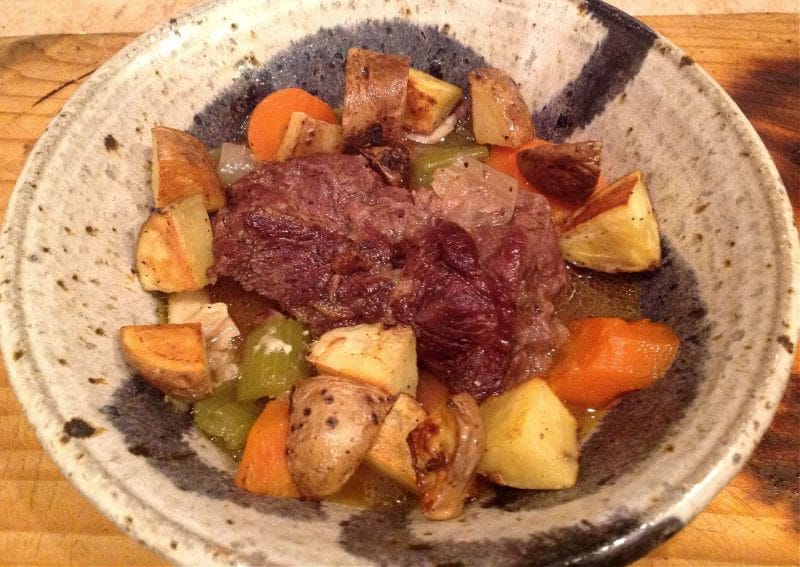 You could even serve it with some homemade sourdough or cornbread. It will warm you up from the inside out, I promise. And it gets even better the next day, if you have any leftovers that is!
Simple Pot Roast
Super simple pot roast, homemade perfection for a cold winter day.
Instructions
Preheat the oven to 325°F. Place the chicken stock into a saucepan and heat over medium heat.

Season the roast on all sides with salt and pepper.

Place a dutch oven over medium heat, add the olive oil, and heat until the oil shimmers. Sear the roast on one side for 3 minutes, then flip. Sear on the remaining side for three more minutes. Then using a big spoon or tongs, sear on the short sides for three minutes each.

Remove the chuck roast from the dutch oven and set aside on a plate. Add the carrots, onion, and celery to the dutch oven. Cook 4-5 minutes until they start to soften. Push the vegetables to the side of the pan and place the chuck roast back into the dutch oven nestled in the center of the vegetables.

Pour the warm chicken stock over the roast and vegetables, then top with the whole garlic cloves.

Increase the heat and bring the liquid to a simmer. Then cover and transfer to the oven to braise for 2-3 hours for a 3-lb roast, and up to 4-5 for a 5-lb roast.
Notes
Serving Suggestion: Serve it with some homemade sourdough or cornbread; Roasted potatoes and a salad
Nutrition
Serving:
4
ounces
|
Calories:
219
kcal
|
Protein:
30
g
|
Fat:
9
g
|
Cholesterol:
92
mg
|
Sodium:
288
mg
|
Potassium:
342
mg
|
Calcium:
20
mg
|
Iron:
3.6
mg