I don't know about you, but cooking big hunks of meat used to really freak me out.  I was a vegetarian for a lot of years, so once I started eating meat again all of the cooking was pretty much done by Joel.  Although I was a pretty well accomplished vegetarian and vegan cook, I had no clue whatsoever about what to do with meat beyond browning some ground beef in a skillet.  Temperatures and cooking times and, "omg, what if it isn't fully cooked and I get sick or what if I overcook it and it tastes like a shoe?"  This is what I worried about, but what I learned is that it really isn't that difficult, especially if you utilize tools like a slow cooker.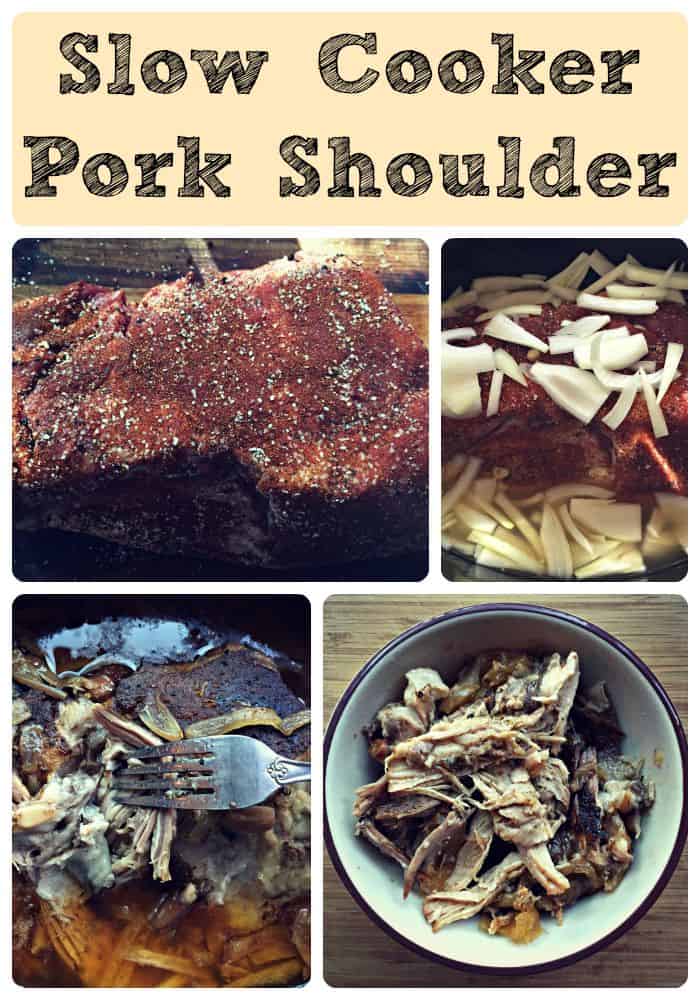 Now, I have done a simple pot roast in a cast iron dutch oven before that turns out amazing, but in the heat of the summer you really don't want to have your oven on for hours on end.  Plus, for those of you working people, this is so quick and easy to put together in the morning, and you will come home to an amazing dinner that has practically been made for you!
First and foremost, however, you need to acquire a pork shoulder (also called pork butt).  I like to use a bone in roast because it gives it a little more flavor, but you can also use boneless if that's what you have access to.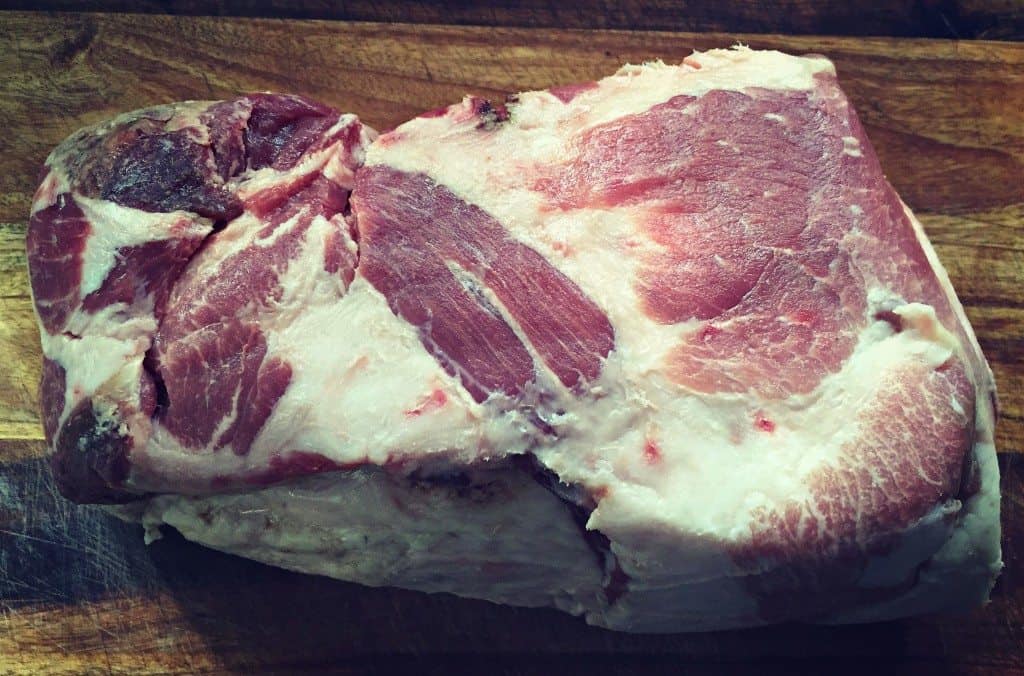 One other thing to note is that it's extremely important to know where your pork is coming from.  Pigs are some of the most mistreated of animals in a factory farm situation, not to mention all of the crap that is injected into them that is extremely unhealthy for both them and us.  All of these chemicals are stored in the fat of the pig, so any fatty cuts such as this and bacon are loaded with toxic nastiness if you don't carefully source your pork.  Pig fat (lard) from clean, well treated animals is actually quite healthy, believe it or not!  Read this post from Weed 'Em and Reap for more info on why you should be eating lard if you don't believe me.
So, all that being said, I pretty much only buy my pork from one local source here in Southern Oregon, and that is the amazing Willow Witt Ranch.  They have a meat CSA as well as selling online and at local farmers markets.  This is where I got this beautiful pork shoulder.
Ok, onward and upward!  This is what you will need for this recipe:
1 4-5 pound bone in or boneless pork shoulder (also called pork butt)
2 tsp kosher or other large flake salt
1 tsp freshly ground pepper
1 tsp ground cumin
1 tsp ground chili powder
1 tsp ground smoked paprika
10-12 whole peeled garlic cloves
2 cups chicken stock, preferably homemade
1 onion, sliced
You will want to start this recipe in the morning as it needs at least 8 hours in the slow cooker before it's done.  Rinse and lightly pat dry your pork shoulder.  Then mix together the salt, pepper and spices in a small bowl.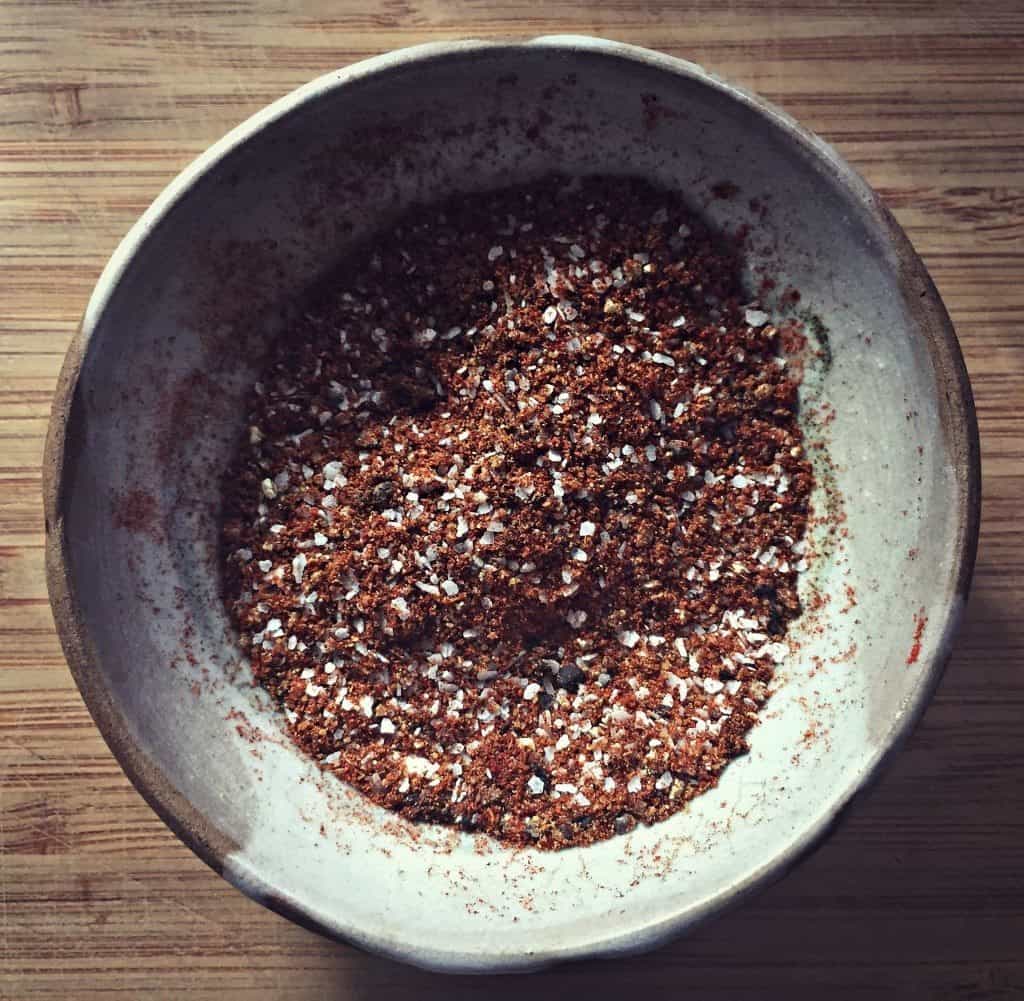 Rub that spice mixture all over the pork, getting it into every nook and cranny.
Use a small kitchen knife to make several punctures on all sides of the meat to stuff the garlic into.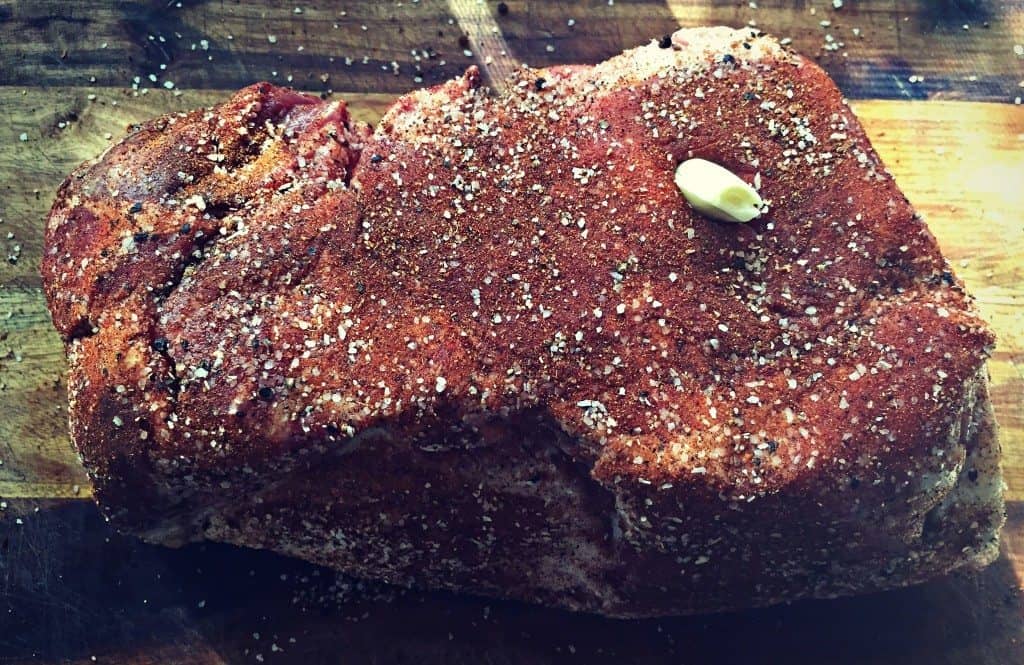 Push them into the pork well.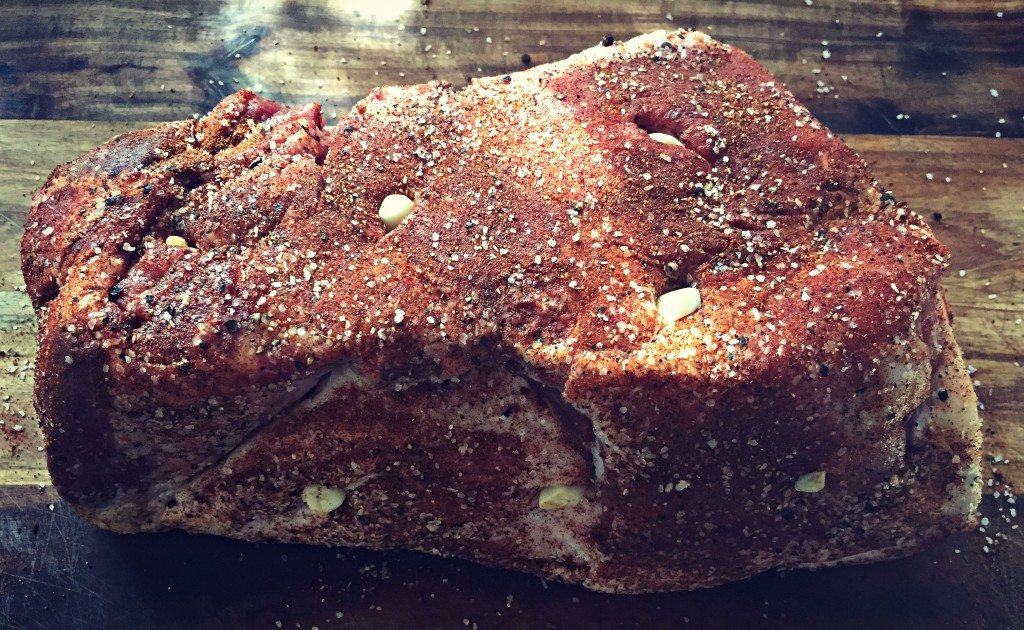 Pour the chicken stock into your slow cooker, then put the pork in.
Throw in the sliced onions.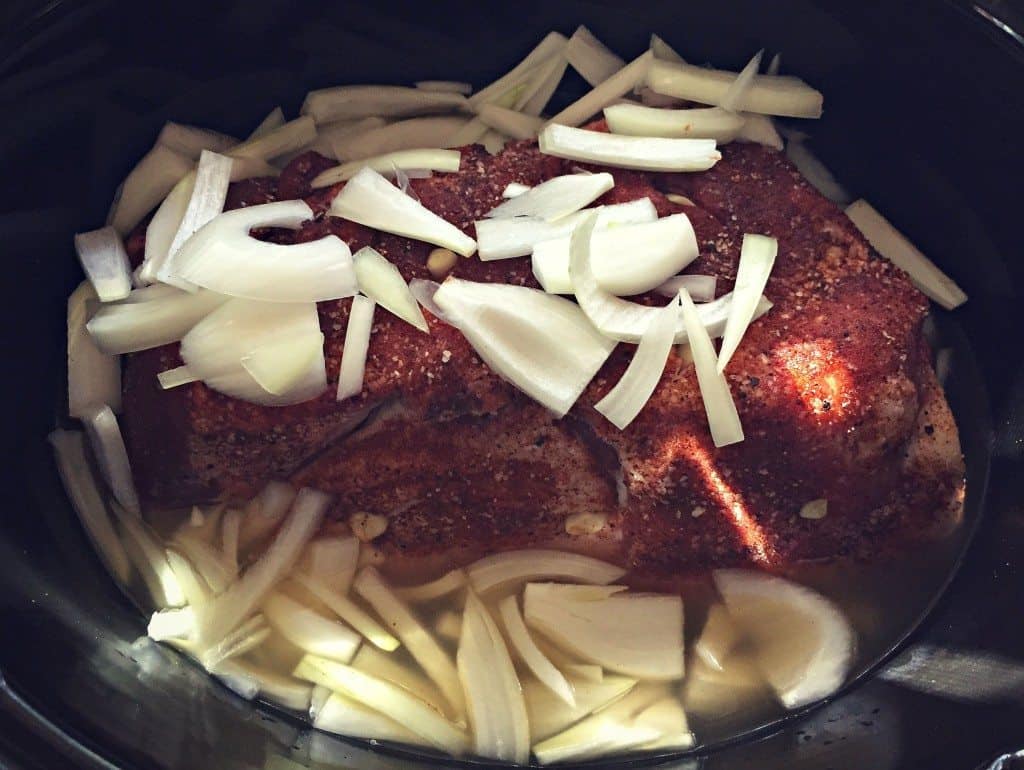 Cover the slow cooker and set it on low for 8 hours.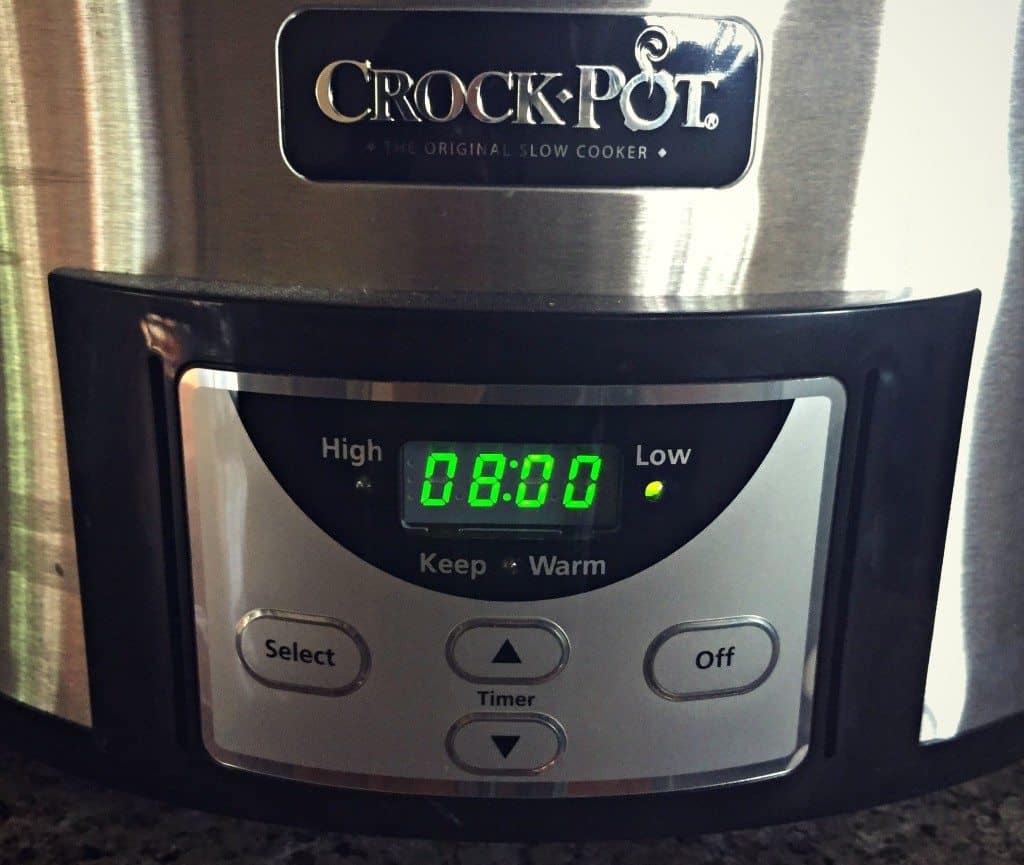 Each brand of slow cooker is different, but low and slow works best for this recipe.  8 hours on low was perfect for me.  When you get home from work or from whatever you were doing, you will be amazed by the smell of this!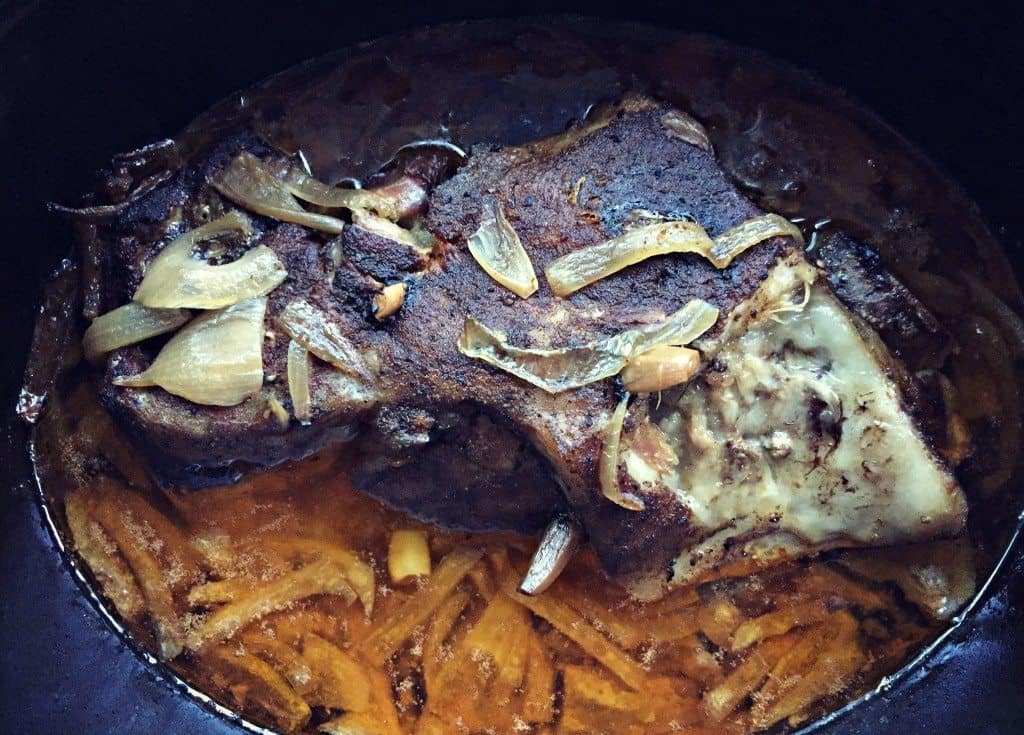 It should be so tender that you can pull it apart easily with a fork.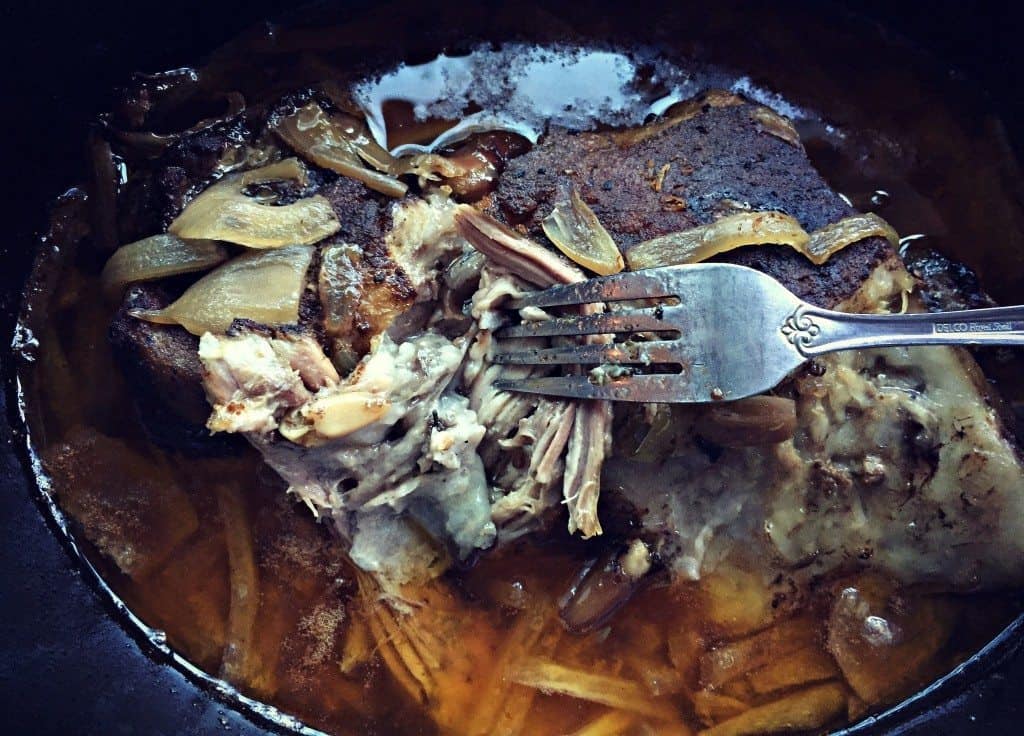 And it tastes absolutely wonderful!
It is great for pulled pork sandwiches, tacos, or just on it's own!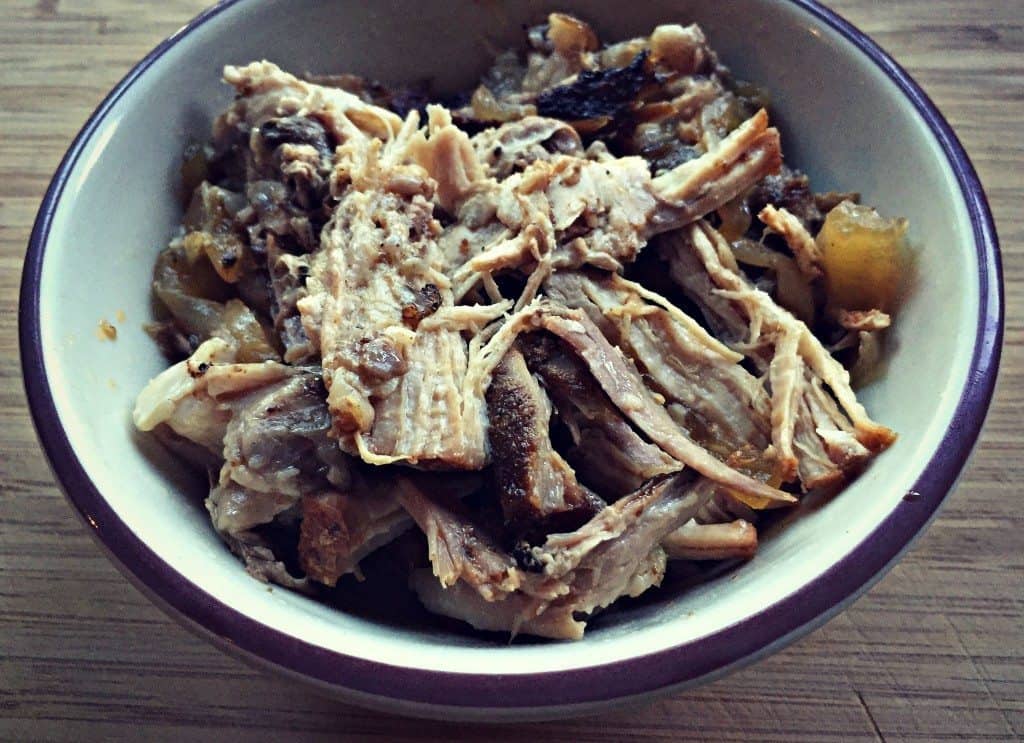 And the best part is that it makes the best leftovers!  Get the biggest sized pork shoulder that you can find because you will be wanting to eat this for days!
This is the perfect recipe for summer because you don't have to heat up the house to get wonderful, succulent shredded pork.  Just a small amount of preparation in the morning will have you eating this pork for dinner without much work at all!  I've done this several times already this summer and have never been disappointed.  Search out your local pig farmer and make this slow cooker pork shoulder as soon as you can!