Learn all about how to forage for mullein and use it in DIY herbal remedies. Mullein leaf, flowers, and roots have many benefits and magical properties that are good for your health and can be used to make herbal smoke blends, easy homemade herbal tea, and more. Mullein should be in every herbalist apothecary. Let's go foraging for mullein!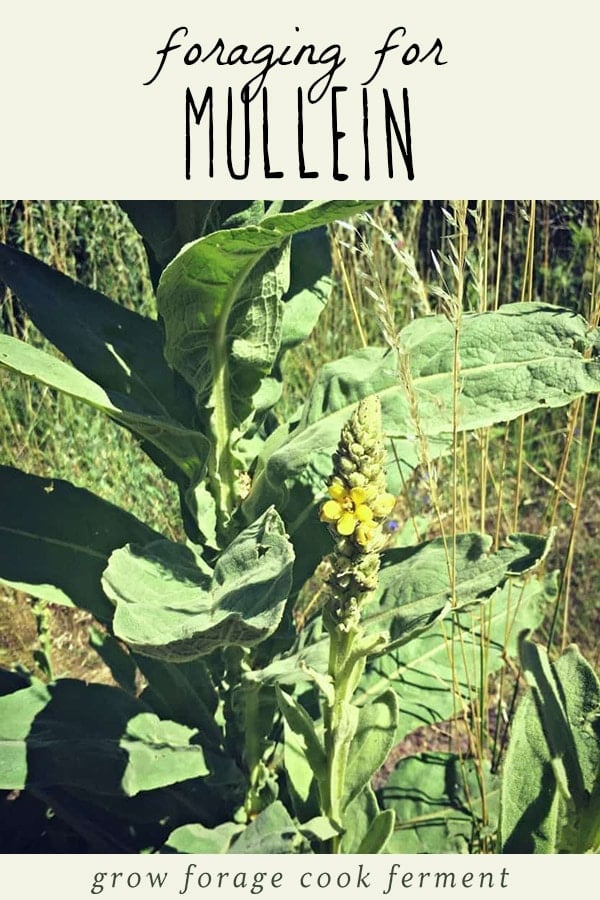 ---
Wildcrafting Weeds
If you want to learn more about the edible and medicinal weeds that surround us and how to use them, check out my eBook: Wildcrafting Weeds: 20 Easy to Forage Edible and Medicinal Plants (that might be growing in your backyard)!
Gather & Root Online Foraging Course
My online foraging course is a great way to learn about wild edible and medicinal plants! Learn more about the gather + root online foraging course here.
---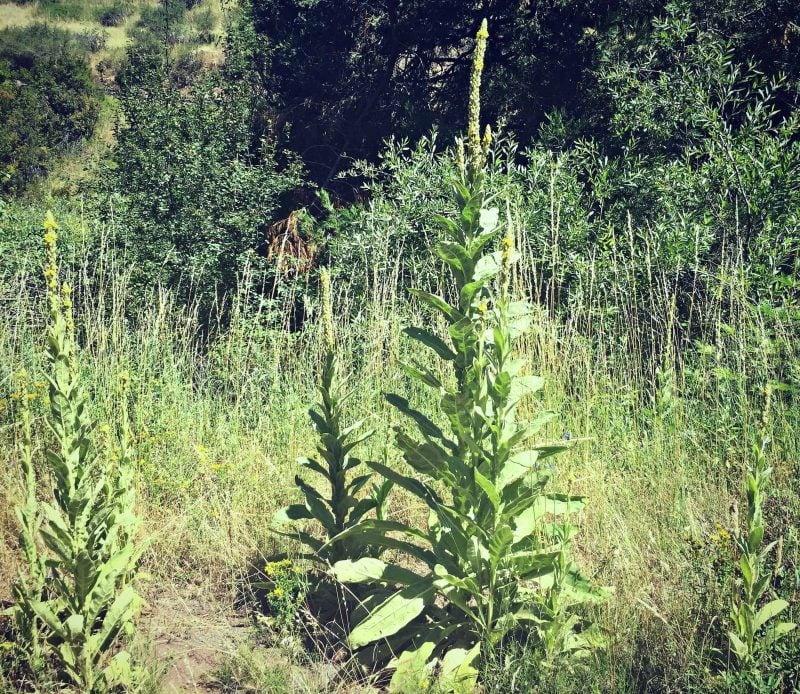 Foraging Mullein
I love it when a plant that I've seen for years, and is totally recognizable to most people, turns out to be a super awesome medicinal.
That's what it was like for me when I "discovered" plantain, a plant that I've seen under my bare feet since childhood. I was totally amazed at what this humble plant that most people deem a "weed" could do.
Then, many years ago, an old hippie friend of mine noticed a large mullein plant growing near where I lived in Yosemite. He mentioned Native Americans and how you could smoke it and I thought it sounded cool, but to be honest, I didn't really give it a second thought.
But now, as I've learned more and more about medicinal herbs over the past few years, I've really been amazed about what I've learned about mullein. And, luckily for all of us, foraging for mullein is usually quite easy!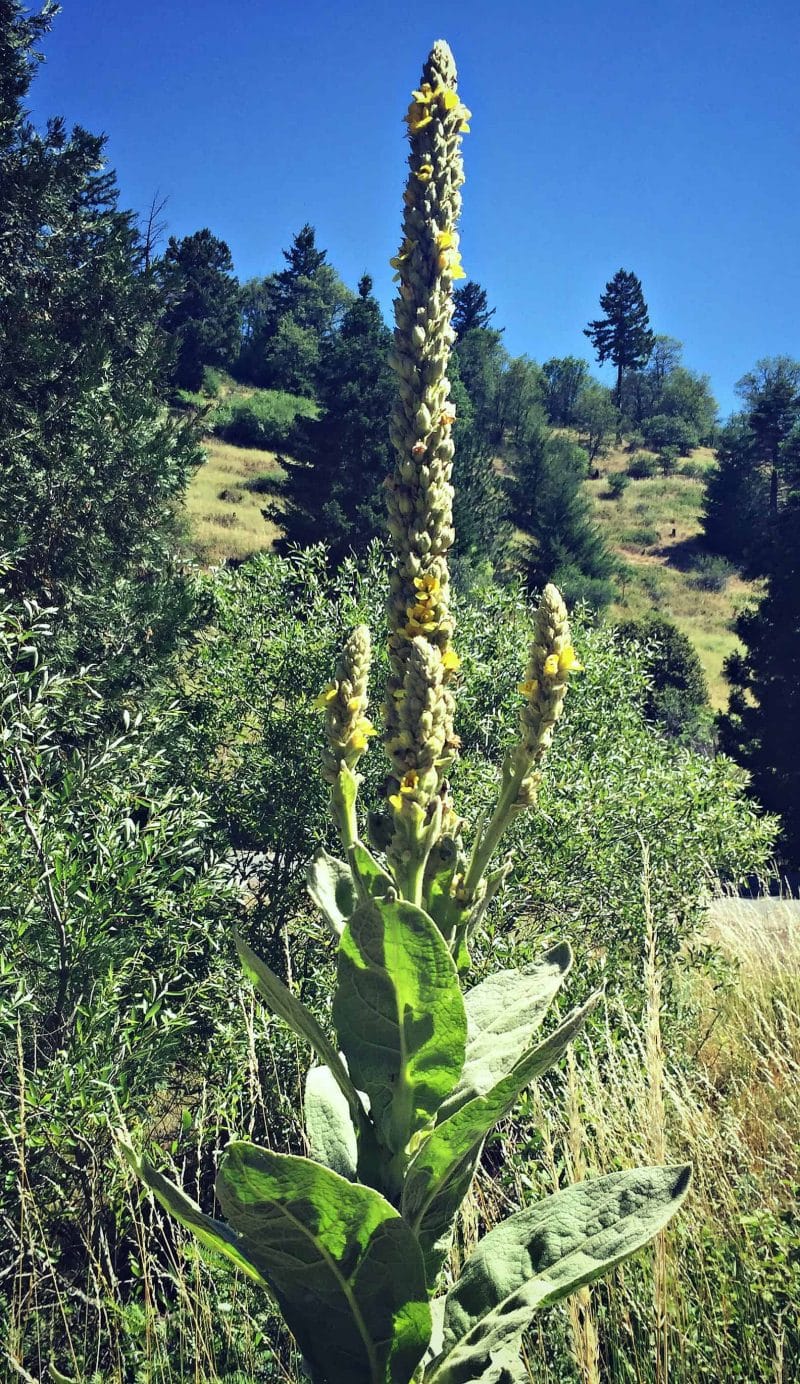 Identifying Mullein
Mullein is an extremely recognizable plant once you know what to look for. I'm sure you've seen it growing on roadsides or in other disturbed areas.
The most noticeable part of this plant is the tall yellow flower spike that blooms from mid to late summer.
The mullein flower in the picture above was probably two feet taller than me! This is what makes mullein most recognizable in the summertime, but if you look closely in spring you will notice the starts of what will be full grown mullein one day.
A small, fuzzy leaved, rosette of leaves that are close to the ground is how mullein starts its life. It is actually a biennial plant, so it stays like this until the second year of growth when it shoots up the tall flower spike.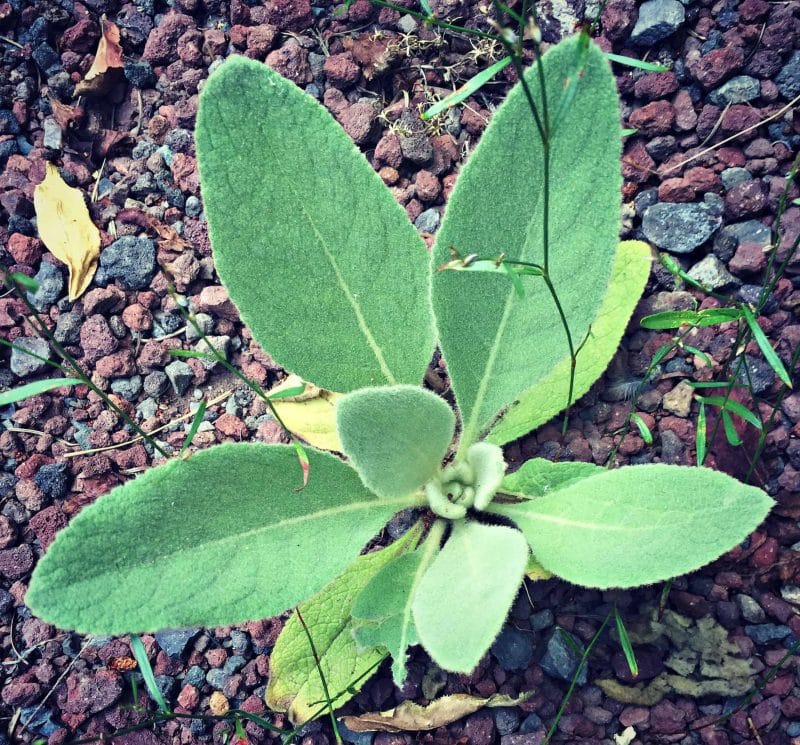 Uses for Mullein
That flower spike has a lot of medicinal uses, including being antiseptic, pain relieving and infection fighting properties.
An oil infusion made with mullein flowers has been traditionally used to help treat ear infections.
You can purchase dried mullein flowers from Mountain Rose Herbs if you can't find any in the wild or if it's not the right season.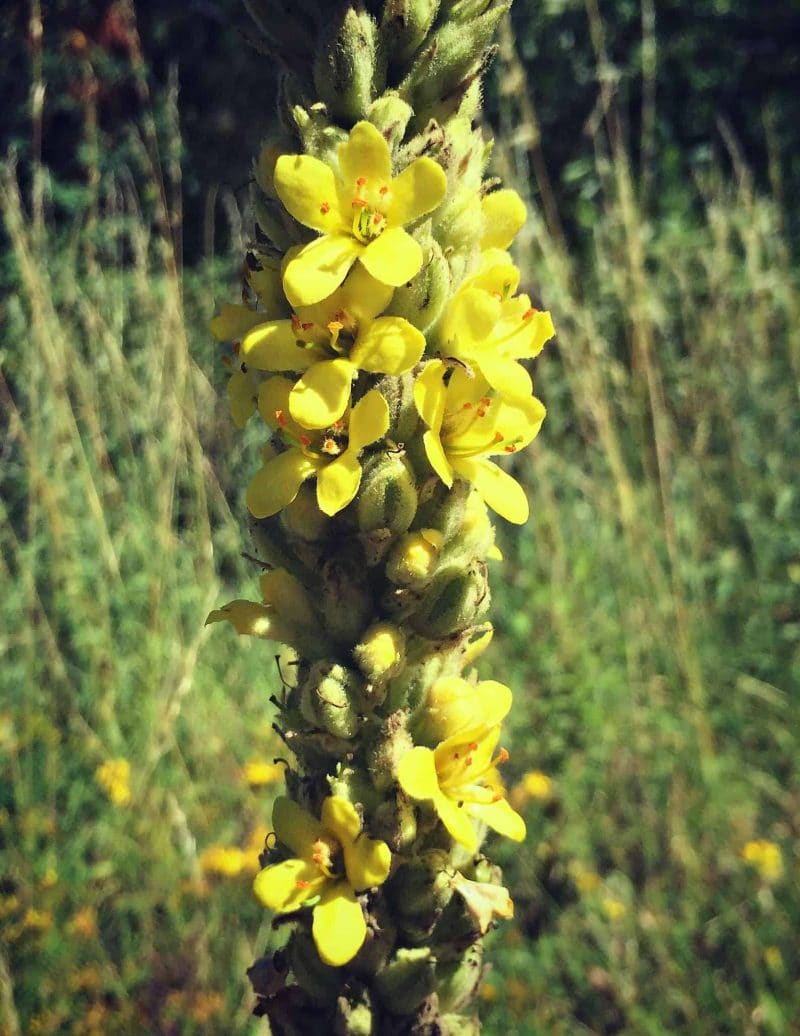 The leaves are super fuzzy and soft and can grow to quite a large size.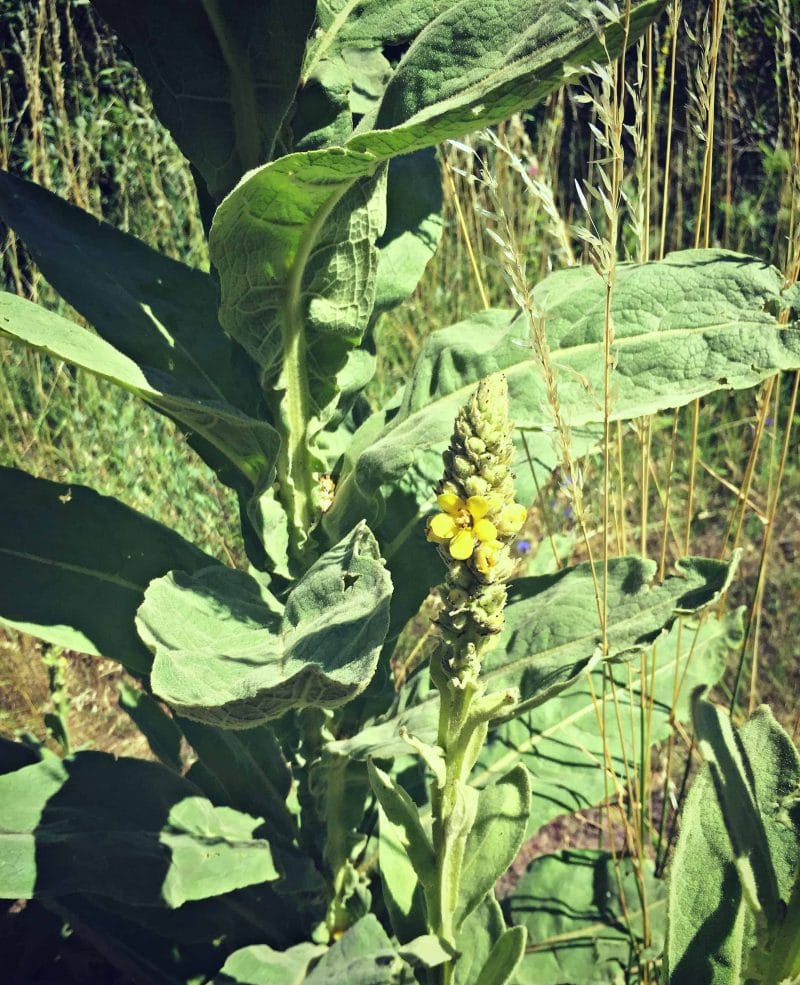 They have become somewhat known in the outdoor community as "nature's toilet paper". Can't say that I disagree with that!
The leaves also have a high level of medicinal value.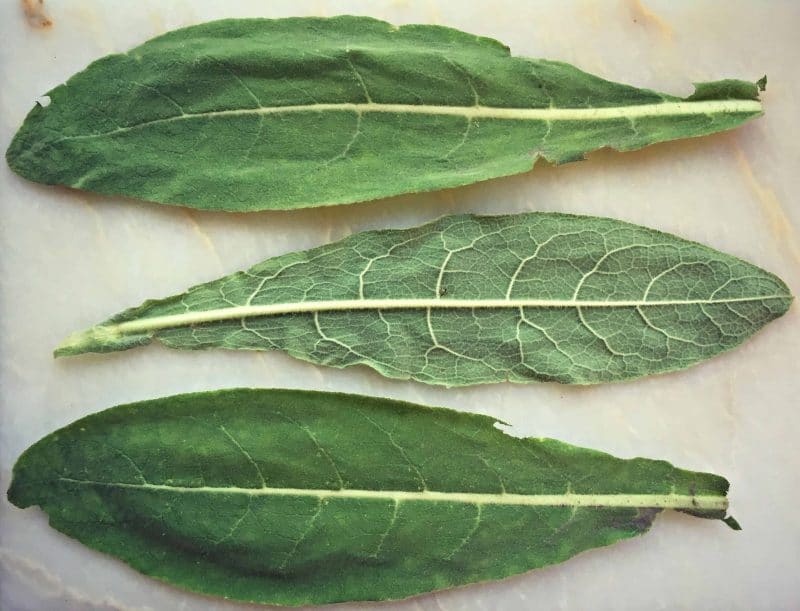 Mullein leaves are both an antispasmotic and and expectorant. This makes them highly beneficial to the respiratory system as a decongestant and even for asthma.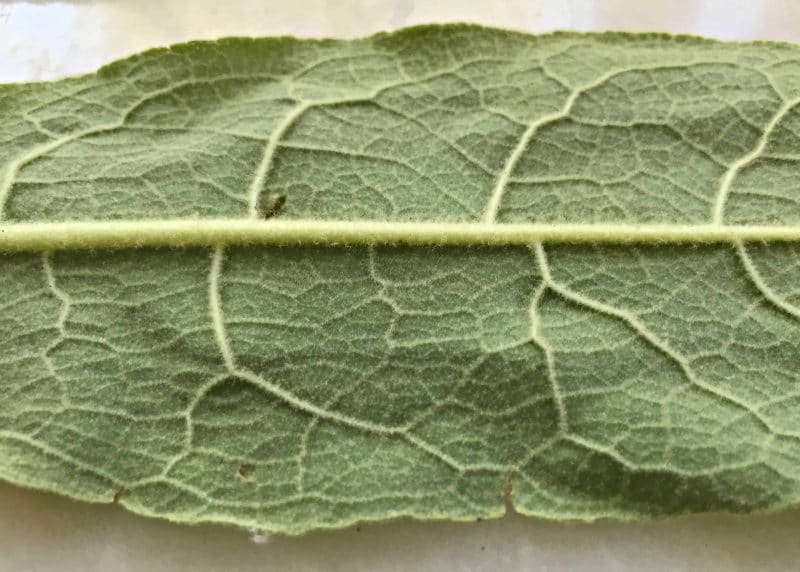 The leaves can also be used as a poultice for swollen glands, bruises, insect bites and other minor ailments. It would make a good addition to an herbal salve.
Mullein leaves can be dried to use throughout the year. You can also purchase dried mullein leaf from Mountain Rose Herbs.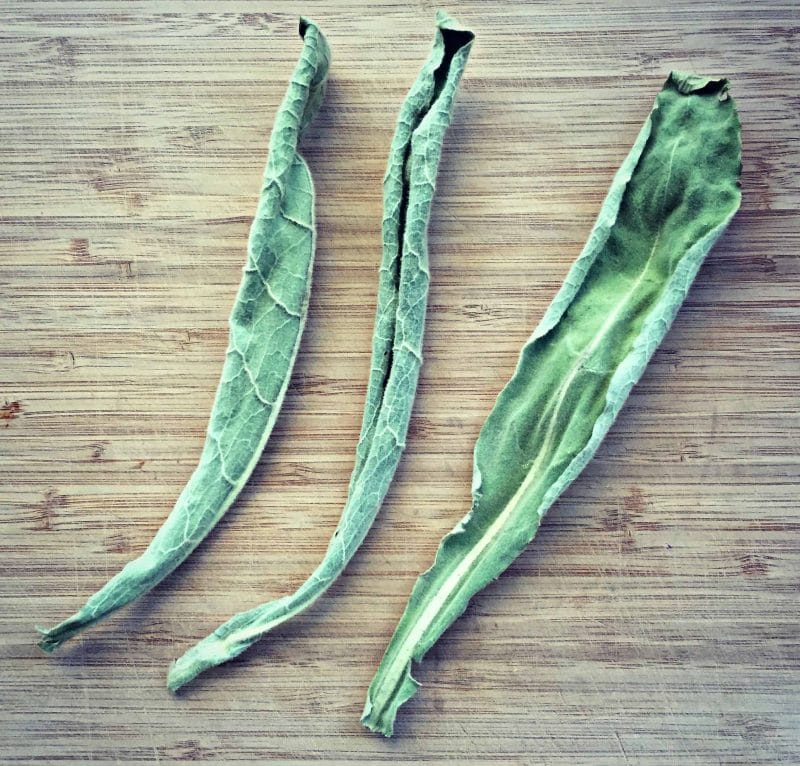 Because of their respiratory benefits, mullein leaves are often smoked, surprisingly enough, along with other herbs.
The leaves and flowers can also be made into a healing tea.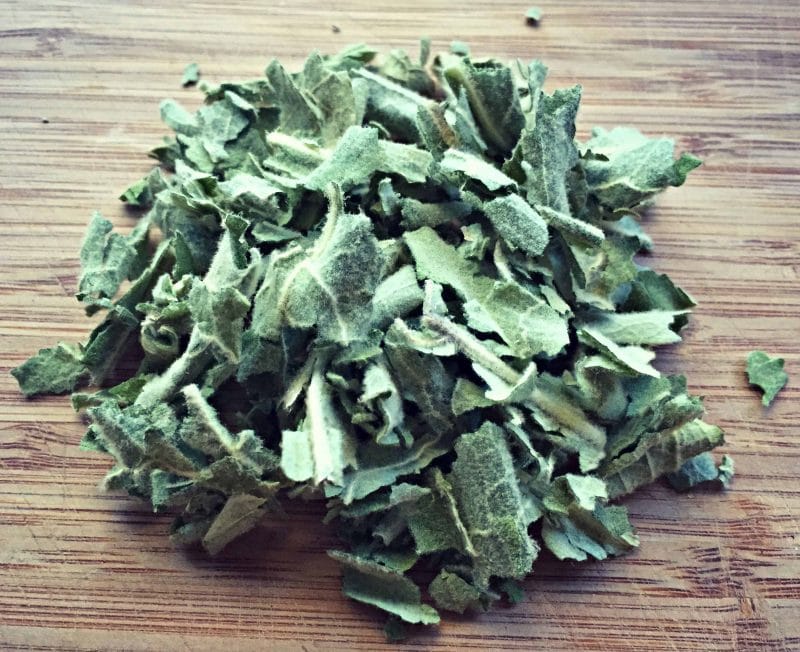 It's so nice to have readily available, easy to identify, highly medicinal plants that can be wildcrafted. Mullein has the best of all of these qualities, thankfully!
I don't know if I'll be smoking it any time soon, but I will definitely be collecting its leaves and flowers to dry for use throughout winter.
I may even make a mullein infused oil for use in a salve, or even on its own as an ear infection treatment.
I even read that in ancient times when the flower spikes dried up they would be dipped in tallow and used as a torch lantern. There are so many cool uses for this plant!
---
Medicinal Herbs for Summer Foraging
Keep your eye out for these medicinal herbs on all of your foraging adventures this summer. 
---
Have you ever gone foraging for mullein?