I had a different post planned for today. I was going to tell you all about the wild bay trees that Joel and I found while hiking along the Rogue river a couple of weeks ago, and how to dry and use the leaves in your cooking. But then I had to go to Santa Cruz last minute (not a bad problem to have, really), and I forgot to bring the camera that had the pictures of the bay trees "in their element." Unable to access those photos, I went to the UC Santa Cruz Arboretum to find a bay tree to photograph and, while I know that there has to be at least one there somewhere, I couldn't find one for the life of me! Blogger problems, I know.
Anyway, in the meantime I found a gorgeous patch of Plantain at the arboretum (don't worry, the bay leaves post is still going to happen in the near future). No, not the starchy bananas from Central and South America that are the stars of patacones, the amazing double deep fried plantain slices (ever since going to Ecuador in my early 20's I've wanted to name my first born Patacone after those tasty fried treats). This was the other kind of Plantain, from the genus Plantago, the powerful medicinal that is also lovingly known as nature's Band-Aid.
---
Wildcrafting Weeds
If you want to learn more about the edible and medicinal weeds that surround us and how to use them, check out my eBook: Wildcrafting Weeds: 20 Easy to Forage Edible and Medicinal Plants (that might be growing in your backyard)!
Gather & Root Online Foraging Course
My online foraging course is a great way to learn about wild edible and medicinal plants! Sign up to join the waiting list for the gather + root online foraging course here so that you are the first to know when it opens for enrollment.
---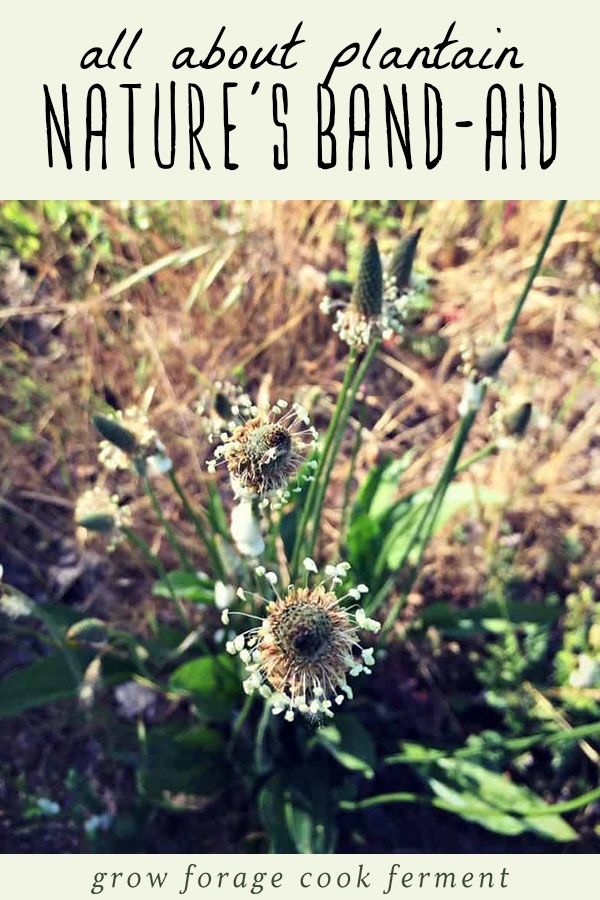 Foraging for Plantain
You've seen it before, I know you have. It's everywhere and is considered to be just another weed by most people, but please don't fall into that group! This plant is one of the most important medicinals that is known to man, and it literally grows everywhere.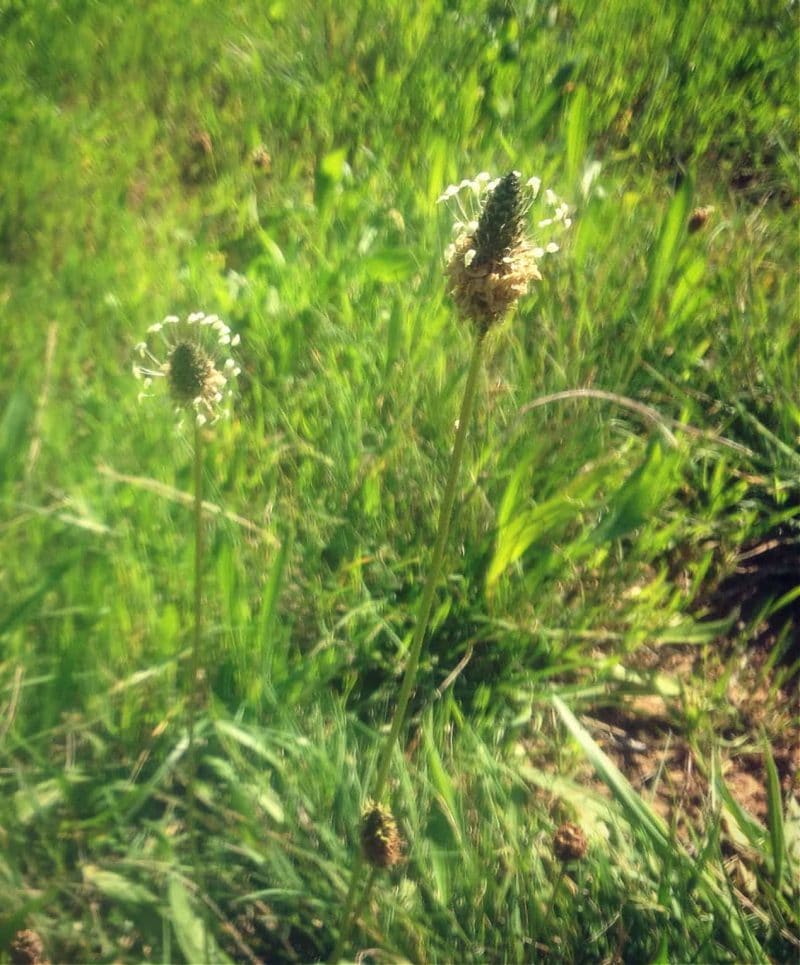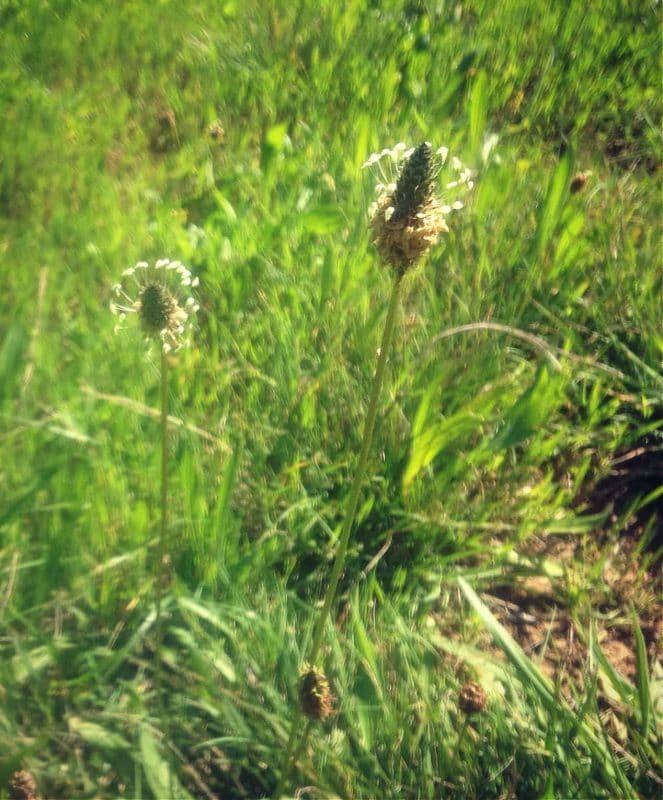 This particular species of Plantain I believe to be Plantago lanceolata, also called Ribwort Plantain, which is used frequently in herbal teas and remedies and is a highly effective cough medicine.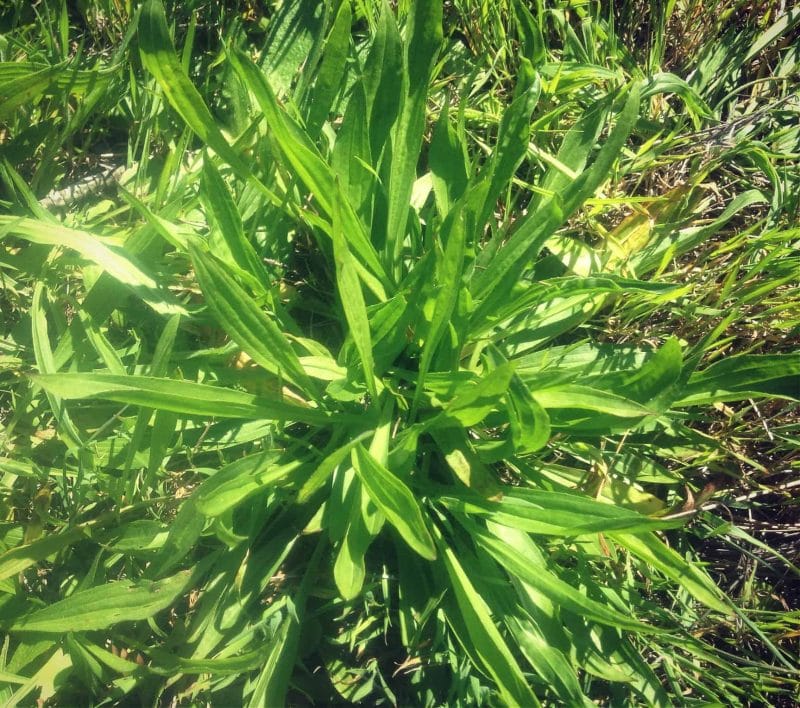 The leaves form a perennial rosette and are the prime part used for medicinal purposes. They are edible, although those from Plantago major are bigger and used more for culinary purposes. As I was collecting the leaves at the Arboretum a woman came up to me and asked, "What are you collecting?" and I replied, "Just some weeds." I felt a little bad saying it, not for the woman's sake, but for the Plantain, like I had put it down somehow. It is so much more than "just a weed!"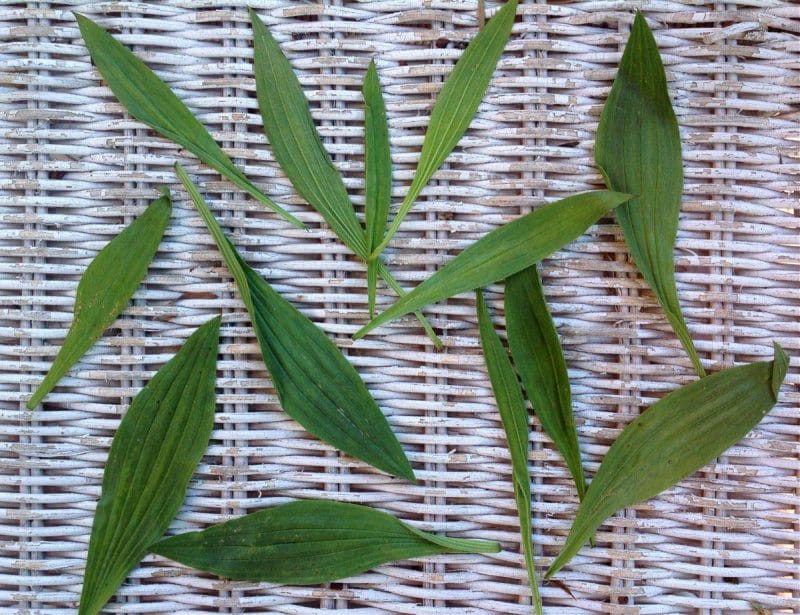 Uses of Plantain
Really, though, we need to reconsider what we think of as "weeds." Plantain is one of the first plants I would seek out if I was out in the wild and needing minor medical care. It is astringent, antimicrobial, anti-inflammatory, and anti-histamine. A poultice of the leaves made by chewing them a bit and then applying to a wound, rash or insect bite is extremely effective at helping to heal the affected area. It is also a common ingredient in salves and is one of my favorite ingredients in my healing herbal salve recipe.
Even just taping a leaf right onto a wound, effectively making a Plantain "Band-Aid," is very helpful in healing minor cuts and scrapes. You could even add a little bit of Plantain poultice under the leaf directly on the hurt area to further the healing process. I wish I had a gnarly wound to show you how well Plantain works, but right now I don't happen to have any! Next time I get one I'll update you on the healing process using a Plantain leaf.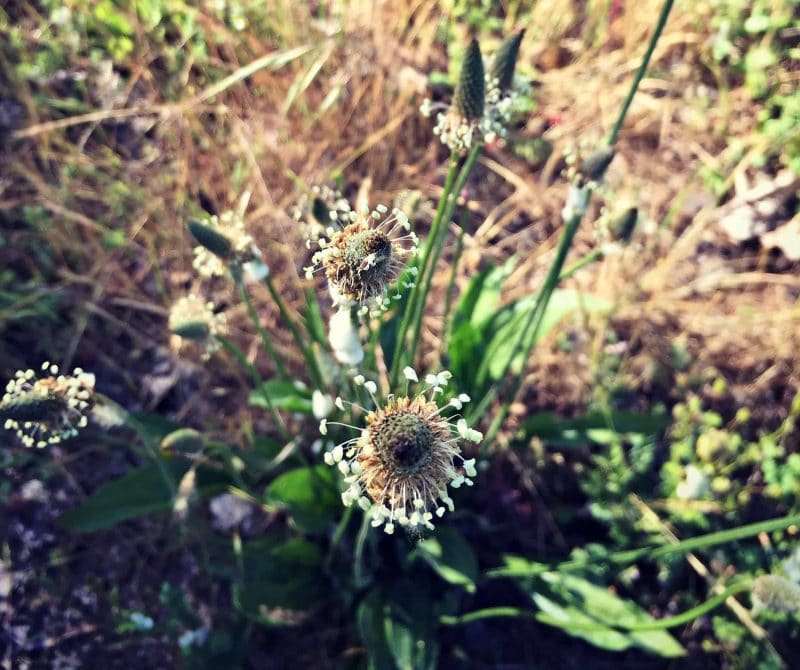 If you can't find any plantain, or if it's the wrong season, you can always buy dried plantain leaf from Mountain Rose Herbs (my favorite place to buy high quality, organic herbs).
For now, though, especially as we start heading into spring, keep your eyes open for this wonder plant! If you're like me you've been looking at it ever since you were a kid, but haven't realized the hidden medicinal properties that are within it. This is the kind of knowledge that is getting lost through the generations, let's not lose it for good! I guarantee it will be important for us to know how to use these plants in the future.
Save
Save