I love homemade bread, and I especially love rye bread.  The problem is that I haven't always been too successful in making bread the traditional way with kneading and rising.  It always seems to turn into a hard lump of some sort, and I've never been motivated enough to learn how to do it the "right" way.  However, several years ago I was introduced to the book My Bread: The Revolutionary No-Work, No-Knead Method
by Jim Lahey, which pretty much changed my world.  Now I could easily make wonderful bread with very little work and just a bit of forethought.  Shortly thereafter, I made my first sourdough starter, and soon started tweaking all of my homemade bread product recipes into sourdough (sourdough tortillas, sourdough pizza, sourdough naan bread, and sourdough blueberry pancakes to name a few).  But, the recipe I made the most was my no knead sourdough bread, which always turned out amazing.  So, when I got on a rye bread kick I decided to adapt that recipe into a no knead sourdough rye bread, with great results!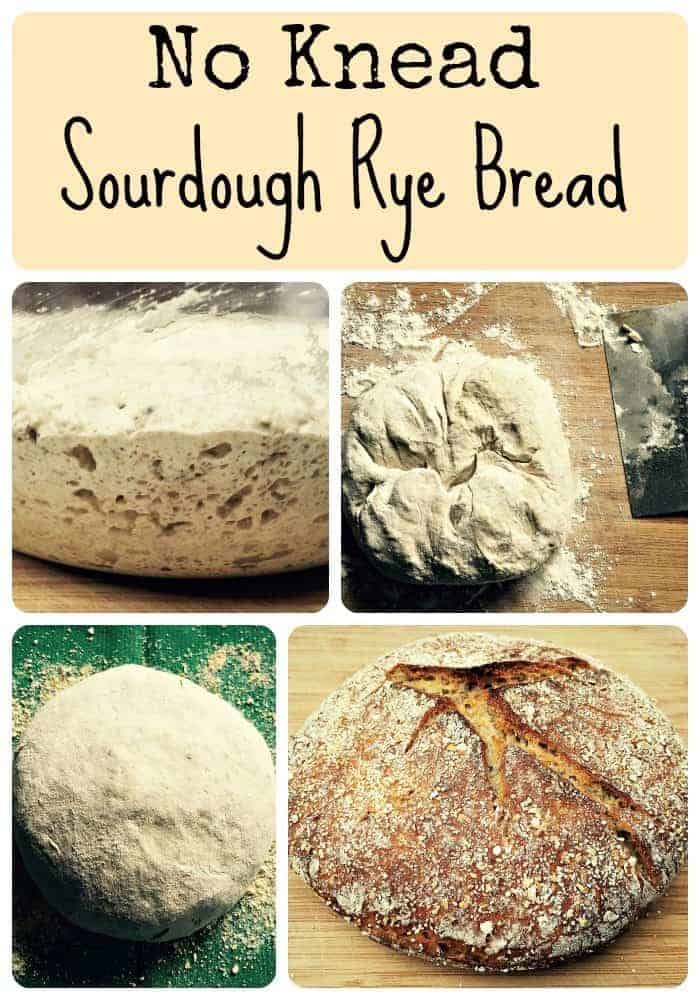 I have to admit, the whole reason for making this bread is because of my favorite sandwich, the almighty Reuben.  I have a goal (call it a new years resolution if you will) to make a completely homemade Reuben sandwich, and by homemade I mean everything from the bread to the sauerkraut to the cheese is made from scratch and home fermented.  I will even corn my own beef and make my own condiments (ideally fermented varieties) for the Russian dressing.  I may even attempt a vegetarian tempeh version.  I've already got the sauerkraut down, so this bread is the next step.  Hope you'll follow along and support me in my Reuben from scratch journey!
Anyhow, here is what you will need for this no knead sourdough rye bread:
2 cups bread flour
1 cup rye flour
1 tsp salt
1/2 tsp rapid rise bread yeast
2 Tbsp caraway seeds (optional, but highly recommended)
1/2 cup sourdough starter
1 1/3 cup cool water (possibly more or less)
cornmeal for dusting
This recipe also requires a 4-6 quart cast iron, or enameled cast iron, dutch oven.  I use the Lodge 5 quart cast iron dutch oven
and love it, but it's not that much more expensive to get a 6 quart enameled cast iron dutch oven from Lodge
.  I may consider upgrading myself, as I use mine all the time!
The first rise takes 12-18 hours, so it's best to start this the evening, the day before you want fresh bread.  First stir together the flours, salt, yeast and caraway seeds.
Then add the sourdough starter and water and stir together until a shaggy dough forms.  You may need a little more or less water, but 1 1/3 cups is usually pretty spot on.  The dough should be fairly wet, too wet to knead, but not overly so.
Cover with plastic wrap, or no-plastic wrap if you have it, and let sit in a warm spot in your kitchen for 12-18 hours.  It should get bubbly and have risen noticeably.
You can see the bubbles well from the side view.  Yay, dough bubbles!
Turn the dough out onto a floured board and turn the sides in.  You're not really kneading, just more like  folding.  A dough scraper
helps.
Then flip the dough over so the seam side is down and place on a tea towel that has been dusted with cornmeal.
Top the dough with a light sprinkle of cornmeal, then fold the ends of the towel in loosely to cover the ball and set in a warm place to rise for another 1-2 hours.
I usually do 2 hours in the winter because it is colder, but if you live in a warm climate (or if it's summertime) 1 hour is usually sufficient.  1/2 hour before the second rise is done, put the dutch oven, with the lid on, in the oven and preheat it to 475°F.  The dough should have spread out a bit when it's finished rising.
Now this is the tricky part, and the one thing that I have the most trouble with.  I usually have Joel do it for me!  The good thing is that it usually works out just fine, so don't worry.  Take the hot dutch oven out of the oven, take off the lid, and flip the dough over into it, upside down.
You can shake the dutch oven a little to get the dough centered if need be, then cover and return to the oven for 30 minutes.  Then take the lid off and cook for another 15 minutes.
When it's all said and done you should have a gorgeous loaf of rye bread!  Cool for several hours on a rack before cutting.  I know, that's the hardest part!
The caraway seeds gives it that distinctive rye flavor and smell.  It's especially good with a little bit of homemade marmalade!
Rye bread often doesn't rise quite as much as regular bread because there isn't as much gluten in rye flour (which is why it needs some regular flour as well).  This bread was still tender and delicious, tangy from the sourdough and perfect for a sandwich.
Yummy, I can't wait for that Reuben!
Save