Have you ever had real corned beef?  Not the store bought, precooked stuff, but the real deal?  There are many delicatessens and butcher shops that make it in house, which is where I had my first taste of it.  I was completely blown away at how tender and delicious it was!  It was so good, I wanted to make it for myself.  I did some research on how it's made, and realized that it is a cured meat, which made me even more interested.  I don't know a whole lot about cured meats, but it's a topic that I've been wanting to learn more about, and this seemed like the perfect opportunity!  I've made this corned beef several times now, and it always turns out amazing.  Here's how to make corned beef, just in time for St. Patrick's Day!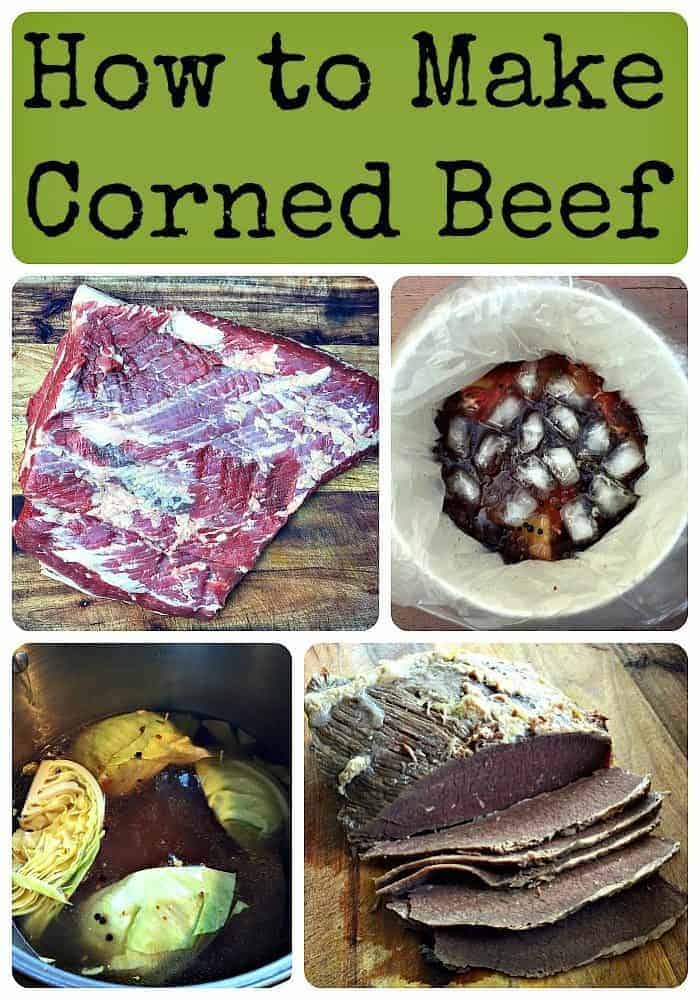 Corned Beef Recipe
Curing meats with salt, which is what we'll be doing here, is a method of fermentation.  Corned beef is a bit easier to make than traditional salami or ham, as those need to hang for months at a certain temperature and humidity.
Corned Beef (Nitrate Free)
Plan to start this at least 5-7 days ahead of time, as that's how long it takes to brine the meat.
For more detailed directions please see below this printable recipe.
Ingredients
Pickling Spice Blend
1 Tbsp black peppercorns
1 Tbsp mustard seeds
1 Tbsp coriander seeds
1 Tbsp red pepper flakes
1 Tbsp allspice berries
1 Tbsp juniper berries (dried)
1 Tbsp whole cloves
Brine
3/4 gallon water
1  cup kosher or pickling salt
1/2 cup brown sugar
2 Tbsp pickling spice blend
3 crushed garlic cloves
1 cinnamon stick
1 bay leaf
1/2 tsp ground ginger
one 3-5 pound beef brisket
ice cubes
Corned Beef
2 Tbsp pickling spice
1 bay leaf
1 onion, halved
1 cabbage, quartered (optional)
Instructions
Combine all of the pickling spice ingredients in a small bowl. Store in an airtight container.
Make the brine by putting all of the brine ingredients, except the brisket and ice cubes, into a pot and bring to a boil. Once it boils, take it off the heat and let it cool completely.
Put the brisket, brine, and ice cubes into a brining vessel, and keep on ice or in the refrigerator for 5-7 days (see below for more details on brining).
Once brining is finished, take the brisket out and rinse well with cold running water.
Put the brisket in a large pot with water to cover, the halved onion, 2 Tbsp pickling spice, and bay leaf.
Bring to a boil, then reduce the heat to a simmer.  Cover and cook for about 3-4 hours, adding the optional quartered cabbage during the last hour, until tender.
I want to mention here that I don't call for saltpeter, or pink salt as it's often called, in this recipe.  Saltpeter is a nitrate that is commonly used when making corned beef, mainly to retain its pink color.  I feel that it's unnecessary, so I don't use it, but feel free to add a couple of teaspoons of it to the brine if you wish.
The first thing you will need to make is a simple pickling spice blend.  You will use some of it in the brine, and some of it when you cook the corned beef in about a week.  I find it's easiest to make up a small batch of the spices, then it's ready whenever I need it.
Then it's time to brine your meat.  Brisket is the cut that is most often used for making corned beef.  It is a tough cut of meat that has a lot of connective tissue, but with brining and a long cooking time it can become quite tender.  Like always, I recommend that you buy your meat from a local, grass fed source if possible.
To make the brine, put everything except the brisket and ice cubes into a pot and bring it to a boil.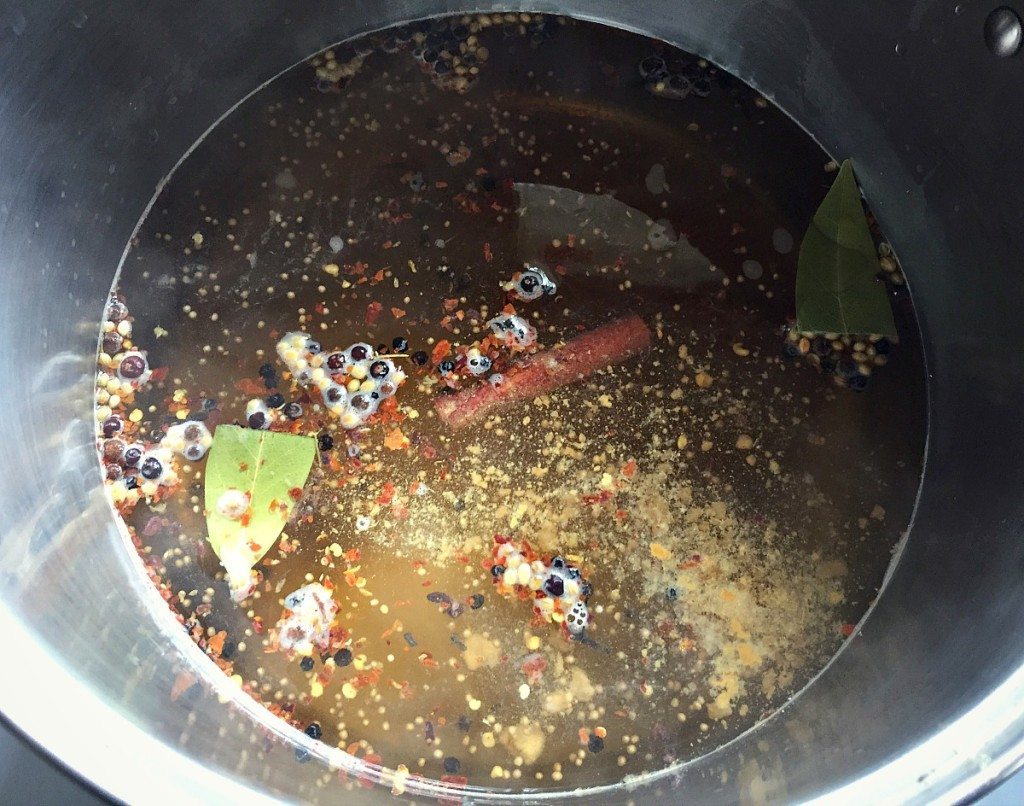 Once it boils, take it off the heat and let it cool completely.  While it's cooling, decide where you're going to keep the brining brisket for the next week.  It needs to stay cold, so if you have enough room in your fridge that's perfect.  In the past I've done it in a 2 gallon zip top bag, then put that into a casserole dish in case of leaks, in the fridge, and it worked great.  This time, though, my fridge was full to the max, so we decided to do it in a cooler with a block of ice, that we kept outside in the shed.  First we put the brisket, cooled brine, and ice cubes into a double plastic bag.
Then we closed the bag with a twist tie, getting as much of the air out as possible.  We put a block of ice in the bottom of the cooler, then the bag of brisket and brine on top.
This worked very well for us, and there was still some ice leftover at the end of the week.  Be sure to check that you still have some ice in there for the entire brining period as it needs to stay cold, especially if you do this in the warmer months.
After 5-7 days in the brine, it's time to cook your beef!  This will take most of the afternoon, so start early.  Take it out of the brine and rinse it well with cold running water.  Put it in a pot with water to cover, the halved onion, 2 Tbsp pickling spice, and bay leaf.
Bring to a boil, then reduce the heat to a simmer.  Cover and cook for about 3 hours.  I think we actually cooked ours for about 3 1/2 hours.  If you like, towards the end of cooking, add a quartered cabbage.  We did this and it turned out so good!  Classic corned beef and cabbage right there.
When it's all finished, both the beef and the cabbage should be tender.  Take the corned beef out and cut it in slices against the grain.  It should slice quite easily.  If for some reason it's not fully tender yet, keep simmering it for a little while longer until it is.
Now, I'm going to tell you the real reason why I made this corned beef.  I'm almost to my goal of making a completely homemade Reuben sandwich!  I've got the sourdough rye bread and sauerkraut down, the cheese is in process (yay!), and the fermented ketchup is made, which is the base for Russian dressing.  This excites me to no end!
I think this corned beef gets even better as it sits in the fridge.  It slices easy and is perfect for any kind of sandwich, even if you don't have all the makings for a Reuben.
There you have it, your own homemade, nitrate free corned beef!  It's so fun to make traditional recipes at home.  I hope you try it!
Save
Save
Save