Juniper berries are commonly known as being a spice or being the flavoring for gin, but they have many other uses as well! Foraging for juniper berries is easy as juniper trees are fairly common. Learn more about foraging juniper berries and how to use them for food and medicine!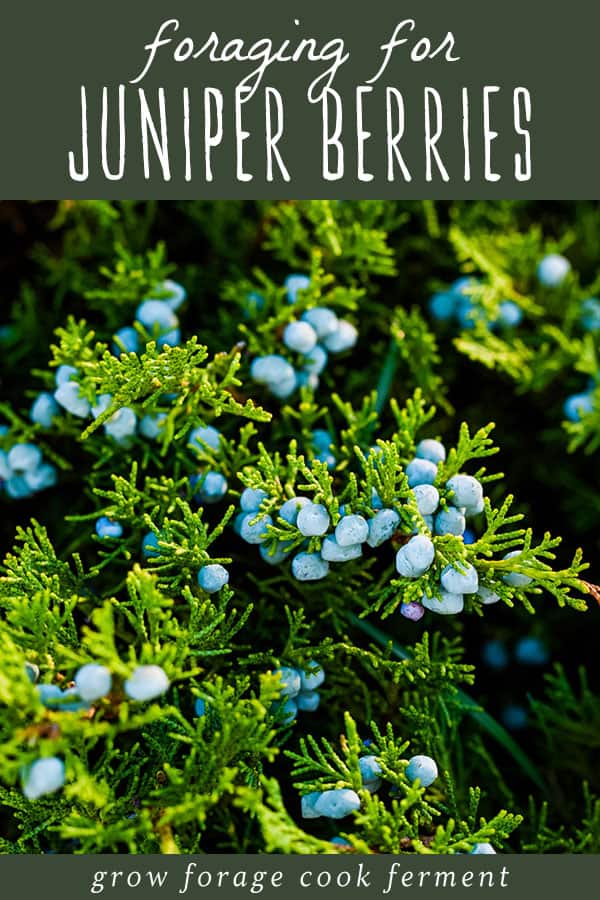 ---
Wildcrafting Weeds
If you want to learn more about the edible and medicinal weeds that surround us and how to use them, check out my eBook: Wildcrafting Weeds: 20 Easy to Forage Edible and Medicinal Plants (that might be growing in your backyard)!
Gather & Root Online Foraging Course
My online foraging course is a great way to learn about wild edible and medicinal plants! Sign up learn more about the gather + root online foraging course here.
---
Foraging Juniper Trees & Berries
Joel and I were in Tahoe one winter and I said to him, "I'm sure we can find some Juniper trees while we're here." After spending many years in Yosemite, I figured Juniper trees were fairly common in the Sierras, but we didn't see any in Tahoe!
However, not more than a week later, when I was back home and walking on a different route than usual due to serious heavy rains that flooded my regular path, I found a stand of Juniper trees with some plump berries.
So, right here at home and in town, I was foraging for juniper berries!
That's the thing about juniper trees (Juniperus spp.), they are fairly common throughout the northern hemisphere, and some species are even planted as a ornamental tree in landscaping.
Juniper trees and berries, like most conifers, are great for fall foraging and winter foraging.
Junipers have needle or scale like leaves, depending on the species. Some have needles when young that turn to scales as they mature.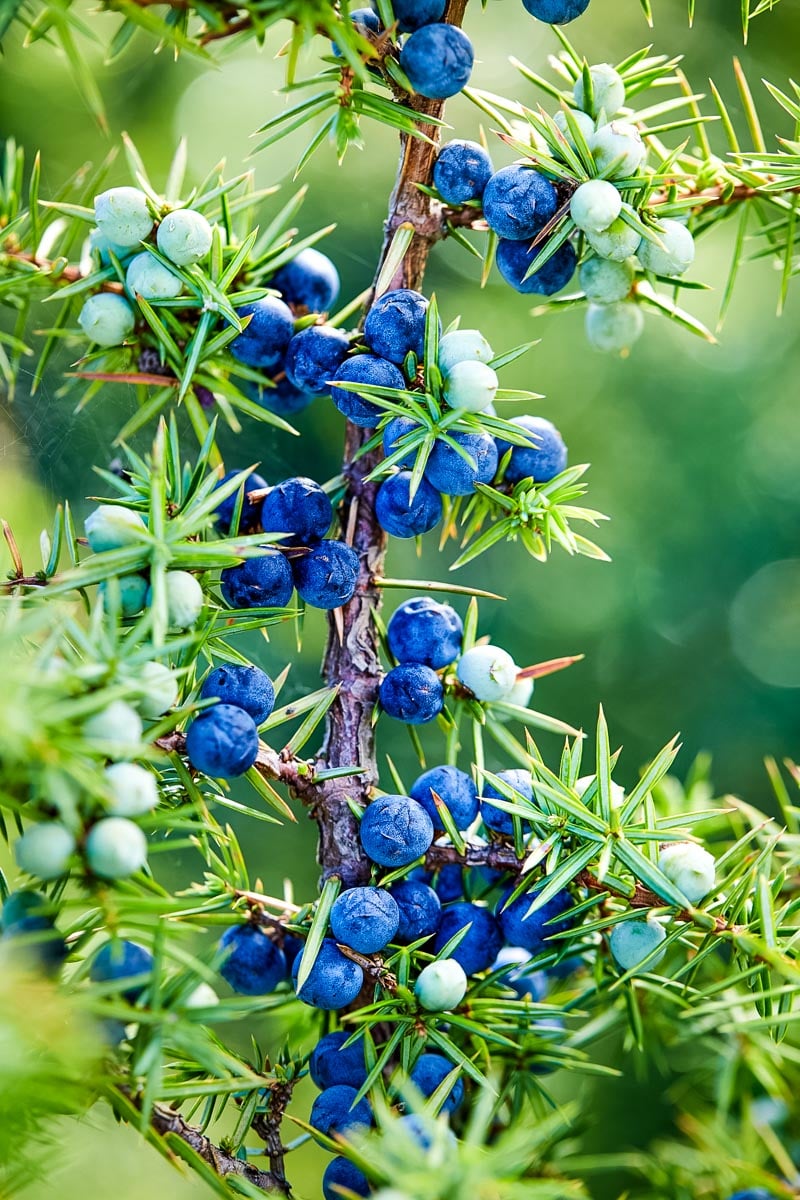 Beautiful and fragrant, juniper trees have become a favorite of mine over the years. They often have a gnarly and weathered look to them that I find pleasant.
Junipers have a distinctive aromatic "gin-like" scent and produce blue seed cones known as juniper berries, which is what we're interested in today!
Note: Eastern redcedar (Juniperus virginiana) is actually a juniper and not a cedar at all!
Identifying Juniper Berries
The "berries" of juniper trees are actually fleshy cones, not true berries at all, that are usually covered with a white powdery bloom. That bloom is actually wild yeast, and you can use the berries to make your own wild yeast starter for homebrewing!
One thing to mention, there are certain varieties of juniper berries that contain a powerful resin that is toxic to humans if eaten in large amounts. Please be aware of this.
The best way to determine this is to taste a tiny bit of a berry and if it is harsh and bitter spit it out and do not use internally. Don't worry, they are only mildly toxic and you would need to eat a lot of them to do any harm, so a tiny nibble isn't a problem in this case.
But please don't do with with other wild berries unless you are certain of their identification!
I have done this test before with juniper berries and have only ever had them taste wonderfully piney and slightly sweet, not even a hint of bitterness. Amazing, actually!
Related: How to Identify Conifer Trees: Pine, Fir, Spruce, Juniper & more!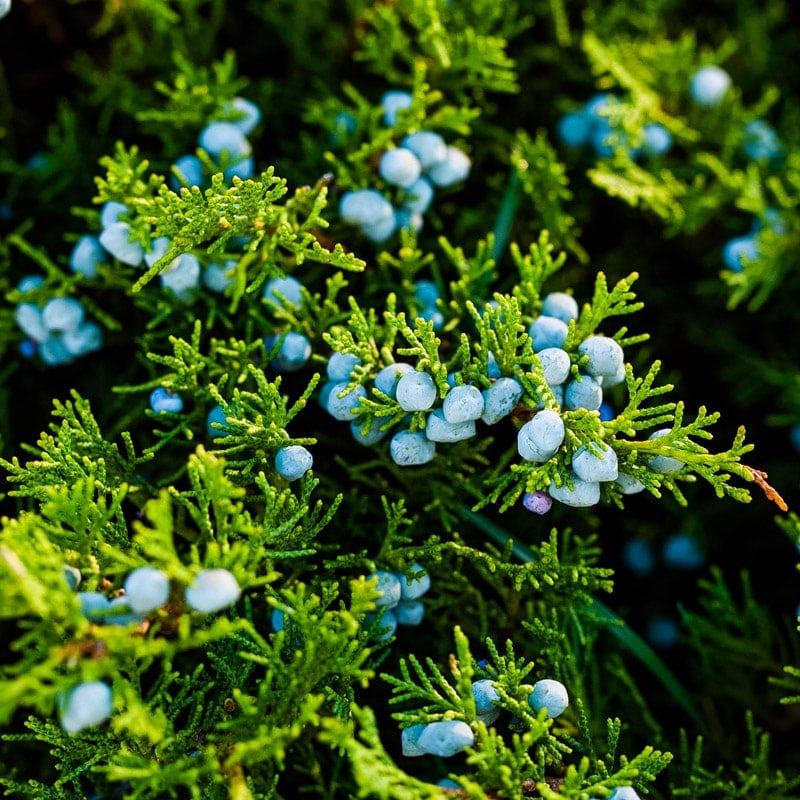 Edible Uses of Juniper Berries
Juniper berries are the primary flavoring agent for gin, and they are in an ingredient in my Infused Winter Gin recipe.
In fact, the name "gin" is derived from either the French or Dutch (no one knows for sure) word for juniper. But, juniper berries are good for so much more than just gin!
Dried juniper berries are commonly used as a spice or flavoring agent in brines and meat, particularly for game birds and venison. I use juniper berries in the brine for my nitrate free corned beef recipe.
They are common as a pickling and fermenting spice as well. I've used dried juniper berries in my fermented sauerkraut and love the subtle flavor it gives.
These juniper berry cookies are a festive and delicious way to use them as well!
Dried juniper berries can purchased from Mountain Rose Herbs. They also carry a pickling spice blend that contains juniper berries.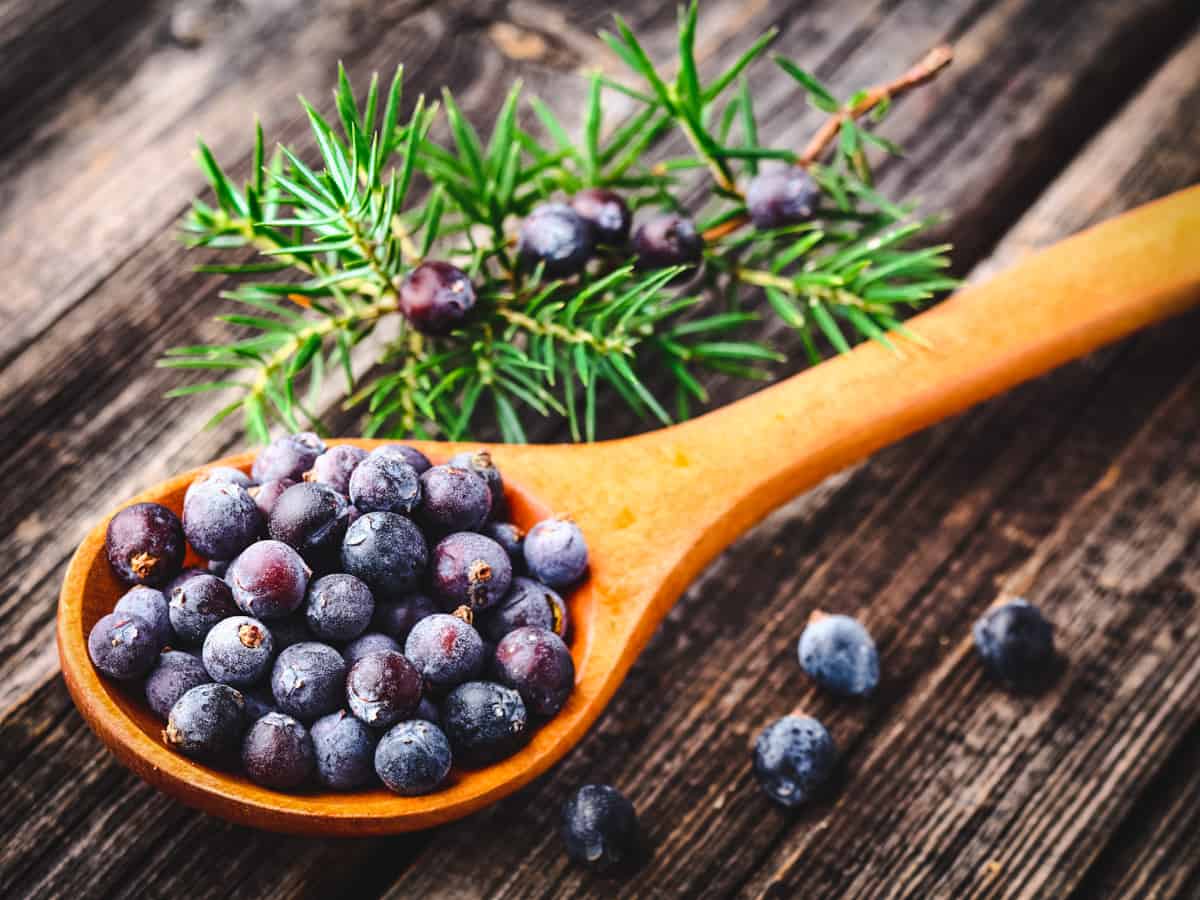 Medicinal Uses of Juniper Berries
Juniper berries are also a highly effective medicinal, as I can attest to from first hand experience.
They are most notably a powerful diuretic, along with being antiseptic and antiviral, making them extremely effective in treating UTI's (urinary tract infections).
I have been prone to these horrible and painful infections in the past, and after deciding to quit taking unnecessary antibiotics when I was in my mid-twenties, I started drinking uva ursi and juniper berry tea whenever I felt one coming on.
I'm not going to lie, the pain was still there, but after 2 or 3 bouts within a year or so I was able to combat the infection for good and haven't had one since… more than 15 years later!
I have a recipe in my book Healing Herbal Infusions for a UTI Tea that contains juniper berries, uva ursi, and some other herbs that are also beneficial for the urinary system.
Juniper and its berries are also amazingly beautiful and have a wonderful incense like fragrance. If nothing else, it will look and smell pretty in your home and provide some aromatherapy.
Or you can turn it into an amazing smelling Juniper Spice Beard Balm for that bearded person in your life!
But for now, although Juniper berries are more than just gin, please don't forget about the gin!
Go have a martini and think about how wonderful juniper berries are. You can thank me later!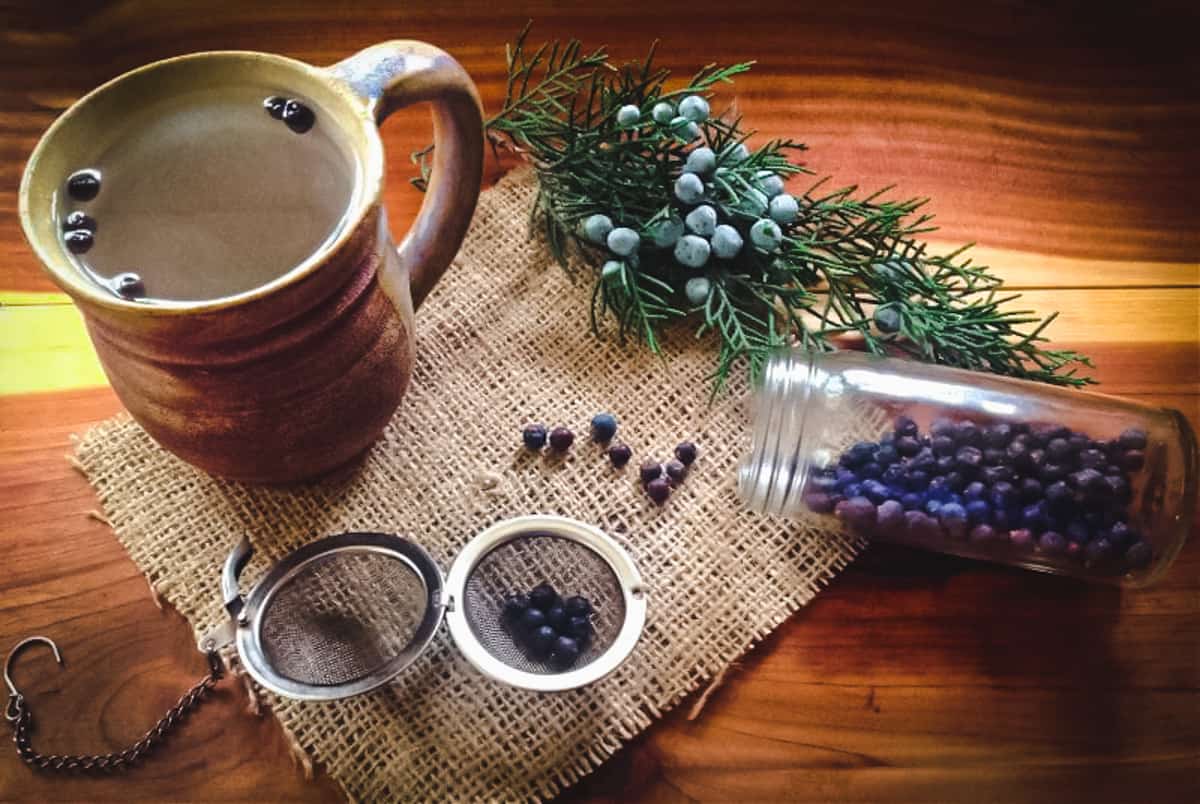 Save
Save
Save
Want more fall foraging ideas?