This post is sponsored by Mountain Rose Herbs. All ideas and opinions expressed in this post are based on my own personal view and experience.

If you or someone you know has an unruly beard, then this post is for you!  Last year I made a Rosemary Pine Beard Balm that was hugely popular (and popular in my Etsy shop as well!), so I thought I'd come up with a new and different one for this season.  The piney scent made it really wonderful, so I expanded on that theme by using fresh juniper cuttings and berries for this one, along with dried juniper berries, cinnamon, and cloves.  This juniper spice beard balm recipe smells amazing and is sure to be a new favorite!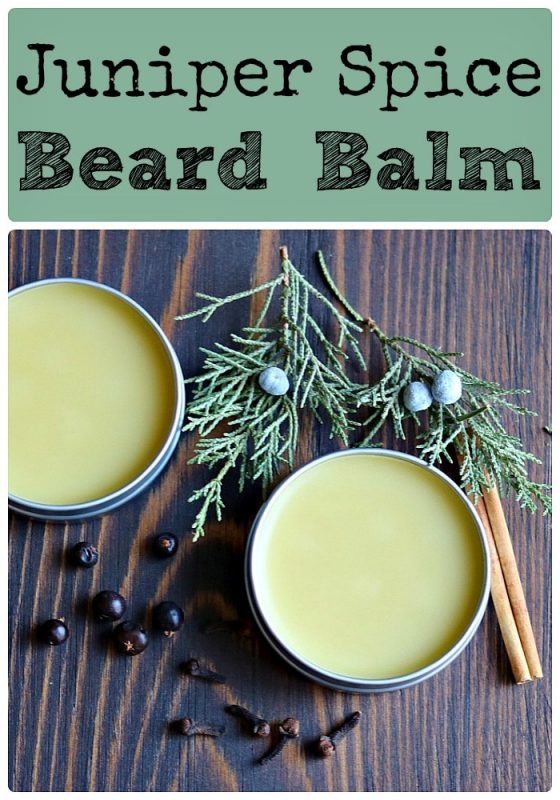 Juniper Infused Oil
The first step in making this homemade beard balm is to make a juniper berry infused oil with cinnamon and cloves.  I like to include some fresh juniper twigs and berries (learn about foraging for juniper berries here), but if you don't have any juniper available in your area you can use cedar or any other conifer that you might have access to.  You can purchase dried juniper berries from Mountain Rose Herbs.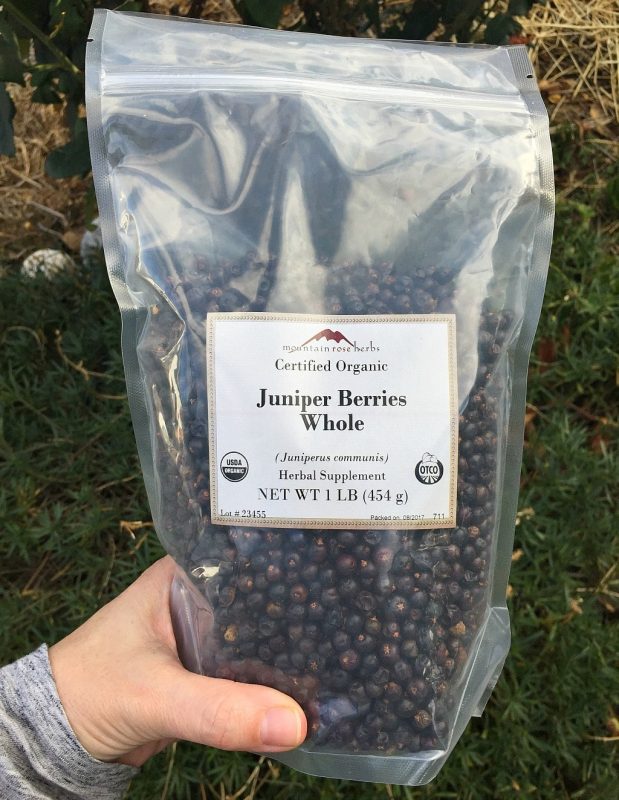 Put these spices into a pint sized jar (I get all of my mason jars at Fillmore Container):
Fill the rest of the jar with fresh juniper or other conifer twigs, leaving about an inch or so of space at the top of the jar.  Then cover everything with the carrier oil of your choice.  When making beard balms, I like to use a blend of olive, coconut, sweet almond, and jojoba oils.  You don't have to use all of those, but I definitely recommend using some jojoba oil as it is very nourishing for the beard.
Cover the jar and let it sit in a cool and dark place for 4-6 weeks to infuse, then strain out the solids with a cheesecloth or fine mesh strainer before use.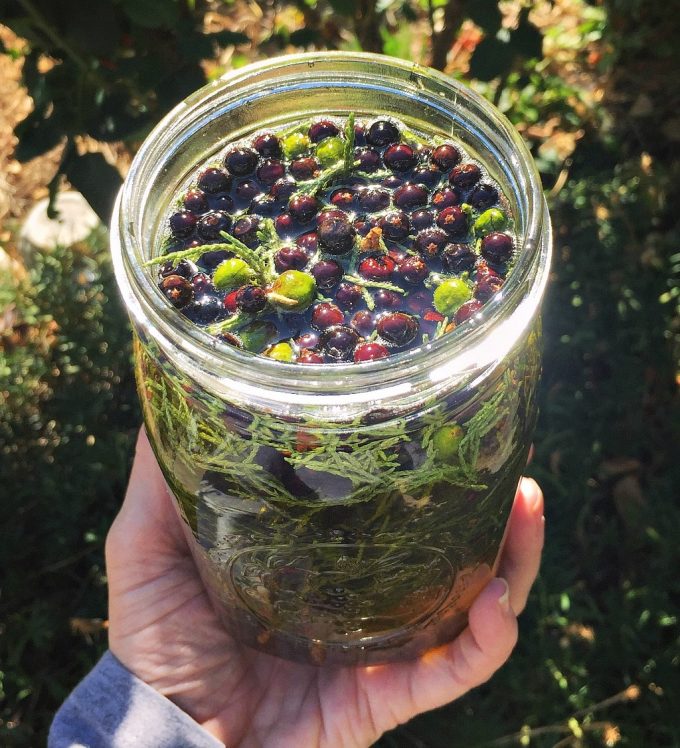 Juniper Spice Beard Balm Recipe
Once your juniper oil is done infusing then you can make the beard balm!  This recipe makes about 6 ounces of beard balm total.  You will need a container (or containers) to keep it in.  I used 2 ounce tins, which would make you three balms total (you can purchase tins from Mountain Rose Herbs).
Juniper Spice Beard Balm
Instructions
Put the infused oil and beeswax into the top container of a double boiler, and stir as the beeswax melts. (Tip: you can make a double boiler with a smaller pot, bowl, or glass pyrex measuring cup over an inch or so of simmering water.  If you use glass pyrex, put something in the bottom of the pot that it can rest on, such as a canning jar lid).
Once the beeswax has completely melted, add the shea butter and stir until it dissolves.
When everything has liquefied, stir in the essential oils.
Carefully pour the mixture into jars or tins.
Let them cool undisturbed for several hours.  The beard balm will harden as it cools.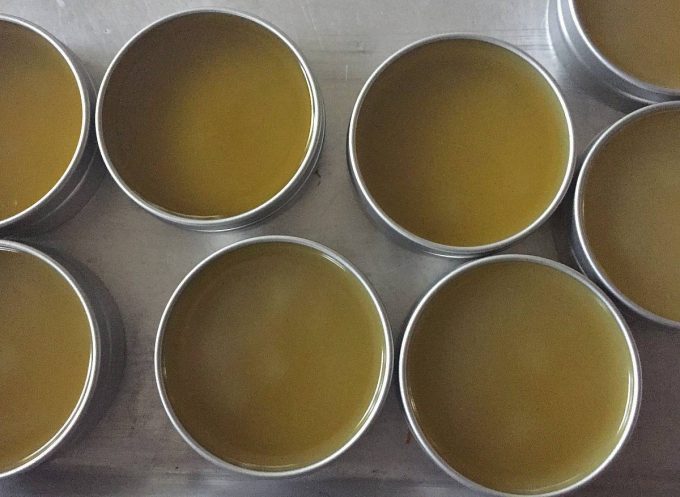 I am really happy with the way this beard balms turned out!  It smells absolutely wonderful with a rustic hint of juniper and spices. The addition of shea butter and jojoba oil will help to soften and hydrate the hair.  It's the perfect gift for any bearded man that you know!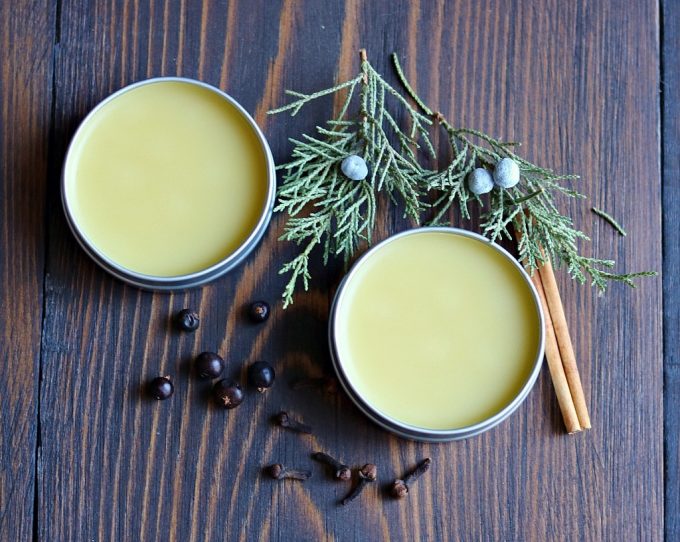 The best part is if you don't have the time to make it yourself, you can purchase it in my Coco's Herbals Etsy shop, along with two other beard balms that I make: Rosemary Pine and Spruce Nettle.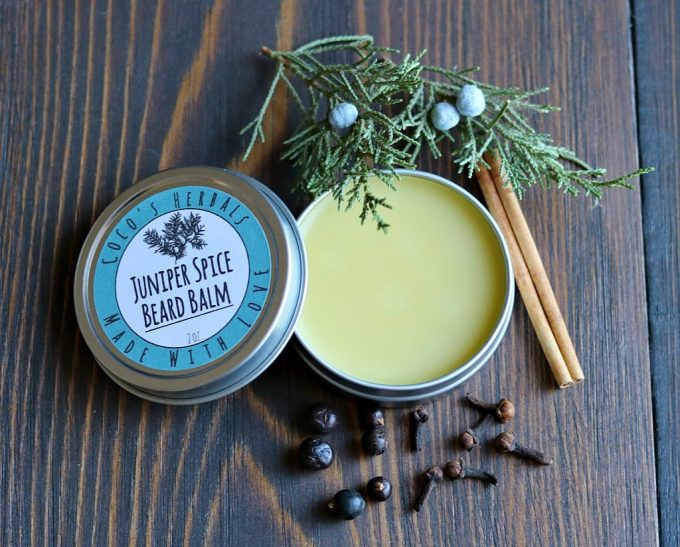 Every bearded man needs his own homemade beard balm, and this one is easy to make and smells wonderful!
Happy homemade beard balm making!