You have most likely seen usnea, also known as Old Man's Beard, when you are out in the forest. I see it all the time hanging in long strands from conifers when I'm hiking here in the pacific northwest. What you may not have known is that usnea is a super medicinal lichen! I love it when I find out that a plant (or lichen in this case) that I've seen for years is beneficial in some way. Foraging for usnea and learning how to identify it isn't difficult and is the first step to using this powerful natural medicine.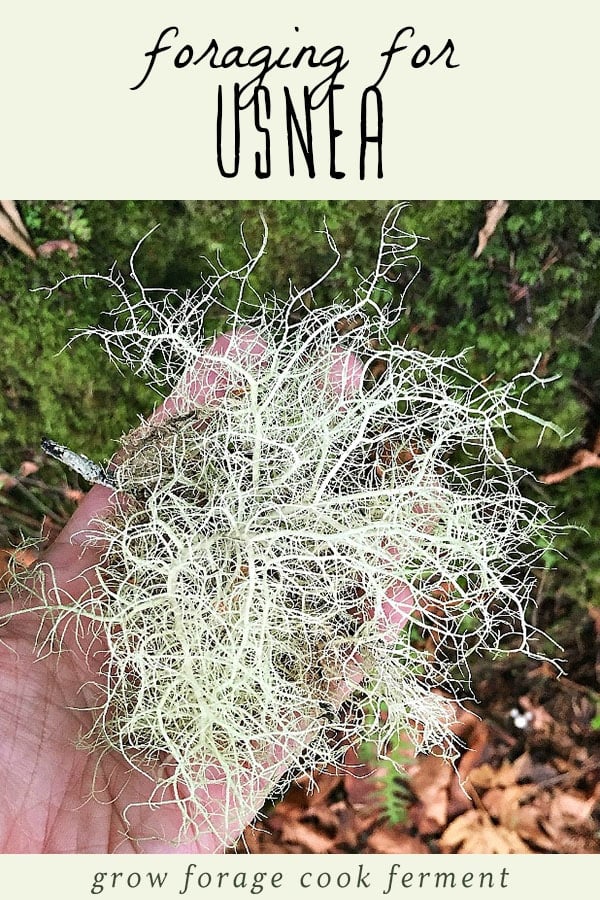 ---
Wildcrafting Weeds
If you want to learn more about the edible and medicinal weeds that surround us and how to use them, check out my eBook: Wildcrafting Weeds: 20 Easy to Forage Edible and Medicinal Plants (that might be growing in your backyard)!
Gather & Root Online Foraging Course
My online foraging course is a great way to learn about wild edible and medicinal plants! Sign up to learn more the gather + root online foraging course here.
---
Foraging & Identifying Usnea Lichen
Usnea is a lichen that grows worldwide on the bark of trees, usually conifers, but can also be found on oak, hickory, walnut, and apple trees.
It often grows in long beard like strands, which is where it got the nicknames Old Man's Beard and Beard Lichen.
The best way to positively identify usnea is to gently pull apart the strands and see that it has a stretchy white core in the center. Usnea is the only lichen with a white core.
Usnea is a great plant to forage in the fall and winter time when there isn't much else available.
Related: What to Forage in Winter: 30+ Edible and Medicinal Plants and Fungi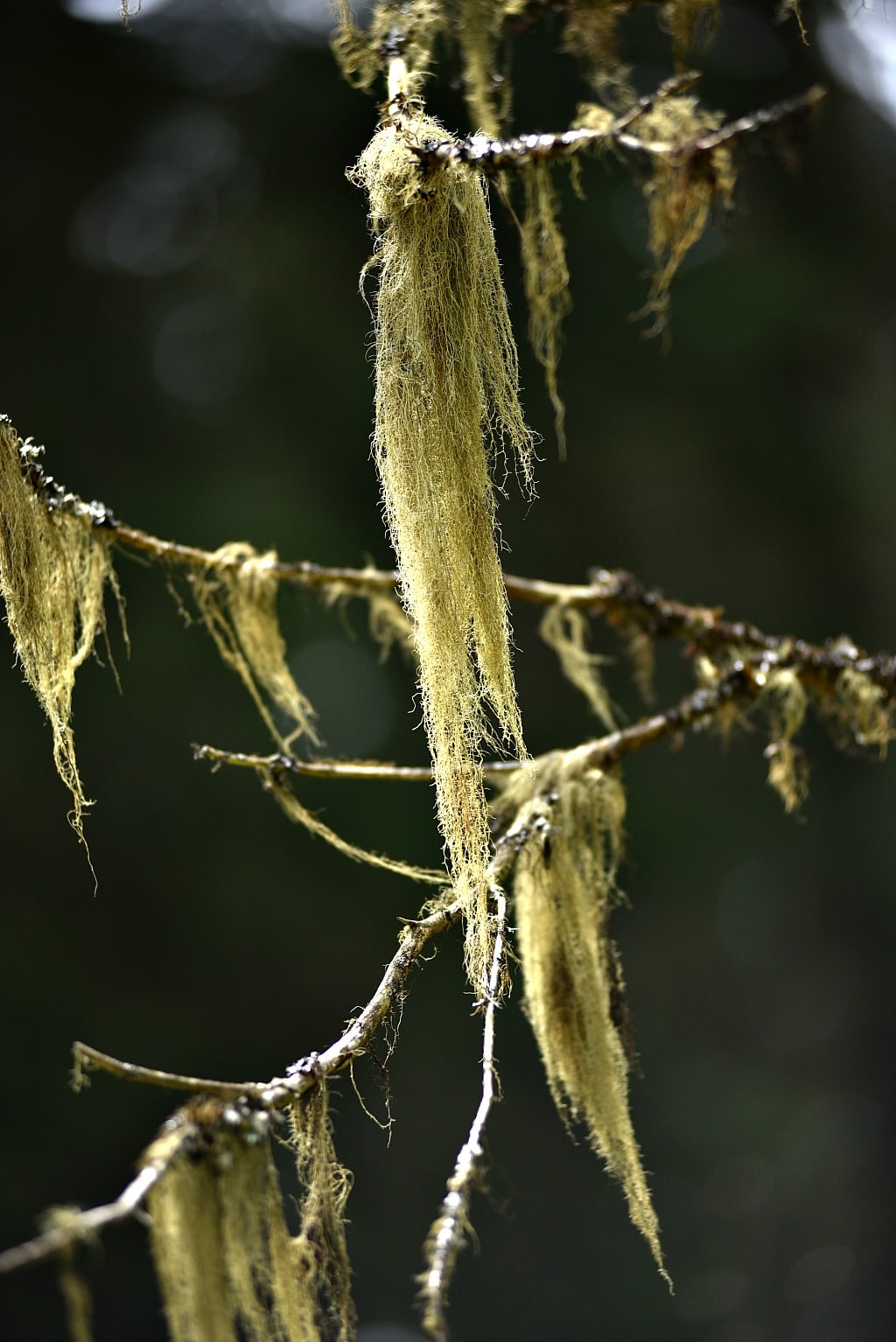 Harvesting Usnea Lichen Sustainably
When collecting usnea, it is best to only gather what has fallen to the forest floor, rather than taking it straight from the tree itself. This is because lichens grow very slowly which makes them at risk for over-harvesting.
When you are out walking in the woods where usnea grows, keep an eye out for usnea on fallen branches and gather from there. I usually have no trouble finding usnea on the ground in forests where it is growing abundantly.
One interesting thing to note is that lichens like usnea are sometimes used to determine air quality because they won't survive in polluted air.
So if you are in a forest that is full of usnea, breath deep because the air is pure!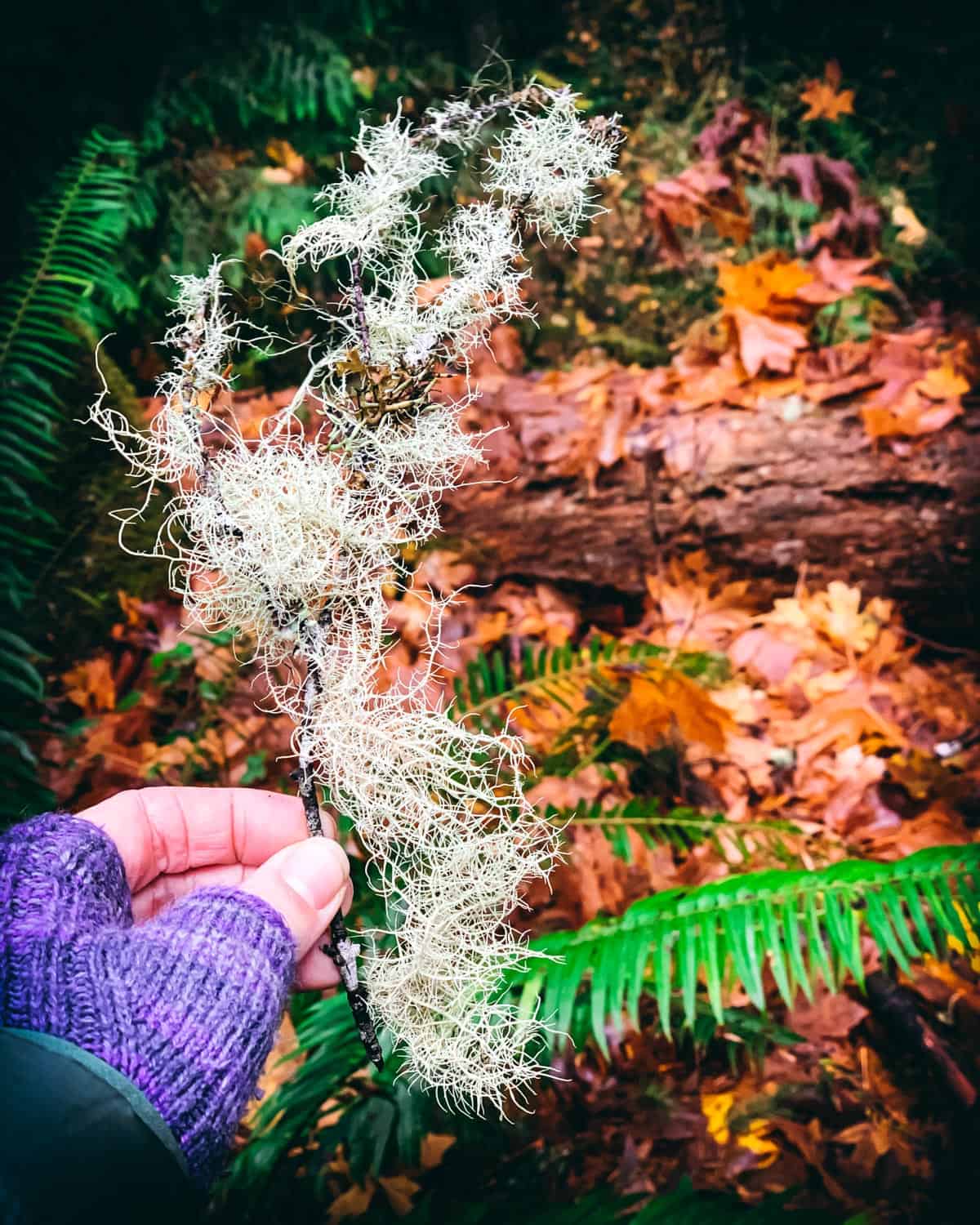 Usnea Medicinal Benefits
While usnea is technically edible, it isn't particularly tasty and can cause some stomach upset if it isn't leached properly.
Where usnea really shines is with its amazing medicinal benefits!
First and foremost, usnea is an immune system tonic and has powerful antibiotic and antiviral properties.
It has amazing benefits for the respiratory system and can effectively help to heal bronchitis, pneumonia, sinus infections, strep throat, colds, flus, and other respiratory complaints.
Usnea is also highly beneficial for urinary tract and kidney infections.
The best way to use usnea for health, respiratory, and immune system benefits is to make an usnea tincture.
It can also be made into a tea, but it is very bitter and doesn't taste very pleasant.
Usnea is also well known as a wound healer and helps to prevent infection. It can be made into a poultice to be applied directly on a wound, which is good to know when you are out hiking in the woods!
If you prefer to buy tinctures rather than make your own, I highly recommend Herb Pharm! They carry Usnea Tincture, as well as different immune boosting blends, alcohol-free glycerites, and products for kids. Use this code for 15% off your order: COLLEEN15
Herb Pharm products can also be found on Amazon here.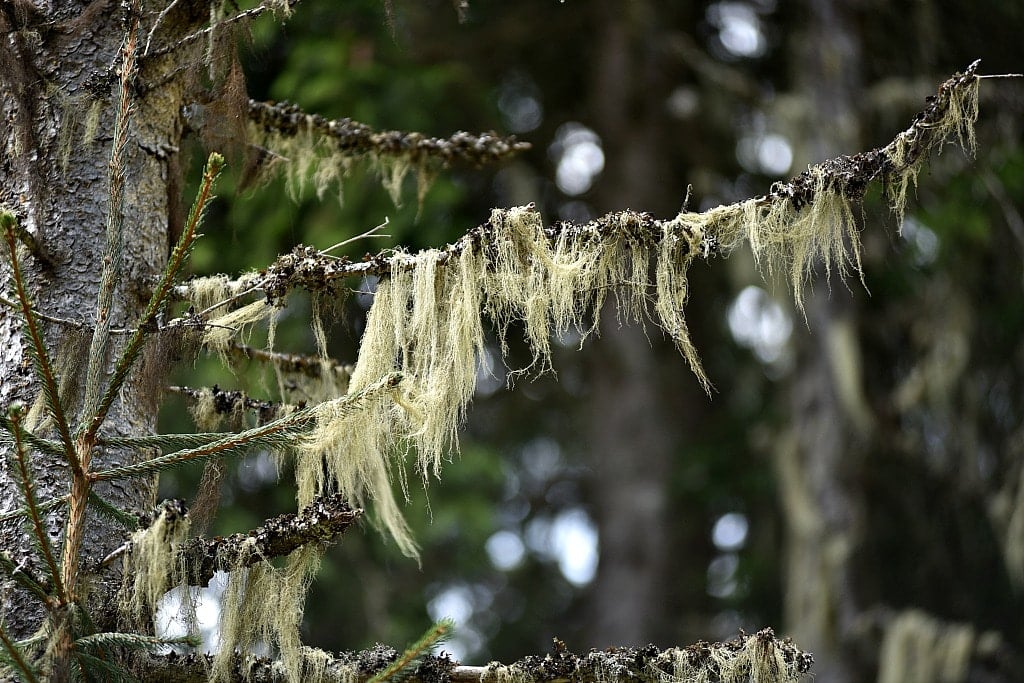 Usnea is such a great lichen to know about!
It grows almost everywhere and has some amazing medicinal benefits. It is a very safe herb that can be used by the whole family.
Take some care when collecting it and bring it home to turn it into a tincture to include in your herbal apothecary for optimum wellness!