Late fall and winter can be a tough time for foragers in the majority of North America. After the fall mushrooms are gone, there isn't a whole lot left in the realm of wild food. The one thing that most of us have, no matter where we live, is pine or other conifer needles. They are something we see nearly every day, but did you know that they are edible and medicinal? Foraging for pine needles is one of those things that you can do in the winter time to connect you to nature and the wonderful living world around you.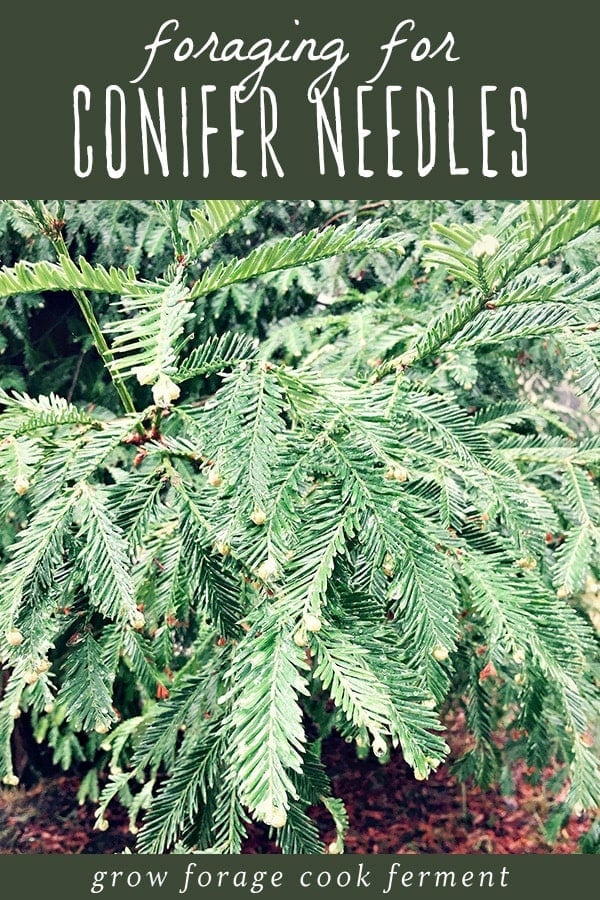 ---
Wildcrafting Weeds
If you want to learn more about the edible and medicinal weeds that surround us and how to use them, check out my eBook: Wildcrafting Weeds: 20 Easy to Forage Edible and Medicinal Plants (that might be growing in your backyard)!
Gather & Root Online Foraging Course
My online foraging course is a great way to learn about wild edible and medicinal plants! Sign up to learn more about the gather + root online foraging course here.
---
Foraging for Pine Needles
One of the best plants you can utilize in late fall and winter are trees, specifically conifers. Conifers are evergreens, meaning that they don't lose their needle like leaves in winter.
The conifer division is called Pinophyta, which has eight families including Pinaceae and Cupressaceae.
These two families contain the majority of what we think of as "pine trees" in the United States, including firs, spruces, hemlocks, cedars, pines, junipers, and redwoods.
There are many different species of conifers that are edible and medicinal, but please consult a guide book to make sure you are foraging for the right tree as there are a few that are toxic, most notably those in the Yew family.
I also have a complete guide on how to identify different conifer trees.
Here are a few of the common conifer trees to forage on the west coast of North America.
Douglas Fir
This is the quintessential Oregon tree, and the variety that we always had as a Christmas tree growing up. Smelling a Doug Fir always puts me in the holiday spirit!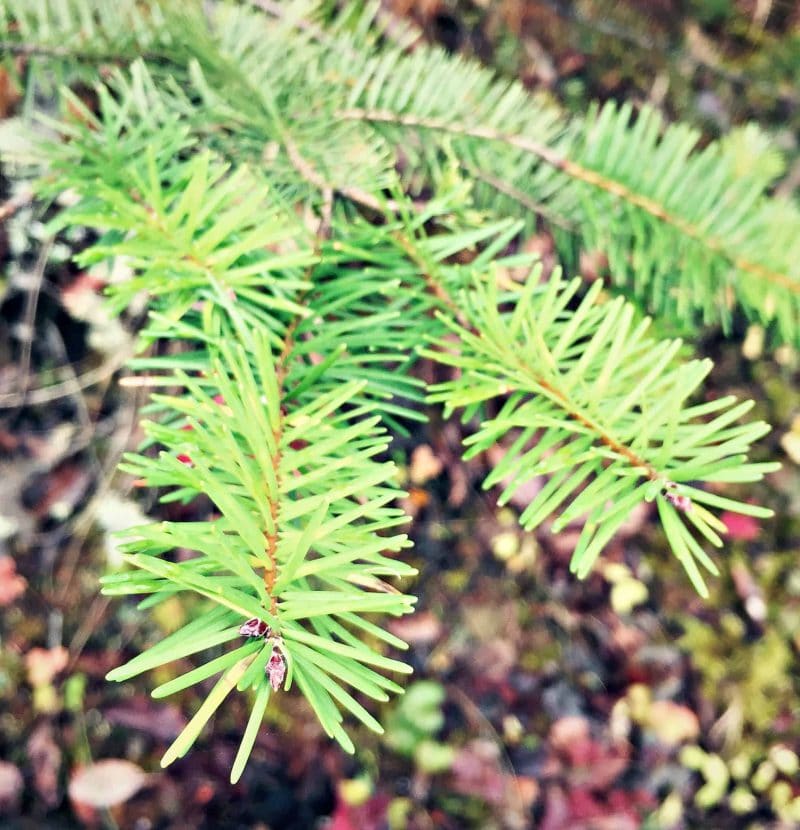 The Douglas Fir (Pseudotsuga menziesii) is in the Pinaceae family, and is actually not a Fir at all.
It was a difficult tree to classify, and so it was finally placed in it's own genus, Pseudotsuga, which means "false hemlock."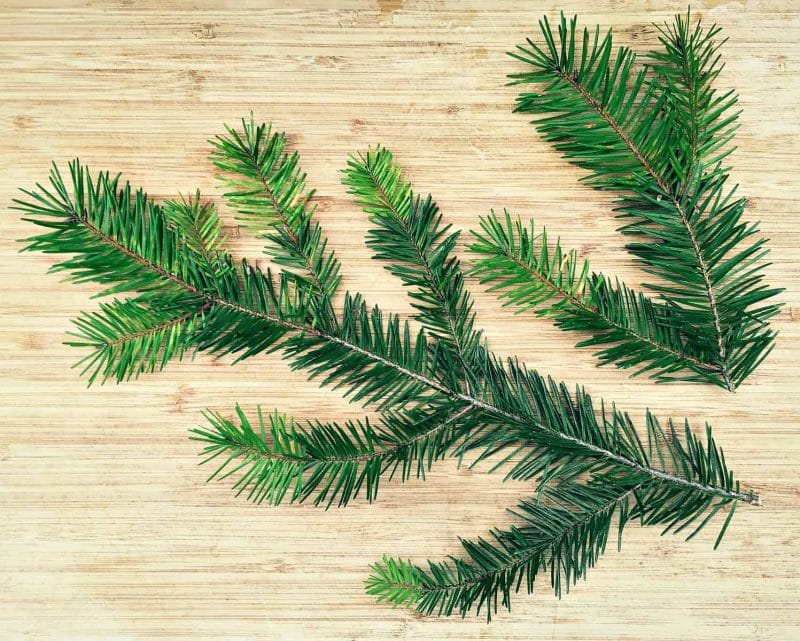 The tips of Doug Fir branches are the newest growth and are usually a lighter color of green. They are tender and edible, and can be made into a tea that is rich in vitamin C.
An infusion of the needles may also be beneficial as a healing wash for arthritis. Or you can always make these amazing sounding Douglas Fir shortbread cookies!
Ponderosa Pine
The Ponderosa Pine (Pinus ponderosa) is also in the Pinaceae family.
There has been some concern that Ponderosa pine is toxic and can cause abortion when used internally, but that could also a myth (read: Foraging Myth Busting by Eat the Weeds).
Regardless, I would probably steer clear of using ponderosa pine internally if you are pregnant.
But for everyone else, consuming ponderosa pine in small amounts shouldn't be a problem. Indigenous Americans have been doing it for thousands of years!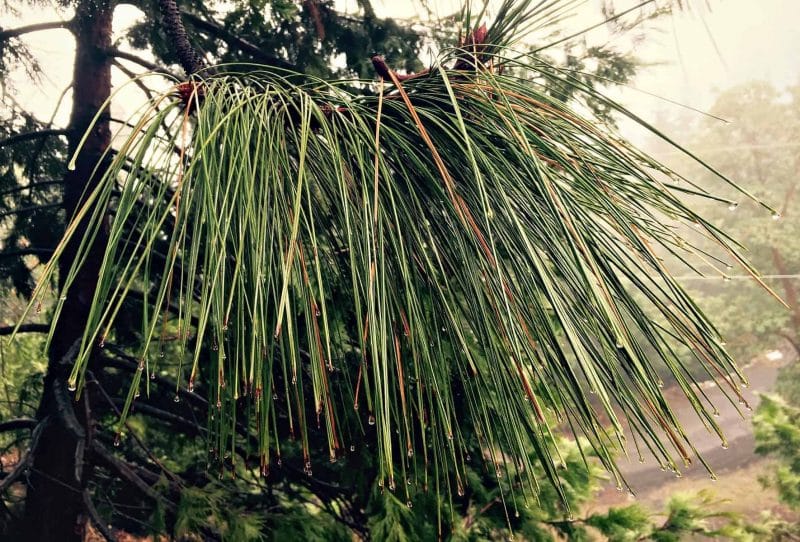 Pines have long needles that are bunched in different numbers depending on the species, which helps with identification.
Ponderosa usually has three needles per bunch, sometimes two.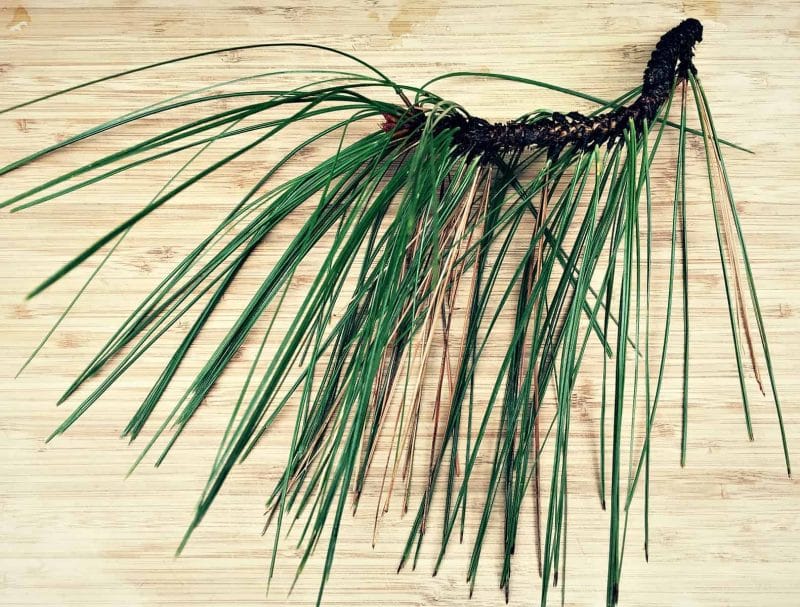 Pine tree species, such as Ponderosa, Lodgepole, Jeffery, Western and Eastern White, and Sugar Pine, have all long been used medicinally.
Pine needles are generally used in a tea that can be used internally for respiratory ailments, or externally for a multitude of skin conditions.
They are also high in vitamins C and A, as well as many minerals and antioxidents.
Use foraged pine needles to make pine needle cough syrup during the fall and winter!
Blue Spruce
Can I tell you how much I love Spruce trees? Especially the Blue Spruce (Picea pungens, also in Pinaceae), with its beautiful silvery blue-green color and sharp, spiny needles.
You know it's a spruce tree if it hurts when you grab them!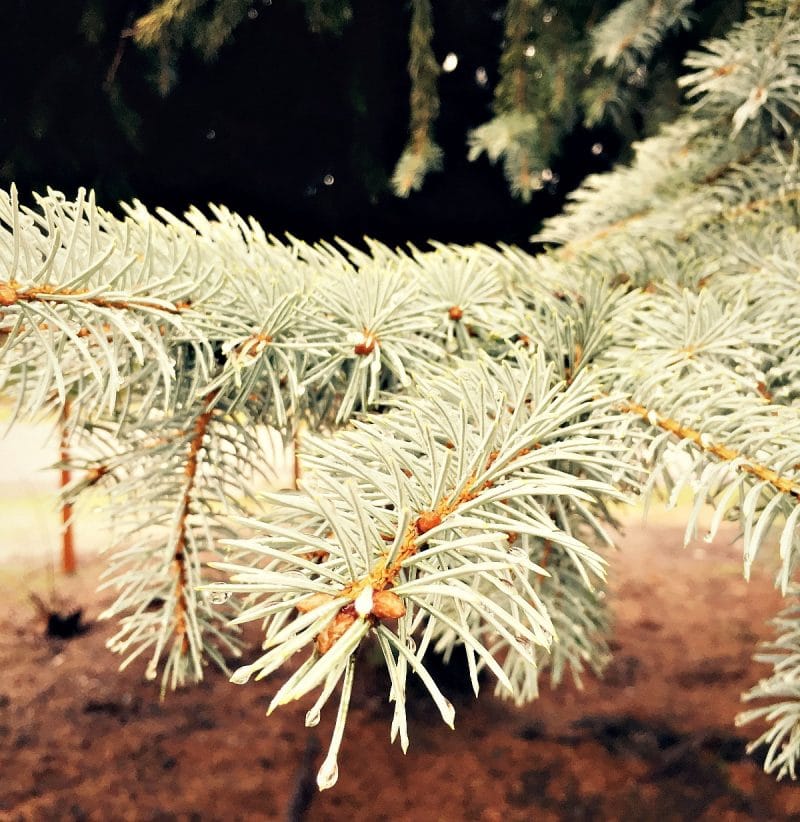 Spruce trees are another common Christmas tree, a gorgeous one at that.
They are actually native to the Rocky Mountains, but have been introduced well beyond their native range and are common in parks and public areas in much of the nation.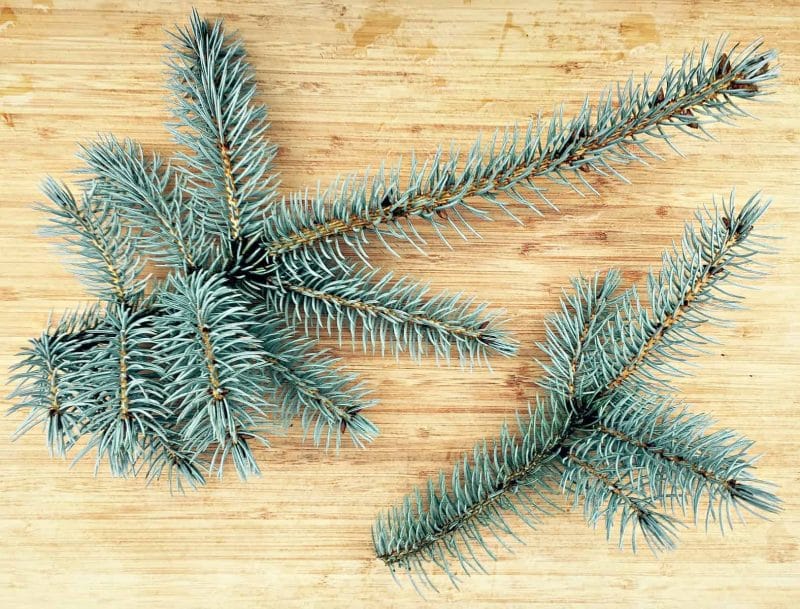 An infusion of spruce needles makes a lemony tasting beverage that is used to treat colds and settle upset stomach, and is also very high in vitamin C.
Pregnant women should avoid drinking spruce tea.
You can also use spruce tips in the spring time to make a delicious spruce beer!
Coastal Redwood
The Coastal Redwood (Sequoia sempervirens) is the only one I will be talking about today that is in the Cupressaceae family.
These huge and long lived trees grow along the Northern California and Southern Oregon coast. We are lucky enough to have them growing locally!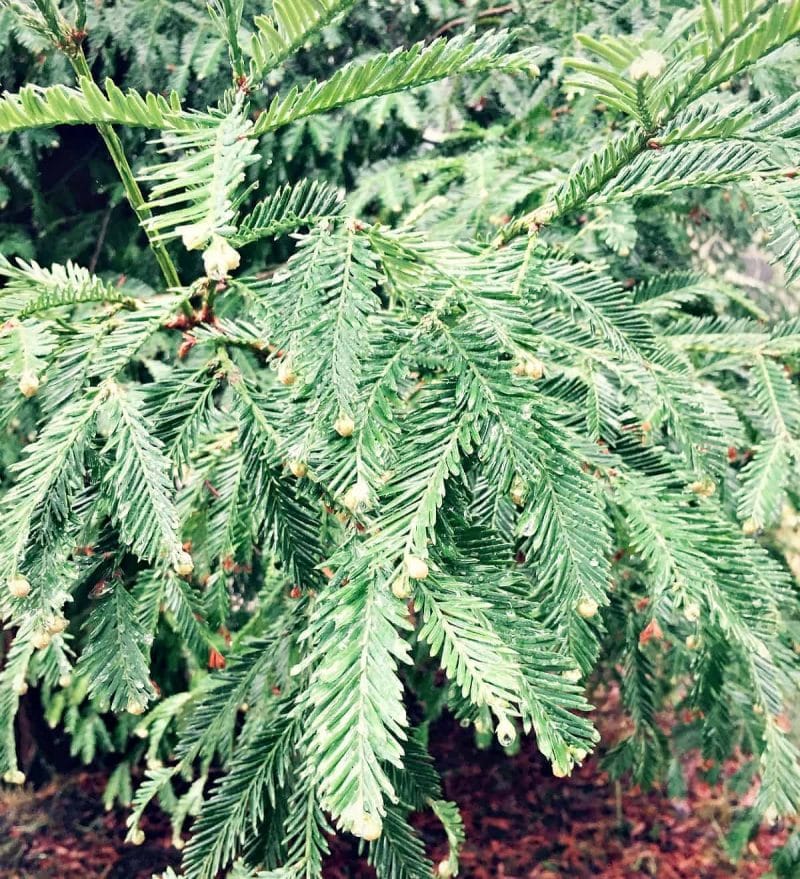 To me the leaves and needles have a bit of a prehistoric look about them.
They are long and flat, green on the the top and silvery white underneath. The end of each leaf has a little bud that will eventually turn into a cone.
Redwood needles have similar properties as the others I have listed: high in vitamin C and good as a tea for colds and flus. It is also antimicrobial and and stimulates circulation.
Beyond that, it feels as though you are drinking a piece of history!
Here's my recipe for Conifer Needle Shortbread Cookies where I use redwood needles. It's a favorite for the holiday season!
Uses for Conifer Needles
There are many edible and medicinal uses for foraged pine and other conifer needles!
For a complete guide, see my post on 30+ Conifer Needle Recipes.
Pine Needle Tea
As you may have gathered, the most common way to use these conifer needles medicinally is to make a "pine needle tea" out of them.
First you will want to strip or snip the needles off the branch, and if they are really long (like many pines are), cut them in to smaller pieces.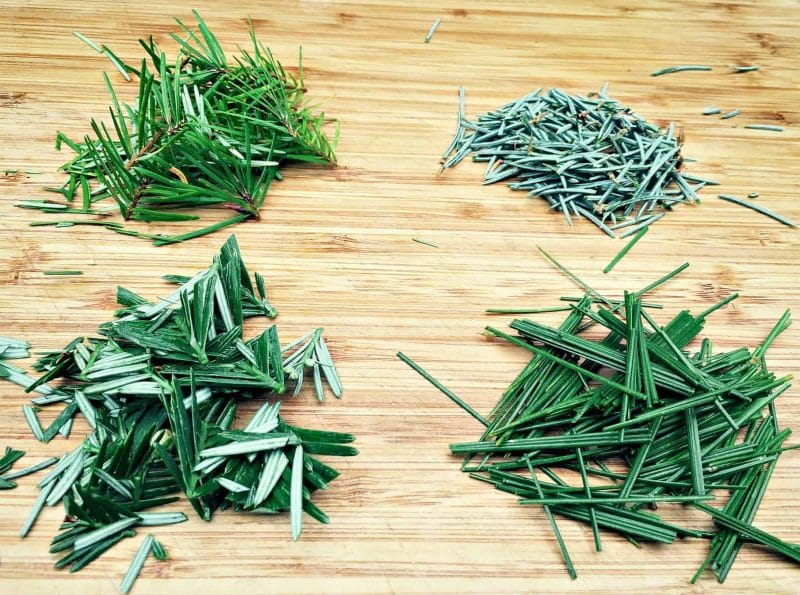 Add a spoonful of needles to a mug, pour boiling water over them, and let steep. This will smell like a warm mug of the holiday season!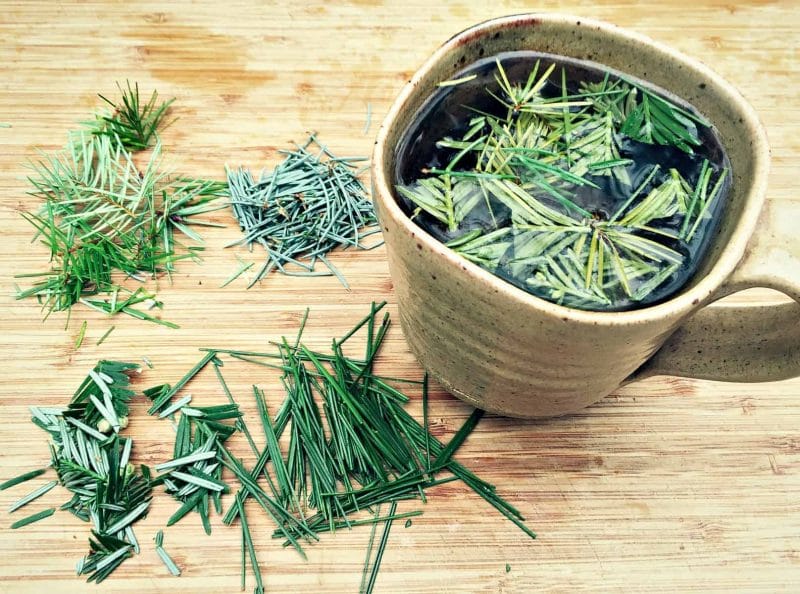 Sip on the wonderful piney taste and get a good dose of immune boosting vitamin C. This tea was traditionally consumed throughout the winter to keep scurvy away.
Find more details on how to make pine needle tea here: Conifer Needle Tea with Pine, Fir, or Spruce
More Conifer Needle Recipes
Here are some great ways to use your foraged pine and other conifer needles!
There are many other great ideas for using pine needles in this post I wrote for the Herbal Academy: 8 Terrific Ways to Use Pine Needles Right Now.
Most of these trees are very easy to find and identify (use a guide book, like these Western Region and Eastern Region Field Guides to North American Trees), and are quite widespread.
I actually found three of them right in my yard, and the other one (Blue Spruce) not far down the road.
You may even be able to make a tea from your own Christmas tree, as long as you have a real tree that is. Just be sure that it wasn't sprayed with chemicals first.
For more about foraging in winter, check out my post about it here:
Hope you have a happy fall and winter season, and drink lots of pine needle tea!
Save
Save
Save
Save