Pine needles may not be the first thing that comes to mind when you think of natural herbal medicine, but they actually do have a lot of benefits! The best part is that conifer needles are easy to forage year round, even in the fall and winter. This pine needle cough syrup is easy to make and is helpful for calming coughs and soothing sore throats.
This recipe is from my book Healing Herbal Infusions, be sure to check it out if you are interested in more herbal remedies like this one!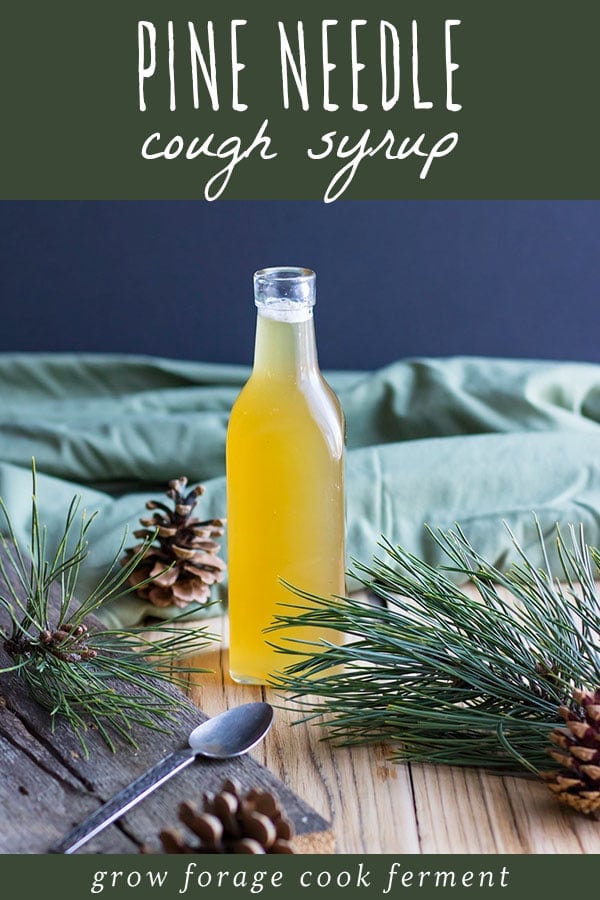 Medicinal Benefits of Pine Needles
What better way to make natural medicine than with the trees around us!
The needles of most species of pine trees have both edible and medicinal properties. They are aromatic and have antibacterial and pain relieving properties.
Pine needles, along with most other conifer needles, are high in vitamin C and can be used as an expectorant for coughs and for relieving chest congestion. When pine needle tea is combined with honey to make a syrup, it is highly beneficial for soothing a dry and scratchy throat and helping to tame coughs.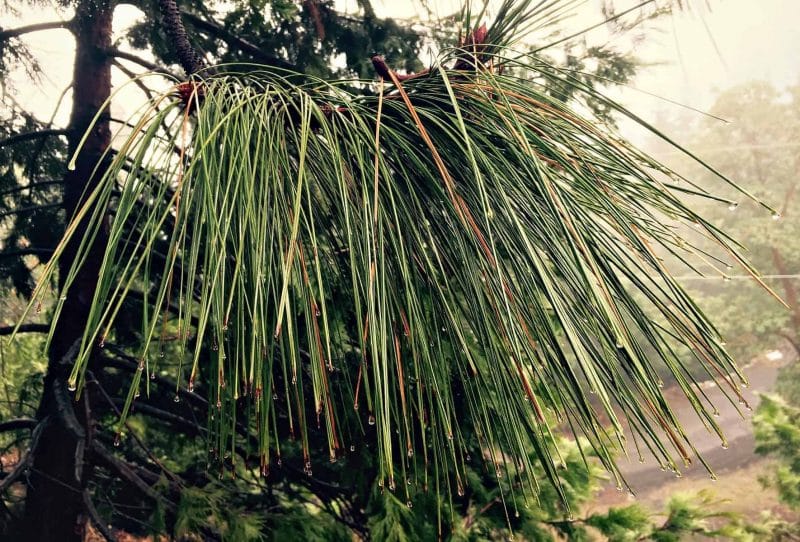 Which Pine Needles are Safe to Use?
Besides pine, other conifer needles you can use in this recipe are fir, spruce, or hemlock (the coniferous tree, not the toxic herbaceous plant).
Pregnant women should avoid using the needles from Ponderosa Pine.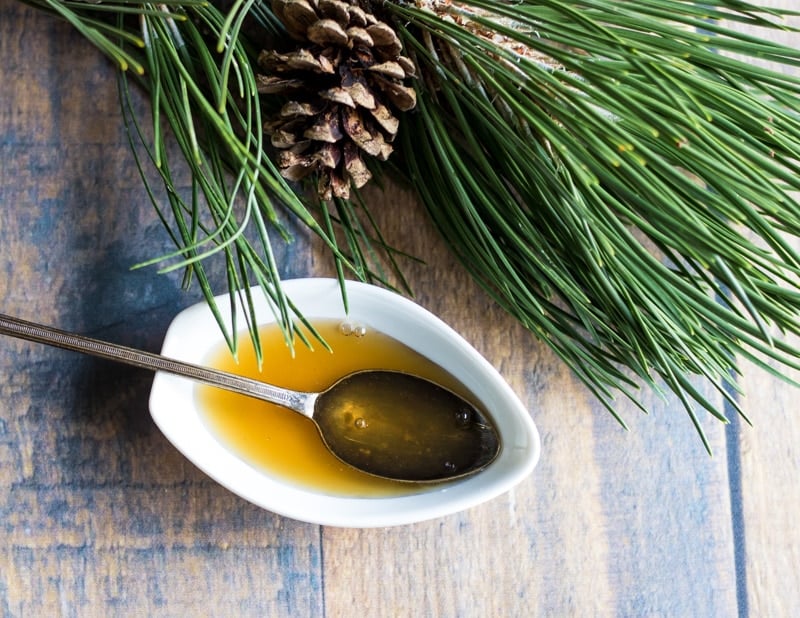 How to Use Pine Needle Cough Syrup
Take one tablespoon (15ml) every two hours as needed to ease a cough, relieve chest congestion, or to soothe a dry and scratchy throat.
This syrup is safe for children ages 2 and older, but be sure to give the little ones a smaller dose. I have a handy dosing guide for children based on their ages in my book Healing Herbal Infusions.
Beyond being medicinal, this syrup is very tasty and is nice to have around for the holiday season for mixing into cocktails or mocktails! I'm definitely going to do that this season, maybe mixed with some infused winter gin? Yes please!
Healing Herbal Infusions
This pine needle cough syrup is one of the recipes in my book Healing Herbal Infusions, which is packed full of herbal remedies for everyday ailments. It includes infusion recipes in seven different categories: boosting immunity; soothing aches and pains; relieving what ails you; easing digestion; embracing inner well being; nourishing skin, lips, and hair; and supporting mother and child.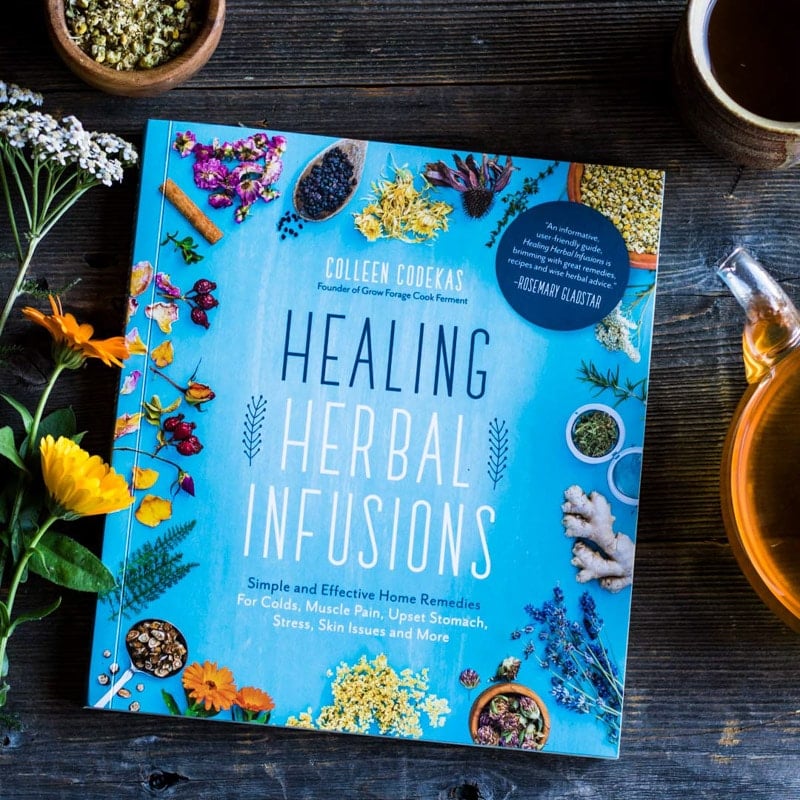 The recipes I've created for Healing Herbal Infusions are simple and straightforward. They are easy enough for a beginner to understand and carry out, yet accessible to herbalists of every level.
Take control of your health naturally with this guide to natural herbal medicine!
---
Cold & Flu Remedies
These are some of my other favorite herbal remedies to support our bodies during cold and flu season.
---
Pine Needle Cough Syrup
This pine needle cough syrup is beneficial for soothing for a dry and scratchy throat and helping to tame coughs.
Ingredients
1 1/4

cup

water

300ml

1

cup

fresh pine needles

16g

1/2

cup

raw honey

120ml
Instructions
Bring the water to a boil then pour it over the pine needles in a pint mason jar. (For a stronger syrup you can boil the pine needles in the water for a few minutes before taking of the heat).


Let the infusion steep until the water has cooled to room temperature, then strain out the pine needles and stir in the honey.

Store the syrup in a covered jar in the refrigerator and it will keep for 2-4 weeks. If you'd like to increase the shelf life of this syrup, freeze it in baggies or ice cube trays and then thaw as needed before use.
Notes
Reprinted with permission from Healing Herbal Infusions by Colleen Codekas, Page Street Publishing Co. 2018. Photo credit: Colleen Codekas.
Nutrition
Serving:
1
Tablespoon
|
Calories:
26
kcal
|
Carbohydrates:
7
g
|
Potassium:
5
mg
|
Calcium:
1
mg