Fall and winter is often the time for getting sick, although it can happen at any time of year. Luckily there are some great herbal allies that can help us get through the worst of it. While there are many different herbs that are good for boosting your immune system, I'm going to talk about five of my favorites here. When you mix those five together you get a powerful, but still tasty, immune boosting herbal tea blend. Pour yourself a cup!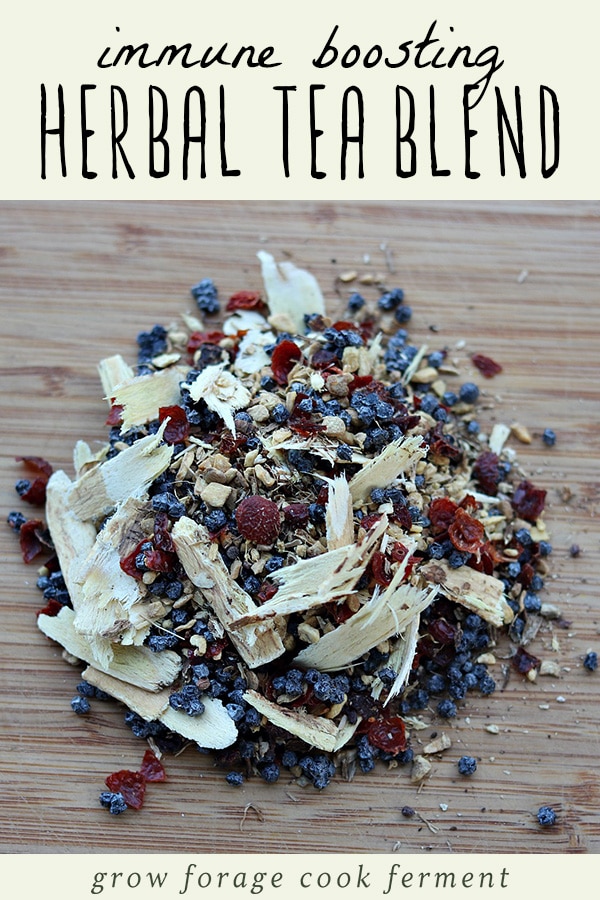 Immune Boosting Herbal Tea Ingredients
Elderberry
I love elderberries for many different reasons. First, they are super fun to forage for, and I love making elderberry mead. They also have powerful immune boosting benefits and are perfect for turning into a medicinal syrup or tincture.
Elderberries are commonly used to help fight colds, flus, bronchitis, and other upper respiratory ailments. They are extremely high in anti-oxidants and have strong anti-viral properties. They also have a nice flavor, which is a plus!
Rose Hips
Rose hips are another one that have multiple uses, and also give the tea a nice flavor. They can usually be foraged through the fall and winter, and can be made into a lovely syrup to use in cocktails or other culinary delights.
Rose hips are extremely high in vitamin C, one of the highest natural sources, which is great for the immune system. They are also very high in anti-oxidants and can help to prevent and treat colds.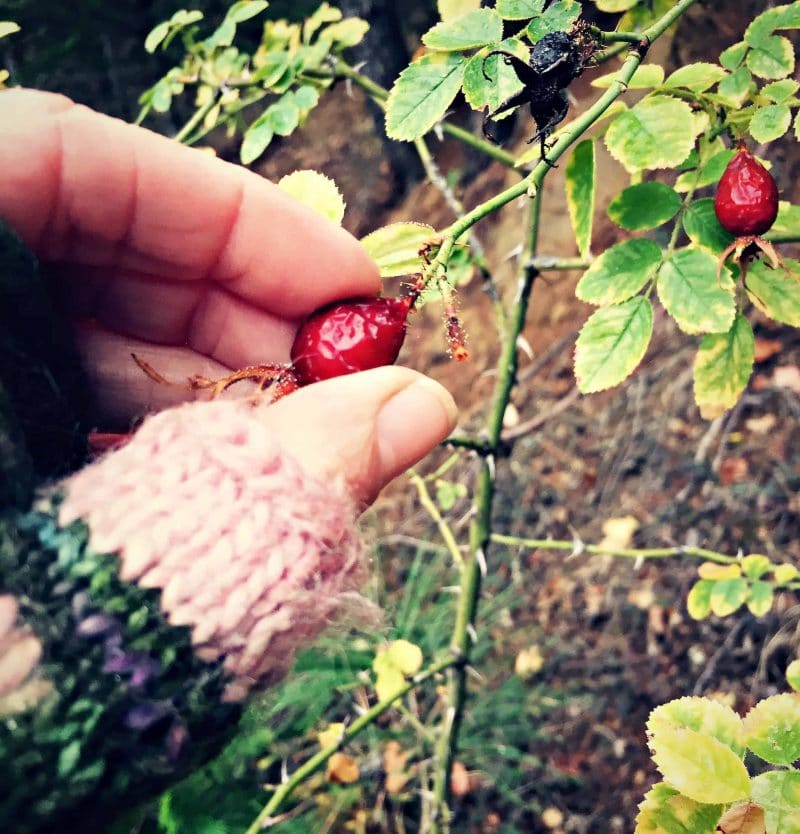 Echinacea Root
You have probably already heard about the immune boosting benefits of echinacea root, and it's definitely not one that you want to ignore! Echinacea stimulates the overall activity of the cells responsible for fighting infection and makes our own immune cells more efficient at attacking bacteria and viruses. It is known to shorten the duration of colds and flus.
Echinacea root makes a powerful tincture, but is also good in a tea. It does have a bit of a bitter taste, but works well when combined with other, better tasting herbs.
Astragalus
Astragalus root is a powerful herb that is used to strengthen immunity over time. It is one that can be taken for long periods of time if need be. It is also often combined with echinacea for a short term boost in immunity.
Astragalus is an adaptogen that is high in anti-oxidants, and a great herb to always have on hand.
Ginger
I drink ginger in my tea every morning! I love the spicy bite that it gives, and I believe it is part of why I rarely get sick. It can be made into a healing medicinal syrup, or fermented as a ginger bug to make tasty ginger ales.
Ginger is antiviral, antimicrobial, and an immune stimulator. It activates T-cells which are important for the immune system, and is also decongesting and good for sore throats.
Immune Boosting Herbal Tea Blend Recipe
Making this herbal tea blend is easy. I generally do approximately equal parts of each dried herb, and I keep some in a little jar so that I always have some on hand.
Mountain Rose Herbs is a great place to purchase all five of these herbs!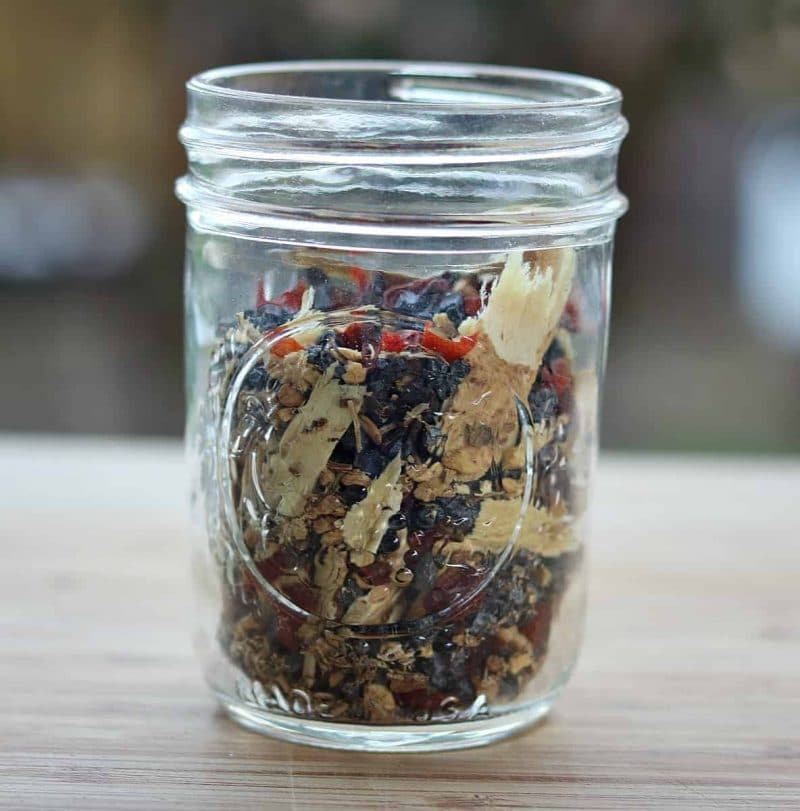 If you'd like to use fresh ginger instead of dried, you can always leave that out of the blend until you are ready to make the tea, then add the fresh root.
To make the tea, bring 1-2 tablespoons of the tea blend mixture per cup of water to a boil, then simmer for up to ½ hour or more. The longer you simmer, the stronger the tea will be!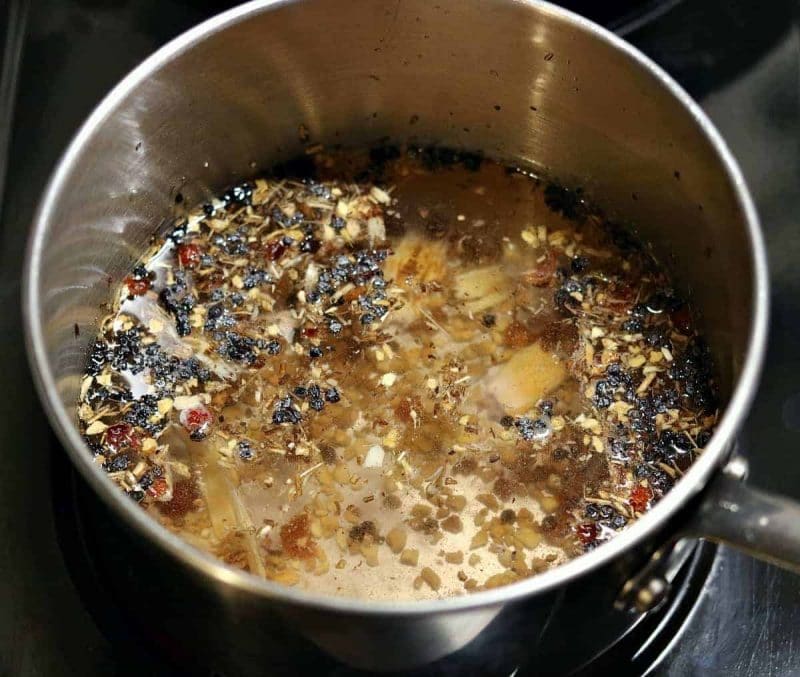 Drink 1-3 times per day when you feel the very beginnings of a sickness coming on, or even if you feel like you may be in an immune compromised situation, such a a long plane ride. Continue taking for up to 2 weeks if needed.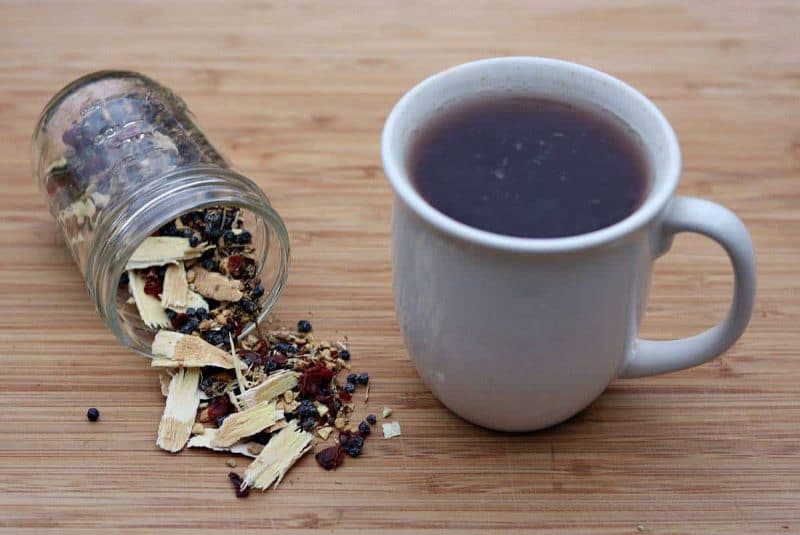 The best part about this immune boosting herbal tea blend is that it actually tastes good! The combination of the elderberries, rose hips, and ginger give it a nice berry flavor with a sweet and spicy kick from the ginger. It's a treat to drink when the winter sickies come on!
Have you ever made an immune boosting herbal tea blend? What are your favorite herbs to include?
---
Herbal Remedies for Cold & Flu
Kick your cold to the curb with these other herbal remedies!
---
Immune Boosting Herbal Tea
This immune boosting herbal tea blend is the perfect natural remedy to have on hand for cold and flu season. It's a simple blend with immune boosting herbs - perfect for soothing a sore throat, easing cold and flu symptoms, and so much more!

Instructions
Combine all herbs in a small jar. Stir until evenly distributed.

Combine 1-2 tbsp herbal tea blend per 1-cup water in a small pot. Simmer 30 minutes. Strain and enjoy hot!
Notes
This tea recipe easily scales up or down. Combine equal parts of each herb in any quantity you choose. 
To use fresh ginger instead of dried, leave the ginger out of the blend and add the fresh root when you prepare the tea. 
Nutrition
Serving:
1
cup
|
Calories:
1
kcal