I'll be honest with you, there isn't a whole lot to forage in late fall and winter, at least where I live. I'm sure those of you in more southern and warmer climates have much more to choose from. But, while I wait for what seems like an eternity until I can go looking for wild onions and morels, I remember rose hips! These little gems that hold on even through winter seem to be everywhere. Some are in my neighbors yards, others have gone wild and are on the side of the road, clearly of their own will. I see them on my walk every day… So, I went foraging for rose hips.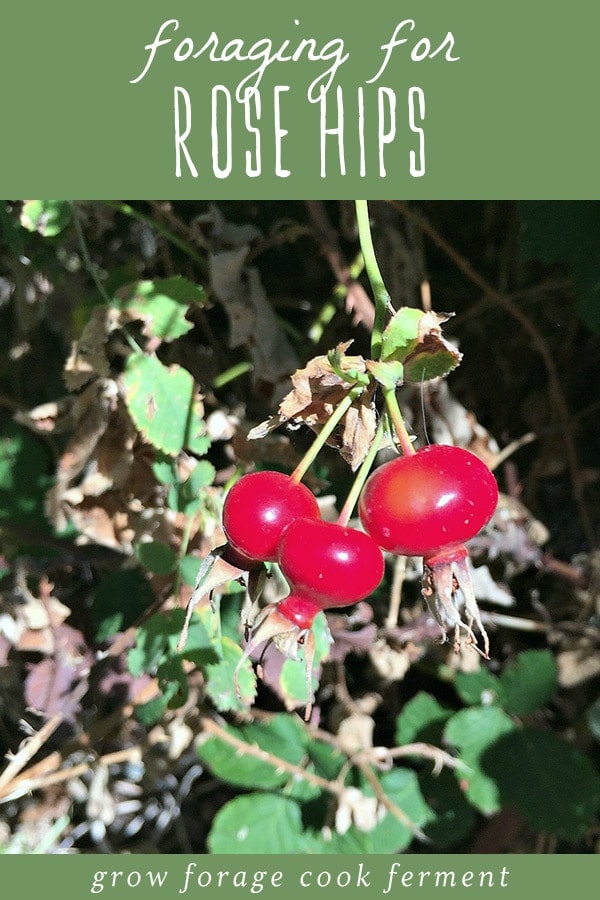 Foraging for Rose Hips
Rose hips are the fruit of the rose plant, and they usually ripen starting in late summer and through the fall. Roses often grow wild, so it is usually quite easy to find them. If you have your own rose bushes just remember that hips will only form where the flower was, so don't cut them all.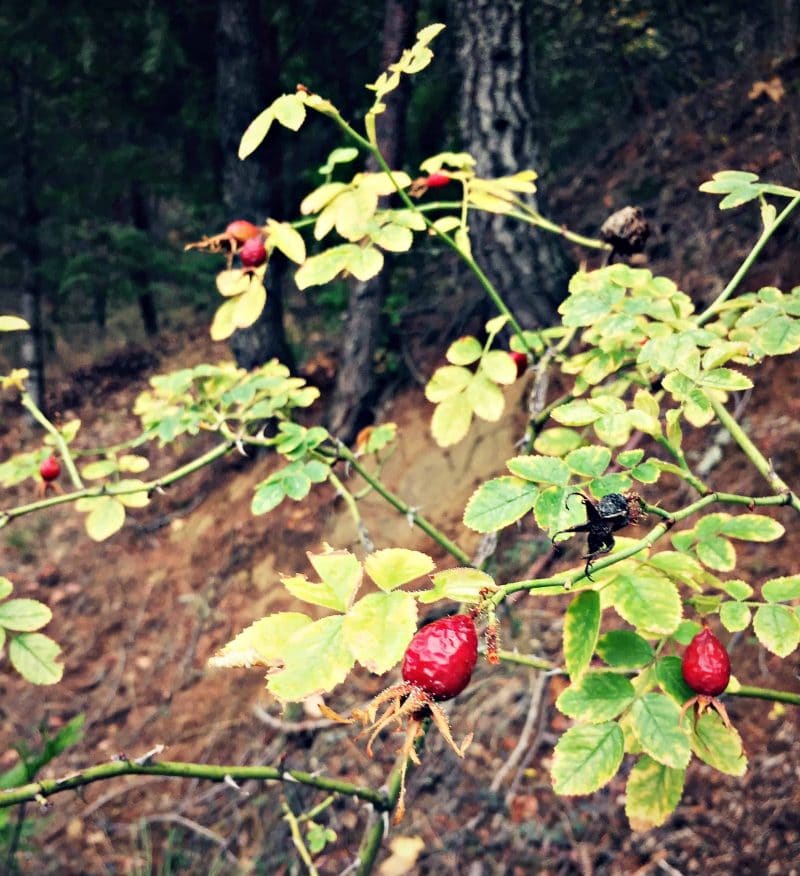 These are some wild rose hips that I found, likely a variety called Dog Rose. They are generally on the smaller side, but are still quite usable.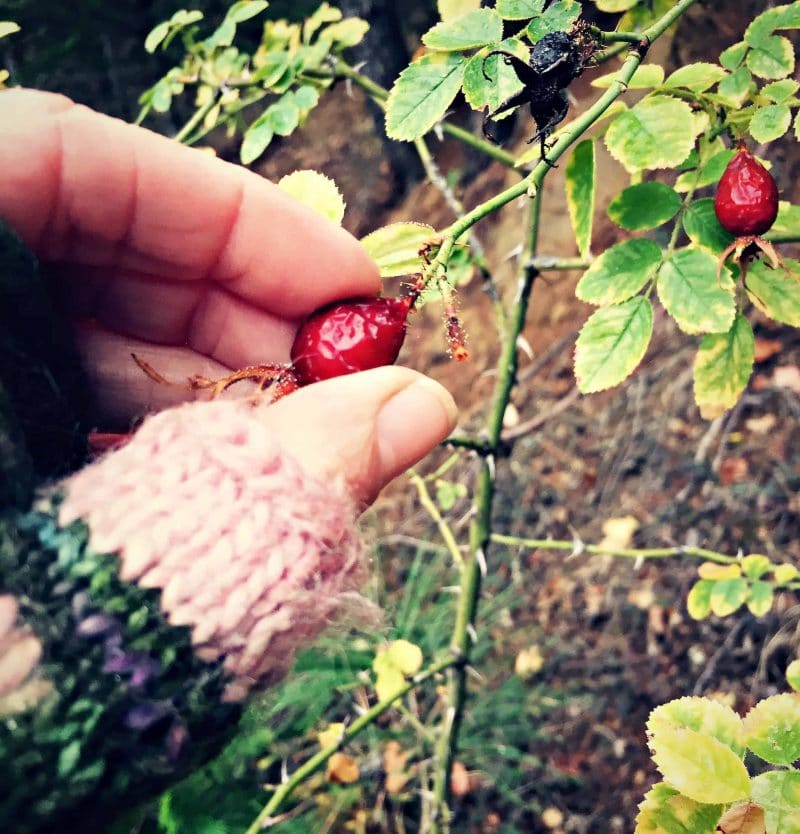 There is a cultivated variety called Rosa Rugosa that have much bigger hips, sometimes even almost as big as quarters! It will often cross with wild roses, so it is possible to find larger hips like these when you're out foraging.
---
Wildcrafting Weeds
If you want to learn more about the edible and medicinal weeds that surround us and how to use them, check out my eBook: Wildcrafting Weeds: 20 Easy to Forage Edible and Medicinal Plants (that might be growing in your backyard)!
Gather & Root Online Foraging Course
My online foraging course is a great way to learn about wild edible and medicinal plants! Sign up to join the waiting list for the gather + root online foraging course here so that you are the first to know when it opens for enrollment.
---
In the summers we spent in Yosemite we would often find tons of rose hips in the eastern Sierras, all from wild bushes. We would dry them and save for later use.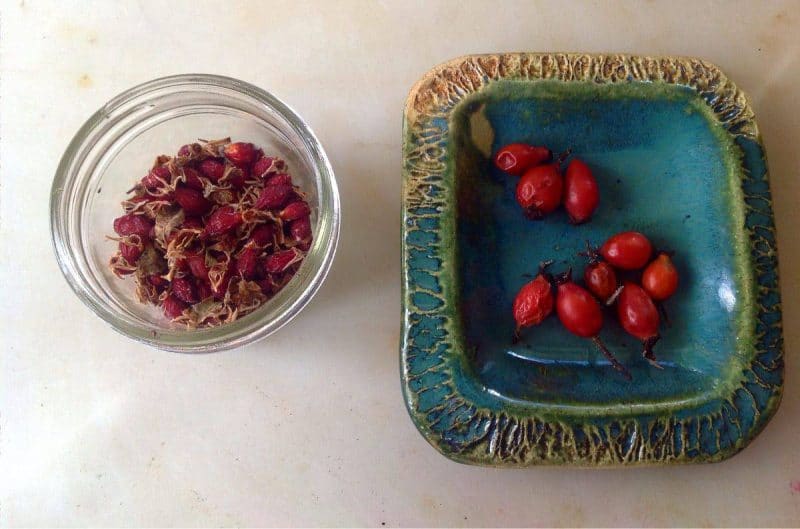 The ones on the left are dried, and on the right are fresh.
So why should we even care about rose hips? They are one of the highest plant sources of vitamin C, and they are extremely high in antioxidants. Plus, they're tasty and pleasantly tart. My favorite way to use them is adding them to a cup of hot tea, such as my Immune Boosting Herbal Tea blend.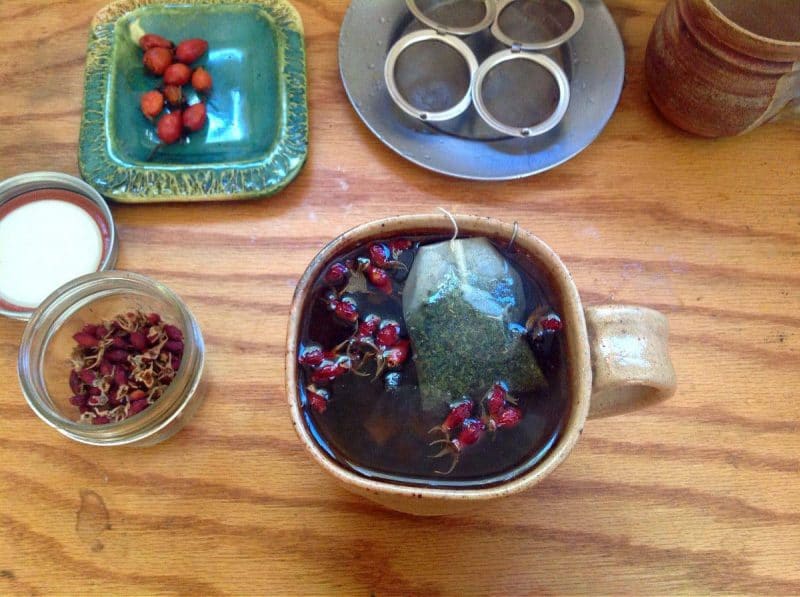 But, if you have enough of them, especially the large hips from Rosa Rugosa, you can make jam, syrup, or even wine! One thing to watch out for is the tiny hairs that surround the seeds on the inside of the fruit, as they can cause some serious itching. Straining them out is a must.
If you can't find any rose hips, or if they're not is season, you can always buy them dried from Mountain Rose Herbs (my favorite place to buy high quality, organic herbs).
For now it's just some beautiful wildcrafted rose hips added to my green tea.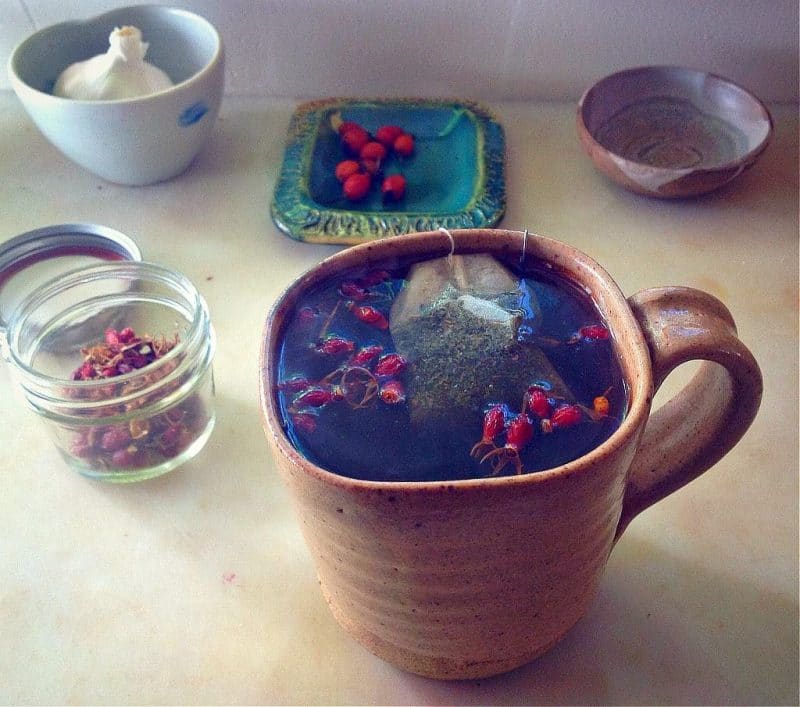 You can also get a little bit saucy with this Rose Hip Whiskey Smash recipe, a perfect libation for the holiday season. The recipe is from the Wild Drinks and Cocktails book by Emily Han. This is a great book and would also make a wonderful gift for foragers and wildcrafters!
Foraged rose hips to make lovely homemade skin care products such as Rose Hip Lip Balm.
Hope that puts a little fall and winter foraging fire in your belly!
Save
Save
Save
Save