The goldenrod plant, also commonly known as solidago, blooms in the late summer and early fall in most regions. It has notably beautiful deep yellow-gold colored flowers and is also edible and medicinal. Learn all you need to know about identifying and foraging for goldenrod and using its flowers and leaves!
---
Wildcrafting Weeds
If you want to learn more about the edible and medicinal weeds that surround us and how to use them, check out my eBook: Wildcrafting Weeds: 20 Easy to Forage Edible and Medicinal Plants (that might be growing in your backyard)!
Gather & Root Online Foraging Course
My online foraging course is a great way to learn about wild edible and medicinal plants! Learn more about the gather + root online foraging course here.
---
About Goldenrod (Solidago spp)
The goldenrod plant is wild-growing and has small yellow flower clusters that grow in a pyramid shape.
Also called solidago, this plant has edible and medicinal properties. It blooms in August and September and is very common in North America.
Goldenrod grows in meadows and fields, open wild areas, and beside trails. It likes open sunny areas and will grow on disturbed dry ground.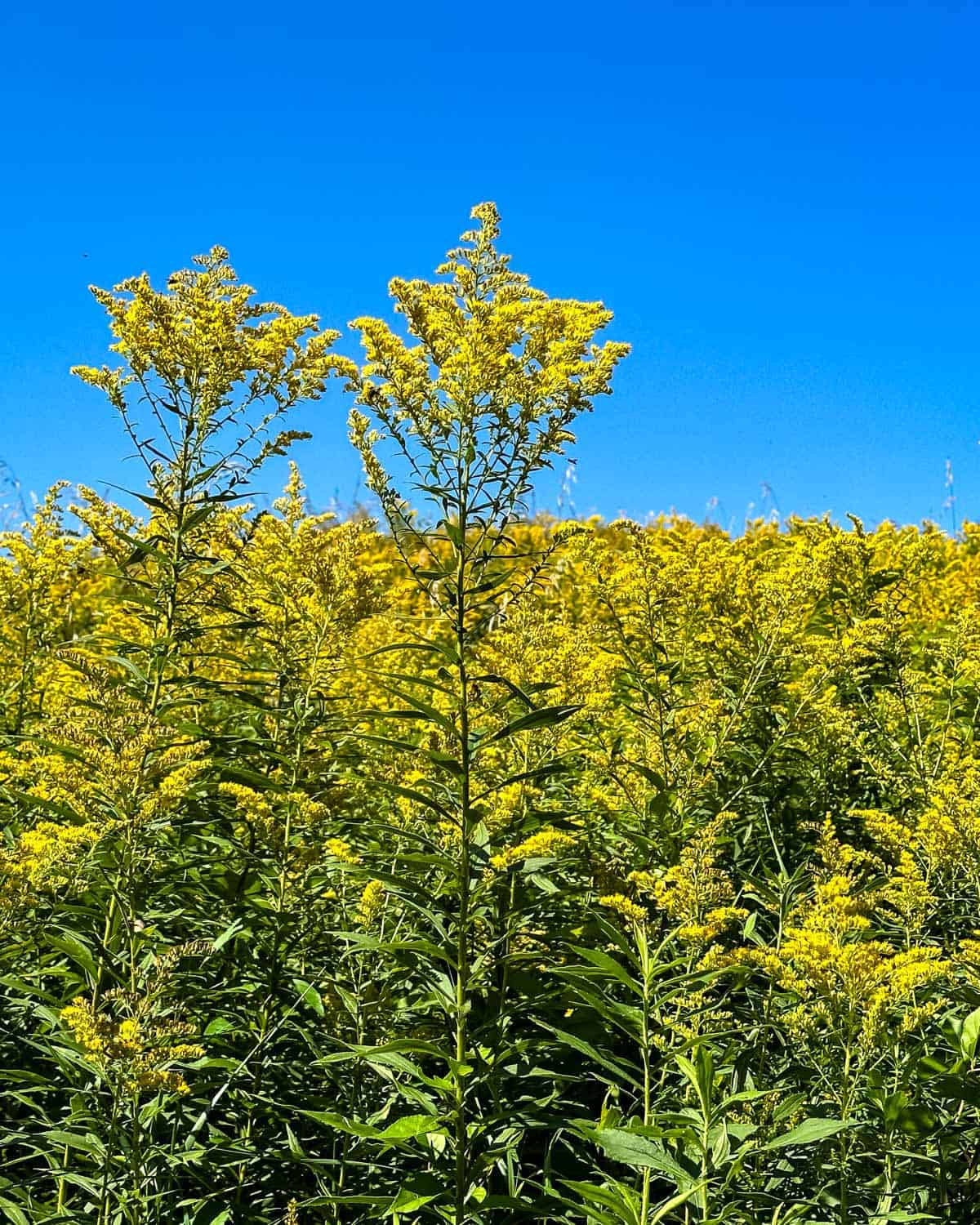 While its flowers add a bright sunny feel to wherever they grow, it's important to note it also has toxic look-alikes so it should be identified properly before using it for any herbal remedies.
Once identified correctly, solidago can be an herbal medicine, salve, tea, or fabric dye. The goldenrod color is a bright spot we all need in our lives and seems to reflect the deep golden sun of late summer and early fall!
Related: What to Forage in Fall: 30+ Edible and Medicinal Plants and Mushrooms
Goldenrod Identification
The goldenrod plant has tall woody stems with beautiful golden-yellow pyramid-shaped flowers that grow in dense clusters. Each individual flower can have a ragged look, and the plumes are long and thin clusters.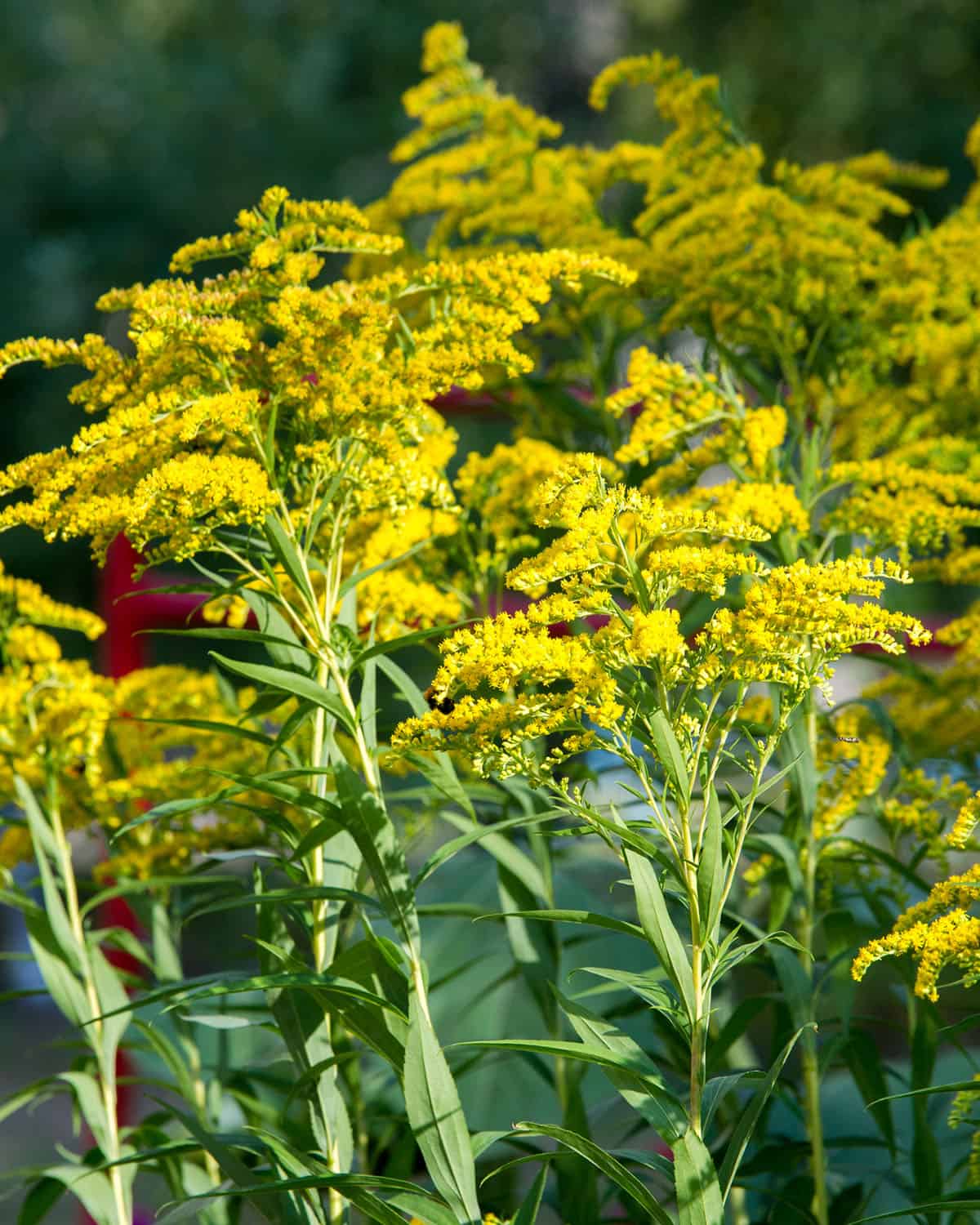 Its leaves are generally long and narrow and taper to a point. Sometimes the edges of the leaves are smooth, and sometimes they are toothed, and sometimes slightly hairy. The leaves vary depending on the species of goldenrod.
You'll see the lovely bright blooms of solidago during August and September, depending on the region. It grows widely in North America and is generally easy to find.
They are related to sunflowers and calendula and can appear like tiny flowers with many flower heads, a pattern similar to each.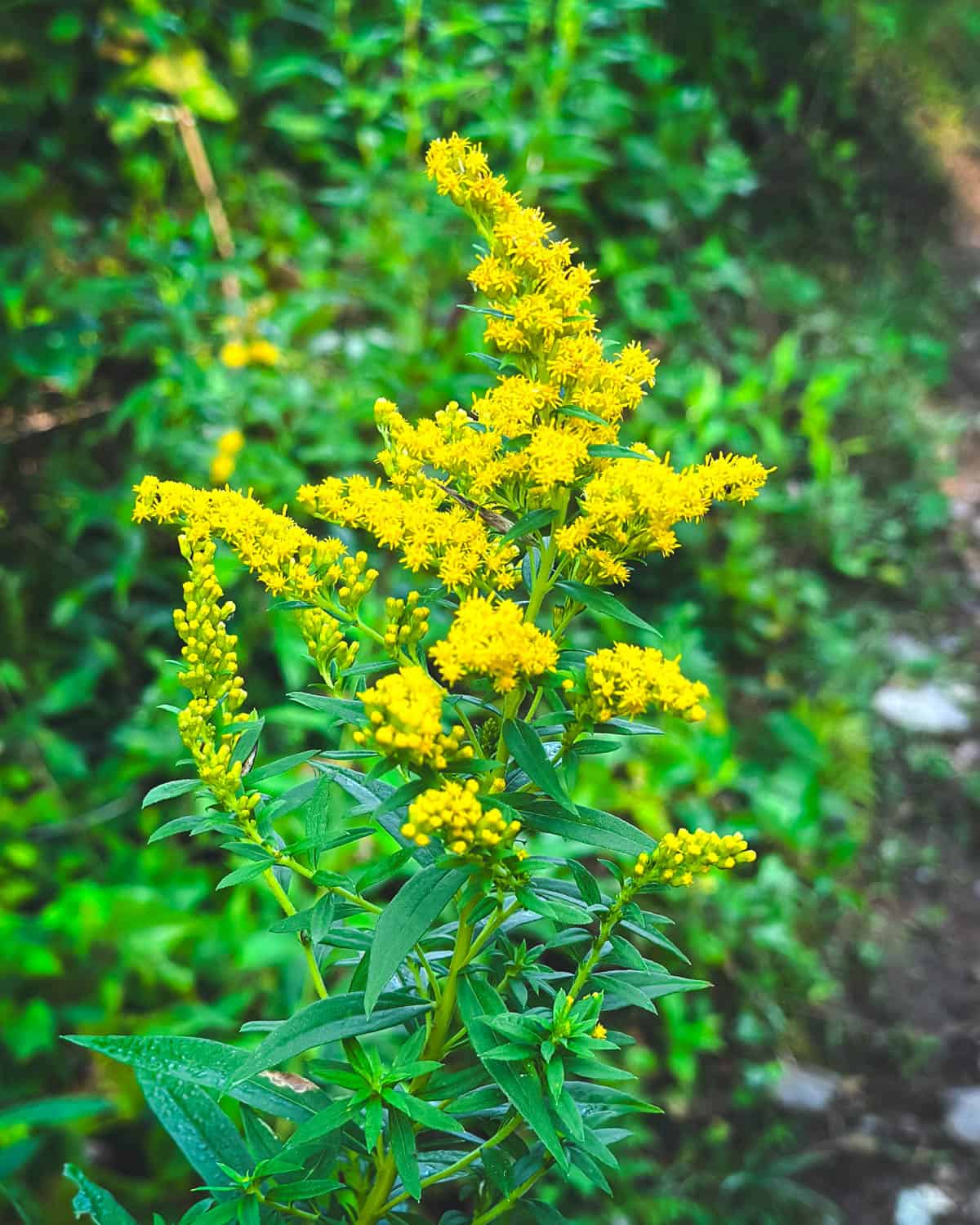 Goldenrod Look-alikes
Solidago has a few look-a-likes to note while you're out foraging for this sunshiny plant.
Goldenrod can look like Senecio species, including ragwort and groundsel.
Several Senecio species are highly toxic and can cause deadly liver damage, so please do your research before harvesting goldenrod.
Senecio flower heads are generally larger and can look more daisy-like, and bloom earlier in the season than goldenrod plants. They also tend to have fewer flower heads than the solidago species.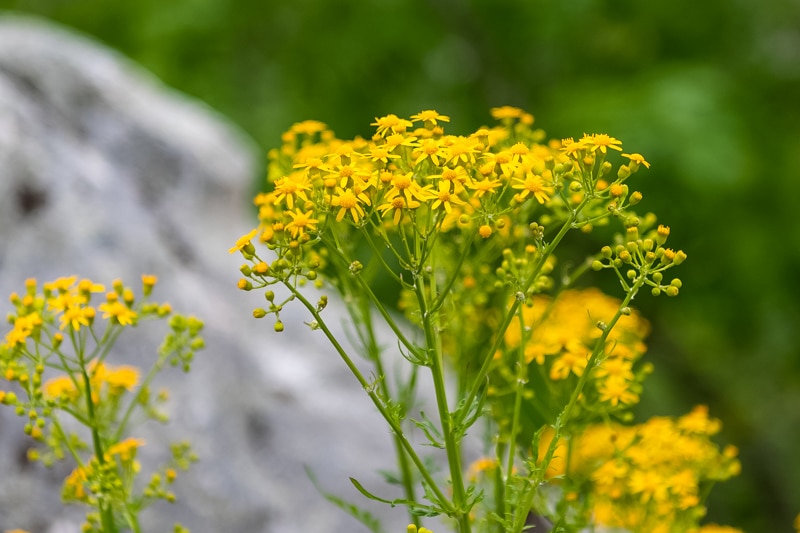 Goldenrod vs Ragweed
Often, goldenrod is mistaken for ragwort or ragweed and is wrongly blamed for seasonal allergies and hay fever. Goldenrod doesn't usually cause seasonal allergies, the others are to blame!
Goldenrod is insect-pollinated and doesn't release pollen into the air, whereas ragweed's pollen is airborne. Hence the hay fever it causes!
Ragweed and goldenrod plants have different leaves and stems. While goldenrod has a single stem with some branches towards the top, ragweed has many branches from bottom to top.
Ragweed leaves are lacy, while goldenrod leaves are not. Generally, ragweed flowers are small and nondescript, usually more green than yellow. You won't miss the bright beautiful sunny flowers of goldenrod!
The moral of the story is: Blame the ragweed for allergies, goldenrod is just beautifully minding its own business!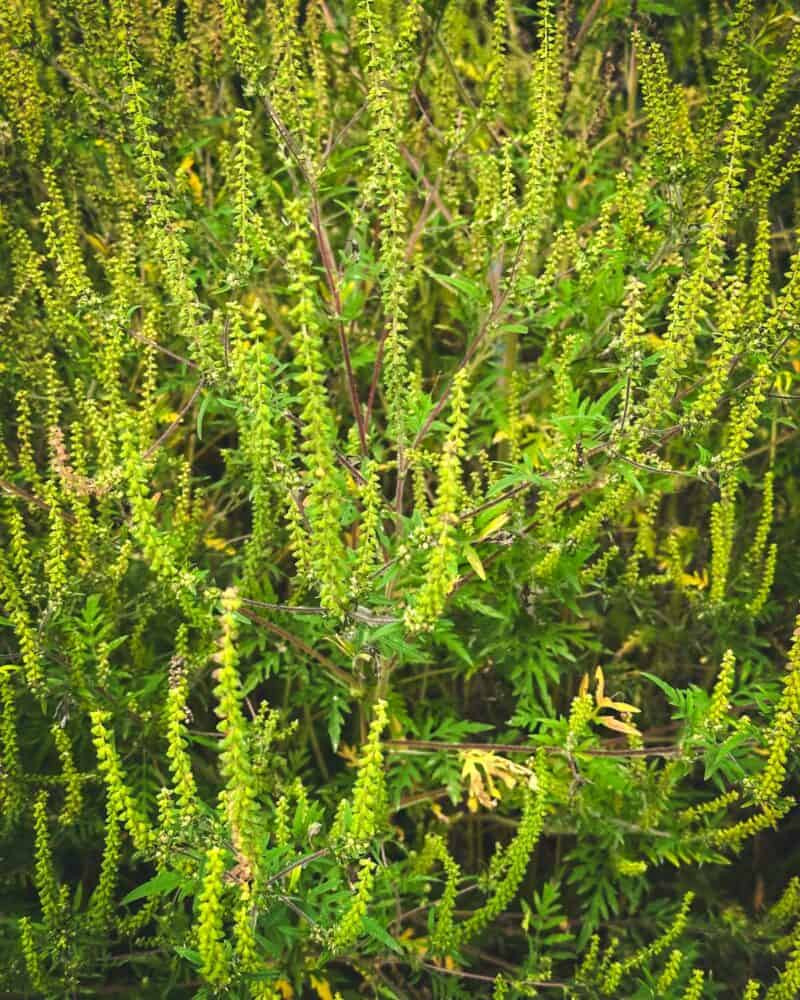 Harvesting Solidago
The best time to harvest goldenrod is right when the flowers start to bloom. This way, when they are dried they will remain yellow.
If harvested in full bloom, the flowers will puff as they dry quite like dandelions! Hang goldenrod plants upside down or use a drying rack to dry them.
If you live in a damp area, be sure to check the leaves for powdery mildew before harvesting.
It's best to use scissors since the stems are tough to break off with your hands. Since it is a perennial pollinator it is important to harvest goldenrod sustainably and keep the roots intact.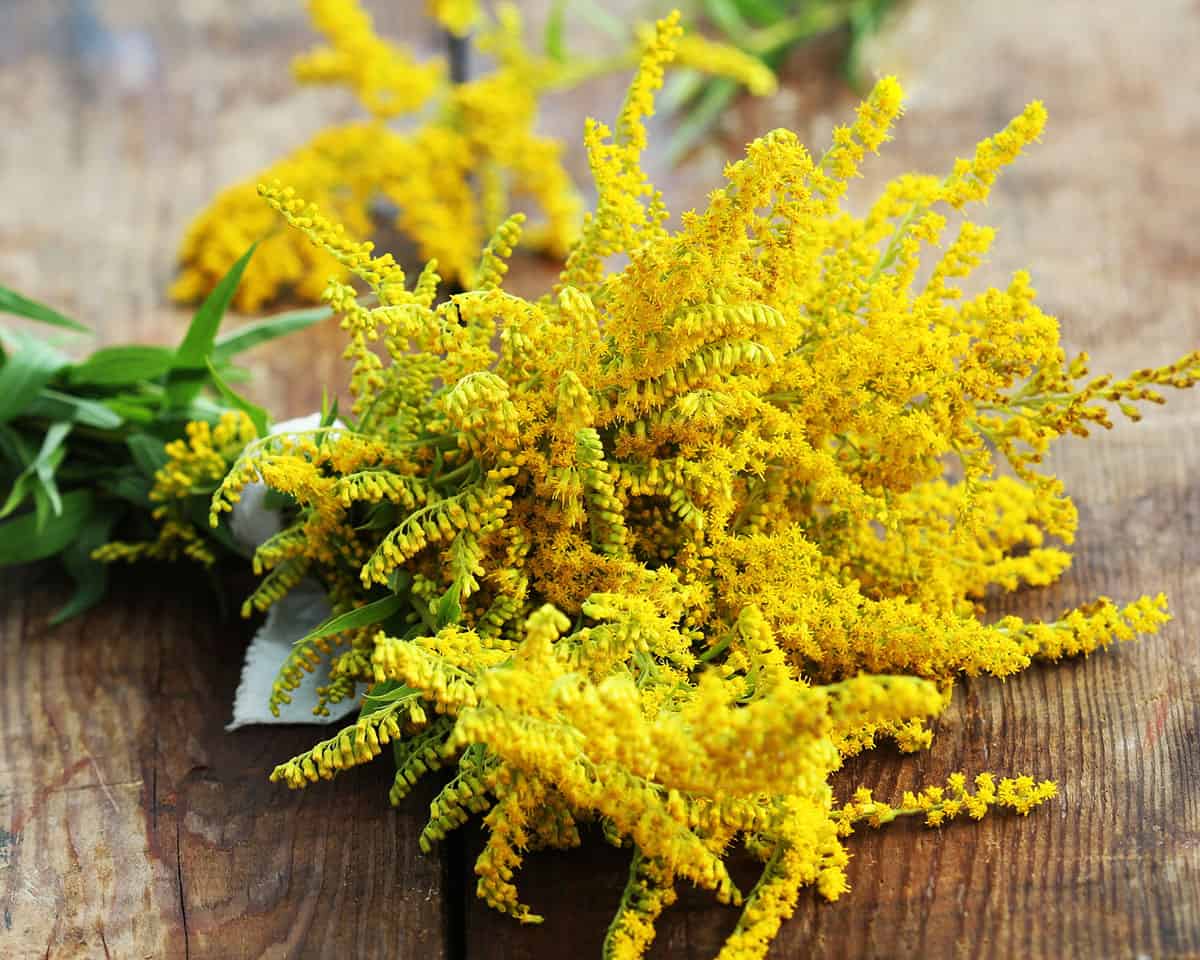 Solidago Benefits
Goldenrod is excellent for the kidneys and helpful for relieving the symptoms of UTIs.
It has a taste similar to pine, and is highly beneficial for upper respiratory infections, colds, and cases of flu. I find this connection to be quite interesting since pine needles have similar medicinal benefits for the respiratory system.
Solidago can help heal minor wounds and sores, and there are several preparations with the leaves and flowers one can use for this purpose such as a salve or a poultice.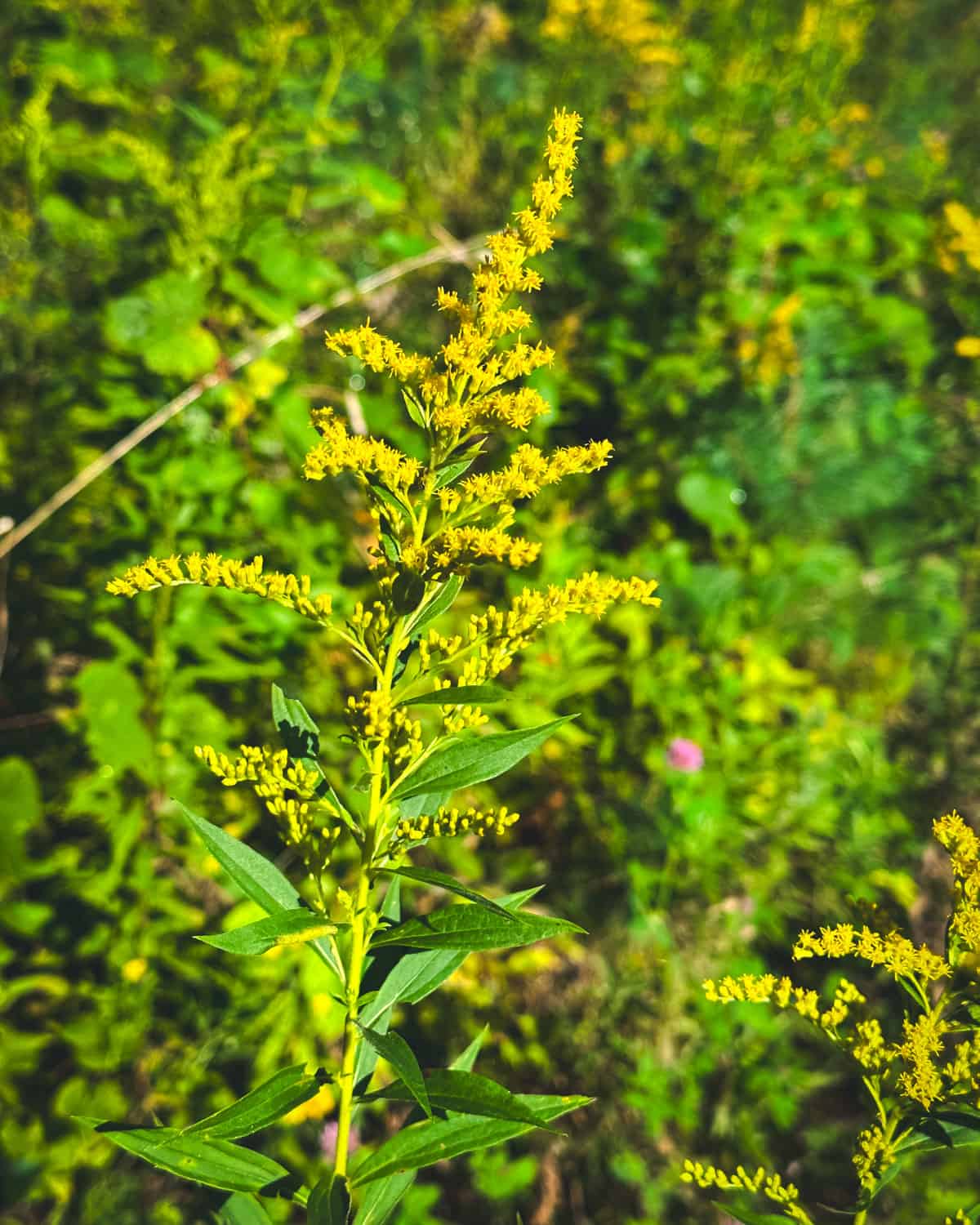 Goldenrod Uses
The flowers and leaves of goldenrod are edible and make a lovely garnish or goldenrod tea.
Dry solidago and infuse in oil to make a salve that will help heal minor wounds and sores. A goldenrod poultice works well for this too.
For more herbal remedies using goldenrod leaves and flowers, here are 6 goldenrod recipes and a lovely goldenrod soap!
Cook the leaves like spinach, or try this delicious recipe for making goldenrod shoots. If you want fall comfort food, make this goldenrod cornbread.
Goldenrod flowers have a deep yellow-gold color that lends itself beautifully to making fabric dye.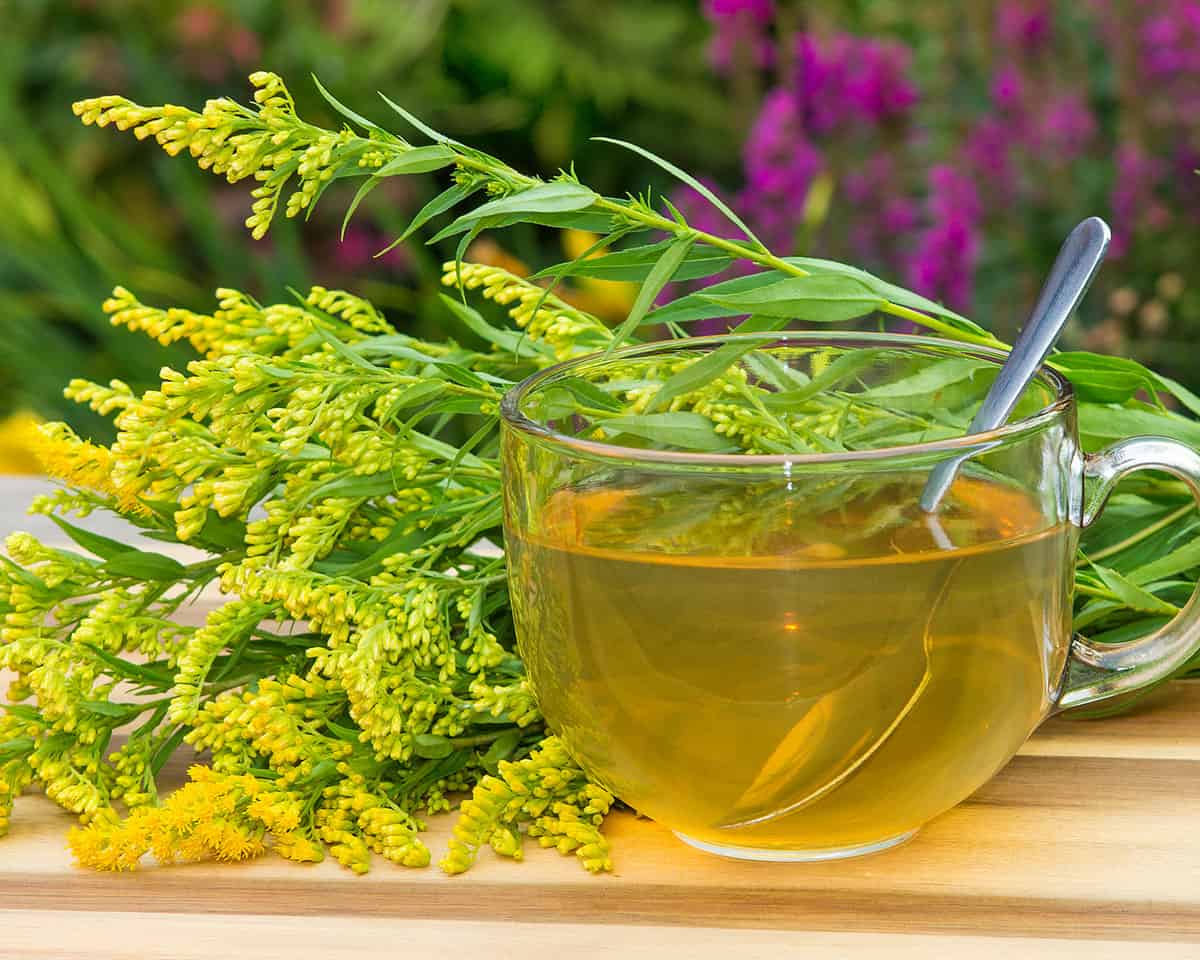 Goldenrod for Golden Sun
Keep your eye out for the deep yellow tiny flowered plumes of goldenrod that seem to bloom right in time to match the dark golden rays of the sun just before they turn to true fall.
Remember that if the blooms are there too early or seem too big you should beware. True goldenrod blooms from one tall stem, in what seems to be the golden hour of the year!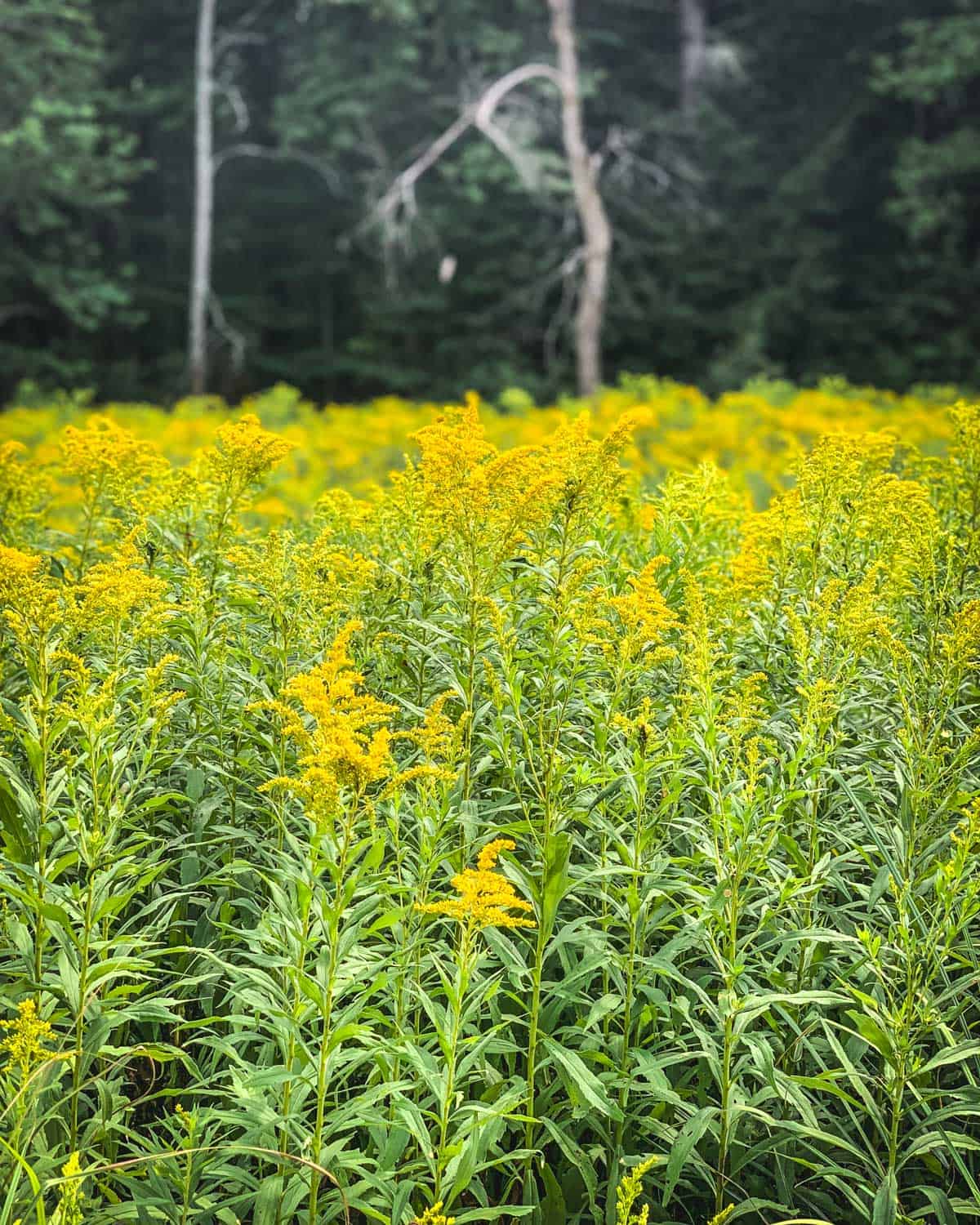 More Late Summer Foraging