While fermenting is my usual form of preserving foods, every once in a while I crave that vinegary taste of home canned pickles that fermented pickles don't have. But, sometimes you don't have the quantity of veggies to justify hauling out the canner and going through that whole process. This is where refrigerator pickles, also sometimes called quick pickles, come in. They are super simple to throw together, and you only have to make one jar at a time. In this post I'll show you how to make refrigerator pickles, with two recipes – one for cucumber pickles and the other for pickled pepperoncini peppers.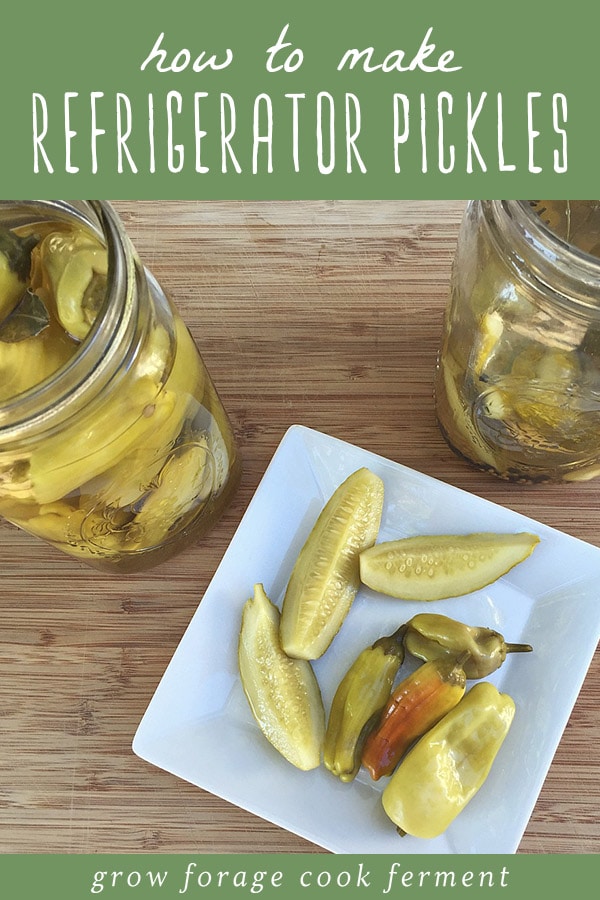 One thing to keep in mind with refrigerator pickles is that they do need to be kept in the fridge, hence the name, and eaten within a few months. Because of this, it's not a great method if you have tons of veggies to use up – for that I'd break out the canner.
How to Make Refrigerator Pickles (Quick Pickles)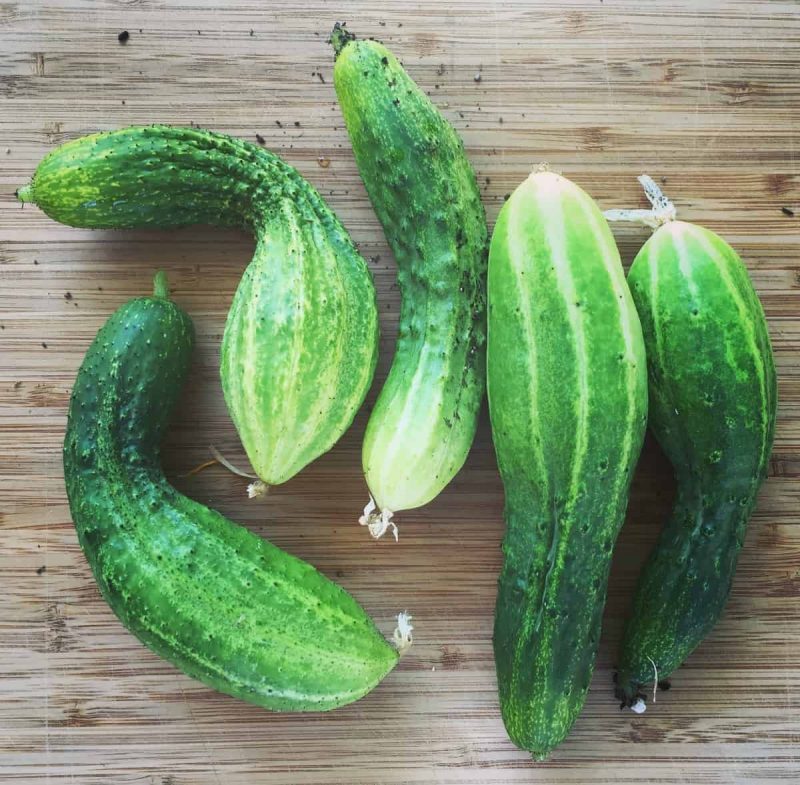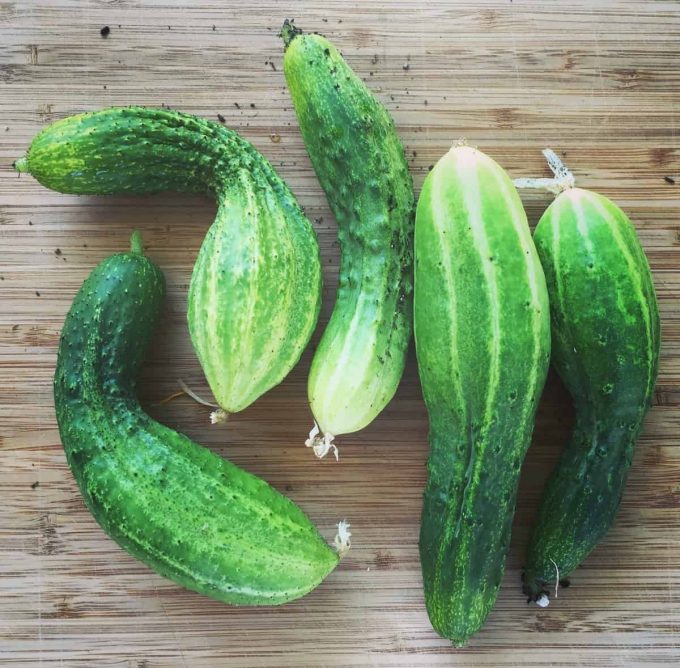 The first recipe I have for you is from the super awesome book Preserving Everything by Leda Meredith. Leda also has a really cool foraging blog, and has written another book that I'd love to own someday called The Forager's Feast: How to Identify, Gather, and Prepare Wild Edibles.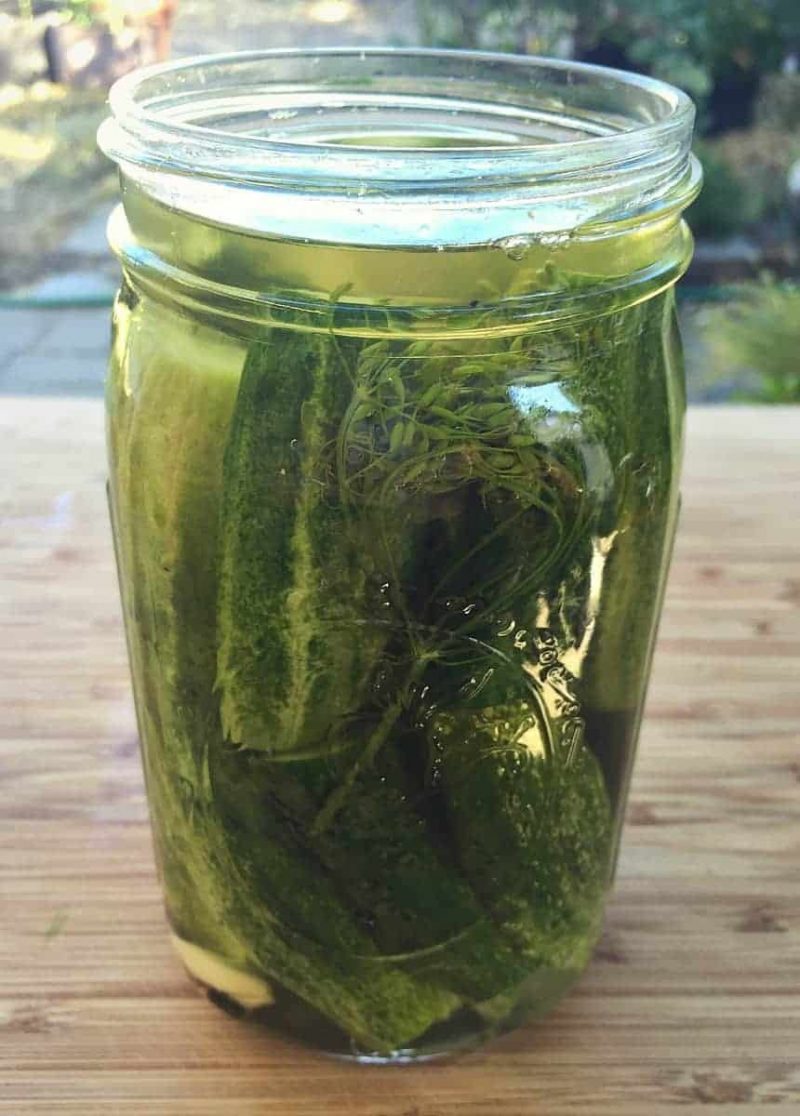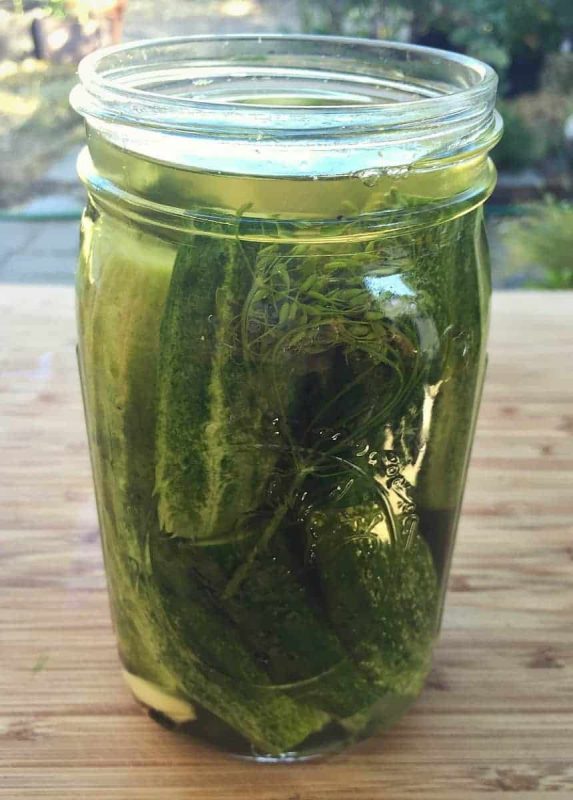 How to Make Pepperoncini Pickles
When our pepperoncini plant started producing like crazy, I knew we wouldn't be able to eat them all fresh before they started going bad. And there's only so much Pepperoncini Hot Sauce one needs. I love the Mediterranean style pickled pepperoncini that you can buy in the store, so I wanted to try and make something similar to that. Still, I didn't have quite enough to can them, so I went searching for a quick refrigerator pickled pepperoncini recipe. I found one on the Blessings Overflowing blog that looked good, so I adapted that recipe here.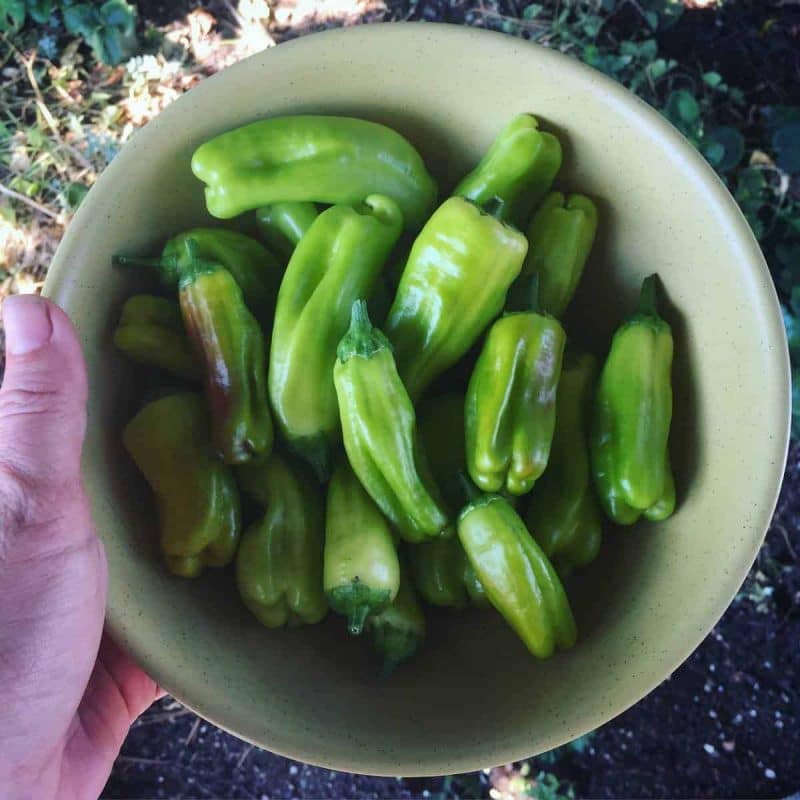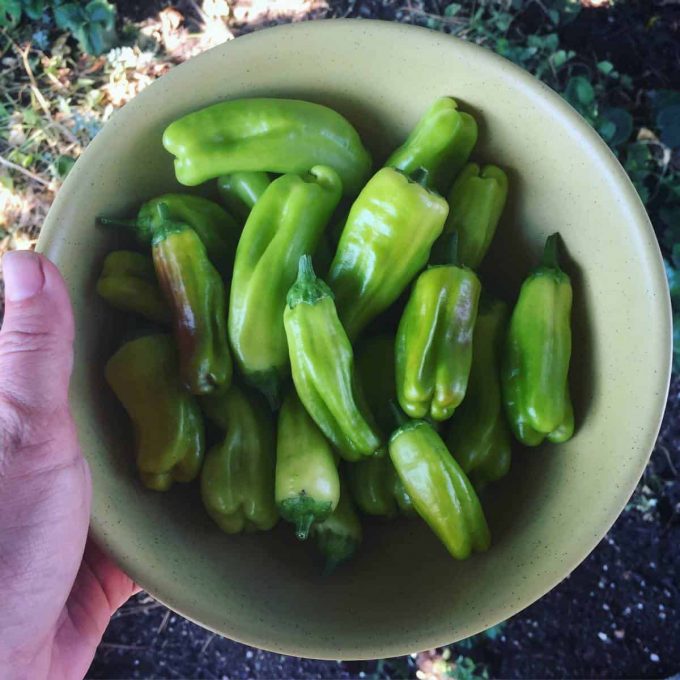 Refrigerator Pickled Pepperoncini Recipe
Refrigerator pickles are a delicious way to preserve the summer harvest, but you don't have to stick to pickled cucumbers - there are many vegetables you can use, like pepperoncini peppers!
Instructions
Use a sharp knife to poke 1 or 2 holes in each pepperonicini before packing them into a quart sized jar.

Add the coriander seeds, peppercorns, bay leaf, and garlic to the jar.

In a small pot, combine the water, vinegar, sugar, and salt and bring to a boil.

Pour the hot vinegar mixture into the jar to cover the peppers.

Allow the jar to cool slightly before covering with a lid and refrigerating.

The peppers will be ready to eat in 2-4 weeks.
Nutrition
Serving:
1
pepper
|
Calories:
5
kcal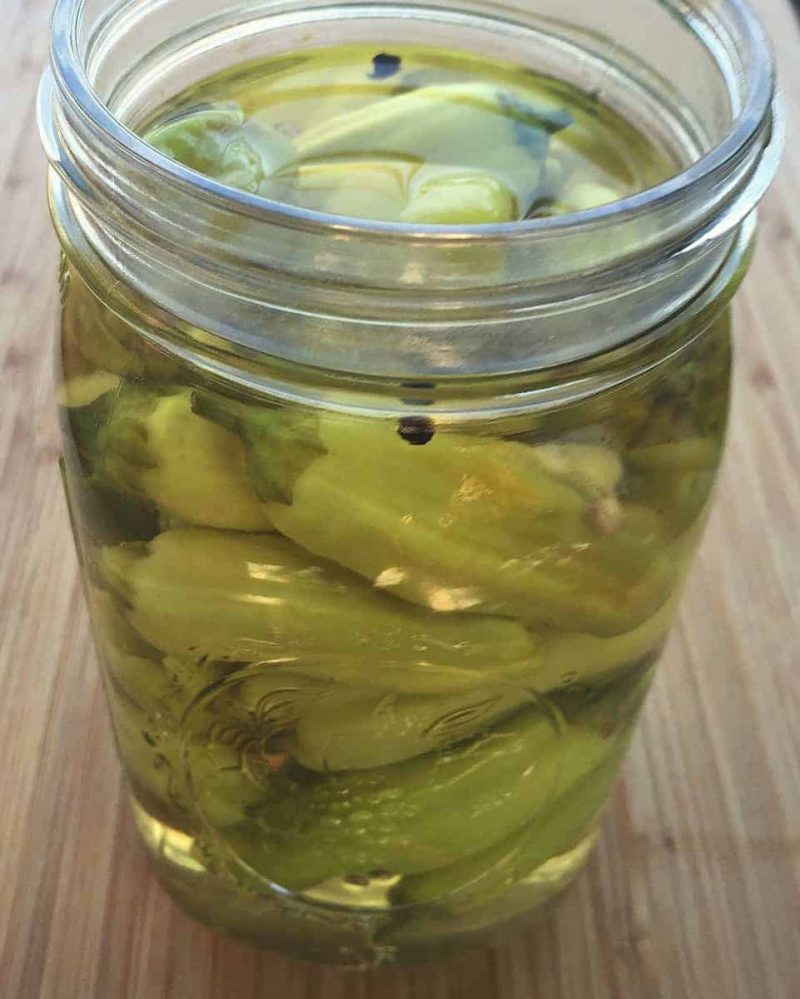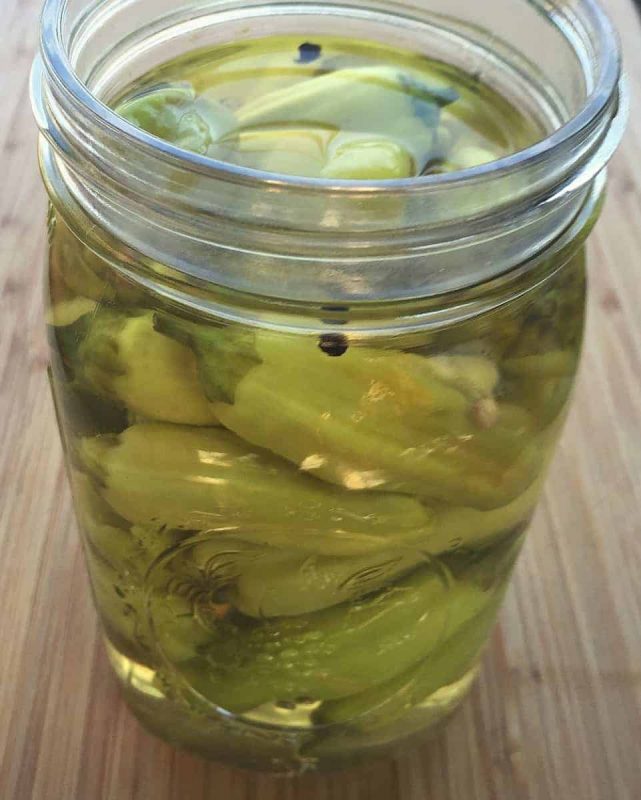 I was extremely happy with how both of these recipes turned out! So simple, and a tasty way to quickly preserve your overabundance in the garden.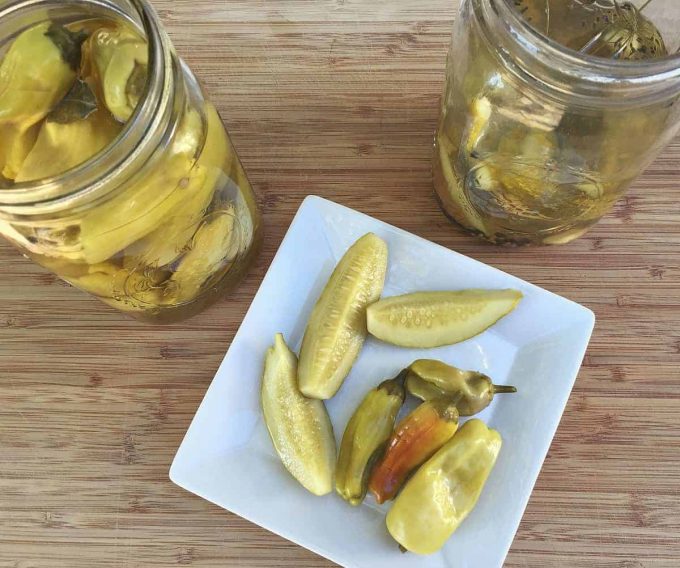 I love this method of preserving! You can make quick pickles out of many different types of vegetables. Here are a few other fun refrigerator pickle recipes for you to try:
Happy quick pickling! What is your favorite refrigerator pickle recipe?
Quick Refrigerator Dill Pickle Recipe
Refrigerator pickles, sometimes called quick pickles, are a fast and easy way to preserve the summer harvest, especially when you don't have enough harvest to justify canning several batches. They're refreshing and perfectly crunchy.
Ingredients
2

pounds

small, firm cucumbers

2

cups

filtered water

1.5

Tbsp

non-iodized salt

sea or kosher salt work best

1

Tbsp

sugar

or 2 Tbsp light honey, such as clover or wildflower

2-4

cloves

garlic

to taste

1

tsp

whole mustard seeds

1/2

tsp

black peppercorns

2-4

small grape leaves

or 3-inch piece horseradish leaf (optional)

2-3

dill flower heads

or 2 large sprigs fresh dill leaves
Instructions
Cut a thin sliver off the flower end of the cucumbers (opposite the stem end). This will result in a crunchier pickle.

Slice the cucumbers lengthwise into halves or spears, or leave very small cucumbers whole.

Bring the water, vinegar, salt, and sugar or honey to a boil, stirring occasionally. Once it's boiling, turn off the heat and let it cool to room temperature.

Put the garlic, mustard seeds, peppercorns, and one of the grape or horseradish leaves (if using) into the bottom of a clean glass quart sized jar.

Pack the cucumbers as tightly as possible into the jar. Tuck in the dill and remaining leaves as you add the cucumbers.

Pour the cooled brine over the cucumbers. They should be completely covered by the liquid. Cover with a lid, and put your pickles-to-be in the refrigerator.

Wait 4 to 5 days for the flavor of the pickles to develop before tasting.
Nutrition
Serving:
1
pickle
|
Calories:
16
kcal
|
Carbohydrates:
3
g
|
Sugar:
1
g
|
Vitamin A:
250
IU
|
Vitamin C:
1.7
mg
|
Calcium:
60
mg
|
Iron:
0.5
mg