Knowing how to preserve cucumbers is an important skill set if you've got an abundant cucumber plant. Pickles, of course, are a top choice for preserving cucumbers. But there are many ways from freezing cucumbers to infusing to dehydrating that will add delicious variety to your pantry!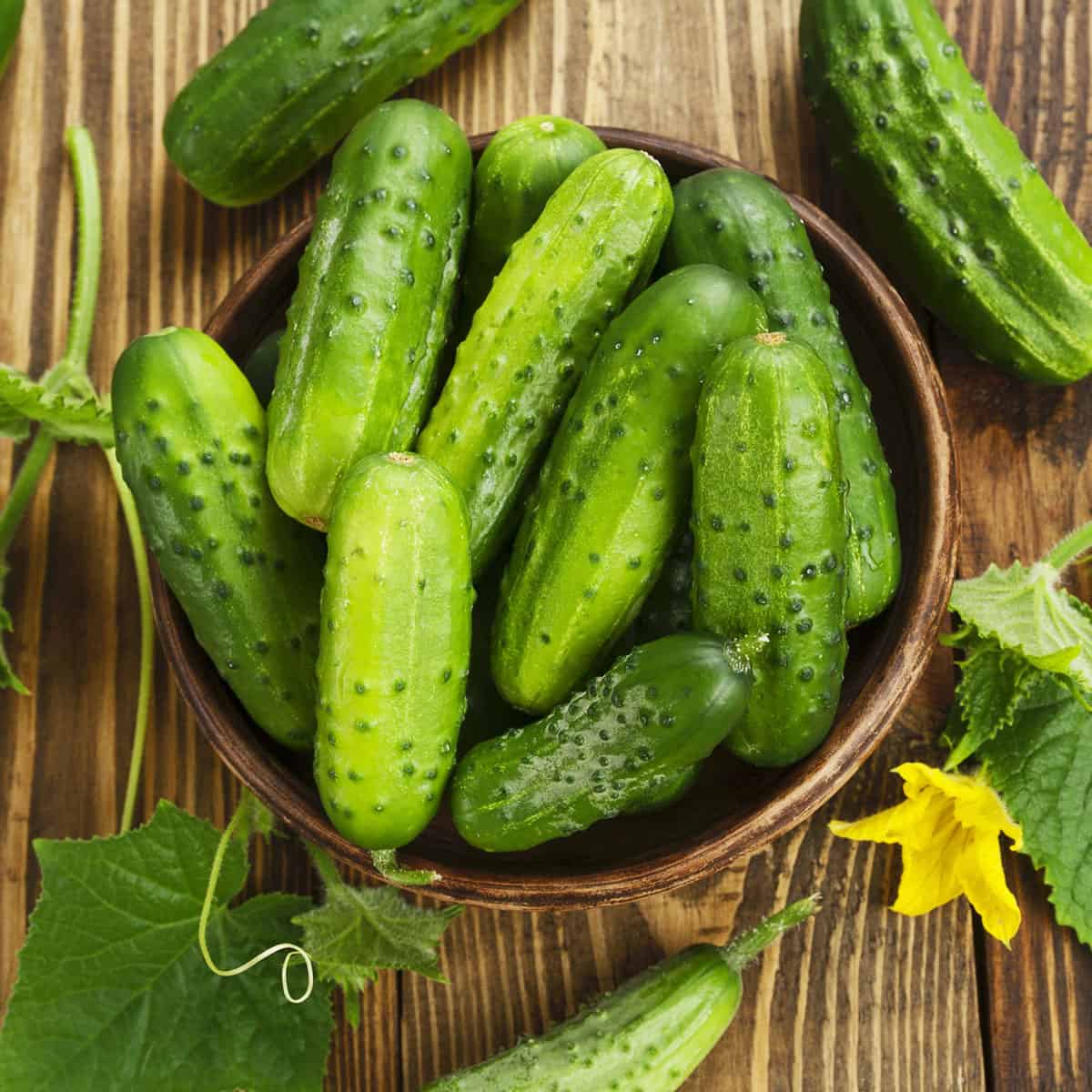 When it's cucumber season, sometimes you're knee-deep in cukes and don't know what to do with them all! Sure, you could pickle them, pickles are delicious. But how many pickles can one eat?
(The answer is a lot of pickles, so don't worry, I've added lots of pickle recipes too!)
Since cucumbers have high water content, it's not super apparent how exactly you can and can't preserve them. So what to do with your surplus cucumbers?
From freezing cucumbers to dehydrating cucumbers, and of course, making pickles, find the best way to store cucumbers long term with these preserving cucumbers recipes!
Use Up Fresh Cucumbers
Cucumber Salad
This cucumber salad with vinegar is a great way to use up fresh cucumbers, it will last several days or more in the fridge and even gets better after it marinates for a bit.
It's super easy to make and only requires a few ingredients with fresh herbs. I like this recipe and my kid loves it too!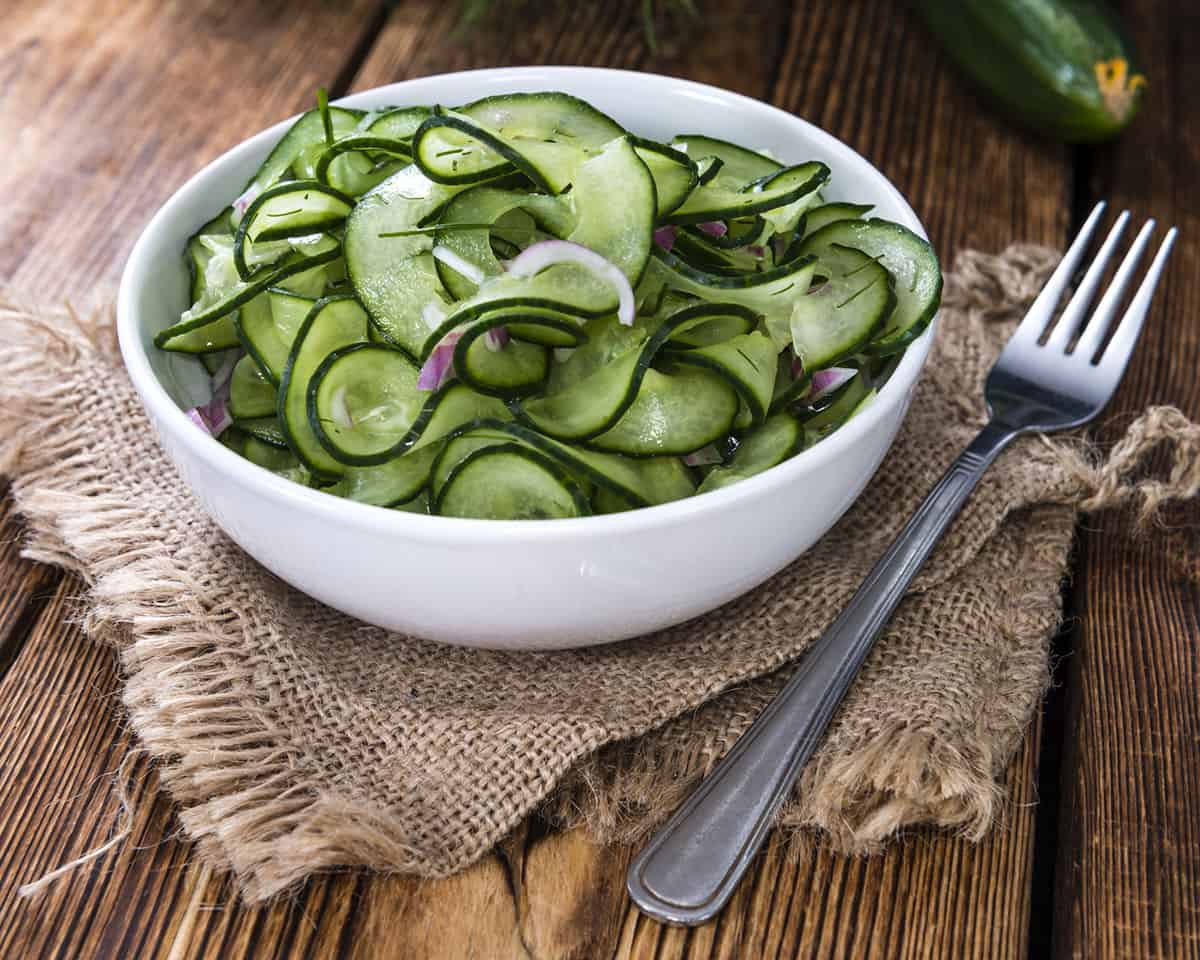 Marinated Cucumbers
Try these marinated cucumbers for another yummy way to use fresh cucumbers.
This recipe is simple and has a tasty vinegary flavor. It can be whipped up in just a few minutes and is perfect for a weeknight side dish.
Quick Cucumber Kimchi
This cucumber kimchi is a light, crunchy, flavorful treat! This is very simple and quick-to-make kimchi, it's downright full of cucumbers and is delicious with rice or Korean BBQ.
Since this is a quick and crunchy kimchi with fresh cucumbers, you'll want to eat it within a week before the cukes get mushy.
How to Preserve Cucumbers
Now for preserving cucumbers to last on the shelf or in the freezer. These are the long-haul recipes that will keep you using cucumbers the whole year through!
Fermented Cucumber Pickles
These homemade fermented cucumber pickles are hands down my favorite pickle ever. They have that old-school deli-style sour pickle taste that is full of nostalgia.
Probably one of the tastiest ways to preserve cucumbers for the shelf, fermented pickles have tons of healthy probiotics and are easy to make.
All you have to do is add cucumbers to a jar with brine and spices, the main ingredient is time!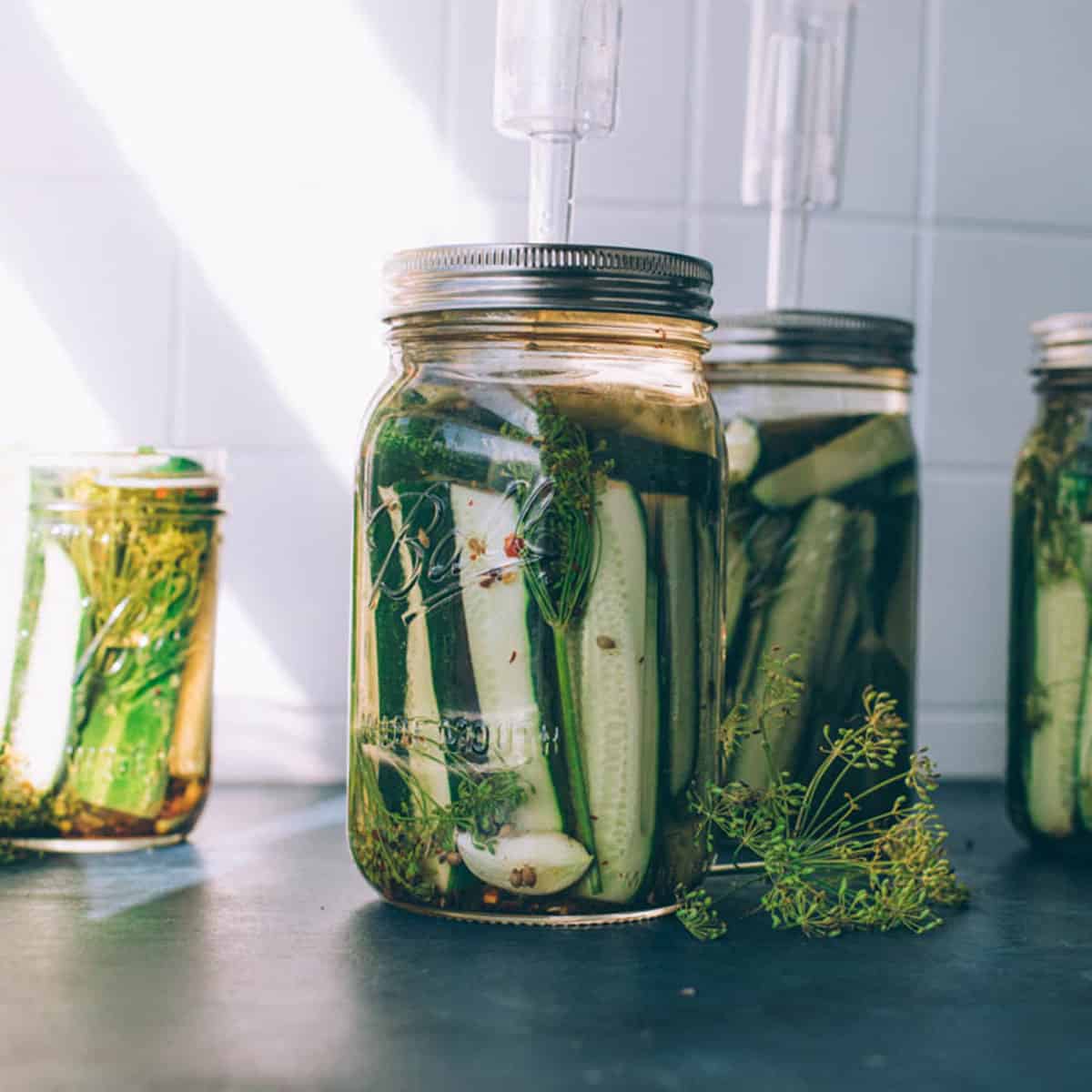 Refrigerator Cucumber Pickles
Refrigerator pickles, also known as quick pickles, are a fast and easy way to get a few jars of tasty pickles ready to eat in just a few day's time. They have a vinegary crunch that just can't be topped!
These refrigerator cucumber dill pickles are super simple to throw together, and you can make just one jar or a few, depending on how many cucumbers you want to dedicate to each of these recipes.
Another option is these refrigerator bread and butter pickles, for a flavor that is a little bit sweet, a little salty, and still with a crisp vinegar deliciousness. These pickle slices are just as simple to make and are perfect for burgers or sandwiches.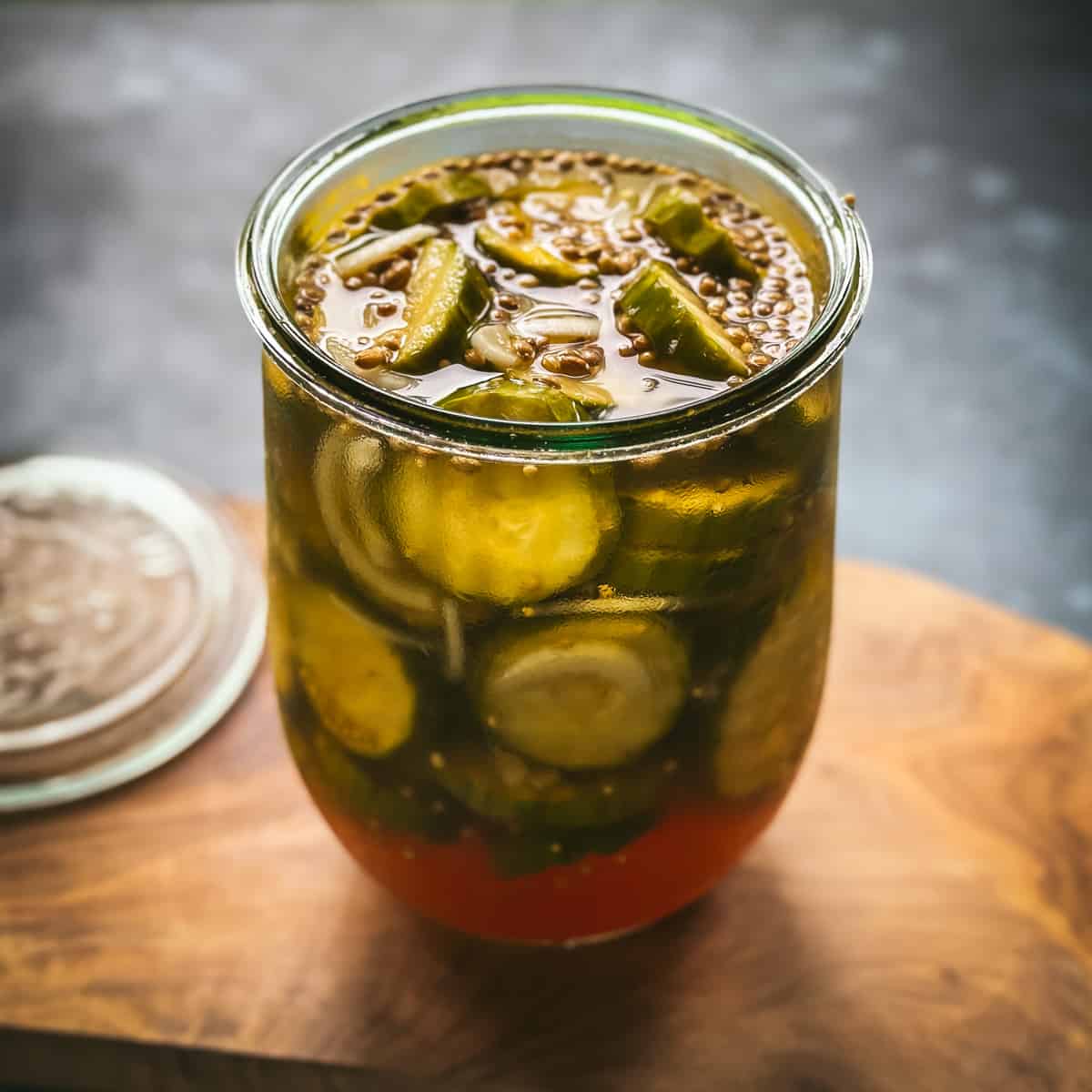 Canned Cucumber Pickles and Relish
For a longer-lasting shelf-stable jar of cucumber pickles, you'll want to make some pickles for canning. There are many options for these types of pickles, here are a few of my favorite ones. Get your canning equipment ready!
This Kosher dill pickles canning recipe is great for beginner canners and makes super mega tasty pickles with all the vinegar flavor and a little bit of salt. You'll love 'em!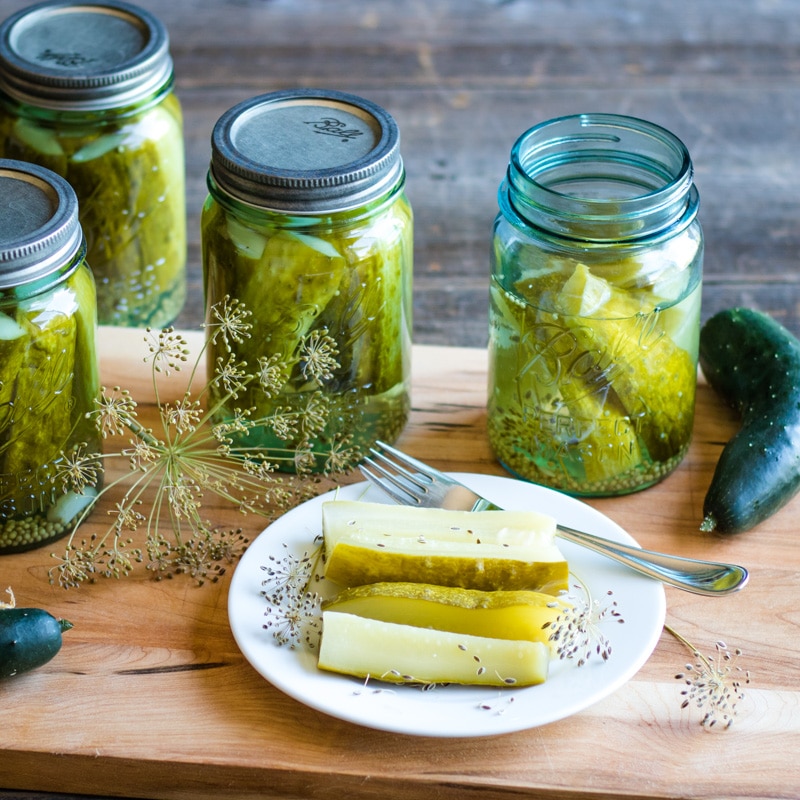 To make old-fashioned bread and butter pickles for the shelf, try this Granny's bread and butter pickles recipe. You get the same great flavor and perfect shape for burgers, but they will keep much longer when canned.
Sometimes you just need a sweet dill pickle relish to top that burger, stir into egg salad, or for a seriously good hot dog.
This canned relish is the perfect way to preserve cucumbers that accidentally have been left on the vine too long and end up way too huge. It happens!
Cucumber Jam and Jelly
While it might not have the super sweet taste that you normally think of when you make jam or jelly, cucumbers have such a fresh flavor and amazing water content that can make a really delicious and unique spread.
This quick-cooking cucumber mint jam is really refreshing and would go great on a cracker with goat cheese or on top of plain yogurt.
When they say this cucumber jelly is the best, they really mean it! With some ginger for a little kick, this jelly is so good just spread on toast. It would also be great for a charcuterie board with cheese and crackers.
Freezing Cucumbers or Pickles
One might ponder on the efficacy of freezing cucumbers since they are so watery. Can it be done and how would they turn out? Yes, it can be done, and here are the best ways to do it!
Follow these instructions to freeze cucumbers the easy way, either sliced or diced. There are great tips on how to not have them stick together so you can use whatever portion you need and leave the rest frozen for later.
Frozen cucumbers are great for smoothies, soups, or to make cucumber water. They won't have their initial crispiness, but they will keep their flavor and nutrients.
I like to freeze cucumber slices right into ice cubes to use in refreshing drinks!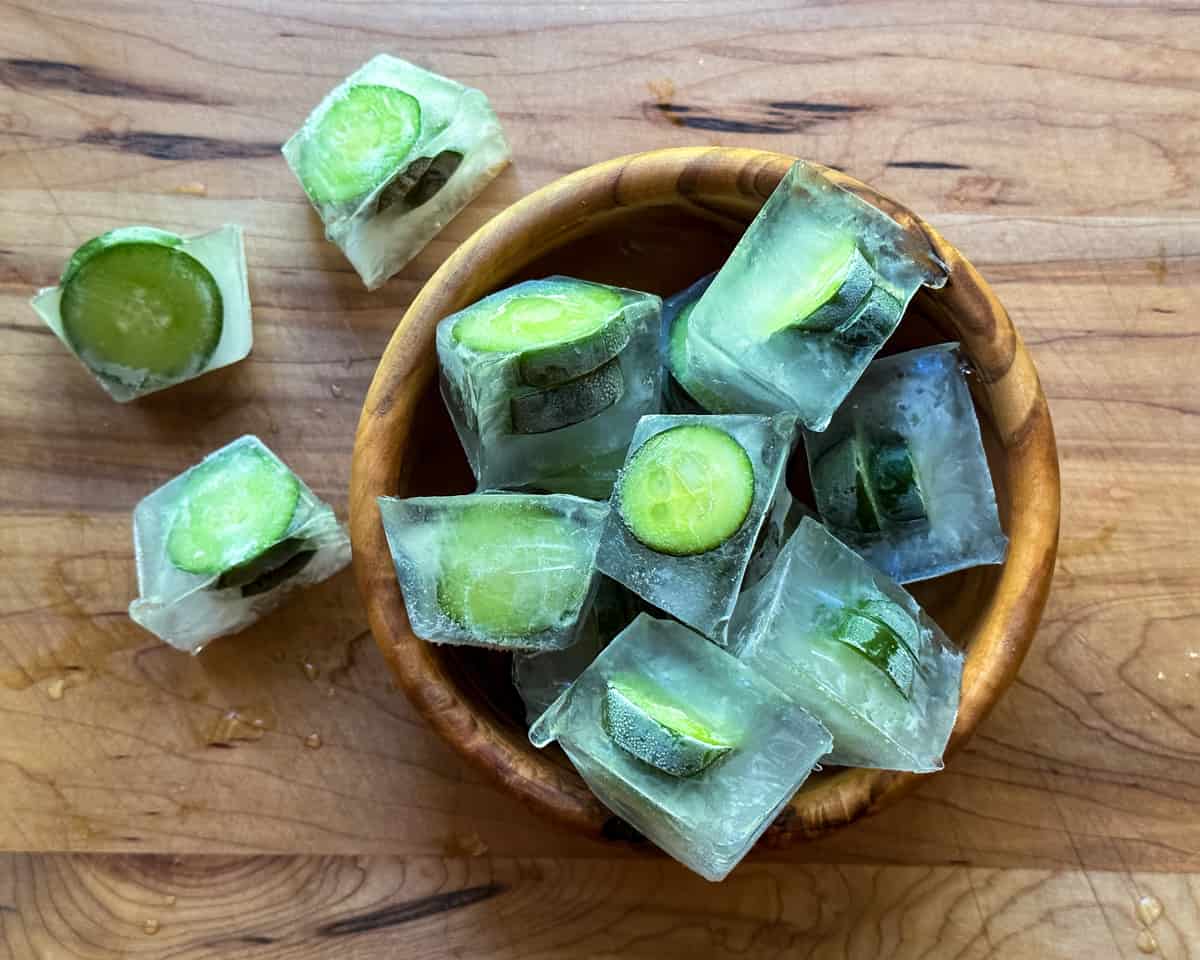 Have you ever heard of freezer pickles? If not, you must try this recipe! They are made with a room-temperature brine solution, refrigerated, and then frozen. It's genius, delicious, and great for freezing cucumbers when you have too many.
Dehydrating Cucumbers
Dehydrating cucumbers can make them easy to use for seasoning as a powder or snacking like chips. This recipe has easy-to-follow instructions, lots of flavoring ideas, and great ways to use dehydrated cucumbers.
For super flavorful snacking, make these salt and vinegar cucumber chips. You can either use a dehydrator or your oven set to a low temperature for these tasty morsels. Perfect if you're into low-carb, or just have a craving for delicious and healthy chips!
For another summer garden veggie chip recipe try my dehydrated zucchini chips!
Cucumber Infused Vodka or Gin
I love a good cocktail, so of course I want to use my cucumber abundance to make a fresh-flavored drink!
This cucumber-infused vodka recipe can be used in tons of different cocktails, including cucumber mojitos, martinis, or a simple vodka tonic. It's so refreshing and so much better than any cucumber-flavored vodka you can buy.
Homemade cucumber gin can be paired with a tonic, used in a cocktail, or made into a frozen shot. The flavor of cucumber goes really well with the flavor of gin, with the cucumber adding just a touch of sweetness to balance the boldness of gin.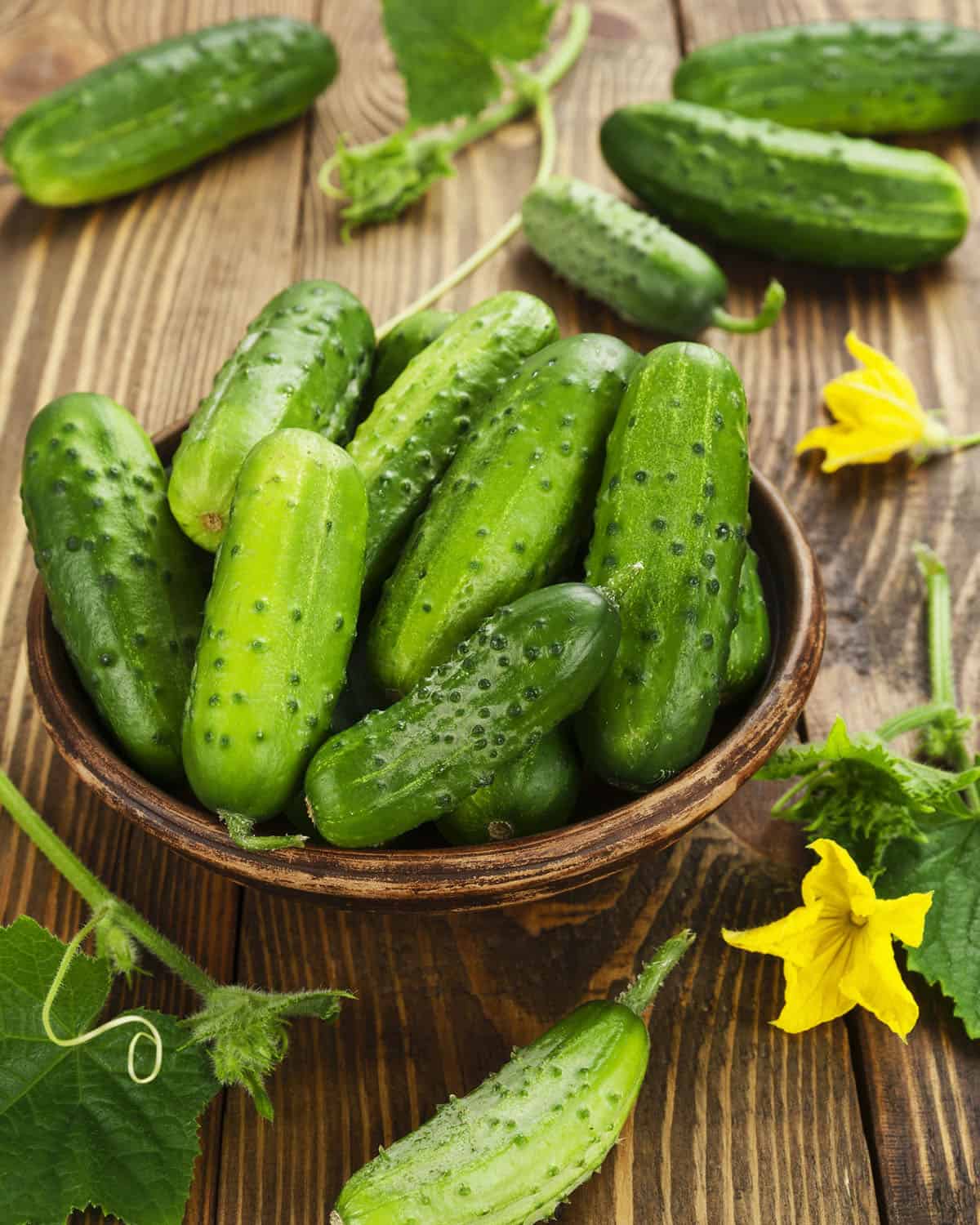 Preserve Cucumbers for Year-Round Enjoyment
Preserving cucumbers is the best way to deal with your giant batch of surplus garden cucumbers. Use these recipes when you need ideas on how to use up some fresh cucumbers, or how to preserve cucumbers by fermenting, pickling, canning, dehydrating, or infusing!
More on Preserving Fruits & Vegetables