How have I been blogging this long and not written a post on one of the easiest and most popular vegetable ferments? I absolutely love fermented cucumber pickles, they were probably what originally got me into fermenting to begin with. I've been a pickle lover ever since I was a kid, and love all varieties, including the canned vinegar kind. My mom makes awesome sweet bread and butter pickles, and her dill pickles are to die for, but there is something to be said for traditional fermented cucumber pickles. They have that authentic deli taste that I crave, and they are super easy to make!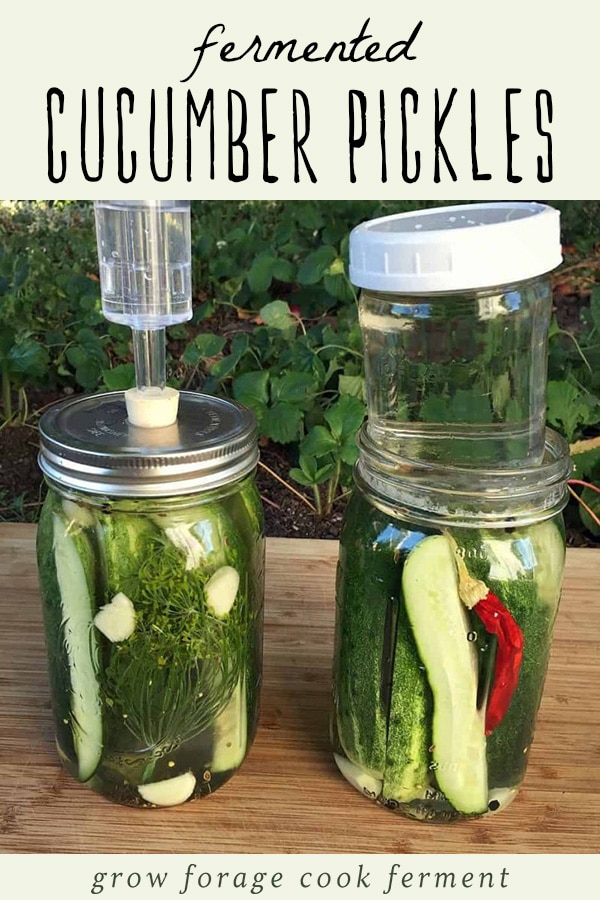 I suppose what prompted this post is that my local natural food co-op had these amazing looking pickling cucumbers in. I'm growing my own, but they won't be ready for a good while, so I figured I'd jump the gun and bit and make some cucumber pickles now while I had the opportunity!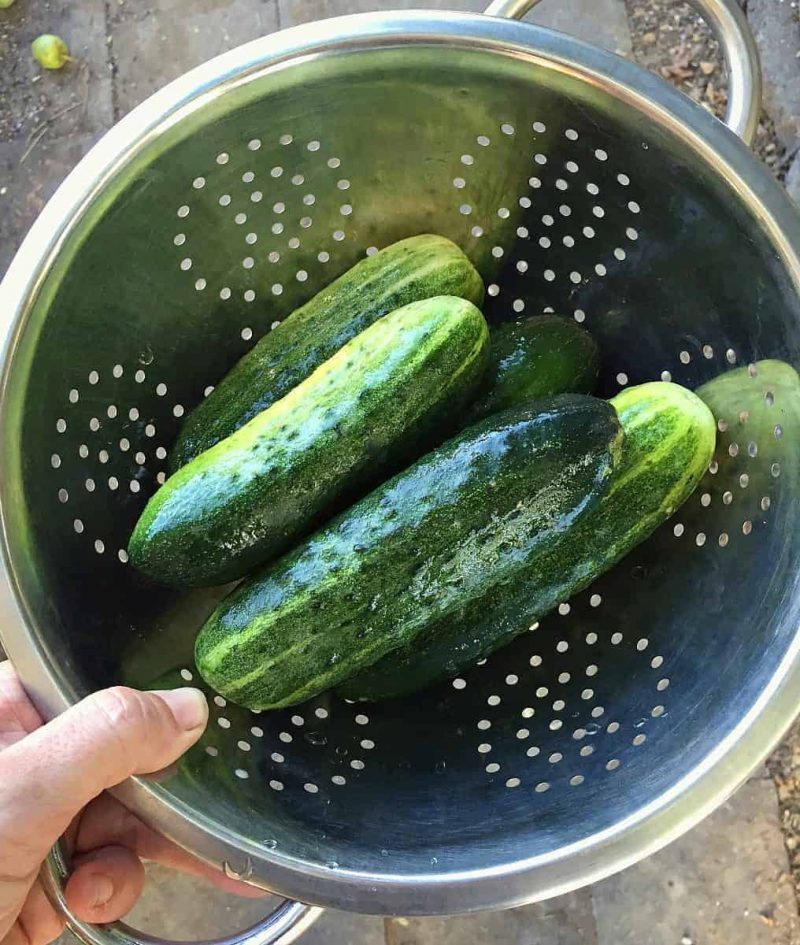 Pickling cucumbers work best in this recipe, as they are less seedy and watery than regular slicing cucumbers. I've also used the small Persian cukes (they usually have them at Trader Joe's) with success.
Fermented Cucumber Pickles Recipe
This recipe will make about 1 quart of pickles. The number of cucumbers to use will vary greatly depending on their size. As you can see, the recipe is very customizable, so make your pickles how you like them!

MY LATEST VIDEOS
Ingredients
About 3-6 pickling cucumbers, cut into spears (or in half if they are on the smaller side)
1 1/2 Tbsp Kosher or sea salt (do not use iodized salt)
Spices – can use any combination of peppercorns, mustard seeds, coriander seeds, dill seeds, red pepper flakes, etc.
Extras – whole fresh dill heads, dried hot peppers, garlic cloves, etc.
Filtered water
Directions
Put your cucumbers into a quart sized jar and add the salt and whatever spices and extras you like. As you can see, I did two jars, one with a fresh dill head from my garden, and one with a spicy dried pepper.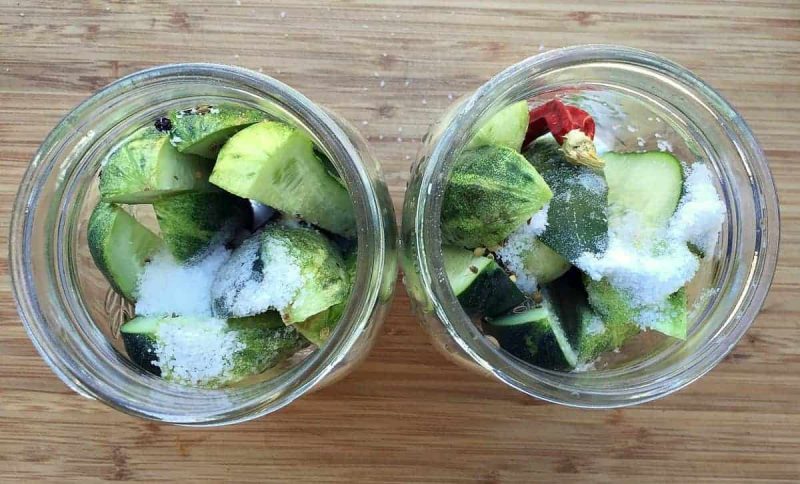 Fill the jar with filtered water, leaving a bit of head space. Cover with a lid and shake until all of the salt has dissolved.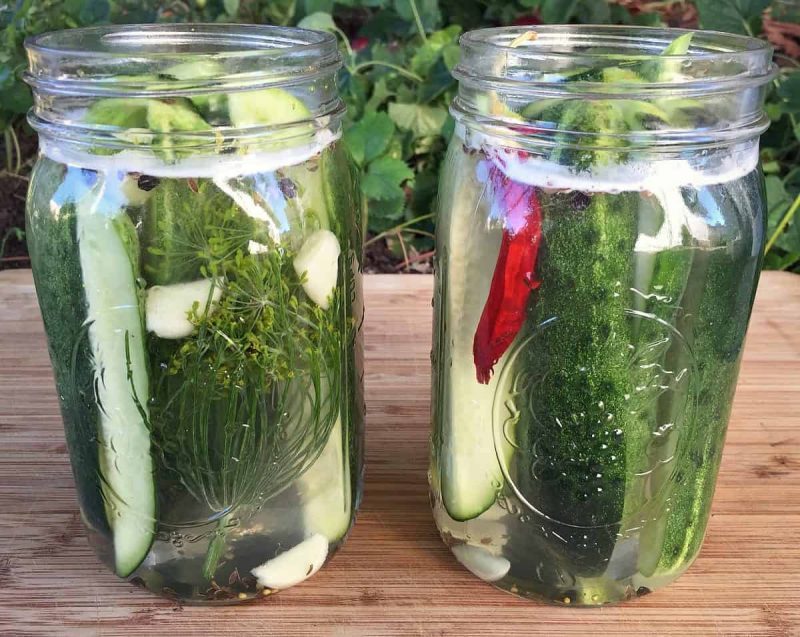 Use a weight of some sort to keep your cukes under the brine. If you have a weight and airlock kit like Fermentools, that's great, but isn't totally necessary. I will often use a super clean smaller jar filled with water as a weight, covered with a kitchen towel to keep the bugs out.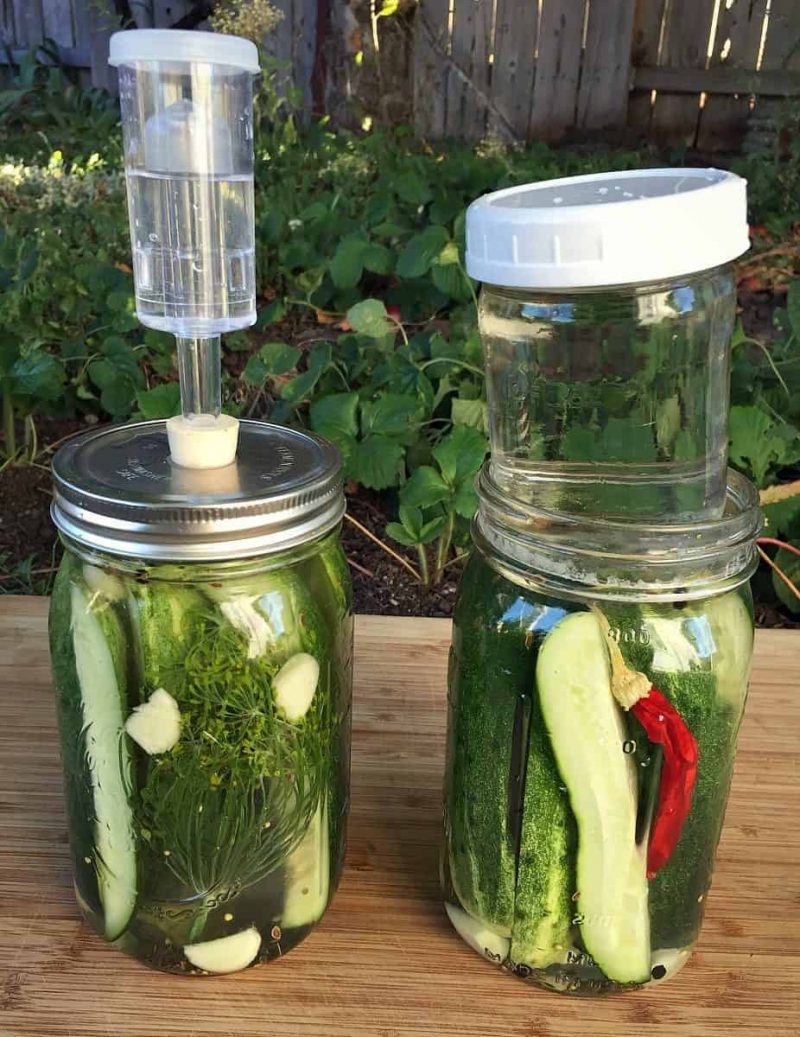 Put your jar (or jars, if you're like me and can't make just one) in a cool and dark place. If you're using the smaller jar weight method, put them on a plate as there may be a bit of brine leakage as the cucumbers extract some of their liquid. Check them every few days to see how they're doing. It's been pretty warm around here, so these were done to my liking in about a week.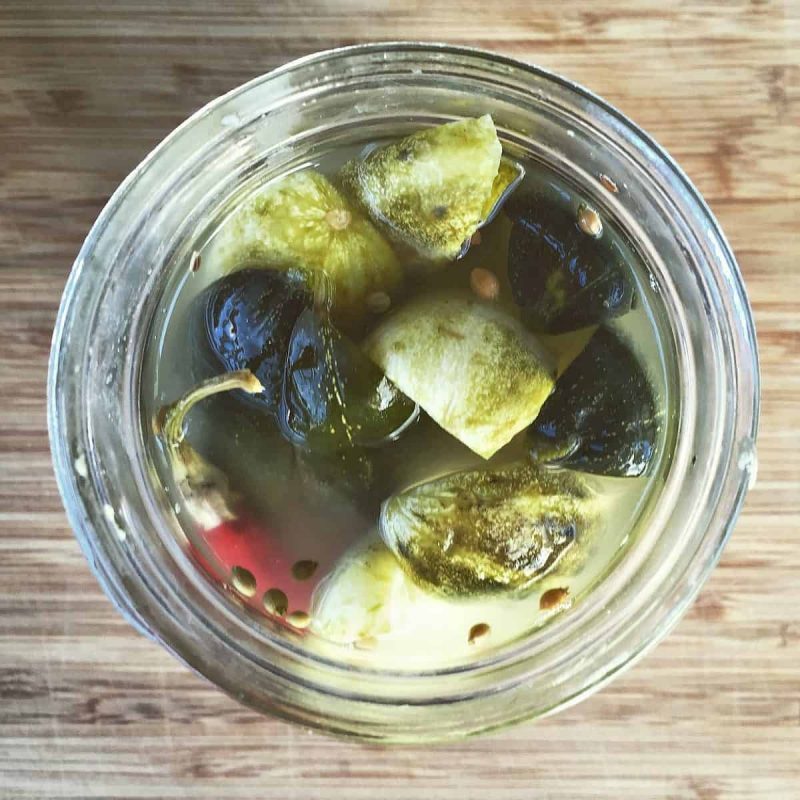 They will be paler green in color and a bit softer, but not mushy. Give one a taste if you're unsure, and once they are how you like them, then they are done!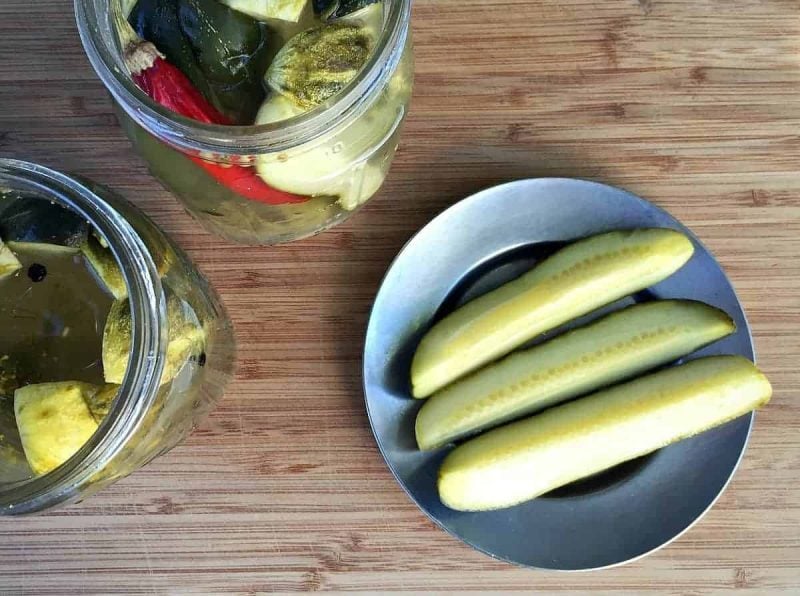 Then you can revel in pickle-y goodness! These are so tasty, they don't last very long at my house. You gotta get 'em while they're hot!
Here are some of my other favorite fermented vegetable recipes:
Have you ever made traditionally fermented cucumber pickles? What's your favorite flavor?
Save