Asparagus is one of my very favorite spring vegetables. I love when I start seeing them at the farmers market, as that's a sure sign that warm weather is near! Plus it's just a tasty vegetable that can make any meal feel fancy. Making fermented asparagus with garlic is one of the best ways to prepare them, in my opinion. This was actually one of the very first vegetable ferments that I ever made, and I think it got me hooked on fermenting!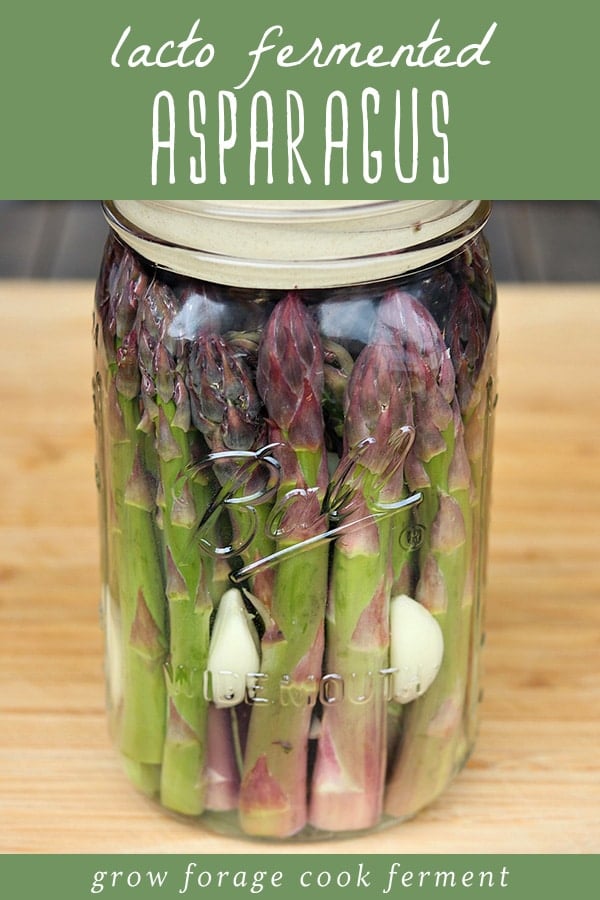 I don't know about you, but I absolutely love asparagus! I didn't grow this beautiful bunch of purple tipped spears (I wish!), I got it at our local farmers market, and it was practically begging to be made into fermented asparagus!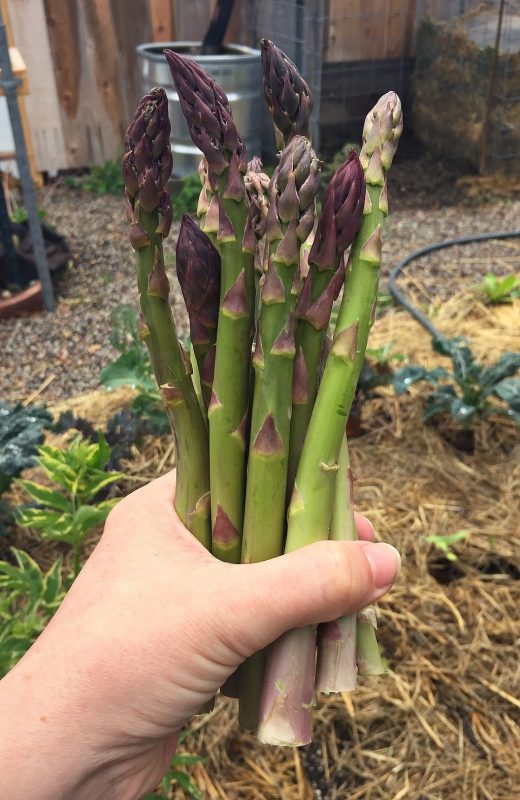 Fermented asparagus is actually one of the easier vegetable ferments to make, as there is very little prep work involved. Asparagus fit easily into a quart sized mason jar, all you need to do is trim off the woody ends first.

MY LATEST VIDEOS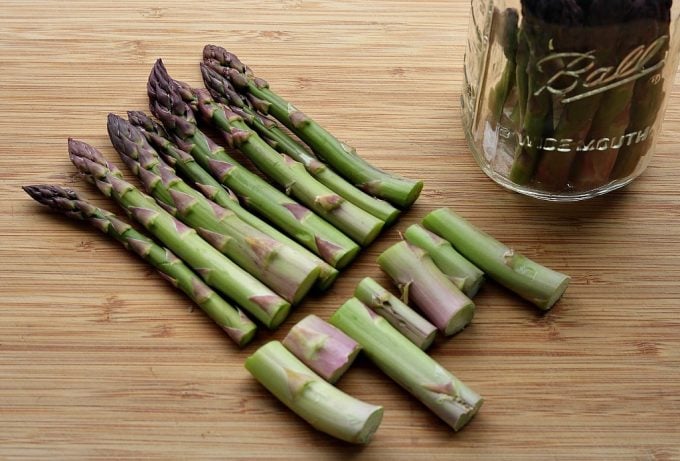 Fermented Asparagus with Garlic Recipe
Fermented Asparagus with Garlic
Fermented asparagus is easy to make and super tasty!
Ingredients
1

pound

asparagus spears

6-10

cloves

garlic

1 1/2

Tbsp

Kosher or sea salt

not iodized

2

cups

filtered water
Instructions
Trim the woody ends off the asparagus so that they fit into a quart sized mason jar.

Fill the jar with the asparagus, then push the garlic cloves into the jar.

Mix the water and salt to make a brine, and pour over the asparagus, making sure to cover all of the veggies. You may need to make a little more brine at a ratio of 3/4 Tbsp salt to 1 cup water in order to fill the jar.

Weigh the asparagus down with some kind of weight so that they stay under the brine.

Cover the jar with a clean towel and secure with a rubber band (you can alternatively use an airlock system if you have one, but it's not necessary).

Set in a cool and dark place for 1-2 weeks to ferment. Taste the veggies, and when they are to your liking they are done!

Cover with a lid and store in the refrigerator.
Once the asparagus is done fermenting, it will lose most of its vibrant color. That's ok, because it makes up for it in awesome flavor!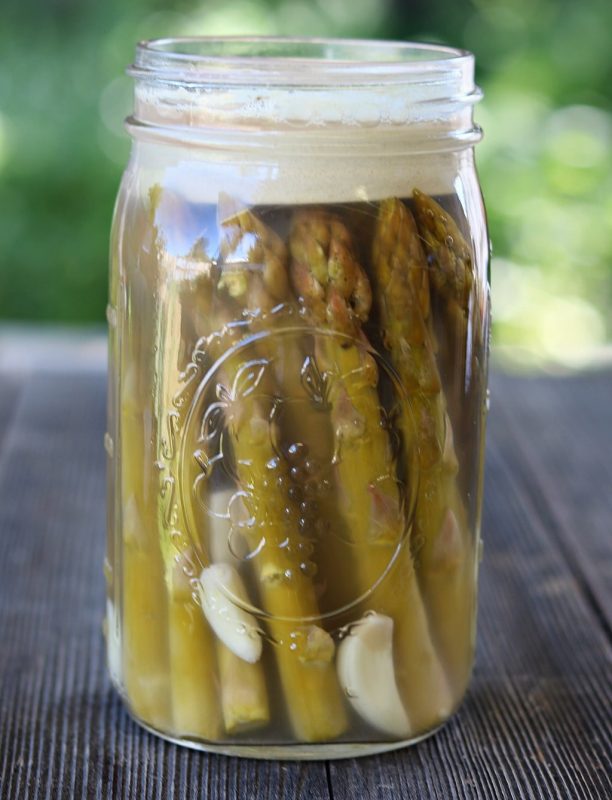 The surface of the brine may form a white film called kahm yeast, which is harmless. As long as there isn't any black or green fuzzy mold, then you're good to go!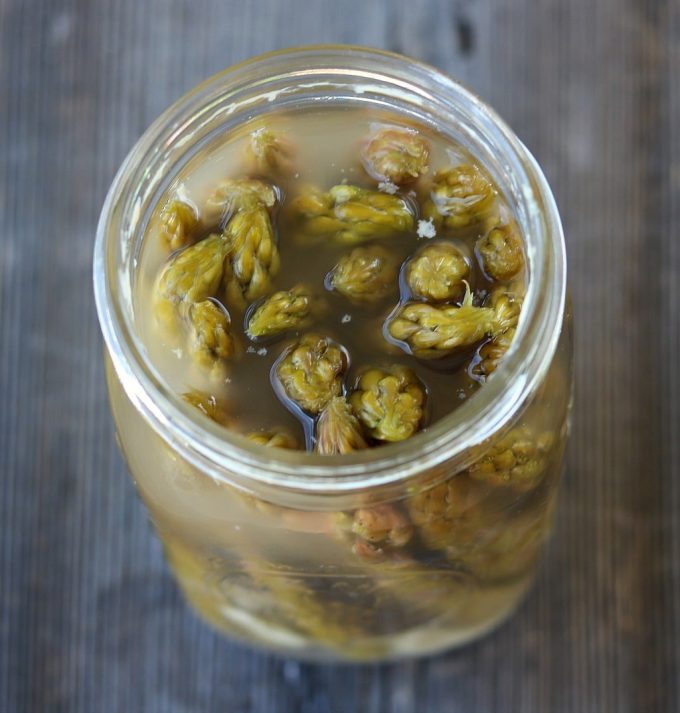 This fermented asparagus with garlic is so good! It's perfect on an appetizer platter paired with cheese, olives, and salami. Or you can just eat it all by itself (that's what I usually do). Don't forget the wine!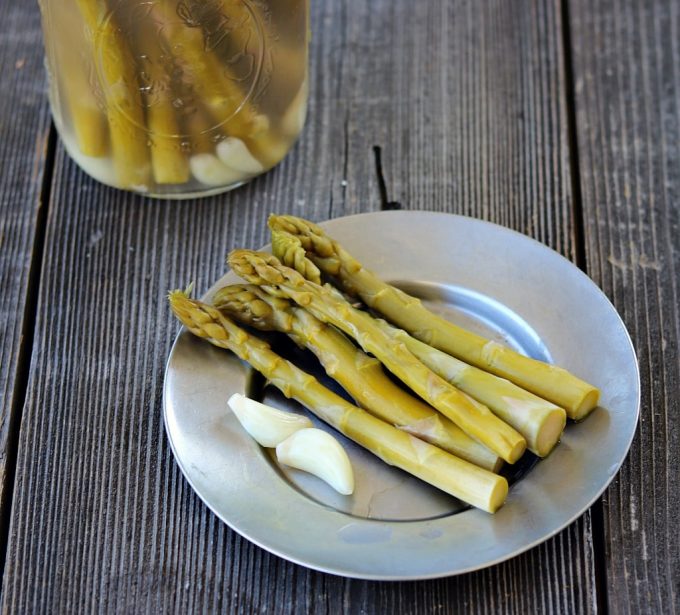 Fermenting vegetables is one awesome way to put up your spring and summer produce. Here are some of my favorite fermenting recipes:
I still think this fermented asparagus with garlic is my favorite! What is your favorite vegetable to ferment?