Violas are one of my favorite flowers, not necessarily because of their beauty, but because of their hardiness and multiple uses. Here is how to grow and use violas, including a recipe for a Sweet Viola Bath Soak from Jan Berry's Natural Bath Care eBook package!

Violas: an Edible & Medicinal Flower
Violas are an edible flower, which are my favorite kind, like calendula, lavender, and nasturtiums. They also have some medicinal uses.
Viola is actually a genus composed of many different species, including pansies, wild violets, and Johnny jump ups (also known as heartsease or wild pansy).
Many viola flowers are simply called just that: Violas. They are the perfect flower for every garden!
Growing Violas
Violas are quite easy to grow. They like cooler weather and thrive in the spring and fall. They will sometimes even grow through the winter, depending on how cold your region gets. I've seen them survive after having a blanket of snow covering them for several days.
They prefer moist soil, and will generally do well in a shady area, especially in warmer weather. They can be grown easily from seed. Some are perennial and some are annual, but the annual varieties will readily self seed and come back year after year.
All violas have five petals, two facing upwards that usually overlap, two on each side, and one facing downwards. Most violas will grow in clusters of several to many flowers.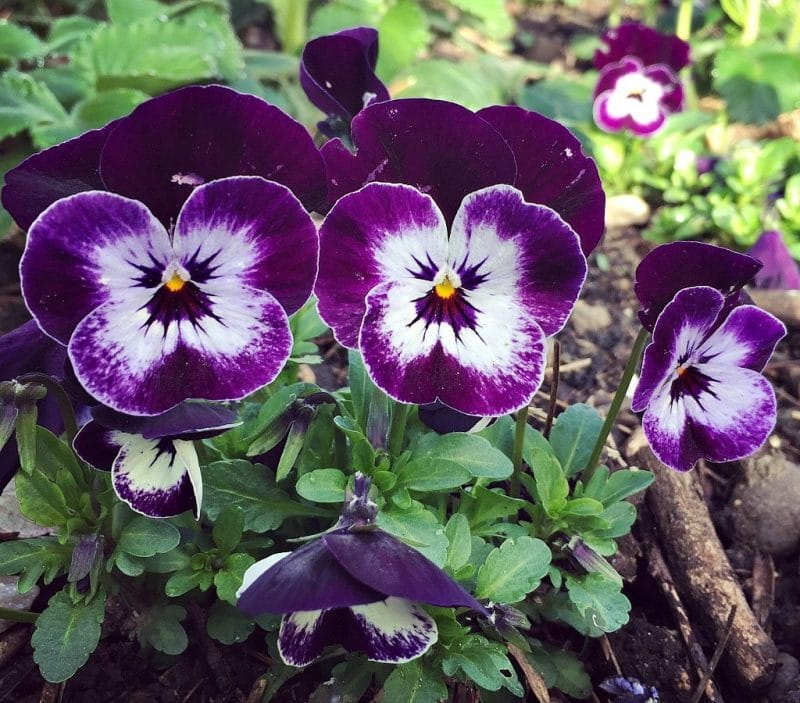 Pansy or Viola?
What is the difference between and pansy and a viola? This is often confusing for some, myself included.
Since Viola is actually a genus, not a species, all pansies are technically violas. Pansies have been cultivated to have larger flowers, more varied colors, and large dark colored patches in the center of the flower.
They don't grow in large clusters like most violas do. They are less tolerant to cold weather, and generally less hardy than violas, but they are still beautiful.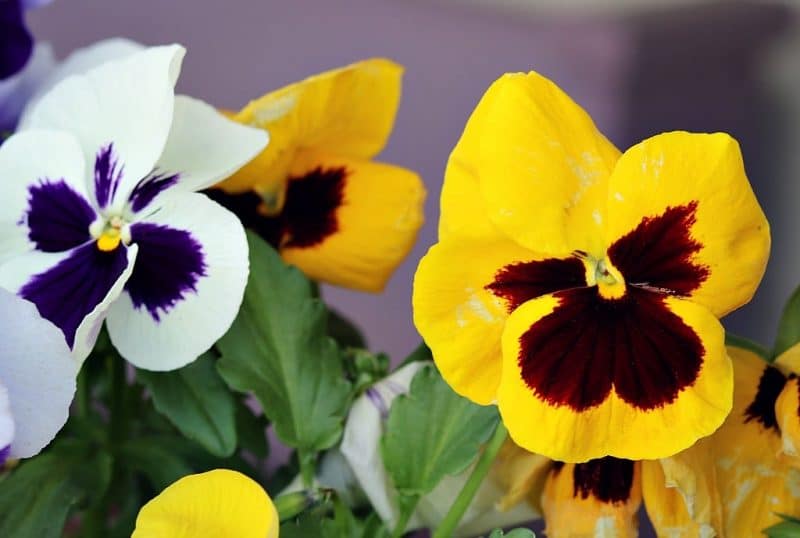 How to Use Violas
As I mentioned before, all violas and pansies are edible, just as wild violets are (another species of viola).
They are a common and beautiful addition to salads, cookies, cakes, or as a garnish. These Pansy Shortbread Cookies are gorgeous and easy to make. They are also perfect for making candied flowers.
You can try them in Wild Violet Infused Vinegar.
Please note that African violets are not in the Viola genus, and are not edible.
Violas also have some medicinal uses. They are high in antioxidants and anti-inflammatory, and Viola tricolor (Johnny Jump-ups) may be helpful if used topically for skin conditions.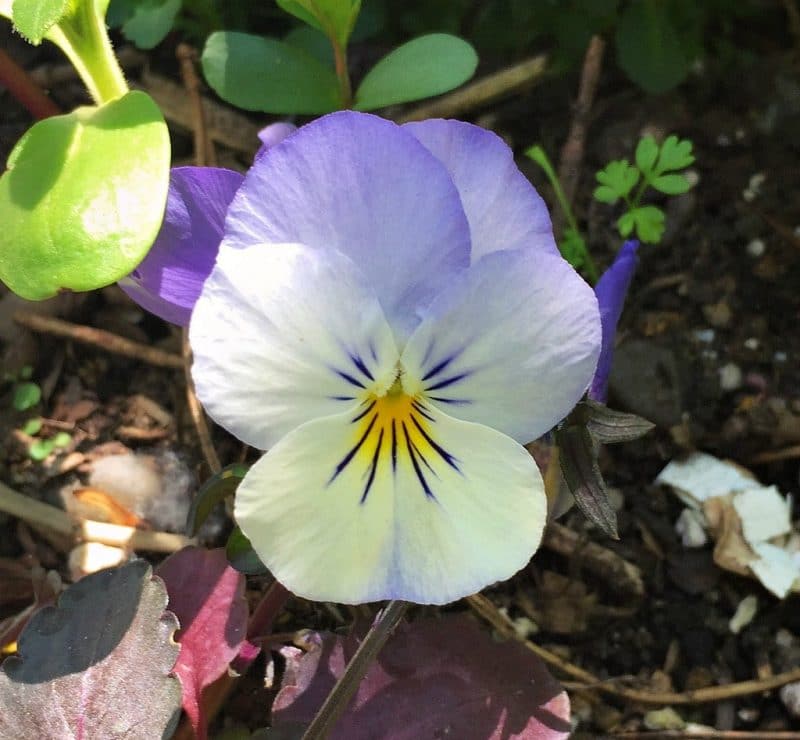 Sweet Viola Bath Soak Recipe
Here is a great way to use violas – in an all natural bath soak! This lovely recipe comes from Jan Berry's Natural Bath Care eBook package, which I highly recommend for more amazing natural bath bomb and bath soak recipes!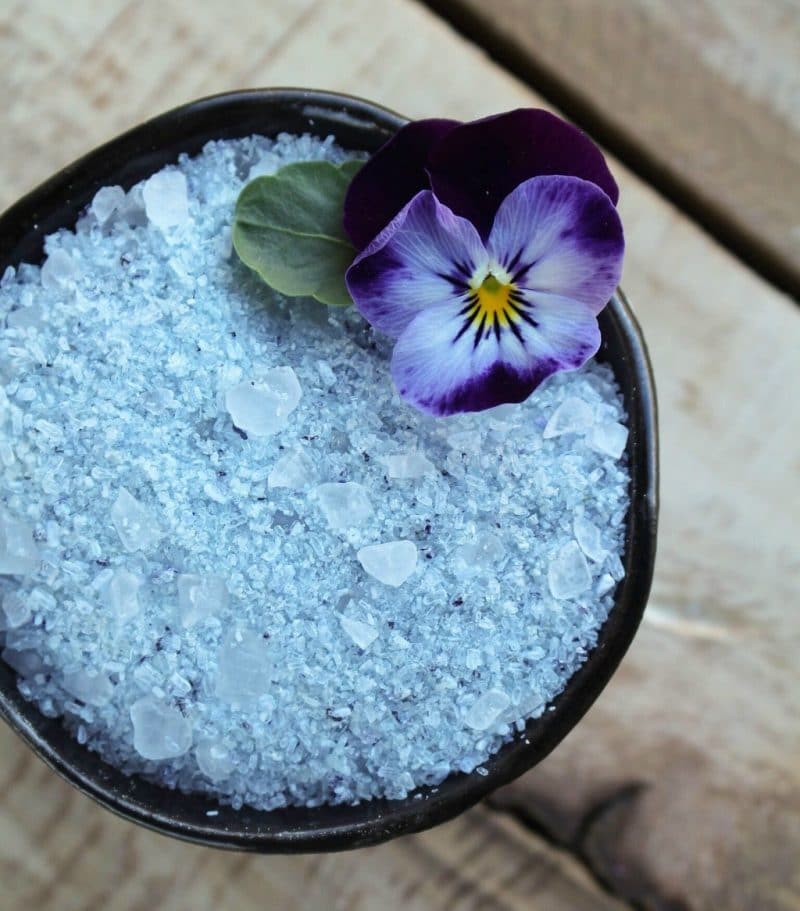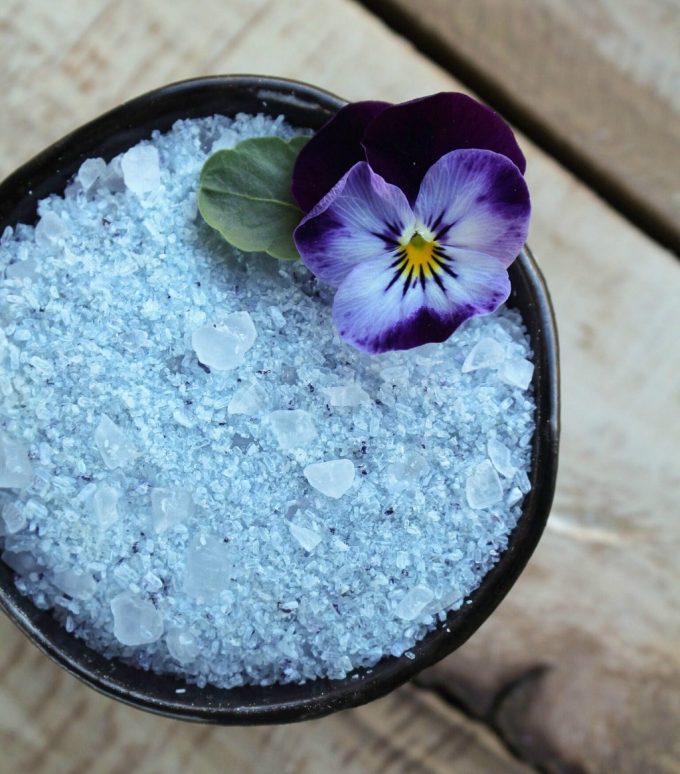 Violas are an awesome flower for so many reasons. Now you know how to grow and use violas, so there is no reason to not have them in your flower garden!
What is your favorite way to use viola flowers?
---
More Beneficial Flowers
Once you've fallen in love with using violas, try growing or foraging these other edible or medicinal flowers!
---
Sweet Viola Bath Soak
Violas and pansies are beautiful edible flowers that are easy to grow and have multiple uses! Learn how to grow these edible flowers, how to use them, and get the easy recipe for viola bath salt.

Instructions
Combine the ½ cup Epsom salt and viola or pansy petals in the bowl of a mini food processor. Blend until the flowers are completely incorporated. Spread the now colored salt in a thin layer on a sheet of wax paper and allow to air dry for one to two days before proceeding with the recipe.

Crumble the dried floral salt and combine with the remaining ingredients.

You can leave the soak unscented or optionally add 4 drops of your favorite essential oil such as rose, geranium, clary sage, lavender, litsea, etc.

Store the soak in a tightly closed glass jar for three to four months, keeping in mind that the scent may fade over time.

To use, dump the soak into a bathtub while it fills with comfortably warm water. Alternatively, you can tie it up in a muslin tea bag or clean sock before adding to the tub.
Notes
This recipe makes enough for one bath.